Overlooking the peaceful and utterly charming Place Dauphine, on the Île de la Cité, the Savennières is a beautiful one-bedroom penthouse rental, set on the 6th and 7th floors of our exclusive La Place Dauphine building. You'll be surrounded by history during your stay at this stunning property, built in 1610 at the request of King Henri IV. The building features an elevator, the highest security digital locks and every modern convenience. Thanks to the large, sumptuous bed with Place Dauphine views, en suite bathroom and additional half bath, you are sure to have a comfortable stay in Paris. Enjoy cooking at home in the finely finished kitchen and romantic dinners overlooking the square.
Step outside and you'll immediately understand why Place Dauphine is one of the most coveted areas in Paris. Lined with buildings from the early 1600s, the square is full of trees and dotted with benches that are the perfect spot to sit and take in the historic setting. A popular spot with locals for a game of pétanque, you'll even hear the click of steel balls used in this traditional French game. Surrounding Place Dauphine are excellent cafés and restaurants that are popular with lawyers working at the nearby Palais de Justice, which means the quality is excellent!
Staying on the Île de la Cité right in the heart of Paris - "Kilometer Zero," as it is called - means you're surrounded by all the best sights, museums, shopping spots and top neighborhoods to explore. You can walk to all of them! View the nearby Notre-Dame Cathedral and visit Sainte-Chapelle and its incredible stained glass. Cross over to the Right Bank on the historic Pont Neuf to visit the Louvre or take in the Tuileries gardens. Stroll along the Seine on the Left Bank to the Musée d'Orsay or explore stylish Saint-Germain and meander through the cobblestone streets in the Latin Quarter. Discover the beauty, romance and history of Paris at our Savennières apartment!
The star feature of this apartment is its balcony off the living room with beautiful views of the Paris skyline, including the towers of the Notre-Dame Cathedral, the spire of Sainte-Chapelle, and the Conciergerie where Marie Antoinette was imprisoned.
Enter the apartment to find the bedroom and bathroom past the small hallway on the first level. This beautiful bedroom has two large windows and sunny views over the famous Place Dauphine. Guests love to relax in the living room on the second level, enjoying the tall beamed ceilings and especially the balcony with seating and Paris views.
Things To Note
Neighborhood: 1st arrondissement
Size: 475 sq ft/45 sq m
Cooling: Central air conditioning individually controlled in the living room and bedroom
Accessibility/Security: 13 internal stairs with hand railing between 6th and 7th floor steps are slightly steeper than other staircases, a consideration if mobility is a serious issue
Room Details
| Room | Beds | Amenities |
| --- | --- | --- |
| Bedroom | Dual-Extra Wide Queen (1) | Dual-extra wide queen bed (63in x 76in; 160cm x 193cm) which can be unzipped to form two single beds |
| Living room | Extra Wide Queen (1) | High-quality sofa with memory foam mattress converts into a comfortable extra wide queen bed (63in x 75in; 160cm x 190cm) |
| Bathroom (en suite) | | Shower (fixed rainfall and flexible showerheads), toilet and sink |
| Half Bath | | Toilet and sink |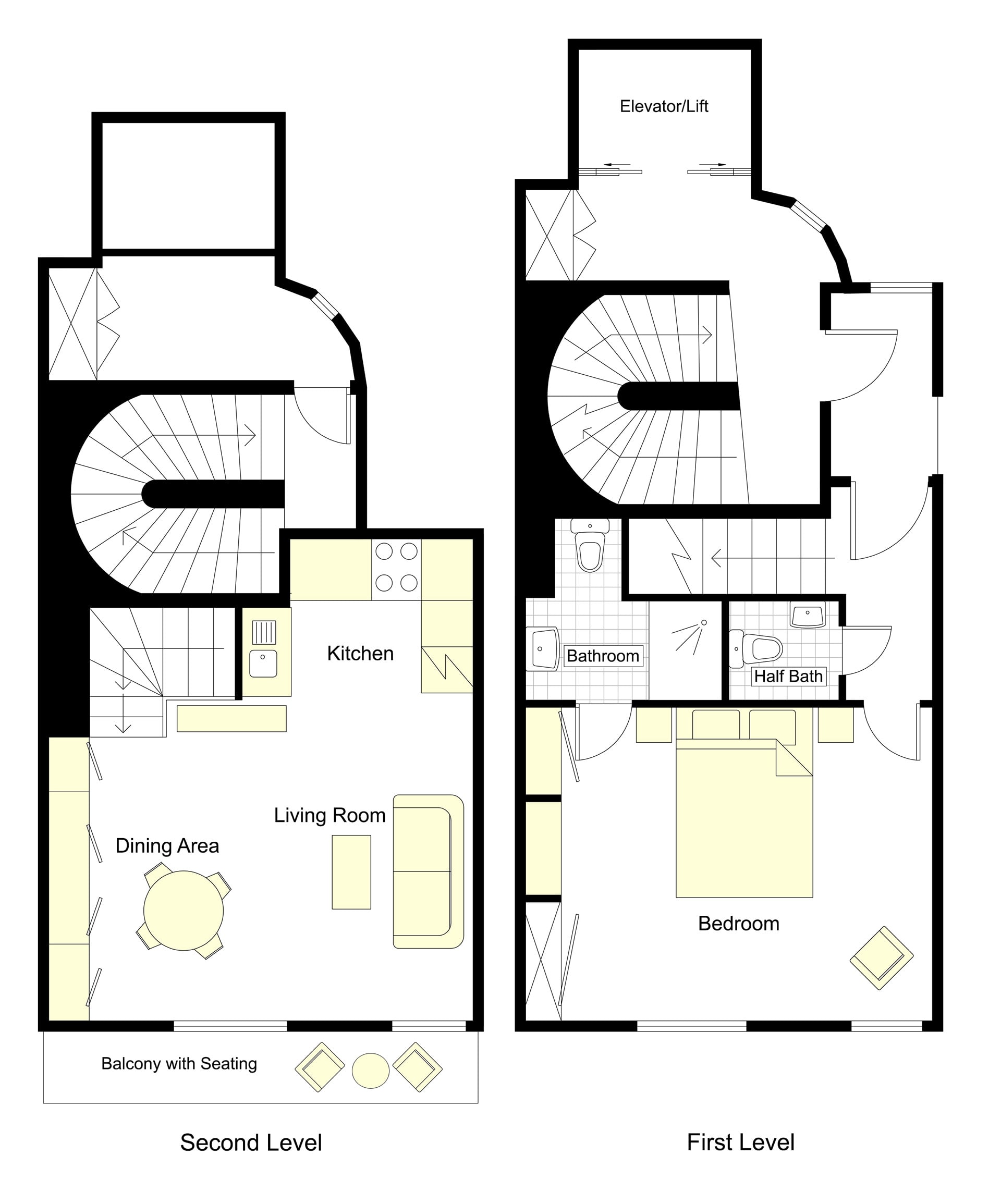 Kitchen

Fully Equipped
Starter Supplies
Dishwasher
Kettle
Microwave Oven Combo
Nespresso Style Coffee Machine
Stovetop
Toaster
Refrigerator

Connectivity/Entertainment

WiFi
TV
TV - Limited English Programs

Heating/Cooling

Heating
Sound Dampening Windows
A/C-Central

Accessibility

6th Floor North American
Elevator

Laundry

Iron & Board
Washer/Dryer Combo

Special Features

Balcony/Terrace
Instant Booking

Amenities

Elevator
Air Conditioning
Thank you for submitting your review. It will be processed shortly!
September 11, 2021 - Website
Savennières Review
by Michelle K
The apartment is beautiful, comfortable and super well located. Our host went above and beyond to help us and our baby feel welcome and taken care of. Can't wait to come back!
Savennières Review
by Asal E
This place was such a hidden gem located in the most beautiful neighborhood in Paris. We had an easy access to many bars, restaurants, shopping centers, and touristic spots. The apartment was super charming with most of the utilities needed for two people for a short stay. Although we had some issues with the elevator initially, the management was super communicative and on top of the issue. Note to my fellow Americans, if you are traveling during summer time be aware of the weather since Air conditioning systems in France do not blast as of those in the USA. But overall, we enjoyed our stay in Paris and will recommend Paris Perfect for a perfect stay in Paris. We will come back in a heartbeat because of their high quality service. Many thanks.
Savennières Review
by Claude D
Mon plus beau appartement jusqu'à maintenant. Emplacement incomparable. Voir les tours de Notre-Dame et le Louvre du balcon est exceptionnel. Au centre absolu de Paris, dans un appartement très charmant et confortable. Nous avons très hâte d'y retourner. Translation: My most beautiful apartment so far. Incomparable location. Seeing the towers of Notre-Dame and the Louvre from the balcony is exceptional. In the absolute center of Paris, in a very charming and comfortable apartment. We can't wait to go back.
Savennières Review
by Alejandro D.
The Savennieres apartment in Paris is by far the most beautiful property I have stayed in! Not only was it wonderfully furnished with great taste, but it was greatly equipped with top-notch appliances! Located in the heart of Paris, within one of the most beautiful squares in the city, the apartment was more than I had expected for a stay in Paris. The balcony overlooking Place Dauphine made this stay wonderful. Not only did I enjoy exploring the city during the day, but also enjoyed having dinner and a drink overlooking the square at night. I highly suggest the Paris Perfect experience at Place Dauphine. I would stay here again in a heartbeat. I actually already started recommending this hidden gem with my friends and family!
Savennières Review
by Leslie Hard
Absolutely loved this apartment and truly felt at home. A 5 star apartment in the heart of Paris. I will certainly stay here when I am back in Paris for business or pleasure! Thank you Paris Perfect for a first class experience.
February 3, 2021 - Website
Savennières Review
by Vincent H
I spent a long stay into this apartment and I really felt like home. Communication was very easy for check-in/out. I recommend this place and will gladly come back!!
January 31, 2021 - Website
Savennières Review
by Morgan G
I LOVED my stay here. The apartment was gorgeous, amazing location, and the Paris Perfect team was so responsive and helpful with all my queries! I was sad to leave this amazing little nest in Paris!
January 11, 2021 - Website
Savennières Review
by Sébastien A
Une fois de plus, le séjour était fantastique, emplacement de rêve, calme et reposant, toute l'équipe est disponible pour répondre à vos attentes. Literie excellente. J'ai déjà hâte de revenir! Translation: Once again the stay was fantastic, dream location, calm and relaxing, the whole team is available to meet your expectations. Excellent bedding. I can't wait to come back!
October 11, 2020 - Website
Savennières Review
by Elena G-R.
We had a marvellous stay at Savennieres, and particularly enjoyed the terrace and its wonderful view over Place Dauphine. The apartment is nicely furnished and offers all one needs for three or even four people. Excellent restaurants are located few meters away on the same corner of Ile de la Cite, and Square du Vert Galant, is a magnificent location for sunrise or sunset.
February 14, 2020 - Website
Savennières Review
by Angelo D
My wife and I absolutely loved staying at Savennieres. Place Dauphine was a great location. The apartment had everything we needed for our week in Paris. The bed was comfortable, apartment was quiet and the upstairs kitchen/living room was awesome as it gave a place to spread out and enjoy espresso, wine and baguettes!
January 19, 2020 - Website
Savennières Review
by Del D
Our Savennieres apartment lived up to the Paris Perfect name. It was absolutely wonderful. The views of Place Dauphine and Notre Dame from the balcony make you feel like you are on top of the world. What a marvelous place to experience and explore Paris. Every major city site is within easy walking distance-- we never had to use the Metro or buses (thank goodness, because they were on strike while we were there). The Louvre is just a five minute stroll down the street, and even Pere Lachaise cemetery, which has always seemed so far from the city center, is less than a pleasant hour's walk. The apartment is small and cozy, but everything is first-rate and very comfortable for two people. It is perfectly quiet, which is amazing in the heart of such a large, bustling city. Big, plush bed. Efficient kitchen area, with washer/dryer and dishwasher. The Nespresso machine and free capsules was a nice touch that we enjoyed every day. We loved the daily delivery of fresh, free baguettes! Dozens of great restaurants nearby, plus a good grocery store and wine shop just a couple of minutes away. This was something of a splurge, but it was completely worth it. We hope to return someday soon. Thanks!
December 18, 2019 - Website
Savennières Review
by Chantal P
The apartment is quiet and cosy and the location, Place Dauphine, is practical (right in the center of Paris) and a bit magical : we had the feeling to be in a movie ... Despite a slightly off-beat arrival, Virgile allowed us to go in the apartment without problem. Fresh bread is delivered to your home every morning, which is nice. When we return to Paris, we will rent again via Paris Perfect !
September 4, 2019 - Website
Savennières Review
by Vickie F
Place Dauphine is such a magical place! The apartment was on the 5th floor. Two levels with a balcony overlooking my favorite square in Paris. This place is safe and easy to walk in every direction. The interior has been decorated in high quality finishes. I have stayed at this property many times. It's alway very clean and the fridge is stocked with a bottle of orange juice, milk, water, and a nice bottle of wine. The restaurant Paul two doors from apartment has wonderful food! One of the scenes in the movie "Midnight In Paris". How could you pass up all of these qualities? Come to Paris and enjoy any of the Paris Perfect rentals. They are all so wonderful. Owned an operated by a wonderful couple one American and one French. Don't wait to come I love it here!
Savennières Review
by Nancy M
This apartment is perfection. No other words are needed. The location is sublime. The service from Paris Perfect is beyond reproach. I'll never stay any where else.
Savennières Review
by Siobhan H
Great apartment - small but perfectly appointed and exactly what you need. I adored the balcony (coffee in am, wine at night) to feel and see Paris - was such a great element of the stay. The bed so comfortable and awesome shower. I loved Place Dauphine - right in Ile de Cite but away from crowds and walking distance to all neighborhoods. We had a wonderful stay - the apt is clean, well decorated, well appointed and a treat to stay in!!
Savennières Review
by Lydia M
Absolutely wonderful place and perfect location. I was traveling alone and felt very safe here. Very easy to walk everywhere or catch the metro/train. Next to quiet square with a few restaurants. Also highly recommend Paris Charms and secrets bike tour, and a cooking class with La Cuisine Paris, and a great shop around the corner from the apartment - Signe France had great gift items that are all made in France. Will definitely stay here again when I am able to come back!!
January 28, 2019 - Website
Savennières Review
by Rebecca W
What a magical visit! My wife and I brought along our 6 year old daughter for her first international trip, and Savennieres provided the perfect accommodations for our family. It's location could not have been better for both walking to sites and navigating the Metro for those farther flung to do's. Having access to a washer/dryer in the apartment was a huge bonus, and nothing beats the baguettes every AM. We awoke one morning to a fresh powdering of snow covering Place Dauphine. Our daughter was able experience her first snowball fight and make a snowman in the gardens at Versailles. Thank you so much for making our first "winter" visit to Paris one that our family will cherish for a lifetime.
January 25, 2019 - Website
Savennières Review
by Rebecca W
Place Dauphine is a magical place and exceeded our expectations! We brought our six year old daughter with us and she loved every inch of Paris and Place Dauphine, especially going to get a fresh baguette every morning downstairs! Thank you Paris Perfect for restoring such a beautiful place and giving us memories for a lifetime! Can't wait to return!
January 21, 2019 - Website
Savennières Review
by Rebecca S
What a magical experience! We felt like we truly lived in Paris. You can't beat the locations; you're steps away from Notre Dam, Pont Neuf and the fabulous restaurants and boutiques of Saint-Germain-des-Prés. Not to mention, the location is incredibly accessible to the St-Michel Notre Dame metro stop and RER (perfect for easy airport travel!). The fresh baguette in the morning was a truly special touch. We wouldn't stay anywhere else in Paris!
December 19, 2018 - Website
Savennières Review
by Linda and Ira G
Once again, Paris Perfect did not disappoint! The apartment was perfect for the 2 of us. Not only was it very comfortable and beautifully decorated, but extremely convenient to exploring all of Paris. And how nice to have fresh baguettes delivered to the building each morning! The Place Dauphine is a beautiful refuge anytime of year! We will return!
December 18, 2018 - Website
Savennières Review
by Kent O
The location could not be beat. It was nice to have so much more than a hotel room. Visiting Paris in the winter, we enjoyed having a place to "come back home" to and snuggle in.
November 8, 2018 - Website
Savennières Review
by Cathleen and Scott W
My husband and I were in Paris for ten days and stayed at Savennieres. It was absolutely the most perfect location and place to stay. We are very particular and the space was so very, very immaculate with everything we needed to make a trip perfect. The kitchen was wonderful for when we wanted to stay in for breakfast or for a quick snack - including a dishwasher. All the rooms, and linens were all like something you would see in a book. Their staff was terrific to deal with as well. We can't recommend them enough and they are part of the reason our recent trip to Paris was one of the best ever.
October 28, 2018 - Website
Savennières Review
by Steven G
The Savennieres apartment was spectacular in all aspects. The location, beautiful terrace, and wonderful living space provided an excellent home base for us as we explored the rest of Paris. We were always drawn back to the tranquil Place Dauphine where we could enjoy wine and cheese on the terrace and watch the many games of petanque taking place in the square. Could not ask for a more perfect Paris apartment.
October 10, 2018 - Website
Savennières Review
by David M
The absolutely best location in all of Paris. Balcony overlooking the square is charming and we had coffee and baguette there in the morning and wine and cheese in the evening. Very quiet. Bed was great and Paris Perfect couldn't have been better. They were superior to any hotel concierge. Will definitely go back.
September 18, 2018 - Website
Savennières Review
by Nathalie R
We enjoyed our stay at the Savvenieres apartment on Place Daughphine. It was newly renovated and tasteful appointed. We loved the location as it was centrally located. The only drawback was the food shopping was a bit of a walk. It is a very small apartment with a steep staircase but the building is beautiful with modern amenities and the balcony is delightful! We would definitely come back.
Savennières Review
by Anne Rosemary Clements
My husband and I had a wonderful time at our Paris Perfect apartment. We enjoyed the central position and being able to wander around and dine at local restaurants. We have been to Paris 5 times before but this was a very special stay. Thanks!
Savennières Review
by Vanessa
This was a wonderful flat, our stay was just perfect. Jordan (my granddaughter) was especially impressed with the fresh baguettes every morning. Please keep doing exactly what you are doing; we look forward to returning on our next trip to Paris.
Savennières Review
by Medwin Dayan
The location is amazing, the property is in good shape having been fully renovated a couple years back. The unit had everything we needed from a kitchen standpoint including fresh baguettes delivered daily. The appliances were in great shape. This unit is on the top floor with the only real balcony in the building and great views of the charming square below. I recommend it!
Savennières Review
by Ananya Chatterji
We returned recently from Paris and I am still dreaming about the Savennières apartment. The beauty and charm of the apartment itself is only rivaled by the exquisite location. There is no place more lovely than Place Dauphine. We walked all over the city and what was amazing was that Place Dauphine was truly central to every place we walked. We'd spend a morning in Le Marais, stop at the apartment, then the afternoon in St Germain. The apartment is in the midst of everything, and yet the square is beautiful and quiet. The baguettes in the lobby every morning were an absolute hit for our family. Mme Florence across the street at Ma Salle à Manger was our favorite Parisian (and her restaurant is top notch!) and the team at Paris Perfect were just wonderful. I will only return to Paris if I can book with Paris Perfect again, and to be honest I don't think I can return if we stay in another location. I've now been spoiled...I'm sure it doesn't matter which unit you choose at 25 Place Dauphine - the beauty of the location and the entire building are just unbeatable. Thank you for having us and for helping me find the perfect residence for our week in Paris.
February 27, 2018 - Website
Savennières Review
by Sabrina DiMIchele
Savennieres is fabulous! We have been to Paris numerous times, and have stayed in Paris Perfect apartments several times. We can attest to the superb quality of PP apartments, but are particularly thrilled to have stayed in one of the Place Dauphine apartments. Place Dauphine is a magical location! It is very centrally situated and is thus a perfect home base for exploring all parts of the city. As an added bonus, the apartments face the square (really, it's a large triangle), which is beautiful and so quiet. There are several dining options on the square; we visited all except one of them and especially liked the three to the right as you exit the front door of the apartment building (Restaurant Paul; Caveau du Palais; Bar du Caveau). Ma Salle A Manger, just across from the building, is also good. The best place to buy food to keep in the apartment is the market at Maubert Mutualite on the Boulevard Saint-Germain - just a short walk from the apartment building. The building itself is very, very old; witness the wooden beams that PP left exposed during the renovation. Thank goodness they installed an elevator; the internal stairs are steep and we were on the top floor! Savennieres is one of the two apartments at the top of PP's Place Dauphine building. It has a beautiful balcony patio off the living area; we would have loved to sit with a glass of wine and watch the day's light fade over the towers of Notre Dame and Saint-Chappelle, had it not been freezing and icy during our stay! The kitchen is perfectly equipped and, as always, PP had stocked it with water, wine, coffee, milk, and orange juice. We were particularly pleased to learn that fresh baguettes are delivered each morning to the lobby - we had great cheese and bread breakfasts each morning (having picked up a nice Cantal and brie at the Maubert Mutualite market the first afternoon). We loved our view of the square from the living room and from the bedroom, and we appreciated the sparkling clean bathroom (with fabulous water pressure!). The only thing we could possibly caution about anyone's staying at Savennieres is that the apartment is on two levels, connected by a very steep and winding staircase with narrow treads. We are in our late 50s and this was absolutely not a problem, but anyone with any kind of mobility issue or dizziness might want to opt for a different apartment (the elevator only goes to one of the two levels on which this apartment is situated, so the internal stairs cannot be avoided). Fortunately for the universe of PP guests, there are several other apartments within the Place Dauphine building that are situated on one level! Our greeter Virgile was delightful. He was in no hurry and explained how every appliance and mechanical device worked - he didn't just refer us to the PP booklet (which by the way is abundantly detailed about every device, but it's still nice to see things in action). We had a couple of piddly questions about the apartment the first couple of days, and Virgile responded by text very promptly (in one case having the building manager come inspect something). We know from past experiences, and this trip was no exception, that Paris Perfect is a tip-top service organization in addition to managing high quality rental properties. [Same comment goes for London Perfect, the sister company!] From the initial inquiry and booking processes all the way through to departure, Paris Perfect provides exceptional responsiveness, support, and assistance. Because we know Paris and London so well, we have never engaged any of the tour services or other concierge-type offers, but feel confident that the quality and attentiveness of those services will equal all the other facets of Paris Perfect's accommodation.
January 29, 2018 - Website
Savennières Review
by Eugene Viner
This apartment is One of the best apartments in the center of Paris. Apartment is brand new, has great amenities and hosts provide all necessary small things, like, coffee, a bottle of wine and even free baguette every morning. Apartment is located on top floor and has access to a beautiful balcony, that would be perfect to spend summer evenings.
December 27, 2017 - Website
Savennières Review
by Patricia O'Hagan Schoen
On an impulse and thanks to cheap winter airfare I booked an apartment on Place Dauphine with Paris Perfect. My husband recently passed away and I was eager to travel back to my favorite place to simply walk, gather my thoughts in quiet places, rest, wander, eat simply, repeat. To do so just before Christmas was a bonus. It was restorative and spectacular! The apartment was better than outstanding- it was- well- PERFECT!!! The Place Dauphine location is fantastic; you can walk everywhere- to the Latin quarter, Rue St. Honore, or the Opera. A special experience was walking back at dark after christmas shopping thru the Tulleries in a straight line thru the Louvre under archways up steps, down steps and to the quiet and oh so peaceful western tip of the Ile de la Cite where Place dauphine proudly holds court. To stay here is a treat in good taste. EVERYTHING you need is provided- especially wonderful furnishings, bedding, you name it. Thank you ParisPerfect and Maddy. Cant wait to return.
December 8, 2017 - Website
Savennières Review
by Alvin Ruthenberg
From the very start, everything was wonderful. Paris Perfect helped us to arrange car service from CDG to the apartment. The greeter, Virgile, was there (at 6:30 AM!!) and cheerfully guided us through the whole apartment, explaining every minor detail. He also gave us some helpful hints about the neighborhood. Needless to mention, the apartment itself was beautiful, just as described on the website. Place Dauphine is an oasis within the bustling heart of Paris, very relaxing (and convenient) to return to after a long day of touring. The apartment was spotless and quite detailed both decoratively and practically. We felt like it was our home away from home, a true pied-à-terre. The best part was Nicola, the concierge, who suggested restaurants and reserved dinners, and generally advised us about travel concerns. Thanks to you! All in all, I must say that we are very pleased with our experience and hope to book once again with Paris Perfect on our return.
November 30, 2017 - Website
Savennières Review
by Kevin
Very high quality apartment, best location in Paris, wonderful service
November 17, 2017 - Website
Savennières Review
by Duanne
Virgile was very helpful and informative. The bed was very comfortable! We loved going to the cinema as Les Halles. Great location in Paris.
October 2, 2017 - Website
Savennières Review
by Clare Trautvetter
We LOVED everything about this apartment! We had plenty of space, 2 bathrooms, a second floor with living room and kitchen, a large balcony overlooking the park below and the perfect location to walk everywhere around the city. The building is very quite with a band new elevator, they drop off fresh baguettes in the morning and easy access with a code instead of a key. The apartment was fully stocked with everything we could ever need and then some, they left us fresh milk, orange juice and even a bottle of wine to welcome us! We are already planning out trip back for next September because we loved it so much! Thank you for making us feel so at home in Paris!
September 28, 2017 - Website
Savennières Review
by Carrie Davis
As the name implies ParisPerfect the apartment was perfect. We loved the "Parisian" decor, the comfortable bed and high end linens. The kitchen was complete and easy to prepare a meal (I just had to get use to the size). We even found the clothes drying rack behind the couch which helped tremendously. We also appreciated the laminated booklet with all the apartment information. Although we were properly oriented to the European appliances they are new and having the directions in writing adds to safety. Thank you for this luxurious stay.
September 21, 2017 - Website
Savennières Review
by Pam Shortal
Paris Perfect (PP) was excellent to work with. Prior to and after booking, they were very helpful and responsive in answering my questions. In advance of our arrival and at arrival, they provided comprehensive information about Paris and the neighborhood. Our greeter met us promptly upon arrival and supplemented the PP provided information. My husband I and thoroughly enjoyed our stay at Savennieres. Place Dauphine square is a quiet haven with good restaurants. The location was very convenient. We were able to walk to most sights and the metro and RER trains were nearby. The apartment is new, lovely, and very well appointed. It was a plus that it had an elevator, washer/dryer combo and air conditioning. We would definitely stay in one of the six apartments in this building again. Since Savennieres is on two floors, the apartment would not be suitable for those with mobility issues.
August 19, 2017 - Website
Savennières Review
by Chnys R
Excellent premises - we will come again! Team was very nice and helpful.
Savennières Review
by Mark Blancarte
We have been staying in Paris for the past 20 years and the Savennieres apartment was by far the best apartment we have stayed in. We love the location right in the heart of the city and it is so easy to get to all the places we love - Luxembourg Gardens, St. Germain, Marais, Bastille, St. Honore and most of all the Tuileries and the Seine. We enjoyed the terrace and the view is spectacular as the sun sets over the Place Dauphine and the Palais de Justice. The apartment is nice and cozy and the very well maintained with all the amenities that you would need. We will definitely be back and the lovely fresh french baguette daily was a real treat.
Savennières Review
by Mark B
Loved the apartment and the view from the terrace was so great.
Savennières Review
by Eleanor H
We loved the apartment - maybe too much - it as hard to leave! The information and supplied provided was very useful.
Savennières Review
by Rod & Katie H
We had a lovely stay in our apartment. It was beautifully appointed and in a great location. We felt like we had a home to come back to each day. I thought from the paper work you sent us that we would only have basic supplies but we were very pleased with the amount of staples (coffee, detergents, toilet paper etc) loved the bottle of wine in the fridge on arrival and the fresh baguettes in the foyer every morning. Fresh bread with jam and coffee on our balcony every morning - what more could you ask for? All the restaurants/cafes in the Place Dauphine were very good - both with food and service. And the comings and goings, people playing petanque, filming commercials etc made it a fascinating location to stay with a local "vibe" that was great. Virgile was very helpful and patient with a couple of weary travellers. My only tiny complaint was the ironing board - it just kept collapsing. But at least there was one and I think if that is our only complaint you have scored 10 out of 10 from us. We would have no hesitation in staying with you again and recommending Paris Perfect.
Savennières Review
by Nancy P
Terrific! Everything wonderful! Virgil was fantastic. Thank you.
Savennières Review
by Timothy L Barefield
Would you like to stay in a beautiful apartment, with a 5th floor terrace, in a quiet courtyard that has people sitting at outdoor cafes and restaurants while others play petanque. Well, that opportunity exists if you reserve Savennieres at La Place Dauphine from Paris Perfect. My wife and I stayed here for a week in May and are already itching to return. From the fresh baguette waiting in the lobby every morning (the truck arrives at 8am sharp) to the helpful introduction and follow up from the greeter a stay in this location, origin 1607, is a treat. Coming "home" to the peace and quiet that 25 Place Dauphine offers is an experience every Paris lover should have. I have only written one other review in my life (4 Seasons Bora Bora) but this place merited a second.
Savennières Review
by Michael and Judith Hylan
Due to the location of this newly restored apartment, we were able to experience and appreciate not only many of the sights on our list, but we immediately felt like we were Parisian. Virgille was an absolute delight and very helpful with our many questions. We enjoyed many meals on the balcony that overlooks Place du Dauphine. One suggestion we would make is to install shelves in both baths for ease in placing toiletries. The stairs to the kitchen and living room is rather steep, but is well lit. Victor's Taxi service was excellent.
Savennières Review
by Len W
We had a wonderful time in Paris in April - the perfect location on a quiet square but walking distance from everything we wanted to do and eat. The apartment was the perfect setup for two but we had friends over for dinner twice and fit four around the table without issue. The kitchen is perfectly stocked with all the cooking and eating utensils we could need - the location is walking distance from some of the best-prepared food in Paris. But the fresh baguette waiting every morning for us was the ultimate luxury!
Savennières Review
by Virginia Sanden
This little apartment was a gem. Paris Perfect really think of absolutely everything that you might need in an apartment. The location was lovely with a great view over the Place Dauphine. The entrance reception hall is beautifully appointed and fresh baguettes were delivered daily which was great as you could have a bite to eat without having to head out to the Boulangerie if you didn't feel like it. Charming in every way!
Savennières Review
by Elizabeth Harrington
Awesome choice for a beautiful, centrally located apartment! The staff at Paris Perfect was very responsive and pleasant to work with. They offer a lot of services to make the most out our your stay while in Paris. I will definitely be coming back and choosing Paris Perfect for my accommodations and will be recommending them to my friends. As a matter of fact it was one of my friends who told me about the company!Great experience all around!
Savennières Review
by Andy Plauche
Dear Paris Perfect (the names of persons who were so courteous and helpful that I especially want to commend: Virgile, our greeter, Victor, our van transport, Wendy and Tess and Nicola and everyone else associated with your wonderful company): I write to praise you for such excellent accommodations, planning and extras for a very special trip to Paris for our daughter's 40th birthday. We were grandparents, 71 and 69, parents, 40 and 40 and grandchildren 12 and 10 and we thoroughly enjoyed our stay at 15 Place Dauphine. We have visited Paris many times over the years but this undoubtedly was our best visit and I know your accommodations and services contributed so much to make this trip so memorable. A couple of special notes that I compliment you on (and I recommend to everyone I talk to): - Grocery shopping to stock the appartments - so great to have the kitchens stocked on arrival - Victor at the airport - dependable and courteous and comfortable both ways - Virgile greeting us - such a thoughtful and helpful person to answer our every questions - Travel wi fi - I ordered at your recommendation and you picked up for us and I will never go without one in future - Louvre treasure hunt - perfect for us and the grandchildren - Merine was a delight - La Cuisine Paris and Chef Romaine - Perfiteroles and choux will be on our diet forever - Reservation service - Le Cinq in George V hotel and Ellsworth and Nicola confirming by e mail early and even the day before - Modern furnishings appliances and door locks on the the apartments - the best Merci, merci, merci. And forgive me if I have left off anyone, We have already recommended Paris Perfect to my sister and her husband who booked a rental in May and we will continue to recommend. Pleases keep us posted on upcoming specials and we promise to stay in touch also. You all need to come visit New Orleans!
February 28, 2017 - Website
Savennières Review
by Sara F
Like all of the Paris Perfect apartments at which I have stayed, Savennieres leaves absolutely nothing to be desired. It is located on the 5th and 6th floors (European) of the recently renovated historic building at place Dauphine. There is virtually no vehicular traffic on the square, so it is quiet and relaxing, something that is not always the case in Paris! The apartment is fully fitted with every conceivable bit of equipment you could want, including two coffee machines (one for capsules and one filter). The place is beautifully appointed, and both the bed and sofa bed were exquisitely comfortable, and were made up with high quality bed linens. The towels are fluffy and generous, and sit on a heated towel rail. What more could you want? Well, there's also a complimentary bottle of wine, fresh milk and orange juice waiting for you in the fridge. What a lovely touch! And if your flight or train arrives early in the day before your apartment is ready, there is a luggage room in the front lobby with a key code where you can drop off your luggage until it's time to meet the greeter who will show you up to your apartment. It is always joy to stay at a Paris Perfect apartment, and most particularly at place Dauphine!
February 27, 2017 - Website
Savennières Review
by Susan Goodwin
We loved the Savennieres apartment, it was perfect for sharing. The location was great, very quiet and convenient. The small restaurants in Place Dauphine were lovely. The apartment , though petite, was thoughtfully designed and laid out, and the balcony was beautiful. I would definitely book through Paris Perfect again!
February 23, 2017 - Website
Savennières Review
by Ed D
We loved it and will be back! Well done - we will tell all our friends!
February 10, 2017 - Website
Savennières Review
by Susan Gibbons
Savennieres Paris location, interior and exterior condition and overall experience was EXCELLENT! It was on two levels and we may have used the living room area a bit more if the unit was all on one floor but this was not a negative. I've been raving about it to friends and family since returning. We were greeted at our door by a Paris Perfect agent who kindly and efficiently reviewed the apartment details. Water and several essentials were in the refrigerator and every thing about local restaurants and places to visit were in a very detailed binder. We considered staying in a 5 star hotel at a much greater price but my husband and I were so much happier with our Paris Perfect choice.
January 14, 2017 - Website
Savennières Review
by Shane Yanagisawa
Nice love nest for physically fit couple. Bedroom and bathroom are nice. WC on same floor more useful than you would expect. Kitchen upstairs is small but very modern. Narrow stairs up to kitchen require care to use. Stayed in January but apartment was nice and warm. Great location at tip of Ile de la Cite right next to the Pont Neuf. Greeter thoroughly briefed us and made us feel welcome. Next to several subway stops.
November 24, 2016 - Website
Savennières Review
by W Durand
This was indeed the perfect place to stay in Paris. Fantastic apartment for view, location, layout and all of the wonderful Parisian touches.
November 12, 2016 - Website
Savennières Review
by Stephen S
Great location! Wonderful restaurants just steps from the apartment!
October 24, 2016 - Website
Savennières Review
by Katherine Gonzales
We just recently returned from our first trip to Paris, where we had chosen to celebrate our 30th wedding anniversary. We stayed at the Savennieres apartment in Place Dauphine and this was a highlight of our visit! The apartment is gorgeous, small but ingeniously appointed so that it feels much more spacious. The living room/kitchen/dinette is upstairs and the bedroom and bathrooms are downstairs. There is a lovely terrace upstairs which looks out over the square and has views of the towers of Notre Dame and the spire of St. Chapelle. We loved going out there in the mornings watching the city come to life, and again in the evenings, enjoying a glass of wine as the sun set. The location is ideal. It is an easy walk to many of the top attractions, as well as great restaurants on both the Right and Left Bank. Our sentimental favorite, however, was right across the street. We wandered into Ma Salle a Manger late one evening and had a perfectly wonderful experience that we will always remember. Our rental experience was excellent overall. The apartment was beautiful and the staff of Paris Perfect has been consistently helpful and professional since our very first contact several months ago. Thank you for contributing to the trip of a lifetime!
October 19, 2016 - Website
Savennières Review
by S Gore
All of our reservations and meals were terrific! Frenchie was outstanding. We loved Paris Perfect and would use it again.
October 18, 2016 - Website
Savennières Review
by sarah welsh
This was a beautiful apartment, an oasis of peace in the middle of a busy city. we looked forward to returning here every night! coffee in the morning and night caps in the evening on little balcony overlooking the square. watched the people walk their dogs and play bocci ball, felt more like being part of a community than being at a tourist hotel. The bed, pillows, sheets and towels were all first class. Dishwasher, elevator, and washer/dryer all worked. We definitely felt safe and well cared for during our stay and hope to return again to this apartment -- I'm now considering it "our apartment in Paris." Highly recommend.
Savennières Review
by Heidi Mitchell
We loved the fabulous location and the friendly face of Ellen each time we left the apartment. It was so nice to unpack and come "home" each night and not have to fuss with doormen and keys and being quiet and room service. it was a pleasure and we felt like true Parisians.
Savennières Review
by Mona S
We loved the Savennieres Apartment. It is spread out over two floors on the 5th and 6th Floor. The living room is under the roof with pretty beams, two large windows and a killer balcony. The place is perfect for a couple wanting to escape. It is small, but feels open with the high ceilings upstairs and the outdoor space is rewarding for relaxing with a glass of wine or having breakfast. Everything is very functional, top notch appliances, cabinetry, furniture, craftsmanship. Love love the grand chandelier in the living room reflecting in the antique mirror. The bedroom downstairs features very comfortable bed. Also ample storage space, important to note when you are trying to figure out where to put your big suit case. There is a small bathroom build under the stairs, on suite which is charming, and an additional half bath great for a couple getting ready at the same time. The shower is great with awesome pressure for ladies with long hair. There is a Bose speaker that connects to your phone via Bluetooth to listen to Music. We did not try the TV, as we were out and about most time. The Paris Perfect team were fabulous. No problem connecting with the greeter. We also booked several tours and had a fantastic time and had excellent follow up from the team. There was security downstairs in the lobby. I believe Paris Perfect has a genuine interest that the stay of their clients in Paris is of high quality and the experience of life long memories. We also used Uber for several rides in Paris for the first time and found it very easy and user friendly. The location of this apartment is perfect and one of the best in Paris. Just lovely! Thank you Paris Perfect!
Rates do not include taxes/fees.
Available
Unavailable
Check-In Only
Check-Out Only
October 2021

| S | M | T | W | T | F | S |
| --- | --- | --- | --- | --- | --- | --- |
| | | | | | 01 | 02 |
| 03 | 04 | 05 | 06 | 07 | 08 | 09 |
| 10 | 11 | 12 | 13 | 14 | 15 | 16 |
| 17 | 18 | 19 | 20 | 21 | 22 | 23 |
| 24 | 25 | 26 | 27 | 28 | 29 | 30 |
| 31 | | | | | | |
November 2021
S
M
T
W
T
F
S
01
02
03
04
05
06
07
08
09
10
11
12
13
14
15
16
17
18
19
20
21
22

$399

23

$399

24
25
26
27
28
29
30

$399
December 2021
S
M
T
W
T
F
S
01

$399

02

$399

03

$399

04

$399

05

$399

06

$399

07

$399

08

$399

09
10
11
12
13
14
15
16
17
18

$855

19

$855

20

$855

21

$855

22

$855

23

$855

24

$855

25

$975

26

$975

27

$975

28

$975

29

$975

30

$975

31

$975
January 2022
S
M
T
W
T
F
S
01

$975

02

$975

03

$975

04

$975

05

$975

06

$975

07

$975

08
09
10
11
12
13
14
15
16
17
18

$399

19

$399

20

$399

21

$399

22

$399

23

$399

24

$399

25

$399

26

$399

27

$399

28

$399

29

$399

30

$399

31

$399
February 2022
S
M
T
W
T
F
S
01

$399

02
03
04
05
06
07
08
09
10
11
12
13
14
15
16
17

$399

18

$399

19

$399

20

$399

21

$399

22

$399

23

$399

24

$399

25

$399

26

$399

27

$399

28

$399
March 2022
S
M
T
W
T
F
S
01
02
03
04
05
06
07
08
09
10
11

$399

12

$485

13

$485

14

$485

15

$485

16

$485

17

$485

18

$485

19
20
21
22
23
24
25

$485

26

$485

27

$485

28

$485

29

$485

30

$485

31
April 2022
S
M
T
W
T
F
S
01
02
03
04
05
06
07
08
09
10
11

$485

12

$485

13

$485

14

$485

15

$485

16

$855

17

$855

18
19
20
21
22
23
24
25
26
27
28
29
30
May 2022
S
M
T
W
T
F
S
01

$855

02

$855

03

$855

04

$855

05

$855

06

$855

07

$855

08

$855

09

$855

10
11
12
13
14
15
16
17
18
19
20
21
22
23
24
25
26
27
28
29
30
31
June 2022

| S | M | T | W | T | F | S |
| --- | --- | --- | --- | --- | --- | --- |
| | | | 01 | 02 | 03 | 04 |
| 05 | 06 | 07 | 08 | 09 | 10 | 11 |
| 12 | 13 | 14 | 15 | 16 | 17 | 18 |
| 19 | 20 | 21 | 22 | 23 | 24 | 25 |
| 26 | 27 | 28 | 29 | 30 | | |
July 2022
S
M
T
W
T
F
S
01
02
03
04
05
06
07
08
09
10
11

$855

12

$855

13

$855

14

$855

15

$855

16

$855

17

$855

18

$855

19

$855

20

$855

21

$855

22

$855

23

$855

24

$855

25

$855

26

$855

27

$855

28

$855

29

$485

30

$485

31

$485
August 2022
S
M
T
W
T
F
S
01

$485

02

$485

03

$485

04

$485

05

$485

06

$485

07

$485

08

$485

09

$485

10

$485

11

$485

12

$485

13

$485

14

$485

15

$485

16

$485

17

$485

18

$485

19

$485

20

$485

21

$485

22

$485

23

$485

24

$485

25

$485

26

$485

27

$485

28

$485

29

$485

30

$485

31

$485
September 2022
S
M
T
W
T
F
S
01

$485

02

$485

03
04
05
06
07
08
09
10
11
12
13
14
15
16
17
18
19
20
21
22
23
24
25
26
27
28
29
30
October 2022
S
M
T
W
T
F
S
01
02

$855

03

$855

04

$855

05

$855

06

$855

07

$855

08

$855

09

$855

10

$855

11

$855

12

$855

13

$855

14

$855

15

$485

16

$485

17

$485

18

$485

19

$485

20

$485

21

$485

22

$485

23

$485

24

$485

25

$485

26

$485

27

$485

28

$485

29

$399

30

$399

31

$399
Things to See & Do
Place Dauphine (1 mins Walking)
Located at the Western end of the Ile de Cité Initiated by Henri IV in 1607, this is one of the most beautiful public squares in Paris with leafy trees and all buildings having uniform facades as requested by the King.
Square du Vert-Galant (2 mins Walking)
A beautiful little park occupying the western tip of the Ile de la Cité. Sit along the edge of the Seine and enjoy incredible views of Paris
Sainte-Chapelle (3 mins Walking)
See the famous stained glass windows in this chapel on the Ile de la Cité island near Notre Dame Cathedral.
Conciergerie Museum (6 mins Walking)
Discover this 14th century royal palace that became the prison of Marie-Antoinette
Palais de Justice (6 mins Walking)
Home to the law courts of Paris
Latin Quarter (7 mins Walking)
Maze of narrow, cobbled streets that are home to artists, intellectuals, and a bohemian way of life, as well as Saint-Séverin, one of the most beautiful churches in Paris.
Notre Dame Cathedral (8 mins Walking)
One of the world's most famous churches and a must-see if you're visiting Paris. Marvel at the incredible French gothic architecture and climb to the top to get a close-up view of the cathedrals famous gargoyles.
The Louvre (10 mins Walking)
A trip to Paris isn't complete without a visit to the world-famous Louvre museum. See the Mona Lisa, Venus de Milo and other famous artworks

Shopping & Eating
Place Saint-Michel (7 mins Walking)
Lively area full of café, restaurants, pubs and bars
Rue de Rivoli (7 mins Walking)
Affordable fashion shopping street
Saint-Germain-des-Prés Neighborhood (10 mins Walking)
The Left Bank's most celebrated thoroughfare, packed with cafes, famous restaurants, unique specialty shops and luxury brands
Place Maubert (13 mins Walking)
On the Left Bank's most celebrated thoroughfare, Boulevard St-Germain, features a lively open-air market Tuesday, Thursday, and Saturday
Marché Maubert (14 mins Walking)
Traditional open-air market with a combination of permanent food shops and stalls. One of the best cheesemongers in the entire city is located here - Fromagerie Laurent Dubois. Open Tuesday, Thursday and Saturday from 7am - 2:30pm
La Tour d'Argent (15 mins Walking)
One of France's most famous restaurants on the Left Bank's Quai de la Tournelle
Rue Saint-Louis-en-l'Ile (15 mins Walking)
Features some of the best food shops in Paris and include bakeries, wine shops, grocery stores, an excellent fromagerie, and a butcher that local residents say is one of the best in Paris.

Public Transport
Métro (4 mins Walking)
Pont Neuf (Line 7)
Métro (8 mins Walking)
Cité (Line 4)