Overlooking the peaceful and utterly charming Place Dauphine on the Île de la Cité, the Loupiac is a beautiful one-bedroom vacation rental, set on the fifth floor of our exclusive La Place Dauphine building. You'll be surrounded by history during your stay at this stunning property, built in 1610 at the request of King Henri IV. The building features an elevator, the highest security digital locks and every modern convenience. Thanks to the large, sumptuous bed with Place Dauphine views, en suite bathroom and additional half bath, you are sure to have a comfortable stay in Paris. Enjoy cooking at home in the finely finished kitchen and romantic dinners overlooking the square.
Step outside and you'll immediately understand why Place Dauphine is one of the most coveted areas in Paris. Lined with buildings from the early 1600s, the square is full of trees and dotted with benches that are the perfect spot to sit and take in the historic setting. A popular spot with locals for a game of pétanque, you'll even hear the click of steel balls used in this traditional French game. Surrounding Place Dauphine are excellent cafés and restaurants that are popular with lawyers working at the nearby Palais de Justice, which means the quality is excellent!
Staying on the Île de la Cité right in the heart of Paris - "Kilometer Zero," as it is called - means you're surrounded by all the best sights, museums, shopping spots and top neighborhoods to explore. You can walk to all of them! View the nearby Notre-Dame Cathedral and visit Sainte-Chapelle and its incredible stained glass. Cross over to the Right Bank on the historic Pont Neuf to visit the Louvre or take in the Tuileries gardens. Stroll along the Seine on the Left Bank to the Musée d'Orsay or explore stylish Saint-Germain and meander through the cobblestone streets in the Latin Quarter. Discover the beauty, romance and history of Paris at our Loupiac apartment!
Things To Note
Neighborhood: 1st arrondissement
Size: 500 sq ft/45 sq m
Paris 2024 Olympics: Special Terms
Room Details
| Room | Beds | Details |
| --- | --- | --- |
| Bedroom | Dual Extra-Wide Queen (1) | Dual extra-wide queen bed (63in x 76in; 160cm x 193cm) which can be unzipped to form two single beds |
| Living room | Extra-Wide Queen (1) | High-quality sofa with memory foam mattress that converts into a comfortable dual extra-wide queen bed (63in x 75in; 160cm x 190cm) |
| Bathroom (en suite) | | Shower (fixed rainfall and flexible showerheads), toilet and sink |
| Half Bath | | Toilet and sink |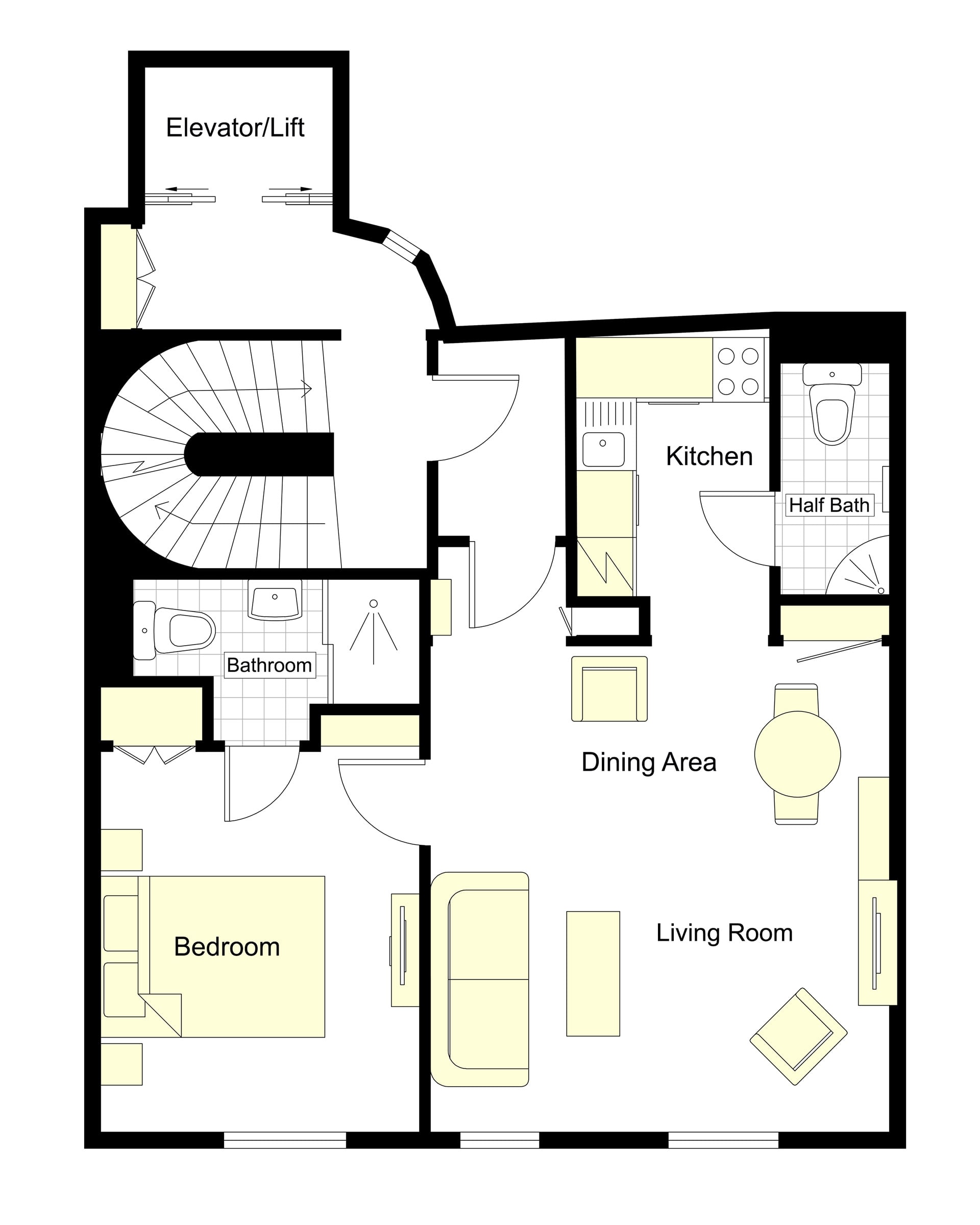 General Amenities

Toiletries
Hotel Safe
Smoke Detector
Carbon Monoxide Detector

Kitchen

Fully Equipped
Starter Supplies
Kitchen
Dishwasher
Kettle
Microwave Oven Combo
Nespresso Style Coffee Machine
Stovetop
Toaster
Refrigerator

Accessibility

Private Entrance
5th Floor North American
Elevator

Connectivity/Entertainment

WiFi
TV
TV - Limited English Programs

Heating/Cooling

Heating
Portable Fan(s) Available Upon Request
Sound Dampening Windows
A/C-Central
Non-Working Fireplace

Laundry

Iron & Board
Washer/Dryer Combo

Amenities

Elevator
Air Conditioning
Thank you for submitting your review. It will be processed shortly!
November 12, 2023 - Website
Great apartment
by Jane Cohen
The location is fantastic. The staff provided all necessary details when we checked in. The apartment is incredibly sunny during the day and very well-lit at night and very comfortable. The bed is also really comfortable. There's lots of storage space. I loved staying there and would absolutely stay there again and would highly recommend it. One suggestion for improvement: in both the closets, there's a shelf halfway down that serves no purpose other than to wrinkle the hanging clothes. It should be removed. And the kitchen would benefit from measuring cups, spoons and a sauté pan. My only minor criticism: I found the color of the walls dingier than they appear in the picture, but I'm not a fan of beige. And some of the furnishings had a flea market look to them, but someone else might love that boho-chic look. All in all, it's a fantastic apartment that met our needs beautifully.
Thank you, Jane, for your review. We have asked our team to take a look at the apartment with your feedback in mind and we make adjustments where required. We are pleased to hear that you enjoyed your stay! The Paris Perfect Team.
October 10, 2023 - Website
Perfect in every way
by Pamela Lewis
We absolutely loved our stay in the Loupiac apartment in the Place Dauphine. The location was historic, central, peaceful, and charming. Every detail was impeccable. And we loved the ability to grab a fresh baguette by the door!
August 10, 2023 - Website
Perfect location and perfect apartment
by Bryan Quisenberry
Place Dauphine is in the best location tucked into a quiet picturesque park in the heart of Paris. The Loupiac apartment is exactly as described with lovely furnishings and plenty of space to spread out. Ida was our greeter and she made sure there was cold water, juice and a chilled bottle of wine waiting for us in the refrigerator. There are several good restaurants in Place Dauphine as well. We will definitely stay here again!
It Was Perfect
by James L Slater
We have been to Paris many times and stayed in hotels and apartments in many locations. We enjoyed Loupiac more than any place we have ever stayed. The location was absolutely incomparable. We walked literally everywhere with only one exception when we took a cab to a restaurant near the Eiffel Tower. The Place Dauphine is lovely, quiet and has so many restaurants and stores we loved it. The apartment is spacious, comfortable and lovely decor. It is equipped with everything you could want. The "bible" explaining everything was so complete we never needed help with anything. We would definitely stay again.
In the heart of Paris
by Joseph S
Paris Perfect is a genuine description of our stay at this beautiful apartment! The apartment and amenities were fantastic, better than described on Air BnB. The apartment was incredibly comfortable and well equiped for our stay in Paris. The outlook onto the picturesque square never got old, with so many beautiful spots right on the door step. The location in the heart of Paris was walking distance to so many landmarks as well as a few of our favourite restaurants and conveniently located 2min from Pont Neuf Metro for any longer journeys. We will definitely be staying here on our next trip to Paris.
Très bon emplacement
by Emmanuel C
Très bon emplacement et accueil professionnel
Translation:
Very good location and professional welcome
March 21, 2022 - Manual Entry
I felt right at home!
by Gerda O
Another wonderful visit to Place Dauphine! Perfect apartment in a prefect location. I felt right at home.
January 18, 2022 - Manual Entry
Excellent service by the recommended taxi service and check in was fantastic. Amazing restaurants around and close to all major attractions. We will be back.
December 25, 2021 - Manual Entry
Gorgeous Cozy Home !
by Raj Prabhu
Gorgeous cozy place conveniently located to all the major attractions. Loved the recommended taxi service. This place has all the amenities and loved the service. We will be back.
December 19, 2021 - Manual Entry
Gorgeous apartment. Well appointed and equipped. Fabulous location.
I am delighted to be in these apartments, one of the best in which I have lived. Very convenient location, heart of Paris. The apartment has everything you need. I enjoyed being here, thank you for your hospitality!
Loupiac Review
by Ellie Bilotti
Had a fantastic stay overlooking Place Dauphine! Easy access to everything both inside and outside the apartment. Very helpful and accommodating hosts! I would highly recommend a stay with Paris Perfect! Merci!
Loupiac Review
by Florent M
Top à tous points de vue Translation: Top in every way
February 1, 2021 - Website
Loupiac Review
by Luciano A
Great place to enjoy Paris. Stayed 10 days and recommend.
February 1, 2021 - Website
Loupiac Review
by Diane H
The chance to spend the second Paris lockdown of 2020 in utter luxury - priceless. Building is beautifully renovated and you are in the true heart of the city. It is like being at a luxury hotel while having all of the amenities and comforts of home. Walk out the door and you are literally steps from Pont Neuf to watch the magical sunsets and see the Eiffel Tower sparkle. I spent a truly magical 11 weeks (!) at Loupiac. Not sure when I will ever have this kind of opportunity again. My stay was truly « Paris Perfect ». Merci.
January 31, 2021 - Website
Great place. Stylish, clean, comfortable. Hope to be back.
January 21, 2021 - Website
Perfect apartment for a long time visit. Everything you need and in the middle of Paris. Thank you for a wonderful 6 weeks! Hope I will come back soon again.
October 21, 2020 - Website
Loupiac Review
by Sang Heun L.
Very nice and historical location in the center of Paris. Great stay! Very quick and kind feedback from staff. Well managed apartment.
January 18, 2020 - Website
Fantastic location and a lovely, but very small apartment. Our contact, Virgile, was amazing and very responsive to our needs. We had a small issue with the drain in the shower and a quick call to Virgile solved the problem literally in minutes. He truly made our stay at Loupiac worthwhile. Thank you, Virgile!
November 26, 2019 - Website
Loupiac Review
by Pamela S
Loupiac was gorgeous and spacious. We were well greeted. The apartment fulfilled all of our needs. The baguette each day was an added bonus. The apartment was well situated for all of our travels around Paris. I would absolutely stay there again! Loved it.
October 31, 2019 - Website
Loupiac Review
by Brian S
The apartment was absolutely charming and recently updated with features that both fit a 400 year old building on Ile de la Cite and add an appropriate touch of 21st century modern technology which overall increased the comfort of our stay. Our greeter did a wonderful job and Place Dauphine did not disappoint in its active yet quiet park-like setting. Thank you for a wonderful stay. Hope to see you in the future for another.
September 21, 2019 - Website
Loupiac Review
by Peter D
Very nicely furnished and equipped apartment. Perfectly located. We would definitely stay there again.
August 25, 2019 - Website
It was a return visit to Paris for us and made additionally special with this beautiful apartment! The quality of furnishings was wonderful and the small extra's such as fresh baguettes in the lobby every morning were much appreciated. We would recommend this to anyone who enjoys a central Paris location.
We absolutely loved this apartment, perfect location, in the heart of the city. Place Dauphine was already a favorite little spot in the city for us, being able to stay right here, enjoying the restaurants and watching people play petanque in the park was delightful. The remodel of the 25 Place Dauphine apartments was brilliantly done! One of my favorite extras was the fresh baguettes daily at the door! THANK YOU PARIS PERFECT! We will definitely return to this location.
Our greeter met us at apt and gave a brief tour and answered all our questions. Apt was clean, comfortable, centrally located and spacious with all amenities. Fresh bread provided each morning. Recommended.
February 28, 2019 - Website
Loupiac Review
by Linda B
Really wonderful stay as usual! Quiet and comfortable with easy access to all of our favorite Paris locations. Welcome was perfect and we truly enjoyed our week in the beautiful and welcoming apartment. The staff was very helpful as well. Thank you for another amazing stay. Our anniversary, Valentine, and my birthday made special by the incredible experience.
February 14, 2019 - Website
Loupiac Review
by Alice H
Very modern, comfortable, and nicely appointed apartment. Quiet neighborhood, within walking distance of many historic sites of the city. Nice to have WiFi, satellite TV, and phone with calls for free to USA. Next time I would take advantage of renting the WiFi hotspot to take outside the building. We used the kitchen extensively, and shopped at the local markets. Also used the washer/dryer. Washer works great; dryer leaves clothes a little damp but we air dried them on the rack next to the kitchen. Nice linens, pretty comfortable bed, SLICK shower (use the rubber mat provided!). It was nice to have a bath and a half. The only thing I found missing was potholders. We used the kitchen towels instead.
February 7, 2019 - Website
This was my second stay at Place Dauphine and I loved it JUST as much as the first! Can't wait to come back again!
December 20, 2018 - Website
Loupiac Review
by Marie O'C
We had an excellent stay in Place Dauphine. Fresh baguettes in the morning were an added treat!
December 4, 2018 - Website
We found the apartment very pleasant and very complete. We very much enjoyed our stay. There were a couple of lights (the chandeliers) that we were either not able to turn on (bedroom) or turn off without turning others off (living room). But that was minor. Of course, it was a pain to walk through all the construction to get to the door, and some times the noise was distracting. But we were very happy with the location, the apartment and the good care that the Paris Perfect team exercised on our behalf. We hope to return soon!
October 21, 2018 - Website
Loupiac Review
by Garna M
I thoroughly enjoyed staying at the Loupiac. The apartment is perfect in every way: the location, the excellent staff, functionality of the building, beautiful decor, etc. In fact I am hoping to rent Loupiac and Castillon for my daughter and two granddaughters to join me in Paris in June. Looking forward to being in Paris again.
Loupiac Review
by Adrienne B
Very beautiful, fantastic location. The building is amazing and beautifully restored and maintained. Very quiet as well.
Loupiac Review
by Elizabeth Weigand
Everything about this apartment was wonderful. From the condition and quality of the furnishings, appliances, and shower, to the elegant and soothing decor. Our greeter was awesome, he welcomed us and helped us settle in. Check in was seamless and check out equally simple. The location could not have been better. There was so much to see and do within walking distance, it was convenient for the metro but hidden away in a classically Parisian square. We have rented from other vendors over the years, but this truly was perfect and has ruined the chance of renting anywhere else!
December 17, 2017 - Website
I have rented all over the world - this was the best experience I have ever had - informative and well maintained. The team was excellent!
December 3, 2017 - Website
We had a wonderful time at the beautiful Loupiac apartment and we were extremely happy with the Paris Perfect experience. The apartment is very spacious and clean, as well as very nicely furnished and appointed. It was also in a perfect spot in Paris- centrally located with many places on both sides of the river easily walkable. A bridge over the Seine was only steps away. It was alongside a small, quiet park with no through-traffic, so it was quiet. This was my fifth trip to Paris and the best of all of them! It is so much nicer to stay in a beautiful apartment such as the Loupiac than a hotel.
December 2, 2017 - Website
Loupiac Review
by catherine schieve
The apartment was beautiful with elegant furnishings, an extremely quiet building, a great neighborhood and a nice greeting and "show around" the apartment by Virgile. The location was terrific. My husband loved the daily baquette. We will definitely come again. Thank you for all the attention to detail.
November 5, 2017 - Website
Loupiac Review
by Greg and Lynn Adsit
The apartment was in an ideal location, decorated so beautifully, layout fantastic and so very clean. The staff was friendly and helpful. The information packet was excellent and filled with useful information. We loved the free baguette everyday!!! We also liked the fact that you recycle. We only had minor items that needed attention (with each visit) such as: batteries for remotes, which all of ours were failing, trash bag and paper towel supplies, light bulbs. Just a few cosmetic items, like painting, and set screws in bathrooms. A rug in the entry way would be helpful when we returned from rainy days so we didn't track water into the apartment. It was wonderful and would stay again..... Made our trip that much more amazing.
October 13, 2017 - Website
Loupiac Review
by Robyn Cutts
Thank you Paris Perfect. We had a wonderful 2 weeks in Paris in the Loupiac apartment. It was spotlessly clean, very spacious and beautifully decorated. We had all we needed to feel at home. The apartment is in a wonderful location - central to everything and yet so quiet and peaceful. Although we booked online from Australia, many months in advance, everything ran like clockwork. We had no problems with any aspect of our stay and would gladly recommend Paris Perfect to anyone who is thinking of renting an apartment in Paris.
Loupiac Review
by Suzan Harrison
We had another wonderful stay at a Place Dauphine apartment, the Loupiac apartment this time. The apartment is simply luxurious, with all the amenities you would expect of a 5 star hotel. The bed and bedding are comfortable, the air conditioning was very welcome with the temperatures climbed into the 90s, and now that I'm home, I'm missing the lovely kitchen with everything you need to prepare a meal. Best of all, though, is the location. Place Dauphine is perfectly located between the left and right banks of Paris. We loved sitting at the cafes in the Place, watching the boule games. And the food at those restaurants was fabulous. The support provided by the Paris Perfect team was just that--perfect--as usual. We will stay in one of their apartments on our next trip to Paris.
Loupiac Review
by Cailin Nomad
I had the best time staying in the Loupiac apartment and will definitely be back! Virgile was so sweet and greeted us upon arrival and showed us into our lovely place. The apartment was so beautiful, clean and centrally located! Place Dauphine is the perfect little sanctuary to come back to after a long day wandering through the city. There are tons of great cafes to sit in right below the apartment and the view from the living room is breathtaking! The associates at Paris Perfect were so helpful with all of the questions I had and very accommodating! I will definitely be renting from them again:)
Loupiac Review
by Sue Horn-Caskey
What a wonderful apartment--our favorite Paris Perfect stay. Quiet location, Pont Neuf as the link to Rive Gauche or Rive Droite, and fresh baguettes delivered to Place Dauphine every morning. Merci!!
Loupiac Review
by Jeanne C
Very nice & clean. Maybe don't make it so easy to be in Paris. It's good for foreigners to have to work a little to figure things out. Baguette & food in fridge is a great touch.
Loupiac Review
by Veronica C
Wow! Our five nights at Loupiac were better than we could have imagined. The apartment has been designed with a traveler's every comfort and convenience in mind, such as fine linens, large thick bath towels, and the best European mattress we have ever slept on. We appreciated little things too, like plenty of electric plugs, a rack near the door to hang jackets, and strong wifi. Loupiac's location, right on Place Dauphine, made us feel like we were part of a neighborhood, as we watched locals gather in the evening to play Boules or walk dogs. And what a wonderful surprise to have fresh baguettes delivered to the lobby each morning! Also, special thanks to Virgile, who greeted us warmly and provided an extensive orientation to the apartment and all its amenities!
Loupiac Review
by Audrey Devlin
It was all fabulous, beginning with the greeter, Virgilie, perhaps the most charming man in Paris. The apartment was thoughtfully designed and furnished. It is spacious and the views are marvelous. The location is perfect, you can walk everywhere. The sofa bed is as comfortable as the regular bed, the sheets were sublime. By the second day we felt like we lived there. The kitchen is very well equipped. The baguette in the lobby each morning was delightful. We can't imagine staying anywhere else when we return to Paris. Highly recommended.
Loupiac Review
by Robert A
Loved the apartment and the location in Place Dauphine! Very comfortable if a bit small but we think it was more "cozy". We would stay here again. Virgil and Patricia were so helpful, gracious and responsive!
February 28, 2017 - Website
Loupiac Review
by Rodrigo M
Very friendly and receptive staff!
February 13, 2017 - Website
It was perfect! Loved it!
January 26, 2017 - Website
Loupiac Review
by Gordon P Harrison
Excellent! I've rented many apartments in Paris and this was by far the most nicely appointed. The renovations were obviously new and are very well done. The apartment, fixtures and appointments were all beautiful as well as high quality. I loved having a working elevator after long days running around the city. The location is my favorite in Paris as it really puts you at the most central point for navigating the entire city. A wonderful and easy experience all around. I'll be back!
January 9, 2017 - Website
Loupiac Review
by Elizabeth R
This stay with Paris Perfect was just that, Perfect! The apartment is beautiful, we felt so well taken care of and we most certainly will return to Paris and stay in a Paris Perfect apartment!
January 3, 2017 - Website
Loupiac Review
by Heather Hepp
Loupiac is a charming apartment conveniently located near the Notre Dame Cathedral. The apartment was of generous size (for Paris) and had all the conveniences of apartment living. I especially appreciated the electronic locks - it saved from having to worry about losing keys or locking oneself out. The location provides ease of access to the metro and RER+ (airport) and you can easily walk to many of the major attractions. The apartment does not disappoint and I would most definitely stay here again. An all around winner!
January 1, 2017 - Website
Loupiac Review
by Rosemary O
Absolutely loved the apartment, great location, very quiet and a lovely place to come "home" to everyday! The team were very friendly and helpful!
December 6, 2016 - Website
Loupiac Review
by Landen Kerr
We absolutely loved staying at the apartment. The elevator was large, the space was brand new, and the floor plan was open. Being located on Place Dauphine was a dream - the views from the apartment were fabulous and we were only a short walk from virtually anywhere we wanted to go. Although we never cooked the kitchen was fully stocked with everything we would've needed to cook. I would highly recommend staying in this apartment - it's location and newness set it apart.
November 18, 2016 - Website
Loupiac Review
by Kerry-Anne Vella
What a great apartment ,so well situated and a pleasure to stay in. The apartment had everything needed plus more, compact but feels very roomy. I wish I could of stayed longer, really didn't want to leave. Shopping close for groceries and transport at your door to all that I needed. Buses to all parts of Paris at your door stop. When you book add a week because you will appreciate it. Sit back and enjoy.
November 17, 2016 - Website
Loupiac Review
by Nancy Vincent
A few years ago, our family stayed at one of your apartments on the Rue de la Bourdonnais, which we very much enjoyed. Since then, I have followed your postings about 25 Place Dauphine. I was so intrigued by your ambition to carry through, notwithstanding the architectural and bureaucratic hassles, and by your obvious love for this building. You have made a brilliant investment in the acquisition and restoration of this historic jewel in the true heart of Paris. Everything was done with first-class attention to detail and quality. Beautifully furnished in the greys and creams that so remind me of Paris, with an occasional pop of aqua or chartreuse. That spectacular staircase (the runner is stunning)..to think of all the people who have trod those stairs over the centuries..the exposed wood beams and posts. And yet all the conveniences of modern technology and appliances make the stay so easy. Perfect melange of historic and contemporary. So much better than a hotel as we really felt like we were returning chez nous at the end of each day, toting home our bread, cheese and wine. We did not take the Metro once as the central location made walking everywhere such a pleasure. Cruise of the Seine? One minute walk across the Pont Neuf to the Vedettes du Pont Neuf. I think if the statue of Henri IV on the Pont Neuf could come to life he would be delighted to see what you have done. I think he was probably overseeing your transformation of No. 25 with fascination and delight. And, of course, the Paris Perfect staff is fantastic. Their energy and accessibility make the experience distinctive. Finally, Victor and his drivers are terrific. At your suggestion, we contacted Victor for both of our visits. He is incredibly responsive and reliable. We look forward to our next stay at No. 25 Place Dauphine. Thank you for the gift that it is.
November 14, 2016 - Website
Loupiac Review
by CHRIS CARLE
Dear Paris Perfect, We were very pleased with our stay in your Loupiac apartment. It was exactly as shown on your site. It was spotless clean, quiet and comfortable --- and in such a great location! We also appreciated very much your excellent information and communication with us. Thank You
October 22, 2016 - Website
Loupiac Review
by Gina Russo
The Loupiac was my third Paris Perfect apartment and it exceeded my expectations! All of the Paris Perfect apartments are wonderful but the Loupiac is newly renovated and has an en suite bathroom so the toilet sink and shower are in the same bathroom which is very rare in Paris and it even has a half bath. I've never seen a better use of 475 square feet! The layout of the apartment is great and so comfortable. There is a combo washer dryer in the kitchen. The washer works great even though it takes a long time to do a load but it's nice to have so that you can pack less. Be prepared to air dry the clothes because the dryer takes forever. The building has a brand-new feel and a great elevator that is not claustrophobic like many other Paris buildings. The apartment is in a great central location close to the Lourve, Notre Dame and many other sites in Paris. It's so easy to step out of the apartment on to Pont Neuf to go for a walk along the Seine. The apartment overlooks a beautiful courtyard which can be noisy at night but when you're in Paris on vacation who cares! I really enjoyed my stay at the Loupiac and can't wait to come back!
October 15, 2016 - Website
Loupiac Review
by Mikey Herring
Loved the new Paris Perfect apartment on the Place Dauphine. A truly historic and charming square –quiet and lovely. The new apartment was wonderful—easy to access—great that it had two bathrooms— Loved the compact kitchen and the windows facing out onto the square. It was a perfect getaway for a week. Restaurant and touring locations were helpful and informative. We were happy we had chosen this newer apartment from Paris Perfect.
September 29, 2016 - Website
Loupiac Review
by J carter
The apartment was perfect and just as promised. Truly the week was more than we could have hoped for and a daily highlight was coming home to the calm and quiet of La Place Dauphine. It made our trip special and we will be quick to refer it to others. Thank you for making this a great option! See you soon we hope!
September 29, 2016 - Website
Loupiac Review
by J carter
The apartment was perfect and just as promised. Truly the week was more than we could have hoped for and a daily highlight was coming home to the calm and quiet of La Place Dauphine. It made our trip special and we will be quick to refer it to others. Thank you for making this a great option! See you soon we hope!
September 23, 2016 - Website
Loupiac Review
by Diane Ramirez
This Place Dauphine address is really central. A bit secluded, but at the same time in right in the middle of the action. Fantastic! The Pont Neuf metro is merely a 2 minute walk away. A velib station is 20 seconds away. Apartment is very clean and has all the amenities/appliances one needs. The apartment even has a Bose bluetooth portable speaker to use (description notes it as an "mp3"). Keyless entry was a welcomed feature. No more carrying keys. All you need to remember is the entrance code and apartment door code. Apartment overlooks the small park which during the summer can be a bit noisy. Someone is invariably screaming or talking out loud. Park goers tended to congregate at the other end of the park at night so that was good, but I could still hear them up until 4am most nights. There are several cafes/restaurants at Place Dauphine which makes it very convenient. There's plenty of storage at the apartment. There's a compartment under the mattress as well as a closet, drawers, shelves, etc. The apartment is decorated very well and the lighting features make the apartment so lovely. The apartment walls are thick and you barely hear the neighbors above. Weekly cleaning service was great. There's no need to buy anything because everything was restocked weekly - soap, paper towels, washing detergent, and dishwashing tablets. The air conditioning is great too. There's a built-in unit in the living room and in the bedroom. During my stay there was an issue with the a/c where a group of people came in to look at the units - twice, but other than that you were left uninterrupted. There's a concierge in the lobby at all times thereby giving it a hotel vibe rather than an apartment vibe. Moreover, the hot water stopped working one morning/afternoon. I couldn't take a shower until after 4pm. Other than that everything worked perfectly. I was very happy with the apartment and would consider staying there again. The location can't be beat.
Loupiac Review
by M Salguero
We are so grateful having the extra space and settled in nicely. Everything is functional and pretty! The beds and bedding are very comfy! I used the washer dryer today. It works great and we put the kitchen to test for breakfast and it worked great. The shower is nice and big in the Loupiac apartment and I love the water pressure for washing my hair. We are having a fantastic time.
Base Nightly Rates – May Not Include Fees such as Greeting, Cleaning, Damage Waiver, Credit Card Processing and Tourist Taxes. For full price, please put in dates.
Available
Unavailable
Check-In Only
Check-Out Only
November 2023

| S | M | T | W | T | F | S |
| --- | --- | --- | --- | --- | --- | --- |
| | | | 01 | 02 | 03 | 04 |
| 05 | 06 | 07 | 08 | 09 | 10 | 11 |
| 12 | 13 | 14 | 15 | 16 | 17 | 18 |
| 19 | 20 | 21 | 22 | 23 | 24 | 25 |
| 26 | 27 | 28 | 29 | 30 | | |
December 2023
S
M
T
W
T
F
S
01
02
03
04
05
06
07
08

$299

09

$299

10

$299

11

$299

12
13
14

$299

15

$299

16

$299

17

$299

18

$299

19

$299

20

$399

21

$399

22

$399

23

$399

24

$399

25

$399

26

$749

27
28
29
30
31
January 2024
S
M
T
W
T
F
S
01
02

$399

03

$399

04

$399

05

$399

06

$399

07

$399

08

$413

09

$441

10

$436

11

$469

12

$429

13

$423

14

$399

15

$399

16

$399

17

$419

18

$427

19

$424

20

$419

21

$399

22

$399

23

$415

24

$426

25

$438

26

$425

27

$424

28

$408

29

$399

30

$428

31

$430
February 2024
S
M
T
W
T
F
S
01

$447

02

$442

03

$446

04

$446

05

$399

06

$428

07

$433

08

$445

09

$454

10

$466

11

$437

12

$399

13

$421

14

$426

15

$438

16

$452

17

$472

18

$422

19

$428

20

$445

21

$457

22

$474

23

$487

24

$510

25

$446

26

$452

27

$473

28

$496

29

$523
March 2024
S
M
T
W
T
F
S
01

$540

02

$564

03

$504

04

$510

05

$536

06

$560

07

$578

08

$593

09

$603

10

$538

11

$546

12

$554

13

$457

14

$603

15
16
17
18
19
20
21
22

$604

23

$611

24

$571

25

$582

26

$609

27

$613

28

$618

29

$622

30

$640

31

$594
April 2024
S
M
T
W
T
F
S
01

$607

02

$628

03

$629

04

$631

05

$630

06

$653

07

$614

08

$627

09

$649

10

$655

11

$650

12

$646

13

$665

14

$621

15

$634

16

$650

17

$657

18

$655

19

$642

20

$658

21

$605

22

$600

23

$494

24

$639

25
26
27
28
29
30
May 2024
S
M
T
W
T
F
S
01
02
03
04
05
06
07
08
09
10
11
12

$596

13

$599

14

$624

15

$638

16

$668

17

$681

18

$692

19

$648

20

$645

21

$654

22

$662

23

$687

24

$699

25

$713

26

$669

27

$667

28

$683

29

$695

30

$712

31

$720
June 2024
S
M
T
W
T
F
S
01

$800

02

$748

03

$751

04

$771

05

$780

06

$791

07

$787

08

$790

09

$741

10

$759

11

$780

12

$781

13

$780

14

$778

15

$780

16

$744

17

$770

18

$777

19

$779

20

$782

21

$782

22

$779

23

$750

24

$913

25

$911

26

$908

27

$908

28

$768

29

$763

30

$738
July 2024
S
M
T
W
T
F
S
01

$767

02

$773

03

$771

04

$770

05

$762

06

$759

07

$721

08

$738

09

$745

10

$737

11

$730

12

$721

13

$715

14

$614

15

$631

16

$644

17

$638

18

$624

19

$799

20

$793

21

$761

22

$777

23

$767

24

$690

25

$1203

26
27
28
29
30
31
August 2024
S
M
T
W
T
F
S
01
02
03
04
05
06
07
08
09
10
11
12

$758

13

$769

14

$767

15

$762

16

$565

17

$568

18

$548

19

$560

20

$576

21

$560

22

$558

23

$563

24

$570

25

$548

26

$573

27

$595

28

$587

29

$590

30

$602

31

$616
September 2024
S
M
T
W
T
F
S
01

$652

02

$692

03

$737

04

$735

05

$746

06

$757

07

$769

08

$728

09

$765

10

$802

11

$803

12

$805

13

$803

14

$811

15

$755

16

$783

17

$821

18

$831

19

$835

20

$833

21

$837

22

$770

23

$794

24

$825

25

$838

26

$837

27

$836

28

$847

29

$773

30

$789
October 2024
S
M
T
W
T
F
S
01

$740

02

$749

03

$747

04

$748

05

$762

06

$692

07

$703

08

$727

09

$730

10

$730

11

$739

12

$762

13

$697

14

$707

15

$730

16

$729

17

$726

18

$732

19

$758

20

$694

21

$688

22

$711

23

$713

24

$705

25

$710

26

$739

27

$672

28

$651

29

$667

30

$672

31

$667
November 2024
S
M
T
W
T
F
S
01

$669

02

$697

03

$633

04

$613

05

$636

06

$659

07

$669

08

$674

09

$705

10

$638

11

$616

12

$631

13

$657

14

$666

15

$664

16

$671

17

$586

18

$598

19

$619

20

$649

21

$678

22

$693

23

$661

24

$584

25

$593

26

$609

27

$642

28

$660

29

$675

30

$660
December 2024
S
M
T
W
T
F
S
01

$584

02

$591

03

$608

04

$661

05

$666

06

$678

07

$681

08

$597

09

$609

10

$617

11

$667

12

$647

13

$655

14

$657

15

$531

16

$601

17
18
19
20
21
22
23
24
25
26
27
28
29
30
31
January 2025
S
M
T
W
T
F
S
01
02

$519

03

$644

04

$624

05

$593

06

$597

07

$624

08

$620

09

$668

10

$614

11

$605

12

$554

13

$536

14

$568

15

$598

16

$611

17

$610

18

$608

19

$577

20

$536

21

$590

22

$603

23

$618

24

$603

25

$608

26

$585

27

$527

28

$584

29

$586

30

$610

31

$602
Things to See & Do
Place Dauphine (1 mins Walking)
Located at the Western end of the Ile de Cité Initiated by Henri IV in 1607, this is one of the most beautiful public squares in Paris with leafy trees and all buildings having uniform facades as requested by the King.
Square du Vert-Galant (2 mins Walking)
A beautiful little park occupying the western tip of the Ile de la Cité. Sit along the edge of the Seine and enjoy incredible views of Paris
Sainte-Chapelle (3 mins Walking)
See the famous stained glass windows in this chapel on the Ile de la Cité island near Notre Dame Cathedral.
Conciergerie Museum (6 mins Walking)
Discover this 14th century royal palace that became the prison of Marie-Antoinette
Palais de Justice (6 mins Walking)
Home to the law courts of Paris
Latin Quarter (7 mins Walking)
Maze of narrow, cobbled streets that are home to artists, intellectuals, and a bohemian way of life, as well as Saint-Séverin, one of the most beautiful churches in Paris.
Notre Dame Cathedral (8 mins Walking)
One of the world's most famous churches and a must-see if you're visiting Paris. Marvel at the incredible French gothic architecture and climb to the top to get a close-up view of the cathedrals famous gargoyles.
The Louvre (10 mins Walking)
A trip to Paris isn't complete without a visit to the world-famous Louvre museum. See the Mona Lisa, Venus de Milo and other famous artworks

Shopping & Eating
Place Saint-Michel (7 mins Walking)
Lively area full of café, restaurants, pubs and bars
Rue de Rivoli (7 mins Walking)
Affordable fashion shopping street
Saint-Germain-des-Prés Neighborhood (10 mins Walking)
The Left Bank's most celebrated thoroughfare, packed with cafes, famous restaurants, unique specialty shops and luxury brands
Place Maubert (13 mins Walking)
On the Left Bank's most celebrated thoroughfare, Boulevard St-Germain, features a lively open-air market Tuesday, Thursday, and Saturday
Marché Maubert (14 mins Walking)
Traditional open-air market with a combination of permanent food shops and stalls. One of the best cheesemongers in the entire city is located here - Fromagerie Laurent Dubois. Open Tuesday, Thursday and Saturday from 7am - 2:30pm
La Tour d'Argent (15 mins Walking)
One of France's most famous restaurants on the Left Bank's Quai de la Tournelle
Rue Saint-Louis-en-l'Ile (15 mins Walking)
Features some of the best food shops in Paris and include bakeries, wine shops, grocery stores, an excellent fromagerie, and a butcher that local residents say is one of the best in Paris.

Public Transport
Métro (4 mins Walking)
Pont Neuf (Line 7)
Métro (8 mins Walking)
Cité (Line 4)