Enjoy
With its central location and upscale neighborhood, the clean and quiet Strozzi is a good place to recharge after a day seeing, tasting & experiencing all that Florence has to offer.
Step out the door of the apartment building and find "miracle mile" Via Tornabuoni just half-a-block away, lined with wonderful shops, luxury hotels and designer boutiques. The apartment gets its name from Palazzo Strozzi, one block away, which is widely regarded as the finest example of Renaissance architecture in Florence. This comfortable and conveniently located apartment offers an excellent historic location, modern conveniences, hard-to-find center of town quiet for sleeping, and a bevy of wonderful museums, tempting take-away gourmet food purveyors, restaurants, and shopping all within steps of the apartment. In the morning stop in at the bakery that is next door to the apartment building and pick out your morning bread and pastries. In the afternoon you might find yourself tempted by the delicious array of delicate cookies for tea time or dessert. At night, enjoy a glass of wine and relax a bit before you head out to one of the many excellent neighborhood restaurants. On the same block as the apartment are several good cafes and restaurants.
Location
The apartment is located on Via della Spada just off of the high-fashion Via Tornabuoni, with numerous major designer boutiques just outside the front door of the apartment building. You can stroll along downtown Florence pedestrian thoroughfares, enjoying outdoor cafes, easy museum access due to the central location, plenty of shopping, restaurants and the best produce market, the Mercato Centrale, all within walking distance.
Exterior
The apartment is in a Renaissance era building. For larger groups it can be booked in conjunction with the Prisco and Michaela apartments in the same building.
Interior
This modest and affordable apartment faces the internal courtyard of the building and has an internal-facing terrace off the living room. The small terrace doesn't provide scenic views since it faces the backs of the neighboring apartments, other service terraces and laundry lines but it provides a sunny, peaceful retreat in the midst of a busy small city and expands the living room when the French doors are open.
The decor is old fashioned Italian style with homey touches such as lace doilies and figurines. The living room has a sofabed that converts to two single beds.
There is an efficiency kitchenette adequate for light meal preparation due to limited countertop space and distance to the refrigerator. When the doors to the kitchenette are closed it looks like an antique armoire in the corner of the living room. 
Things To Note
Neighborhood: Duomo
Size: 650 sq ft, 60 m2
Accessibility/Security: 8 steps up to elevator.
Outdoor Space: Balcony faces back of other buildings, no views.
Utilities: Baseline utilities (gas/electric) €4/day included for stays of less than 4 weeks. Overage paid locally.
Other: Check in is from 5pm to 7pm, by appointment. No check in after 7pm, sorry no exceptions. Florence airport arrival-estimate 2 hours from landing time, so no flights landing after 5:00pm.
Early check in before 5:00pm: We recommend booking the night before, if available, for check in before 5:00pm. If not, we can recommend nearby luggage storage.
Check out is by 10:00am. For luggage storage after 10:00am we can recommend nearby luggage storage. Utility costs will be deducted from the deposit.
For stays of 4 or more weeks, a €300 damage deposit is collected in cash on arrival.
Room Details
| Room | Beds | Details |
| --- | --- | --- |
| Bedroom | Dual Extra-Wide Queen (1) | Dual extra-wide queen (63in x 79in; 160cm x 200cm) which can be separated to form two single beds |
| Living Room | Foldaway Bed: Single (2) | Two foldaway beds-single |
| Bathroom | | Shower, sink and toilet |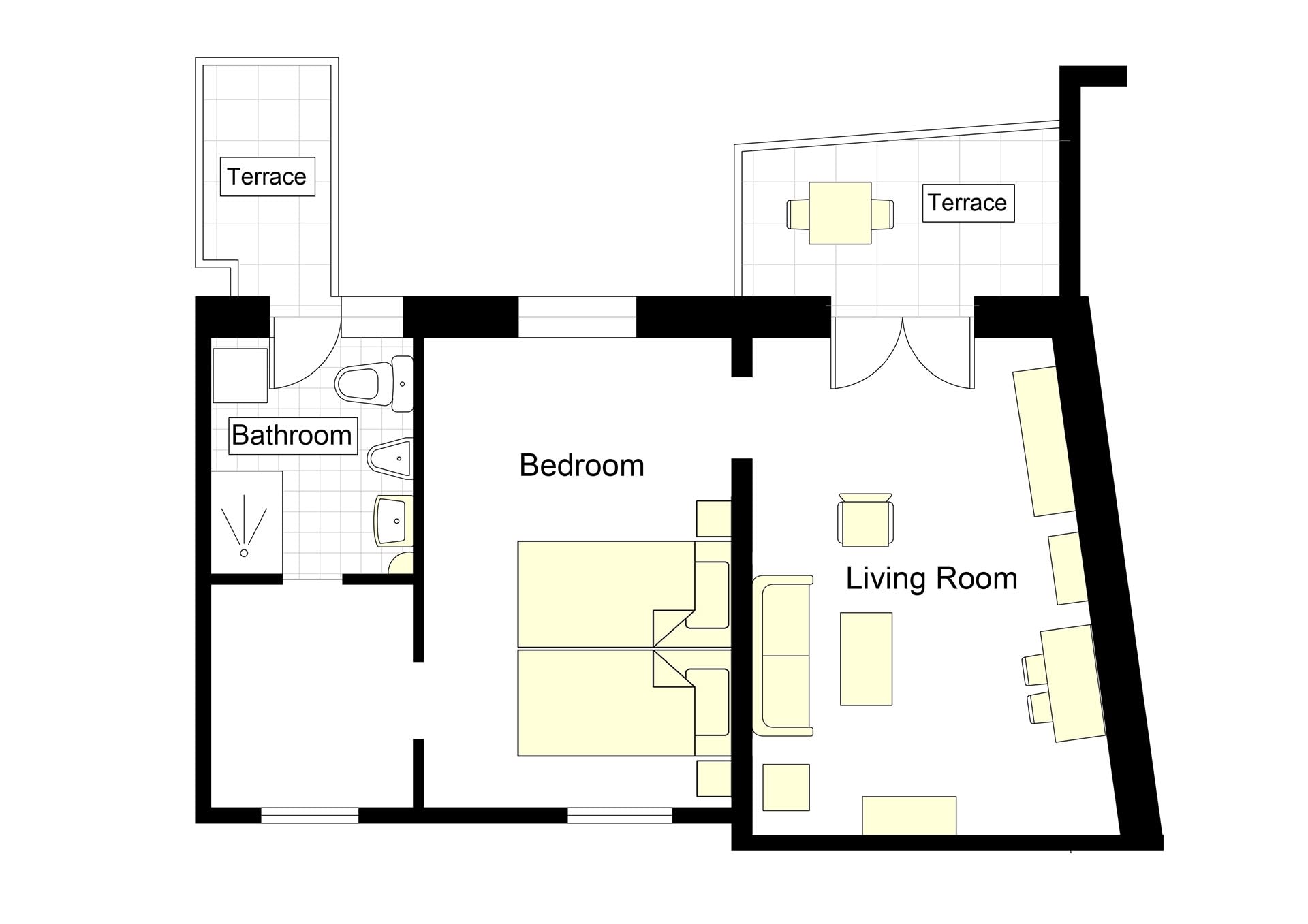 Kitchen

Kitchen
Fully Equipped
Coffee Maker
Italian-Style Espresso Pot
Microwave
Stovetop
Toaster
Refrigerator
No Dishwasher

Accessibility

Private Entrance
3rd Floor North American
Elevator

Connectivity/Entertainment

WiFi
TV - Limited English Programs

General Amenities

Hotel Safe
Smoke Detector
Carbon Monoxide Detector

Laundry

Drying Rack
Iron & Board
Washer

Special Features

Balcony/Terrace
Instant Booking

Amenities

Elevator
Air Conditioning
Thank you for submitting your review. It will be processed shortly!
November 21, 2023 - Website
Everything Perfect!
by Kenneth Alan Collins
Our hosts were VERY helpful, responsive and conscientious and we can only praise them without qualification. The apartment could not have been more central - fabulous location. And the apartment was furnished with virtually everything we needed - and more - plus a complimentary bottle of wine. We were completely happy with our experience. Reading the comments of other guests, I see we are all of the same mind.
October 31, 2023 - Website
Best place in Florence
by Warren v
This was just an all around great place to stay, it is a perfect location and the hosts made it very easy with lists of great tips. We would definitely stay here again.
September 23, 2023 - Airbnb
Would book again anytime!!
by Oliver S
Sehr nette und hilfsbereite Gastgeber, unkomplizierter Check-in und Check-out, tolle Lage, schönes Quartier im Zentrum von Florenz. Würde ich jederzeit wieder Buchen !!
Very nice and helpful hosts, uncomplicated check-in and check-out, great location, beautiful neighborhood in central Florence. Would book again anytime!!
The best place to stay in Florence
by Iris K
This is a fantastic property.... the apartment is wonderful and the location is amazing. Best of all are the managers, who are there for you 100% are the BEST, and will help you with anything and everything. They make this apartment the only place to stay in Florence.
June 28, 2023 - Manual Entry
Amazing location
by Tatiana C
Great apartment. Big! Tall ceilings. Lovely terrace for breakfast. Amazing location. Everything working a few minutes' walk. Lovely owners as well that get you squared away from check in to check out.
Wonderful stay
by Fleur S
It was wonderful to stay in Strozzi. It was very well located, close to most places you would want to visit when in Florence. We could enjoy our breakfast on the little terrace. The kitchen area is small but perfectly practical for a few days stay. The bedroom and bathroom suite is very large and clean. Our arrival and departure process was perfect thanks to the hosts. Thank you so much again!
Perfectly situated
by Rebecca H
We had a wonderful time. Our hosts were lovely and the check in was easy and good, and they were there to check us out. The place is perfectly situated for walking around the city and close to the train. The apartment was really nice and cosy. Very much recommend this place.
November 7, 2022 - Website
Highly recommended
by Rachelle and Jay
My husband and I had a fabulous one-month stay from mid-September to mid-October 2022 in the charmingly cozy Strozzi apartment hosted by the lovely Micki and Franco. This ideally located apartment, decorated in old world style, is in walking distance from every major historic site and connects with the glamorous high-end shopping street of Tornabuoni. Our hosts gave us many recommendations for excellent places to dine (fancy and casual) and made sure that we always had everything we needed to make our stay in Florence enriching, comfortable and memorable. We cannot wish for anything more in hosts. For example, at the end of our stay when we arrived at the airport to head home, we discovered that we did not have my husband's special cane with us. We called Micki and Franco to see if we left in the apartment. We did. Hard to believe, but they insisted on driving 45 minutes to the airport, in heavy traffic, to deliver the cane before our flight took off and would except nothing but our thanks for their good deed. Over the years, we have vacationed in Florence numerous times renting different apartments for 3-6 week stays. This apartment and these hosts are the best in our experience.
October 18, 2022 - Manual Entry
Ideal holiday home away from home
by Margaretta C
We stayed at the Strozzi apartment on Via Della Spada at the start of the heat wave in June. The apartment is located in the center of Florence just a block away from the fanciest strip of famous high fashion brands designer stores like Gucci and Ferragamo. Italy Perfect c/o Pat made our trip so seamless that everything that we wanted to know and how to get there were provided for in advanced. Our gracious hosts welcomed us warmly to the apartment and patiently showed us with all the good stuff we can find, eat, go and see in Florence. The place had everything we needed, 2 TVs with cable channels, a nifty kitchen, fridge, washing machine, a bathroom with a bidet, Wi-Fi, air conditioning and a queen size bed. It's an elegant apartment with an old world charm equipped with a European lift style elevator with wrought iron main gate door and fancy wooden architecture casing. We loved strolling down the shaded street area in our neighborhood and the wonderful shops, foodie places, supermarket around the corner and walking distance to the Santa Maria Novella train station. The Strozzi apartment was the ideal holiday home away from home for our first time stay in Florence.
September 24, 2022 - Airbnb
We loved our stay here
by Jonathan D
We loved our stay here. The apartment is in a very central location but equally not too touristy. Some very good recommendations for bakeries and restaurants and bars which are very nearby, full of Italians, locals and tourists alike, and very friendly staff. The owners who met us were like meeting lovely and friendly Italian Nonni. Like staying with your grandparents. The apartment was comfortable and relaxed, very private and safe, and the internal courtyard balcony was secluded and lovely. We really enjoyed our stay, thank you!
September 23, 2022 - Airbnb
Central to all facilities
by Judith M
Loved our hosts and loved the apartment. Central to all facilities and everything the historic centre of Florence has to offer.
April 24, 2022 - Manual Entry
Wonderful!!
by Katie Smith
What a perfect stay! The location was central to everything, made our trip so easy and stress free. The hosts were so kind; made sure we had everything we needed plus an easy check in. The home was clean, comfortable and quiet. Truly a fabulous stay!!
Thank you for your kind words. We look forward to working with you again in the future!
January 6, 2020 - Website
Strozzi Review
by Susan A
My family and I spent most of December through early January at the Strozzi, Prisco and Michaela apartments. The accommodations were perfect for 3 couples with both privacy within each unit and the ability to be together in the larger Strozzi unit for meals and Christmas dinner. The units are located on a very busy street, close to every type of restaurant and shop the city offers. And, it is all just steps from Piazza della Repubblica, and a couple blocks more from there to the Duomo. The owners were attentive and accommodating - bringing us extra dining chairs for the 6 of us to share meals together in the large and well appointed kitchen in Prisco; gifting us with a Panettone at Christmas and offering many suggestions for restaurants and shopping. As we travel to Florence frequently, we found the location to be a centralized hub for walking throughout the city.[Thank you for your lovely review Susan! We are delighted that the apartments were so well suited to your needs. The Italy Perfect Team]
Strozzi Review
by Julius Sunset
What a lovely place very convenient, spacious. I was greeted by Franco who explained all the amenities, he was extremely helpful. On checkout he and his wife were even more helpful even arranging a taxi to the airport. The place is very homey and Italian, as advertised. I was very satisfied. [We are delighted to hear that you enjoyed your stay! The Italy Perfect Team]
Strozzi Review
by Jennifer
Such a beautiful apartment, right in the heart of Florence, within 10 minutes walk to all points of interest. It was perfect for our family of four! The apartment had a kitchen with all the necessary utensils, kettle for tea/coffee, wine glasses, etc. The bathroom was spacious, with a very nice shower, and there was even a washing machine (much appreciated). The beds were beautiful and comfortable, and it was incredibly quiet, even though we were right downtown. Our hosts were so kind and accommodating, and they provided very helpful information on where to go and what to do. We will definitely be back![We are delighted to hear that you enjoyed your stay! We look forward to working with you again! The Italy Perfect Team]
The apartment made us feel that we were in Italy! It had everything we needed to be comfortable. Great location with wonderful restaurants! Miki and Franco were were the sweetest hosts! Walking distance to all! Lisa from Italy perfect had great follow through! [We are thrilled that you enjoyed your stay! The Italy Perfect Team]
January 15, 2019 - Website
Great location. Quite and roomy. Owners helpful. Surprised by having to pay extra for heating (apparently we exceeded the daily limit ). [So pleased you enjoyed the quietness and roominess and helpful owners. Sorry you overlooked the info provided about the €6/day utility allowance to cover baseline usage. It is normal to exceed that by a little bit in January when it is cold to cover the full cost of heat. The Italy Perfect Team]
October 21, 2018 - Website
Strozzi Review
by David & Paula Barnett
We have stayed at the Strozzi several times over the years. Its location is convenient for visiting and exploring all of Florence. There is now even a grocery store at the end of the block, in addition to the bakery a few doors down. The apartment is well kept, always clean and very comfortable. Mikki and Franco are fantastic hosts and were very helpful in making our stay a pleasant one. We don't hesitate to recommend this property. Renting an apartment through Italy Perfect was very easy and very organized. David & Paula [Thank you David and Paula, we are happy you once again enjoyed staying at the Strozzi and look forward to welcome you again! The Italy Perfect Team]
My wife and I really enjoyed a week at this great location. It is right by the high-end shopping street Via de' Tornabuoni, so is a very secure area. It was our 5th trip to Florence so we felt right at home. We generally like 5 -Star hotels in Europe, and were very pleased w this apartment. Was always quiet. The bed mattress was in very good condition, medium-firm I'd say, which is important for those with back issues. Small US-type drip coffee maker provided in addition to Italian type. Small refrigerator was perfect for our needs, since mostly we ate out. Nice bakery 3 doors down. Heat wave while there, but the AC functioned well. As they note, you will need Euro in cash to deposit and then later settle up for additional electricity fees for AC ( was a total of about E-95 for 7days); we kept it cool at 20 degree C while there average of about 9 hrs/day, but bumped it up to 25C when we were out, if that gives you any guidance. We never had any problems w amount of hot water available for showers, as suggested by another review. Takes 30 sec for water temp adjustment to be realized since comes from a distance, so if you cool off the temp, it takes a while but easy to over-shoot so then could seem like you've run out of hot water....but if you will just wait a while for the adjustment back to warmer to take effect, you realize there is plenty. Easy once you figure out where to move the lever for next time. Even with electricity fee, total cost was similar to about 1 night's charge for 5-Star Savoy Hotel, not far away! Used small interior balcony only for hanging some clothes out to dry. Small washing machine in bathroom was helpful. FYI, there's a large, full service grocery store w good prices close to the Duomo about a block off the north-western end of piazza called Sapori Dintorni (Conrad) w address about 16 Borgo San Lorenzo; otherwise easy to find small convenient stores for milk, OJ etc scattered around the area. Contact with Franco and his wife was very easy, made us feel at home. You'll get detailed instructions from Italy Perfect after you sign up. Franco offered to help arranging cab for departure, but we'd already arranged a car for pickup. Size was fine for a couple. Would definitely stay there again, or in the even larger apartment just across the hall, owned and run by same family. [Thank you so much for your detailed review. We are delighted that you enjoyed your stay! The Italy Perfect Team]
Strozzi Review
by JOE AND DIANNA
Miki and Franco were great hosts, explaining everything and making sure all was going well. From the apartment, a very short walk to great restaurants and historic sites in Florence. Short walk to the train station from which we took several day-trips. We will return to the Strozzi apartment the next time we spend time in Florence![Thank you so much Joe and Dianna! We are delighted you enjoyed your stay! The Italy Perfect Team]
What a great trip! You know the rule, location, location, location. The apartment was perfect. Right in the center of town, we walked everywhere. We also felt very safe at all times even late in the evening. Our accommodations were comfortable and had everything we needed. The owners were lovely and helpful. I don't travel frequently, so I was a bit anxious being in a strange city without a connection. I spoke with Lisa at Italy Perfect and knew she was a phone call away if I needed help. Italy Perfect's arrival instructions explained everything I needed to know. I was prepared and there were no surprises. Good job. I would definitely stay again.
My daughter and I had a wonderful stay here with Italy Perfect. Within minutes by foot are all the major sites. Shopping and restaurants all close by. The apartment was surprisingly quiet given the location. Greeters were very helpful and provided all the little things to get us started! Coffee, milk, croissants etc. My second time staying here and loved it just as much. [Thank you so much Emily, we look forward to welcoming you again! The Italy Perfect Team]
October 26, 2017 - Website
Strozzi Review
by Bill and Betsy
We loved our 6 night stay! The apartment was just exactly what we needed and very thoughtfully appointed.We couldn't have picked a better location. The neighborhood was so easy to navigate and almost everything was in easy walking distance. Our hosts were delightful and very helpful. We would highly recommend this apartment.[Thank you Bill and Betsy, we are happy you enjoyed your stay! The Italy Perfect Team]
October 18, 2017 - Website
Great location. Easy walking distance to the famous sights. Owners are well organized & very helpful[Thank you Robin! The Italy Perfect Team]
October 4, 2017 - Website
Strozzi Review
by H. Thadani
We really enjoyed our stay. Located in the cultural heart of Florence. Any of the well known locations, such as the Uffizi, the Duomo, the Accademia, and the Arno river are just minutes away. Yet when you come back to the apartment from all the hustle and bustle, you feel you are back home. Safe and quiet. The hosts Marco and Miki were absolutely fabulous.Very comfortable apartment. Spacious. Well appointed. Great WiFi. Could use a table fan in the bedroom especially in the summer months. We did think it was a bit overpriced. [We are pleased you enjoyed staying at the Strozzi and sorry you didn't ask for a fan as the air conditioner can be set to fan-only mode as well. The Italy Perfect Team]
October 4, 2017 - Website
Strozzi Review
by Andrea and Lionel
Once again we stayed at Mikki and Franco's lovely Strozzi apartment in the heart of Florence. As always, Mikki and Franco and their son Marco were gracious and attentive hosts. We brought our adult daughter for her first ever visit to Florence,and like us,she loved the apartment and its perfect location. Right next door you have a coffee shop,a bakery and our favorite restaurant Trattoria Marione. We would never stay anywhere else when we visit Florence. Thank you Mikki and Franco for sharing your wonderful place and thanks to Italy Perfect for making travel so easy! [We are so pleased you enjoyed your stay and look forward to welcoming you again! The Italy Perfect Team]
August 23, 2017 - Website
Strozzi Review
by Priya P
We stayed for 4 days in Strozzi apartment. The apartment is in perfect location, center of the city, 10 min walk to train center and most major attractions. The owners were extremely helpful. We enjoyed the stay due to this. Overall good stay due to central location.
Strozzi Review
by Paige M
First of all, the hosts - Miki, Franco and their son Marco- were so helpful and accommodating. The building itself is really cool. The entry way is a big archway, the elevator is an old fashioned lift and the architecture has such character to it. Everything was clean and comfortable. The location was perfect. I couldn't have asked for better. Just a 5-10 minute walk from the Santa Maria train station. You're just steps from Via Tornabuoni and the Arno river which makes it so easy to cross ponte vecchio and the other bridges for dinner, gelato or just a quick stroll. Also just minutes from The Duomo, Central Market, museums, panini shops etc. I couldn't recommend staying here more. I would stay again the next time that I travel to Florence!!
Strozzi Review
by Dennis Green
We arrived as scheduled and were graciously greeted by Franco, Miki and their son Marco. They explained the workings of the apartment very thoroughly. We were both sick from catching something on our two week group tour prior to our arrival at Strozzi. By the 20th, I called Franco and Miki to ask how I get my wife to a doctor. We were given directions and hours of a medical services office (clinic) within walking distance. We were in the waiting room and Franco and Miki arrived. From our very limited Italian, we could understand enough to hear Miki very emphatically request the receptionist to take care of their apartment guest. It was a very touching moment for us. Because of our being "under the weather", we weren't able to do some of the things we had planned. We did go to our cooking class (recommended by Italy Perfect). We had a great deal of trouble booking the excursion on line prior to our trip. Pat at the Italy Perfect office in San Francisco was a life saver getting us booked into the class. We enjoyed the class very much. The apartment was located as to take advantage of many things within walking distance. I wish we could have taken advantage of the location and not been sick. The only problem we had with the apartment was trying to adjust the shower. We just couldn't seem to get it. I ended up taking ice cold showers. I didn't want to bother Franco or Miki again. I can't say enough about how great Italy Perfect was helping us. It was our first attempt at traveling by ourselves ( we had always traveled with a group ). The ladies at the San Francisco office were so patient with our phone calls. I'm sure they had heard our questions and handled our situation many, many times. It was our "first rodeo" so their patience was so appreciated. I would definitely recommend Italy Perfect to anyone. Thank you! [We are so happy you enjoyed your stay and the extra special and attentive service provided by our team when you go sick, as well as the cooking class recommendation. We're sorry you had trouble adjusting the shower, there is plenty of hot water, we wish you had contacted Miki or Franco so they could show you how to work it. The Italy Perfect Team]
Strozzi Review
by Dorfman
We found this apt quite comfortable and we loved the location for coming and going by Train. Also most all the sights were walking distance and very convenient. I would say the kitchen size made it quite difficult to fix anything as there was almost no counter space. The hosts were wonderful and so friendly and helpful. I would like a place with less things on the shelves and tables. all in all we liked the place and would stay again. Not too many food markets close so would recommend going the distance to the large Mercado,especially for good breads and desserts upstairs. Closes early as usual . Your web site was very helpful. The small mkt down the street closes in the middle of the day for a few hours then opens up again [We are so happy you enjoyed the comfort and location of the Strozzi apartment and the friendly and helpful greeters. So glad you liked the apartment as well as the nearby Mercato Centrale. It is accurate that the efficiency kitchenette is as you anticipated, little countertop space, which is why we detail that information so carefully and accurately in the photos and the description. The Italy Perfect Team]
Strozzi Review
by Frances
This apartment is located close to a high-end shopping area and a short walk from the train station and Santa Maria Novella -- all of which add to the pleasures of a quiet, well-appointed, and charmingly decorated place. Each evening when we came back to the apartment, we enjoyed feeling that we were away from the fray. The hosts are very charming. They welcomed us with cold water in the refrigerator and a bottle of Tuscan wine; and they were very thorough in their orientation to the apartment. On the day we were leaving they even offered to drive us to the train station. I highly recommend this apartment for comfort, convenience, charm, and location. [We are pleased you enjoyed your stay! The Italy Perfect Team]
From the high ceilings to the wide, comfy bed to the cozy living room, this apartment welcomes you every time you return to it. The kitchen is an armoire, but it really works well; we cooked breakfast and microwaved take-out. There are plenty of dishes, pans, and utensils for simple housekeeping, and who wants to do more than that on their vacation? We walked all over Florence from this location, which makes it possible to return for lunch and a little toes-up to refresh yourself after a morning of sight-seeing. The bathroom is well equipped and we made use of the washer a couple of times; laundry can be hung from a line on one of the small terraces, or on an inside drying rack, which worked fine. The bed is very comfortable and the bedroom is spacious. The living room is pleasant to sit in. The high ceilings capture breezes, and the marble floors are cool. Very lavish shopping nearby; we loved some simpler places, like Alberto Cozzi's paper shop and the scents of the Santa Maria Novella apothecary. Oro Due had very well-priced 18K gold jewelry. We greatly enjoyed an excursion with Accidental Tourist to their farmhouse in San Donato in Collino for a pasta-making class. Mikki and Marco were wonderful hosts.[Thank you Lora, we are delighted that you had a wonderful time! The Italy Perfect Team]
October 24, 2016 - Website
This is a great place for home base to explore Matera. It is easy walking distance of the Sassi and the center of the new town. The apartment is spacious and great for one or two couples. The terrace is special. We enjoyed cocktails and lunch on the terrace. The apartment seems to be recently renovated with all the conveniences required for staying a while and exploring Matera. We recommend the apartment and Matera.
Strozzi Review
by Val and Ken
After our holiday here last year there was still more to be seen and favourite places to see again - so we returned this April for another great 10 days. Our hosts, Miki and Franco, just as before gave us a warm welcome to their comfortable and very well appointed apartment and were so helpful, it was like coming back home. For food shopping the Mercato Centrale is very convenient to the apartment. On the ground floor we recommend the fish and chips shop for something completely different, but get there early if you want to eat there as there are only a few seats along the counter. Also look out for the small shop selling their own delicious vintage olive oils, cheeses and excellent Tuscan wines (Agriturismo dall'Annita al Poggio all Lame) - it's opposite the fresh pasta stall. There's a great antiques and collectables market near Piazza Santa Croce by the Sant'Ambrogio produce market and we found several vintage shops dotted around the city selling period clothes and scarves. There are of course so many wonderful places to eat; Marione next door to the apartment has an excellent Tuscan menu and a great atmosphere and La Spada just up the road serves first class Tuscan take-aways from the little door round the side. And we found a new organic gelato opposite the Pitti Palace. We spent spent several lazy late afternoon hours sitting outside the bar on the north side of the Ponte Vecchio overlooking the river and we would recommend the cafe on the upstairs balcony of the Ufizzi for a coffee and wonderful views of the city. For beautiful locally made linen and other textiles visit Le Telerie Toscane di Guilia, in a small street, Sdrucciolo de' Pitti, just opposite the Pitti Palace. As always we were served beautifully by Lisa and Pat Byrne and we recommend them heartily to anyone looking to holiday in a comfortable and well placed apartment in Italy. It was our fourth time with them and there will be a fifth in Rome next year.
January 26, 2016 - Website
Strozzi Review
by Alex G.
We had a great stay at the Strozzi apartment. The location could not be better - it was an easy walk to the train station (with luggage) and to all sites. The apartment was very quiet despite being on a busy street. The efficiency kitchen was perfectly functional for making espresso and a pasta dinner (and also adorable). We would definitely return! This comfortable apartment is perfectly situated in the center of Florence for daytime sightseeing as well as nighttime jaunts to any of the dozens of local restaurants. Despite being located near a main thoroughfare, the courtyard-facing windows meant that there was never a significant amount of noise. Mikki and Franco were wonderful hosts and made sure we were comfortably set up in the apartment and gave us some tips on getting around town as well as some neighborhood restaurant picks. Because of the convenient location of the apartment, we were able to wander around Florence, soak up Tuscan culture and history all day, take an afternoon nap, then wander across the Ponte Vecchio each night to try out a new restaurant in L'Oltrarno. Loved it, would visit again.
January 19, 2016 - Website
the apartment matched the description perfectly it was even better than described it was a quick ride from the train station to the apartment where we were met he greeter at the agreed on time 5 pm . although her english was limited much better than our italian everything was explained perfectly. the location was perfect close to everything. we had been to firenze several times before and knew a lot of good restaurants but went to giovannis right around the corner from the apt. on the greetercalled a taxi for us and ho glishs recommendation. great food good wine and very reasonably priced. checkout went great greeter was there with her son who spoke engish and called us a taxi . i would recommend this apartment and italy perfect to anyone who wants a good value for the money.
December 2, 2015 - Website
Strozzi Review
by John Z.
You just couldn't be more in the middle of the action in Florence. It's an easy ten minute walk from the train station and one step out the door and you're surrounded by cafes, restaurants and very upscale shopping. We spent our days roaming the streets of Florence visiting churches and galleries, sunsets along the river and evenings rooting out great food and wine. Osteria Pastella, a couple blocks up the street is not to be missed. Our favorite was All Antico Vinaio, just down the street past the Uffizi where you can have a great dinner at night or the best sandwiches in Florence during the day. Miki and Franco were wonderful hosts. They are very thorough with the use of the apartment and building. Italy Perfect is very business-like and provides a lot of information. The apartment is well appointed with two balconies on the courtyard side, a washing machine, king size bed, high ceilings, large bathroom and attractive furnishings--even a kitchen in a cabinet. We only used the kitchen for breakfasts and it was perfectly adequate for that. Some simple cooking would be possible. Negatives? The Wi-Fi was off and on as was the hot water in the shower. Make sure Franco shows you how to adjust the water pressure. We thought getting charged 8-euros for an extra set of towels for a 5-night stay was a little petty. We didn't have arrival times until a few days before and the rental agent got a little intense about our schedule. All minor as far as we're concerned so we would certainly stay at this apartment if we re-visit Florence. [We're so pleased you enjoyed your stay, thank you! Sorry you didn't agree with the extra towel fee, it's common practice in Italy where laundry costs are so high and was part of the information on your arrival page. Apologies we had to follow up with you so many times to get your arrival information, but there is not a full time employee waiting at the apartment all day; the greeter has to be scheduled in advance to ensure you can check in when you arrive. We're glad we got your information last minute so that someone was available when you arrived. The Italy Perfect Team]
November 12, 2015 - Website
My wife and I spent three days in Florence at the end of October 2015 and stayed at the Strozzi apartment (We paid for four nights but because of a change in our return flight, we were only able to stay for three). The delightful owners, Miki and Franco greeted us on arrival and spent plenty of time showing us how everything worked. Franco also took me for a walk through the neighbourhood and pointed out places to buy food and restaurants to visit. He sent us to Osteria di Giovanni which he said was in his opinion the best restaurant in Florence - it was superb. Franco also arranged for a taxi to pick us up at 4:45am for an early flight. The apartment is somewhat eccentric in its layout but it was nonetheless charming. It is right in the centre of the places that tourist most want to visit - just four or five minutes walk to Ponte Vecchio and the Duomo and slightly farther to the Uffizi. We would love to return some time.
October 27, 2015 - Website
Strozzi Review
by KathiandEd
Excellent apartment: location, accomodations, landlord, transportation. Would highly recommend and will certainly stay here again!
October 15, 2015 - Website
Strozzi Review
by retired2008
We enjoyed our week at the Strozzi apt. Overall we thought the accommodations were very good. Location was very central and within walking distances of most sites.Owners were helpful in showing us the apartment. All the information provided by Italy Perfect was useful. Only negative was the lighting over the stove/sink was minimal and kitchen area was minimal. Tips for future guests would be that there was a good size grocery store right across the Ponte Vecchio. There were no other grocery stores nearby that we could find. Yes, we would recommend Italy Perfect to friends.[There is a grocery store much closer, by the train station. ItalyPerfect]
Our group of three academics had an ambitious goal- to see seven European cities in three weeks. Of all our apartment accommodations from London to RomeThis apartment "Strozzi" in Florence was the best. We spent four days in the lap of luxury-Well appointed, spotlessly clean, safe and located steps from the Uffizi, river Arno and the Accademia! The owners were gracious, genuine and available. Their recommendation of "La Spada" restaurant a block away was superb. Miki and Franco are the epitome of hospitality. Lisa their booking agent is a consummate professional Making your Florentine vacation a once in a life time experience you'll want to revisit time and time again!!!!
The Strozzi apartment is a lovely apartment with a perfect location. Located close to Republica Square and the Duomo, this apartment is a great value. The building is historic, yet up to date with all the necessities. The greeters were warm and wonderful. Would stay here again if ever in Florence.
Strozzi Review
by Val & Ken
The accommodation was clean and well appointed and was really comfortable for the two of us. Our hosts gave us a most friendly welcome, taking the time to explain the local area, the important shops, recommended restaurants and historic sites and were available to help with any questions and problems throughout. The situation of the apartment was ideal and within minutes walking distance from the main museums, grand squares and beautiful bridges and vistas of the city. This is vital for anyone who, like my wife, has an issue with energy. Also nearby we found a range of excellent ostarias and restaurants, some very reasonably priced considering the excellent quality of the food (Florentine specialty steak at La Cantinetta, etc.). Of course there is the gelaterie – plenty to choose from but the best quality is not served from the mountainous heaps of ice cream on display everywhere but from those parlours that have the ice cream in covered containers or stored "low" in open containers. The best for us was the organic ice cream in home-made waffle cones from Edoardo right near the Duomo. Also, try the ice cream from the gelataria on the corner at the south side of the ponte San. Trinita. And don't forget the truffle rolls from the shop just around the corner from the apartment – Franco will show you where. And do go to the Boboli Gardens and see the glorious view across the city and also find the oranges and lemons growing in La Limonaia. Oh, we could go on and on. There is one sad note however. The scourge of lovelocks has hit Florence and we not only found them on the Ponte Vecchio but also on the wonderful bronze "Porcellino" statue and fountain on the end of the Mercato Nuovo. We stopped two sets of people from attaching these wretched things and reported it to the police nearby – it is against the local bylaws and there is a fine. We implore all visitors not to take part in these acts of vandalism and also to report any you see. What a strange way to show eternal love by physically locking it in and throwing the key into the river only to add to the already polluted waters of this world. You just can't beat a beautiful bunch of flowers (and perhaps a pair of ladies shoes made in Florence!) This is the third time we have used Italy Perfect. Before we booked with them the first time we were a little concerned as we are in the UK and the company is in the US – there are lots of holiday scams around. But we had no need to worry. No one could have looked after us better than Lisa and Pat and their team. Everything was thoroughly planned and efficiently run with plenty of useful information provided and all of the necessary detail for enjoying a holiday in Italy. We have had two wonderful holidays in Venice with them and this, our first in Florence. So we are renaming "Italy Perfect" to be "Utterly Perfect"! Thank you Lisa and Pat.
Our apartment, the Strozzi was perfect for my sister and I, the location could not be better and Mikki was so delightful. I would recommend this apartment highly. Loved, loved our stay
November 13, 2014 - Website
Strozzi Review
by Patti and James
We loved the old world charm, history, high ceilings and spaciousness of this comfortably renovated apartment. Franco and Miki's warm welcome and their many recommendations for memorable sightseeing and wonderful nearby restaurants contributed to an enchanting time in Florence, characterized by inspiring walks and delectable meals. We appreciated being able to walk from the Strozzi's convenient location to the nearby train station and all major historic sites. The Mercato Centrale, Rosticceria La Spada eat-in or take-out and Luci al Piazzale (take bus 12 to Piazzale Michelangelo) were some favorite eateries. We are recommending Italy Perfect to friends, having valued their efficiency, accurate attention to detail, restaurant recommendations and travel advice that allowed for a worry-free holiday.
November 8, 2014 - Website
Strozzi Review
by Catherine
We loved our stay in Florence in large part because of the incredible location and ambiance of this apartment. Our hosts were warm welcoming and very helpful. We would have liked another week to stay. We were able to do a little cooking in the tiny kitchen set up although with all the great restaurants we certainly didn't need to. We had everything we needed here including a hairdryer but you can forget your US made curling iron as the electrical system is not built for it. We enjoyed several tours with FlorenceTown which is located only a few blocks away. Our hosts were very helpful providing directions to other attractions, in particular a bus to the basilica of San Miniato on the hill across the Arno. The sunset and the monks chanting Gregorian chants at sunset was a high point for us.
October 25, 2014 - Website
Accommodations were great. Charming antiques and furnishings, induction cooktop, microwave, electric kettle, fridge, washing machine, good wifi--all the things that made our stay convenient. The greeters are very kind and helpful. The location was perfect, less than a 10 minute walk to almost everything! We could walk/tour for a while, head back to the apt. to relax and then head out again. It was so much fun to stroll around after sunset and see everything lit up. The best leather shop we found is Noi, a couple blocks away; not cheap but top quality and very stylish. Buy tickets the day before and then get in line at 8:15am to beat the crowds and climb the Duomo--so interesting and such fantastic views. A block down from the apt., the restaurant La Spada has a great wood fired grill for bistecca alla firorentina. We booked with confidence, received more helpful info than we were expecting, and everything went smoothly. Lisa even gave very helpful advice about booking the train to Rome to catch our flight back to the States. We will use Italy Perfect again next time we travel to Italy.
October 19, 2014 - Website
Strozzi Review
by Lionel and Andrea Brown
We have recently returned from a month in Florence using Italy Perfect.com to find our accommodations, we were totally satisfied.T he apartment was exactly as described on the website, so there were no surprises regarding the apartment itself. It's location in the heart of the city was perfect and the owners, Miki and Franco were kind, helpful and charming. We especially enjoyed our terrace and used it every single night. We loved having the bakery Forno just a few steps away and enjoyed both sweets and paninis from there.Just a few more steps away was a wonderfully authentic Italian restaurant called Trattoria Marione. It was crowded every night with mostly locals, which we always take as a good sign. Although everything we tried was delicious, I especially enjoyed the Roast Chicken and Potatoes. Although a bit of a walk, we found 4 Leoni, IL Pizzaiuolo, Del Fagioli and Fuori Porta to be well- worth the walk- all very Italian! We enjoyed a hidden treasure when we attended Mass at the monastery opposite the Bargello and were treated to breathtaking views when we made the trek to Piazza Michelangelo and took Bus # 7 to Fiesole.So much to see and do in this wonderful city of art and churches. Yes,we would definitely recommend Italy Perfect as a trustworthy site for locating a great place to stay and we would recommend Miki and Franco's place as well. A perfect vacation!
August 17, 2014 - Website
We were greeted by Mikki and Franco outside the apartment building and led upstairs. There is an elevator which helped with the oversized luggage that we will never use again! The apartment is a good size and provides everything you will need for your stay. The kitchen is more like a "kitchen in a cabinet" and space is limited, we found it fun cooking there. We would visit the Mercato Centrale and return with ingredients to make a delicious dinner. The bed was comfortable with adequate pillows and linens. The bathroom was large and equipped with a washing machine and the entire apartment was very clean. The apartment is really located in a great area that makes it easy to walk to nearly everything you would wish to do in Florence. A couple of great restaurants we found were Giovanni and Carozze. Both very nearby and delicious! Mikki and Franco were very helpful and informative. We would definitely recommend this apartment,
Strozzi Review
by From US
Apartment Strozzi was wonderful! Very nicely located within walking distance of everything: restaurants, shopping, and the train station. Very clean and a good size and the hosts were super. Would highly recommend this apartment when you are visiting Florence.
Strozzi Review
by Rebekah
We had a lovely time in our accommodations. Our hosts were kind and solicitous, and the apartment was quite large and well furnished. Perfect location. We had a wonderful stay.
Strozzi Review
by Mitch and Dee Bitting
My wife and I recently enjoyed a memorable, two-week stay in the Strozzi apartment. The location is superb, with many shops and restaurants on the same street, and the building has the ambience of a stately palazzo. Guests should be aware of the limited cooking facilities, but the kitchenette is functional and more than adequate for our purposes. We had no complaints or issues with the apartment, and the security of the building gave us peace of mind. However, the most valuable assets of this apartment are the owners, Miki and Franco, who are two of the sweetest people we've ever met! They greeted us as if we were family, and went out of their way to make our stay as pleasant as possible. We highly recommend this apartment, and are looking forward to staying there again, or in one of the other two which Miki and Franco own on the same floor, when we return to Florence. Mille grazie, Miki & Franco, for being such wonderful hosts!
Italy Perfect describes this apartment as "modest and affordable", and it worked just great for us. No surprises in our 4-day stay in this comfortable and functional place. The kitchenette built into a wardrobe was just great for making breakfast and warming meals. We enjoyed breakfast every morning on the inside facing terrace. Franco provided the best recommendations for restaurants from any of our sources, and called to make reservations one night for us one night after his pick for steak Florentine turned us down saying they were full. The location was central for us to walk to all of our selected sites. We would stay here again and hope we have that opportunity.
Strozzi Review
by Marge & John Knebel
"Strozzi" is located close to everything. We were a 5-minute walk from the rental car office, and no more than 8 minutes on foot from the train station. Also, all of the major sites are within a very short walk from the apartment. Our hosts were friendly, efficient and very helpful. We followed their restaurant recommendations, and were very pleased. Both spots were steps away from the apartment and reasonably priced. The washing machine was much-needed and we appreciated having it, but the balcony or terrace advertised as perfect for hanging clothes was not so. We used the substantial drying rack found in the common utility room instead. It met our needs easily.
Strozzi Review
by Elizabeth
This is the second time we have used Italy Perfect and once again, our apartment was wonderful. It was just as described, clean, conveniently located with friendly knowledgable greeters. We felt that the area was safe and we got everywhere in a short walk. Osteria Bella Donna and Pitti Gola e Cantina were both fabulous and in easy walking distance. I have already recommended Italy Perfect to my sisters and several friends!
Strozzi Review
by Maureen
We stayed for a week and found the apartment to be just the right size for the two of us. We enjoyed the terrace and appreciated the "American" coffee maker. The location probably couldn't have been any better. We were close to the train station, within walking distance of all the major attractions and restaurants, and as a runner, I loved being close to the river and trails. We highly recommend Trattoria Sostanza, but be sure to make reservations.
January 10, 2014 - Website
Strozzi Review
by Mary and John
Over Christmas, 2013, we stayed in the Prisco apartment and our adult daughter stayed across the hall in the Strozzi apartment. It was an ideal situation. We were met by the charming Miki and Franco who helped us learn about the apartment and the area. For ten days we lived as the local people do, buying our groceries, preparing our Christmas dinner and enjoying take away and local restaurants when cooking seemed too onerous. The apartments were spacious and clean. The Strozzi apartment has a small kitchenette, perfect for breakfast and light meals.The Prisco kitchen was well equipped and was the focal point for family meals. The wifi worked perfectly and the location was fabulous for visiting Florence.
October 9, 2013 - Website
Strozzi Review
by Frank and Mary Ann Hackett
My favorite city in the world and now a place to stay in the center of it. A spacious comfortable high ceilings old fashioned but nicely furnished apartment with a large living room, bedroom, dressing room and bathroom. The kitchenette was designed into a piece of furniture and everything you needed to cook was provided, although we only made breakfast. A few doors away was Trattoria Maryione where we enjoyed wonderful inexpensive family cooked dinners. Centrally located around the block from Gucci, and a short walk to the Duomo. Miki and Franco were excellent hosts and quickly responded to a problematic hair dryer. I would recommend this immaculate apartment and the ease of working with Italy Perfect.
Strozzi Review
by Lee & Chris
Our stay at the Strozzi was just great. Our hosts met us at the apartment just as arranged and helped us with directions and everything we asked of them. The Strozzi is so beautifully located. We had favourite restaurants, cafes and trattorias within a couple of minutes walk! The apartment is huge. We couldn't believe our luck after small places we had stayed at elsewhere in Europe. We would highly recoomend the apartment and would not hesitate to use Italy Perfect again. Professionlaism is everything when booking a holiday
Strozzi Review
by Judy Flanders
Strozzi was the perfect place to stay; it is located near to major sites and could not be more convenient to restaurants, pastry shops and gelato! We did not have a car and it was totally unnecessary. Strozzi was well equipped but we did not cook much since we ate our large meal at lunch while we were out and had mostly items from the delis and markets at night with wine of course. The building is lovely and Mikki and Franco were most gracious. I would stay there again and have recommended it to a friend already.
My wife and I were in Florence for 1 week. With only one week, you need to see as many things in as short a time as possible, so a central location is imperative! Well, the Strozzi apt was perfect for location. Also, the bed was great, the apt. comfortable and the owners very nice. Couldn't have been improved upon.
Strozzi Review
by Bob & Myrna
Wonderful visit to Florence in April, made all the more enjoyable by the owners who were extremely helpful and kind. The location was perfect; within walking distance to all the museums and art galleries, shopping and restaurants,with a bakery next door and a deli just down the street. Highly recommended.
I have rented Eurpean holiday apartments on numerous occasions. Not only is this apartment well-equipped, charming, and perfectly located, but the hosts are friendly, delightful, and efficient. And full-marks to Italy Perfect for providing a fine list of suggested restaurants.
December 28, 2012 - Website
Strozzi Review
by Paul and Deb
We have rented many apartments in Florence. The Strozzi apartment is outstanding for 3 features 1) location 2) price and 3) management. The apartment is very comfortable and was exactly what we expected.. We will stay there again.
October 10, 2012 - Website
this is a terrific place with virtually no caveats--location is right in the middle of the best shopping/accessible to every key church and museum/two blocks away from the Duomo and republic square/within one mile of at least 35 wonderful restaurants and the river Arno as well as the other side--a ten minute walk from the pont vecchio-- the apt is clean and comfy--the washer works without a problem and the deck is easy for clothes drying in the sun/the stove top works fine but is small and real cooking is difficult--better do easy stuff like eggs,toast and coffee- the elevator works as does the AC--there are two good super markets nt far away--they sell oatmeal which was key for me -seems americans can't find this in italy but you can now--at con ads in the cereal section on the lowest shelf-you will have to run the AC if you don't like noise to sleep with-we did and it works-people are not friendly but affable the two owners are gems and are helpful beyond reasonable--enormously nice people i would stay there again i would use Italy Perfect again
Being used to hotels in the States like the Ritz, Four Seasons, and other boutique hotels, it took some adjustments to settle into a historic building and a dated apartment. Then I realize it is simply the European way....much more "conservative" in their energy usage, and everything is simply on a smaller scale. It took a while to get used to sleeping in small twin size beds and a bit sagging mattress. After several days, we realized that Strozzi was the "perfect" apartment. It was centrally located, and equal distance to the historic places, the river and the train station. It was QUIET!! After all day walking amongst crowds and traffic, it was a relief to hear NO traffic noise or people noise. Having the unit AC in June/July was KEY! 2 minutes to my morning expresso and afternoon gelato was great. Our hosts were delightful and very accessible by email or phone. Our favorite was the huge front entrance door!! A definite recommendation for Italy Perfect! Thank you for your nice comments and recogniition of the fact that staying in a modest apartment such a Strozzi, while not like a boutique luxury hotel, is very enjoyable and a more authentic (and definitely much more economical) experience. Regards, Lisa at Italy Perfect
Our apartment was an excellent place for us to stay during our visit to Florence. The location was perfect for access to the historic center of town as well as modern shopping opportunities. The building was exactly the vintage place we expected. The rooms were made up exactly as we had requested. Our greeters, also the apartment owners, welcomed us warmly and cordially; they took great effort to acquaint us with our surroundings from show us how to operate the appliances in the apartment to telling us about neighborhood including nearby restaurants. This was our first time renting an apartment instead of hotel room, and we were a bit apprehensive about how it would all work out. But after the warm greeting we had from our hosts, the anxieties melted away. We really couldn't have asked for better. The owners also had a computer system that could be shared among the guests. This was a benefit for where-to-go research plus check-in for return flights. There is a bakery almost next door to the apartment building, and when they bake overnight the wonderful odors drift up and into the apartment. This encourages you to get up early and go first thing to get some delicious pastries! Also conveniently located is a good gelateria just a few steps past the bakery. There are a couple of good restaurants we found within easy walking distance: Tratoria dei 13 Gobbi, Via del Porcellana 9/r, and La Bussola Ristorante e Pizzaria, Via Porta Rossa, 58/r. We ate the best meals of the trip at these two restaurants. We would definitely recommend this to others and hope to return ourselves some day.
Our apartment in Florence was much more than we expected! Our greeters were genuinely interested in our comfort and the rooms were the perfect size for our family of four! Great location in the heart of the city...felt like a short walk to everything. Really enjoyed coffee in the morning and a glass of wine in the evening on the terrace. We used several of our greeter's recommendations for restaurants and were glad we did. Will definitely recommend Italy Perfect for any friends traveling to Italy!
Strozzi Review
by L Fulton
Accommodations were fine and the location great for walking to sites. If you should come by car, get directions as Gps was outdated on streets open. Also for parking. Italy Perfect was helpful making plans for our stay.
Strozzi Review
by Susan and Toby
This is a beautiful apartment, very thoughtfully and comfortably equipped and very lovely. It feels like an elegant family home, not a tourist rental apartment. The owners are delightful and extremely helpful, showing us how to operate all of the appliances and pointed out everything we needed. It was perfect for two people--this is the second time we have stayed in this apartment. We loved it. The location is great, easy to walk to all the Florence sights and close to restaurants and shops. It is important to realize that the kitchen is a small kitchenette contained in an armoire, so any cooking needs to be simple. We had breakfast in the apartment, and brought back carryout a couple of times for dinner. The only other downside is some noise coming up through the interior courtyard at night.
Strozzi Review
by Gail Ford & Julie Brand
Strozzi was perfect for our week long visit to Florence. Very conveniently situated close to the Duomo. Also lots of lovely food shops in the same street which we took full advantage. The apartment was very well equipped and comfortable. Miki and Franco, the owners were extremely thorough introducing us to the apartment and the area. We recommend Il Latini restaurant close to the apartment for an unforgettable eating experience and good food. We had a wonderful time in Florence. I have already recommended Italy Perfect to friends. They provide an excellent service. We rented another apartment from them in Sorrento also lovely.
Strozzi Review
by Retired Girls
Great accommodations with an incredible location. It was easy to travel between Pisa, Venice, and Cinque Terre using Florence as our home base. The train stations is so close as well as all sites to see in Florence. The owner, Franco, greeted us as well as treated us to breakfast the morning we were leaving. I highly recommend this rental as well as Italy Perfect.
We had a very good time in this pleasant apartment. It had the charme and spirit of the city and was comfortable and well equipped. We especially loved the balcony and the elevator and also the elegant building which is very conveniently located in a very nice and central area of the city. The several little shops and restaurants around were also very convenient. I would definitely recommend this apartment and also Italy Perfect to my friends.
We had a very good time in this pleasant apartment. It had the charm and spirit of the city and was comfortable and well equipped. We especially loved the balcony and the elevator and also the elegant building which is very conveniently located in a very nice and central area of the city. The several little shops and restaurants around were also very convenient. I would definitely recommend this apartment and also Italy Perfect to my friends.
November 14, 2011 - Website
Strozzi Review
by Kitty Homsher
Great accommodations and excllent location.Very easy to get around city as everything is close to appartment. Only one regret, kitchen facilities not convenient, yet workable. Would return on future trips.
September 16, 2011 - Website
This apartment was great for us. We have two kids. 10 and 12. The greeters were fabulous and went over everything in full detail. They made it easy to check in and waited for us to arrive. They even helped with the luggage from the small elevators. The building is gorgeous. The front room turns into the kids room as do many apt. for vacation rentals. The kitchen needs a little improvement as it was very clean and functional but it was builit like a cabinet as shown, but the refrigerator was in a totally separate room. They just need to bring one in closer. The Rest was perfect. The rooms were a good size. The washer was very useful and closets were huge. The apartment was quiet and the location was absolutely the best ever. I could not have landed us in a better spot. Every restaurant and sight is practically right out your door. Best of the best. Hit Grom For Florence's best Gelato and for fun shopping hit the stalls. The apartment lands you with in five minutes of the Uffitzi, the Duomo and just about any pastry your heart desires.
Strozzi Review
by Dani Kelmar
The location of this apt. is perfect. You are walking distance to everything. The greeters are thorough and thoughtful. We loved the "community" computer area. Very useful as we didn't pack a printer! The apt. was lovely. The air conditioner worked great. The only change would be to put the refrigerator closer to the "kitchen" area. Even a smaller frig/freezer or better yet move the kitchen cabinet w/sink...to the back room where frig is and swap out the closet, put that in Livining room. Make it part of the room. We loved this apt. besides that. The apt. had lots of thoughtful touches. We can't wait to visit another Italy Perfect site again!
Strozzi Review
by Debbie. F.
The apartment was the best place we stayed on our entire trip.  It was lovely. Thanks for all your assistance in making this a very memorable trip.
Strozzi Review
by Constance
We obviously like this location because it is the second time we have rented here. Miki and Franco are very accommodating, friendly and helpful. I strongly suggest the visitor brush up on their Italian because it is helpful when meeting Miki and Franco and helpful in general. The apartment was very clean and cute and the location is central to most of the major attractions. Although it is very close to the train station, you would not know it because the surrounding area is very upscale with the convenience of restaurants, food stores and shops nearby. I would strongly recommend this apartment and Italy Perfect. One more thing I will mention is that while we like to think that we are immersing ourselves in the Italian culture by renting an apartment, the reality is that it is easier dealing with an American related agency and Lisa Byrne is very professional with great follow through on requests and information.
Strozzi Review
by Sharon and Mark
We thoroughly enjoyed our stay at the Strozzi apartment in Florence. The owners were very kind and patient. We really appreciated them taking the time to show us how to use the appliances, open and lock the windows, doors etc. The location was fantastic for several reasons. We were very close to the train station, excellent restaurants and key attractions. We really appreciated that our apartment was on the inside of the building as this made it quiet. My only concern was the kitchen facilities. There was no real kitchen area. The fridge was located in a different area. The stove top, microwave and sink were located in a dining room cabinet. The stove top elements did not work efficiently and consequently we could not use them. We appreciated the detailed information that Italy Perfect provided us with. It was great to have not only information about Italy but also our specific apt. and neighborhood. One small note is that the David's tea place has relocated to another street in the area. It is fabulous by the way! We would definitely recommend Italy Perfect to friends and have already done so.
Strozzi Review
by seniorkids
We are 65 and 72 years young and rented this apartment for 11 days. Miki and Franco were wonderful to work with, always ready to give you a helping hand. They both speak enough English that we were able to communicate really well. We were loaned a cell phone by them and we just paid for the minutes that we used. There was a great bottle of wine waiting on the table for us when we arrived and Miki personally was there to greet us. Loved having a washing machine in the apartment. Both the bed and the pull out couch had the most comfortable mattresses. We loved being just few doors from a bakery. Lots and lots of restuarants in area. The elevator always worked, and when the front door to the lobby was closed nothing was heard from the street. The apartment was quiet and comfortable. We loved being just 10 minutes walking distance from the bus and train stations. No need to rent a car while in this part of historical Florence. Nor would you want to drive one there, streets too narrow. This was our first experience in Florence, and we felt we made the very best decision in renting this apartment that was so close to so many interesting things to visit and do, which in turn made this a wonderful first experience. We would very highly recommend this apartment or any of the other three that Miki and Franco have. We felt this was a very safe area in which to have your homebase in while you were visiting areas of Florence and other parts of Italy by bus or train. We would definitely recommend Italy Perfect to anyone who is considering doing a rental in Italy.
My wife and I spent a week here and thoroughly enjoyed our time in the apartment.  It is hard to explain how nice it feels to come up to a door on a street in Florence with the key to your own apartment. Pros:  The location is fabulous. It is near to all the tourist sites and there are all the businesses that you need within a hundred yards.  There is a bakery just outside the front door and a Salumeria just down the block.  The Salumeria had a selection of cold cuts and a small selection of grocery items.  They also had a few wines which were both reasonably priced and excellent.  The Badia a Coltibuono was wonderful.  Further up the block is a small supermarket with all the items you might need.  There are a number of restaurants including one recommended by Rick Steves just across the street.The apartment is clean and comfortable.  The bathroom is very nice and has a washing machine in it.  There is also a large refrigerator just outside the bathroom.  This apartment, and two others were part of a doctors office and home which is why there is the nice entry hallway.  There are two (very) small balconies, one outside the living room and one outside the bathroom. These are in an air shaft so there is no view but there is also no street noise so the place is quiet at night. Con: Only one and not particularly important to us. The "kitchen" consists of a small cabinet which has a very small sink and an electric burner setup.  This is not something for cooking a real meal but it did well for boiling eggs to go with the fresh rolls at breakfast.  There are a number of places nearby where you can get good and inexpensive take out food.  We tended to do that and have dinner in with a nice bottle of wine.  There is also a microwave for heating food and water for tea and coffee. There is a computer available for all the apartments and there is also wireless internet access which worked very well for us. Would we stay here again? Certainly.  This apartment offers charm and comfort.  We would also very seriously consider the Prisco apartment just across the hall which is quite elegant and has a nice kitchen.
January 17, 2011 - Website
Strozzi Review
by Isabelle
We spent Christmas and New Year at this lovely apartment and it was a pleasure to step out into the heart of the city, all festively decorated for the holidays. The location is unbeatable - within minutes of walk of major sights and shopping. We were comfortable, cozy and cheerfully welcomed by Miki and Franco. Welcoming the New Year as fireworks sparkled hgh over the Arno was amazing. Thanks for a wonderful experience.
December 5, 2010 - Website
Strozzi Review
by kkoefler
Miki and Franco met us at the apartment right on time and showed us through the checklist i.e. how the washing machine works. They are a delightful couple and even provided us with a bottle of and a Florence map! The apartment was fantastic with a large bedroom and very comfortable bed; large well equipped bathroom with a great walk in shower; very comfy living area with American coffee maker and coffee and a very serviceable kitchette; and even a safe. The building and apartments area is fantastic! Like a fortress just half a block from the Strozzi Palace and the shopping district right around the corner. The pastry shop 2 doors was fabulous and was Cafe Megara right next door. Just a delightful few minutes walk (location, location, location) to anywhere in Florence including the Mercato Centrale and the Ponte Vecchio. The neighborhood is great and very local (we never felt like strangers) even though it's just a few steps from major tourist sites. We loved them both - Florence and Strozzi! Because we had an early flight out Miki and Franco checked us out the evening before and even arraigned for a taxi (which was right on time) to pick us up for the airport. Oh, and seek out Ristorante Caruso on via della Moro for a fabulous meal and enertaining evening!
September 19, 2010 - Website
Strozzi Review
by Nancy and Larry Hughes
I just wanted to follow up and tell you what an amazing visit we had in Florence and how much we enjoyed staying in the Strozzi apartment. Miki and Franco were wonderful and helpful hosts. What a beautiful apartment and what an amazing location! It couldn't have been better. It was also a very nice convenience to have the washing machine. The bed was so comfortable and the pillows were probably the best away from home I have ever slept on. I could go on and on, but the bottom line is that we loved it and were not ready to leave! When we return to Florence, we will be in touch! Thanks so much. I just wanted to follow up and tell you what an amazing visit we had in Florence and how much we enjoyed staying in the Strozzi apartment. Miki and Franco were wonderful and helpful hosts. What a beautiful apartment and what an amazing location! It couldn't have been better. It was also a very nice convenience to have the washing machine. The bed was so comfortable and the pillows were probably the best away from home I have ever slept on. I could go on and on, but the bottom line is that we loved it and were not ready to leave! When we return to Florence, we will be in touch! Thanks so much.
Strozzi Review
by Brian Goncher
The Strozzi apartment in Florence was a real highlight of our month-long trip through Europe. The location was perfect, right in the middle of everything. It was a short walk from the train station. But it was also a short walk to everything else in Florence. I was initially concerned that it would be noisy based on the location. But the windows open to the back of the building and it proved to the be the most comfortable and quietest of all our accomodations. In addition to a large bed in the master bedroom, there are two twin beds as part of the fold out sofa for our two children. The kitchen is a little unusual because there is a small stove and sink in a cabinet in the living room and the refrigerator is in the walk-in closet between the master bedroom and bathroom. But we ate most of our meals out and it worked well for the few meals we had at the apartment. Part of the apartment's comfort was the well functioning air conditioning. It worked quiet and effective. I would highly recommend the Strozzi apartment to anyone visiting Florence and I hope we can return soon. Brian Goncher PS we made a great search of the best gelato in Florence. There are lot of great shops to choose from, but we found Perche No! to have the best overall gelato. Have fun with your own search.
Strozzi Review
by Brynn G.
We had a FABULOUS time in Florence (despite the 95 degree heat.....yikes!) and we loved the Strozzi apartment itself as well as the location! Miki and her husband were very nice people and we enjoyed meeting them. We will be sure to spread the word about Italy Perfect and the Strozzi apartment. We loved this place! The location was fabulous, very close/within walking distance to shopping, great restaurants, tourist attractions. The king size bed was quite comfortable. During our visit Florence was in the middle of a heatwave, but we were very comfortable in the air-conditioning of this apartment. We ate at restaurants during our visit, but one could easily make small, basic meals in the kitchenette. Quiet/convenient location. Small but dependable elevator. Would not recommend this place if you're traveling with children.
Strozzi Review
by Gerard70
We stayed in this apartment for six nights at the end of a fourteen night stay throughout Italy. As we were staying in hotels the freedom of the apartment was most welcome. The location within a short walking distance from the main railway station was beneficial as it allowed the opportunity to journey beyond Florence on short day excursions. The location was very convenient to most of the main city attractions and to restaurants and shopping which are just at your doorstep. The service provided on our arrival was both welcoming and informative. The free and unlimited access to the internet was without doubt a bonus. If we had any complaints it was with the cooking facilities and whilst we were warned about this on reading previous comments, we were disappointed that the facility was so limited as one of the reasons for selecting an apartment was to have the facility of eating in on occasions however this would not put us off recommending this property to others. All in all a very relaxing and enjoyable end to our holiday.
Strozzi Review
by Mike & Marie
We had 9 days in the Strozzi in May and this was a perfect place and location. 10mins walk from the train station and every major site in Firenze. Just above a bakery for fresh breakfast and surrounded by good restaurant choices. For those who can afford it also too close to Gucci, Fendi, Bulgari, LVT. Great apartment with enough room to spread out and make yourself at home. Wifi to keep yourelf connected and balconies to relax on. Franco and Miki met us when we arrived and that was the perfect start to our stay with some nice Santovino to welcome us. Thank you Lisa and Italy perfect for the great organisation and helpful information. Try this you can't go wrong.
December 16, 2009 - Website
Strozzi Review
by Jeannette
We loved our visit to Florence and it was made even more enjoyable because the Strozzi was in the middle of everything. We could walk to everything and the nearby restaurants were great! The owners were so sweet and helpful and made us feel right at home. Would stay there again!
November 13, 2009 - Website
Strozzi Review
by Mary Ellen Splinter
My daughter and I spent a wonderful week in Florence and our stay in the Strozzi apartment made is a comfortable one. It was nice to have a living area and separate bedroom with spacious bathroom and even a dressing area. Strozzi faces an inner courtyard which is quieter than facing the street. There were a couple of evenings, when people staying across the courtyard from us played their music very loudly but it really didn't bother us since we liked that kind of music! We felt very secure at Strozzi knowing that we were in a building with an outside locking door, down a hall with its own locking door and on the third floor (U.S.). The elevator came in handy when we came and went with our luggage, but other days we used the stairs and convinced ourselves that we were walking off all of the great food we were eating. The apartment is very centrally located and we walked to everything we wanted to see with no problem. We took advantage of the use of the mobile phone and it worked well for our needs. There were only a few small problems we encountered. There are three computers in the shared area, however only one was able to get internet access. The other two seemed to need reconfiguring. Also, we could not get the printer to work when we wanted to print out boarding passes. The other small issue was with the kitchenette. Instead of a kitchen, Strozzi has a four-burner stove, sink and small fridge located in the living area in a large armoire-like cabinet. The two back burners didn't work and neither did the fridge. There is however a fridge located in the dressing area that did work. If you intend to do any meal preperation at all, the cooking facilities at Strozzi may not be enough. There was no work surface area and it was a bit tricky to juggle various kitchen chores at once. Over all, we had a fantastic visit and would definitely use Italy Perfect again. The comfort and convenience of a centrally located apartment beats out a hotel every time. [Sorry this guest had a problem with the printer in the little computer room, it has been fixed. Our personal review of Strozzi states "Kitchenette is suited to light meal preparation since there is no counter space" which this guest might have overlooked. Sorry that there was a misunderstanding during the check in process about the stove & fridge, possibly due to a language barrier. The small refrigerator has since been removed to make room for a microwave. The dressing room has a full size refrigerator with separate freezer compartment. All 4 stove burners work but switching on all 4 at once can cause the circuit breaker to trip which is standard in most Italian homes, same as not being able to operate two energy hungry appliances such as the washing machine and a hairdryer in almost all Italy properties, explained in detail in the confirmation materials.  Lisa, Italy Perfect]
October 2, 2009 - Website
Strozzi Review
by Margaret
The location and apartment itself couldn't have been better. The 3 of us were quite comfortable, and the second bathroom down the hall was very handy. We appreciated having the internet and wireless available. The location was great, right in the heart of the city center. The only drawback was the noise. We kept our windows open because it was warm, rather than use the air conditioning. The noise late at night from the other apartments was significant. Bring your earplugs or shut the doors! We were met arrival and well oriented. I had private Italian lessons for a week at Istituto Italiano nearby and it was great. [In addition to the bathroom off the Strozzi bedroom there is an extra bathroom for the exclusive use of Strozzi or Prisco apartment guests down a private hall. You are likely to hear the neighbors when guests & the other building residents have their windows open, as you would anywhere in the world where there is close quarters, an adjustment for travelers who are accustomed to living in private, standalone houses. Italy Perfect]
August 13, 2009 - Website
Strozzi Review
by Lisa and Howard
This apartment was in an excellent location in Florence. We were extremely grateful to Miki and Franco who helped us out immeasurably with our lost luggage - which required waiting for delivery over three different days and too many phone calls. They were very very sweet, warm, comforting and had a great sense of humour - even when helping us struggle with a phone card problem. They seem to love what they do, and we were lucky to have their help. Miki and Franco also smoothed our stay with respect to tips re travel- bus to Siena, train to Lucca - and offered lots of helpful information about restaurants. The trattoria we frequented the most was the the Antique Carrosseria which had great pizza for the kids and overall delicious meals. On the other side of the river - a great family friendly pizzeria was Dante's and the best gelato we had in Florence - on the corner , at the river, contemporary design, but can't remember the name. Also have to mention the best meal we had - truly superb - also a short walk from the apartment at Gustovino. The apartment was certainly big enough for a family of four, the air conditioning not nearly as expensive as we thought and the building, of course, very quiet. The cafe at the ground level two doors down was excellent for your morning macchiato. We did shop for a few things nearby - but favoured a likely all to expensive fruit martket in between the two big piazzas. All in all a great 7 days, and without Miki and Franco we would have not been able to enjoy most of it, nor see nearly as much art! Thanks again.
Strozzi Review
by Paul & Amy DeBusschere
The Strozzi apartment was a great place to stay in Florence. Conveniently located near the train and bus stations, we found it to be a good location from which to make our daily excursions. The accommodations were comfortable and met our needs for a place to collapse after a day of touring Florence. Our hosts were quite accommodating and even arranged for our cab on the day of our departure.
Strozzi Review
by Mary H. & Carole S.
Our vacation to Florence was wonderful. Just like in the movies. Everything was just as you had written in your packet. The apartment was clean, organized and beautiful. What fun we had! I know our travel plans in the future will include your services.
Strozzi Review
by David and Paula
We had the opportunity to stay at the Strozzi last month. What a wonderful apartment in a wonderful location. I can't think of a single thing that I would change about the accommodations. The restaurant suggestions by Italy Perfect were very helpful, I would recommend you try any of those on the list. We were never disappointed. The service at the Strozzi was excellent, very professional and very helpful. What a fantastic stay in Florence!
Strozzi Review
by Doris & Jess
Italy Perfect made planning our trip to Italy much easier! I always got prompt answers to questions, the info sent to us was very helpful and both accommodations worked out great for us! We also stayed in a pensione, a 5 star hotel and a 2 star hotel in various Italian cities. By far our favorite places to stay were the two apts. we rented ; the Strozzi in Florence and the Via Veneto in Rome.Having quiet, peaceful, but pretty, places to stay where we could spread out and relax after long days of walking, eating and sightseeing was great. Having windows you could open at night was wonderful for me. The washer in both places cut down on clothes we needed to bring (leaving much more room in our suitcases for gifts we brought back).I read the other reviews and went to several places they recommended. Our recommendations in Florence include: For dinner: Trattoria Sostanza, Via del Porcellana 25/r, 39-055-212-691. Reservations needed- order the chicken, beef and artichoke omelet. Also Trattoria 4 Leoni, Via del Vellutini 1/r, Piazza della Passera, 39-055-218-562, reservations recommended. Order the gnocchi. Find Grom for gelato and anywhere in Florence for the best cappuccino in the world!
February 10, 2009 - Website
Strozzi Review
by Elliott and Mallory Purdy
The accommodations were amazing. Great location and setting. My brother and I probably enjoyed sightseeing and sleeping in the most (we are university students). As previously stated, the location and neighborhood were wonderful and there were really no problems or drawbacks whatsoever. The landlord/owner was very nice and helpful with all of our questions and had great patience and understanding despite our lack of ability to speak or understand most of the Italian language. Thank you very much.
January 15, 2009 - Website
Strozzi Review
by Martha and Jacquie
We are two middle aged ladies who are dedicated art lovers and museum goers. We spent a week in the Strozzi apartment in late October, 2008 and loved every minute. The location is in a safe, upscale, conveniently situated neighborhood, with every needed service nearby. Our expectations were exceeded, and we plan to stay in Strozzi again within a year or two.Our dealings with Italy Perfect were exceptional. Every detail was handled professionally and to our satisfaction. We plan to use this company whenever possible, and recommend Italy Perfect without hesitation to all travelers.
January 4, 2009 - Website
Strozzi Review
by Piper Taylor
My mom and I were returning to Firenze to visit my little sister in the last few weeks of her semester abroad. I too had lived in Firenze over 10 years ago, so I knew the area that apartment would be located in. As the taxi pulled up I was very excited to see that the apartment was not only wonderfully located but it was right down the street from one of my favorite places to eat (La Spada=astounding food!) Miki and Franco were waiting for us with open arms, and a bottle of Vin Santo. They explained were everything was located and left us feeling cared for and well taken care of. The computer room was a huge plus as well as the loaner cell phone. The apartment itself was wonderfully laid out and had an abundance of cooking supplies. Though it would have been nice to have a DVD player in the unit. We did enjoy flipping through the satellite TV channels. It was great being able to wake up make a cup of coffee and just relax in the living room. My mom enjoyed meeting our neighbors and exchanging stories of their travels. The location of the apartment was great as well seeing that it is just a 5 minute walk to the bus or train station. I plan on returning to Italy later this year and I will definitely try to stay here again. Thank you for an marvelous time!
December 17, 2008 - Website
Strozzi Review
by Susan and Toby
We spent the first 2 weeks of November in the Strozzi apartment and loved it. Miki and Franco were delightful and very helpful. The apartment is beautiful and comfortable, and we liked that it is part of a private corridor with computer room and other amenities. The location is very central--we walked everywhere. We did cook simple meals, although since there is no counter space it required some juggling. The Mercato Centrale is a fabulous source of food and shopping there was a highlight of our trip. Thank you, Lisa, for answering all of my questions so quickly, and thanks to Miki and Franco for being perfect hosts.
November 15, 2008 - Website
Overall we were very pleased with Strozzi. The location was great; we loved the neighborhood. The use of the computer, internet, and printer was a bonus that made the trip so much easier. All the recommendations for nearby restaurants and shops were right on. Service was very good. No complaints at all. Appreciated having a lift, washing machine and bidet, TV, lots of room. And the welcome basket with a bottle of wine that we drank out on the terrace was a very nice touch.
October 1, 2008 - Website
Strozzi Review
by Martha Green
We absolutely loved the Strozzi apartment and plan to stay there again as soon as possible. We may not make it back until September,2010, but you will definitely hear from us well in advance of the trip, to reserve that marvelous apartment. Many, many thanks to you and your team at Italy Perfect for a memorable and satisfying visit to Florence.
September 1, 2008 - Website
Strozzi Review
by Amy Sry
Thank you so much.  I really appreciate that.  The apartment was great.  Great area and everything perfect!  I recommended your site to some other parents that will be visiting their kids in Florence who are on the same study program w/my daughter and will as well to anyone else that I hear of travels coming up.  Thanks so much again!  If and when I return to Florence or to any of your other locations, I will definitely be in touch!
August 31, 2008 - Website
Strozzi Review
by Gail S.
Thank you Lisa for your services once again. We really enjoyed our second stay in Strozzi. The apartment was again clean and comfortable.  We look forward to staying again on our next extended visit in Florence.
August 31, 2008 - Website
Strozzi Review
by John Kuczkowski
We had a WONDERFUL time in Florence. The apartment was perfect in every way-very comfortable, cozy, clean, and well located. Miki and Franco were very gracious and informative. Mary and I toured the city for all 5 days and wish we would have been able to stay another week or two. You and Italy Perfect are to be congratulated on how well you prepare your guests for their upcoming vacations. We will definitely use you and properties when we head to Rome and Paris in the future. Thank you for everything.
Strozzi Review
by Diane Rixey
The Strozzi apartment was fabulous. I can't wait to return there with my husband.
Strozzi Review
by Lisa Gemme
The apartment was great!
Strozzi Review
by The Wilkersons
Your apartments [Strozzi & Michaela] were lovely, we really enjoyed them.
Strozzi Review
by Helen Leung
We just want to thank you for facilitating our accomodation rentals in Rome [Veneto] and Florence [Strozzi]. Thank you also for the reccomendation for Venice. The apartments were great as were their hosts. We found that the best way to see Rome, Florence and Venice; like many others before us, is to simply get lost walking (but carry a good map, just in case). We figured if you just walk in the general direction of where you want to go, you'll eventually end up at your destination. Plus, you find so many interesting things along the way!
Base Nightly Rates – May Not Include Fees such as Greeting, Cleaning, Damage Waiver, Credit Card Processing and Tourist Taxes. For full price, please put in dates.
Available
Unavailable
Check-In Only
Check-Out Only
November 2023

| S | M | T | W | T | F | S |
| --- | --- | --- | --- | --- | --- | --- |
| | | | 01 | 02 | 03 | 04 |
| 05 | 06 | 07 | 08 | 09 | 10 | 11 |
| 12 | 13 | 14 | 15 | 16 | 17 | 18 |
| 19 | 20 | 21 | 22 | 23 | 24 | 25 |
| 26 | 27 | 28 | 29 | 30 | | |
December 2023
S
M
T
W
T
F
S
01
02

$122

03

$122

04

$122

05

$122

06

$122

07

$122

08

$122

09
10

$122

11

$122

12

$122

13

$122

14

$122

15

$122

16

$122

17

$122

18

$122

19

$140

20

$140

21

$140

22

$140

23

$140

24

$140

25

$140

26

$140

27

$140

28

$140

29

$140

30

$140

31

$140
January 2024
S
M
T
W
T
F
S
01

$140

02

$140

03

$140

04

$140

05

$140

06

$140

07

$140

08

$140

09

$140

10

$140

11

$140

12

$140

13

$140

14

$140

15

$140

16

$140

17

$140

18

$140

19

$140

20

$140

21

$140

22

$140

23

$140

24

$140

25

$140

26

$140

27

$146

28

$140

29

$140

30

$140

31

$140
February 2024
S
M
T
W
T
F
S
01

$140

02

$146

03

$151

04

$140

05

$140

06

$140

07

$140

08

$162

09

$155

10

$165

11

$140

12

$140

13

$140

14

$142

15

$154

16

$173

17

$184

18

$147

19

$143

20

$143

21

$147

22

$156

23

$174

24

$185

25

$147

26

$140

27

$142

28

$146

29

$154
March 2024
S
M
T
W
T
F
S
01

$172

02

$180

03

$140

04

$140

05

$140

06
07
08
09
10
11
12
13
14
15
16
17
18
19

$146

20

$154

21

$166

22

$191

23

$178

24

$147

25

$158

26

$164

27

$165

28

$201

29

$225

30

$236

31

$202
April 2024
S
M
T
W
T
F
S
01

$200

02

$200

03

$200

04

$200

05

$211

06

$221

07

$201

08

$195

09

$196

10

$183

11

$203

12

$211

13

$232

14

$213

15

$248

16

$254

17

$256

18

$268

19

$276

20

$276

21

$244

22

$207

23

$205

24

$205

25

$226

26

$228

27

$228

28

$210

29

$200

30

$196
May 2024
S
M
T
W
T
F
S
01

$201

02

$215

03

$211

04

$223

05

$200

06

$196

07

$195

08

$197

09

$207

10

$214

11

$222

12

$197

13

$243

14

$235

15

$243

16

$254

17

$276

18

$285

19

$254

20

$241

21

$239

22

$211

23

$220

24

$230

25

$238

26

$218

27

$213

28

$213

29

$209

30

$218

31

$227
June 2024
S
M
T
W
T
F
S
01

$233

02

$216

03

$207

04

$207

05

$235

06

$252

07

$264

08

$228

09

$210

10

$199

11

$204

12

$204

13

$211

14

$220

15

$227

16

$210

17

$200

18

$208

19

$209

20

$216

21

$223

22

$228

23

$211

24

$203

25

$244

26

$245

27

$247

28

$249

29

$221

30

$201
July 2024
S
M
T
W
T
F
S
01

$194

02

$195

03

$199

04

$198

05

$207

06

$209

07

$192

08

$190

09

$192

10

$223

11

$198

12

$208

13

$237

14

$227

15

$230

16

$197

17

$196

18

$199

19

$206

20

$204

21

$188

22

$187

23

$191

24

$186

25

$188

26

$194

27

$190

28

$178

29

$178

30

$180

31

$179
August 2024
S
M
T
W
T
F
S
01

$178

02

$178

03

$177

04

$175

05

$175

06

$176

07

$180

08

$182

09

$185

10

$188

11

$183

12

$187

13

$188

14

$192

15

$191

16

$190

17

$192

18

$183

19

$183

20

$180

21

$188

22

$183

23

$184

24

$186

25

$193

26

$193

27

$193

28

$193

29

$193

30

$196

31

$200
September 2024
S
M
T
W
T
F
S
01

$193

02

$193

03

$193

04

$197

05

$204

06

$209

07

$216

08

$204

09

$206

10

$207

11

$213

12

$221

13

$228

14

$231

15

$217

16

$217

17

$249

18

$261

19

$230

20

$272

21

$287

22

$227

23

$267

24

$227

25

$229

26

$232

27

$242

28

$242

29

$223

30

$221
October 2024
S
M
T
W
T
F
S
01

$220

02

$251

03

$262

04

$276

05

$272

06

$213

07

$213

08

$243

09

$215

10

$219

11

$237

12

$240

13

$205

14

$209

15

$205

16

$206

17

$211

18

$227

19

$237

20

$195

21

$200

22

$197

23

$230

24

$206

25

$222

26

$235

27

$193

28

$193

29

$193

30

$193

31

$194
November 2024
S
M
T
W
T
F
S
01

$217

02

$227

03

$177

04

$174

05

$173

06

$168

07

$177

08

$204

09

$213

10

$158

11

$154

12

$154

13

$154

14

$163

15

$191

16

$245

17

$177

18

$161

19

$172

20

$180

21

$196

22

$237

23

$255

24

$154

25

$154

26

$154

27

$154

28

$192

29

$228

30

$239
December 2024
S
M
T
W
T
F
S
01

$182

02

$182

03

$182

04

$182

05

$190

06

$218

07

$226

08

$182

09

$182

10

$190

11

$182

12

$182

13

$200

14

$202

15

$182

16

$186

17

$189

18

$186

19

$260

20

$337

21

$337

22

$326

23

$338

24

$339

25

$341

26

$330

27

$343

28

$355

29

$342

30

$423

31

$456
January 2025
S
M
T
W
T
F
S
01

$428

02

$416

03

$260

04

$260

05

$260

06

$260

07

$260

08

$208

09

$203

10

$192

11

$195

12

$182

13

$190

14

$189

15

$182

16

$182

17

$182

18

$195

19

$182

20

$182

21

$182

22

$182

23

$182

24

$189

25

$198

26

$182

27

$182

28

$182

29

$182

30

$182

31

$194
Things to See & Do
Duomo (5 mins Walking)
Florence's famous and glorious cathedral, Santa Maria del Fiore, beautiful to gaze at since the 1300s. Don't miss and, if you can, read about -- then visit the amazing dome by Brunelleschi erected without scaffolding!
Piazza della Repubblica (5 mins Walking)
A great piazza of Florence. The shape reflects its role as the forum in Roman times. Now it has fine palaces and a triumphal arch and colonnaded sidewalks. You will see street artists, impromptu musical performances and a colorful merry-go-round. Glitterati in the fancy cafes.
Piazza della Signoria (9 mins Walking)
Center of power of Florence since ancient times with the David statue by the Palazzo Vecchio, the ancient seat of government, and the loggia of dramatic statues each of which has a story about politics and power. Imagine the Bonfires of the Vanities here and the triumphal return of the Medici.
Accademia (10 mins Walking)
Home of the original David by Michelangelo, his dramatic Bound Slaves and a very nice museum.
Ponte Vecchio (10 mins Walking)
Awesome ancient bridge over Florence's Arno river that has survived 800 years. Famous for the shops of goldsmiths along its length.
Uffizi Gallery (10 mins Walking)
One of the greatest museums in the world. The defining collection of Renaissance art. A tour is recommended.
Pitti Palace (20 mins Walking)
The famous Medici family's home, it is a large museum with many fascinating galleries. It opens to the large Boboli gardens that may be visited separately. I the origin of the Vasari Corridor, an enclosed, protective "bridge" between the palace and the Medici offices at the Uffizi.

Public Transport
Santa Maria Novella Train Station (9 mins Walking)
Florence's main train station