A very fine apartment in a super location that will accommodate up to 6. There are 4 apartments here that, altogether, can accommodate 20 with the use of sofa beds.
Location
We named this apartment and its neighbors after great Italian scientists who are celebrated with monuments in the Santa Croce Basilica next door. The basilica is called the Pantheon (temple to the gods) of Italy recognizing many [should I say "about 20"?] Italian "gods" from all disciplines with their graves and/or monuments. Navigating the monuments is just one of many was to enjoy the beauties of Santa Croce.
Enrico Fermi created the world's first nuclear reactor by designing and building the first nuclear chain reaction in 1942 in Chicago. He won the Nobel Prize in Physics in 1938; the first of many awards and medals. He is buried in Chicago, having emigrated to the United States in 1938 to escape new Mussolini-led racial laws that affected his Jewish wife.
Piazza Santa Croce not only hosts the daily life of Florentines, but also entertainment from buskers and larger events such as exhibits, concerts and the annual Calcio Storico, celebrated, amazing historical-style soccer matches. The famous sites of Florence are all walking distance. Super dining and gelato all nearby.
Exterior
A beautiful contrast to the wonderful renaissance architecture of Florence and the gothic style of the nearby basilica, the palazzo here is of Liberty style (called Art Nouveau in France) and dates from about 1900.
Interior
Comfortable and convenient, the apartment is on 2 levels. On the main level is the living room area with a sofa bed and 2 armchairs. The full dining table accommodates 4. The kitchen is next to the dining area and has a preparation island with 2 burner induction stovetop and sink. Side tables hold the microwave, coffee and tea equipment.
On the same level is a bedroom and full bathroom.
Just above is a lofted bedroom also with full bathroom.
We found this apartment of high quality and, as always, we love this location.
The companion apartments are Da Vinci, Marconi and Barsanti.
Things To Note
Neighborhood: Santa Croce
Size: 753 sq ft, 70 m2
Accessibility/Security: 15 steps to 2nd bedroom
Shorter Stays: 3 nights minimum stay.
Services: Included: Concierge service. Housekeeping every 3 days.
Other: Washer and dryer no charge, shared by 4 apartments.
Room Details
| Room | Beds | Amenities |
| --- | --- | --- |
| Bedroom 1 | King (1) | King bed (71in x 79in; 180cm x 200cm) |
| Bedroom 2 | King (1) | King bed (71in x 79in; 180cm x 200cm) |
| Living room | Foldaway Bed - Queen (1) | Foldaway bed-queen |
| Bathroom 1 (en suite to Bedroom 1) | | Shower, sink and toilet |
| Bathroom 2 (en suite to Bedroom 2) | | Shower, sink and toilet |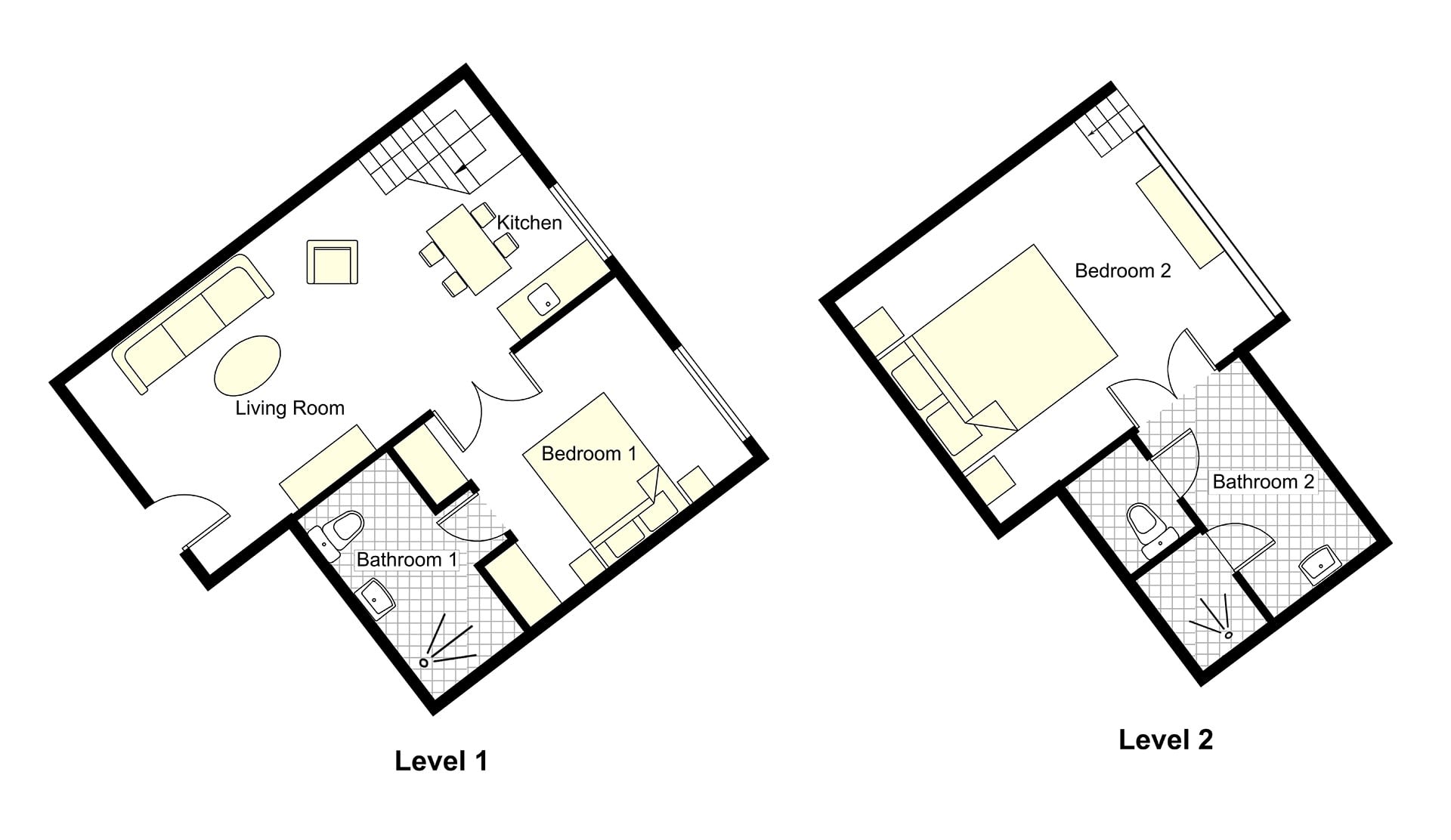 Connectivity/Entertainment

WiFi
TV - Limited English Programs

Kitchen

Fully Equipped
Microwave
Stovetop
No Dishwasher
Small Refrigerator
Thank you for submitting your review. It will be processed shortly!
We are sorry, there are no reviews for this unit. Be the first to leave a review!
Rates do not include taxes/fees.
Available
Unavailable
Check-In Only
Check-Out Only
October 2021

| S | M | T | W | T | F | S |
| --- | --- | --- | --- | --- | --- | --- |
| | | | | | 01 | 02 |
| 03 | 04 | 05 | 06 | 07 | 08 | 09 |
| 10 | 11 | 12 | 13 | 14 | 15 | 16 |
| 17 | 18 | 19 | 20 | 21 | 22 | 23 |
| 24 | 25 | 26 | 27 | 28 | 29 | 30 |
| 31 | | | | | | |
November 2021
S
M
T
W
T
F
S
01
02

$260

03

$260

04

$260

05

$260

06

$260

07

$260

08

$260

09

$260

10

$260

11

$260

12

$260

13

$260

14

$260

15

$260

16

$260

17

$260

18

$260

19

$260

20

$260

21

$260

22

$260

23

$260

24
25

$260

26

$260

27

$260

28

$260

29

$260

30

$260
December 2021
S
M
T
W
T
F
S
01

$260

02

$260

03

$260

04

$330

05

$330

06

$330

07

$330

08

$330

09

$330

10

$330

11

$330

12

$330

13

$330

14

$330

15

$330

16

$330

17

$330

18

$330

19

$390

20

$390

21

$390

22

$390

23

$390

24

$390

25

$390

26

$390

27

$390

28

$390

29

$390

30

$390

31

$390
January 2022
S
M
T
W
T
F
S
01
02

$390

03

$390

04

$390

05

$390

06

$390

07

$260

08

$260

09

$260

10

$260

11

$260

12

$260

13

$260

14

$260

15

$260

16

$260

17

$260

18

$260

19

$260

20

$260

21

$260

22

$260

23

$260

24

$260

25

$260

26

$260

27

$260

28

$260

29

$260

30

$260

31

$260
February 2022
S
M
T
W
T
F
S
01

$260

02

$260

03

$260

04

$260

05

$260

06

$260

07

$260

08

$260

09

$260

10

$260

11

$260

12

$260

13

$260

14

$260

15

$260

16

$260

17

$260

18

$260

19

$260

20

$260

21

$260

22

$260

23

$260

24

$260

25

$260

26

$260

27

$260

28

$260
March 2022
S
M
T
W
T
F
S
01

$260

02

$260

03

$260

04

$260

05

$260

06

$260

07

$260

08

$260

09

$260

10

$260

11

$260

12

$260

13

$260

14

$260

15

$260

16

$260

17

$260

18

$260

19

$260

20

$260

21

$260

22

$260

23

$260

24

$260

25

$260

26

$260

27

$260

28

$260

29

$260

30

$260

31

$260
April 2022
S
M
T
W
T
F
S
01

$260

02
03
04
05

$330

06

$330

07

$330

08

$330

09

$330

10

$330

11

$330

12

$330

13

$330

14

$330

15

$330

16

$330

17

$330

18
19
20
21
22
23

$330

24

$330

25

$330

26

$330

27

$330

28

$330

29

$330

30

$330
May 2022
S
M
T
W
T
F
S
01

$330

02

$330

03

$330

04

$330

05

$330

06

$330

07

$330

08

$330

09

$330

10

$330

11

$330

12

$330

13

$330

14

$390

15

$390

16

$390

17

$390

18

$390

19

$390

20

$390

21

$390

22

$390

23

$390

24

$390

25

$390

26

$390

27

$390

28

$390

29

$390

30

$390

31

$390
June 2022
S
M
T
W
T
F
S
01

$390

02

$390

03

$390

04

$390

05

$390

06

$390

07

$390

08

$390

09

$390

10

$390

11

$390

12

$390

13

$390

14

$390

15

$390

16

$390

17

$390

18

$390

19

$390

20

$390

21

$390

22

$390

23

$390

24

$390

25

$390

26

$390

27

$390

28

$390

29

$390

30

$390
July 2022
S
M
T
W
T
F
S
01

$390

02

$390

03

$330

04
05
06
07
08
09

$330

10

$330

11

$330

12

$330

13

$330

14

$330

15

$330

16

$330

17

$330

18

$330

19

$330

20

$330

21

$330

22

$330

23

$330

24

$260

25

$260

26

$260

27

$260

28

$260

29

$260

30

$260

31

$260
August 2022
S
M
T
W
T
F
S
01

$260

02

$260

03

$260

04

$260

05

$260

06

$260

07

$260

08

$260

09

$260

10

$260

11

$260

12

$260

13

$260

14

$260

15

$260

16

$260

17

$260

18

$260

19

$260

20

$260

21

$260

22

$260

23

$260

24

$260

25

$260

26

$260

27

$260

28

$260

29

$260

30

$260

31

$260
September 2022
S
M
T
W
T
F
S
01

$260

02

$260

03

$390

04

$390

05
06
07
08
09
10
11
12
13
14
15
16
17
18
19
20
21
22
23
24
25
26
27
28
29
30
October 2022
S
M
T
W
T
F
S
01
02
03
04
05
06
07
08
09
10
11
12
13
14
15
16
17
18
19
20

$390

21

$390

22

$390

23

$390

24

$390

25

$390

26

$390

27

$390

28

$390

29

$390

30

$390

31

$390