One of our most romantic apartments, the air-conditioned Volnay combines unobstructed views of the Eiffel Tower from five sets of French doors, with delightful Parisian decor - a result that is sheer magic! This one-bedroom, one-bathroom apartment is ultra-charming and truly Parisian, making it a great alternative to a hotel near the Eiffel Tower. Toast your arrival to glorious sunset views and watch the magical light show on the tower every evening. The Volnay is one of our most popular apartments for honeymoons and special anniversaries. It is also centrally located in the 7th arrondissement and surrounded by cafés, shops, restaurants and open-air markets.
Things To Note
Neighborhood: 7th arrondissement
Size: 650 sq ft/60 sq m
Sleeps: This property is suitable for two adults and up to two children or three adults. It is a tight fit for four adults due to limited space.
Bedroom: Living room can fully close for privacy when sofa bed is in use
Registration Number: 7510700701955
Paris 2024 Olympics: Special Terms
Room Details
Room
Beds
Details
Bedroom
Extra-Wide Queen (1)

Extra-wide queen bed (63in x 79in; 160cm x 200cm)
Living Room
Single (1)
Trundle (1)

High-quality sofa with trundle converts into two comfortable single beds (31in x 75in; 80cm x 190cm)
Bathroom
Combination bathtub/shower (fixed and flexible showerheads) and double sink. Toilet in separate room, please see floorplan.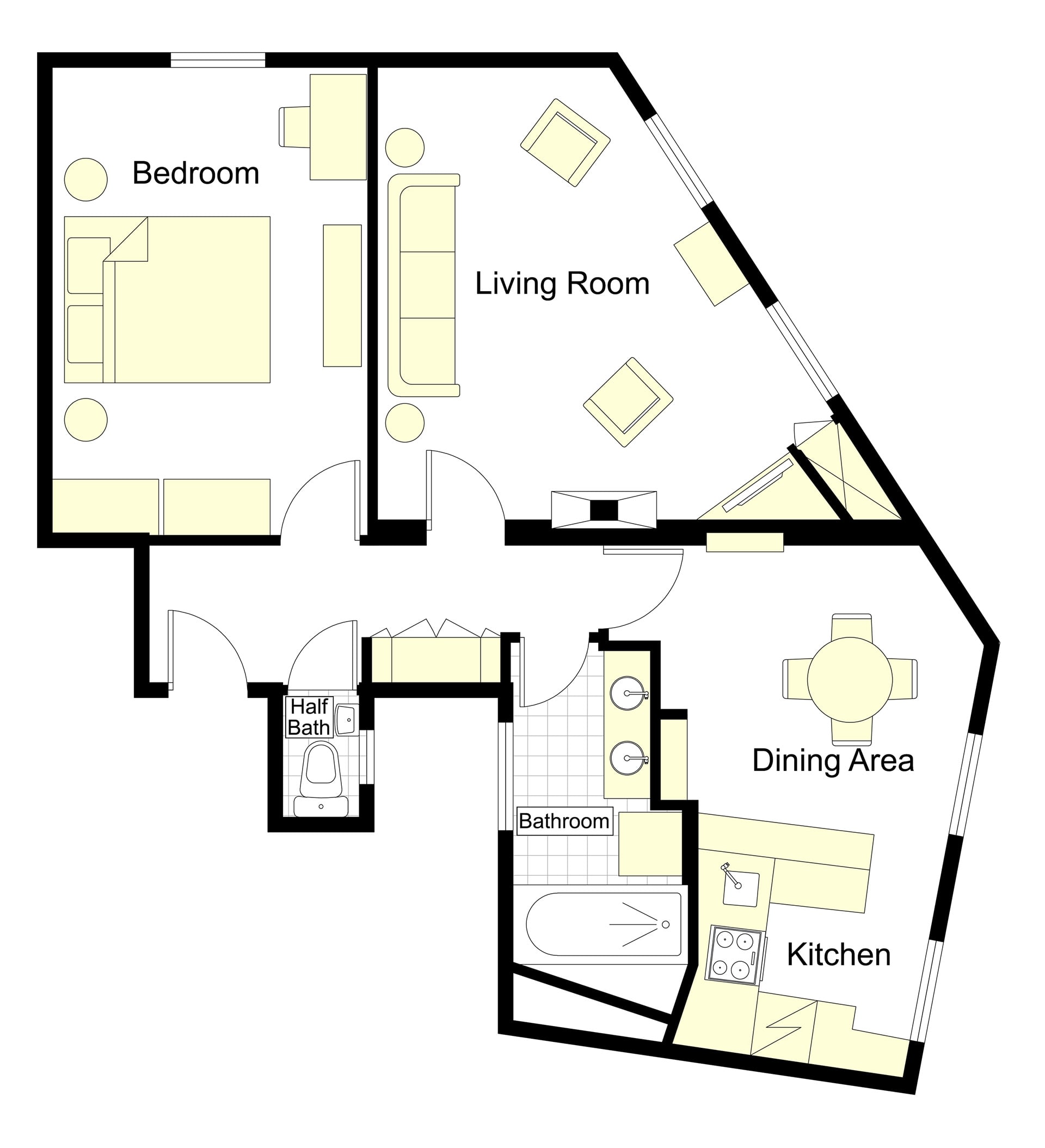 General Amenities

Toiletries
Hotel Safe
Smoke Detector
Carbon Monoxide Detector

Kitchen

Fully Equipped
Starter Supplies
Kitchen
Coffee Maker
Dishwasher
Microwave Oven Combo
Nespresso Style Coffee Machine
Stovetop
Toaster
Refrigerator

Accessibility

Private Entrance
4th Floor North American
Elevator

Connectivity/Entertainment

WiFi
TV
TV - Limited English Programs

Heating/Cooling

Heating
Portable Fan(s)
Sound Dampening Windows
A/C-Central
Non-Working Fireplace

Laundry

Dryer
Iron & Board
Washer

Special Features

Eiffel Tower View
Instant Booking

Amenities

Elevator
Air Conditioning
Thank you for submitting your review. It will be processed shortly!
November 24, 2023 - Website
Favourite Paris Perfect Apartment
by Patricia T
My sixth stay with Paris Perfect and the Volnay is my all time favourite. The Eiffel Tower view is spectacular from the two living room windows, the decor is neutral and elegant and the living room door closes for privacy if using as another sleeping area. The kitchen has everything you need including a full size fridge by European standards. The bathroom has two sinks which is a bonus especially on a girls trip and love the bathtub! Stackable North American style washer and dryer is also located in the bathroom. Great storage in this apartment from the kitchen to the bedroom, you can even place your suitcases in the bedroom cupboards so everything is out of sight. Every apartment I've stayed in has been impeccably clean. As everyone else mentioned, the apartment is located near bus, bicycle and taxi stands. Bus 69 will drop you a short walk from Le Bon Marche and will also stop a short walk away from the Louvre etc. Bus 80 will take you directly to Montmartre in approximately 35 minutes and you can sightsee along the way. Note, if you take the Metro to Montmartre you'll walk up 176 steps to street level so opt for Bus 80 instead. The apartment is near green space and conveniently you'll find a grocery store, patisserie, a few wine shops, fruit and veg market and Fromagerie all just steps away. Paris Perfect is so easy to book with, check in was a breeze, our greeter communicated with us while we were driving into Paris and met us at the apartment on time and gave us a thorough introduction to our apartment. Overall, I highly recommend any PP apartment, they are all consistent, very comfortable and PP provides an excellent experience. Merci PP!
November 3, 2023 - Website
Lovely place, great location
by Gayle Croxton
The Volnay apartment is in a fabulous neighborhood which seems to house both locals and tourists. It is less than a block from what was described by a Parisian friend as "one of the best bakeries in the city" and two excellent bistros. There is also a standout coffee shop around the corner (Terres de Cafe') which we frequented three times. The apartment is well furnished and more than comfortable for two (might have been a bit tight if someone was sleeping on the sofa bed but much larger than a hotel) and check in was easy. We look forward to returning!
October 29, 2023 - Website
Perfect location and view; warm and accommodating welcome; thoughtfully well-equipped; very clean
October 25, 2023 - Website
Fabulous Apartment in the 7th Arrondissement
by Peggy & Bill Roush
My husband and I enjoyed 6 days in this lovely apartment. From the living room we could watch the Eiffel Tower in all its glory. The space is perfect for a couple and it was so wonderful to have a living room to rest in after walking all over the city. We also shared a glass of wine there each evening before heading out to one of the great restaurants in the neighborhood. We have rented from Paris Perfect so many times that I've lost track. They are very responsive if you have questions before or during your stay. The apartment is so CLEAN. I mentioned this to my husband many times. It's great to have a washer & dryer and there's a fantastic boulangerie just a couple doors down from the entrance. We'd get croissants every morning (calories don't count on vacation) and come back to the apartment to enjoy them with the orange juice and coffee that was graciously provided. We know there are plenty of options to rent from other providers in Paris but you can count on quality, cleanliness and responsiveness from Paris Perfect! We highly recommend them.
August 24, 2023 - Website
Perfect stay
by Melissa Masse
We arrived on a redeye from the US and had a good amount of time before we could check into the apartment. Max was wonderful and after we walked a bit he let us rest at the office until our rental was ready. The apartment is in the middle of it all. A short walk to the Eiffel Tower, shops and restaurants right below you. We loved walking to Rue Cler and other beautiful streets. The apartment has so much character and it had everything we needed. The washer/dryer was a great plus. We would highly recommend if you're looking for a spot in the 7th arr. Keep in mind it's central to a lot of business so there is street noise until later. That did not bother us and we loved falling asleep to the sounds of the city!
Nice view of tower
by Tammy H
In addition to the nice view of tower when looking out of window, it's a nice and clean apartment, the host is very easygoing and good at communication speed. You can always find out what you want downstairs.
Just as described,
by Shaney S
Volnay apartment was just as described, so it fully met our expectations. Starting us off with a few provisions was a very nice touch. The kitchen was fully stocked including a toaster, hot water, kettle, Nespresso machine, coffee machine, and everything else you need in the kitchen. Even finding some olive oil and vinegar for a salad and sugar for coffee was bonus. We left some honey. Hope that's OK. We had enough pillows, blankets, toiletries towels, for our stay. We even made use of the in-house umbrella. There was a very responsive and informative host that greeted us at the apartment to get us in and settled. Paris Perfect is a very professional company, and we hope to utilize them again someday.
AMAZING APARTMENT
by Saul Goldfarb
Two weeks at the Volnay apartment in Paris were perfect. The apartment is large, clean and perfectly located. The view of the cafe and the Eifel Tower are almost a stereotype of Paris, but it's real! We were so comfortable there. Baguettes and croissants from across the street. Great cafes and restaurants all around. Easy transportation by Metro and bus anywhere you want to go. The boutiques and shops in the neighborhood were wonderful. Omi from Paris Perfect was a terrific help. He showed us everything we needed to know about the apartment and when we locked ourselves out....he was there in 5 minutes. We couldn't recommend Paris Perfect and the Volnay apartment any higher. Merci!!!
Neighborhood charm
by James Matherne
Will try to touch on things others haven't already mentioned. First, we arrived unexpectedly, very early. I never had everything go so right from an airport before, plane left on time, customs was breeze and zero traffic. The point for mentioning this for the apartment is they sent someone over right away to let us in early! Thank you! Keeping with travel theme; there is a designated Taxi/Uber pickup spot at the door! This makes it very easy to launch your day. The Big Bus stop is also easy walking distance. I also need to fit this in the top - CLEAN- the apartment is very clean. Over the years I have had many rentals at this price point that were not; Thank you again! The apartment comes stocked with essential supplies but you should know this is a very charming, functioning neighborhood. Everything is steps out the door. Grocery, bakeries, pharmacies, fruit stand, butcher, there is no bad coffee in Paris so coffee is everywhere. Just remember as soon as you walk in, Bonjour! It's the custom and feels odd from what we do in states but it turns on the nice switch for these local shop keepers. What is great about this neighborhood is it is an embassy neighborhood so a lot of the people that live here are quasi natives but visitors as well. It works great for us as introductory visitors. As someone going for the first time, the location near the Tower was important. It's an easy first order of business to enjoy it and no picture does it justice. I will end the review like I started. Get back to the Airport extremely early. We left 4 hours early because we wanted to shop at this great high end mall they have in the airport for some final gifts. Instead that time was spent waiting with thousands and thousands of people being checked through customs by two guys! We just made it!
December 6, 2022 - Manual Entry
Incredible Location! Amazing Property!!!
by Francois P
This apartment is everything as per the description and pictures and more! The kitchen is superbly equipped and it's only a ten-minute walk to rue Cler where you can find amazing food shops. For cheese, there's an amazing shop across the street and a few doors down is a very complete mini market. A total of four shops offer wine within one block. Sitting in the living room you can watch the Eiffel Tower sparkle on the hour every evening.
December 4, 2022 - Website
Ideal Apartment with great location
by Cynthia S Weloscharf
Volnay Apartment was the perfect set up for our 4 adults. My daughters shared the bedroom and the trundle bed set up in the living area with a door for privacy and a straight on view of the Eiffel Tower was heavenly. The kitchen area was ideal for morning croissants and fresh squeezed juice. The bathroom set up with the toilet separated from the sinks and shower was great. The fact that the apartment had plenty of mirrors and decent lighting gave everyone the space needed to ready ourselves for the day! Would stay here again because the proximity to restaurants, bakeries, markets and Rue Cler. The beddings and decor were lovely!!!
September 3, 2022 - Airbnb
The location was excellent.
by Kate N
We received an extensive packet of information specific to the neighborhood and about Paris - we used many of the recommended local shops and restaurants and they added to a wonderful visit. We also appreciated the quick introduction to the apartment as there were things that were helpful to know to best use the features of the apartment. The location was excellent. The apartment was very well appointed and had such lovely views of the Eiffel Tower in the evenings.
May 19, 2022 - Manual Entry
Volnay is Paris Perfect!!
by Dr. & Mrs. Jim Patten
Another perfect week in springtime Paris. This was our fourth apartment in the Gros Callilou neighborhood of the 7th Arr. And Volnay lived up to all expectations. Only additional thought might be to add a small microwave. We will return again for sure
April 24, 2022 - Manual Entry
Paris is always a good thing.
by NANCY KOTCHKO
Since we returned from our amazing trip to Paris a week ago I've had time to reflect on how truly special this visit was. This was our fourth rental through Paris Perfect and each experience is unique. This visit was especially so as we had been in quarantine and unable to travel for two years. We loved the Volnay apartment. It exceeded our expectations. It was roomy and bright and well-equipped and so convenient to everything. One of the many highlights of the trip was to have the magnificent Tour Eiffel greet us each morning as well as to revel in its sparkling display each evening. The location of Volnay is wonderful. An award-winning patisserie, which I visited at least once a day, was mere steps out the door, as well as the G20, wine shops, pharmacies, butcher, cheese shops, fruit and vegetable shops, and fine or casual dining. We loved Café Lignac, Il Sorrentino, Le Florimond, Au Petit Tonneau. There are too many excellent dining choices in the neighborhood. Also public transportation was nearby. The RATP phone app was awesome and saved us from getting lost as we explored the city. April in Paris is glorious…the flowers are blooming, the weather was delightful and changeable, the crowds were enormous. But everyone was very friendly everywhere we went. We particularly enjoyed the open-air markets, the resplendent Giverny, as well as Luxembourg Gardens, Tuileries Garden, Montmartre, walking on the Seine, the swanky Samaritaine, but saddened by the devastation caused by the fire at Notre Dame. We spent an awe-inspiring evening at a glorious chamber music concert in La Sainte Chapelle. We thank the Paris Perfect staff for their kind assistance. Katya was delightful and very accommodating. She called us when the apt. was ready, gave us a thorough overview and shared her favorite Paris sights. Wesley was also helpful with a special request. We are so blessed we were able to return to Paris and thank PP for making our trip memorable. Merci!
March 11, 2022 - Manual Entry
Perfect Paris Apartment with Amazing View
by Amy Echols
Volnay apartment was perfect for our stay in Paris. It was located near the Eiffel Tower in an area with many restaurants, bakeries, and shops that we could wander around every evening after our day sightseeing. It was near the metro and train stations. Paris Perfect was a great company to work with and answered questions during my planning process. We will definitely book with them again on our next trip to Paris or London.
January 31, 2022 - Manual Entry
Perfect in Paris
by Eduardo Marin
As always a "Perfect" experience. Great flat, one in which I have stayed many times. Great location and convenient to everything we enjoy in Paris. From our greeter to our checkout, a great, seamless experiece.
January 20, 2022 - Manual Entry
C'es si bon !
by M. Bustamante
We've had multiple stays with Paris Perfect, including a back to back for Christmas 2021 and changing apartments for New Year 2022. Their product is excellent. While all their apartments are different, offering their own charm (and a few warts), you can count on uniformity where it counts! This means plumbing that works, no sewer smell (a problem in some buildings), appliances that work, and a stocked kitchen that will have you cooking like a Parisian! Our most recent stays were at the Saint Julien and Volnay apartments. Location, location, location! But that comes with one caveat, it's a very noisy location during "le weekend." As for me, the noise is not a problem, but it bothered my light-sleeping wife. Otherwise, enjoy a lovely stay, and maybe you'll become a Franceoholic (Paris Perfectholic) like us!
December 18, 2021 - Manual Entry
We loved everything about our stay.
by Tim Henry
Perfect for a couple or family w/ small child. Location is great, easy to walk to various Metro lines or the RER. Perfect for exploring the 7th. Easy walk to the 6th, and across the Seine for many of the attractions there. Information provided prior to arriving was extremely helpful in planning our time. Wonderful information about the neighborhood and excellent small restaurants. Checkin with the greeter was easy, very informational, and helpful. Apartment is what you see in the photos. We loved everything about our stay.
October 30, 2021 - Manual Entry
Volnay Perfect
by Sally and Scott Williams
First off Paris is always amazing, but this visit was so special. Everyone is so happy! Tourists, Parisiennes….. everyone is ready for travel and excited to see one another. Volnay is a slice of heaven. Beautiful apartment with a spectacular view. No matter what we did that day we ended by coming home, opening the windows, pouring 2 glasses of wine, talking about the day while watching the Eiffel Tower twinkle at night. The location of the apartment was perfect. You have everything you need just a quick walk out your door. Great food, delicious wine, necessities and more! It's also very central and easy to get everywhere. Oh and if you're a bit adventurous take a Retro motorcycle and sidecar tour through Paris with Retro Tours. Amazing! We loved having a nice sized kitchen, washer, dryer, an elevator after long days and a very comfortable bed! Be sure to visit Patrick (owner) and Pauline (server) at La Campanella down the street. Please say Scott and Sally sent you. That was our neighborhood spot. For something next level visit Divellec and be sure to tell Bob we sent you. Amazing food and service. And lastly thank you to everyone at Paris Perfect for assisting us with everything. There was definitely more planning needed this trip with Covid passports, testing, paperwork etc., but you made everything easy. We can't wait to come back and the only decision is how soon! Thank you. Sally and Scott
September 30, 2021 - Website
Volnay Review
by Erica and Eric Bachman
Our stay at the Volnay apartment was simply magical. It was so spacious and beautifully appointed! Of course the best feature was the view of the Eiffel Tower from each and every window, made even more special at night when we were treated to the amazing light show. Talk about romantic! We loved exploring all of the shops and restaurants on Rue St. Dominique and the surrounding streets, and best of all on Rue Cler just a short walk away. What a respite it was to come back to this apartment for each of our five nights for our stay in Paris!
August 17, 2021 - Website
Volnay Review
by Natasia S
Fantastic location overlook Eiffel Tower. Beautiful appointment rooms giving us the feel for a true Parisian experience. Tons of lovely shops and restaurants within short walking distance.
The apartment is wonderful. Extremely well located, just in front of the Tour Eiffel. Everything is walking distance from there. We really enjoyed the neighborhood, the restaurants, all the parks etc... The apartment is really spacious. Full bedroom, living room with great view of Paris, full kitchen and dining space, great bathroom with bathtub. Very quiet and romantic place to stay. The communication with the hosts was perfect and very diligent all the time. You will really enjoy your stay here.
Volnay Review
by Jennifer V
My daughter and I came to Paris and had a delightful stay at this apartment! It is nicely decorated, cheery and very clean. Check in was super smooth. We also really enjoyed the location, much less touristy than the neighborhoods we've stayed in before in Paris. We shopped at the local markets and prepared several meals for ourselves and found the kitchen well equipped. We hope to come back for another stay soon.
We had a lovely 1-week stay at the Volnay apartment. It's about 630 square feet which we found to be the perfect size for our family of 4 (two adults, a 5- and 9-year-old). The view of the Eiffel Tower to enjoy the Bastille Day fireworks from the living room was the highlight of our stay. The kitchen and dining room were wonderful, and the couch that turned into two twin beds for our girls was perfect. Lots of excellent bakeries and restaurants nearby. Communication ahead of our visit was solid and Paris Perfect provided lots of information about the city ahead of time. Kevin checked us in, gave us the apartment orientation and he was wonderful. The perfect place to stay if you want to be steps from the iconic Eiffel Tower.
February 1, 2021 - Website
Volnay Review
by Isabelle T
Très cosy propre dans un quartier où les commerces sont parmi les meilleurs de Paris et proche du champ de mars pour les ballades et la verdure en plein Paris et vue en partie sur la Tour Eiffel Un Paris très accueillant. Translation: Very cozy, clean in an area where the shops are among the best in Paris and close to the Champ de Mars for walks and the greenery in the heart of Paris and partly overlooking the Eiffel Tower A very welcoming Paris
February 1, 2021 - Website
Volnay Review
by Jeremy M
Appartement parfaitement situé avec vue sur la Tour Eiffel. Translation: Perfectly located apartment overlooking the Eiffel Tower.
January 31, 2021 - Website
Volnay Review
by Anouschka H
After a long day in Paris, we were really glad to come in an apartment for our own instead of staying in a overpriced hotel. The view of the Eiffel-Tower was incredible. We really enjoyed our vacation with Paris Perfect and appreciated the service.
January 31, 2021 - Website
We hebben erg genoten van deze accomodatie in een geweldige omgeving! Genoten van de bistro's, het lekkere eten en de Eiffeltoren ( met park) zo dichtbij Heel veel op loopafstand, zelf kun je ook prima gebruik maken van de elektrische step, fiets of taxi( uber). We komen gauw terug maar dan in een groter appartement! Merci Translation: We really enjoyed this accommodation in a great environment! Enjoyed the bistros, the delicious food and the Eiffel Tower (with park) so close. Very much within walking distance, you can also use the electric scooter, bicycle or taxi (uber). We will be back soon but in a bigger apartment! Merci
January 11, 2021 - Website
Excellent, rien à redire, la plus belle vue de Paris. Best View in Paris. Translation: Excellent, no complaints, the most beautiful view in Paris. Best View in Paris.
December 18, 2020 - Website
Thanks Paris Perfect for such an amazing stay. The apartment is very cozy and lovely. The view is fantastic and the location is very convenient. All shops are on the same street, butchery, bakery, laundry, pharmacie, whatever you need. Neighbors are friendly and calm. I spend an amazing vacation in this place. Next time I will book only with Paris Perfect!
August 20, 2020 - Website
Volnay Review
by Kristina V.
The stay was amazing. The host was very polite and he was very flexible in the check in and check out times. We loved our apartment: it had an wonderful view, the beds were super comfortable and the kitchen was packed with all necessary things. All in all the whole flat was very clean and felt very welcomed. Thank you Paris Perfect We can really recommend this place.
January 31, 2020 - Website
Volnay Review
by Michelle R
Paris Perfect was absolutely perfect through the entire process. From booking to closing the apartment door. We stayed in Volnay which was an absolute gem. The view of the Eiffel Tower was simply magical. The location was great as we could simply walk out the door and shop for wine, cheese, charcuterie and baguettes and have a lovely apertivo each evening before heading out again. The apartment offered everything we needed and was spotless. We can't recommend it enough. We will absolutely use Paris Perfect again....
January 12, 2020 - Website
Volnay Review
by Fiona and John M
We were excited to experience a local Paris Christmas and New Year and it was a wonderful experience. Paris was a little more quiet due to the transport strike but the location of Volnay allowed us to do everything we wanted by either walking, uber, cabs or being creative with the electric scooters which was so much fun zipping across Paris. We have been staying with Paris Perfect now for more than 6 years and continually regret friends who are never disappointed. Thanks again for a great trip. Apartment was awesome, location around rue saint dominique remains our favourite and everything was fantastic. It was particularly fun watching New Years festivities from the balcony and it was so sweet that the building offered ear plugs. All part of the charm. Thanks again for a great trip.
December 29, 2019 - Website
Stayed here for 3 nights. Location was amazing and the view of the Eiffel Tower was spectacular! Apartment nice and clean and tidy. Had my baby with me so staying here was more convenient than a hotel. The bookings team were also very helpful and friendly. Would definitely stay with Paris Perfect again and would recommend.
December 26, 2019 - Website
Volnay Review
by Leslie A
Staying in the Volnay apartment was a delight. The location was fantastic - each evening, seeing the Eiffel Tower our the window was magical. Additionally, the neighborhood recommendations from Paris Perfect allowed us to live like locals during our stay, as we knew where to buy our morning croissants, where to dine and where to shop. The apartment offered every convenience and was elegantly decorated. Our only wish was that we could have stayed longer! Now...to plan our return!
October 18, 2019 - Website
Volnay Review
by Gloria M
My husband and I spent a month recently to celebrate our 50th anniversary in Paris and stayed in the Volnay apartment. We could not have been happier! The apartment is completely furnished with everything anyone could ever need in kitchen appliances and utensils, wonderful linens on the bed and ample towels, and little touches like notepads and paper for notes. The location was full of interest with both the feel of being right in the middle of tourist territory with open topped busses passing by regularly to still feeling a part of a living neighborhood. We watched the school kids of all ages going to school each morning, and we got to know the employees of the local patisseries with our daily stops for croissants and baguettes. The local staff was very helpful whenever we called with a problem or question. The internet and phone system was very sporadic for the first two weeks, but repairs were done, and they both worked well after. With a month's stay, we had cleaning provided once a week with fresh linens each week, and the cleaners did a wonderful job! There were a variety of wonderful restaurants in the area that did not survive on the tourist trade . My only caution to future renters would be to avoid the Champs de Mars across the street. The only suggestions we would have is to give a more detailed guide to the operation of the stove/microwave, and the TV. We would happily go back to Volnay!
September 26, 2019 - Website
Everything is not only as advertised, but better than advertised. This was our first trip to France, and while in Paris we desired to have the most quintessential Parisian experience possible. Staying in an apartment offered us the chance to shop and cook and really enjoy all that the 7th arrondissement has to offer. We were not disappointed. In fact, our experience was SO good that we are already making plans to return as soon as we can. We will definitely arrange to stay with Paris Perfect when we do. While not everyone may enjoy walking as much as we do, we had no trouble walking everywhere we wanted to go: The Louvre, Musee d'Orsay, the Latin Quarter, and Eiffel Tower just to name a few. The location could not have been better. The apartment itself was beautiful and well-appointed. The beds were comfortable and clean. Many thoughtful items like a rolling shopping cart were included for the convenience of guests wishing to shop Rue Cler, which was much closer than we had realized. If you stay here, make sure to take advantage of the rue Cler market. Paris Perfect does a wonderful job of offering guests lovely accommodations and a true Parisian experience. Thank you!
Everything is not only as advertised, but better than advertised. This was our first trip to France, and while in Paris we desired to have the most quintessential Parisian experience possible. Staying in an apartment offered us the chance to shop and cook and really enjoy all that the 7th arrondissement has to offer. We were not disappointed. In fact, our experience was SO good that we are already making plans to return as soon as we can. We will definitely arrange to stay with Paris Perfect when we do. While not everyone may enjoy walking as much as we do, we had no trouble walking everywhere we wanted to go: The Louvre, Musee d'Orsay, the Latin Quarter, and Eiffel Tower just to name a few. The location could not have been better. The apartment itself was beautiful and well-appointed. The beds were comfortable and clean. Many thoughtful items like a rolling shopping cart were included for the convenience of guests wishing to shop rue Cler, which was much closer than we had realized. If you stay here, make sure to take advantage of the rue Cler market. Paris Perfect does a lovely job of offering guests lovely accommodations and a true Parisian experience. Thank you!
Volnay Review
by Jeffrey S
This is a magnificent apartment and the pictures don't do it justice. There are fabulous views of the Eiffel Tower and a lovely circle of restaurants. The neighborhood is safely and friendly.
This was our second stay in the Volnay. After our first stay, we wrote a long and glowing review. We won't repeat that, but suffice it to say that we now consider the Volnay "our apartment" and the only place we'll stay in future visits to Paris. The location is exceptional. Busy street, yet quiet on the third floor. The size of the apartment is perfect for two people. And, being foodies, we loved buying fresh produce from local markets and butchers and cooking it in the well-equipped kitchen. And seeing the Eiffel tower from every window was the piece de resistance!
Volnay Review
by Mary and Jerry R
We stayed in the Volnay for 10 wonderful nights for our 50th wedding anniversary. Beautiful views of the Eiffel Tower. Overlooking a bustling intersection, we were able to people watch from the large windows in our living room and kitchen. The Volnay is beautifully decorated and the kitchen was wonderfully equipped if you like to cook. We walked all over Paris as this apartment is centrally located. This was our second Paris Perfect Apartment. Last time we stayed in the Cognac as there were 4 of us. I plan on returning to Paris in 2 years and will be staying in a Paris Perfect Apartment again. So many beautiful apartments to choose from.
Volnay Review
by Elizabeth S
My husband took me on my first trip to Paris last week and we stayed at the Volnay. The apartment is spectacular and the perfect size for two adults. The location of the apartment is amazing. Rue Saint-Dominique is loaded with fromageries, cafes, wine stores, shopping, shopping and more shopping. You're really living your best life when you stay at a spectacular, clean apartment that looks over the Eiffel tower. You could even see the Eiffel Tower from the bed. Hands-down we will return. Magical magical magical. You can't go wrong with Paris Perfect.
December 4, 2018 - Website
As always we had a lovely time. The apartment is beautiful and very well appointed. We can't wait to return.
November 13, 2018 - Website
Volnay Review
by Vaughan B
Volnay is a beautiful suite and may be our new favourite Paris Perfect apartment. The location and view of the Eiffel Tower are unbeatable. The street scene below is busy, which means some noise drifts up, but the people watching is amazing, as is the view. There are five windows with three different views, all of them very Parisian. As always, well laid out and the items provided with the suite, including in this one a full sized refrigerator/freezer, make it both luxurious and homey at the same time. Definitely will return.
November 7, 2018 - Website
Volnay Review
by D Pearson
Once again an immaculate, great apartment from Paris Perfect! Fun to watch the tower 'dance' every night and we enjoyed the active corner to watch the city pass by as we made breakfast, apero's or a light dinner in the very compact but efficient kitchen. Only recommendation might be for PP to review the mattress, it might be time to replace it (sore back after the first night). The memory foam beds just simply are more comfortable and you don't wake up every time your partner moves. We usually spend 3 months a year in Europe and the best sleeps are consistently on these mattresses. Thank you again for delightful accommodations and we absolutely will stay with Paris Perfect again!
October 15, 2018 - Website
Beautiful apartment with perfect location. Staff was super responsive. Would stay there again in a minute.
September 14, 2018 - Website
The apartment was perfect. The Paris Perfect team was so helpful when we had a problem with the internet. The neighborhood information was so helpful. It was a Paris Perfect vacation.
Volnay Review
by Barbara H
The Volnay is a perfect little getaway which is clean and centrally located. We loved staying there! My husband and I stayed there with our 20 year old daughter, who was able to take over the little living room as her primary headquarters for the 5 days and we resided mostly in the kitchen area, which was absolutely fine. Clean and comfortable with great light. The people at PP were accessible and met us as promised. We never quite figured out the television, so spend extra time truly understanding how to use it (turn it on and test) while the PP representative is taking you through the apartment. We would recommend the Volnay to anyone and would stay there again.
We thought Volnay was a nice apartment, tastefully furnished with everything we needed. We liked the area for food shopping, couldn't be better! Paris Perfect does a great job presenting all sorts of suggestions for things to do and places to eat and we appreciated the efficient taxi service to and from the airport. We did decide that if we rented again we would prefer the Saint Germaine area where we usually stay but I can understand why Parisian families like the 7th (cleaner, nice buildings, good food markets). Thanks for all your efforts.
January 11, 2018 - Website
Volnay Review
by Cynthia Damon-dol
Paris Perfect was truly the perfect accommodation and service for our family trip over the Christmas season 2017/18. The location and views of the Eiffel Tower from our beautiful Volnay apartment were fabulous. The apartment was even better in person! We found every imaginable convenience in Volnay. Cesar was our very friendly and informative greeter. We could not believe what an amazing neighbourhood we were in - from cheese shops, bakeries, wine shops, grocery etc etc etc it was perfect! The restaurants were equally amazing from casual bistrots to Michelin star restaurants! We walked beautiful streets to the Eiffel Tower, the Seine, rue Cler- there was beauty everywhere! Volnay's location was an easy trip to all our most wanted museums, churches, shopping and all the a Paris sights. We can't wait to come back!
September 20, 2017 - Website
Volnay Review
by Walt Bolic
This is our second stay in the Volnay. This one bed room apartment is magnificent! It is beautiful decorated with a very efficient kitchen. And, a great view of the Eiffel Tower. It's location in the 7th arrondissement is ideal for accessing the Rue Cler market ( cheese shops, fish and meat market, produce, and boulangeries). The area has wonderful bistros and restauntants. Metro stops are very close by. The Volnay is definitely "Paris Perfect"!
September 11, 2017 - Website
Volnay Review
by Lisa Galioto
Volnay was the perfect apartment for a wonderful stay in Paris. It has gorgeous Eiffel Tower views and lovely decor. It is located just a few blocks from Rue Cler where every ingredient possibly needed to prepare a gourmet meal can be purchased. The kitchen is well outfitted for cooking a nice meal. There are also several wonderful restaurants right on Rue Saint Dominique where the apartment is located. There are also fantastic fruit markets and bakeries on Rue Saint Dominique. It is just a quick walk to the subway from this apartment . We loved Volnay so much that we have already booked it for a slightly longer stay in 2018. I can't wait to return!
August 14, 2017 - Website
Our time at the Volnay apartment was excellent. The location's close proximity to the Eiffel Tower, and all related shopping and restaurants couldn't have been better. The accommodations were superb and we wouldn't hesitate to stay here again, nor to recommend this location and Paris Perfect's staff. We enjoyed ourselves thoroughly.
Volnay Review
by Chuck and Traci D
Wonderful stay. The apartment was perfect. This is our fourth rental from Paris Perfect and we will be back! The team were excellent as always.
January 24, 2017 - Website
Volnay Review
by Jade Billouin
There has never been a more classic Parisian apartment than Volnay! What a wonderful way to visit Paris. The apartment is impeccably furnished with direct Eiffel Tower views. it has everything that you can possibly need. It is in the heart of wonderful restaurants, cafes and so much more! An excellent choice! we had the most fabulous time!
January 19, 2017 - Website
Volnay Review
by Jared Marcus
We had the best time! Our apartment was perfectly situated and extremely cute. The Paris perfect team was accommodating and helpful. We will definitely book with them again in the future!!
January 9, 2017 - Website
Volnay Review
by Robin Reibel
We enjoyed our stay at the Volnay very much-it was the perfect size for my husband and I yet lovely for our New Year's Eve dinner at home for 6. Views of the Eiffel extraordinary and a great area- restaurants, markets, classic architecture. Paris Perfect has only gotten better over the years and offers helpful services like private tours. Best apt booking service hands down.
November 27, 2016 - Website
Volnay Review
by Thomas N Campbell
This is our second year in Volnay and it is as perfect as always. The location of this apartment could not be better with the proximity to shopping and restaurants. Will we stay again at Volnay -- you bet!!!.
September 30, 2016 - Website
Volnay Review
by Walter Bolic
Our 7 day stay in the Volnay apartment more that exceeded our expecations. The apartment kitchen was well equiped with great dinning area. Makes for a great way to enjoy a few meals at 'home". The living room was spacious, and tastefully furnished with sunning views of the Eiffel Tower. With three of us the hideaway trundle bed was very handy and easy to store during the day. The bathroom was spacious and efficient with a separate water closet. Also, it was nice to have a washer and dyer. The bedroom was a good size with plenty of closet space and a very comfortable bed. The location, for us, was perfect because our love the Rue Cler area. Everything you need from bistros, bakeries, food markets, wine stores and cheese shops are basically at your door step. Also, it was convenient to have several Metro stations close by to allow for an efficient and easy way to get around Paris. We can not wait to rent this Volnay in the future. Working with the Paris Perfect staff is easy and delightful.
August 31, 2016 - Website
Volnay Review
by Kempa and Bob Rider
We are already dreaming of our next trip there and staying in one of your apartments. It was interesting to find the Volnay was in the same building as the Clairette where we stayed last time. I posted daily on facebook and you would not believe how many people ask me for more information about how we found the apartment, etc. so you are getting some advertisement from us. The location is absolutely the best-- easy access to the Eiffel tower, not far from the river, and to be able to walk across the street to the butcher every day, down to Rue Cler for our daily cheese fix, the wine stores for our daily bottle, the bread shop for the freshest of fresh best French bread and then the open market for a just a handful of fresh salad makings was tops. Everyone was so gracious, helpful and friendly. The central air conditioning was very welcomed and so quiet! Having the potty room separate from the main bath area was wonderful. There was plenty of storage room for "our stuff" under the sinks and along the small window counter. Sufficient hangers for our clothes was another plus.The view incredible, the decor cozy and updated, the preserved floors and architecture amazing. Our greeter was very helpful and we felt safe and secure plus our bottle of complimentary wine was one of our favorite tastes. The oven was a combination microwave, convection and regular oven so too complicated for us so we did not use it. A regular microwave would have been perfect. We did find the bedroom to be exceptionally noisy , even with the windows closed, on Friday and Saturday night with motorcycles racing up and down and loud cars so little sleep was had. For such a lovely apartment we found the bed a little too old and squeaky. Every time one of us would turn over, the bed squeaked. We like to be on the run during the day, eat a mid-day lunch then stay in for the evening. Of course we ate at Cafe Constance for one breakfast,La Fontaine de Mars twice for lunch (the fish was fabulous), Les Cocottes de Christian Constant LATE one night for dinner (not my favorite). Our favorite this time was Cafe de L'Alma for a 2:00 lunch one afternoon. We happened to come upon it during a stroll to the river, liked the menu so made a point of returning another day for lunch. All the other times we ate in the apartment with food we purchased from the many shops on St. Dominique and Rue Cler. Our least favorite part of the trip was the bus trip to Brugges. Too long a drive there and back and we did not have all the details we felt we should have had plus we only had a little time to explore that quaint, clean historic town. We hated those little earplugs and having to listen to something in 4 different languages and wait and wait and wait. Give us a choice.. transport, drop us off and let us explore on our own OR do the guided tour. Victor's car service was amazing in every way! Your yellow notebook really came in handy when we were washing clothes. We did not visit one museum this time. We just walked, explored, read menus posted outside the restaurants and bistros, watched people, and ate the best cheese and bread ever. When it was time to go, we were sad. Hopefully we will be able to return again in the next few years. The older we get the harder that overseas trip is.
Volnay Review
by Rob Crawford
Not knowing what to expect, we were completely blown away by Volnay. It's size, location and decor were perfect and sitting in the living room watching the people dining in the cafes below while the Eiffel Tower sparkled into the night was just magical. With an ATM across the street, a supermarket 30 seconds down the road, and rue Cler just around the corner, this apartment was a breeze to stay in. Of course being so close to the Eiffel Tower meant you had the best view every morning and night. We WILL definitely be back!
Volnay Review
by Catherine Mitkus
Our second time in the Volnay apartment was as wonderful as the first. It's amazing view and great location make for a relaxing stay, beginning with expresso in the kitchen at the start of our days and ending with the spectacular lights of the Eiffle Tower outside our windows every evening. The staff and arrangements were well organized and helpful. I simply cannot wait until our next visit.
Volnay Review
by Deneen Onodi
The Volnay apartment exceeded our expectations. Well appointment and perfectly situated in the 7th. Close to everything. We will definitely book with Paris Perfect again!
Our stay in the Volnay apartment was wonderful. We appreciated the service, from the moment we were received by our host, to the details of a folder with all the information we needed from how to run the washer to where to eat. We were able to cook and wash and dry our cloths, a great commodity in Paris. There was air-conditioning. We stayed with our two children, who slept in the pull out sofa bed (two separate twin beds). They would sleep with the curtain open to be able to view the Eiffel Tower lights at night. This cozy apartment made our stay in Paris unforgettable.
From the moment we arrived in Paris (early in the morning), the staff at Paris Perfect was extremely accommodating. The preliminary information mentioned a "greeter", so I assumed we needed to drop off our luggage in someone's private apartment. Not at all! Paris Perfect has a great office, just a block from our new apartment. And our luggage was safely stowed in a compartment in the office, until our apartment was ready at check-in time. We knew what we wanted to see in the neighborhood (and there's plenty to see, because the Volnay is located in great area!), so we saw some sights and returned to the office at 3:00. We then followed our greeter (she was great, helping to wheel our luggage to the Volnay), who brought us to the apartment and showed us "the ropes". She explained absolutely everything. But even if we forgot something, everything was printed in a beautiful manual for the apartment - explaining the operation of the stove, laundry equipment, recycling, etc. That little manual was a great touch - it made the transition to Parisian apartment living flawless. And the apartment itself - others have said how great it is, and I can only reiterate that. First, it was spotlessly clean. The kitchen was well stocked - we created some great meals with the utensils and dishes in the cabinets. It was quiet - even above some fairly busy streets. And the views from every window (French Door) were breathtaking. Some have remarked that it might be a little expensive. I disagree! If I booked a hotel room in the heart of Paris with only one-half the space our Volnay apartment had, I'm sure I would have paid MUCH more. And we didn't have to contend with turn-down service from bothersome hotel staff. No, this was great value! We plan on coming back in the future, and requesting the same apartment. It couldn't have been more "Perfect"!
February 17, 2016 - Website
Volnay Review
by Janna Ford
The Volnay was the perfect apartment with stunning views and ideally located in the 7th arrondissement. Close to great shops, restaurants, rue cler and metro. The Paris Perfect team was extremely easy to work with, provided great tips & information and was very welcoming upon arrival. I loved everything about my stay at the Volnay and with Paris Perfect. I truly lived la vie parisienne and I look forward to being a repeat customer many, many times!
January 2, 2016 - Website
Winter is my favorite time to experience Paris. The crisp air and silhouettes of the city are captured by the grays and blues of the sky. I am a photographer who should be out on the streets shooting, but the comfort of the Volnay apartment had me lingering longer in the morning and home for aperitifs in the early evening. The views were magnificent, the location ideal and the hospitality and responsiveness of Paris Perfect where outstanding. I return to Paris each year with certain expectations and this year Paris Perfect and the Volnay exceeded every one of them.
November 23, 2015 - Website
Volnay Review
by Charlotte M
George and I had a great time! The apartment was perfect! We loved the location and all the little shops and restaurants right there in walking distance. Cafe Constant became our hangout! Victor's cab service was so nice coming and going back to CDG and I have booked them again to pick up my daughter and bring her back to the airport next week. It was wonderful and you all were lovely to work with especially providing us ahead of time with all the tips for the trip!! We will definitely rent an apartment from you all again.
October 30, 2015 - Website
Volnay Review
by Kirsten A
Great view!!! Love the location and the book of information. The team were awesome, we loved Kevin!
August 16, 2015 - Website
The apartment was excellent and the tourist information provided was very helpful. The team gave a very good service, friendly staff.
Volnay Review
by C. Mitkus
Our Paris Perfect experience was indeed perfect! From the very first inquiry, the communications were prompt, helpful and friendly. The staff provided excellent information and the personal greeter was there to meet us at the time of our arrival. (Very reassuring to new travelers!) The agency also facilitated excellent taxi arrangements to and from the airport which made that piece of the journey seamless and enjoyable. And, of course, the apartment was beautiful! We had a lovely view of the Eiffel Tower, a charming neighborhood, delicious treats upon our arrival and the "perfect" home during our one week stay in Paris. We will definitely use Paris Perfect again for our next trip and recommend the agency with the highest praise.
Volnay Review
by Olga Rios
We loved our Paris apartment. The location was perfect, especially for our two daughter's fist Paris visit. To enjoy the magnificent light display of the Eiffel Tower every night from our window was just everything we had dreamed of. The apartment was beautifully decorated. It was spacious and had everything we needed to spend a week in the city. Rue St. Dominique has everything you need within walking distance.
The location and size was just perfect for our family of 4! Our daughters enjoyed the nightly Eiffel Tower light display every single night! All the information provided in the booklet was extremely helpful. Our greeter was resourceful, helpful and pleasant. We used the team for several of our tour reservations and they were equally helpful. All the dining/restaurant recommendations were extremely helpful. Overall we greatly enjoyed our first time visit to Paris. We believe that having the right location and being given the opportunity of living like a 'local' for one whole week, made this an unforgettable trip.
January 24, 2015 - Website
Volnay Review
by Nicole S
Beautiful apartment. The information provided was brilliant. Information on bus routes was especially useful. Kevin was patient, thorough and a wonderful introduction to the apartment.
November 2, 2014 - Website
Volnay Review
by Mariette Champagne
The apartment was beautifully appointed and well equipped with plenty of storage. The bathroom and kitchen were new and had everything you would need. The building was fresh and clean and secure. The living room had a wonderful view of the Eiffel Tower and the apartment was in a perfect location with great restaurants and markets. Despite the fact the apartment was on a busy intersection, it was surprisingly quiet. We would definitely rent this apartment again and stay longer because there is so much more of Paris we want to experience!
October 27, 2014 - Website
Volnay Review
by Mariette C
Everything was great. Wonderful apartment, beautifully decorated and appointed. Loved it and the area. Your information book was invaluable. The team was great.
October 21, 2014 - Website
Volnay Review
by Peter Turner
We have just had a 6 night stay in the Volnay apartment. I have one word for this place - "sublime". This was the first time we have stayed in an apartment in a major city before and we did have a few reservations before we arrived. These fast disappeared when Sam from Paris Perfect met us there and spent time going thru everything in Volnay. Everything is there for a perfect stay, the place is spotless, spacious for two people and that view over the Eiffel Tower just topped it off. We would certainly book thru Paris Perfect next time we are planning a stay in Paris.
October 20, 2014 - Website
Volnay Review
by Graeme O
Excellent, great apartment and great spot, we will see you again! The team was very good, Kevin's introduction was very thorough.
August 31, 2014 - Website
We had a simply lovely time at Volnay these past four days! The apartment is perfectly situated and in a lovely neighborhood with so many conveniences! Had terrific meals at Le Reminet (in the 5th)--where we celebrated our anniversary....les Clos des Gourmands, Thomieux and Les Violons des Ingres (that was an especially brilliant meal and we highly recommend Le Reminet for excellent food, romantic atmosphere and truly friendly staff--am sure you're already familiar with). Lisa was incredibly helpful as well. All in all, a wonderful experience and we'll be sure to book Paris Perfect again. Thanks so much!
August 27, 2014 - Website
Volnay Review
by Melinda McClure
Beautiful apartment in an amazing location! I highly recommend Paris Perfect. It was our second time booking with them and wouldn't book with anyone else in this beautiful city!
Volnay Review
by Pamela Lippe
We loved our stay at the Volnay with Paris Perfect. The apartment was very comfortable and fantastically appointed. We particularly loved the Nespresso machine. Even the few minor things that we thought were missing, turned out to be in a different drawer or cabinet. Not the least expensive place you could stay, but certainly one of the best. We loved it. We will definitely be back and will recommend Paris Perfect to all our friends.
Volnay Review
by M. Schroeter
Beautiful location. Apartment was really lovely. Great amenities. Would definitely stay again at the Volnay! Really enjoyed working with Paris Perfect. Thank you for making our stay so enjoyable.
Volnay Review
by Linda & Ira G
We loved the Volnay apartment. Everything about it was perfect, but above all, the fantastic view of the Eiffel Tower from the living room window. We hope to return! Linda and Ira, West Hartford, CT
Volnay Review
by Claudia Schauerman
We loved our time our Volnay! It is the perfect location, bustling with activity yet quiet in the apartment. The bus stop and taxi stands are convenient, and the shops along rue st Dominique are the quintessential elements that give this part of the 7th its village feel. Our kitchen was outfitted with all the utensils we needed for a couple of dinner parties we had, and the internet and television worked flawlessly. We were so happy with our apartment and will definitely rent Volnay the next time we are in Paris. The only criticism is that the light on our floor outside the elevator was not working, but we forgot to notify anyone about it. Thank you for such an amazing 10 days!!
February 20, 2014 - Website
Volnay Review
by Dominique Pummill
For the absolute perfect Valentine's day we chose the Volnay apartment. It was the most adorable, clean, romantic apartment! We watched what I liked to call the, 'Twinkle Light Show' of the Eiffel Tower every night from the living room and even chose to sleep in the living room a couple of nights just for the view! It was a great location, the Eiffel Tower is literally, right around the corner from the apartment, and there is a taxi stand right across the street. We were greatly surprised to find that the apartment had free WiFi and telephone calls to the US. This was wonderful because we were able to keep in contact with our family easily, as this was the first time we left our 12 month old daughter. I feel this is a far superior option to a hotel. It was really a experience to live as a Parisian!
December 24, 2013 - Website
Volnay Review
by Sophie & Thierry
A perfect setting for a romantic stay. Great amenities. The location is outstanding to experience life like a Parisian. We will definitely return to this little nest. All your recommendations for activities are priceless. Better than a hotel concierge....a great experience.
November 28, 2013 - Website
The Volnay apartment was absolutely perfect, especially the magnificent views of the Eiffel Tower from 4 of the 6 floor to ceiling french door windows. Step out the front door of the apartment and the neighborhood provided all the best Paris has to offer - butcher shops, patisseries, fromageries. specialty shopping, excellent restaurants, and the lovely Rue Cler outdoor market. This was my first time renting an apartment while in Paris, and I cannot speak highly enough of the experience.
November 21, 2013 - Website
Volnay Review
by James Hanratty
My wife and I had a wonderful 7 night stay at the Volnay apartment in Paris, during early November 2013. Our greeter, met us for an early arrival explaining all the details and conveniences of the apartment. The location could not have been better, the bed was very comfortable and the apartment clean and fresh. Though it rained each day we were in Paris, it didn't stop us from walking the streets and taking in the French lifestyle. Afterwards, returning to the Volnay for an hour long warm soak in the tub, quite able to accommodate both of us, as we savored some cold French beers. We would highly recommend the Volnay, and the staff support they provide.
October 27, 2013 - Website
Volnay Review
by Susan & David S
For a special occasion, we wanted to experience Paris as locals do. Within a block of the Eiffel Tower, five blocks to the Metro, and several blocks to the Seine, the lovely Volnay apartment provided to be a perfect location for our exploration. The surrounding area is chock full of enticing bakeries, patisseries, butcher shops, cheese shops, wine shops, and moderately priced and upscale restaurants. There is also a grocery store, dry cleaners, pharmacies, and banks nearby. An added bonus is the nearby Rue Cler with its wonderful outdoor market. Everything you need is at your doorstep or within easy walking distance. The apartment is at a busy intersection so expect to hear some street sounds during the night and early in the morning. The Volnay apartment itself is spacious and very comfortably and stylishly furnished with many amenities. Every window has a view of the Eiffel Tower that is particularly delightful at night when the Tower lights up and sparkles for five minutes on the hour throughout the evening. All rooms have blinds or heavy curtains so light from the Tower and the street isn't an issue. The small but well-stocked kitchen that opens to the dining room has a full-size refrigerator with freezer, microwave/oven, and a very efficient dishwasher so making a meal or two is easy. We loved the Nespresso coffee maker too. The living room is spacious with comfortable seating and a non-working fireplace (nice that it has a door that closes it off from the rest of the apartment). It's very romantic having dinner or sipping wine with the Eiffel Tower as a backdrop. You could easily entertain a small group in the apartment. Having two sinks in the bathroom plus an overhead and hand held shower with a bathtub made getting ready in the morning a pleasure. The toilet is in a separate room from the bathroom, which is actually rather convenient. The room, however, is very small, especially as a tiny sink has been squeezed in. Watch your elbows and hips on those edges! A queen-sized bed with under-the-mattress storage for comforters, pillows, and sheets was great for my 6' 4" husband. There's also plenty of closet space in the bedroom and elsewhere in the apartment so a long stay wouldn't be a problem. Having an elevator (just big enough for two) means you don't have to lug your bags up four flights of stairs. It's efficient and fairly fast too. We felt right at home in the Volnay apartment and definitely enjoyed our weeklong stay there. We would certainly recommend this apartment for its comfort, amenities, and location.
Volnay Review
by Jean-marie H
House In Douvres Lad Delivrande was great even better than described. Your services and literature was very helpful
January 6, 2013 - Website
Volnay superseded my expectations! The photographs on the website do not do it justice! It was beautiful, spacious, eloquent and very comfortable. The views or the Eifel and surrounding areas were great and it had all the amenities we needed. The location was perfect, close to transportation, shops, cafes, bakeries restaurants etc. The Paris Perfect team was friendly, knowledgeable and helpful!
October 15, 2012 - Website
Volnay Review
by Daphne H
A delightful stay in a lovely apartment. Being on the corner where five streets meet, it was an amazing window to the Paris world and with the Eiffel Tower looming above, position was ideal. Even the weather cooperated with only one wet day. Comfort, convenience and ambience - perfect.
October 12, 2012 - Website
My husband and I stayed in the Volnay apartment and loved it! The view was magnificent. The apartment was very well equipped and the Paris Perfect staff was great. We really appreciated the information about the neighborhood and Paris in general. Victor's taxi service was very helpful and always on time. We would love to come back soon and would not hesitate to rent through Paris Perfect again. Thanks again to the staff.
September 2, 2012 - Website
Volnay Review
by Rosalie C
The apartment was lovely, very comfortable, well-equipped and well-situated. The queen-size bed, which I slept in, had an excellent mattress. When we reported that a light bulb had blown out, it was immediately replaced. There were numerous food shops and restaurants right on our street. The metro was fairly close by, but the buses were even closer and took us almost everywhere we wanted to go. Bicycles could be rented practically right outside our door. The office staff was very helpful. I highly recommend this apartment and the Paris Perfect service.
August 23, 2012 - Website
We had a wonderful time! The apartment was just right for us. The information was very helpful, so was Rick Steve's book from your collection! We felt very "at home". Our greeter (Kevin) was very gracious and Sarah was so patient with us when she let us use the office internet to print out tickets to the Eiffel Tower and Versailles. She even stayed past closing when it took me longer than expected to buy tickets online. We would definitely stay here again next time we come to Paris!
Volnay Review
by Marietta Baldwin
It was a terrific experience that my husband and I truly enjoyed ! The apartment was spotless, very well appointed and in a wonderful location. The Rue St. Dominique is a special street, with excellent restaurants, shops and many residential buildings interspersed in the area that were charming.The staff- Sam, Lisa, Kevin and Sarah- could not have been more helpful or more welcoming in advance of our stay and during our vacation. Having been in the hotel business for 40 years before retiring,the Paris Perfect experience was outstanding.. We highly recommend travelers book an apartment for future Paris visits !
Volnay Review
by Dick B, USA
We just arrived back from JFK, and we were pleased to receive your email. Enjoy the champagne, and again thank you for a memorable stay in Paris. We did go to Cafe Constant for dinner - superb - and for breakfast three mornings. We also had a special lunch at La Fontaine du Mars. We visited many of the sights you all recommended, including the various markets. Best wishes for much continued success to all of you!
February 29, 2012 - Website
Volnay Review
by Lisa Mosher
Thank you Paris Perfect for a wonderful stay! The Volnay apartment was charming! The comfortable environment and ideal location added so much to our Paris experience. The Paris Perfect staff was very helpful in getting us settled, metro & bus directions and any needs that we had during our stay. Our kids loved watching the twinkling lights of the Eiffel Tower every evening from the windows of our Paris home. I highly recommend apartment rentals for Paris Perfect. Thank you again for everything!
February 20, 2012 - Website
Volnay Review
by Kirk, Lisa, Jenna & Kristen
Amazing 1st trip to Paris! Loved the Volnay, we felt just like locals with great shops near, friendly staff, very helpful. Everything was perfect. We hope to come back soon! Thank you Paris Perfect!
February 1, 2012 - Website
We absolutely loved this apartment. The location is fantastic, with Champs de Mars across the street, so many shops outside the door, the rue Cler market so close, not to mention the lovely light show on the Eiffel Tower in the evenings. We had very cold weather, even snow, while we were here, and although we usually spend our time in Paris walking the streets, this time it wasn't comfortable do to that. We were so happy to be able to watch the street scene from the warm cozy living room or dining room. We cooked great dinners in the fabulous kitchen Nice to know the butcher across the street is open Sunday mornings.
January 10, 2012 - Website
Volnay Review
by Stephanie & John
Another wonderful trip with Paris Perfect! My fiance and I loved every minute of our stay - amazing food at Café Constant (the beef stew in particular!), sipping red wine while watching the twinkling lights of the Eiffel Tower, and shopping on Rue Cler for a fabulous Sunday night supper! We'll be ringing again soon!
January 9, 2012 - Website
Volnay Review
by St John Family
Our second stay with Paris Perfect and even better than the first. We did not think this possible! A wonderful week in a beautiful apartment in our favourite city. Can't wait to return. Thankyou!
Volnay Review
by Molly & Michael G
We arrived in Paris after a marathon tour of Israel. The Volnay was the perfect place for us to land! It was like settling into a home where we could do all our laundry, relax, walk the neighborhood streets and see The Eiffel Tower from our room. Our past stays had been in Five Star Hotels and we wanted more space since we were traveling with our daughter, and this saved us money over getting a suite. The apartment was nicely furnished and well equipped and spacious for city living. The staff met us to orient us and was available for any of our questions. I would definitely recommend Paris Perfect for anyone going to Paris.
Volnay Review
by Sue & Darrell Howlett
We have an on going love affair with Paris and Paris Perfect. Every time we return to Paris our hearts grow bigger along with our waistlines! The Volnay is not just an apartment, it's a true Parisien apartment located amongst the best cafes, bistros and brasseries and of course the iconic Eiffel Tower so close you can almost touch it! The team at Paris Perfect are Pros from the first 'Bonjour' to 'A Bientot' they make you feel that during your stay in one of their fabulous apartments and 'The City of Light' is a glorious one!
Volnay Review
by Patricia R. Plante
Spent some ten days in our favorite city in April, and had the same excellent experience staying in a Paris Perfect apartment as we have had on five previous trips. See our 2010 review.
December 8, 2010 - Website
Volnay Review
by Marie Jo Barr
We had a wonderful time in Paris and finished our stay at The Volnay. The apartment was as described and pictured with no surprise. Well kept and furnished. Having the apartment enabled families and friends to come by and meet us and have some quality quite time with them instead of being in separate hotels rooms or us touring France to see them. All this with the Eiffel tower play of lights in view at all time. The neighborhood is quieter as per night life and shopping than the ones we stayed in Hotels, still when you stay at the center of Paris nothing is very far. We walked all over and used taxis and metro only once the elderly where with us. As per fresh produce and French food specialties in the neighborhood of the apart, it is all there. The handling of our reservation and reception at the apart was flexible and "perfect". Thank you.
November 27, 2010 - Website
Volnay Review
by Angela Nadler
This was my first time in Paris and I felt as if I had been there before! Dealing with Paris Perfect was great! They provided information we needed which made our stay enjoyable. The Volnay was cozy and comfortable - the views were amazing, especially the Eiffel Tower! We had easy access to good restaurants, shops and public transportation. Can't wait to return!
November 21, 2010 - Website
Volnay Review
by Patricia R. Plante
We are retired academics and Francophiles who have been going to France for years. Our discovery of Paris Perfect five years ago has contributed enormously to our yearly visits. The three apartments we've rented (including the Volnay), have all exceeded our expectations: all were immaculately clean; well located for ease of transport; well appointed and tastefully decorated; and within buildings that were well cared for, quiet, and safe. The Paris Perfect staff have been without fail both reliable and friendly. Indeed, if a Paris Perfect apartment were not available on the dates of our next trip to Paris, we would simply change our travel dates to coincide with the Volnay's (or another one bedroom apartment's) open booking.
November 11, 2010 - Website
Volnay Review
by MaryEllen Maynes
Greatly enjoyed our stay in Volnay apartment. The Paris Perfect guide was extremely helpful in feeling part of the neighborhood with an excellent location and everything needed readily available. Would return when we could.
October 12, 2010 - Website
Volnay Review
by James Seligman
We fully enjoyed our stay at the Volnay. It was a great opportunity to fully experience life the "Parisian" way. With so much at our finger tips (food, food and more food) what could be better. The cooking class was a blast and eating what we created was even better. We hope to have a repeat of our time in Paris real soon.
October 5, 2010 - Website
Volnay Review
by Angela Nadler
Bonjour Madelyn, Philippe and all of you at Paris Perfect I want to thank you for making us feel welcome. The apartment was so cozy and comfortable for us. The view was lovely. All the information you sent us made our trip easier, we did not feel like tourists. The only negative is a week was not enough. Again, merci and hope to return to the city of lights soon Best regards Angela
September 11, 2010 - Website
Volnay Review
by Don Davis
We have rented apartments in Paris many times before, but not from ParisPerfect. Without a doubt, they are the best organized and customer focused company I have dealt with. Our apartment was exactly as advertised. All things we might need were there, including little things like a cable to connect an iPod/iPhone to the stereo system and several very nice CDs and DVDs. They even provided a book covering the operation of all the appliances, which actually is quite handy since they are different from those in the US. The 7th is truly a very special area in a very special city. It must be one of the safest areas in a very safe city. Also, the restaurants and food store within yards of this apartment are some of the best in Paris. The guide book posted on line is excellent, even for folks like us who have been to Paris many times and for long stays.
September 7, 2010 - Website
Volnay Review
by Peggy & Don
My husband and I have had a wonderful time. Thank you for thinking of every detail. The Volnay apartment is charming and well-equipped. Your welcome basket with water, wine juice, milk, coffee capsules was especially thoughtful. we have been visiting Paris for 30+ years and have been renting apartments for the last five. This one was clean and attractively decorated with a great bath including a decent hair dryer and good lighting. It was nice to have the washer and dryer. My only suggestion would be a second set of towels - but it's a relatively minor thing. Thanks for your contribution to a great vacation. Will recommend you to our friends and come back to rent again.
September 3, 2010 - Website
Volnay Review
by Jenny & Alec B
We could not have had a more Paris perfect 30th wedding anniversary experience. Our Volnay apartment was just fabulous, very chic and french yet with every possible touch provided to ensure that we felt at home and relaxed. At night we had views to the sparkling Eiffel tower. In the morning we went down the street to the Boulangerie, greeted by the nicest most welcoming french people, despite our 'beginners' french. They chatted, smiled and patiently assisted us every morning. The local restaurants run by Christain Constant are amazing, fabulous food, wine and the nicest staff we have met in a long time. I want to live there. We can only wish that visitors to Sydney get such a welcome! Lisa Buros provided advice and tips to help us plan the week...the wine tasting, the restaurants, the cooking class and market tour and the Eiffel tower private tour...all perfect! Would recommend the whole experience...could not have been a more perfect week in Paris...worth the 30 years of waiting. Thankyou all so much.
August 10, 2010 - Website
Volnay Review
by Jennifer B
We loved staying here. Felt very comfortable, welcomed and found all of the extras provided so fabulous; e.g. body wash, slippers etc. Your information was so reliable we referred to it often and really made an effort to get to know the neighborhood. It is such a special area with much to offer. Thank you so much.
Volnay Review
by Pat Delaney
The Volnay apartment exceeded our expectaions. Every room had a door even the kitchen and the living room providing good separation for us and our grandaughter who was celebrating her fifteenth birthday in Paris. She so enjoyed the view of the Eiffel tower from her bed she never closed the drapes. The apartment was in better condition than many hotel rooms. Everything worked and Paris Pefect's attention to detail added a great deal to our enjoyment. We will recommend Paris Perfect to our friends as the staff in Paris was professional and friendly. We would like to single out Lisa Buros who was particularly helpful.
We absolutely loved this apartment and the neighborhood. Your attention to detail has been much appreciated. The overall experience exceeded our expectations.
Volnay Review
by Eileen Shanbrom
My husband and I had the wonderful opportunity to stay in the Volnay apartment for a week in May. The apartment was as described on the web site by Paris Perfect. We felt so at home when we arrived to have a Paris Perfect representative walk us through the apartment explaining the appliances, heating, etc. In addition, we were furnished a booklet with all of this information provided. This information in addition to all the tips we received from the Paris Perfect literature made us feel right at home. Of course, the welcoming basket was much appreciated! The location of the apartment is superb. A short walk to the Metro, the batobus right around the corner, the view of the Eiffel tower, Rue Cler Markets within a five minute walk, as well as a bakery, butcher and wine shop on the same street make this about the best location possible in Paris. I had visited Paris a few times before on business; and I knew that I wanted to rent an apartment and stay among the Paris locals. Paris Perfect made this easy to do. Thanks to Madelyn, Philippe and the Paris Perfect team for a lifetime of memories vacation! I will certainly recommend them to my friends looking to travel to Paris. Job well done!
Volnay Review
by Marcia Hampton
Apt was lovely, and in a wonderful area. There were many restaurants within a few blocks, and it was an easy walk to the metro. The ParisPerfect staff were very responsive and accommodating. We had a fabulous trip and would highly recommend booking through ParisPerfect.
Volnay Review
by Eileen Shanbrom
We very much enjoyed our stay in the Volnay apartment. I will never come to Paris without staying in an apartment again. Thank you for all your attention to detail in the apartment. It was a vacation filled with wonderful experiences and memories. I will recommend Paris Perfect to my friends!
Volnay Review
by Doug and Susan Kondziolka
The Volnay apartment was great...a perfect size for a couple and in a great location. The local shops and markets were wonderful, and it was fun to immerse oneselves in the community. The apartment was very clean and the appliances and amenities were excellent. We would definitely come back to Volnay!
Volnay Review
by M. Murphy
Our stay was indeed perfect. The apartment has a perfect location: close to major attractions and museums (we walked everywhere), wonderful safe and friendly neighborhood, just a few streets away from fantastic open markets, steps away from a bucherie, boulangerie, supermarche, pharmacie, and fromagerie. Perfectly appointed kitchen. Perfectly clean! Our 12 yr old son really enjoyed walking to the boulangerie in the morning for our fresh croissants and pain au chocolats and again in the evening for our baguette. He loved putting on his slippers provided for us at the end of a long day of sightseeing. And he thought falling asleep while looking at the eiffel tower from his bed was the best! We will definitely use Paris Perfect again.
Volnay Review
by Ronni Ballowe
We have stayed in the Volnay twice, this the second time because my husband loves it so much. There is a ton of light and lots of space. There is even a ton of storage so you don't have to view your luggage. This time we were in Paris in not great weather and it was a big plus to be across the street from major bus stops. Paris Perfect runs a professional organization and you can trust you will enjoy yourselves in their apts and they will take good care of you. We have stayed in 3 other apartments and there is something for everyone.
Volnay Review
by Catherine
Our stay in the Volnay apartment could not have been more perfect. The apartment is beautifully appointed and well maintained. It had all of the basic amenities that we needed plus a few extra's that we hadn't thought about. The location is outstanding. We walked to virtually all of the major sites. The selection of restaurants, cafes and shops within a few minutes of our door was incredible. The children loved falling asleep every night under the glow of the lit up and sparkling Eiffel Tower. Although our children do not speak French they had no problem walking the neighbourhood each morning and buying croissants from the local Patissieries. The chocolate croissants were a big hit. We highly recommend Paris Perfect. The staff were friendly and attentive and the information they shared was very helpful. It was a vacation that we will always remember fondly.
To Philippe, Madelyn, Carolyn and the rest of you beautiful people, We have been visiting Paris for 25 years, and never have we enjoyed the city, the people, the life as much as we did by renting the Volnay apartment (for the first time) from you in June. It was an absolutely perfect 20th anniversary, and the apartment was delightful - clean, airy, French and oh my, with a view of the Eiffel Tower right outside our living room windows, we were immersed in total happiness. Your staff were more than helpful on many occasions, and always as happy to see us as we were to see them. By the time we left Paris we knew many of the local folks - in the shops, butcheries, patisseries, brasseries, restaurants - and even some of their staff and clients. Your apartment made us feel like Parisians, and that's the biggest compliment we can pay to you - since we have been ardent Francophiles for so many years. Bravo, Team ParisPerfect.com - you are! Our thanks to all of you - and we will wait eagerly for our plans to solidify for next year, and be in touch again soon. We definitely want to contact you early enough to insure that Volnay is available for our time there - even though we know you have many absolutely gorgeous apartments. That neighborhood is unbelievable, and your hospitality a 10+ on the scale!
Volnay Review
by Ann Michod
In 2007 we discovered Paris Perfect on the internet after searching for the 'Perfect Paris' apartment! The apartments were exactly what we had been looking for, and having done a thorough search there was absolutely nothing to compare. We stayed in Champagne that year for two weeks and returned again in 2008 to stay in Volnay. Both apartments were beautifully appointed, with a wonderful Parisian feel and everything you could think of was provided. It was wonderful to step into the apartment to find what we had seen on the internet was exactly as depicted. Everyone at Paris Perfect is friendly, professional and accommodating, so if you see what you like on Paris Perfect's site, go for it, you won't be disappointed!
Volnay Review
by Sue & Jack Thompson
We stayed a week in the Volnay apartment this spring with its incredible view of the Eiffel Tower. The apartment was so comfortable and beautifully appointed with every convenience one could want! The staff were very helpful and welcoming and everything made for a "perfect" stay in Paris. We hope to return very soon.
Volnay Review
by Lee & Sandy Woodworth
Hi Madelyn, Philippe, Carolyn and everyone at ParisPerfect. My husband and I have traveled to Europe many times and to Paris 5 times. We stayed at beautiful hotels and even an apartment in 2005. The apartment was nice, BUT, there was no view and the service did not measure. This apartment rental was on the travel channel. Still it did not measure up to the romance we hoped to see and feel in Paris. Then we discovered ParisPerfect. Just wonderful! Quality, care, class, just the best. We stayed at the Cabernet in June of 2006. The view, the kitchen, the gift basket and everything you can think of was provided. Everything is quality. In 2007 Sept. we stayed at the Volnay it was the same great quality. Each with its own character and personality. In the comments it says, "that the apartments are like Madelyn's children," each unique and special and that is what we saw. We are returning in Spring/Summer of 2009. Do not hesitate to try these beautiful apartments. Even with the weak dollar they are very affordable. The bonus of being able to cook in the complete kitchen is remarkable. I never thought I would cook in Paris. What me go to Paris and then cook? Yes I did, with the view of the Eiffel Tower, candles, wine a gift from Philippe and the French Doors to die for. We hope you have as wonderful a time as we did. One last remark. It never happened in any of our many travels,that we felt safe. If anything were to go wrong it would be solved with the least trauma, even health issues. Peace of Mind. There is no price for that.
December 1, 2006 - Website
Volnay Review
by Chris Bockelmann and Floyd Norris
Dear Madelyn and Philippe, Our stay in the Volnay apartment with our son over our extra-long Thanksgiving weekend was wonderful, due largely to your fine attention to detail and your efforts to make sure our five days were problem-free. Just as when I stayed in your other apartment earlier this year with my friend Susan, everything was beautifully arranged when we arrived and all our needs were met during the stay. We have recommended the apartments to friends -- not just because the apartments are well-appointed but also because of their proximity to the Eiffel Tower and to an assortment of excellent boulangeries and patisseries, fine restaurants and lovely stores -- and because they are not a far walk, either, to the Invalides, the Petis Palais, the Grand Palais and the new Musee Branly. We look forward with delight to future stays! Sincerely, Chris
September 29, 2006 - Website
Volnay Review
by Karen Terry
My husband and I just returned from our stay at Volnay. It could not have been more perfect. Beautifully furnished and a fantastic view from all rooms. I couldn't wait to get up in the morning and have my coffee and bagette watching Parisan life out of the kitchen windows. It was the perfect 25th anniversary. We can't wait to return.
Base Nightly Rates – May Not Include Fees such as Greeting, Cleaning, Damage Waiver, Credit Card Processing and Tourist Taxes. For full price, please put in dates.
Available
Unavailable
Check-In Only
Check-Out Only
November 2023

| S | M | T | W | T | F | S |
| --- | --- | --- | --- | --- | --- | --- |
| | | | 01 | 02 | 03 | 04 |
| 05 | 06 | 07 | 08 | 09 | 10 | 11 |
| 12 | 13 | 14 | 15 | 16 | 17 | 18 |
| 19 | 20 | 21 | 22 | 23 | 24 | 25 |
| 26 | 27 | 28 | 29 | 30 | | |
December 2023
S
M
T
W
T
F
S
01
02
03
04
05

$379

06

$379

07

$379

08

$379

09

$379

10

$379

11

$379

12

$379

13

$379

14

$379

15

$379

16

$379

17
18
19

$379

20

$379

21

$379

22

$379

23
24
25
26
27
28
29
30
31
January 2024
S
M
T
W
T
F
S
01
02
03

$534

04

$587

05

$599

06

$581

07

$540

08

$558

09

$595

10

$590

11

$633

12

$579

13

$571

14

$529

15

$500

16

$536

17

$566

18

$576

19

$572

20

$565

21

$535

22

$507

23

$561

24

$575

25

$591

26

$574

27

$573

28

$551

29

$518

30

$579

31

$581
February 2024
S
M
T
W
T
F
S
01

$603

02

$597

03

$602

04

$601

05

$527

06

$580

07

$584

08

$601

09

$613

10

$628

11

$589

12

$539

13

$568

14

$575

15

$591

16

$611

17

$638

18

$570

19

$578

20

$602

21

$618

22

$640

23

$657

24

$688

25

$603

26

$610

27

$639

28

$670

29

$706
March 2024
S
M
T
W
T
F
S
01

$638

02

$555

03

$680

04
05
06
07
08
09
10
11
12
13

$695

14

$713

15

$752

16

$761

17

$684

18

$697

19

$728

20

$736

21

$744

22

$753

23

$762

24

$695

25

$707

26

$740

27

$745

28

$752

29

$757

30

$778

31

$722
April 2024
S
M
T
W
T
F
S
01

$798

02

$634

03

$850

04
05
06
07
08

$635

09

$876

10
11
12
13
14
15
16
17
18
19
20
21
22
23

$831

24

$843

25

$871

26

$850

27

$869

28

$791

29

$787

30

$650
May 2024
S
M
T
W
T
F
S
01

$834

02
03
04
05
06
07
08
09
10

$654

11

$886

12
13
14
15
16
17
18

$913

19

$856

20

$872

21

$883

22

$894

23

$927

24

$944

25

$964

26

$905

27

$900

28

$922

29

$939

30

$962

31

$972
June 2024
S
M
T
W
T
F
S
01

$1030

02

$965

03

$968

04

$993

05

$1006

06

$1020

07

$1014

08

$1017

09

$956

10

$980

11

$1005

12

$1008

13

$1006

14

$1003

15

$1006

16

$959

17

$992

18

$1001

19

$1004

20

$1009

21

$1007

22

$1005

23

$967

24

$1177

25

$1174

26

$1170

27

$1170

28

$990

29

$985

30

$951
July 2024
S
M
T
W
T
F
S
01

$988

02

$996

03

$994

04

$991

05

$982

06

$978

07

$929

08

$951

09

$961

10

$950

11

$942

12

$928

13

$921

14

$830

15

$852

16

$869

17

$861

18

$843

19

$1079

20

$1071

21

$1028

22

$1049

23

$1054

24
25
26
27
28
29
30

$1869

31

$1855
August 2024
S
M
T
W
T
F
S
01

$1848

02

$1850

03

$1741

04
05
06
07
08
09
10
11

$1294

12

$1024

13

$1055

14

$1034

15

$1031

16

$765

17

$768

18

$739

19

$755

20

$779

21

$757

22

$754

23

$760

24

$769

25

$739

26

$773

27

$803

28

$793

29

$798

30

$813

31

$832
September 2024
S
M
T
W
T
F
S
01

$801

02

$850

03

$904

04

$903

05

$915

06

$927

07

$944

08

$894

09

$939

10

$985

11

$987

12

$988

13

$988

14

$994

15

$927

16

$963

17

$1007

18

$1019

19

$1024

20

$1021

21

$1027

22

$946

23

$976

24

$1013

25

$1029

26

$1029

27

$1025

28

$1040

29

$948

30

$969
October 2024
S
M
T
W
T
F
S
01

$1000

02

$1011

03

$1010

04

$1010

05

$1030

06

$934

07

$950

08

$981

09

$986

10

$987

11

$998

12

$1029

13

$942

14

$957

15

$988

16

$986

17

$980

18

$989

19

$1022

20

$938

21

$928

22

$959

23

$961

24

$953

25

$959

26

$999

27

$909

28

$879

29

$901

30

$908

31

$899
November 2024
S
M
T
W
T
F
S
01

$903

02

$942

03

$855

04

$827

05

$858

06

$889

07

$903

08

$912

09

$953

10

$861

11

$832

12

$851

13

$888

14

$899

15

$897

16

$906

17

$792

18

$809

19

$837

20

$877

21

$915

22

$936

23

$893

24

$790

25

$800

26

$823

27

$867

28

$891

29

$912

30

$892
December 2024
S
M
T
W
T
F
S
01

$790

02

$799

03

$822

04

$892

05

$899

06

$916

07

$919

08

$806

09

$823

10

$835

11

$900

12

$873

13

$883

14

$895

15

$771

16

$811

17

$828

18

$858

19

$860

20

$1164

21

$1159

22

$1046

23

$1316

24

$1353

25

$1344

26

$1349

27

$1338

28

$1347

29

$1242

30

$1349

31

$1344
January 2025
S
M
T
W
T
F
S
01

$1468

02

$1329

03

$876

04

$842

05

$802

06

$806

07

$842

08

$839

09

$904

10

$828

11

$816

12

$749

13

$722

14

$768

15

$809

16

$824

17

$823

18

$822

19

$780

20

$723

21

$797

22

$815

23

$835

24

$816

25

$822

26

$789

27

$711

28

$789

29

$792

30

$823

31

$814
Things to See & Do
Champ de Mars (1 mins Walking)
Expansive park surrounding the Eiffel Tower. Stroll, jog, bicycle or play in one of the playgrounds, go to the puppet theater or carousel, or just sit and enjoy Parisian life and the beautiful gardens.
Eiffel Tower (4 mins Walking)
Paris' most iconic site and one of the world's most visited attractions. Take the elevator or stairs to the top of this magnificent structure for beautiful views over Paris.
École Militaire (5 mins Walking)
Napoleon attended military school here and the buildings still show gunfire signs from the French Revolution in 1789
Bateaux Mouches Boat Tours (6 mins Walking)
We recommend boarding a boat tour on your first day, where you can relax and enjoy sailing down the Seine viewing many Paris monuments, museums and cathedrals
Les Invalides (10 mins Walking)
A masterpiece of French Classical architecture built by Louis XIV; Napoleon's tomb rests under the golden dome.
Trocadéro (15 mins Walking)
The Palais de Chaillot sits on top of the hill and houses the Museum of Architecture, Maritime Museum and the Museum of Mankind. Stunning pictures of the Eiffel Tower can be taken from the surrounding gardens with their majestic fountains
Champs Elysees (20 mins Walking)
One of the world's most famous shopping boulevards. Make sure to visit the Louis Vuitton flagship store!
Rodin Museum (20 mins Walking)
View some of Rodin's most famous sculptures including The Kiss and The Thinker

Shopping & Eating
Rue Cler (4 mins Walking)
Among the best streets for food in Paris! Cafés and brasseries where you can enjoy dining or shopping at specialty food purveyors with wines, fresh produce, fish, cheese, pâtissières, bakeries and gourmet prepared foods -- a wonderful part of the Parisian experience.
Pont de l'Alma Food Market (8 mins Walking)
Largest open market in Paris; open Wednesday and Saturday mornings
Luxury Stores on Avenue Montaigne (15 mins Walking)
Home to many of the leading fashion houses including Louis Vuitton, Dior, Chanel, Fendi, Valentino and Ralph Lauren, as well as jewelers like Bulgari.
Rue de Grenelle Market (18 mins Walking)
Open on Wednesdays and Sundays, this market is located in the 15th arrondissement and has excellent prices
Saxe-Breteuil Market (18 mins Walking)
Open on Thursday and Saturdays and features some of the most beautiful organic and deluxe food stands in Paris
Rue du Commerce (20 mins Walking)
A true Parisian shopping street with trendy boutiques, food stores, bistros

Public Transport
Métro (9 mins Walking)
École Militaire (Line 8)
RER (9 mins Walking)
Pont de l'Alma (Line C)
Métro (12 mins Walking)
Alma - Marceau (Line 9)