With scenic views and a terrific location near the historic center of Florence, the remarkably quiet and spacious Vespucci is only a block from the Arno river and an easy walk to all the sites.
Location
The Vespucci apartment is located a leisurely 15 minute walk to the east of the very center of Florence near the Ponte Amerigo Vespucci bridge. Luckily, the street the apartment is on in a limited traffic zone so it is notably quiet, something that is a rare find in such a prime Florence historic center location.
Exterior
Attractive apartment building is well maintained. There are a few low steps to reach the elevator.
Interior
It is a comfortably furnished apartment  just perfect for a family or two couples who want to escape the hustle and bustle just a few blocks away in the very center.
The living room windows overlook the street and the views are unobstructed and pleasant. Polished terazzo floors are typical of the era the building was built.
The kitchen is fully furnished. Despite the wide variety of nearby Florence restaurants, you`ll probably want to cook at the apartment when you see the wonderful array of fresh produce and other grocery items that you can buy at the nearby Cascine open air market, a Florence favorite of ours.
The master bedroom is extremely quiet since it faces the inner courtyard.
The second bedroom gets lots of light and because of the limited traffic zone, minimal noise.
The windows throughout the apartment have screens which is helpful for mosquito control. Door leading to balcony does not.
Things To Note
Neighborhood: Borgo Ognissanti
Size: 1507 sq ft, 140 m2
Accessibility/Security: 5 steps from street level to elevator.
Other: Check in 4:00 to 10:00pm, by appointment.
Room Details
| Room | Beds | Details |
| --- | --- | --- |
| Bedroom 1 | Extra-Wide Queen (1) | Extra-wide queen bed (63in x 79in; 160cm x 200cm) |
| Bedroom 2 | Single (2) | Two Single beds (35in x 79in; 90cm x 200cm) |
| Bathroom 1 (en suite to Bedroom 1) | | Shower, sink, and toilet |
| Bathroom 2 | | Shower, sink, and toilet |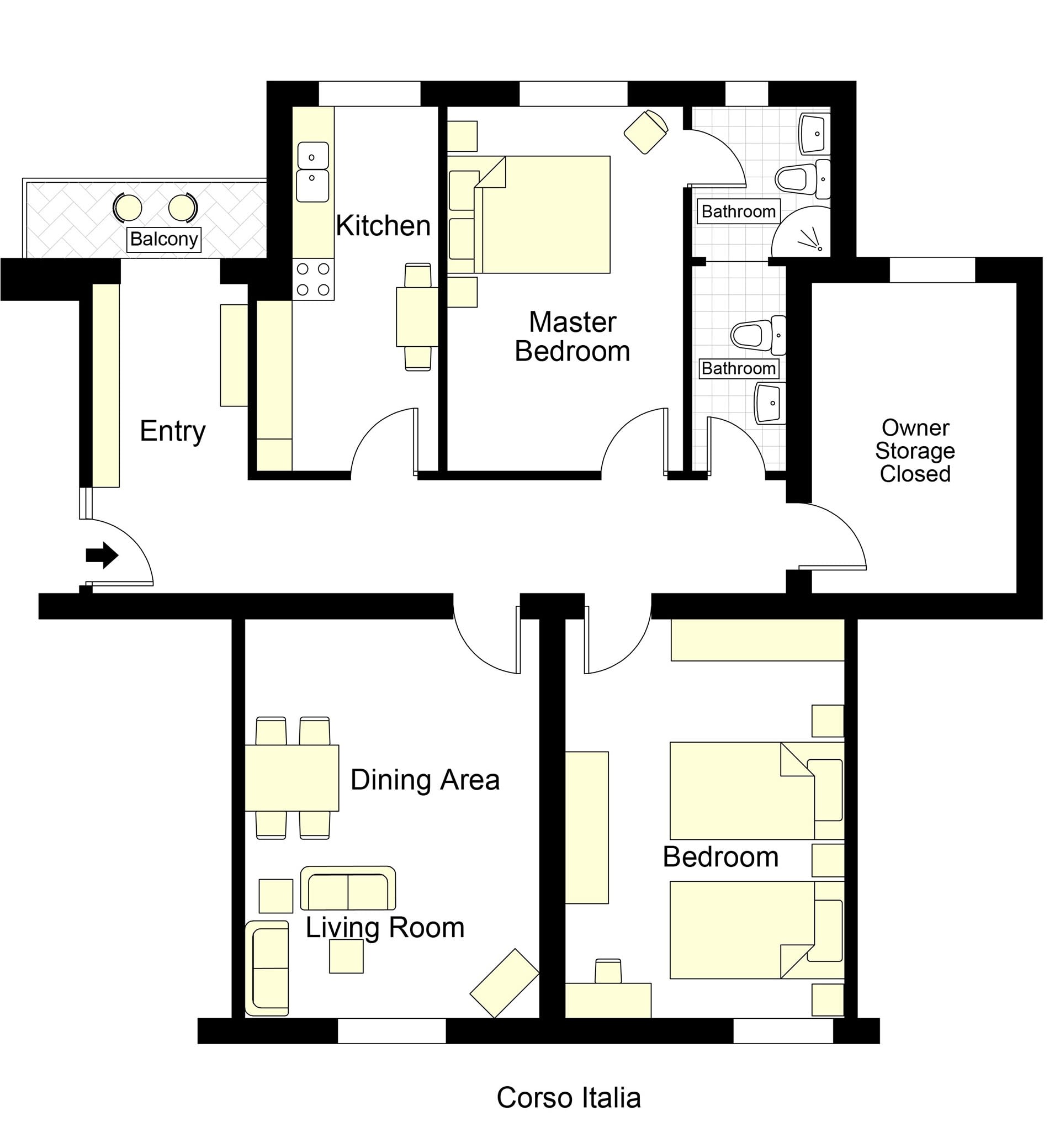 Kitchen

Kitchen
Fully Equipped
Coffee Maker
Dishwasher
Italian-Style Espresso Pot
Microwave
Oven
Stovetop
Toaster
Refrigerator

Accessibility

Private Entrance
4th Floor North American
Elevator

Connectivity/Entertainment

WiFi
TV - No English Programs

Laundry

Drying Rack
Washer
No Dryer

Amenities

Elevator
Air Conditioning

General Amenities

Smoke Detector
Carbon Monoxide Detector
Thank you for submitting your review. It will be processed shortly!
October 21, 2023 - Website
Vespucci Apartment
by John-Eric, Joanne, Jefferson, and Anna
What a fantastic place to stay during our visit to Florence, perfectly located in a quiet area and within walking distance to the main attractions. The rental process through Italy Perfect very easy, simple, and thorough. They were most friendly, in constant communication, and offered excellent detailed information preparing us for our stay. You can reach the apartment either by elevator (small) or by taking the stairs. We were warmly greeted by our host, who quickly and thoroughly acquainted us to the beautiful bright spacious, clean apartment. She took the time to familiarize us to the area, giving us a few tips to start with; it was like talking with an old friend! All the little extras (ie. a bowl of fresh fruits), made it feel that much more homey. On several occasions, she went out of her way to assist us. We were so grateful and thankful to have such a wonderful and caring host. We would highly recommend Italy Perfect and this Vespucci apartment to those looking for a place to stay in Florence.
October 22, 2019 - Website
Vespucci Review
by Carole
We were delighted to have a 20 minute walk along the Arno from the river of tourists at the center of Florence. Our apartment was perfectly suited , spotless, comfortable.Our landlords were interesting and gracious.The neighborhood always felt safe. A delicious surprise was BORDERLINE, a bustling neighborhood trattoria at the end of our block. ready to return! Thank you Lisa of Italy Perfect. [Thank you for your great review Carole! We are thrilled that you enjoyed your stay! The Italy Perfect Team]
We had a wonderful stay in Florence, Italy. The Vespucci apartment was a quite comfortable respite each evening after seeing the sights or dinner. It was such a nice home away from home. Our hosts were very kind and accommodating. The apartment was within easy walking distance to everything we wanted to see or do. Great experience. [We are glad to hear that you enjoyed your stay! The Italy Perfect team]
Vespucci Review
by Ivan Joens
Terrific location on the edge of Central Florence, close enough to walk easily to the major sites but far enough from the center to escape the crowds. On a very quiet street with a friendly cafe across the street and plenty of restaurants and stores nearby. The rooms are large and well furnished with lots of storage space. Screens on the windows allow open windows and plenty of cross ventilation. The balcony is pleasant for morning coffee. When it came time to move luggage in and out, and at the end of a long day the lift was particularly welcome. We were met by the owners who were very friendly and helped us with suggestions and tips a couple of times during our stay. We would love to stay here again and will recommend it to our friends. [Thank you Ivan, we are pleased you enjoyed your stay and look forward to welcoming you back! The Italy Perfect Team]
Vespucci Review
by Domenico M.
Normally I stay at a hotel wherever I am on holidays. This time around, my daughter and I decided to study Italian in Florence and required something for one month. Italy Perfect made the rental process incredibly simple. They send you forms (electronically) to fill out that includes your arrival time and contact information. When we arrived into Florence, we called the prearranged phone number and were happily greeted by the owner Cynthia. We took a cab from the Airport and was met at the front door. Cynthia helped us manage the small Italian style elevator to the fourth floor, quickly showed us around, and answered all our questions about the apartment and the neighborhood. The apartment is located in a quiet neighborhood west of the American embassy. It is a 15 minute walk to the center of Florence where all the tourists hang out; which means, if you want to be in the middle of things, this may not be for you. West of us one block away is a large green area called the Parco delle Casine. It's a safe park with lots of runners, walkers, cyclists and families.The apartment has a fully utilized kitchen equipped with pots, pans, dishes, glasses, and the works. It even comes with a Braun coffee maker so bring coffee with you. It has a North American size fridge, stove, oven and dishwasher. The bedrooms are large, one with two single beds and the other with a queen bed. The master bedroom has its own bathroom, while the other bedroom has its bathroom across the hall. Full showers with plenty of water pressure and hot water. All the bedroom windows are screened to keep out pesky mosquitoes. The beauty of being just outside the core is that it is quiet at night when sleeping. The apartment has a family room with a TV (Italian only), two sofas and a large table to study or watch Netflix. Yes, they have Wi-Fi that actually works remarkably well. There is a grocery store nearby, a bar (coffee shop) across the street and several restaurants a short walk away. We had the apartment cleaned once a week, where bed sheets were changed and towels replaced. All arraigned by Italy Perfect. This location worked well for the two of us and could easily accommodate four people. I plan on going back to Florence soon, and will rent this apartment again.
November 9, 2015 - Website
We were very pleased with our stay at the Vespucci apartment while in Florence. The apartment is very spacious, light, bright and clean. Located in a great area near the river we had no trouble getting from place to place. Our greeter, Cynthia, was wonderful. She is very organized and helpful. She had loads of information we could take advantage of......such as emergency numbers, restaurants, taxi numbers and many maps and books on the area. She even supplied a cell phone for our use to make reservations, etc. We would definitely stay there again on our next trip to Florence. I would also recommend Italy Perfect!! They were easy to work with and supplied much needed information about Italy. It was very helpful, especially for a first timer.
October 14, 2015 - Website
Vespucci Review
by Shelley
I visited Florence with my two adult sons, and we were all very happy with our Italy Perfect experience. The information sent out in advance was very informative and thorough, and all of my questions were answered before I left the country, which was very helpful. Cynthia is the Italy Perfect contact who lives in the apartment building. Since she's an American, communication was easy. And because she's lived in Italy for so long, she was also very knowledgeable about Florence and how to get to places or where to eat. Cynthia was particularly helpful in straightening out a problem I had with my tour company---I felt that she really went above and beyond. The apartment was cosy and clean, with a great kitchen, comfortable beds, and even a selection of fun English-language DVDs. It's also in a wonderful location. We were able to walk everywhere, with the River Arno as our touchstone, since the apartment is so close to the river. The cafe across the street is perfect for morning coffee and pastry----their home-made apple almond cake was delicious!--and there are many other restaurants in the area as well. It's also walking distance to the Westin Hotel on the river, which has a spectacular view of Florence from its top floor bar. I would definitely recommend Italy Perfect to family and friends, and have already done so.
September 9, 2015 - Website
Our stay was very pleasant. It was within close proximity to a grocery store and the main attractions in Florence. The downside was that it was not air conditioned. It was very hot during our stay in Sept and if the windows were opened the noise from outside made it impossible to sleep. Cynthia (the owner ) was very pleasant and helpful and even drove us to the train station at departure because we couldn't get a cab. The apt was spacious and would be acceptable for a small family or singles needing two separate bedrooms. I would definitely recommend Italy Perfect to my friends. [Thank you for your nice comments, we're happy you enjoyed your stay. It is accurate that the apartment does not have A/C, as indicated on the Vespucci webpage.]
November 9, 2014 - Website
Vespucci Review
by KeSuLu
The apartment is wonderful - definitely enough space for the three of us. It was clean and had everything we needed. The greeter was soooo kind and wonderful during our stay. The location is on a quiet corner, which has a nice cafe across the street for coffee in the morning. We would definitely recommend going to the farmers market on Tuesday - its an easy walk from the apartment. Grocery stores are a bit of a hike and not all that great. There is a decent eco-friendly grocery and product store called Natura C but it is a cab ride away (it doesn't have a lot of veggies or fruit). If you want the best pizza in Italy go to Pizzeria Santa Lucia, which is a 15-20 minute walk from the apartment but well worth it.
October 24, 2014 - Website
We loved staying in Vespucci in late September '14. We had warm weather and we were able to walk everywhere. There are nice neighborhood restaurants close by and a wonderful Cafe across the street that we went to everyday for breakfast. The train station is close also and we did take two side trips by train to Bologna (highly recommended) and by bus to Siena. In Florence seek out Mario's Trattatoria near the market for lunch. It is the best and at unbelievable prices. The apartment was very nice, clean and comfortable. Having a 2 Br and 2 BA for two couples was great (one w TWIN beds). Cynthia, the owner next door, was wonderful. When the water heater was out of 3 days, she allowed us to shower at her apartment. She also is a great resource of the local area for restaurants! [Note from ItalyPerfect: Thank you, we're delighted you enjoyed your stay. Thank you for your flexibility & patience about the water heater, which went out over the weekend due to a record-breaking storm that affected much of the city, impacting a pipe on the water heater. We're glad you were so appreciative of Cynthia's efforts and responsiveness.]
Vespucci Review
by Maurice
We really liked the apartment , and the location, and Cynthia was wonderful and a really nice and helpful person. Having one English Channel like BBC news or CNN would be nice, and the wifi signal only worked in the living room and not the bedrooms. I would recommend your apartment to a friend.
Vespucci Review
by TJA 828
This apartment was spacious, sparkling clean, well-equipped, in a great location, and quite large. We were impressed that it had a washing machine and even a dishwasher. All detergents, etc., were provided. It is a block from the river, a few minutes from the tram line and a large park, and a reasonable walk to some attractions including the train station. The owner (a bilingual American) lives nearby and was happy to help us when needed. She also had a mobile phone available for our use. Her orientation of how things worked in the apartment was concise, clear, and valuable. We loved being there so highly recommend it.
October 26, 2013 - Website
We were delighted with the Vespucci apartment, which provided a beautiful and relaxed retreat from the streets of Venice. The apartment is light, comfortable and very well set up, with lots of thoughtful touches to ensure guests have everything they might want. We loved the rooftop views and the excellent location (just on the edge of the historic quarter - so easy walking distance to key sites, but in a quiet residential area). Walking along the Arno in the evening was a particular pleasure (keep an eye out for otters!). We also really enjoyed meeting Claudia who was very accommodating around arrival and departure times, and gave us an expert run-down on the local area and where to find what we wanted. The local shop (5 minutes' walk) is really well stocked with fresh fruit and vegetables (along with other supplies), and there's a delicatessen/butcher's shop even closer that sells meat and poultry as well as milk and eggs. Cooking meals was great fun with excellent local ingredients and the apartment's well set-up kitchen (better stocked than mine at home!) Overall, this was a brilliant holiday stay and we would thoroughly recommend the Vespucci apartment to other travellers.
October 22, 2013 - Website
Vespucci Review
by Bob & Sharon, Tom & Marsha
First, unfortunately the elevator went out the day before we arrived. The host was extremely apologetic and profusely voiced her dismay. The positive, it helped work off the pasta, wine and desserts. We cannot compliment the host or Lisa at Italy Perfect adequately. They were professional, promptly responded to emails and questions, the best "Introduction Package" I have encountered in our global travels, were proactive in providing information needed prior to travel, etc. The accommodations were clean, attractive and comfortable. A great value for the money. The location was even better than anticipated. Trains and buses were one block away, and best of all the last stop on the bus route. No matter where we got on we just went to the last stop and got off. Recommend you book a cooking class, a highlight of our three week trip. Hit all the "tourist sites" especially Galileo's museum, and go to Michelangelo's plaza that overlooks the city. Again, this apartment was a true value, the host delightful and the location perfect. Book early or you will lose the opportunity!!!! Cooking Class:
October 20, 2013 - Website
Hi……re the rental of Vespucci apartment……….we thought the apartment was a bit far from the sites downtown but after a while we did get the tickets for the little city bus for a ride back to the apt after a busy day of sightseeing..; the surrounding area was lovely and felt very safe……….both my husband and I think Italy Perfect s a first class business…..the information packet given to renters is invaluable and we especially liked the fact that there were lists of neighborhood restaurants and shops …all of which we found to be described accurately….the apartment itself was perfect…..i think the little balcony might be a bit misrepresented as it is just used to hang laundry …..the elevator was out of service for the last week of our stay so that was inconvenient when we were departing with all of our luggage…..and yes we would and have recommended Italy Perfect to our friends….thank you. Thank you. We are so pleased you enjoyed your month-long stay, the lovely area and the apartment. Sorry to hear the elevator was out of service when you departed. The walking distances are stated on the Vespucci Map & Weather section, we are sorry you overlooked this information before you reserved. The Italy Perfect Team
Vespucci Review
by Nola Ross Greg and Michelle
What a gem of an apartment! We are two couples who stayed in Vespucci for four weeks in April/ May. Vespucci is exactly as described on the website, in a very pleasant and quiet area a good 20 minute walk along the Arno to the Ponte Vecchio. We enjoyed the location : as many guests have pointed out, the walk home after a busy tourist day can be a welcome interlude. In fact, to stay in Vespucci is to live in a comfortable family home. The apartment is very spacious, light and airy, with two large bedrooms and two well fitted modern bathrooms. The beds are comfortable and there are plenty of quality towels. (Perhaps our only suggestion here would be the provision of an extra set of bedlinen for guests staying more than a few days.) The kitchen is excellent with a good sized refrigerator, and up to date dishwasher and washing machine. There is a comprehensive selection of cooking equipment, including an excellent range of pots and pans and (hooray!) quality knives. In fact, the kitchen was so user friendly that on most evenings, we chose to cook at home and eat in our very comfortable living /dining room. We did however discover some good local restaurants, including Giovanni's, Cambi and Baldini. The Cafe al Communale opposite the apartment was very friendly and great for a lunch or an evening drink. There is a good range of shops in close by: a small supermarket, very good butcher, deli, tabacchi and post office among others. We did however often choose to walk home via Borgo Ognissanti and buy food and wine from the smaller family run shops and bakeries. (supermarket bread is not recommended!) The owners of the apartment live across the hallway and while not intrusive are available for help and advice. Our greeter, Cynthia was very welcoming and gave us a thorough introduction to the apartment. We really appreciated her attention to detail: maps, guide books, cards for local restaurants, the provision of a cell phone for guest use, and even a bowl of chocolates on our arrival. We thoroughly enjoyed our stay in Vespucci. Booking through Italy Perfect has also been nothing but a positive experience - helpful, efficient and responsive to every request. Thank you! Nola, Ross, Greg, Michelle Victoria Australia
Vespucci Review
by Gerry and Anne
Four of us (my wife, son, his wife, and I) spent a week in Florence in mid-February. Our visit was immeasurably enhanced by our renting "Vespucci." We found the apartment spacious, clean, and possessing of all the conveniences we needed, including a great kitchen and internet. The location was perfect for us--just a block from the arno and a 15-minute walk to the historic center of town. Moreover, the owners live on the same floor and were there to answer any questions we had. Not only will I certainly recommend the apartment to friends and family, but my wife and I will certainly stay there again when we return to beautiful Firenze.
January 27, 2013 - Website
Vespucci Review
by M, M & J
After a frenetic - but fabulous - week in Rome, it was marvelous to relax our pace just a bit and enjoy five beautiful days in Florence. Our apartment was modern and huge by European standards, immaculate, with very comfortable beds and sofas and a well appointed and easy to use kitchen. The bathrooms were so nice and roomy. The apartment is located in a limited traffic zone, so it was very quiet. There is a small cafe/bakery immediately across the street (very nice selection of pastries) and a grocery store and several good restaurants in the surrounding blocks. October is still a popular tourist time, but the crowds were manageable and we felt very safe, day and night. On our arrival we were met by our greeter, Cynthia, who not only has lived in the city for over twenty years, but also lives across the hall, so she was very knowledgeable and accessible all during our stay. Our sightseeing days usually began with a walk along the serene Arno River. It was very easy then to walk to the main tourist attractions and they are fantastic: the Duomo, Uffizi Museum, Academia (you must see David!) and the Ponte Vecchio. Prior reservations are strongly suggested for Uffizi and Academia. Florence is a beautiful city and this apartment was a wonderful "home" away from home.
December 5, 2012 - Website
On the whole the apartment, surrounding area and in general the experience was a very good one and I would recommend Italy perfect – thanks for all your help.
November 17, 2012 - Website
Vespucci Review
by Norris
Italy Perfect was so organized and professional. Loved how they did everything and full confidence in the Company. We went to Rome and Venice and had I known about them before I booked the others I would have stayed in all of their managed Apts. The Apt. was beautiful. Spacious and very clean. Nice kitchen and bedrooms, with Wi-fi. The owners were straight across the hall and were there if anything was needed. The locations was very quiet and in a nice neighborhood. A cafe was located right across the street with friendly owners and good food. This Apt is located away from the center of Florence, about 25 minute walk. It was close to the Ponte Vecchio Bridge (10 min walk) and about 10 minutes from the train station by Taxi. Had a wonderful stay and again the overall organization of the Company as well as the owners was great. I would stay with them again no doubt.
October 30, 2012 - Website
Vespucci Review
by Dan & Maggie F.
We found the Vespucci apartment to be as advertised: neat, clean, conveniently located to the city center, train station, shopping, etc. The local restaurants, shopping, museums, historical sites and central location for visiting other parts of Tuscany made Florence one of our favorite stops. If you're looking for something different to do, try a one day cooking class, it's so much fun. Our host/greeter, Cynthia, also helped make our stay truly enjoyable by always being available to answer questions or provide essential information about the local area. We would certainly recommend Italy Perfect and specifically the Vespucci apartment to anyone looking to visit Florence. If you are thinking of renting a car and driving you should reconsider. The ZTLs (limited traffic zones} are virtually impossible to avoid and if you enter one without the proper authorization for your vehicle, you can expect to receive a rather expensive ticket.
October 7, 2012 - Website
Vespucci Review
by David Lesnini
The Vespucci apartment was clean and relatively spacious with a lot of natural light during the day. The Florence weather during our visit was such that we could open the windows and rely on natural ventilation. The apartment is in a very quiet residential area, but located close enough to the center of Florence that we walked to our destinations most days. It's also only a short block from the River Arno, although there are no river views from the apartment. One negative was that the family in the apartment above includes twin boys. Sometimes we heard them jumping around in the early morning or early evening. Cynthia, our greeter, was friendly and accommodating. She provided an excellent set of oral instructions for the apartment on arrival. She also provided extra service by acting as the contact person for one of our party who arrived late because of a cancelled flight. While she didn't hover, Cynthia was available to answer our questions during our stay. It would have been helpful if the contact instructions provided by Italy Perfect noted that Cynthia worked during the day and would not be available to admit us until after 5 pm. [Note from Italy Perfect: The Rental Terms, Contract and Frequently Asked Questions state that check in is from 5:00 to 8:00 pm. We are sorry you overlooked this.] The Café al Comunale, right across the street was a great place for a continental breakfast or an early evening drink (closed Sundays). We had an excellent dinner at an Oltrarno restaurant, IO – osteria personale. The chef uses the ingredients of traditional Florence dishes, but combines them in modern, lighter creations. We also liked the look of the restaurant, with its clean modern lines (some would call it stark).
Vespucci Review
by Chris and Terry Beck
We would recommend this beautiful apartment to anyone going to Florence! The host and hostess that showed us around were available almost anytime and were a wealth of knowledge. The lady is from the US and it was nice to be able to speak English. Her husband was a wonderful gentleman and very helpful as well. They greeted us with a bowl of fruit and took a great deal of time explaining everything and helping us to be sure we had reservations where we wanted to  go and made an excellent suggestion where to eat. We never needed a cab, we were able to walk everywhere. Even walking back to the apartment late at night we felt very safe since it is in a very safe neighborhood.  Having a washer was wonderful, and there was even laundry soap for us to use.We had stayed in a tiny hotel room  in Pisa the week before, so when we walked into the Vespucci apartment we could not believe how HUGE it was. So bright, airy, clean, spacious, beautiful and right off the Arno River close to everything. Everything was actually much more than we had hoped for. We LOVED the apartment as well as the host couple.
Vespucci Review
by Amy and Joel
We found this apartment absolutely perfect for our family of four. The apartment was clean and spacious and really felt like our Italian home for the week. Indeed we were very sad to leave! A big thank you to Cythia as well for making us feel so welcome. It is a bit of a walk from the most popular part of the centre, however, after a day of negotiating the crowded center of Florence, we found it to be a bit of a relief, notwithstanding the extra walking. Also, the walk home (if you stray from the riverfront) provides an opportunity to stop in the shops on Orgnissanti for anything you may need for dinner. I wouldn't hesitate to recommend this apartment -- you will absolutely enjoy your stay here.
Vespucci Review
by Barbara Hauter Woodward
Lisa, As I wrote in my entry in the guest book, the Vespucci apartment was that rare commodity--a place that matched, indeed surpassed, its description. We were pleasantly surprised by the lovely view out of the living room window, which didn't show up in the pictures of the apartment. Everything about the visit was perfect. We had some trouble getting our I-Pad to work and our hosts were so conscientious about trying to solve the problem, including inviting us to use their computer. (By the way, it was a short-lived problem and after a few hours we were able to send and receive messages.) They were also kind enough to make a dinner reservation for us the first night and to fill us in with information on the area. I loved the location of the apartment, which had been accurately described as not in the center of the city. After a full day amongst crowds, made up primarily of our fellow countrymen, it was lovely to retreat to the quiet of the apartment and the largely Italian neighborhood. Although we had been in Italy many times before and therefore did not make use of much of the background information you provided, there were several nuggets there that were invaluable to us. We loved the reading lists too and left several of your recommended books behind for the next tenants. We will absolutely use Italy perfect again and have indeed already recommended you to our friend Susan Rose, who I hope has had as good an experience as we had. Barbara
November 26, 2010 - Website
Vespucci Review
by David & Sally H
This  was about our 6th or 7th rental in Europe and it was far and away the best.  The apartment itself was terrific - clean and roomy. The location was perfect - nice, safe neighborhood away from the noise, but still within walking distance of everything.  Food shopping at Il Centro was very handy and the little Salumeria?? a block away was very nice.  We cooked a number of meals in because of the rainy week, and the kitchen was well-equipped. (The first place we have found really good cooking knives!) The american style coffee maker was nice. Cindy was a great host - little touches like a cell phone, a bottle of olive oil, and a ride to the train station were very nice. If you are willing to share her e-mai, address, we would love to send her a "Thank You" note. She has also solved the internet problem with Macintosh computers - a connection to a city-wide wi-fi network. We would recommend this apartment and your service to anyone. Best regards, Dave and Sally
November 13, 2010 - Website
Vespucci Review
by Mitzi & Ed Puccinelli
Our accommodations in Firenze were perfect in every way. The apartment location, near the American Counselate, was within walking distance of all the major attractions. The neighborhood was very quiet and clean. Our hostess/host definitely went the extra mile for us and made our stay a very comfortable and informative one. And a plus for us was that the building had an elevator which made getting luggage and groceries to our apartment much easier. There is a little market within walking distance of the Vespucci where we stocked up on breakfast and lunch items so we could splurge on our dinners. We ate our evening meal at terrific places but La Spada was the best! The food was stupendous and we felt very submerged in the Italian culture each time we ate there. We also enjoyed Baldini's which was just down the street from the little market and Buca Mario on the same street as La Spada. David, at Galleria Academia, is a must see--magnificent! Climbing the 463 steps to the top of the Duomo is so worth the gruelling climb. The view of Firenze from the top is a must see!! We absolutely loved Boboli Gardens--what an beautiful place to spend a day. Our walk through Point Vecchio was spellbinding! Jewelry, jewelry, jewelry!! Make sure you budget for this so you can bring a beautiful piece home with you as a forever souvenir. All said and done, we will definitely book any future travel through ItalyPerfect and its affiliates. Arrividerci!!
October 28, 2010 - Website
Vespucci Review
by Sue Maida
Our ten days in Florence were made even more wonderful by this amazing jewel of an apartment located in a clean, quiet and safe neighborhood just east of the city hub. Everything, and I really mean everything, was within easy walking distance which enabled us to experience Florence the very best way: on foot. As an added bonus to our daily walk, we were able to amble along beside the beautiful Arno going to and from the apartment. For the day trips we took (to Siena, Lucca, Borgo San Lorenzo and Rome) we were easily able to walk to both the train and bus stations. The apartment itself was immaculate and well furnished, and the greeter was very helpful in getting us oriented. She was also available for questions and suggestions throughout our stay which was a lifesaver when arranging for multiple cabs to the airport on the day of our departure! I will also add that the cost of the apartment was extremely reasonable, and Italy Perfect's prorating policy made planning easy and economical. All of the information that Italy Perfect sent in advance provided us with time-saving knowledge so that our time in Florence was spent doing things we wanted to do, not in trying to figure out how to navigate in a foriegn city. Grazie! The greeter provided us with many suggestions for dining and grocery shopping, so, again, we didn't waste time spinning our wheels. My favorite feature of the apartment: two full bathrooms! For two couples this streamlined our daily schedule immensely. I would highly, and without reservation, recommend the services of Italy Perfect, and will most certainly consider using them again myself when planning another trip abroad. Again, thank you for your professional attention to all the details.
October 21, 2010 - Website
Vespucci Review
by James Ellisor
Our accommodations were outstanding. The landlord lives right across the hall and is very friendly and helpful in so many ways. The apartment is in an excellent and safe neighborhood. It is easy to get to any place of interest on foot. I would highly recommend to future guests the ristorante antico de cambi in Oltrano for the famous bistecca fiorentina. It is within easy walking distance. For a change of pace from wonderful italian food, there is a great japonese-italiano restaurant next to the neighborhood market at the end of Magenta Street. It is named Hoseki. The service of Italy Perfect is excellent; they think of everything that a tourist needs to know.
Vespucci Review
by Allan Paulson
We thoroughly enjoyed our stay at the Vespucci. It is an excellent apartment, very well appointed with everything we needed, including lots of guide books and tips. The owner is a superb hostess, who was especially helpful in guiding us through the car parking ordeal when we arrived just minutes before a performance at Teatro Comunale. It might be nice to mention the proximity to Florence's main concert hall/opera house for those who might want to get tickets in advance. The neighborhood is very peaceful and quiet, but we were able to easily walk everywhere, even twice to Piazza Michaelangelo across the city. However if you want to spend a lot of time in the Santa Croce area, this is on the other side of town. We especially recommend the sculpture museum at the Bargello and the museum behind the Duomo. They are smaller, accessible and superb. We also enjoyed San Miniato, a church with a wonderful view of the city.
Vespucci Review
by Sara F
You can't go wrong at this apartment. Located a block from the Arno, it is spacious (by foreign apartment standards) and has an elevator which is somewhat rare.. 😉 Neighborhood restaurants and markets are all within blocks. The rail station is about 8 blocks. Main attractions are a little farther, but within walking disrtance if you're hearty. Or just have the folks at the corner coffee bar call a taxi for you. The owner is in the apartment across the hall so any problems or questions can be easily address. She teaches English at the University and is full of info and fun to talk to.
Vespucci Review
by SusanF
This apartment was very clean, roomy and light-filled.There are many great books, umbrellas, a spare room for luggage, and a great kitchen. The wifi worked well and we had 2 computers with us. The location next to the river was beautiful and within 2 blocks we found a great supermarket, butcher, and deli. Within 10 minutes (walking) were many great restaurants. Our hosts were very helpful and concerned that we were happy. As Italy Perfect recommends, travel with ear plugs. This is a noisy city, either with traffic and pedestrian noise or adjacent apartment noise due to very old building structure. We could hear a good bit of noise from the apartment above but the ear plugs worked well for sleeping. We cooked 2 delicious meals and the kitchen and roominess of the apartment made my husband, myself, and our adult daughter perfectly content. Although the apartment is located towards the perimeter of the city, if we got too tired we took a taxi. They were everywhere, professional and reasonably priced (under 10 euro from the Duomo). Il Latini was a fun, good place for dinner. Unfortunately the others are not coming to mind. The best gelato is across the 2nd bridge. Wish I could have some now! Ciao for now.
Vespucci Review
by J. Vargo
The location was excellent. We visited a lot of sites and walked to all of them. Our apartment was spacious and comfortable, even though we did not spend a great deal of time in it. The owner was very helpful. It is nice to get information from someone in the city. The cell phone in the apartment was not used often but it was a great idea and did come in handy.
Hosts were super; location extremely quiet; nice size; amenities were more than adequate; markets, restaurants, stores, ATM's all very convenient… river and neighborhood location was great for us as a family…again..Roberto was an awesome host along with his wife…she called a cab for us that was greatly appreciated….
November 8, 2009 - Website
Vespucci Review
by Windy and Jake
The apartment was located in a very quiet area and an easy walk to the city center. The owner was so helpful in getting us settled in the apartment and also with information on the city. The apartment was spacious and very comfortable for 2 couples. We will definitely stay there again on our next trip. Italy Perfect provided all the information we needed prior to the trip and we will use them again for our future visits to Italy.
September 28, 2009 - Website
Vespucci Review
by J. Laia
Vespucci Apartment was terrific. The apartment was very clean. It had everything you needed for short or long stays. Cindy, the host, was super nice and helpful. The location was great if you don't mind walking to major attractions. Less noise and traffic than in the center of Florence. Food, produce, wine and cafe within walking distance. Would highly recommend and would stay there again.
Vespucci Review
by Barbara Ross-Denroche
Our stay at Vespucci was wonderful. The owners were wonderful and the location of the apartment is perfect - quiet however close to the central area. The owners supplied our every need.The only slight negative is we could hear the family, including children, in the upstairs apartment. This did not impact our vacation in any way, but important to mention.Regards,Barbara Ross-Denroche [There can be some noise from upstairs when the 4yr old twin boys return from school. They go to bed very early, so it doesn't interfere with our guests' sleep.]
We really enjoyed our one week stay at the Vespucci Apartment. It was very comfortable and clean. The owner and her husband were extremely accommodating for late check in and very helpful with any questions we had. We chose the location to be by my daughter who was living around the corner so it was very convenient. It's not in the center of town so you have to walk, which we didn't mind, and we took a cab late at night when we were tired. It's just a short walk along the river to the Ponte Vecchio and a 15 minute walk to the center of town. It's a quiet location too for sleeping with your windows open at night. The neighborhood seemed extremely safe, the embassies are right up the street so the police are always around there. There's a coffee shop right across the street too.
Vespucci Review
by Pamela Montgomery
The Vespucci, without a doubt, was as close to perfect as any vacation home I've rented in North America or Europe in the past 20 years.First, the location.The apartment is in a block from the Arno River, situated between the American Embassy a few blocks away on one side and a large park area a few blocks the other way. As a result of the limited street access to the area, it is virtually traffic free.I don't think I ever had to dodge a Vespa like one does elsewhere in Firenze!It was very quiet, day and night, so was easy for the light sleepers in the family to have a good rest.The apartment is on the 4th floor, so you are above the neighboring buildings with lots of air and light. One side fronts the street, the other an inner court yard.Screens on the windows let in fresh air on our warm days without any bugs joining us.The apartment itself is a delight. Two bedrooms, two baths, fully equipped kitchen, inviting living room.The beds are very comfortable (too hard or too squishy beds being one of my pet peeves in vacation rentals) with good bedding and several pillow options. Bedside lighting was perfect for reading at night. The bathrooms were modern and spotless. Hot water on demand so no wimpy morning showers.Towels were large and soft, with two per person. The living room/dining room area had good lighting, nice furniture. The TV had Italian channels; who needs to hear the bad news on the English CNN while you are on vacation!The DVD player worked with our daughter's North American dvds from home. The kitchen was fully, and I do mean fully, equipped for a family.Plenty of pots, pans, dishes, utensils.The fridge and freezer is huge by European standards, and there's even a dishwasher.The washing machine worked fine, as did hanging the wet laundry to dry in the little 'bonus' room at the end of the hallway.Also used this area for storing our luggage and all the goodies we bought while in Italy.The owners are absolutely delightful. Taking us in with virtually no advance notice because of a problem with a different property, they really saved our three weeks vacation in Firenze. They were very helpful, answering any and all questions. When we had an internet connectivity issue on our first day, they immediately remedied the problem.The apartment came well stocked with maps, information and travel books provided by the owner.We had great fun, our last evening, having snacks and wine with them discussing our time in Italy and their hopes to get to Alaska for a visit. Wonderful people with a wonderful property.
Base Nightly Rates – May Not Include Fees such as Greeting, Cleaning, Damage Waiver, Credit Card Processing and Tourist Taxes. For full price, please put in dates.
Available
Unavailable
Check-In Only
Check-Out Only
November 2023

| S | M | T | W | T | F | S |
| --- | --- | --- | --- | --- | --- | --- |
| | | | 01 | 02 | 03 | 04 |
| 05 | 06 | 07 | 08 | 09 | 10 | 11 |
| 12 | 13 | 14 | 15 | 16 | 17 | 18 |
| 19 | 20 | 21 | 22 | 23 | 24 | 25 |
| 26 | 27 | 28 | 29 | 30 | | |
December 2023

| S | M | T | W | T | F | S |
| --- | --- | --- | --- | --- | --- | --- |
| | | | | | 01 | 02 |
| 03 | 04 | 05 | 06 | 07 | 08 | 09 |
| 10 | 11 | 12 | 13 | 14 | 15 | 16 |
| 17 | 18 | 19 | 20 | 21 | 22 | 23 |
| 24 | 25 | 26 | 27 | 28 | 29 | 30 |
| 31 | | | | | | |
January 2024

| S | M | T | W | T | F | S |
| --- | --- | --- | --- | --- | --- | --- |
| | 01 | 02 | 03 | 04 | 05 | 06 |
| 07 | 08 | 09 | 10 | 11 | 12 | 13 |
| 14 | 15 | 16 | 17 | 18 | 19 | 20 |
| 21 | 22 | 23 | 24 | 25 | 26 | 27 |
| 28 | 29 | 30 | 31 | | | |
February 2024

| S | M | T | W | T | F | S |
| --- | --- | --- | --- | --- | --- | --- |
| | | | | 01 | 02 | 03 |
| 04 | 05 | 06 | 07 | 08 | 09 | 10 |
| 11 | 12 | 13 | 14 | 15 | 16 | 17 |
| 18 | 19 | 20 | 21 | 22 | 23 | 24 |
| 25 | 26 | 27 | 28 | 29 | | |
March 2024

| S | M | T | W | T | F | S |
| --- | --- | --- | --- | --- | --- | --- |
| | | | | | 01 | 02 |
| 03 | 04 | 05 | 06 | 07 | 08 | 09 |
| 10 | 11 | 12 | 13 | 14 | 15 | 16 |
| 17 | 18 | 19 | 20 | 21 | 22 | 23 |
| 24 | 25 | 26 | 27 | 28 | 29 | 30 |
| 31 | | | | | | |
April 2024
S
M
T
W
T
F
S
01

$305

02

$305

03

$305

04

$305

05

$305

06

$305

07

$305

08

$305

09

$305

10

$305

11

$305

12

$305

13

$305

14

$305

15

$305

16

$305

17

$305

18

$305

19

$305

20

$305

21

$305

22

$305

23

$305

24

$305

25

$305

26

$305

27

$305

28

$305

29

$305

30

$305
May 2024
S
M
T
W
T
F
S
01

$305

02

$305

03

$305

04

$305

05

$305

06

$305

07

$305

08

$305

09

$305

10

$305

11

$305

12

$305

13

$305

14

$305

15

$305

16

$305

17

$305

18

$305

19

$305

20

$305

21

$305

22

$305

23

$305

24

$305

25

$305

26

$305

27

$305

28

$305

29

$305

30

$305

31

$305
June 2024
S
M
T
W
T
F
S
01

$305

02

$305

03

$305

04

$305

05

$305

06

$305

07

$305

08

$305

09

$305

10

$305

11

$305

12

$305

13

$305

14

$305

15

$305

16

$305

17

$305

18

$305

19

$305

20

$305

21

$305

22

$305

23

$305

24

$305

25

$305

26

$305

27

$305

28

$305

29

$305

30

$305
July 2024
S
M
T
W
T
F
S
01

$305

02
03
04
05
06
07
08
09
10
11
12
13
14
15
16
17
18
19
20
21
22
23
24
25
26
27
28
29
30
31
August 2024

| S | M | T | W | T | F | S |
| --- | --- | --- | --- | --- | --- | --- |
| | | | | 01 | 02 | 03 |
| 04 | 05 | 06 | 07 | 08 | 09 | 10 |
| 11 | 12 | 13 | 14 | 15 | 16 | 17 |
| 18 | 19 | 20 | 21 | 22 | 23 | 24 |
| 25 | 26 | 27 | 28 | 29 | 30 | 31 |
September 2024
S
M
T
W
T
F
S
01

$305

02

$305

03

$305

04

$305

05

$305

06

$305

07

$305

08

$305

09

$305

10

$305

11

$305

12

$305

13

$305

14

$305

15

$305

16

$305

17

$305

18

$305

19

$305

20

$305

21

$305

22

$305

23

$305

24

$305

25

$305

26

$305

27

$305

28

$305

29

$305

30

$305
October 2024
S
M
T
W
T
F
S
01

$305

02

$305

03

$305

04

$305

05

$305

06

$305

07

$305

08

$305

09

$305

10

$305

11

$305

12

$305

13

$305

14

$305

15

$305

16

$305

17

$305

18

$305

19

$305

20

$305

21

$305

22

$305

23

$305

24

$305

25

$305

26

$305

27

$305

28

$305

29

$305

30

$305

31

$305
November 2024
S
M
T
W
T
F
S
01

$305

02

$305

03

$305

04

$305

05

$305

06

$305

07

$305

08

$305

09

$305

10

$305

11

$305

12

$305

13

$305

14

$305

15

$305

16

$305

17

$305

18

$305

19

$305

20

$305

21

$305

22

$305

23

$305

24

$305

25

$305

26

$305

27

$305

28

$305

29

$305

30

$305
December 2024
S
M
T
W
T
F
S
01

$305

02

$305

03

$305

04

$305

05

$305

06

$305

07

$305

08

$305

09

$305

10

$305

11

$305

12

$305

13

$305

14

$305

15

$305

16

$305

17

$305

18

$305

19

$305

20

$305

21

$305

22

$305

23

$305

24

$305

25

$305

26

$305

27

$305

28

$305

29

$305

30

$305

31
January 2025

| S | M | T | W | T | F | S |
| --- | --- | --- | --- | --- | --- | --- |
| | | | 01 | 02 | 03 | 04 |
| 05 | 06 | 07 | 08 | 09 | 10 | 11 |
| 12 | 13 | 14 | 15 | 16 | 17 | 18 |
| 19 | 20 | 21 | 22 | 23 | 24 | 25 |
| 26 | 27 | 28 | 29 | 30 | 31 | |
Things to See & Do
Piazza Ognissanti (5 mins Walking)
Central piazza with a fine Baroque church. Find the fresco of Amerigo Vespucci as a child in the Vespucci chapel! Amerigo as in America;-) Car rental offices are in this area.
Via Tornabuoni (14 mins Walking)
Florence's designer shopping street that is closed to traffic. Wonderful and fascinating shops.
Piazza della Repubblica (16 mins Walking)
A great piazza of Florence. The shape reflects its role as the forum in Roman times. Now it has fine palaces and a triumphal arch and colonnaded sidewalks. You will see street artists, impromptu musical performances and a colorful merry-go-round. Glitterati in the fancy cafes.
Medici Chapels (18 mins Walking)
Part of the San Lorenzo church, the monumental chapel and tombs of the Medici family with statues by Michelangelo some considered to be among his finest work.
Duomo (19 mins Walking)
Florence's famous and glorious cathedral, Santa Maria del Fiore, beautiful to gaze at since the 1300s. Don't miss and, if you can, read about -- then visit the amazing dome by Brunelleschi erected without scaffolding!
Mercato Centrale (19 mins Walking)
Largest farmer's market in the center of Florence. On the second level is a great food-court with many different kinds of restaurants.
Ponte Vecchio (19 mins Walking)
Awesome ancient bridge over Florence's Arno river that has survived 800 years. Famous for the shops of goldsmiths along its length.
Uffizi Gallery (19 mins Walking)
One of the greatest museums in the world. The defining collection of Renaissance art. A tour is recommended.
Accademia (25 mins Walking)
Home of the original David by Michelangelo, his dramatic Bound Slaves and a very nice museum.

Public Transport
Firenze S. M. Novella (12 mins Walking)
Florence Santa Maria Novella main train station