Set on the top floor of a modern building full of Art Deco elegance, Tavel is a bright and cheerful two-bedroom penthouse rental in the always stylish 7th arrondissement. This south-facing apartment is flooded with light and takes full advantage of its lofty setting with gorgeous views over Paris and the incredible Eiffel Tower. The long terrace has plenty of room to relax, with an outdoor lounge area, dining tables for enjoying meals al fresco and even sun beds for chill summer days. This welcoming apartment has a delightful energy and charm, from the burst of color in the kitchen to the spacious living room and two inviting bedrooms.
Step outside and you're moments from everything we adore about the 7th arrondissement. The Seine is just around the corner for riverside strolls or early morning runs. Picnic in the Champ de Mars or visit the Eiffel Tower, enjoy fine shopping along rue Saint-Dominique and more restaurants than you could possible sample – all just a short walk away. Foodies won't want to miss the rue Cler market street or crossing the river to the fabulous Marché du Pont de l'Alma open air market. Tavel is your address for stunning views and hidden away calm right in the heart of Paris!
Things To Note
Neighborhood: 7th arrondissement
Size: 915 sq ft/85 sq m
Cooling: Air conditioning in bedrooms and living room with individual controls.
Bedroom: Both bedrooms open onto the balcony
Children: Travel crib available upon request
Sound: No loud music or parties on the balcony
Other: Blackout shutters throughout the apartment
Registration Number: 7510706493944
Room Details
| Room | Beds | Details |
| --- | --- | --- |
| Bedroom 1 | Extra-Wide Queen (1) | Extra-wide queen bed (63in x 79in; 160cm x 200cm) |
| Bedroom 2 | Single (2) | Two single beds (31in x 75in; 80cm x 190cm) that can be pushed together to form an extra-wide queen bed with mattress topper |
| Bathroom | | Combination bathtub/shower and sink. Toilet in a separate room, please see floorplan. |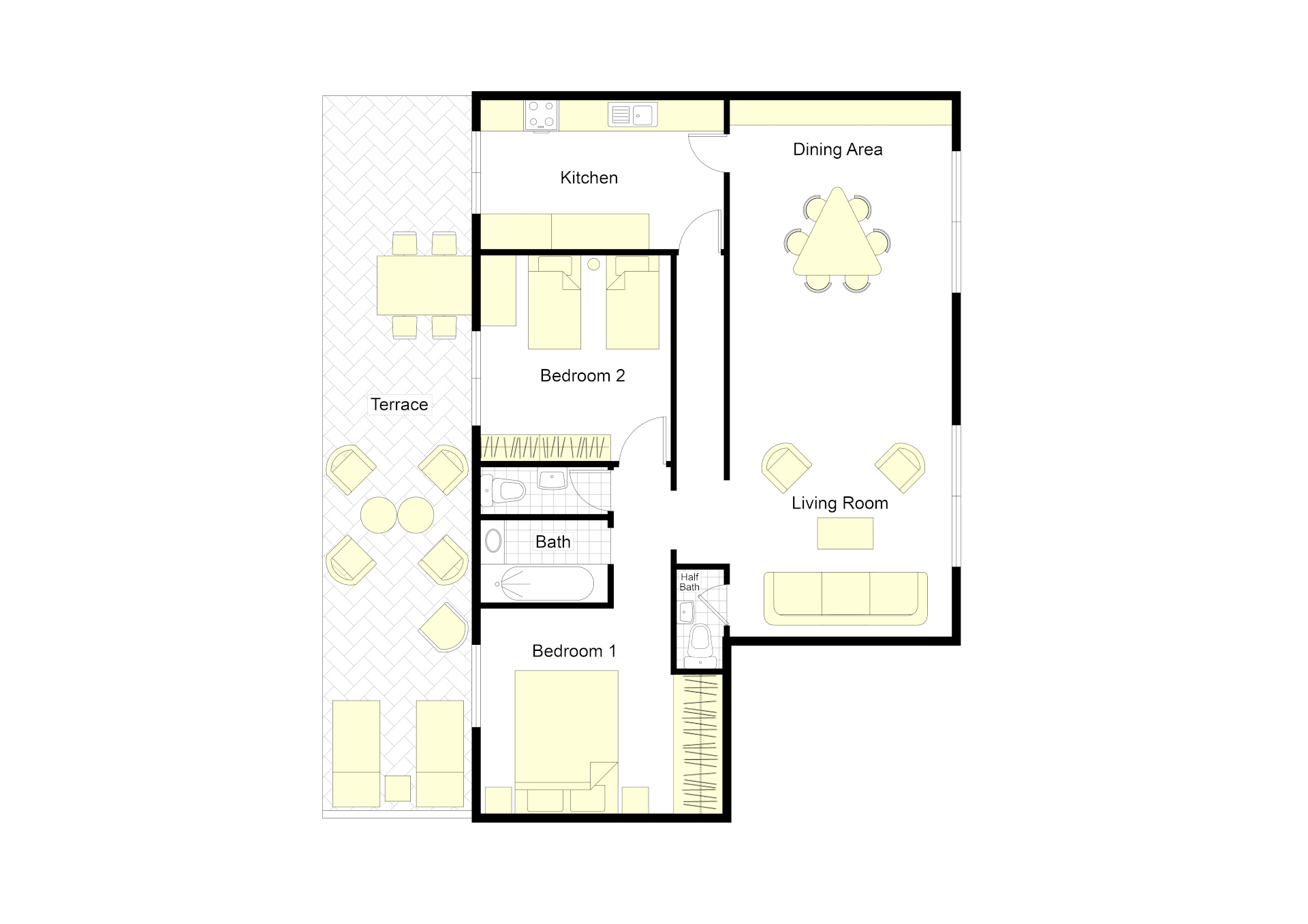 Kitchen

Fully Equipped
Starter Supplies
Blender
Dishwasher
Kettle
Microwave
Nespresso Style Coffee Machine
Oven
Toaster
Refrigerator
Countertop Oven

Connectivity/Entertainment

WiFi
TV - Limited English Programs

Heating/Cooling

Heating
Portable Fan(s) Available Upon Request
A/C-Central

Accessibility

9th Floor North American
Elevator

Laundry

Dryer
Drying Rack
Iron & Board
Washer

Special Features

Eiffel Tower View
Balcony/Terrace
Instant Booking

Amenities

Elevator
Air Conditioning
Thank you for submitting your review. It will be processed shortly!
August 18, 2022 - Manual Entry
We had a wonderful time in Tavel
by Anna G
My family and I stayed in Tavel last July. Just wanted to share that we had a wonderful time in Tavel. The location was wonderful, away from the busy San Germain and Champs Elysee but still providing us with a quiet version of the Paris experience. It was wonderful to go home to the relative peace after the hectic tourist spots! The restaurants and shops nearby were also fantastic! Our greeter landlady were also so kind and accommodating and helped make our vacation less stress free! We look forward to when we can return to Paris and stay in Paris Perfect again.
Base Nightly Rates – May Not Include Fees such as Greeting, Cleaning, Damage Waiver, Credit Card Processing and Tourist Taxes. For full price, please put in dates.
Available
Unavailable
Check-In Only
Check-Out Only
December 2022

| S | M | T | W | T | F | S |
| --- | --- | --- | --- | --- | --- | --- |
| | | | | 01 | 02 | 03 |
| 04 | 05 | 06 | 07 | 08 | 09 | 10 |
| 11 | 12 | 13 | 14 | 15 | 16 | 17 |
| 18 | 19 | 20 | 21 | 22 | 23 | 24 |
| 25 | 26 | 27 | 28 | 29 | 30 | 31 |
January 2023

| S | M | T | W | T | F | S |
| --- | --- | --- | --- | --- | --- | --- |
| 01 | 02 | 03 | 04 | 05 | 06 | 07 |
| 08 | 09 | 10 | 11 | 12 | 13 | 14 |
| 15 | 16 | 17 | 18 | 19 | 20 | 21 |
| 22 | 23 | 24 | 25 | 26 | 27 | 28 |
| 29 | 30 | 31 | | | | |
February 2023

| S | M | T | W | T | F | S |
| --- | --- | --- | --- | --- | --- | --- |
| | | | 01 | 02 | 03 | 04 |
| 05 | 06 | 07 | 08 | 09 | 10 | 11 |
| 12 | 13 | 14 | 15 | 16 | 17 | 18 |
| 19 | 20 | 21 | 22 | 23 | 24 | 25 |
| 26 | 27 | 28 | | | | |
March 2023

| S | M | T | W | T | F | S |
| --- | --- | --- | --- | --- | --- | --- |
| | | | 01 | 02 | 03 | 04 |
| 05 | 06 | 07 | 08 | 09 | 10 | 11 |
| 12 | 13 | 14 | 15 | 16 | 17 | 18 |
| 19 | 20 | 21 | 22 | 23 | 24 | 25 |
| 26 | 27 | 28 | 29 | 30 | 31 | |
April 2023

| S | M | T | W | T | F | S |
| --- | --- | --- | --- | --- | --- | --- |
| | | | | | | 01 |
| 02 | 03 | 04 | 05 | 06 | 07 | 08 |
| 09 | 10 | 11 | 12 | 13 | 14 | 15 |
| 16 | 17 | 18 | 19 | 20 | 21 | 22 |
| 23 | 24 | 25 | 26 | 27 | 28 | 29 |
| 30 | | | | | | |
May 2023

| S | M | T | W | T | F | S |
| --- | --- | --- | --- | --- | --- | --- |
| | 01 | 02 | 03 | 04 | 05 | 06 |
| 07 | 08 | 09 | 10 | 11 | 12 | 13 |
| 14 | 15 | 16 | 17 | 18 | 19 | 20 |
| 21 | 22 | 23 | 24 | 25 | 26 | 27 |
| 28 | 29 | 30 | 31 | | | |
June 2023

| S | M | T | W | T | F | S |
| --- | --- | --- | --- | --- | --- | --- |
| | | | | 01 | 02 | 03 |
| 04 | 05 | 06 | 07 | 08 | 09 | 10 |
| 11 | 12 | 13 | 14 | 15 | 16 | 17 |
| 18 | 19 | 20 | 21 | 22 | 23 | 24 |
| 25 | 26 | 27 | 28 | 29 | 30 | |
July 2023

| S | M | T | W | T | F | S |
| --- | --- | --- | --- | --- | --- | --- |
| | | | | | | 01 |
| 02 | 03 | 04 | 05 | 06 | 07 | 08 |
| 09 | 10 | 11 | 12 | 13 | 14 | 15 |
| 16 | 17 | 18 | 19 | 20 | 21 | 22 |
| 23 | 24 | 25 | 26 | 27 | 28 | 29 |
| 30 | 31 | | | | | |
August 2023

| S | M | T | W | T | F | S |
| --- | --- | --- | --- | --- | --- | --- |
| | | 01 | 02 | 03 | 04 | 05 |
| 06 | 07 | 08 | 09 | 10 | 11 | 12 |
| 13 | 14 | 15 | 16 | 17 | 18 | 19 |
| 20 | 21 | 22 | 23 | 24 | 25 | 26 |
| 27 | 28 | 29 | 30 | 31 | | |
September 2023

| S | M | T | W | T | F | S |
| --- | --- | --- | --- | --- | --- | --- |
| | | | | | 01 | 02 |
| 03 | 04 | 05 | 06 | 07 | 08 | 09 |
| 10 | 11 | 12 | 13 | 14 | 15 | 16 |
| 17 | 18 | 19 | 20 | 21 | 22 | 23 |
| 24 | 25 | 26 | 27 | 28 | 29 | 30 |
October 2023

| S | M | T | W | T | F | S |
| --- | --- | --- | --- | --- | --- | --- |
| 01 | 02 | 03 | 04 | 05 | 06 | 07 |
| 08 | 09 | 10 | 11 | 12 | 13 | 14 |
| 15 | 16 | 17 | 18 | 19 | 20 | 21 |
| 22 | 23 | 24 | 25 | 26 | 27 | 28 |
| 29 | 30 | 31 | | | | |
November 2023

| S | M | T | W | T | F | S |
| --- | --- | --- | --- | --- | --- | --- |
| | | | 01 | 02 | 03 | 04 |
| 05 | 06 | 07 | 08 | 09 | 10 | 11 |
| 12 | 13 | 14 | 15 | 16 | 17 | 18 |
| 19 | 20 | 21 | 22 | 23 | 24 | 25 |
| 26 | 27 | 28 | 29 | 30 | | |
December 2023

| S | M | T | W | T | F | S |
| --- | --- | --- | --- | --- | --- | --- |
| | | | | | 01 | 02 |
| 03 | 04 | 05 | 06 | 07 | 08 | 09 |
| 10 | 11 | 12 | 13 | 14 | 15 | 16 |
| 17 | 18 | 19 | 20 | 21 | 22 | 23 |
| 24 | 25 | 26 | 27 | 28 | 29 | 30 |
| 31 | | | | | | |
Things to See & Do
Champ de Mars (14 mins Walking)
Expansive park surrounding the Eiffel Tower. Stroll, jog, bicycle or play in one of the playgrounds, go to the puppet theater or carousel, or just sit and enjoy Parisian life and the beautiful gardens.
Eiffel Tower (15 mins Walking)
Paris' most iconic site and one of the world's most visited attractions. Take the elevator or stairs to the top of this magnificent structure for beautiful views over Paris.
Musée du quai Branly (6 mins Walking)
Showcases indigenous art and cultures from Africa, Asia, Oceania and the Americas
Les Invalides (13 mins Walking)
A masterpiece of French Classical architecture built by Louis XIV; Napoleon's tomb rests under the golden dome.
Musée des égouts de Paris (3 mins Walking)
Fascinating tour of limestone arches and caverns down in the sewers that traverse all of Paris. The Phantom of the Opera was inspired by these underground streets.
Trocadéro (20 mins Walking)
The Palais de Chaillot sits on top of the hill and houses the Museum of Architecture, Maritime Museum and the Museum of Mankind. Stunning pictures of the Eiffel Tower can be taken from the surrounding gardens with their majestic fountains
École Militaire (15 mins Walking)
Napoleon attended military school here and the buildings still show gunfire signs from the French Revolution in 1789
Bateaux Mouches Boat Tours (9 mins Walking)
We recommend boarding a boat tour on your first day, where you can relax and enjoy sailing down the Seine viewing many Paris monuments, museums and cathedrals
Champs Elysees (13 mins Walking)
One of the world's most famous shopping boulevards. Make sure to visit the Louis Vuitton flagship store!
Petit Palais (16 mins Walking)
Dating back to the 1900s, it's now the site of the Museum of Fine Arts in Paris
Rodin Museum (18 mins Walking)
View some of Rodin's most famous sculptures including The Kiss and The Thinker
Shopping & Eating
Rue Cler (7 mins Walking)
Among the best streets for food in Paris! Cafés and brasseries where you can enjoy dining or shopping at specialty food purveyors with wines, fresh produce, fish, cheese, pâtissières, bakeries and gourmet prepared foods -- a wonderful part of the Parisian experience.
Luxury Stores on Avenue Montaigne (13 mins Walking)
Home to many of the leading fashion houses including Louis Vuitton, Dior, Chanel, Fendi, Valentino and Ralph Lauren, as well as jewelers like Bulgari.
Rue du Commerce (27 mins Walking)
A true Parisian shopping street with trendy boutiques, food stores, bistros
Public Transport
RER (5 mins Walking)
Pont de l'Alma (Line C)
Métro (7 mins Walking)
Alma - Marceau (Line 9)
Métro (10 mins Walking)
Invalides (Line 8 and 13)
Métro (12 mins Walking)
École Militaire (Line 8)