Imbued with elegance and contemporary design, the Tannat offers you a stylish address in an excellent location in the 16th arrondissement not far from the Trocadéro. Step inside and a beautiful entryway opens to a bright and finely appointed living room where you'll treasure relaxing moments during your stay. Across the entryway, a spacious dining room invites you to gather with family and friends and spend time surrounded by a pleasing blend of modern décor and classic Parisian architectural design. A large gourmet kitchen with its sleek design and additional dining area is the perfect place to start your day.
This grand Parisian apartment features three beautiful bedrooms, each with built-in storage, plenty of light and a restrained yet soothing design. From an extraordinarily spacious master bedroom with walk-in closet and en suite bathroom to a unique bedroom with loft and a lovely third bedroom with en suite bathroom, this apartment comfortably welcomes up to 6 guests.
You'll love exploring the prestigious 16th arrondissement, which is one of the most sought-after residential neighborhoods in Paris. Excellent shopping is right on your doorstep or stroll over to the Trocadéro to visit its museums and enjoy the sculptures and fountains located directly across the Seine from the Eiffel Tower. Surround yourself with style and modern comforts with an equally appealing location in the stately 16th arrondissement at the Tannat.
Please note: This apartment is not suitable for children under 8 years.
Things To Note
Neighborhood: 16th arrondissement
Size: 1722 sq ft/160 sq m
Age Restrictions: No children under 8
Cooling: Air conditioning in bedrooms only
Booking Period: Special rates for monthly stays. Refundable security deposit required. Please contact our reservations team.
Paris 2024 Olympics: Special Terms
Room Details
| Room | Beds | Details |
| --- | --- | --- |
| Bedroom 1 | Extra-Wide Queen (1) | Extra-wide queen bed (63in x 79in; 160cm x 200cm) |
| Bedroom 2 | Single (1) | Single bed (35in x 79in; 90cm x 200cm) stairs leading to a loft area with a desk in this bedroom |
| Bedroom 3 | Single (2) | Two single beds (35in x 79in; 90cm x 200cm) that can be pushed together to form a dual extra-wide queen bed |
| Bathroom 1 (en suite to Bedroom 1) | | Shower (fixed rainfall and flexible showerhead) toilet and double sink |
| Bathroom 2 | | Shower (fixed rainfall and flexible shower head) toilet and sink |
| Bathroom 3 (en suite to Bedroom 3) | | Shower (fixed rainfall and flexible showerheads) toilet and sink |
| Half Bath | | Toilet and sink |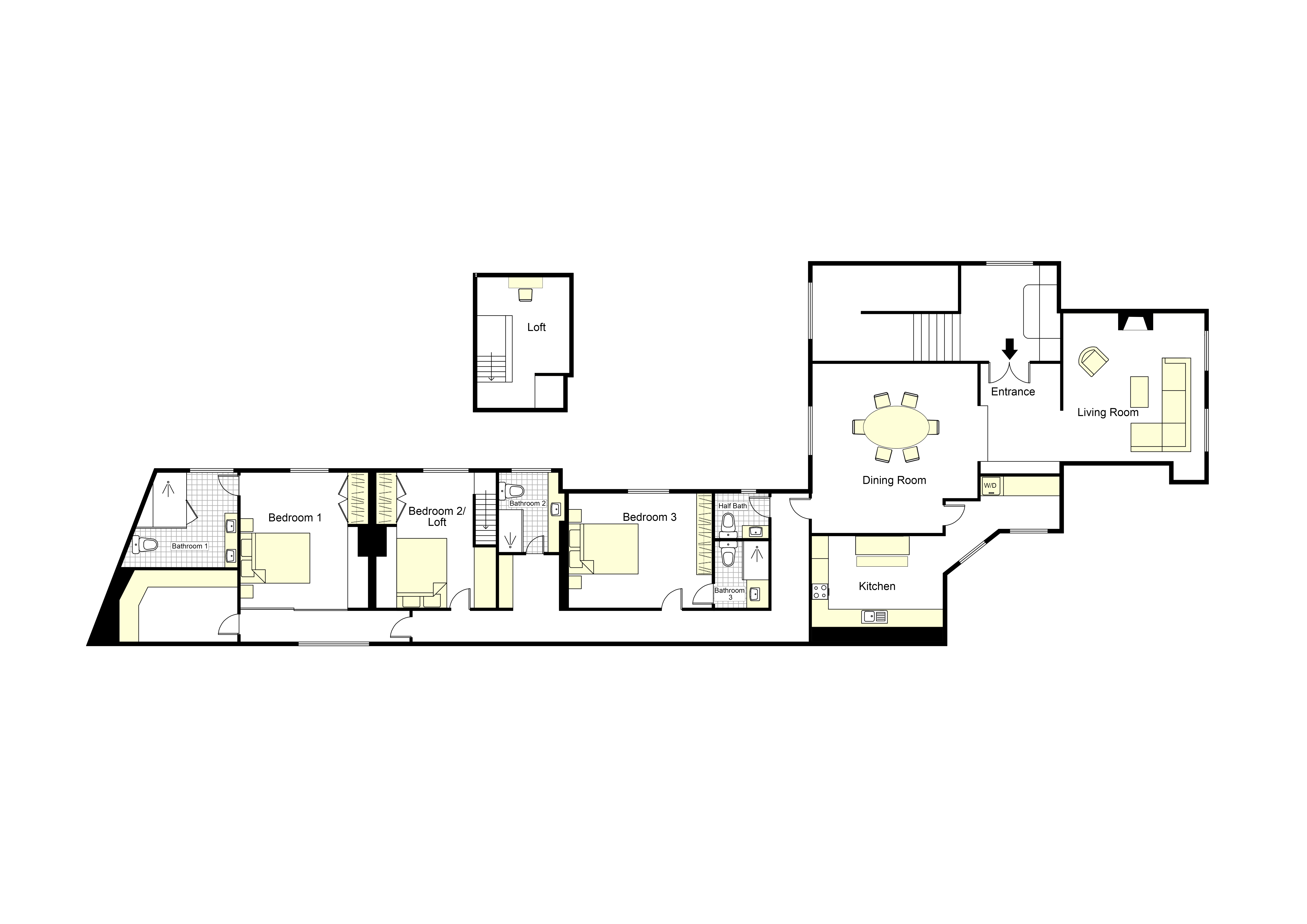 General Amenities

Toiletries
Hotel Safe
Smoke Detector
Carbon Monoxide Detector

Kitchen

Fully Equipped
Starter Supplies
Kitchen
Coffee Maker
Dishwasher
Kettle
Microwave
Nespresso Style Coffee Machine
Oven
Toaster
Refrigerator

Accessibility

Private Entrance
6th Floor North American

Connectivity/Entertainment

WiFi
TV - Limited English Programs

Heating/Cooling

Heating
Portable Fan(s)
A/C-Bedrooms Only
Non-Working Fireplace

Laundry

Dryer
Drying Rack
Iron & Board
Washer

Amenities

Elevator
Air Conditioning
Thank you for submitting your review. It will be processed shortly!
We are sorry, there are no reviews for this unit. Be the first to leave a review!
Base Nightly Rates – May Not Include Fees such as Greeting, Cleaning, Damage Waiver, Credit Card Processing and Tourist Taxes. For full price, please put in dates.
Available
Unavailable
Check-In Only
Check-Out Only
November 2023

| S | M | T | W | T | F | S |
| --- | --- | --- | --- | --- | --- | --- |
| | | | 01 | 02 | 03 | 04 |
| 05 | 06 | 07 | 08 | 09 | 10 | 11 |
| 12 | 13 | 14 | 15 | 16 | 17 | 18 |
| 19 | 20 | 21 | 22 | 23 | 24 | 25 |
| 26 | 27 | 28 | 29 | 30 | | |
December 2023
S
M
T
W
T
F
S
01
02

$1465

03

$1465

04

$1465

05

$1465

06

$1465

07

$1465

08

$1465

09

$1465

10

$1465

11

$1465

12

$1465

13

$1465

14

$1465

15

$1465

16

$1465

17

$1465

18

$1465

19

$1465

20
21
22
23
24
25
26
27
28
29
30
31
January 2024
S
M
T
W
T
F
S
01
02
03
04
05
06
07
08
09
10
11
12
13

$1505

14

$1505

15

$1505

16

$1505

17

$1505

18

$1505

19

$1505

20

$1505

21

$1505

22

$1505

23

$1505

24

$1505

25

$1505

26

$1505

27

$1505

28

$1505

29

$1505

30

$1505

31

$1505
February 2024
S
M
T
W
T
F
S
01

$1505

02

$1505

03

$1505

04

$1505

05

$1505

06

$1505

07

$1505

08

$1505

09

$1505

10

$1505

11

$1505

12

$1505

13

$1505

14

$1505

15

$1505

16

$1505

17

$1505

18

$1505

19

$1505

20

$1505

21

$1505

22

$1505

23

$1505

24

$1505

25

$1505

26

$1505

27

$1505

28

$1505

29

$1505
March 2024
S
M
T
W
T
F
S
01

$1505

02

$1505

03

$1505

04

$1505

05

$1505

06

$1505

07

$1505

08

$1505

09

$1505

10

$1505

11

$1505

12

$1505

13

$1505

14

$1505

15

$1505

16

$1505

17

$1505

18

$1505

19

$1505

20

$1505

21

$1505

22

$1505

23

$1505

24

$1505

25

$1505

26

$1505

27

$1505

28

$1505

29

$1505

30

$1505

31

$1505
April 2024
S
M
T
W
T
F
S
01

$1505

02

$1505

03

$1505

04

$1505

05

$1505

06

$1505

07

$1505

08

$1505

09

$1505

10

$1505

11

$1505

12

$1505

13

$1505

14

$1505

15

$1505

16

$1505

17

$1505

18

$1505

19

$1505

20

$1505

21

$1505

22

$1505

23

$1505

24

$1505

25

$1505

26

$1505

27

$1505

28

$1505

29

$1505

30

$1505
May 2024
S
M
T
W
T
F
S
01

$1505

02

$1505

03

$1505

04

$1505

05

$1505

06

$1505

07

$1505

08

$1505

09

$1505

10

$1505

11

$1505

12

$1505

13

$1505

14

$1505

15

$1505

16

$1505

17

$1505

18

$1505

19

$1505

20

$1505

21

$1505

22

$1505

23

$1505

24

$1505

25

$1505

26

$1505

27

$1505

28

$1505

29

$1505

30

$1505

31

$1505
June 2024
S
M
T
W
T
F
S
01

$1505

02

$1505

03

$1505

04

$1505

05

$1505

06

$1505

07

$1505

08

$1505

09

$1505

10

$1505

11

$1505

12

$1505

13

$1505

14

$1505

15

$1505

16

$1505

17

$1505

18

$1505

19

$1505

20

$1505

21

$1505

22

$1505

23

$1505

24

$1505

25

$1505

26

$1505

27

$1505

28

$1505

29

$1505

30

$1505
July 2024
S
M
T
W
T
F
S
01

$3155

02

$3155

03

$3155

04

$3155

05

$3155

06

$3155

07

$3155

08

$3155

09

$3155

10

$3155

11

$3155

12

$3155

13

$3155

14

$3155

15

$3155

16

$3155

17

$3155

18

$3155

19
20
21
22
23
24
25
26
27
28
29
30
31
August 2024
S
M
T
W
T
F
S
01
02
03
04
05
06
07
08
09
10
11

$3155

12

$3155

13

$3155

14

$3155

15

$3155

16

$3155

17

$3155

18

$3155

19

$3155

20

$3155

21

$3155

22

$3155

23

$3155

24

$3155

25

$3155

26

$3155

27

$3155

28

$3155

29

$3155

30

$3155

31

$3155
September 2024
S
M
T
W
T
F
S
01

$1505

02

$1505

03

$1505

04

$1505

05

$1505

06

$1505

07

$1505

08

$1505

09

$1505

10

$1505

11

$1505

12

$1505

13

$1505

14

$1505

15

$1505

16

$1505

17

$1505

18

$1505

19

$1505

20

$1505

21

$1505

22

$1505

23

$1505

24

$1505

25

$1505

26

$1505

27

$1505

28

$1505

29

$1505

30

$1505
October 2024
S
M
T
W
T
F
S
01

$1505

02

$1505

03

$1505

04

$1505

05

$1505

06

$1505

07

$1505

08

$1505

09

$1505

10

$1505

11

$1505

12

$1505

13

$1505

14

$1505

15

$1505

16

$1505

17

$1505

18

$1505

19

$1505

20

$1505

21

$1505

22

$1505

23

$1505

24

$1505

25

$1505

26

$1505

27

$1505

28

$1505

29

$1505

30

$1505

31

$1505
November 2024
S
M
T
W
T
F
S
01

$1505

02

$1505

03

$1505

04

$1505

05

$1505

06

$1505

07

$1505

08

$1505

09

$1505

10

$1505

11

$1505

12

$1505

13

$1505

14

$1505

15

$1505

16

$1505

17

$1505

18

$1505

19

$1505

20

$1505

21

$1505

22

$1505

23

$1505

24

$1505

25

$1505

26

$1505

27

$1505

28

$1505

29

$1505

30

$1505
December 2024
S
M
T
W
T
F
S
01

$1505

02

$1505

03

$1505

04

$1505

05

$1505

06

$1505

07

$1505

08

$1505

09

$1505

10

$1505

11

$1505

12

$1505

13

$1505

14

$1505

15

$1505

16

$1505

17

$1505

18

$1505

19

$1505

20

$1505

21

$1505

22

$1505

23

$1505

24

$1505

25

$1505

26

$1505

27

$1505

28

$1505

29

$1505

30

$1505

31

$1505
January 2025
S
M
T
W
T
F
S
01

$1505

02
03
04
05
06
07
08
09
10
11
12
13
14
15
16
17
18
19
20
21
22
23
24
25
26
27
28
29
30
31
Things to See & Do
Place du Trocadéro (12 min Walking) an expansive complex of museums, sculptures, gardens and fountains located directly across from the Eiffel Tower.
Museum of Architecture (11 mins Walking)
The Cité de l'Architecture et du Patrimoine occupies an entire wing of the Palais de in the 16th arrondissement
Bateaux Mouches Boat Tours (29 mins Walking)
We recommend boarding a boat tour on your first day, where you can relax and enjoy sailing down the Seine viewing many Paris monuments, museums and cathedrals
Champ de Mars (10 mins Walking)
Expansive park surrounding the Eiffel Tower. Stroll, jog, bicycle or play in one of the playgrounds, go to the puppet theater or carousel, or just sit and enjoy Parisian life and the beautiful gardens.
Musée du quai Branly (12 mins Walking)
Showcases indigenous art and cultures from Africa, Asia, Oceania and the Americas
Guimet Museum (13 mins Walking)
One of the largest collections of Asian art
École Militaire (22 mins Walking)
Napoleon attended military school here and the buildings still show gunfire signs from the French Revolution in 1789
The Louvre (25 mins Walking)
A trip to Paris isn't complete without a visit to the world-famous Louvre museum. See the Mona Lisa, Venus de Milo and other famous artworks
Grand Palais (27 mins Walking)
Venue for major national and international events and exhibitions
Petit Palais (27 mins Walking)
Dating back to the 1900s, it's now the site of the Museum of Fine Arts in Paris
Champs Elysees (30 mins Walking)
One of the world's most famous shopping boulevards. Make sure to visit the Louis Vuitton flagship store!
Les Invalides (30 mins Walking)
A masterpiece of French Classical architecture built by Louis XIV; Napoleon's tomb rests under the golden dome.
Musée d'Orsay (35 mins Walking)
Located in an old train station, this museum is home to the largest collection of impressionist and post-impressionist masterpieces in the world.
Rodin Museum (35 mins Walking)
View some of Rodin's most famous sculptures including The Kiss and The Thinker
Shopping & Eating
Rue de Passy (16 mins Walking)
Shopping district
Public Transport
Métro (3 mins Walking)
Rue de la Pompe (Line 9)