Enjoy a Parisian stay, surrounded by the charms of the famous Rue Cler market street with its gourmet food shops and popular cafés and restaurants with outdoor seating. An inviting studio vacation rental in the 7th arrondissement, the Saumur is an ideal destination for food lovers, thanks to a remarkable setting along the pedestrian-only area. Step outside to find a wealth of fresh French cuisine in a delightful neighborhood setting. Shop alongside Parisians or sit back at a café for the best people watching morning, noon or night. You'll also find a host of other top Paris attractions, including the Rodin Museum, Champ de Mars, Seine River and the stunning Eiffel Tower just a short stroll away. Enjoy daily walks to local shops, boutiques and historic sites and then return home to your welcoming studio apartment for a relaxing evening.
Inside, the Saumur is equally appealing, with a well-designed layout that makes excellent use of the space. The living area features a comfy sofa and a beautiful neighborhood view from the wide window, while the dining area is a lovely setting for intimate dinners for two. The kitchen is sure to become your favorite corner of the Saumur and is fully equipped with everything gourmands require to cook at home. Step out on the small balcony to enjoy views of the bustling street below and picturesque rooftops of Paris. At the end of a day exploring Paris, simply fold down the bed in the living area to relax in absolute comfort. The Saumur is a delectable destination for travelers who want to enjoy the very best of the sights, flavors and joys of Parisian living.
Things To Note
Neighborhood: 7th arrondissement
Size: 275 sq ft/25 sq m
Registration Number: 7510700701856
Paris 2024 Olympics: Special Terms
Room Details
| Room | Beds | Details |
| --- | --- | --- |
| Bedroom area | Extra-Wide Queen (1) | Features a high-quality extra-wide queen bed (63in x 75in; 160cm x 190cm) that folds down from the living room wall |
| Bathroom | | Shower (fixed and flexible showerheads) toilet, sink and heated towel rack |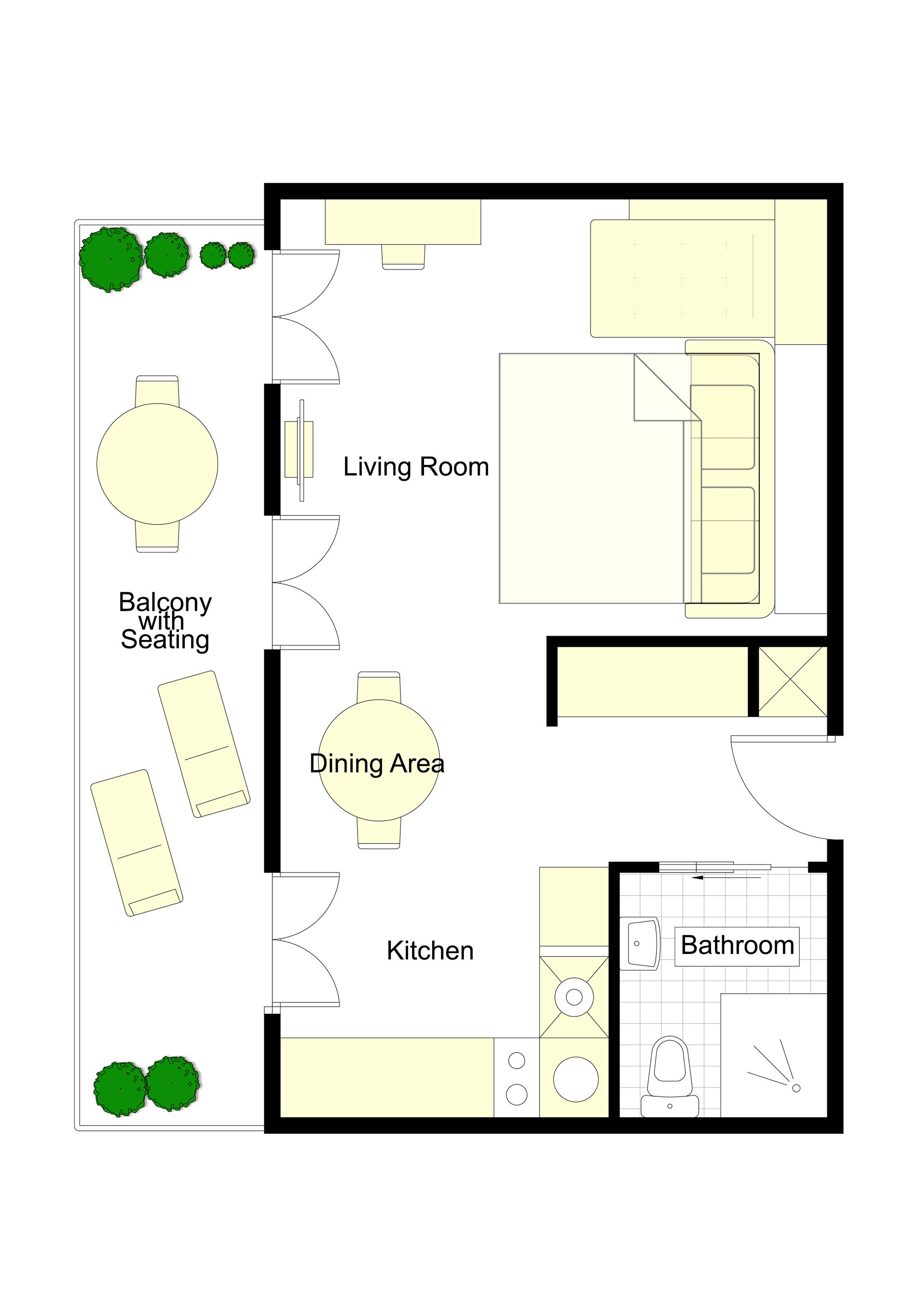 General Amenities

Toiletries
Hotel Safe
Smoke Detector
Carbon Monoxide Detector

Kitchen

Fully Equipped
Starter Supplies
Kitchen
Coffee Maker
Dishwasher
Microwave Oven Combo
Nespresso Style Coffee Machine
Stovetop
Toaster
Refrigerator

Accessibility

Private Entrance
7th Floor North American
Elevator

Connectivity/Entertainment

WiFi
TV
TV - Limited English Programs

Heating/Cooling

Heating
Portable Fan(s)
Sound Dampening Windows
A/C-Central

Laundry

Iron & Board
Washer/Dryer Combo

Special Features

Balcony/Terrace
Instant Booking

Amenities

Elevator
Air Conditioning
Thank you for submitting your review. It will be processed shortly!
October 27, 2023 - Website
Saumur and Rue Cler
by Ashley
My husband and I stayed at the Saumur in early October. The apartment was so charming and just what we needed at the end of a long day. It was very clean and well taken care of. We loved the balcony! It is on Rue Cler, which is a pedestrian only street and has so many wonderful cafes and shops. We felt like we were on the best street in Paris! The location of the apartment is perfect! Very close to the metro and many sites. Very safe neighborhood! I can not say enough about Paris Perfect! We can't wait to stay with them again- in London and Italy too!
October 7, 2023 - Website
Marvelous Week
by Carol Nelson
We loved our retreat on rue Cler the last week of September! It was a cozy quiet retreat with a view of Les Invalides golden dome from our deck. A great place to return to, to rest our tired feet after miles of walking…This neighborhood has been our favorite with its location between the Eiffel Tower and Les Invalides and Rodin.
September 4, 2023 - Website
Perfect again!
by Katherine Restuccia
This is the second time we rented this well-equipped, perfectly located little apartment. The best part for us is the ability to buy fresh food and produce within steps of the apartment on lovely rue Cler. Or rising in the morning, fresh expresso in hand and sitting on the balcony to watch the market street wake up.
Absolutely loved our stay!
by Jasmine L
We absolutely loved our stay! The location was wonderful and we were able to get in as soon as we made it there from the airport. The murphy bed was easy to use and put away during the day. The kitchen had what we needed for our week long stay and the binder with local information was super helpful. Would definitely recommend!
Location is the best
by Paul M
This unit is clean and well appointed. Location is the best as you can walk easily to all types of food, subway and the Eiffel Tower.
Perfect - it's in the name!
by RR
A perfect little apartment on Rue Cler ... a wonderful location and all you need for quick visit to Paris!
Beautiful apartment, perfect location
by Skyler F
Very friendly, helpful team who made the experience easy and enjoyable. We loved the apartment. Clean, beautifully decorated and the location was perfect. We walked downstairs to the markets for fresh food every day, quick walk to the metro and we felt very safe! It was a great first experience to Paris for my daughter (11) and me! Thank you
Saumur, the Perfect location!
by Jackie Collaso
This is our second stay in Saumur. Although small, it has everything you might need, including delightful balcony! Never tire of exploring rue Cler and strolling by the foot of the Eiffel Tower. Our greeter, Omi, was also… Perfect. A la prochaine!
Great apartment in a super location! Fromangerie, boulangerie, open markets, grocery store, cafes all within steps of the Samur. Well equipped with dishwasher, washer dryer, air conditioning. Balcony was a plus! Quick response when coffee maker was not working. The only thing that would keep me away in the future is the extremely hard mattress. When I researched the reviews, I noticed others commenting as well on the firmness. I wasn't too worried as I like a firm mattress, but this one is like sleeping on a board. A replacement would be nice or even a mattress topper/egg crate kept in the closet would be great for those that find the bed uncomfortable. Other than that, I had a lovely 12 days in Paris.
Fabulous Apt and Location
by Phil Smith
We just had a truly special trip to Paris that was made even more memorable by our stay in Saumur. This apartment is everything you see in the pictures and more. Well appointed, thoughtful touches, and a location to die for. And I didn't even mention the balcony yet. It is so nice to sit outside and see Hotel des Invalides and the streets of Rue Cler below. The check-in process was seamless and easy, and the team were available to answer your questions at any time. If you're looking for a beautiful apartment in a killer location this is the one for you. Cannot recommend highly enough.
Could not recommend higher!
by Karen Mulvey
Loved this place, from the moment I stepped inside and saw it was exactly like this pics I'd seen and the balcony was just the best. Gets the morning sun so perfect spot for breakfast! Location is unreal, gorgeous part of Paris and the food in the local shops is to die for!
After spending days searching through all the options for a place to stay in Paris we settled on this one and I am thrilled that we did. If you find it available for your stay I would say book it immediately. It's located in one of the more upmarket parts of Paris and if you love food as much as we do you will be in heaven. Is pretty cozy it terms of space but that's Paris for you. Everything you could need was in the apartment and everything right on your doorstep. Highly recommend and will definitely be booking this for our next stay in Paris
Excellent! From responsive host to early check-in time to accommodating us and fabulous location and walkable. The apartment was immaculate and well-stocked., will certainly look to come back again hopefully soon… perfect studio for myself and my husband for our daughter attending university in Paris. Thank you so much for everything!
February 26, 2023 - Website
Excellent Location
by Ben Newton
Very nice location and apartment was fully equipped for a great stay! We had someone personally walk us through everything in the apartment and he was very pleasant.
January 5, 2023 - Manual Entry
We had a great stay
by Mark K
We had a great stay - Paris Perfect runs a truly professional service - great instructions, proactive communication, and a great space and amenities. Our contact met us at the unit perfectly on time and was incredibly helpful. The best AirBnB experience we've ever had.
December 20, 2022 - Airbnb
Live amongst the locals.
by Anthony A
This location is difficult not to enjoy. The apartment is located on a beautiful street, right smack in the middle of the cutest location market I've seen in a while! The greeter was super kind, helpful, and provided a lot of cool suggestions. Everything - All your favorite French foods, restaurants, and yummy pastries are within walking distance. I highly recommend this location and recommend that you do not miss an opportunity to live amongst the locals.
November 19, 2022 - Website
Best location!
by Maureen
The apartment was compact but had everything you needed. The location was perfect, we especially enjoyed shopping for dinner at the markets on Rue Cler. You can walk to the Eiffel Tower, most museums, and catch the train to Versailles. All my interactions with Paris Perfect were excellent, would definitely use them again! My only suggestion is a new mattress for the bed, have never seen anything that firm, it was not inviting.
October 19, 2022 - Website
Lovely Apartment
by A Dzelme
Oh Paris, I miss you already! Our little apartment, Saumur, was the perfect size for my husband and me. The location on rue Cler was perfect for anything we needed during our stay - fresh produce, grocery stores, convenient store, flower shops, wine, cheese, chocolates, etc. All of this was just steps from our door. The École Militaire Metro was just around the corner as well. The apartment was fully furnished and had everything we could possibly need - just like a tiny house. Our only complaint was the bed. It was a murphy bed, which is fine, but the mattress left a lot to be desired. The size was huge for that some of apartment, but it was not comfortable at all. Other than that, it was a perfect stay and I would recommend this cute little abode.
Thank you for your valuable feedback. We have contacted the owner to request that the mattress be replaced. The Paris Perfect Team
May 24, 2022 - Manual Entry
Paris Perfect is just that - PERFECT. They made our stay so comfortable and above what was expected. Will always use them and definitely recommend. The apartment Saumur was wonderful. Location was perfect to live the Paris life. The apartment was clean, modern, lovely in decorating and the use of space made a studio seem much larger Had everything we needed and more.
April 27, 2022 - Manual Entry
Perfect Parisian Experience!
by Laura Werner
I just returned from a fabulous week in Paris with my teenage daughter. We stayed in apartment Saumur on Rue Cler in the 7th arrondissement. It was amazingly perfect in every way. The greeter was waiting for us when we arrived (even though our flight was 5 hours late!) to explain everything about the apartment and answer our questions. There was a balcony that allowed views of Rue Cler all the way up and down. It was perfectly clean and there were even bottles of wine, milk, orange juice, salt, etc. The dishwasher and clothes washer were easy to use and convenient to have. The inviting sights and sounds of Rue Cler added to the allure and magic of Paris and the central location of apartment Saumur. We love the 5 star service and luxury accommodation that Paris Perfect offers! We'll be back! Merci!
September 26, 2021 - Website
Saumur Review
by Shea Prospero
The apartment is on Rue Cler you have lots of great amenities at your door step. The apartment was very clean. The apartment is equipped with all and extra supplies which was very helpful after traveling for 10 hours. The bed was a harder mattress then I prefer, but after being out all day at museums and walking 10 miles I was pretty tired so I sleep ok. I did have a bit of problems running the AC, but the company sent someone out in 2 days to fix. The building is cute and classic Parisienne building with elevator.
September 3, 2021 - Website
Very comfortable, and location great if you like active street scene of markets and cafes. We do. Area is like a small town in the center of Paris. Dishwasher and washing machine in apartment. If you're big, elevator is snug, and I couldn't bend over in shower. All in all we loved it.
August 17, 2021 - Website
Such a great place in a fabulous location!
August 17, 2021 - Website
Saumur Review
by Jennifer C
Great place! It was well organized and designed -- including some nice closet space. Absolutely loved the doors/windows, balcony and view. It was great to enjoy Paris while being at "home."
Saumur Review
by Johannes K
Beautiful little apartment in the heart of Paris.
February 12, 2021 - Website
Saumur Review
by Carole M
Great place; great hospitality; definitely will recommended.
February 1, 2021 - Website
I had a wonderful time at the apartment and would love to come back in the future! The location, the balcony and the communication with the agency were excellent 🙂
February 1, 2021 - Website
Nice place to stay. Short walk to the Eiffel Tower. Everything else like shops are near and in walking distance.
November 4, 2019 - Website
Saumur Review
by Larry & Gayle F
We have visited Paris in the Fall for the last 5 years and have always stayed in the Rue Cler area. This is the first apartment we have rented from Paris Perfect and we must say, it was "perfect". The apartment was exactly as shown on the website and your greeter reviewed all the necessary items with us upon our arrival. The apartment was fully equipped and it was wonderful to be able to step out of the building and right onto Rue Cler. The location was very convenient for shopping and eating out as well as catching the buses or metro.
October 3, 2019 - Website
Saumur Review
by Joseph B
Wonderful stay at the Saumur on Rue Cler. It was an exciting and unique experience having visited Paris a few times before. The experience in a Paris Perfect apartment was unforgettable, unique, and memorable. Highly recommend this Paris experience.
August 21, 2019 - Website
Saumur Review
by Robert S
I love the neighborhood, my second stay here. Every time I visit Paris I will return to Saumur my home! Paris perfect makes my trip 'home' seamless, from pickups to and from the Cdg, to the greeter and the apartment itself. I was last there in 2017 and upon return in 2019 it's like a Paris time capsule! It's like I never left! Thanks for a wonderful experience every time Paris Perfect!
Saumur Review
by Ronald T
Great apartment design - very functional and thoughtful and had everything we needed. The nespresso machine was genius! And it was a nice touch to have milk and OJ in the fridge (even though we don't drink it). Also the apartment was well stocked with paper goods (tissues, etc.) and we were happy that you provided soap and shampoo, and a safe for our valuables. Really everything was thought through and executed very well. We are very pleased with our stay and hope to return soon. This is my 2nd stay with Paris Perfect.
My second stay in the Saumur apartment (and my sixth with Paris Perfect, which hopefully says it all!) A dinky studio which manages to combine all necessary facilities (including a dishwasher and washing machine) with the feeling of spaciousness. The balcony was an added bonus. Very convenient for many bus routes and excellent shopping facilities nearby. I hope to be back!
Saumur Review
by Elizabeth P
It was always a dream of mine to rent a place in Paris to live like a local and this experience was that dream come true! The apartment was excellently maintained and clean and the location was magical. The large balcony was my favorite feature as I loved sitting out there every morning with coffee and a book and evening with champagne and charcuterie enjoying the views of the rooftops and the sounds of the people below. Everything one could need or want was located on these 3 enchanting blocks. The people of the management company, Paris Perfect, were very helpful and readily available to answer any questions. They have laid out clear instructions to the apartment operations as well as the rules. Please note that, while the other Paris Perfect tenants to the left of the apartment observe the quiet courtesy rules, the tenants to the right of the apartment, who are not associated, do not extend the courtesy so if someone is a light sleeper you may want to keep this note in mind. Otherwise, it was a wonderful place to stay and I would most definitely stay there again. Thank you, Paris Perfect!
February 19, 2019 - Website
Saumur Review
by Sharon H
Extremely well decorated, stylish studio apartment. Apartment's location is unparalleled with reference to transportation (Bus No. 69 and Metro - Ecole Militaire). It is located on Rue Cler which says it all and more.
February 7, 2019 - Website
The apartment is exactly what was shown in the photos, neat and tidy. Very convenience to everywhere. I very enjoy my stay in Paris.
November 10, 2018 - Website
Saumur was a delightful studio, ideal for one or two people, and was very quiet, despite being near a busy pedestrian street. Although compact, it was very well designed to make good use of the space & had everything you needed, including a dishwasher & washing machine. The pull down bed was very easy to operate and there was even space for a small dining table. The balcony looked extremely inviting; just a shame the weather didn't co-operate! There are excellent bus routes nearby & the shopping facilities on Rue Cler & nearby Rue St Dominique are second to none. This was my fifth stay with Paris Perfect. Please can I come again?!
October 27, 2018 - Website
This is a beautiful apartment in an ideal location. Very convenient for a wide range of buses & excellent food shops & restaurants nearby especially in Rue St Dominique + Rue Cler. The studio has been very imaginatively designed + does not feel crowded but still has everything needed for one's stay. This was my fifth say with Paris Perfect. Please can I come again?!
October 1, 2018 - Website
Saumur Review
by C Mitchell
Fantastic apartment!!! Location, location, location!!! Superbly located on the world famous Rue Cler. Everything you could ever need is readily available at your door step. Wonderful and welcoming Cafe's, Wine Specialty Stores, Bakery, Butcher Shop, Fromagerie, even small grocery stores for any additional items needed. The apartment had everything we needed for an amazing vacation. The responsiveness of Paris Perfect was outstanding! Highly Recommend!!! 🙂
The apartment was lovely and the location perfect! It was very close to public transportation and the Eiffel Tower. The outdoor terrace was a great added benefit. My 14-year-old daughter and I stayed here for 6 nights. She enjoyed buying flowers for the apartment - just a short walk away. This area truly had everything we needed - grocery, produce, gelato, crepes, pharmacy, restaurants, even a luggage store for when we realized we needed an extra bag to transport all our souvenirs!
Saumur Review
by Scott Sewell
We hit the jackpot on our first trip to Paris by staying at your small but well-appointed Saumur on Rue Cler. The apartment is comfortable for two, is beautifully appointed and has everything a visitor needs for a 10-day stay.Perfect! We breakfasted in our room every day and prepared lunch for our sightseeing excursions. This is easy with the compact kitchen with the refrigerator and freezer, microwave, every kitchen tool imaginable and room for food preparation. The Nespresso machine saw heavy use as well. The lovely dining table with city views outside the windows and reliable internet made breakfast and catching up with the world every day a pleasure. The balcony was another wonderful feature. Although the weather did not allow us to enjoy it for most of our stay. We left the bed down during our entire visit as we were there to experience Paris and not the inside of our room (never turned on the TV). Late nights in the city meant directly to bed on arrival each night and out immediately after breakfast. The bathroom, while small, had a bigger than expected shower and wide sink with room for toiletries. The washer/dryer offered some mysteries (even with the extensive instructions) but this was solved with practice and was indispensable for a stay of this length. The extensive documentation on virtually everything in the apartment, as well as the friendly greeter who provided orientation our first day, were other touches that made our stay smooth and trouble-free. The starter supplies of orange juice, wine, Nespresso cups and milk, as well as soaps, cleaners and paper goods, were well appreciated. But as they say in real estate here in the States (and probably everywhere else) - location, location, location - it is here Saumur shines brightly. I suppose there are other great locations to stay in Paris but it is hard to believe there are any better. Rue Cler has everything a visitor needs: from cafés (we ate at three (Cafés du Marche, Tribeca and La Terrasse around the corner on Rue Bosquet), fruit and flower stands, bakeries, pharmacies, small supermarkets (we are partial to Carrefour for its hours and selection of La Motte-Picquet) and a day and night time vibe that represents the best of Paris city life. An espresso or a glass of wine and a curbside table on Rue Cler is hard to beat for people watching or unwinding at the end of an evening. The Eiffel Tower, Champs de Mars, the Seine and Napoleon's Tomb are an easy walk and just meandering in the neighborhood is a pleasure as well. The Ecole Militaire Metro station was ground zero for the start of our every day and it is right around the corner from Saumur. Line 8 connects directly to Invalides, Concorde, Madeleine, Opera and La Motte-Picquet transfer stations making it easy to get virtually anywhere in the city core at any hour. Both Versailles and Chartres were easy day trips using the RER from Invalides and the TER from Montparnasse Bienvenue. Our Navigo cards were well used for sometimes as many as three round trips a day all over the city. And when we exited the Metro from Ecole Militaire at any hour, Carrefour was open for whatever we needed for the next day's activities - with only a short walk home with our groceries to our comfortable little flat. Rick Steves recommended Paris Perfect in his 2017 Paris Guide as an alternative to VRBO (which we have used on other trips) and he was not wrong about the quality of the accommodations and services. While we are self-guided and self-sufficient travelers in the main and do not need some of the levels of service that you provide, the apartment, support services and maintenance (we had a small plumbing problem that was promptly dealt with) were excellent. We would certainly book Saumur again if in Paris and would definitely consider Perfect apartments in London and Rome on future visits there. Since we never stay in a hotel if it can be avoided, it is likely we will be your customer again in the near future. Please feel free to share our comments or use us as a referral. Thanks for helping make our first trip to Paris so special!
Saumur Review
by David Selley
We have nothing but praise for the facilities. For the masses of useful information in the apartment (far better than any guidebook), for the greeter who explained everything to us, for the links with the taxi service and the WiFi hotspot. Rue Cler is a foodie heaven and there is an abundance of choice both for eating in or out. I would add D'Chez Eux to the restaurant list (Ave Lowendal). We have eaten there on previous visits to Paris and the food and service are superb. Jeusselin Traiteur across the street always has a great selection of things to eat and the cheese shop just up the street is fabulous. The only downside is that you almost need a PhD to work some of the appliances, which in Europe are infinitely more complicated than the North American variety! But the book does provide good guidance if you take the time to study it. The only suggestion I would make is that you have a standard package available in all apartments containing things that cannot be purchased in very small quantities that are needed for a short stay. There were useful leftovers like pepper and olive oil, but I think a small supply of salt, pepper, oil, tea bags and the like, should always be available. We will certainly recommend Paris Perfect to our friends, and Rue Cler as well. The weather was dreadful most of the time (snow in March!). Make sure you fix that for our next visit!
November 7, 2017 - Website
I have never traveled outside the United States and was a little nervous being alone. With all that said I had a fabulous time. The minute I met Kevin at your office I felt at ease. My apartment was perfect. I was thrilled at the gift basket and the wine was wonderful! What a great start to my stay. I was able to meet Nicola due to a class canceling on me and she was lovely. I really appreciate you picking up my dinner at the amazing Cafe Constant since that class did not work out. The entire team was great and my itinerary was perfect! I know I had a very unique itinerary, but I had a blast getting through it. Thank you for a truly perfect stay!!
September 22, 2017 - Website
Saumur Review
by Joan Donner
The absolute best thing about Saumur was the location. Rue Cler is a most delightful street and we really enjoyed being there, especially that although it's a pedestrian street cars were allowed for drop-off and pick-up so we didn't have to walk far with our luggage. The flat itself was very nice, spotlessly clean and extremely well organized. We had absolutely everything we could need. The delightful touches were the wine, milk and juice which helped us through the morning after we arrived (not the wine, of course). Although we arrived quite late and had no greeter we managed nicely although a greeter would have told us the secrets of the book of instructions which we didn't find for two days until after contacting your office.
Saumur Review
by Rick and Stephanie Sager
The Saumur was a perfect little apartment right on the Rue Cler. It was exactly how I imagined an apartment in Paris would look. It has an amazing balcony to enjoy while sipping coffee or wine, and everything you need for an extended stay in Paris. It is very close to the Eiffel Tower and Metro stops, so getting around Paris was no trouble at all. Rue Cler has a multitude of restaurants, shops and patisseries right downstairs, so you don't have to worry about where to eat or how to purchase anything you need for your stay. We had a wonderful time exploring all that Paris has to offer, and it was great to know that our perfect little apartment was waiting for us each evening when we arrived home. I would definitely stay here again in the future.
Saumur Review
by Laurie Tam
We loved Saumur! Fantastic location--we loved being right on rue Cler. The balcony was wonderful and made the apartment feel very spacious. We also appreciated the bigger fridge, the microwave/oven, the dishwasher, and especially the washer/dryer combo. We love the Nespresso machine as well! Only complaint is that the neighbors were very loud. We enjoyed all of our interactions with the Paris Perfect team, who were all really friendly and kind. We also cannot recommend Victor Cabs more highly, who we booked through Paris Perfect. They were so amazing and helpful!
Saumur Review
by Michelle Blemel
My Niece and I stayed in the Saumur Apartment for a week. It was just perfect for us. Beautifully appointed, clean, well stocked. Everything we needed for a relaxing stay. Each morning we picked up Croissants from a local bakery and ate breakfast on the Patio overlooking the rooftops of Paris. Listening to the sounds of people along Rue Cler in the evening as we watched the sun set at 9:30 was beautiful. We realized we could see the Eiffel Towers reflection in the window across the way and watched it as it sparkled. Each morning the sun streamed in and awoke us for another blissful day in paradise. This is the perfect spot for a couple or two people to enjoy being in the middle of a local street living like a Parisian. We look forward to our next visit. The Paris Perfect staff took great care of us. Thank you for a great trip.
Saumur Review
by John Erke and Kathy Ware
Beautiful little apartment on Rue Cler. Very well-equipped, full of light, pretty, and superb location. Also, Paris Perfect staff, especially our greeter, were professional and helpful, and Victor's Cab Service to/from airport was fantastic.
Saumur Review
by Marla Moran
My husband and I stayed at the Saumur for our honeymoon. It really was the perfect place and great start of our life together. It is in an ideal location for site seeing with amazing restaurants and very close to the metro. We had chocolate croissants from a local patissierie every morning on our balcony, which is exactly how we wanted to start our day. Paris Perfect staff were great and the local information on restaurants and shopping was invaluable and added to our experience of living like a local.
Saumur Review
by Jessica Levy
Tiny but perfectly equipped, Saumur met all of our needs for a Paris apartment. We know the 7th well and have good friends there, and the rue Cler location was perfect for seeing them - and yet not too noisy at all in the bright and sunny 6th floor garret. As always, Paris Perfect provides a super bed, great linens, comfortable pillows and blankets, and all we needed to get started in the apartment. Breakfast and aperitifs on the roof deck were a treat, L'Eclair next door was perfect for a nightcap. Don't stay here if you are claustrophobic, very tall, or don't like being VERY close to your traveling companion - but it was absolutely perfect for us and we'd love to stay here again.
Saumur Review
by A Brannon
The Saumur apartment was very enjoyable. A little small but that's my understanding of many apartments in Paris and Europe in general. The location could not have been better so close to the metro and Eiffel Tower. I completely fell in love with Paris and we will be back, just not soon enough! Paris Perfect was very good to work with and very helpful. I would not hesitate to book with you again.
February 5, 2017 - Website
Saumur Review
by Lorraine Zaretsky
My daughter and I stayed in Saumur for a week and it was absolutely perfect. The building was very quiet and the apartment was exactly as described and pictured. It was very roomy(for 2), comfortable and beautifully furnished.The Murphy bed was easy to operate, very firm but comfortable. The kitchen had everything we needed, perfect set-up. The balcony would be wonderful in warmer weather. I liked being on the top floor and not hearing people walk above me. We loved the location right on Rue Cler. We always stay in the 7th and love shopping there and enjoy all the charming cafes in the neighborhood. The neighborhood definitely has the best bakeries in all of Paris. Our greeter Kevin was very friendly and professional and explained everything clearly.We can't wait to return to Saumur.
January 4, 2017 - Website
Saumur Review
by Maureen Wolsborn
The apartment was perfect and provided everything we could have needed for our stay. It was cozy and comfortable. I was designed beautifully and really makes use of the space. Paris Perfect really does think of everything! Next time I am in Paris I will be sure to stay in one of their apartments.
November 9, 2016 - Website
Saumur Review
by William G
We loved our stay. I was especially pleased with two reading bed lights, and loved the duvet. The team were very helpful, and we appreciated you contacting us during our stay. Terrific location.
November 4, 2016 - Website
Saumur Review
by Jeanne vogel
Everything was perfect!
September 22, 2016 - Website
The apartment was amazing! Our trip was wonderful. Everything went smooth, thanks for your advice and help! Everyone was very knowledgeable. Everyone takes great care with what they do, and it shows!
Saumur Review
by Robin Gordon
I tell everyone who asks about my trip to use Paris Perfect when planning a vacation to Paris. Your service was phenomenal as was the apartment. I spent a spectacular week in the Saumur this past July. The location on rue Cler puts one in the midst of the best eating options possible, whether take home delicacies, casual café dining or high end restaurants all of which I sampled! Almost everything Paris has to offer no matter your interests is close by. The museums, the Eiffel Tower, the parks, the shopping are all within walking distance. For those things farther afield like Pere Lachaisse or Montmartre, there are nearby buses and the Metro. And every evening you can return to soak in the last rays of sunlight while sipping a glass of wine on the balcony. I cannot wait to return!"
Saumur Review
by CHRISTINE HRIB-KARPINSKI
Let me just say, EVERY aspect of this vacation — from pre-stay communications, during the stay, and post-stay — lived up to the Paris Perfect name! The arrival packet: Wow! Great information! I love how they split up the packets into two—one for the entire city and another just for the neighborhood. We also appreciated the personal comments on many of the restaurant recommendations; this helped us sift through the many choices in the area and, might I say, they were all great recommendations! The apartment: This place was amazing. This was the best use of space I have ever seen. I loved that they had American-style bottom and top sheets (I get hot when I sleep and like to just use the top sheet–so many European accommodations do not use top sheets). Also, we had THE largest bath towels ever! Even some of the finest hotels have smaller, skimpy towels. And Madelyn provided face cloths too! OMG! You NEVER find them in Europe. I usually pack my own when traveling to Europe. Excursions and reservations: The process for making all the reservations were phenomenal. The Paris Perfect Team: Fantastic and attentive! Madelyn's team is the epitome of her brand. They really want to make everything perfect. Whatever Madelyn is doing to keep them happy and loving their jobs, keep it up. Their responses and response times were fantastic. So much of a company can be judged by the people. They represent Paris Perfect in such a positive light. Thanks to all for such a memorable trip; everything was fantastic! We look forward to coming back. P.S. I have already recommended Madelyn to a bunch of our friends.
Saumur Review
by George A Chrenka
Bonjour, The SAUMUR, a wonderful apartment with the immediate satisfaction of being part of the Parisian lifestyle. The location makes this possible; right on the Rue Cler, fresh fruits, fresh squeezed orange juice (my favorite), fresh baked quiche for breakfast, does it get any better than this? The apartment is just what is advertised, small, but with all the conveniences one needs. All you need is a place to eat breakfast and sleep, so a larger apartment is not necessary. You spend your day exploring, so the SAUMUR is an ideal place to base your excursions. A short walk to the 69 bus stop, a short walk to the Eiffel Tower, a short walk to many great restaurants, Paris Perfect! Actually, we tried to rent a larger apartment from Paris Perfect, but were a little too late. But in retrospect, this apartment's location is more important than space. We would stay here again.
Saumur Review
by T Riordan
The apartment is in an excellent location on Rue Cler which is a pedestrian only cobblestone street with many restaurants, coffee shops, wine shop, fruit and vegetable shops, patisseries, cheese shops. It is close to the Eiffel Tower and the River Seine and many other museums and attractions of Paris.
Saumur Review
by George and Barbara C
The SAUMUR, a wonderful apartment with the immediate satisfaction of being part of the Parisian lifestyle. The location makes this possible; right on the Rue Cler, fresh fruits, fresh squeezed orange juice (my favorite), fresh baked quiche for breakfast, does it get any better than this? The apartment is just what is advertised, small, but with all the conveniences one needs. All you need is a place to eat breakfast and sleep, so a larger apartment is not necessary. You spend your day exploring, so the SAUMUR is an ideal place to base your excursions. A short walk to the 69 bus stop, a short walk to the Eiffel Tower, a short walk to many great restaurants, Paris Perfect! Actually, we tried to rent a larger apartment from Paris Perfect, but were a little too late. But on retrospect, this apartment's location is more important than space. We would stay here again.
Saumur Review
by Don Martin
This is a great studio apartment in the 7th perfect for one or two people. Large balcony to sit out on, enjoy a glass of wine and look out over the famous Rue Cler market street. The location is great, minutes from the Eiffel Tower with restaurants, specialty shops and open markets right outside the door. This is a great alternative to a hotel room!
January 8, 2016 - Website
Saumur Review
by Heather Hepp
Delightful stay in Paris! The Saumur is a nicely appointed apartment located on a street filled with the best daily markets! Everything you need is right at your door - fresh fruits & vegetables, wine merchants, oysters and meats, pastry shop, fine Belgian Chocolates. Rue Cler has it all. The apartment is ideally located near the Metro making it easy to get around the city. It's also close to the Eiffel Tower, reachable by walk in about 10 minutes, as well as other landmarks. Inside the apartment you'll find a cozy space that makes good use of the layout. For 1-2 persons, the Saumur is an ideal choice for your stay in Paris.
November 24, 2015 - Website
Saumur Review
by David Bartell
As alwarys - Be in Paris; don't DO Paris. Saumur on Rue Cler is a lovely apartment in a lively location for our sixth visit to Paris & second at Paris Perfect - the difference is noticeable. Every convenience, detail, and aesthetic makes Saumur feel like a home. The appliances are all brand new! The building is safe, elevator works well, heating and lighting is great and the storage is excellent considering the small footprint. The view of Paris rooftops (7th and Invalides) is exquisite and the doors shut out most of the street noise. We did laundry a few times - very good machine. We brought up dinner three times. The block has multiple veggie, wine, bread, chocolate and prepared food, emporter (to take away). Enjoy a romantic dinner in the apartment. Challenges: the mattress while top quality is very firm. Also, the bar directly downstairs is busy until 2:00am and deliveries for shops arrive at 6:30am. If you are a light sleeper, bring ear plugs. It's not extreme, but noticible street noise.
Base Nightly Rates – May Not Include Fees such as Greeting, Cleaning, Damage Waiver, Credit Card Processing and Tourist Taxes. For full price, please put in dates.
Available
Unavailable
Check-In Only
Check-Out Only
November 2023

| S | M | T | W | T | F | S |
| --- | --- | --- | --- | --- | --- | --- |
| | | | 01 | 02 | 03 | 04 |
| 05 | 06 | 07 | 08 | 09 | 10 | 11 |
| 12 | 13 | 14 | 15 | 16 | 17 | 18 |
| 19 | 20 | 21 | 22 | 23 | 24 | 25 |
| 26 | 27 | 28 | 29 | 30 | | |
December 2023
S
M
T
W
T
F
S
01
02
03
04
05
06
07

$249

08

$249

09

$249

10

$249

11

$249

12

$249

13

$249

14

$249

15

$249

16

$249

17

$249

18

$249

19

$249

20

$249

21

$249

22

$249

23

$249

24

$249

25

$249

26

$249

27

$249

28

$249

29

$326

30

$327

31

$327
January 2024
S
M
T
W
T
F
S
01

$285

02

$256

03

$321

04

$283

05

$280

06

$272

07

$252

08

$252

09

$249

10

$275

11
12
13
14
15
16
17

$256

18

$261

19

$266

20

$264

21

$249

22

$249

23

$262

24

$269

25

$277

26

$269

27

$268

28

$258

29

$249

30

$271

31

$272
February 2024
S
M
T
W
T
F
S
01

$283

02

$279

03

$282

04

$281

05

$249

06

$271

07

$274

08

$281

09

$287

10

$294

11

$275

12

$251

13

$266

14

$269

15

$276

16

$285

17

$297

18

$266

19

$270

20

$281

21

$289

22

$300

23

$307

24

$322

25

$282

26

$277

27

$249

28

$348

29
March 2024
S
M
T
W
T
F
S
01
02
03
04

$278

05

$292

06

$314

07

$324

08

$333

09

$338

10

$301

11

$306

12

$319

13

$330

14

$338

15

$346

16

$351

17

$316

18

$322

19

$336

20

$339

21

$344

22

$348

23

$352

24

$320

25

$327

26

$342

27

$344

28

$347

29

$350

30

$358

31

$333
April 2024
S
M
T
W
T
F
S
01

$340

02

$352

03

$354

04

$354

05

$353

06

$366

07

$345

08

$352

09

$364

10

$366

11

$365

12

$362

13

$374

14

$349

15

$355

16

$364

17

$368

18

$367

19

$360

20

$369

21

$339

22

$346

23

$354

24

$358

25

$362

26

$353

27

$360

28

$329

29

$334

30

$342
May 2024
S
M
T
W
T
F
S
01

$432

02

$449

03

$442

04

$450

05

$412

06

$416

07

$423

08

$429

09

$450

10

$452

11

$460

12

$428

13

$430

14

$438

15

$447

16

$468

17

$478

18

$485

19

$454

20

$452

21

$458

22

$465

23

$481

24

$490

25

$501

26

$469

27

$467

28

$479

29

$487

30

$500

31

$505
June 2024
S
M
T
W
T
F
S
01

$510

02

$477

03

$479

04

$492

05

$498

06

$504

07

$501

08

$503

09

$472

10

$484

11

$497

12

$498

13

$497

14

$496

15

$497

16

$474

17

$491

18

$495

19

$496

20

$498

21

$498

22

$497

23

$478

24

$582

25

$580

26

$578

27

$578

28

$490

29

$487

30

$470
July 2024
S
M
T
W
T
F
S
01

$489

02

$493

03

$492

04

$491

05

$486

06

$484

07

$459

08

$470

09

$475

10

$470

11

$466

12

$459

13

$455

14

$430

15

$443

16

$452

17

$447

18

$438

19

$560

20

$556

21

$533

22

$545

23

$547

24

$538

25

$580

26

$1008

27
28
29
30
31
August 2024
S
M
T
W
T
F
S
01
02
03
04
05
06
07
08
09
10

$998

11

$864

12

$541

13

$547

14

$537

15

$535

16

$397

17

$399

18

$384

19

$392

20

$405

21

$394

22

$392

23

$394

24

$398

25

$384

26

$402

27

$417

28

$411

29

$414

30

$422

31

$431
September 2024
S
M
T
W
T
F
S
01

$416

02

$441

03

$470

04

$469

05

$475

06

$482

07

$490

08

$464

09

$487

10

$510

11

$512

12

$513

13

$513

14

$517

15

$481

16

$499

17

$523

18

$529

19

$531

20

$530

21

$534

22

$492

23

$506

24

$526

25

$535

26

$534

27

$532

28

$540

29

$493

30

$503
October 2024
S
M
T
W
T
F
S
01

$520

02

$525

03

$524

04

$525

05

$535

06

$485

07

$493

08

$510

09

$513

10

$513

11

$517

12

$535

13

$490

14

$496

15

$513

16

$512

17

$509

18

$514

19

$531

20

$487

21

$482

22

$497

23

$499

24

$495

25

$498

26

$519

27

$471

28

$457

29

$468

30

$471

31

$466
November 2024
S
M
T
W
T
F
S
01

$469

02

$490

03

$443

04

$430

05

$446

06

$462

07

$469

08

$473

09

$494

10

$448

11

$432

12

$443

13

$462

14

$468

15

$465

16

$471

17

$411

18

$419

19

$433

20

$454

21

$474

22

$486

23

$463

24

$409

25

$416

26

$427

27

$450

28

$462

29

$473

30

$463
December 2024
S
M
T
W
T
F
S
01

$410

02

$415

03

$427

04

$463

05

$468

06

$475

07

$476

08

$418

09

$427

10

$433

11

$468

12

$453

13

$459

14

$464

15

$400

16

$420

17

$430

18

$446

19

$447

20

$604

21

$603

22

$543

23

$683

24

$702

25

$698

26

$701

27

$694

28

$698

29

$645

30

$699

31

$697
January 2025
S
M
T
W
T
F
S
01

$761

02

$689

03

$455

04

$438

05

$416

06

$417

07

$438

08

$436

09

$469

10

$429

11

$425

12

$389

13

$374

14

$398

15

$420

16

$428

17

$426

18

$426

19

$404

20

$374

21

$413

22

$424

23

$434

24

$424

25

$428

26

$411

27

$369

28

$411

29

$412

30

$428

31

$423
Things to See & Do
École Militaire (3 mins Walking)
Napoleon attended military school here and the buildings still show gunfire signs from the French Revolution in 1789
Champ de Mars (5 mins Walking)
Expansive park surrounding the Eiffel Tower. Stroll, jog, bicycle or play in one of the playgrounds, go to the puppet theater or carousel, or just sit and enjoy Parisian life and the beautiful gardens.
Musée de l'Armée (5 mins Walking)
One of the world's finest collections of arms, armor, and uniforms. It is renowned for its enormous collection of medieval armor.
Bateaux Mouches Boat Tours (8 mins Walking)
We recommend boarding a boat tour on your first day, where you can relax and enjoy sailing down the Seine viewing many Paris monuments, museums and cathedrals
Les Invalides (8 mins Walking)
A masterpiece of French Classical architecture built by Louis XIV; Napoleon's tomb rests under the golden dome.
Musée des égouts de Paris (10 mins Walking)
Fascinating tour of limestone arches and caverns down in the sewers that traverse all of Paris. The Phantom of the Opera was inspired by these underground streets.
Eiffel Tower (12 mins Walking)
Paris' most iconic site and one of the world's most visited attractions. Take the elevator or stairs to the top of this magnificent structure for beautiful views over Paris.
Musée du quai Branly (12 mins Walking)
Showcases indigenous art and cultures from Africa, Asia, Oceania and the Americas
Rodin Museum (12 mins Walking)
View some of Rodin's most famous sculptures including The Kiss and The Thinker
Place de la Concorde (20 mins Walking)
Admire the beautiful fountains and the ancient Egyptian Luxor Obelisk
Musée d'Orsay (22 mins Walking)
Located in an old train station, this museum is home to the largest collection of impressionist and post-impressionist masterpieces in the world.

Shopping & Eating
Rue Cler (1 mins Walking)
Among the best streets for food in Paris! Cafés and brasseries where you can enjoy dining or shopping at specialty food purveyors with wines, fresh produce, fish, cheese, pâtissières, bakeries and gourmet prepared foods -- a wonderful part of the Parisian experience.
Luxury Stores on Avenue Montaigne (14 mins Walking)
Home to many of the leading fashion houses including Louis Vuitton, Dior, Chanel, Fendi, Valentino and Ralph Lauren, as well as jewelers like Bulgari.
Le Bon Marche & La Grand Épicerie (20 mins Walking)
The oldest department store in Paris selling a range of luxury goods. Be sure you visit La Grande Epicerie de Paris, the magnificent food hall.
Rue du Commerce (20 mins Walking)
A true Parisian shopping street with trendy boutiques, food stores, bistros

Public Transport
Métro (4 mins Walking)
École Militaire (Line 8)