Welcome to the Roussanne, a unique two-bedroom, 2.5-bathroom Parisian vacation rental that boasts a fantastic location and stunning Eiffel Tower views. Situated within an upscale apartment building and close to a wealth of iconic attractions, this elegant haven is the perfect launching point for Parisian adventures and explorations.
Spend your days wandering along the Seine River and spot the iconic Eiffel Tower from the Trocadéro, which also boasts several museums, gardens and the Aquarium de Paris. Explore the Rue de Passy shopping district and a myriad of beautiful viewpoints along the Seine. When guests aren't hopping from one top attraction to the next, they'll find miles of comfort waiting at home, thanks to a tasteful color scheme, ample space complete with towering ceilings and a collection of amenities and touches that create a rich and relaxing atmosphere.
The gracious living and dining areas are brightened by picturesque arched windows, while a separate den provides all the accoutrements for work or play. Nearby, the stunning kitchen is a gourmand's dream, with top-of-the-line appliances and a breakfast nook for easy meals. When it's time to unwind, guests can drift off to sleep in one of two dreamy bedrooms. The bathrooms are truly royal, due to the high-end finishes and decadent extras like rainfall shower heads and extra wardrobe storage. With little luxury appointments around every corner, and an absolutely dream location, the breathtaking Roussanne is taking the art of the Parisian vacation to new and decadent heights.
Things To Note
Neighborhood: 16th arrondissement
Size: 1,725 sq ft/170 sq m
Heating: Building regulated heating
Booking Period: Special rates for monthly stays. Refundable security deposit required. Please contact our reservations team.
Paris 2024 Olympics: Special Terms
Room Details
| Room | Beds | Details |
| --- | --- | --- |
| Bedroom 1 | King (1) | King bed (71in x 79in; 180cm x 200cm) |
| Bedroom 2 | Single (2) | Two single beds (39in x 79in; 100cm x 200cm) that can be zipped together to form a dual king bed |
| Bathroom 1 (en suite to Bedroom 1) | | Combination bathtub/shower (fixed rainfall showerhead), toilet, bidet and sink |
| Bathroom 2 | | Combination bathtub/shower (fixed showerhead), toilet, bidet and sink |
| Half Bath | | Toilet and sink |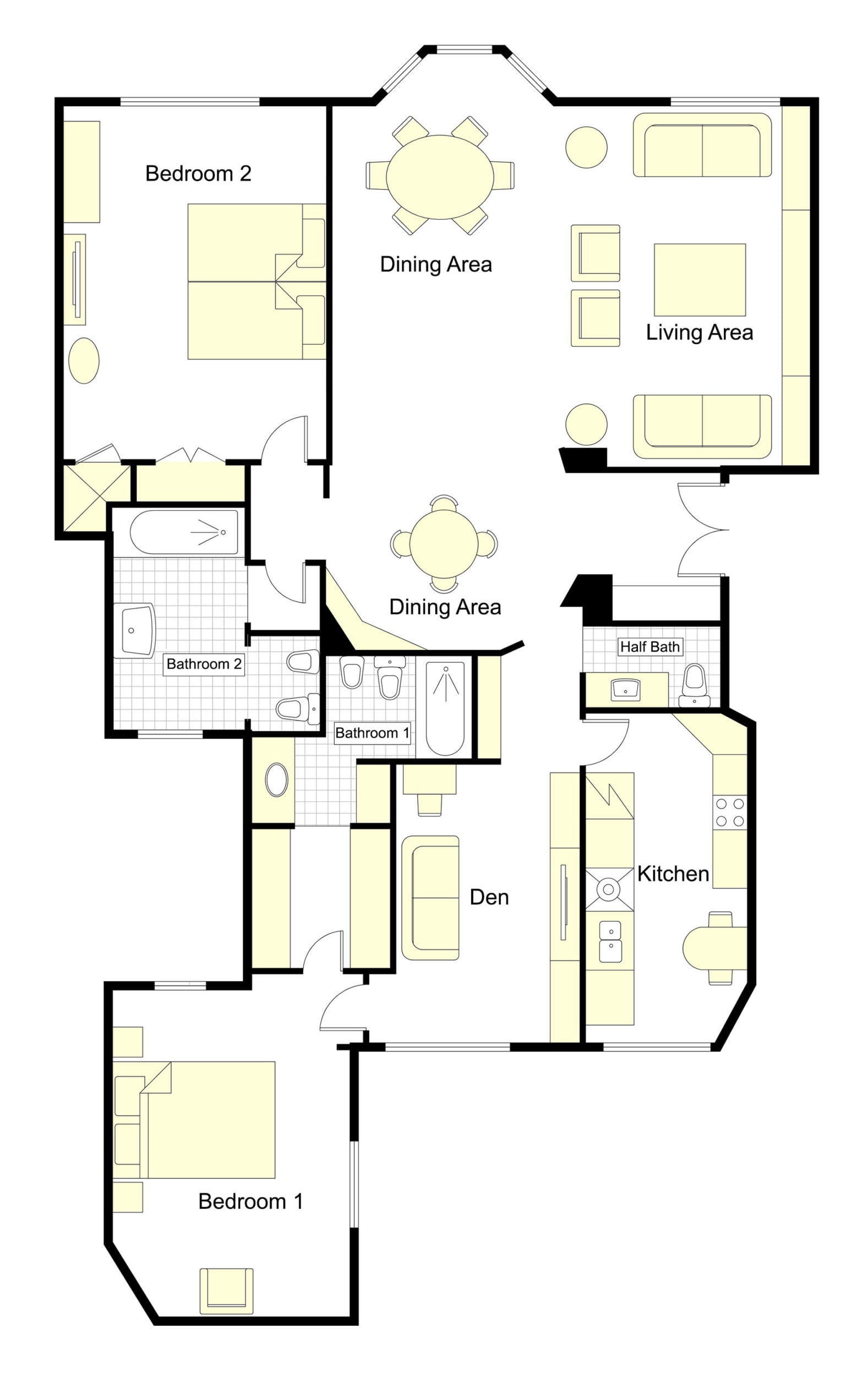 General Amenities

Toiletries
Smoke Detector

Kitchen

Fully Equipped
Starter Supplies
Kitchen
Dishwasher
Microwave
Nespresso Style Coffee Machine
Oven
Stovetop
Toaster
Refrigerator

Accessibility

Private Entrance
5th Floor North American
Elevator

Connectivity/Entertainment

WiFi
TV
TV - Limited English Programs

Heating/Cooling

Heating
Sound Dampening Windows
A/C-Central
Non-Working Fireplace

Laundry

Dryer
Iron & Board
Washer

Special Features

Eiffel Tower View
Balcony/Terrace

Amenities

Elevator
Air Conditioning
Thank you for submitting your review. It will be processed shortly!
December 28, 2022 - Website
Christmas stay
by Kimberly
I am so happy we chose Paris Perfect, and particularly this apartment. The view of the Eiffel Tower cannot be overstated! It was huge, with space to spread out and also gather together. The kitchen was amazing- We had a private chef one night and it had everything he needed. We had some difficulty figuring out how to turn down the heat/radiators, but when we couldn't figure it out we opened all the big beautiful windows in the evening to cool our bedrooms. The services provided were also tremendous - Victor Cabs, though more expensive than calling a taxi, were responsive and on time for all requests, and we used them to drive us to Versailles as well as Montmarte, and of course the airport. We even preordered a Christmas tree for the apartment, which was set up and twinkling when we arrived, to match the Eiffel. What an amazing thing to offer! We recommend you eat at Les Marches, on the other side of Trocadero, as well as Le Passy cafe (both walking distance). There are shops and patisseries and cafes only a short walk from the apartment - though the quickest way does include going up 90 stairs (we counted!). Perfect stay in Paris! Would definitely use Paris Perfect again.
Lots of room and incredible location, we thoroughly enjoyed our stay
March 25, 2022 - Manual Entry
Perfect flat in Paris
by Scott Clemons
Roussanne is perfectly equipped, elegant, roomy, and perfect for our family of four. The full sized washer and dryer was a godsend in the middle of a long trip. The views are spectacular, and access to all transportation is easy. Everything from a gracious welcome and walk through of the apartment to the elegance of the neighborhood was just what we needed. We'll be back!
Roussanne Review
by Marc and Tracy
What a big apartment. Views of the Eiffel so good the light show illuminated the apartment. Great location next to Trocadero. Full size appliances and refrigerator. Both bedrooms were large and the bathrooms were huge by Paris standards. Would definitely stay here again. Right around the corner from the Passy metro stop. Another perfect stay!
January 3, 2019 - Website
Roussanne Review
by Karen S
We had a wonderful stay in Roussanne - a spacious, well appointed apartment in a convenient location. The views of the Eiffel Tower are superb. I would happily stay here again.
November 27, 2018 - Website
Roussanne Review
by Max S
The apartment was fantastic, very accommodating and comfortable for two couples. It was very well outfitted with cookware (we enjoy cooking with the fresh ingredients found at the local markets). The view of the Tour Eiffel was incredible. Everything was in working order and Monique was most responsive to our questions.
October 14, 2018 - Website
Roussanne Review
by John K
We had a wonderful stay. We liked the separation of the two bedrooms, the entertaining LR plus the view of the Eiffel tower was remarkable.
Roussanne Review
by Tracy
We had a great stay at Roussanne. The apartment is spacious, clean, and in a great location with a metro stop right around the corner. The kitchen is well equipped with both a washer and a dryer. The icing on the cake was the view of the Eiffel Tower and the Seine. It is truly magical! We enjoyed opening the windows at night and watching the Eiffel Tower sparkle. I would highly recommend Roussanne. We will definitely stay here again.
Roussanne Review
by Elizabeth
We enjoyed the spaciousness of the apartment, particularly the ample seating in the living area and of course, the view of the Seine and the Eiffel Tower. The apartment was well equipped with comfortable beds and nice bathrooms. The whole apartment functioned beautifully. Staff was very helpful in orienting us to the apartment and responsive to the few emails we sent. Overall - we had a wonderful experience with Paris Perfect.
Roussanne Review
by Marty & Jack E
We traveled to Paris to get the real feel of living there from 27 May through 24 June 2017. We wanted an apartment and Paris Perfect, Madelyn, was up to the task. We had experienced a loss of what we thought was the perfect apartment a month before our travel date, leaving us without accommodations for four weeks. Wendy gave us Paris Perfect information and Maddy stepped right in and found us a beautiful apartment with all the amenities we were looking for. The wonderful part of Paris Perfect is that not only do they help you find the perfect apartment, but they also have a team to help with tours and most anything you need while in Paris.
Base Nightly Rates – May Not Include Fees such as Greeting, Cleaning, Damage Waiver, Credit Card Processing and Tourist Taxes. For full price, please put in dates.
Available
Unavailable
Check-In Only
Check-Out Only
October 2023
S
M
T
W
T
F
S
01
02
03
04
05
06
07
08
09
10
11
12
13
14
15
16

$1125

17

$1125

18

$1125

19

$1125

20
21
22
23
24
25
26
27
28
29
30
31
November 2023
S
M
T
W
T
F
S
01
02
03
04
05
06
07
08
09
10
11
12
13
14
15
16
17
18
19
20

$1125

21

$1125

22

$1125

23

$1125

24

$1125

25

$1125

26

$1125

27

$1125

28

$1125

29

$1125

30

$1125
December 2023
S
M
T
W
T
F
S
01

$1125

02

$1125

03

$1125

04

$1125

05

$1125

06

$1125

07

$1125

08

$1125

09

$1125

10

$1125

11

$1125

12

$1125

13

$1125

14

$1125

15

$1125

16

$1125

17

$1125

18

$1125

19

$1125

20

$1125

21

$1125

22

$1125

23

$1125

24

$1125

25

$1125

26

$1125

27

$1125

28

$1125

29

$1125

30

$1125

31

$1125
January 2024
S
M
T
W
T
F
S
01

$1125

02

$1125

03

$1125

04

$1125

05

$1125

06

$1125

07

$1125

08

$1125

09

$1125

10

$1125

11

$1125

12

$1125

13

$1125

14

$1125

15

$1125

16

$1125

17

$1125

18

$1125

19

$1125

20

$1125

21

$1125

22

$1125

23

$1125

24

$1125

25

$1125

26

$1125

27

$1125

28

$1125

29

$1125

30

$1125

31

$1125
February 2024
S
M
T
W
T
F
S
01

$1125

02

$1125

03

$1125

04

$1125

05

$1125

06

$1125

07

$1125

08

$1125

09

$1125

10

$1125

11

$1125

12

$1125

13

$1125

14

$1125

15

$1125

16

$1125

17

$1125

18

$1125

19

$1125

20

$1125

21

$1125

22

$1125

23

$1125

24

$1125

25

$1125

26

$1125

27

$1125

28

$1125

29

$1125
March 2024
S
M
T
W
T
F
S
01

$1125

02

$1125

03

$1125

04

$1125

05

$1125

06

$1125

07

$1125

08

$1125

09

$1125

10

$1125

11

$1125

12

$1125

13

$1125

14

$1125

15

$1125

16

$1125

17

$1125

18

$1125

19

$1125

20

$1125

21

$1125

22

$1125

23

$1125

24

$1125

25

$1125

26

$1125

27

$1125

28

$1125

29

$1125

30

$1125

31

$1125
April 2024
S
M
T
W
T
F
S
01

$1125

02

$1125

03

$1125

04

$1125

05

$1125

06

$1125

07

$1125

08

$1125

09

$1125

10

$1125

11

$1125

12

$1125

13

$1125

14

$1125

15

$1125

16

$1125

17
18
19
20
21
22
23
24
25
26
27
28
29
30
May 2024
S
M
T
W
T
F
S
01
02
03
04
05
06

$1125

07

$1125

08

$1125

09

$1125

10

$1125

11

$1125

12

$1125

13

$1125

14

$1125

15

$1125

16

$1125

17

$1125

18

$1125

19

$1125

20

$1125

21

$1125

22

$1125

23

$1125

24

$1125

25

$1125

26

$1125

27

$1125

28

$1125

29

$1125

30

$1125

31

$1125
June 2024
S
M
T
W
T
F
S
01

$1125

02

$1125

03

$1125

04

$1125

05

$1125

06

$1125

07

$1125

08

$1125

09

$1125

10

$1125

11

$1125

12

$1125

13

$1125

14
15
16
17
18
19
20
21
22
23
24
25

$1125

26

$1125

27

$1125

28

$1125

29

$1125

30

$1125
July 2024
S
M
T
W
T
F
S
01

$1125

02

$1125

03

$1125

04

$1125

05

$1125

06

$1125

07

$1125

08

$1125

09

$1125

10

$1125

11

$1125

12

$1125

13

$1125

14

$1125

15

$1125

16

$1125

17

$1125

18

$1125

19

$1125

20

$2495

21

$2495

22

$2495

23

$2495

24

$2495

25

$2495

26
27
28
29
30
31
August 2024
S
M
T
W
T
F
S
01
02
03
04
05
06
07
08
09
10
11
12
13

$2495

14

$2495

15

$1125

16

$1125

17

$1125

18

$1125

19

$1125

20

$1125

21

$1125

22

$1125

23

$1125

24

$1125

25

$1125

26

$1125

27

$1125

28

$1125

29

$1125

30

$1125

31

$1125
September 2024
S
M
T
W
T
F
S
01

$1125

02

$1125

03

$1125

04

$1125

05

$1125

06

$1125

07

$1125

08

$1125

09

$1125

10

$1125

11

$1125

12

$1125

13

$1125

14

$1125

15

$1125

16

$1125

17

$1125

18

$1125

19

$1125

20

$1125

21

$1125

22

$1125

23

$1125

24

$1125

25

$1125

26

$1125

27

$1125

28

$1125

29

$1125

30

$1125
October 2024
S
M
T
W
T
F
S
01

$1125

02

$1125

03

$1125

04

$1125

05

$1125

06

$1125

07

$1125

08

$1125

09

$1125

10

$1125

11

$1125

12

$1125

13

$1125

14

$1125

15

$1125

16

$1125

17

$1125

18

$1125

19

$1125

20

$1125

21

$1125

22

$1125

23

$1125

24

$1125

25

$1125

26

$1125

27

$1125

28

$1125

29

$1125

30

$1125

31

$1125
Things to See & Do
Bateaux Mouches Boat Tours (4 mins Walking)
We recommend boarding a boat tour on your first day, where you can relax and enjoy sailing down the Seine viewing many Paris monuments, museums and cathedrals
Museum of Architecture (7 mins Walking)
The Cité de l'Architecture et du Patrimoine occupies an entire wing of the Palais de in the 16th arrondissement
Champ de Mars (10 mins Walking)
Expansive park surrounding the Eiffel Tower. Stroll, jog, bicycle or play in one of the playgrounds, go to the puppet theater or carousel, or just sit and enjoy Parisian life and the beautiful gardens.
Musée du quai Branly (12 mins Walking)
Showcases indigenous art and cultures from Africa, Asia, Oceania and the Americas
Guimet Museum (13 mins Walking)
One of the largest collections of Asian art
École Militaire (22 mins Walking)
Napoleon attended military school here and the buildings still show gunfire signs from the French Revolution in 1789
The Louvre (25 mins Walking)
A trip to Paris isn't complete without a visit to the world-famous Louvre museum. See the Mona Lisa, Venus de Milo and other famous artworks
Grand Palais (27 mins Walking)
Venue for major national and international events and exhibitions
Petit Palais (27 mins Walking)
Dating back to the 1900s, it's now the site of the Museum of Fine Arts in Paris
Champs Elysees (30 mins Walking)
One of the world's most famous shopping boulevards. Make sure to visit the Louis Vuitton flagship store!
Les Invalides (30 mins Walking)
A masterpiece of French Classical architecture built by Louis XIV; Napoleon's tomb rests under the golden dome.
Musée d'Orsay (35 mins Walking)
Located in an old train station, this museum is home to the largest collection of impressionist and post-impressionist masterpieces in the world.
Rodin Museum (35 mins Walking)
View some of Rodin's most famous sculptures including The Kiss and The Thinker

Shopping & Eating
Rue de Passy (7 mins Walking)
Shopping district

Public Transport
Métro (5 mins Walking)
Passy (Line 6)