Step into the charming Moselle vacation rental and your heart will soar. This stylish one-bedroom, one-bathroom Paris apartment is nestled into one of the most attractive areas in the heart of the 7th arrondissement. Spend your days strolling along the Seine River, shopping at the local Rue Cler market street, visiting world-famous museums and discovering the pleasures of living like a Parisian. Returning home to the welcoming and comfortable Moselle is a joy! This compact apartment features air conditioning and a well-designed floor plan to maximize this space to its fullest potential. You'll enjoy an open-plan living, dining and kitchen area as well as a romantic bedroom. One delightful feature that guests love at the Moselle is the step-out balcony off the bedroom. It's the perfect spot to enjoy the romantic Parisian rooftop views.
The Moselle is located in one of our favorite neighborhoods in Paris, the 7th arrondissement - home of the Eiffel Tower. Book this Paris Perfect apartment and you'll be surrounded by a wide variety of markets, cafés, shops and bistros. When you can convince yourself to leave your charming neighborhood, you'll find excellent transportation connections or simply enjoy strolling along the Seine to reach other top Paris landmarks. Spend an afternoon in the romantic Rodin Museum, hop on a Seine boat cruise, see Napoleon's tomb at Les Invalides and take the elevator to the top of the Eiffel Tower for amazing city views. The very best of Paris is right at your fingertips at the Moselle vacation rental!
Note the small elevator adds a touch of charm to this historic building. While fully functional and regularly maintained, the compact size may pose slight challenges to some guests.
Things To Note
Neighborhood: 7th arrondissement
Size: 435 sq ft/40 sq m
Sleeps: This property is suitable for two adults. There is limited storage.
Accessibility/Security: The elevator in the building is small
Please note: Interior building renovations are in progress. Normal working hours are from 8am-5pm, Monday through Friday. These works should not be too disruptive if you are out exploring the city. The estimated end date for the project is July 2024. Please reach out to our Reservations Team if you have any questions.
Paris 2024 Olympics: Special Terms
Room Details
Room
Beds
Details
Bedroom
Extra-Wide Queen (1)

Extra-wide queen bed (63in x 79in; 160cm x 200cm)
Living room
Single (1)
Trundle (1)

High-quality sofa with trundle converts into two comfortable single beds (31in x 75in; 80cm x 190cm)
Bathroom
Shower (fixed and flexible showerheads) and sink. Toilet in separate room, please see floorplan.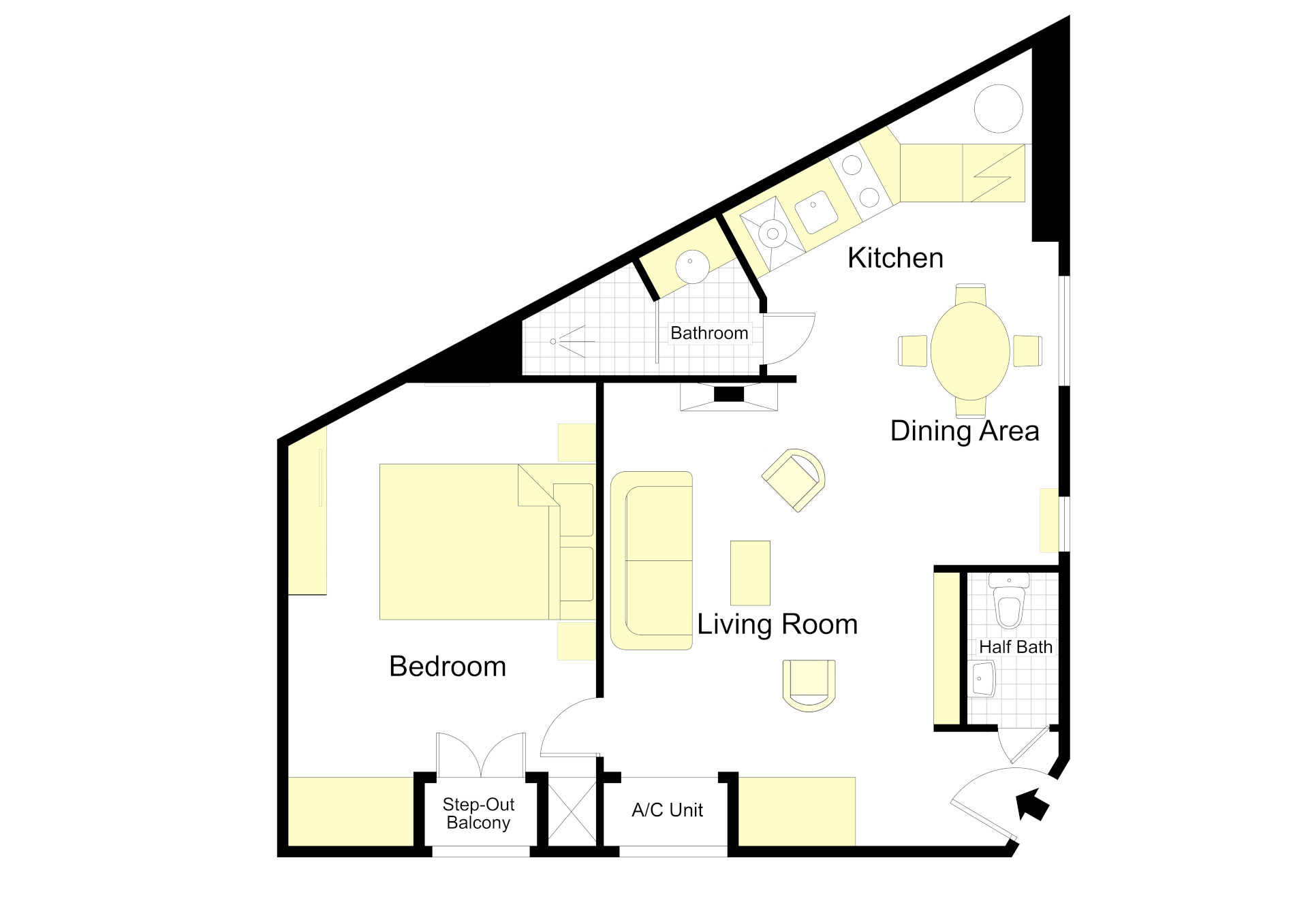 General Amenities

Toiletries
Hotel Safe
Smoke Detector

Kitchen

Fully Equipped
Starter Supplies
Kitchen
Coffee Maker
Dishwasher
Microwave Oven Combo
Nespresso Style Coffee Machine
Stovetop
Toaster
Refrigerator

Accessibility

Private Entrance
8th Floor North American
Elevator

Connectivity/Entertainment

WiFi
TV
TV - Limited English Programs

Heating/Cooling

Heating
Portable Fan(s)
A/C-Central
Non-Working Fireplace

Laundry

Iron & Board
Washer/Dryer Combo

Special Features

Balcony/Terrace
Instant Booking

Amenities

Elevator
Air Conditioning
Thank you for submitting your review. It will be processed shortly!
November 13, 2023 - Airbnb
Moselle
by Rick and Nancy Dunford
This apartment is very comfortable and is in a wonderful location. The security of the building was very comforting. The only issue was the work going on in the common areas of the building. Early Saturday morning they painted the outside of the apartment door. The strong smell of the paint inside the apartment was very unpleasant. We left quickly because we were getting headaches. The smell was pretty strong all day. Otherwise, it was a quiet and relaxing accommodation; much better than staying in a hotel.
Thank you, Rick & Nancy, for your review. Unfortunately, works and repairs to the common areas of the building are out of our control. We are delighted to hear that the works did not dampen your enjoyment of your stay! The Paris Perfect Team.
October 30, 2023 - Website
Almost Ready
by Cynthia Kennedy
The Moselle apartment is nicely appointed inside. It is located within very easy walking distance of the Eiffel Tower. The kitchen is small but has everything one needs to cook a full meal, including a large refrigerator. Most of our communications with the Paris Perfect team were handled immediately. There is room for improvement, though. Guests will most likely take the elevator to the seventh-floor apartment. However, the elevator is not for the faint of heart or someone who suffers from claustrophobia. It is incredibly small - about 16 inches deep! The building is undergoing renovations, too, which comes with some construction noise. Once the building renovations are complete, I imagine the base coat on the apartment door will be painted over to make it more welcoming. The metro stops are a bit of a walk from the apartment. The Moselle apartment has the potential to be a nice little Paris apartment, especially for those guests who are brave enough to ride the elevator!
Thank you, Cynthia, for your review. We are so sorry to hear that the renovation project hindered a great stay! Unfortunately, works and repairs to the common areas of the building are out of our control. We advise all our guests in advance of their stay about the small elevator in this building. As most buildings in Paris are very old, elevators were only added in recent years and must fit within the limited space within the center of the stairwell. Therefore, most elevators in historic Parisian buildings are small since they have limited existing space to work with . There is a metro stop within a 6 minute walk from the apartment, you can view the nearest public transport stops under the 'Location' tab. Again our sincerest apologies for the ongoing building renovations. The Paris Perfect Team.
September 28, 2023 - Website
Lovely - had everything but…
by Marnie
This place was great- had everything we needed, and some nice extras too! Great location in Paris, but…we felt like the location of the apartment in the building, on the top floor was somewhat dangerous. If there was a fire or an urgent medical emergency, we were so isolated in the building and were worried about our safety. There was only one way out and no fire escapes. Otherwise - lovely apartment!
Thank you Marnie, we are delighted you enjoyed your stay at the Moselle! Please note that none of the buildings in Paris have external fire escapes. France's fire code is different than the United States as most of their buildings are very old and were not designed to have fire escapes. Even new buildings don't have fire escapes as such. They do have internal staircases in fireproof stairwells for evacuation. We hope to welcome you again! The Paris Perfect Team
Charming Parisian pied-a-terre!
by Alison D Coppock
Apartment lived up to photos and descriptions except for the "step out balcony". One balcony now holds the AC unit and the other has a folded chair between table and chair. NO view, but we were usually not looking out the windows. Certainly clean and pretty with a surprise bottle of wine and lots of pods for the Nespresso. We loved our little pied-a-terre!
Thank you Alison, we are pleased you enjoyed your stay! The Moselle has recently been renovated, hence the AC unit on the one balcony. We will remove the furniture from the second balcony and new photos will be taken as soon as all the planned renovations are done. We hope to welcome you again!
October 2, 2022 - Website
Lovely stay
by Ann Calvert
A well-appointed small apartment in a great location. We had all the amenities we needed, and from arrival to departure all went well. Thank you, Paris Perfect!
Perfect
by Martin & Nicole
Couldn't have asked for a better location and apartment. Super clean and ready to go when we arrived. Would definitely stay here again!! We would certainly use Paris Perfect on our next trip to France.
June 6, 2022 - Manual Entry
Thank You Paris Perfect!
by Patricia Bennett
My husband and I found Paris Perfect thru a friend and loved our experience with their company and staff. Very friendly and easy to work with. Met us at the apartment, ran thru everything we needed to know about the apartment and neighborhood. Perfect apartment location for our fun month there. April/May weather in Paris was amazing and the Moselle apartment was very comfortable for us. Located near Rue St-Dominique for grocery/market stores, pressers, bakeries, restaurants and our favorite wine bar "Cave Vino Sapien". A short walk away from "Rue Cler" markets where we enjoyed breakfast every morning at "Le Roussillon" (their avocado toast with salmon is tres bien). Apartment location is within walking distance of so much of Paris, we could not have been happier with our decision to stay here. Highly recommend Paris Perfect and will be using them for our next trip.
November 5, 2021 - Manual Entry
Paris Perfect never disappoints!
by Kathi G
Paris Perfect never disappoints! They came to my rescue when I contacted them last minute. I have been using Pais Perfect for almost ten years and will continue doing so. A top notch company.
January 25, 2020 - Website
Moselle Review
by Fernando N
The apartment itself was very well equipped. Paris perfect worked perfectly when we needed them. The area is excellent. The apartment however due to its size, is more for a couple, that is 2 persons. Even if it has a bed in the living room, you keep running into each other. The shower space is very small but it fulfillls its purpose.
October 11, 2019 - Website
Moselle apartment was very comfortable and I would not hesitate to stay there again. Great location and very quite. Lots of great restaurants nearby. And just a few steps to the Eiffel Tower.
Moselle Review
by Karene A
Charming, well-appointed, light-filled apartment. Lovely, helpful staff. Great location. Couldn't ask for anything more!
Moselle Review
by Irene S
The Moselle was lovely and very comfortable for two adults. The neighborhood was wonderful.....grocery stores, a wonderful meat market, fruit and vegetable markets, and a post office across the street which made it easy to send post cards....with the exception of the Champ de Mars cafe. Our first morning in the apartment, we went there for a simple breakfast and when we were presented with our bill of 50 euros, we were also asked if we wanted to leave a 20 or 30% tip. I have been coming to Paris for 30 years and have never been asked that question. Waiters do not do that in Paris. This is the second apartment I have rented from Paris Perfect and I will do so again when I return. The staff is very helpful and very pleasant.
Moselle Review
by Daniel R
What a wonderful two weeks in Paris! The Moselle apartment did not disappoint. Paris Perfect was perfect for us. We were picked up at CDG by Victors Cabs arranged by PP for an easy and comfortable ride to our apartment. We were met there by a PP representative who went over every detail of the apartment from operating the appliances to locking the door to showing us the garbage cans! The apartment was exactly as described..all comfortable, clean and cozy. It is on the 7th floor but the elevator, while old and tiny, worked well. We did have a few laughs fitting shopping bags and us into it! The area around the Moselle is great...all of our daily shopping needs within a block or two. This was our 5th stay in Paris but our first time using Paris Perfect. Other agencies we have used were fine but Paris Perfect overall had better service start to finish. Already planning our next Paris adventure and will use Paris Perfect!
October 25, 2018 - Website
Moselle Review
by Margaret W
Overall, we were pleased with the apartment.
October 10, 2018 - Website
Moselle Review
by Harold T and Toby H
We could not have asked for a better experience in this lovely setting. Having the PP staff available to answer question and help with our various requests was invaluable. After having some really dicey experiences with other self booking agencies, our experience with PP was like receiving a gift in the middle of a magical city. Thank you, thank you.
September 23, 2018 - Website
Moselle Review
by Debbie C
The Moselle was wonderful and so convenient to everything. September in Paris is amazing. I would warn you that the Moselle is on the 7th floor and after a day of walking in Pairs those stairs are a bit overwhelming. There is a very narrow elevator that works well if you are under about 250 pounds. Over that it is a little touchy. I would highly recommend PARIS PERFECT. We found them and Paris to be just that - PERFECT. We had a wonderful time.
Moselle Review
by Linda & Lawrence
The location is perfect and the apartment is comfortable, well equipped and maintained. Altogether we can't imagine a better place to stay. Strongly recommend using their taxi service for airport transport. Easy to imagine staying permanently!
October 29, 2017 - Website
Moselle Review
by Wendolyn Kulunas
We could not have been happier! We absolutely loved our apartment. It was the perfect size for us. The neighborhood was wonderful, lots of great cafes, bistros, grocers, and a block from the Eiffel Tower and Parc du Mars. The apartment was clean, updated, comfortable and cozy. I had a question regarding the appliances, and the rental office answered my questions immediately. I would absolutely recommend this apartment, and this company. We can't wait to come back again!!
August 26, 2017 - Website
Moselle Review
by Shirley A
It was very nice and all the info was very helpful as well as always having a local point of contact. Team were great, all did a nice job!
Moselle Review
by Kathleen Duryea
A beautifully furnished, fully furnished apartment in the 7th, very near Quai d'Orsay, helped fulfill my dream of having a week in Paris BY MYSELF! The location was a new one for me, usually I stay in the Marais, but this area is a bit quieter with wonderful restaurants ( Clos des Gourmets) and cafes on Ave Rapp, and around the corner a terrific small market. I felt safe and was comfortable in the day and evening walking about on my own, and the locals in the cafes and shops were friendly and helpful. Of special note, included at no extra cost was a weeks worth of Nespresso coffee pods ( thank you!) and a quart of fresh milk, orange juice and a decent French Chardonnay. It's a small apartment by US standards but for Paris, and for one or two people, it was open and spacious, and everything worked well. A representative met me at the apartment, walked me through the kitchen, laundry, tv, etc and gave me a cell number to call with any issues. Internet was fast, and free... another thank you. Upon my return next year, hopefully once more on my own or with my husband, I will definitely rent again from Paris Perfect, who do all they can to make Paris Perfect!
Moselle Review
by Sandra & Gabriel Landry
The staff at Paris Perfect were wonderful to work with. They had lots of suggestions for sight seeing and made our stay feel like home. The Moselle location is located in a quiet neighbourhood within minutes of the Eiffel Tower. Absolutely loved our stay.
February 7, 2017 - Website
Moselle Review
by Lyle Zuck
We were very pleased with the Moselle apartment! Although compact in many respects, three adults were very comfortable. The full kitchen with Nespresso machine was convenient, and we even did a load of wash during our 5 day stay. The location was excellent--nothing like stepping out of the door, turning the corner and seeing the Eiffel Tower in all it's glory! All our interactions with the folks at Paris Perfect were pleasant and informative. Our trip was seamless! We will definitely rent from you again when we return next year!
September 30, 2016 - Website
Moselle Review
by Chelsea Ward
The Moselle apartment was perfect for our Paris trip! The apartment looks just as it does in the pictures, it was very clean and in excellent condition! The apartment has everything you need. The staff is so friendly and helpful. We loved the neighborhood, we had everything we needed right outside our door. The Italian restaurant downstairs was excellent. We also recommend the day trip to Normandy that Paris Perfect helped us book. Fat Tire Tours is also just a short walk from apartment for fun Paris tours. If you like horseback riding, we found a place called Horse in the City where in Versailles our daughter got a private tour through the park. She is an advanced rider but they take all skill levels. The train station to Versailles is a short walk from apartment. We had such a wonderful stay and Paris Perfect made it just that... PERFECT!
Moselle Review
by Sue Whitehead
We originally booked this apartment for 2 people but then our adult daughter decided to join us. The comfortable trundle bed and a separate room for the toilet and a second basin and mirror meant that this was manageable in a small apartment. The apartment was quiet, light, well-ventilated and in a convenient location for the RER and metro as well as food shops and restaurants.
January 4, 2016 - Website
Moselle Review
by Kenneth Morrison
We had a wonderful stay in Paris. The apartment was extremely comfortable and we had absolutely everything we needed to make us feel at home. We will be back .
December 2, 2015 - Website
Moselle Review
by Donna Le Quesne
Paris Perfect live up to their name. The team was very helpful, the apartment superb for two people and had all the home comforts we required. Thoroughly recommend them. Will be returning and using them again
The staff at Paris Perfect is excellent and make the process smooth and easy. Our apartment, Moselle was cozy and well appointed and only 2 blocks from the Eiffel Tower. If highly suggest this area (Avenue Rapp) as its quiet, has many shops and restaurants, has banks and ATMs nearby, and is only a short walk to the metro. We stayed there with a family of 4 and it worked out fine, although Moselle is more ideally suited for 2. We would stay there again and will absolutely use Paris Perfect. Finally, temperatures hit 100 degrees F when we were there so having the air conditioning and washer/dryer in the apartment was critical!
Moselle Review
by William & Danielle Dasher
We very much enjoyed the apartment. Perfect for two people. Although there is a bed in the living room, if more than two people were there, it would not be very comfortable. The only two items that were not perfect were....the light in the shower was out, and the safe was locked when we arrived and not available. We really did not need it so left it locked. These are very minor items. I've no doubt we'll use Paris Perfect again. William and Danielle Dasher
Moselle Review
by Jayne H
Everything is perfect. Sam was great. He was friendly helpful and made sure I had everything I needed. Also they would email back right away before arrival.
October 14, 2014 - Website
Moselle Review
by Belinda J
Fantastic, from start to finish. Excellent service!
September 17, 2014 - Website
Our stay in the apartment as well as working with your team was excellent.
Moselle Review
by Barbara W
The apartment was so wonderful! We loved the location, the light and bright top floor perch and the delightful furnishings. Info was SUPER helpful. LOVED extra touches....NESPRESSO, WINE, SHAMPOO, small supply of kitchen items. We would do it all over again. TWIN BEDS in sofa were brilliant for our girls!
Moselle Review
by Lisa Brodie
We had a wonderful time in the Moselle apartment. It was quiet and peaceful, and the air conditioning kept us very comfortable when the temperatures went up. The apartment is kept in pristine condition, very clean, very well looked after. The beds were comfortable, and there were plenty of blankets and towels. The elevator is tiny, but you get used to it quickly. The neighborhood is lovely, lots of shops and cafes and markets close by. There is a bank across the street, so getting cash couldn't be easier. The ParisPerfect staff was very helpful, we printed out tickets several times at their nearby office. My husband, son and I had a great time in this small studio apartment. Next time we go to France, we will definitly use Paris Perfect.
Moselle Review
by Cherry Jarvis
Great location and size for 2. Wonderful restaurants and bakeries nearby! Loved having a washer/dryer and dishwasher - in Paris!
Moselle Review
by Eyrun & Josef
Very last minute we found out about Paris Perfect and cancelled our 4 star hotel booking. We stayed in the Moselle apartment for 6 nights and we really enjoyed it! It was romantic, comfortable and perfect location. Everything was as we could have hoped for. The staff is very helpful and the Paris guide that comes with the apartment was brilliant. The elevator was though quite small, fits only 2 persons and our stroller (quite big graco trekko) and baby car seat almost did not fit into the elevator. But compared to everything, it was such a minor thing that it did not bother us. We would recommend the apartment and Paris Perfect anytime! Sometimes when you book a hotel, the pictures on the website is nothing like reality, here that's not the case. Looks nice on pictures, and it really is nice!
September 13, 2013 - Website
Moselle Review
by Sharon Cox
We have stayed in a Paris Perfect apartment our last two trips to Paris. We were impressed after our first stay, but after our second trip, we know that we will never stay at a hotel again. We can't control the weather, the crowds, etc. on our vacations, but with Paris Perfect, we know that where we stay will be nothing short of amazing. The apartments look exactly like the pictures. The description of the apartments, their locations, and their amenities are very accurate. The Paris Perfect staff are friendly and helpful. We highly recommend Paris Perfect.
January 31, 2013 - Website
Moselle Review
by Lisa and Alec
We rented the Moselle apartment at the very last minute. We are so glad we changed from our hotel! My husband took me to Paris to celebrate my 50th birthday and the Moselle was a cozy and quiet home-away-from-home (and a good place to nap in the afternoons!) Paris was in a deep freeze with 4 inches of snow - when the weather was too miserable to walk we went back to our haven and planned the next expedition or next good restaurant! We highly recommend both the Moselle apartment and the Paris Perfect team. Thank you for making our big "half-century" celebration a success.
October 22, 2012 - Website
Moselle Review
by Edwin R
An adequate base from which to explore a most special city. The neighborhood was grand. The restaurants in immediate vicinity were just fine. Location made touring simple with good bus stops and easy navigation using Seine as reference point for long walks. Also recommend BatoBus!
Moselle Review
by Rodrigo Monteiro Jacob
My French is better than my English, bur let's try it. The Paris Perfect team was simply wonderful. Everything happened as planned, ever since the first Internet contacts through the hole stay. There were no setbacks. The Moselle appartment was clean and neat as of our arrival. The kitchen is reasonably equipped (includes a Nespresso) and the appartment itself is cosy. The lift is a bit narrow and one has to be prepared to carry one's luggage in steps. There is a bistro right donwstairs (Le Sancerre) and for those like myself who like cooking, there is a market at rue Cler, some blocks away. We highly recommend both Paris Perfect as a partner for a wonderful trips as well as the Moselle appartment for a couple who wants to spend a wonderful time in Paris. The Victor Cab service is also very reliable. Thank you for the wonderful trip and gourmet stay in Paris.
Moselle Review
by Genesee L. Bosque
Thank you Parisperfect for a magical stay. The apartment was beautiful, the location was spectacular and your staff was amazing. We hope to return very soon you made our stay unforgettable. Au revoir.
December 28, 2011 - Website
Moselle Review
by Matthew & Kelly
We enjoyed the most wonderful stay in the Moselle apartment between Christmas and New Year. From the moment we enquired about the apartment availability, to being greeted at the apartment by Kevin, to having our airport transfer arranged upon leaving, we were always looked after and made to feel like old friends. We would have no hesistation in recommending Paris Perfect to everyone. The apartment was amazing, brilliantly located and, also mentioned above, the service we received was impeccable.
Moselle Review
by Jacquelin Lalor
The apartment was lovely, very quiet and well appointed, close to public transportation. We had our two teenaged girls with us and especially loved that they did not have to share a bed, as the couch had a trundle bed. Bedding was comfortable and plentiful. Appliances were a bit confusing, even with the written instructions, but we did figure them out. It was great to have fast and easy internet access, too.
Moselle Review
by Mary Curtis
Your company provided everything we required for a hassle-free stay in Paris. The apartment was clean and well appointed. The staff members we interacted with, Lisa and Sam, were knowledgeable and helpful. The information book in the apartment was outstanding with suggestions on restaurants, shopping, touring, etc. ParisPerfect surpassed our expectations and we are hopeful that this is the beginning of a beautiful friendship.
January 18, 2011 - Website
Moselle Review
by Terri & Greg Maxwell
This is a beautiful apartment, lots of space to spread out, and such a great location on Avenue Rapp. We love staying in this part of Paris and hope to many more times. We highly recommend Au Petit Toneau, Le Petit Troquet, and New Jawad restaurants, all within a 5 minute walk of the apartment. The Paris Perfect team are extremely helpful and always look out for their clients. Thanks again for helping make our stay comfortable and fun!
October 20, 2010 - Website
Moselle Review
by Michelle
Moselle was a lovely apartment to call home while we were in Paris. My husband and I loved the Nespresso machine, particularly! The pictures on the website are truly how the apartment appears - our two weeks were very sunny and the apartment was very bright in the morning. The Paris Perfect staff was very helpful in allowing me to borrow their computer to book tickets for the Eiffel Tower, saving my family time stand standing in line. I would recommend Moselle and Paris Perfect to anyone who is looking for a beautiful apartment and a reputable, professional rental company with an in Paris team (I walked to their office in 5 minutes).
October 19, 2010 - Website
Moselle Review
by Patricia Georgee
We were both very happy with Moselle. The quality of the equipment in the apartment was high and items had been thoughtfully selected. The apartment was also decorated in a lovely "French" way. We would certainly stay there again.
Moselle Review
by Linda Beck
Our stay in Paris was fabulous and the accommodations through Paris Perfect met all our needs. I would definitely recommend Paris Perfect to any who wants to rent an apartment while staying in Paris. Thanks for providing us with information we needed and making our stay comfortable and enjoyable.
Moselle Review
by Linda Sinclair
My 13 year old granddaughter and I stayed at the Moselle apartment for her much anticipated first trip to Paris. The location is excellent. Although there is no view of the Eiffel Tower, a very short walk just around the corner from the apartment puts you almost at the base of the Eiffel Tower. The apartment was small, but cozy, and had everything we needed. My granddaughter loves small spaces, absolutely loved the apartment, and daydreamed (and still daydreams) about living there permanently. The elevator is the tiniest elevator we had ever seen and we were intially a bit worried about using it. But we quickly got over that and used it regularly. Although it was out of order one day, it was quickly repaired. The apartment is conveniently located to walk to shops, markets, sightsee, catch the Metro, bus and RER, and get anywhere we wanted to go. Being able to eat in in the evenings after long days of seeing the sites, biking, enjoying the museums, making a day trip to London, etc., was such a treat. The neighborhood is absolutely lovely and we always felt perfectly safe. We look forward to our next trip to beautiful Paris and will definitely stay in a Paris Perfect apartment again (and hopefully again and again!).
Moselle Review
by Keely S
Thank so much; we had a lovely time! Thanks for all of the extras! Very comfortable and clean - would absolutely recommend!
Moselle Review
by John K. Doyle
The Moselle Apartment is a lovely place to stay in the 7th Arrondissement in Paris. The ladies from Paris Perfect could not have been nicer, nor the service better. The decor of the apartment was very stylish and complete, with the location near the Branly Museum and local restaurants perfect. Taking the elevator to the apartment is something of an adventure but, once inside, c'est tres confortable. I recommend completely doing business with this firm.
What distinguishes your company is the friendliness of the staff and the amount of information you provide. Thank you!
Moselle Review
by Wendi Biemer
Great, clean apartment! Close to Fabulous restaurants.
Moselle Review
by Joe Edwards
My wife and I visited Paris with our 16-yr-old granddaughters. After having difficulty locating Paris hotel rooms with accommodations for four, we fortunately discovered the user friendly ParisPerfect website through Google. This informative website and personal phone support made the reservation process very easy. The extensive package attached to email that was sent after reservations was very helpful in planning our stay in Paris. The competent staff that greeted us in the Moselle on arrival politely answered our many questions about the unit and the neighborhood, and gave us great advice about our visit to Paris. We enjoyed the usual Paris attractions, but walking and shopping in the convenient neighborhood between the Eiffel Tower and Rue Cler area was the highlight of our trip. The Moselle was comfortable and all appliances worked without problems. The grandkids loved the Espresso machine. A phone call to the ParisPerfect office was all that was needed to arrange timely transportation to Charles DeGaulle. Paris Perfect is Perfect!
February 17, 2010 - Website
Perfect!!!! Everything was just as described. It was great to be able to have your own place with the professionalism and experience of Paris Perfect right there if you need them. We will be back!!!
February 11, 2010 - Website
Moselle Review
by Lynette Bender
We stayed for a week at Moselle. What a lovely apartment, just right for a couple - really comfortable, it was freezing and snowing when we were there, it was cosy and inviting, right near everything we wanted to see and how excited I was when on our first evening we went for a walk to check out the sites and the patisseries!!! and we turned the corner and there was the Eifel Tower - lit up with golden light - I was really in Paris!! Paris Perfect people were great, the apartment was great, Paris was fabulous and our holiday was the best!
February 8, 2010 - Website
Great location! The staff was here when we arrived; they were charming and answered all of our questions. The apartment was very good for two grandparents and sixteen year old twin grandchildren. We missed some of the tourist sites because we enjoyed spending time in the neighborhood. Especially enjoyed Au Bon Acceuil Restaurant and the rue cler. Your people could not have been nicer. your suggestions in orientation book were very helpful!
January 13, 2010 - Website
Moselle Review
by Bernadette Davis - Melbourne, Australia
Thank you Paris Perfect for your wonderful "Moselle" apartment very close to the Eiffel Tower. The apartment was exactly as depicted on the internet (which was a great relief!) The apartment was spotless and had everything our family of four needed including information about restaurants, shops and transport in the local area. I can highly recommend "Paris Perfect" for their professional service from booking the apartment on the internet to the meet and greet in Paris which made our trip to Paris very enjoyable! Thank you very much Paris Perfect.
November 15, 2009 - Website
Moselle Review
by Peter Gladstein & Terrye Kocher - Sparks, Nevada, USA
The apartment was lovely and in a great location. The Paris Perfect staff were a pleasure to work with. They were very helpful when we had questions or needed help.
October 26, 2009 - Website
Moselle Review
by The Arnolds
We had a great time in Moselle. The apartment is clean, modern, furnished nicely and very quiet. We enjoy the 7th arr and will rent from parisperfect.com again next year.
October 25, 2009 - Website
Moselle Review
by Tim Schmidt - Santa Barbara, CA
Just want to thank the Paris Perfect team. Our family loved our stay at your Moselle apartment in June. Great apartment, great location and we look forward to visiting Paris again soon, and staying at one of your apartments.
October 19, 2009 - Website
Moselle Review
by Carron Powell - Dublin, GA
We had a wonderful stay in the Cognac apartment. It is an absolutely beautiful apartment in one of the best areas of Paris. The view over the rooftops to the Eiffel Tower was phenomenal, enchanting and just plain hard to turn away from. The apartment amenities exceeded our expectations in every way possible. We loved the neighborhood. Just steps from the Rue Cler market, we enjoyed the local produce, cheeses, bread and sweets on a daily basis. I can't recommend this apartment or the services of Paris Perfect enough. From the first day of inquiry with the staff to the end of our stay, Paris Perfect staff were helpful, considerate, and made our apartment experience in Paris one that will be remembered for years to come. We look forward to staying with them in the very near future.
Moselle Review
by Giselle Scanlon
Bonjour to all the helpful ParisPerfect staff! Everything was exactly as represented in the descriptions and photos. We had a very enjoyable week staying in Moselle - it was so convenient and well-equipped that time seemed to stand still. The focus became enjoying Paris, rather than finding somewhere to eat each meal. We were impressed with how you used each nook and cranny to create good storage and closet options. Thank you for providing lots of hangars! The separate bedroom meant that there was an "escape hatch", useful with 2 teens. The location was ideal, and with evening daylight until almost 10 pm, we headed to the Eiffel Tower or the Seine most nights after our evening meal or activities. Several people have asked for information about your flats, and I will be passing it on. We look forward to returning in the future.
Moselle Review
by Cindy & Michael
We had a lovely stay at the Moselle apartment. The apartment was compact but had everything we needed including charming little balconies and view of the Invalides dome. Very romantic! It was also very well decorated to give us a homely feel. No doubt we will be back again. Thank you!
Moselle Review
by Gordon Morris
Thanks so much for the fabulous hospitality. We stayed in your Moselle apartment May 2009 and had a great time. Advice for people looking to rent an apartment in Paris : Paris Perfect was the easiest site I found to use to find our vacation apt. The staff responded quickly and professionally to our requests. Be aware that high season books quickly so plan accordingly. Moselle wasn't our first choice, but it was an excellent home for our 10 day stay in Paris ! I will definitely use them again.
Moselle Review
by Pamela Helwick
My husband and I had a fabulous stay in your apartment in February! It was everything we had hoped for and more! The apartment was beautiful, the views were spectacular, and the neighborhood was divine! It was definitely our most memorable Paris trip. I can't imagine going back to Paris and staying elsewhere!
February 2, 2004 - Website
Moselle Review
by Charles Shull
Absolutely wonderful cozy spot. A must when in Paris. The neighborhood is very central and the information from Phillipe makes you a local in the neighborhood. Thanks a million!
January 24, 2004 - Website
Moselle Review
by Ted & Ken
We want to add a few positive comments onto your website reflecting our recent stay in one of your ParisPerfect units. Perhaps the best way to start is to point out that you picked the right name for your booking service because our experience with the two of you, your local management team, and the apartment itself was "Paris Perfect"!! Every aspect of our arrangements was handled efficiently and professionally, including your prompt responses to our booking request and information inquiries, incredibly informative pre-arrival materials, warm personal welcome from your Paris team members, the wonderful apartment and, of course, the thoughtful goodies you left for us to get us in the Parisien mood! Although we were initially concerned over the Left Bank location of your apartment (in previous visits, we have stayed at Right Bank hotels), we want to assure all readers of our comments that they should harbor no similar concerns. The apartment is perfectly (here's that word again!) located in an area where the true essence of Paris can be felt, amidst bustling local markets, bakeries, and restaurants. In short, we can't wait to return.
Base Nightly Rates – May Not Include Fees such as Greeting, Cleaning, Damage Waiver, Credit Card Processing and Tourist Taxes. For full price, please put in dates.
Available
Unavailable
Check-In Only
Check-Out Only
November 2023

| S | M | T | W | T | F | S |
| --- | --- | --- | --- | --- | --- | --- |
| | | | 01 | 02 | 03 | 04 |
| 05 | 06 | 07 | 08 | 09 | 10 | 11 |
| 12 | 13 | 14 | 15 | 16 | 17 | 18 |
| 19 | 20 | 21 | 22 | 23 | 24 | 25 |
| 26 | 27 | 28 | 29 | 30 | | |
December 2023
S
M
T
W
T
F
S
01
02

$376

03

$376

04

$376

05

$376

06

$376

07

$376

08

$376

09

$376

10

$376

11
12
13
14
15
16
17
18

$376

19

$376

20

$376

21

$376

22

$376

23

$376

24

$376

25

$376

26

$376

27

$376

28

$376

29

$404

30

$433

31

$432
January 2024
S
M
T
W
T
F
S
01

$378

02

$376

03

$399

04

$390

05

$386

06

$376

07

$376

08

$376

09

$383

10

$379

11

$408

12

$376

13

$376

14

$376

15

$376

16

$376

17

$376

18

$376

19

$376

20

$376

21

$376

22

$376

23

$376

24

$376

25

$381

26

$376

27

$376

28

$376

29

$376

30

$376

31

$376
February 2024
S
M
T
W
T
F
S
01

$389

02

$385

03

$388

04

$388

05

$376

06

$376

07

$376

08

$387

09

$395

10

$405

11

$379

12

$376

13

$376

14

$376

15

$381

16

$394

17

$410

18

$376

19

$376

20

$386

21

$397

22

$412

23

$423

24

$443

25

$388

26

$393

27

$412

28

$431

29

$454
March 2024
S
M
T
W
T
F
S
01

$400

02

$417

03

$376

04

$378

05

$396

06

$413

07

$428

08

$439

09

$446

10

$397

11

$404

12

$421

13

$434

14

$445

15

$457

16

$462

17

$417

18

$423

19

$443

20

$448

21

$453

22

$458

23

$464

24

$422

25

$431

26

$450

27

$453

28

$457

29

$460

30

$473

31

$439
April 2024
S
M
T
W
T
F
S
01

$475

02

$491

03

$493

04

$493

05

$493

06

$511

07

$481

08

$491

09

$508

10

$512

11

$509

12

$506

13

$521

14

$487

15

$496

16

$509

17

$514

18

$513

19

$502

20

$514

21

$474

22

$482

23

$494

24

$500

25

$505

26

$492

27

$503

28

$459

29

$467

30

$478
May 2024
S
M
T
W
T
F
S
01

$482

02

$501

03

$494

04

$502

05

$459

06

$464

07

$473

08

$479

09

$503

10

$505

11

$514

12

$478

13

$480

14

$489

15

$500

16

$523

17

$534

18

$542

19

$508

20

$505

21

$511

22

$518

23

$537

24

$547

25

$559

26

$525

27

$522

28

$535

29

$544

30

$558

31

$563
June 2024
S
M
T
W
T
F
S
01

$632

02

$592

03

$593

04

$609

05

$618

06

$625

07

$622

08

$624

09

$586

10

$600

11

$617

12

$618

13

$616

14

$615

15

$617

16

$588

17

$609

18

$614

19

$616

20

$618

21

$618

22

$616

23

$593

24

$722

25

$720

26

$717

27

$717

28

$607

29

$605

30

$584
July 2024
S
M
T
W
T
F
S
01

$606

02

$612

03

$598

04

$499

05

$602

06
07
08
09
10
11
12
13

$554

14

$525

15

$549

16

$559

17

$555

18

$543

19

$694

20

$689

21

$661

22

$675

23

$678

24

$667

25

$1048

26

$1151

27

$1145

28

$1124

29

$1133

30

$1133

31

$1125
August 2024
S
M
T
W
T
F
S
01

$1120

02

$1122

03

$1122

04

$1111

05

$1119

06

$1122

07

$1117

08

$1115

09

$1117

10

$1117

11

$1209

12

$670

13

$679

14

$666

15

$662

16

$492

17

$495

18

$477

19

$486

20

$502

21

$487

22

$485

23

$488

24

$495

25

$475

26

$498

27

$517

28

$510

29

$514

30

$524

31

$536
September 2024
S
M
T
W
T
F
S
01

$516

02

$547

03

$583

04

$582

05

$589

06

$597

07

$607

08

$575

09

$604

10

$634

11

$635

12

$636

13

$636

14

$640

15

$597

16

$619

17

$649

18

$657

19

$660

20

$658

21

$662

22

$609

23

$628

24

$652

25

$662

26

$663

27

$660

28

$670

29

$612

30

$624
October 2024
S
M
T
W
T
F
S
01

$644

02

$651

03

$650

04

$650

05

$662

06

$602

07

$612

08

$633

09

$635

10

$635

11

$642

12

$663

13

$606

14

$616

15

$636

16

$635

17

$631

18

$637

19

$658

20

$604

21

$598

22

$617

23

$619

24

$614

25

$617

26

$644

27

$584

28

$567

29

$580

30

$584

31

$579
November 2024
S
M
T
W
T
F
S
01

$581

02

$606

03

$550

04

$534

05

$553

06

$572

07

$582

08

$586

09

$613

10

$554

11

$536

12

$549

13

$572

14

$580

15

$579

16

$584

17

$510

18

$520

19

$538

20

$564

21

$590

22

$603

23

$575

24

$508

25

$515

26

$530

27

$558

28

$574

29

$587

30

$574
December 2024
S
M
T
W
T
F
S
01

$509

02

$514

03

$529

04

$574

05

$579

06

$590

07

$592

08

$519

09

$530

10

$537

11

$580

12

$563

13

$569

14

$576

15

$497

16

$523

17

$534

18

$553

19

$554

20

$749

21

$746

22

$674

23

$848

24

$870

25

$866

26

$868

27

$861

28

$866

29

$800

30

$868

31

$865
January 2025
S
M
T
W
T
F
S
01

$944

02

$855

03

$564

04

$543

05

$516

06

$519

07

$543

08

$540

09

$581

10

$533

11

$527

12

$489

13

$489

14

$494

15

$520

16

$530

17

$529

18

$529

19

$502

20

$489

21

$514

22

$524

23

$537

24

$525

25

$530

26

$510

27

$489

28

$508

29

$511

30

$530

31

$524
Things to See & Do
American Library (1 mins Walking)
Since 1920 the American Library has been a center of English language literature and culture with speaker series on art, culture, world events.
Eiffel Tower (5 mins Walking)
Paris' most iconic site and one of the world's most visited attractions. Take the elevator or stairs to the top of this magnificent structure for beautiful views over Paris.
École Militaire (10 mins Walking)
Napoleon attended military school here and the buildings still show gunfire signs from the French Revolution in 1789
Musée de l'Armée (14 mins Walking)
One of the world's finest collections of arms, armor, and uniforms. It is renowned for its enormous collection of medieval armor.
Les Invalides (15 mins Walking)
A masterpiece of French Classical architecture built by Louis XIV; Napoleon's tomb rests under the golden dome.
Champs Elysees (17 mins Walking)
One of the world's most famous shopping boulevards. Make sure to visit the Louis Vuitton flagship store!
Trocadéro (18 mins Walking)
The Palais de Chaillot sits on top of the hill and houses the Museum of Architecture, Maritime Museum and the Museum of Mankind. Stunning pictures of the Eiffel Tower can be taken from the surrounding gardens with their majestic fountains
Place de la Concorde (20 mins Walking)
Admire the beautiful fountains and the ancient Egyptian Luxor Obelisk
Rodin Museum (20 mins Walking)
View some of Rodin's most famous sculptures including The Kiss and The Thinker

Shopping & Eating
Rue Cler (5 mins Walking)
Among the best streets for food in Paris! Cafés and brasseries where you can enjoy dining or shopping at specialty food purveyors with wines, fresh produce, fish, cheese, pâtissières, bakeries and gourmet prepared foods -- a wonderful part of the Parisian experience.
Luxury Stores on Avenue Montaigne (10 mins Walking)
Home to many of the leading fashion houses including Louis Vuitton, Dior, Chanel, Fendi, Valentino and Ralph Lauren, as well as jewelers like Bulgari.
Rue de Grenelle Market (17 mins Walking)
Open on Wednesdays and Sundays, this market is located in the 15th arrondissement and has excellent prices
Rue du Commerce (18 mins Walking)
A true Parisian shopping street with trendy boutiques, food stores, bistros
Saxe-Breteuil Market (20 mins Walking)
Open on Thursday and Saturdays and features some of the most beautiful organic and deluxe food stands in Paris

Public Transport
RER (6 mins Walking)
Pont de l'Alma (Line C)
Métro (9 mins Walking)
Alma - Marceau (Line 9)
Métro (12 mins Walking)
École Militaire (Line 8)