Discover the charms of Saint-Germain-des-Prés during your stay at the Morey, a beautiful two-bedroom, two-bathroom apartment as chic as its setting in the 6th arrondissement. Carefully decorated, this vacation rental features a stylish, contemporary décor that blends beautifully with historic details like the original wood ceiling beams and stone walls. Sunlight from two sets of large windows fills the stylish open-plan living room and kitchen with dining area. Spend relaxing evenings dining at home and sharing time with family and friends. With two bedrooms and two bathrooms, the Morey is a welcoming vacation rental for up to four guests and a comfortable home away from home right in the heart of the Left Bank.
Step outside and you'll be surrounded by a charming Parisian neighborhood in one of the most sought-after quartiers in Paris! Stroll to elegant Place Saint-Germain-des-Prés and spend a morning soaking up the atmosphere at the iconic Les Deux Magots and Café Flore or enjoy an afternoon shopping in Saint-Germain. One of the best shopping areas in Paris, it has big name designers, boutiques by up-and-coming names in fashion, plus iconic Parisian pastry and chocolate shops. Go for a romantic stroll through the Luxembourg Gardens nearby or walk to the Seine River and cross over to visit the Louvre Museum, Notre Dame Cathedral and all the famous sights on the Île de la Cité and Île Saint-Louis islands. Whether you're craving the famous macarons from Ladurée or you're in search of the freshest ingredients in the charming food shops along Rue de Buci, you'll find the best shopping and dining spots just moments from the Morey.
Kindly note, this apartment is on rue Princesse, a lively street and popular nightlife scene. While the windows are double-pane glass, this rental is not suitable if you are noise-sensitive. Be sure to read guest reviews to ensure the apartment meets your requirements.
This is a historical building dating back to the 1700's, the original French oak stairs have stood the test of time beautifully but are uneven in some places.
This apartment is not suitable for children under the age of 13 years.
Things To Note
Neighborhood: 6th arrondissement
Size: 650 sq ft/60 sq m
Age Restrictions: No children under the age of 13
Cooling: Central air conditioning in the living room and bedrooms
Sound: Apartment is set on lively street not suitable for noise-sensitive guests.
Accessibility/Security: No elevator; 1.5 flights of stairs about 37 wide, some uneven steps.
Paris 2024 Olympics: Special Terms
Room Details
| Room | Beds | Details |
| --- | --- | --- |
| Bedroom 1 | Dual King (1) | Dual king bed (71in x 79in; 180cm x 200cm) which can be separated to form two single beds |
| Bedroom 2 | Single (2) | Two single beds (31in x 75in; 80cm x 190cm) that can be made up together to form a dual extra-wide queen bed |
| Bathroom 1 | | Shower (fixed and flexible showerheads) toilet and sink The washing machine and separate dryer are also located in this bathroom |
| Bathroom 2 (en suite to Bedroom 2) | | Shower (fixed and flexible showerheads), toilet and sink |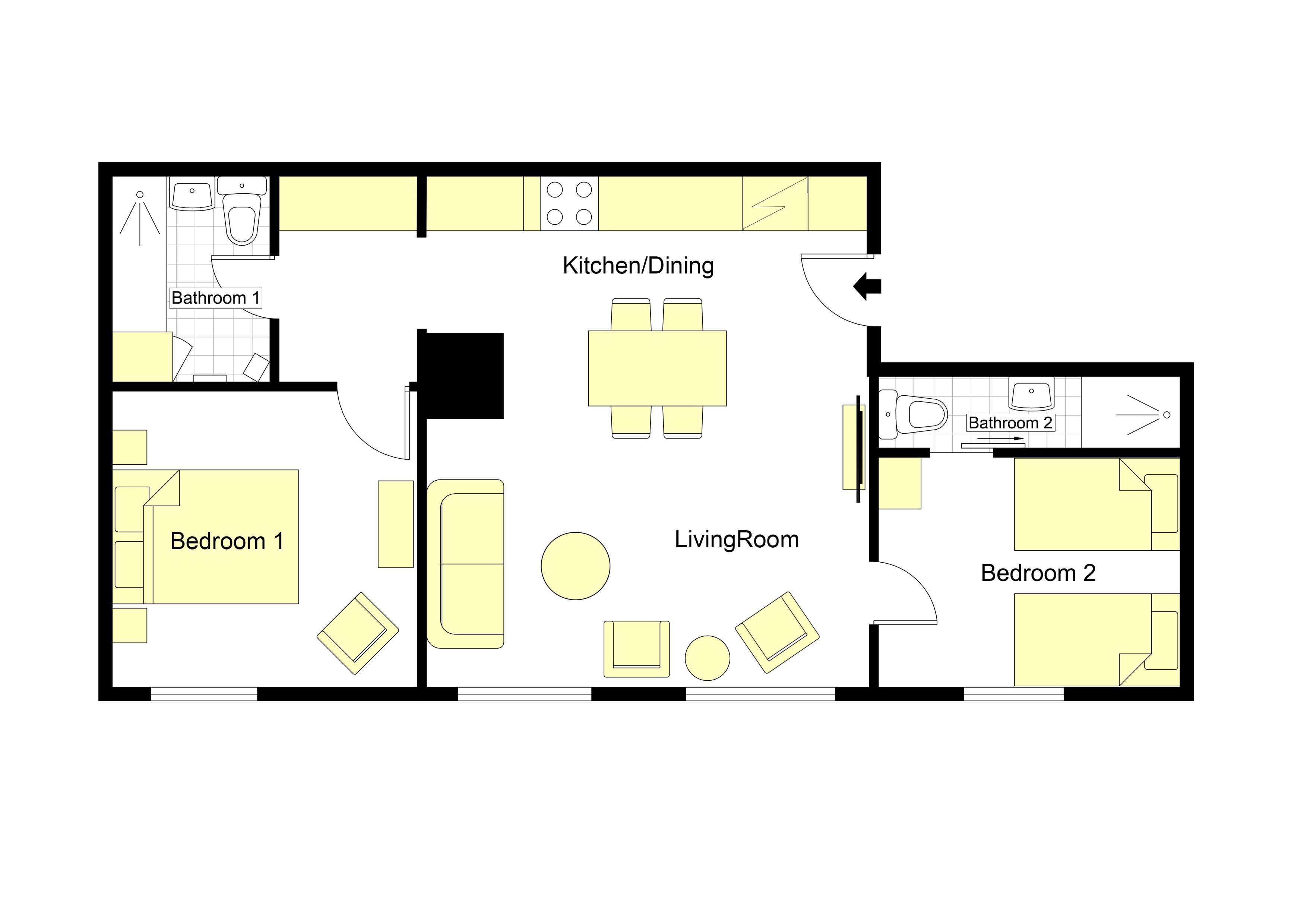 General Amenities

Toiletries
Carbon Monoxide Detector

Kitchen

Fully Equipped
Starter Supplies
Kitchen
French Press
Kettle
Microwave
Nespresso Style Coffee Machine
Oven
Toaster
Refrigerator
No Dishwasher

Accessibility

Private Entrance
3rd Floor North American
No Elevator

Connectivity/Entertainment

WiFi
TV
TV - Limited English Programs

Heating/Cooling

Heating
Sound Dampening Windows
A/C-Partial

Laundry

Dryer
Iron & Board
Washer
Thank you for submitting your review. It will be processed shortly!
August 20, 2023 - Website
Great Apartment
by Lori B Kase
We LOVED the Morey. Such a nice apartment, loved the cute (though noisy), mostly pedestrian street. The apartment is in the perfect St. Germain location - we walked all over Paris from here and there were great cafes, restaurants, coffee shops, boutiques and even a food hall/market all within a few blocks. The manager of the property was immediately responsive to any questions we had. There's a bar right below on the street, so things can get noisy at night, but it didn't bother us at all. There are noise machines in the bedrooms if you need them.
Morey amour
by Jan Waddell
My husband and I have just returned from staying at the Morey while on 2 weeks vacation in Paris. From the moment you cross the threshold through the large solid, aged doors you are drawn into a lovely little French courtyard bathed in soft sunlight. Once you make the easy ascent up the stairs and enter the spacious, beautifully decorated apartment you feel right at home. The apartment hosts were waiting for us on arrival and readily available to communicate with for the few needs we had during our stay. It is an open concept kitchen/living area, 2 bedrooms and 2 bathrooms. The kitchen is fully equipped but with all of the wonderful restaurants steps away we didn't need to cook. If you want to enjoy the local nightlife, there are oh so many cafés and bars to sip a glass of wine or have a cocktail. The apartment is very quiet and despite the nearby establishments we were not disturbed. There are sound machines provided if needed but we did not use them. The king size bed was extremely comfortable after a day of touring. There was plenty of closet space for clothes storage as well. The central location of the Morey makes it an easy walk or Metro ride to the Parisienne sites. The nearest Metro is a 2 minute walk away as well as the grocery, pharmacy, and the breathtaking St Sulpice Church. For a relaxing afternoon stroll, walk 10 minutes or less to the Jardin du Luxembourg, have a cup of Angelina's hot chocolate then head over to the Medici fountain to relax. It was truly an ideal place to feel at home in Paris, hopefully we will return in the not so distant future.
January 30, 2023 - Website
Morey Review
by Erica Gregorio
Perfect little apartment for a weeks stay. Street definitely has a lively night life but it did not bother us. Great location.
January 4, 2023 - Website
A Great Choice
by Elizabeth A Skinner
It was lovely to stay in the Morey apartment again. It was perfect for 3 of us, very comfortable and complete. The beds are quite comfortable and the bathrooms well designed (though the tiny sink in the smaller one was a challenge to use). We especially liked the renovated kitchen area -- it is much more functional than it used to be. The location on Rue Princesse cannot be beat. There are several very good bistros and restaurants in the neighborhood, a supermarket (Monoprix) nearby and a boulangerie (Secco) with great croissants around the corner. And nearby Metro stations make getting around the city quite easy. The only downside is the noise at night from the several bars on Rue Princesse, though the white noise machines were quite effective. Despite that, we would definitely stay there again if and when the opportunity to visit Paris again arises.
Thank you so much for the stay at Morey! This is such a cute apartment and so beautifully decorated. We loved the neighborhood. There are many fabulous restaurants and some favorite local stores and wonderful shopping. This location is a great midpoint to anything you want to see or do while in Paris! Can't wait to till our next visit!
December 16, 2019 - Website
Great apartment in fabulous area - walking distance to all the 6th has to offer. Great local restaurants and Marks and Spencer down the block! Would stay here again except for the noise from the bars at street level. Also stairs and landing outside apartment door a little tricky. This is my 5th time renting from Paris Perfect and highly recommend !!!
September 16, 2019 - Website
We appreciate Paris Perfect and their staff meeting us at the adorable Morey Apartment as soon as we arrived from the airport so much! Like all transatlantic passengers, we were bleary-eyed and needed to check in. A huge thank you for this great service!! We also loved the three tours we booked via Localers Tours on the Paris Perfect website -- the neighborhood orientation tour our first morning, a tour of Versailles with one of their engaging guides, and a Sunset Champagne Luxury Cruise in a beautiful Venetian wooden boat on the Seine. I cannot recommend the sunset cruise enough -- especially if you have a special occasion to celebrate as we did! The Morey apartment was charming and had all the conveniences we needed with one caveat. We had read about the street noise from the establishments downstairs in past reviews, but we underestimated the decibel level in the apartment until 4 am, even with earplugs, white noise machines, and the air conditioning running. We are not light sleepers but found the shouting and singing at the top of the lungs until 4 am to be disruptive. This problem could be alleviated by noise- and light-cancelling curtains such as those found in hotels on busy streets or the provision of some Bose noise cancelling headphones. We realize that we had notice of this noise - we just underestimated it and take responsibility for that. We hope to rent again some day with Paris Perfect at a quieter locale.
Morey Review
by Jennifer W
This was our second stay with Paris Perfect. We've also used London Perfect and Italy Perfect and had amazing experiences. The apartment was great for the four of us. We were so happy to have A/C as there were record breaking temps during our stay in Paris. The apartment is in an amazing location were you can walk to everything & I was delighted to see when we got there that the famed CityPharma was just around the corner! (Read about it here: https://www.parisperfect.com/blog/2018/07/best-places-to-buy-french-beauty-products-in-paris/) It is true that there are many bars on the street and the crowds are lively well into the night, but between the A/C and everything else PP provided (white noise makers, ear plugs), there was no issue with the noise. Having laundry and two bathrooms also felt like luxury by that time in our travels. Thank you Paris Perfect, we will be back!
Very comfortable and in wonderful convenient location. Noisy street at night because of bistros and bars not an issue as sound blocked effectively by windows. AC was excellent and greatly appreciated. Space was perfect for 3 - a little tight for more.
We loved the Morey apartment and had a wonderful stay! It's beautifully renovated and decorated with every comfort in mind. And it's in a fantastic location and neighborhood. The description is very accurate and does caution that it may not be the best choice for light-sleepers, as there is a festive bar scene on the street. But that said there are terrific restaurants and bars -- as well as gelato & macarons, bakery, groceries, etc. -- all a stone's throw away. Beyond the apartment, Paris Perfect's tips on the neighborhood and activities were invaluable (and we had a fabulous cooking class with Charlotte Puckette). We were very happy to find the Morey apartment and would definitely recommend it!
Morey is a very comfortable, clean, & cozy apartment in the best, most convenient area for walking or training to everything you'd want to see in Paris. We felt very safe and it was fun to pretend to live like a Parisian! Although we loved our stay and appreciated the services and support of Paris Perfect, we didn't get much sleep as the street noise below is profoundly noisy even with thick windows and sound machines. Each night the bars below were more than lively until the wee hours of the morning.
Loved the Morey apartment in Paris' 6th Arrondissement. It was a great location - central to everything and in a wonderful neighborhood. We loved being near the food market and Marks & Spencer grocery store. The neighborhood was quite lively at night but the AC helped cool the apartment and cut the noise. The cab service was great. We got to the apartment easily and our day out to Giverney was wonderful - we would definitely recommend this. The coffee maker was useful to have as well. We would definitely recommend Paris Perfect and would use them again. Thanks!
The Morey apartment was wonderful. It was everything we had hoped for - we loved it! I only wish we could have stayed longer. We were close to everything, the beds were very comfortable and the earplugs and laundry facility were useful. We would love to come back! PS - Thank you for the welcome basket.
November 19, 2017 - Website
Morey Review
by Jerry Mercure
Great location, just what we were looking for. Ear plugs required since apartment is right above two bars. Paris Perfect team was the best - from initial contact through end of stay. Can't thank them enough for accommodating our special needs. Welcome basket was a pleasant surprise. Would definitely use them again in the future.
November 17, 2017 - Website
Morey Review
by Carlo Bella
We had a wonderful stay and we loved the apartment. All the info provided was very helpful. Paris Perfect is great. Thank you!
October 28, 2017 - Website
Morey Review
by Michele Devall
We enjoyed our stay in Morey so very much. Perfect location in St Germain, it was just a few blocks from many wonderful sites. We were two senior citizen couples, and we all were quite comfortable there. I would say the the stairs were a little tricky, but no one fell. We just needed to be alert and careful. Food shopping, restaurants, bakery, and anything else we needed was a pleasant and short walk. We used the bus, the metro, and the Open Bus, which were also an easy distance. I would highly recommend this apartment to friends coming to Paris, and we just may return to Morey again. Thanks to Lia, who clearly explained everyone, and helped us to have a memorable stay in Paris!
October 22, 2017 - Website
Morey Review
by Constance D
Apartment was great, location was wonderful. Our greeter Lia was great!
October 3, 2017 - Website
Thank you for my stay at Morey. This apartment is so chic and beautifully decorated. I love everything about it, including its location in the most fun and lively neighborhood. There is nothing missing around here, including a huge Apple store, fabulous market, wine shop, and flower market. I hope to return here many more times. Morey feels like my home away from home!
Morey Review
by Barbara W
What a fabulous, quirky, cute, comfortable apartment! AC was very efficient and the WiFi was super fast. The apartment is very close to the metro and it is a nice area for walking. It is a lively street at night, light sleepers be warned. I would definitely stay here again. Lia, welcomed us and gave us good instructions and gave us a nice welcome basket. We did purchase the Starter Pack, which was very helpful. Victor Cab service was very helpful getting us to the airport.
Morey Review
by Barbara W
Thank you for a wonderful apartment! The location was perfect for all we did and we especially loved the air conditioning with the excessive heat we had and the super fast wifi! Very comfortable and it met all of our needs, even though we struggled a bit using the Nespresso machine at first. Special thanks to Lia for your quick responses and solutions to our few small problems. We would definitely recommend Paris Perfect! Your welcome greet and instructions (plus the supporting paper work with helped our failing memories) were very helpful!
Excellent! AC works great! Apartment is very well appointed. A bientot!
We spend five glorious nights chez Morey! We loved every second! Vive la France!
The apartment was wonderful. We thoroughly enjoyed our stay!
Morey Review
by Peggy watson
Our stay at the Morey apartment was perfect. We have stayed on Rue Guisard previously so we already knew the neighborhood and enjoyed the convenience of the new Marks & Spencer store right up the street for quick pick ups. The week was wonderful and the weather could not have been better, warm and sunny every day ! We look forward to contacting you again in the future for another rental. If my husband and I come alone we will be very interested in one of the studio apartments in the SGDP neighborhood.
February 2, 2017 - Website
We had a fantastic time here in Paris. Morey is just perfect. The apartment has everything we needed. Quaint location too. Miravel is a very nice apartment and it had everything we needed. It is nicely decorated and quite comfortable. The neighbourhood is lively with many excellent restaurants. There are also pubs on Princesses Street whose clientele spilled into the street and it can be quite loud and noisy. We had a hard time falling asleep. It was in the description of the apartment that it was a bit noisy but we did not think it could get that loud. Other than that we had a fantastic time! We look forward to coming back to Paris and hopefully staying there again.
January 9, 2017 - Website
Morey Review
by Carol Sanders
I loved everything about staying at Morey apartment in Paris. I even loved the nightclubs below, just join the party til 2am! The St. Germain area is my favorite place to stay and if you want an authentic experience this is the place for you!! Hope to return soon to MY Paris apartment!
Morey Review
by Guadalupe Garcia
Very cozy apartment, it was very clean and nice decorated. Very well located in Saint Germain neighborhood we had everything close to us. We had a wonderful time and we enjoyed the apartment a lot.
We had a great vacation here at Morey. Paris is a lovely city and my daughter, wife and I saw and experienced many wonderful sights, food and drink.
Morey Review
by Elizabeth Wilson
The location of Morey is spectacular. The apartment manager was very helpful and friendly. The apartment was nice and clean and only 1.5 flights up, so easy to do several times per day. The apartment was well-stocked with nice appliances, amenities, and linens. The welcome basket with wine, food, maps, and other treats was greatly appreciated. The travel books and apartment binder had great information and recommendations for our stay. While the street is, indeed, loud, it is festive and fun to hear, and good earplugs drowned the noise when it was time to sleep. Our only disappointment was the change in furnishings in the main room. The photos on the website showed a much more neutral, classic decor that suited our taste and the way we wanted to use the space. The different furnishings did not allow for a workspace nor seemed as relaxing. Lastly, while I was happy to have the opportunity to recycle and dispose of accumulating trash, feeling obligated to take the trash out the morning of departure added a bit of stress and multiple stair climbing runs. I hope I have the opportunity to return to Paris and rent again from Paris Perfect-you were great!
Morey Review
by Katherine, Peter, Wanda and David
We loved or stay at your place. You have done a beautiful job, especially the Komani throw pillows. One tip for you and your future guests; a great little French restaurant called La Jacobine. We happened upon it yesterday and had dinner - we are going back tonight. Great time, great food, great wine, great place.
November 20, 2015 - Website
We enjoyed this apartment very much! It was roomy enough for my husband, daughter and I to relax in after a long day of taking in our favorite city! It has everything you need to feel at home. The location was perfect for us.
October 23, 2015 - Website
Morey Review
by Jim and Connie
We four could not have had a better time in the city of light. Magnificent! This sweet apartment s wonderfully appointed and just a short walk to anywhere. We depart with grateful hearts.
October 10, 2015 - Website
Morey Review
by Jyll Holzman
We stayed at both Romanee and Morey. Both apartments were Parisian perfection, and frankly beat our rather high expectations. The staff is astonishingly responsive to any needs you might have or could imagine. We come to Paris annually, and will never book another hotel or apartment through another service.
Morey Review
by Michael Van Dyke
Our family of 5 had a lovely stay at Morey. The apartment was convenient and had everything we needed. We enjoyed a few breakfasts in the apartment, getting groceries at Monoprix and croissants / loaves of bread at Smithe & Caston. Our family loved Le Bistrot d'Henri (a few doors down) and Gelato at Amorino around the corner. We hope to return to Paris again. Thank you for helping to create wonderful memories for our family.
Thank you! We loved our stay at Morey. What a unique and beautiful apartment. Everything was so convenient, all the shops, pharmacy, patisserie and restaurants. We loved the historic feel of the building, how cool to be staying in a place that was built in the 17th century. My family and I had such a wonderful time and look forward to returning to Paris.
Morey Review
by Shee-Chang Tang
Myself, my wife and our teenage daughter stayed in this wonderful quaint apartment for a week while attending the French Open. The closest metro station - Mabillon - is literally around the corner and provided easy access to the French Open and other parts of Paris. We enjoyed a few of the many restaurants which are a few steps from the apartment - Le Bistrot d'Henri, Boucherie Rouliere, La Crepe it du Clown. We had our breakfasts in the apartment with pastries from local bakeries. We ate in one evening with goodies from Le Bon Marche - fantastic food hall, a must visit for foodies, 10 minute walk from the apartment - after a busy afternoon shopping in the many area boutiques. We played tennis at Luxembourg Gardens which is close by. The noise level is high in the apartment but we were able to cope with the supplied ear plugs - in the nightstands, nice touch - and the air conditioners - which also came in handy since we had a few very hot days. We would definitely consider staying here again the next time we're in Paris!
December 3, 2014 - Website
Morey Review
by Misti Hopper
What a beautiful place!! We had such a "Perfect Time" in Paris. Can't wait to return. Morey Apartment is wonderful and everything was just as promised. Very spacious, clean and thought out.(organized) Paris Perfect is a fabulous company to work with. This was our first trip to Paris and we were nervous to say the least. We have traveled all over Europe and the South of France but had avoided Paris thinking that it would be to stressful and difficult. Paris Perfect changed all of that!!! Mia was our "Greeter" and she knew all the answers to all our questions. Some, I'm sure she's heard dozens of times. Mia was very kind and helpful. I hope we get to meet again. Make sure to use Victor Cab Service also. This company works in conjunction with Paris Perfect and we could not have done it without them. So honest. In closing, I cannot say enough. We will return Paris. I have a lock on a bridge that says so....Please feel free to contact me via email if questions. Thank you Paris Perfect for helping make beautiful memories. Misti Hopper Midland, Texas
December 2, 2014 - Website
Morey Review
by Ronald Truant
Excellent apartment in a vibrant area. This 2 bedroom, 2 bathroom apartment was a perfect accommodation for 2 couples travelling to Paris. There is plenty of room to relax and the kitchen facility is very adequate. The grocery market, as well as outdoor markets are only a short walk away. We loved the Ste Germaine area and would definitely stay in this area again. The apartment is located on a very lively street, lined with bars and restaurants. It is a short walk to Boulevard Ste Germaine where there is shopping, dining or simply drinking a glass of wine. The apartment was clean and amenities were more than adequate. We had one issue with the apartment that was quickly resolved by the Manager. If you are looking for location, location, location with an easy walk to major attractions them Morey is for you. Paris perfect is a professional company that delivers on their promises and we will definitely use them again for future trips. We have recommended Paris Perfect to many of our closest friends.
November 24, 2014 - Website
Morey Review
by James E Best
Fantastically convenient location in the heart of the coolest "locals" restaurants, bars and clubs. Major fashion, furniture and assessory stores are minutes away. The apartment is complete with first rate linens, towels and amenities. If you want to be in the center of eerything this is the place.
October 18, 2014 - Website
Morey Review
by Jill Dimitri
We had a wonderful time in Paris. Morey was extremely comfortable for our group (2 couples). We enjoyed making breakfasts at home (terrific bakery and markets nearby); happy to have a washing machine. Some extra towels would have been nice. It's a perfect location to walk EVERYWHERE. The only negative is the street below gets very noisy at night and into the early morning hours. Young people hang out in the short street and create a roar of voices. We dealt with this by closing the windows and using the air conditioning. The "white noise" allowed us to sleep well. Next time we may look for a quieter street - if there is such a thing in the left bank!
Base Nightly Rates – May Not Include Fees such as Greeting, Cleaning, Damage Waiver, Credit Card Processing and Tourist Taxes. For full price, please put in dates.
Available
Unavailable
Check-In Only
Check-Out Only
October 2023
S
M
T
W
T
F
S
01
02
03
04
05
06
07
08
09
10

$561

11

$554

12

$543

13

$548

14
15
16
17
18
19
20
21
22
23

$535

24

$535

25

$535

26

$535

27

$535

28

$535

29

$535

30

$535

31

$535
November 2023
S
M
T
W
T
F
S
01

$579

02

$596

03

$542

04

$536

05

$535

06
07
08
09
10
11
12

$562

13

$535

14

$547

15
16
17
18
19
20
21
22
23
24
25

$691

26

$562

27

$616

28

$604

29

$604

30

$686
December 2023
S
M
T
W
T
F
S
01
02
03
04
05
06
07

$660

08

$697

09

$723

10

$578

11
12
13
14
15
16
17
18
19
20
21
22
23
24
25
26
27

$867

28

$896

29

$949

30

$1347

31

$1229
January 2024
S
M
T
W
T
F
S
01

$1312

02

$745

03

$716

04

$683

05

$665

06

$651

07

$554

08

$563

09

$535

10

$535

11

$535

12
13
14
15
16
17
18
19
20
21
22
23
24
25
26
27
28
29
30
31
February 2024
S
M
T
W
T
F
S
01
02
03
04

$535

05

$535

06

$535

07

$535

08

$535

09

$535

10

$540

11

$535

12

$535

13

$535

14

$540

15

$566

16

$573

17

$595

18

$535

19

$535

20

$550

21

$544

22

$578

23

$575

24

$589

25

$535

26

$535

27

$543

28

$546

29

$589
March 2024
S
M
T
W
T
F
S
01

$607

02

$624

03

$535

04

$535

05

$560

06

$560

07

$612

08
09
10
11
12
13
14
15
16
17

$584

18

$597

19

$631

20
21
22
23
24
25
26
27
28

$684

29

$938

30

$960

31

$881
April 2024
S
M
T
W
T
F
S
01
02
03
04
05
06
07
08
09
10

$703

11

$711

12

$747

13

$752

14

$692

15

$676

16

$710

17

$719

18

$735

19

$739

20

$743

21

$677

22

$654

23

$697

24

$704

25

$714

26

$631

27

$723

28
29
30
May 2024
S
M
T
W
T
F
S
01
02
03
04
05
06
07
08
09
10
11
12
13
14
15
16
17
18
19
20
21
22
23
24
25
26

$630

27

$648

28

$688

29

$708

30

$737

31

$748
June 2024
S
M
T
W
T
F
S
01

$755

02

$697

03

$714

04

$751

05

$770

06

$794

07

$796

08

$801

09

$750

10

$780

11

$810

12

$816

13

$823

14

$827

15

$829

16

$784

17

$826

18

$829

19

$833

20

$843

21

$847

22

$852

23

$813

24

$1242

25

$1247

26

$1252

27

$1257

28

$989

29

$979

30

$935
July 2024
S
M
T
W
T
F
S
01

$981

02

$988

03

$987

04

$989

05

$983

06

$985

07

$939

08

$979

09

$992

10

$997

11

$1001

12

$993

13

$1001

14

$943

15

$975

16

$983

17

$974

18

$953

19

$1124

20

$1096

21

$1019

22

$1020

23

$1004

24

$976

25

$1696

26

$1667

27

$1649

28

$1598

29

$1680

30

$1756

31

$2037
August 2024
S
M
T
W
T
F
S
01
02
03
04
05
06
07
08
09
10
11
12
13

$807

14

$807

15

$822

16

$636

17

$630

18

$589

19

$589

20

$622

21
22
23
24
25
26
27
28
29

$1328

30

$1324

31

$1361
September 2024
S
M
T
W
T
F
S
01

$1331

02
03
04
05
06
07
08
09
10
11
12
13
14
15
16
17
18
19
20

$888

21

$903

22

$822

23

$829

24

$887

25

$891

26

$898

27

$923

28

$933

29

$831

30

$835
October 2024
S
M
T
W
T
F
S
01

$910

02

$904

03

$902

04

$935

05

$948

06

$840

07

$836

08

$860

09

$854

10

$824

11

$835

12

$846

13

$729

14

$719

15

$758

16

$747

17

$748

18

$745

19

$781

20

$672

21

$681

22

$740

23

$752

24

$760

25

$714

26

$936

27

$797

28

$793

29

$861

30

$887

31

$914
Things to See & Do
Saint-Germain-des-Prés Church (3 mins Walking)
Admire the beautiful stained glass windows in this church dating back to the 6th century
Luxembourg Gardens (5 mins Walking)
Beautiful gardens with ponds, statues, tennis courts, and a vintage carousel for the children. Luxembourg Palace sits within the grounds and is home to the French Senate.
Musée d'Orsay (15 mins Walking)
Located in an old train station, this museum is home to the largest collection of impressionist and post-impressionist masterpieces in the world.
Notre Dame Cathedral (15 mins Walking)
One of the world's most famous churches and a must-see if you're visiting Paris. Marvel at the incredible French gothic architecture and climb to the top to get a close-up view of the cathedrals famous gargoyles.
The Louvre (15 mins Walking)
A trip to Paris isn't complete without a visit to the world-famous Louvre museum. See the Mona Lisa, Venus de Milo and other famous artworks

Shopping & Eating
Saint-Germain-des-Prés Neighborhood (2 mins Walking)
The Left Bank's most celebrated thoroughfare, packed with cafes, famous restaurants, unique specialty shops and luxury brands
Famous Literary Cafés (4 mins Walking)
Les Deux Magots and Café Flore
Le Bon Marche & La Grand Épicerie (10 mins Walking)
The oldest department store in Paris selling a range of luxury goods. Be sure you visit La Grande Epicerie de Paris, the magnificent food hall.

Public Transport
Métro (2 mins Walking)
Mabillon (Line 10)