The magnificent Montagny is a welcoming two-bedroom, two-bathroom apartment that perfectly combines a beautifully decorated interior with an enviable setting in the heart of the 7th arrondissement, very near the Eiffel Tower and the Seine River. With a refined Parisian-style interior that has been curated down to the smallest detail, it is an inviting home with room for six guests to enjoy a relaxing stay. The living room serves as a central gathering area with comfortable furnishings. Lean out the floor-to-ceiling windows and look to the side to get an incredible view of the Eiffel Tower. You'll be surprised every time just how close it is!
The living room features an open-plan dining area that is both intimate and accommodating, with ample elbow room for family gatherings. The kitchen will delight the chefs in the family, with a bright and airy atmosphere and enough counter space for multiple cooks. In the evenings, retire to the two bedrooms with high-quality beds, clever built-in wardrobes and sunny windows to create a restful atmosphere. Rejuvenate before the day's adventures in the two pristine bathrooms. With a gracious layout and touches of elegance around every corner, the Montagny truly feels like royal retreat.
The distinguished interior is fitting, considering that the Montagny is situated in one of the most sought-after neighborhoods of Paris - the 7th arrondissement. Simply step outside and you'll be surrounded by a wealth of diversions and things to do. Settle into one of the local cafés that dot the neighborhood or take an easy stroll to the nearby Eiffel Tower and Champ de Mars gardens. The gorgeous Quai Branly Museum is also located a few minutes walk away, as is the famous Rue Cler market street, where a never-ending array of gourmet delights is on display. In the evenings, take a stroll along the Seine riverbanks and soak up the romantic atmosphere and views that Paris is famed for. With a worldly collection of Paris' top attractions at your doorstep, it's simple to experience the crème de la crème of the City of Light.
The Montagny apartment is finished with such beautiful Parisian details that we felt it needed a classic white wine name as inspiration. We picked Montagny, a rich white wine from the Burgundy region that is primarily made with Chardonnay grapes.
Indulge in an elegant escape at the Montagny, and discover how incredible a Paris vacation can be when a stellar location and beautiful accommodations are seamlessly combined.
Things To Note
Neighborhood: 7th arrondissement
Size: 940 sq ft/85 sq m
Cooling: No central air conditioning, 3 powerful Dyson Bladeless fans placed throughout the property
Accessibility/Security: 1 small step
Registration Number: 7510701657307
Paris 2024 Olympics: Special Terms
Room Details
| Room | Beds | Details |
| --- | --- | --- |
| Bedroom 1 | King (1) | King bed (71in x 79in x 180cm x 200cm) |
| Bedroom 2 | Single (2) | Two single beds (31in x 79in; 80cm x 200cm) that can be zipped together to form a dual extra-wide queen bed |
| Living room | Double (1) | High-quality sofa that converts into a comfortable double bed (55in x 79in; 140cm x 200cm) |
| Bathroom 1 (en suite to Bedroom 1) | | Bathtub, shower (fixed rainfall and flexible showerheads), toilet and double sink |
| Bathroom 2 (en suite to Bedroom 2) | | Shower (fixed rainfall and flexible showerheads), sink and heated towel rack. Toilet in a separate room, please see floorplan. |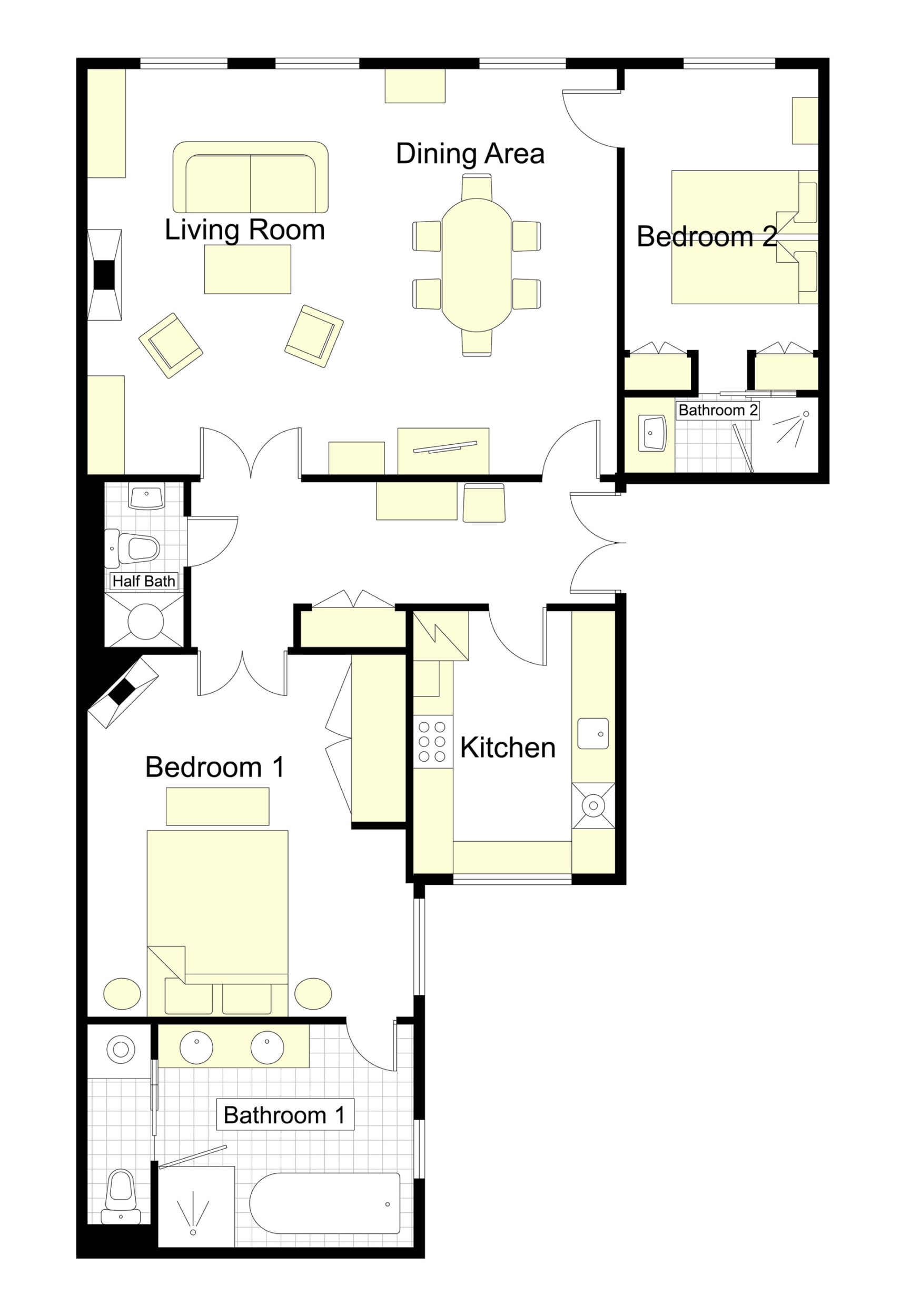 Kitchen

Fully Equipped
Starter Supplies
Kitchen
Coffee Maker
Dishwasher
Microwave
Nespresso Style Coffee Machine
Oven
Stovetop
Toaster
Refrigerator

Accessibility

Private Entrance
4th Floor North American
Elevator

Connectivity/Entertainment

WiFi
TV
TV - Limited English Programs

Heating/Cooling

Heating
No Air Conditioning
Portable Fan(s)
Non-Working Fireplace

Laundry

Dryer
Iron & Board
Washer

Special Features

Eiffel Tower View
Instant Booking
Thank you for submitting your review. It will be processed shortly!
Our incredible Paris home
by Fahy dewitt
We had the most wonderful 10 day trip to Paris. Staying in the Montagny was what made this trip so wonderful. We felt like true Parisians living in this neighborhood. It was so close to so many things including a walk along the Seine, the Eiffel Tower, food and bistros. The apartment itself had such an elegance. The details were in abundance. Paris Perfect is the best source for all things Paris!!
February 25, 2023 - Website
Perfect Parisian Apartment
by Shruthi
Beautiful Parisian Apartment at the base of the Eiffel tour. Super convenient, safe, walkable. The main bedroom and bathroom are spacious. The second bedroom and bathroom are a little tight. The sofa turns it a double bed so that's a plus. If you are traveling with large bags, you might have to plan multiple trips up the flight of stairs to the third floor as the elevator can fit only one medium sized bag at a time.
January 6, 2023 - Website
Loved our stay at Montagny
by Lisa V
We loved our stay at Montagny. It's very comfortable for 4 people--enough space for everyone to relax after spending the day exploring and excellent storage to put away all our stuff. It is also well equipped for cooking. We enjoyed getting to know the surrounding neighborhood--there are so many wonderful markets and restaurants nearby. Thanks for a wonderful stay.
May 24, 2022 - Manual Entry
A great Parisian "welcome back"!
by Leanne
Walking into Montagny after a two-year covid-related hiatus was a great "welcome back" to the city. The apartment is bright, easy to relax in and well-lighted in all rooms (not always true in Paris apartments!) The kitchen is exceptionally well stocked for cooking and easy clean up. It says sleeps six, and it would, but it would be pretty cozy...3 or 4 is an easier fit. As always, the Paris Perfect folks were PERFECT. We appreciated how smooth the entrance to the apartment was. We have used PP for years and wouldn't think of using any other rental service. If you are returning customers expecting the lush bath robes from yesteryear, you'll be disappointed (apparently, they stopped stocking them during the pandemic, though not sure why). Also, make sure to check all the outlets before your greeter leaves just in case the one you want to charge your phone is decides to go on "greve".
January 5, 2022 - Manual Entry
Always a pleasure!
by Tania Beasley-Jolly
Once again, Paris Perfect provided a top notch holiday. We have rented many times over the years. Was clean, comfortable and looked as was described! Was great to see the greeter too. Sorry to see him go. We will return soon. Only feedback...coat rack. Can't wait to return! Apartment was extremely well equipped too!
August 11, 2021 - Website
Montagny Review
by Charmaine Burden
The apartment was beautiful and clean and perfectly located! The team at Paris Perfect were so attentive and professional. The whole experience was seamless and magical . We can�t wait to return. Thank you.
January 20, 2020 - Website
Beautiful, well equipped apartment so close to Eiffel Tower and amenities. Apartment has everything you could wish for, handover was very well executed upon check-in, also recommend to utilize transfer/cab service offered. Thoroughly recommend Montagny for your Parisian experience.
October 28, 2019 - Website
Montagny Review
by Hanna B
We have been renting apartments in Paris for 20 years: this apartment was the best in terms of supplies (kitchen, bath), linens, comfortable furnishings that we ever experienced. In addition, the staff was helpful with our move in and with minor apartment problems during our stay. It is clear that Paris Perfect is an organization with high professional standards across the board. And the apartment was extremely attractive although the second bedroom and second water closet were pretty small. An excellent base for our 2-week stay!
August 29, 2019 - Website
Montagny Review
by Tami C
What a lovely apartment! Our group of 6 stayed there and couldn't have found a better apartment or location! There were many great restaurants near by and we were able to walk just one block over to the Eiffel. We spent a lot of time around it, up in it and even had a picnic on the lawn. I am so pleased to have found Paris Perfect. They were over the top nice to work with and the whole rental process was smooth and easy. The beds were comfortable and the quaintness of the apartment really made us feel like we were true residents! Thank you Paris Perfect. We will definitely be renting from you again in the future!
August 20, 2019 - Website
Montagny Review
by Sherri K
We visited Paris for the first time in several years early July with our 2 teenage granddaughters. We have never before stayed in the 7th. We really enjoyed the location! Convenient to markets, restaurants, sights and museums. The Montagny was spacious with a fully equipped modern kitchen which enabled us to enjoy shopping and preparing several meals. The neighborhood tour is a must! The apartment decor is very French and charming. The only problem we encountered was the central air conditioning which was turned off per building regulations in the evening and was disabled in the central entry and sitting area. The Paris Perfect staff recognized our concerns and did what they could to rectify the situation. Regardless, we had a wonderful stay and would definitely use this company again.
Montagny Review
by Susan G
It was our adult daughter's first visit to Paris and we wanted a place to chill and make believe we were Parisians for a week. The Montagny apartment is in a beautiful building within steps of great restaurants, a pharmacy, retail and food stores, which we loved being city folks. The Eiffel tower was also steps away as well as the office for the tour buses and post office. What more can we have asked for! But wait - the best was the apartment itself. The double security door feature into the building made us feel safe as well as the wonderful neighbors that greeted us we came and went. PP's Kevin was waiting for us at the apartment when we arrived and gave us a quick tour of everything, which was extremely helpful. My daughter's room had a big soft bed with it's own bathroom and plenty of closet space. Each night she opened her french doors (windows) and slept to the subtle music and soft chatter of people walking by. The breeze from the windows in the apartment was unbelievable even during the hot summer. PP also provided floor fans for each of the rooms. I loved walking barefoot on the beautiful wood floors and cooking a quick breakfast in the gorgeous kitchen (big red gas stove) with its large fridge and dishwasher with everything else you could possibly need. The living room had lovely comfortable furniture we used to take naps or watch TV after a long day of sightseeing. The master bedroom and bath was something out of a dream with it's rich decor and beautiful claw foot tub and closed shower. I mention the closed shower because for some reason doors in showers are not common in Europe. To say we enjoyed the Montagny is an understatement. What we want to say it this apartment was the perfect apartment to a perfect stay in a magical city- Paris. Thank you PP for your kindness and providing a perfect experience! We are already planning to come back!
Montagny Review
by Joanne K
Apartment is beautifully furnished! Eiffel Tower view is amazing. Location was excellent. Close to all major attractions. Plenty of shops, cafes and patisseries. Vertite was our greeter and she did a fantastic job in explaining about the apartment. Nice building. Very quiet. Second bedroom is on small size- just be aware of that . As usual a Perfect stay with Paris Perfect. They think of everything. This is my 3rd time renting from them.
Montagny Review
by Margo R
Paris Perfect is invaluable. The Montagny apartment exceeded our expectations. It is spacious, airy, quiet, comfortable, and beautiful. It felt like home - or better. With two bedrooms, two showers, one and one half bathrooms, a fully stocked modern kitchen, and a large living room/dining room, it is far more comfortable, charming, and luxurious than a hotel room. It was wonderful to come home to for a glass of wine after a long day out and about. The Paris Perfect staff were lovely and incredibly responsive. I will definitely book with Paris Perfect the next time I am in Paris and recommend it to everyone without reservation.
February 24, 2019 - Website
Montagny Review
by Michael T
Absolutely perfect apartment! Superb location that could not be bettered, tastefully decorated and excellent facilities. We would stay there again without hesitation!
January 4, 2019 - Website
Montagny Review
by Skye P
We are super grateful to the wonderful staff at Paris Perfect! We loved our apartment which was a stone's throw from the Eiffel Tower and many charming shops and restaurants. And it was a huge gift to have all of our tours and restaurant reservations booked in advance; we highly recommend you make use of this service as well. We especially loved the macaroon cooking class; the chef was wonderful with our kids and we also adored our lunch at Lulu which is right next to the Louvre. If you go, be sure to sit outside on the white couches overlooking a lawn adorned with beautiful structures (and in view of the museum). It was dreamy (best to go in warm weather!). We also really enjoyed the full day bike tour of Versailles. You can't go wrong with Paris Perfect!
December 26, 2018 - Website
Montagny Review
by Alan & Theresa L
We just stayed in Montagny for four weeks and enjoyed it tremendously. Of the 6 or 7 Paris Perfect apartments we've rented in the past few years we think we liked Montagny the best. Plenty of room, very well furnished and equipped, nice location on a quiet street, beautiful bathrooms and a very nice, workable kitchen. On the negative side: the building lobby is being renovated, the elevator is laughably small and there's only a partial view of the Tour Eiffel. Nevertheless, this is a great property that we will no doubt return to someday.
October 31, 2018 - Website
Montagny Review
by Miriam N
The Montagny apartment is really perfect, better than advertised! We really appreciated being met by Kevin, who gave us a good orientation. The Paris Perfect people have thought through all the details, so that one can cook a real meal in the well-equipped kitchen. Everything you need is in abundance: cutlery, sharp knives, cooking pots, cups, plates, glasses (including champagne flutes), coffee-makers. Well, there wasn't anything we needed that was missing. On top of all that, everything worked (WiFi, appliances, washer and dryer). And the decor made us feel right at home. Dimmers on the beautiful light fixtures were really appreciated. We liked the dog pillow so much that when we found the shop only 5 minutes away from here (By Matayo), we bought two to take home with us. They will be a fun way to remember our trip. The only thing we needed to add was fresh flowers! Even though we had lived in Paris previously, not too far from the Montagny apartment, the list of recommendations (restaurants, cafes, grocery stores, etc.) was extremely helpful. Nearby restaurants that were suggested and that we tried were superb: Le Violon d'Ingres (pricey but worth every penny); La Fontaine de Mars; and Au Bon Accueil.
December 1, 2017 - Website
Montagny Review
by Michael Schield
Our stay in Paris was great. The apartment was exceptionally nice. The kitchen had everything we could want, the furniture was of a very high standard. Even the books and knickknacks on the shelves in the living room made it feel both homey and classy. We would certainly return.
November 11, 2017 - Website
Montagny Review
by David M
The apartment was lovely and we enjoyed it. The team were great- nothing but the best to say. They were fantastic and very helpful. Really good communication as well.
August 24, 2017 - Website
Montagny Review
by Bhavna V
Excellent experience! Fine living in an excellent location. Very Parisian, and comfortable apartment. My kids loved it. The team were VERY helpful. Excellent customer service. Made our stay in Paris feel like home. Very seamless.
August 24, 2017 - Website
Montagny Review
by Bhavna V
Excellent experience! Fine living in an excellent location. Very Parisian, and comfortable apartment. My kids loved it. The team were VERY helpful. Excellent customer service. Made our stay in Paris feel like home. Very seamless.
Montagny Review
by Diana Sutherland
We absolutely loved Montagny. Great neighbourhood , loved the glimpses of The Eiffel Tower ( also a great landmark when we got lost! ) The apartment is impeccable , everything you could need to settle into the Parisian lifestyle. Only negative would be the 2nd bedroom and bathroom was tiny but it was cosy!! Living areas compensated for the small bedroom. Master bedroom and bathroom fabulous .
Montagny Review
by MIchael Hollern
Your staff was responsive and informed. Kevin was a great help with orientation. The apartment was beautifully appointed and well-equipped. Location excellent. We enjoyed the neighborhood and would definitely stay there again. Only negatives: an uncontrolled barking dog a couple nights; we couldn't find the safe. Thank you for insuring a wonderful experience.
Montagny Review
by Lynda H Watson
Our apartment was exactly as pictured and we were more than happy with our choice, The Montagny. The second bedroom is really small, but works fine for sleeping. The shower in that suite is tiny and we could never get the water even warm, so we shared the large bath in the master suite. The office staff was more than accomodating and we certainly enjoyed the cleaning service that showed up every Friday. We also used Victor's cab service as suggested and found the drivers to be punctual and professional. A word of caution to anyone who wants to use the washer and dryer: Read the instruction booklet and ask for help if you don't get the results you expect. The appliances are much different than here in the States. If you are looking for a beautiful unit in a great neighborhood, this is a great choice.
From the first immediate, helpful response to my call with a responsive, caring representative, to the actual stay at Montagny, it was indeed Perfect! The careful description was accurate and the location and appointments - from the comfortable bed to the handsome decor - were worth every cent. A knowledgeable representative met us on time and was efficient and helpful. We will be back and will use your services in London as well. Thank you!
January 29, 2017 - Website
Montagny Review
by Letisia D
The information AND the greeter were extremely useful, well organised and very helpful. We have no complaints from start to finish it was great. Kevin was super!
January 4, 2017 - Website
Montagny Review
by Jorge V
The apartment was wonderful, very nice. The team were great - very professional. Excellent!!!
December 22, 2016 - Website
Montagny Review
by Lori O'Keefe
We thoroughly enjoyed our trip to Paris and look forward to returning! The apartment was perfect for my husband and I and our 3 older teen girls. Loved the master bedroom and bath. The second BR and bath were small but worked fine. The sofa bed was really comfortable, according to the 2 girls who slept on it. Location can't be beat. The whole process was easy and low stress. It was also really nice to have someone meet us at the apt to give an overview of everything and make restaurant recommendations. Victor's car was fantastic. Thank you so much for a great experience -- it was perfect Paris. Would definitely recommend!
Base Nightly Rates – May Not Include Fees such as Greeting, Cleaning, Damage Waiver, Credit Card Processing and Tourist Taxes. For full price, please put in dates.
Available
Unavailable
Check-In Only
Check-Out Only
June 2023

| S | M | T | W | T | F | S |
| --- | --- | --- | --- | --- | --- | --- |
| | | | | 01 | 02 | 03 |
| 04 | 05 | 06 | 07 | 08 | 09 | 10 |
| 11 | 12 | 13 | 14 | 15 | 16 | 17 |
| 18 | 19 | 20 | 21 | 22 | 23 | 24 |
| 25 | 26 | 27 | 28 | 29 | 30 | |
July 2023
S
M
T
W
T
F
S
01
02
03
04
05
06
07
08

$854

09

$822

10

$862

11
12
13
14
15
16

$809

17

$825

18

$835

19

$721

20

$850

21
22
23
24
25

$1031

26

$1035

27

$1053

28

$1063

29

$1053

30

$1017

31

$1110
August 2023
S
M
T
W
T
F
S
01

$1121

02

$1114

03

$1101

04

$1110

05

$1100

06

$1074

07

$1110

08

$1120

09

$1122

10

$1098

11

$1107

12

$1096

13

$1063

14

$1071

15

$1082

16

$1069

17

$1069

18

$1083

19

$1071

20

$1043

21

$1088

22

$1095

23

$1087

24

$1096

25

$1116

26

$1113

27

$1041

28

$914

29

$1063

30
31
September 2023
S
M
T
W
T
F
S
01
02
03
04
05
06
07
08
09
10
11
12
13
14
15
16

$1222

17

$1153

18

$1150

19

$1122

20

$1235

21
22
23
24
25
26

$911

27

$1220

28
29
30
October 2023
S
M
T
W
T
F
S
01
02

$1076

03

$1100

04

$1229

05
06
07
08
09
10
11

$1220

12

$1220

13

$2061

14

$2091

15
16
17
18
19
20
21
22
23
24
25
26
27
28
29
30

$999

31

$1027
November 2023
S
M
T
W
T
F
S
01

$1051

02

$1054

03

$1046

04

$1089

05

$1000

06

$980

07

$1015

08

$1025

09

$1047

10

$1051

11

$1084

12

$994

13

$980

14

$1008

15

$1027

16

$1048

17

$1062

18

$1066

19

$972

20

$977

21

$996

22

$1024

23

$1045

24

$1079

25

$1071

26

$976

27

$982

28

$992

29

$1013

30

$1027
December 2023
S
M
T
W
T
F
S
01

$1066

02

$1052

03

$956

04

$963

05

$976

06

$1003

07

$1021

08

$1067

09

$1055

10

$957

11

$967

12

$981

13

$1016

14

$1019

15

$1070

16

$1070

17

$959

18

$993

19

$1360

20

$1381

21

$1386

22

$1398

23

$1408

24

$1308

25

$1344

26

$1410

27

$1418

28

$1449

29

$1460

30

$1764

31

$1752
January 2024
S
M
T
W
T
F
S
01

$1454

02

$1056

03

$1035

04

$1030

05

$1006

06

$949

07

$900

08

$897

09

$917

10

$903

11

$890

12

$878

13

$863

14

$803

15

$796

16

$830

17

$816

18

$782

19

$837

20
21
22
23
24
25
26
27
28
29
30
31
February 2024
S
M
T
W
T
F
S
01
02
03
04
05
06
07
08
09
10
11
12
13
14
15
16
17
18
19
20
21
22
23
24
25
26
27
28
29

$883
March 2024
S
M
T
W
T
F
S
01

$914

02

$930

03

$832

04

$926

05

$953

06

$992

07

$1035

08

$1088

09

$1102

10

$986

11

$996

12

$1027

13

$1058

14

$1080

15

$1131

16

$1152

17

$1032

18

$1048

19

$1077

20

$1085

21

$1090

22

$1128

23

$1157

24

$1047

25

$1070

26

$1092

27

$1093

28

$1097

29

$1546

30

$1505

31

$1440
April 2024
S
M
T
W
T
F
S
01

$1076

02

$1095

03

$1092

04

$1088

05

$1091

06

$1130

07

$1046

08

$1068

09

$1092

10

$1098

11

$1092

12

$1092

13

$1134

14

$1054

15

$1058

16

$1087

17

$1093

18

$1095

19

$1093

20

$1135

21

$1056

22

$1043

23

$1074

24

$1091

25

$1109

26

$1093

27

$1139

28

$1051

29

$1026

30

$1054
May 2024
S
M
T
W
T
F
S
01

$1074

02

$1102

03

$1080

04

$1135

05

$1045

06

$1019

07

$1043

08

$1065

09

$1096

10

$1092

11

$1144

12

$1052

13

$1031

14

$1047

15

$1068

16

$1093

17

$1107

18

$1170

19

$1088

20

$1085

21

$1119

22

$1132

23

$1163

24

$1177

25

$1238

26

$1152

27

$1153

28

$1194

29

$1191

30

$1222

31

$1228
June 2024
S
M
T
W
T
F
S
01

$1271

02

$1180

03

$1168

04

$1234

05

$1244

06

$1285

07

$1286

08

$1290

09

$1221

10

$1257

11

$1300

12

$1304

13

$1313

14

$1311

15

$1313

16

$1247

17

$1276

18

$1302

19

$1306

20

$1316

21

$1317

22

$1319

23

$1274

24

$1318

25

$1318

26

$1317

27

$1316

28

$1315

29

$1318

30

$1272
Things to See & Do
Champ de Mars (2 mins Walking)
Expansive park surrounding the Eiffel Tower. Stroll, jog, bicycle or play in one of the playgrounds, go to the puppet theater or carousel, or just sit and enjoy Parisian life and the beautiful gardens.
Eiffel Tower (2 mins Walking)
Paris' most iconic site and one of the world's most visited attractions. Take the elevator or stairs to the top of this magnificent structure for beautiful views over Paris.
Bateaux Mouches Boat Tours (4 mins Walking)
We recommend boarding a boat tour on your first day, where you can relax and enjoy sailing down the Seine viewing many Paris monuments, museums and cathedrals
Musée du quai Branly (4 mins Walking)
Showcases indigenous art and cultures from Africa, Asia, Oceania and the Americas
Musée des égouts de Paris (8 mins Walking)
Fascinating tour of limestone arches and caverns down in the sewers that traverse all of Paris. The Phantom of the Opera was inspired by these underground streets.
École Militaire (10 mins Walking)
Napoleon attended military school here and the buildings still show gunfire signs from the French Revolution in 1789
Musée de l'Armée (12 mins Walking)
One of the world's finest collections of arms, armor, and uniforms. It is renowned for its enormous collection of medieval armor.
Trocadéro (12 mins Walking)
The Palais de Chaillot sits on top of the hill and houses the Museum of Architecture, Maritime Museum and the Museum of Mankind. Stunning pictures of the Eiffel Tower can be taken from the surrounding gardens with their majestic fountains
Champs Elysees (15 mins Walking)
One of the world's most famous shopping boulevards. Make sure to visit the Louis Vuitton flagship store!
Les Invalides (15 mins Walking)
A masterpiece of French Classical architecture built by Louis XIV; Napoleon's tomb rests under the golden dome.

Shopping & Eating
Pont de l'Alma Food Market (10 mins Walking)
Largest open market in Paris; open Wednesday and Saturday mornings
Rue Cler (10 mins Walking)
Among the best streets for food in Paris! Cafés and brasseries where you can enjoy dining or shopping at specialty food purveyors with wines, fresh produce, fish, cheese, pâtissières, bakeries and gourmet prepared foods -- a wonderful part of the Parisian experience.
Luxury Stores on Avenue Montaigne (12 mins Walking)
Home to many of the leading fashion houses including Louis Vuitton, Dior, Chanel, Fendi, Valentino and Ralph Lauren, as well as jewelers like Bulgari.

Public Transport
RER (8 mins Walking)
Pont de l'Alma (Line C)
Métro (11 mins Walking)
Alma - Marceau (Line 9)
Métro (13 mins Walking)
École Militaire (Line 8)