Welcome to the beautiful and much-loved Merlot! It was once called the "most romantic apartment in Paris" by Fine Living Channel and it still exudes the classic Parisian luxury.
With two beautiful bedrooms and two modern bathrooms, this apartment is a welcoming retreat in the heart of the 7th arrondissement, very near the Eiffel Tower, Champ de Mars gardens, the Seine River and wonderful shopping and dining options just steps away. Above all, the Merlot is a happy place with its sun-filled rooms, which is a treasured commodity in Paris. The Merlot faces south, is located on the 6th floor and has what is called in French real estate, no "vis-à-vis," which is to say that there is no apartment building directly across the street from it. This translates to lots of light and privacy. Plus, step out to the balcony to enjoy a stunning view of the Eiffel Tower due to its high position in the building (6th floor North American, 5th floor European) and you'll understand just why guests continue to fall in love with the Merlot.
Every aspect of the apartment charms thanks to the beautiful details and carefully-selected decorative touches. Merlot has a lovely Parisian balcony, where you can sit and enjoy your café crème and croissants in the morning or watch the light show on the nearby Eiffel Tower in the evening.
Things To Note
Neighborhood: 7th arrondissement
Size: 825 sq ft/75 sq m
Registration Number: 7510700311282
Paris 2024 Olympics: Special Terms
Room Details
Room
Beds
Details
Bedroom 1
Extra-Wide Queen (1)

Extra-wide queen bed (63in x 79in; 160cm x 200cm)
Bedroom 2
Single (2)

Two single beds (35in x 75in; 90cm x 190cm)
Living Room
Single (1)
Trundle (1)

High-quality sofa with trundle converts into two comfortable single beds (31in x 75in; 80cm x 190cm)
Bathroom 1 (en suite to Bedroom 1)
Shower (fixed and flexible showerheads), toilet and sink
Bathroom 2
Shower (fixed and flexible showerheads), toilet and sink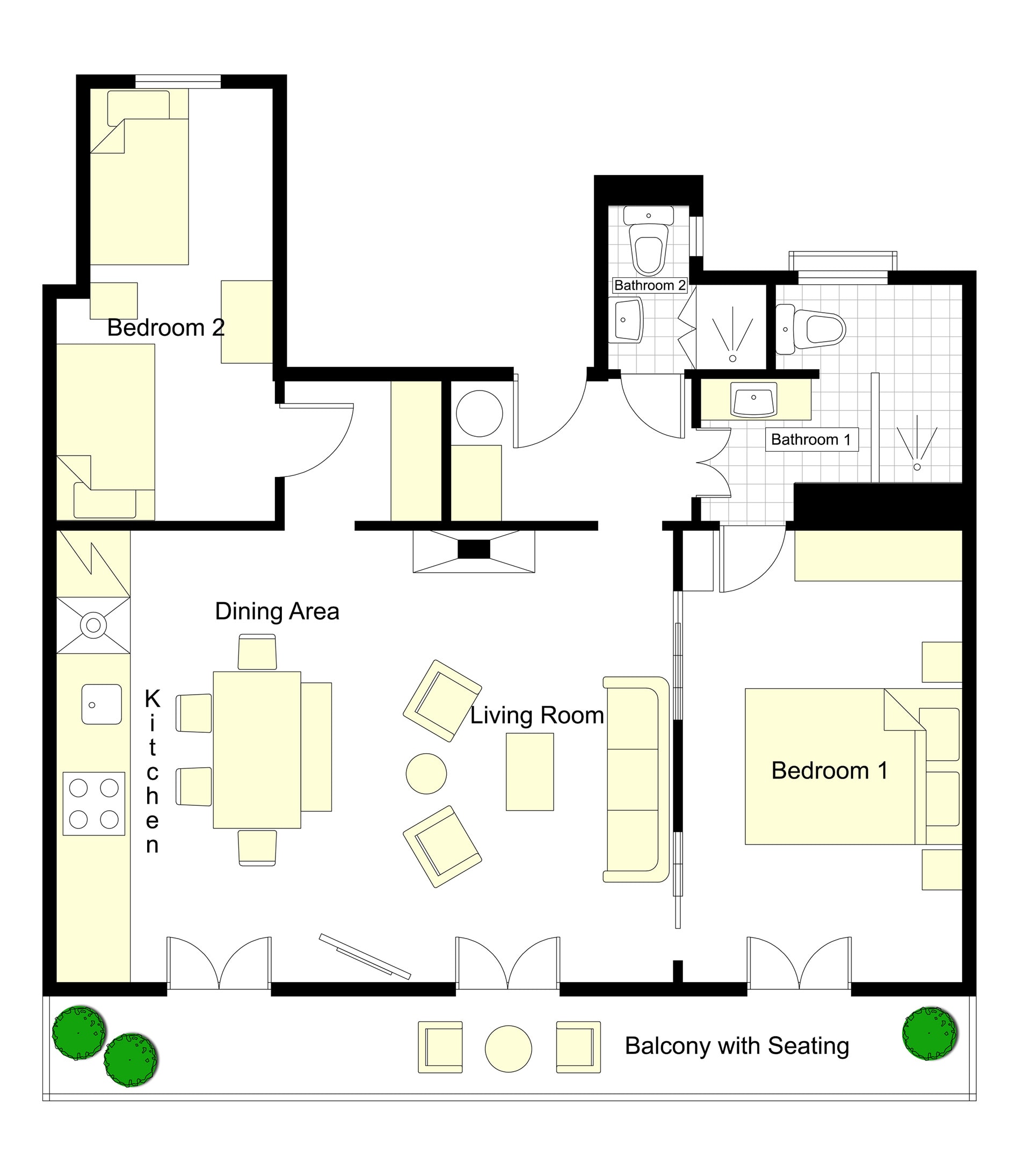 General Amenities

Toiletries
Hotel Safe
Smoke Detector
Carbon Monoxide Detector

Kitchen

Fully Equipped
Starter Supplies
Kitchen
Blender
Coffee Maker
Dishwasher
Microwave
Nespresso Style Coffee Machine
Oven
Stovetop
Toaster
Refrigerator

Accessibility

Private Entrance
6th Floor North American
Elevator

Connectivity/Entertainment

WiFi
TV
TV - Limited English Programs

Heating/Cooling

Heating
Portable Fan(s)
A/C-Central
Non-Working Fireplace

Laundry

Dryer
Iron & Board
Washer

Special Features

Eiffel Tower View
Balcony/Terrace
Instant Booking

Amenities

Elevator
Air Conditioning
Thank you for submitting your review. It will be processed shortly!
The Merlot was the perfect base for our first time in Paris. The location was fantastic with a view of the Eiffel Tower, but also within easy walking distance to many restaurants, museums, and other sights, including Les Invalides, the Musee' de Orsay, and the Rodin Museum. It was wonderful to have a full kitchen in addition to two bathrooms. The only way Merlot could be better is if it had a full American king bed instead of a queen-sized bed in the primary bedroom. We would definitely recommend and consider coming again!
All reviews already stated but I'll confirm again that this place was perfect. We had a family of 6. There is a pull out trundle bed in the living room and the beds, were actual beds, not like flimsy sofa beds you see in motels. Only issue we had was the safe in the master bedroom was locked prior to our arrival but really wasn't an issue as the apartment itself was safe. Lena was there to greet us and went through the entire apartment. Fridge was stocked with a bottle of wine, milk and OJ. There is a grocery market with all your needs right around the corner as well as there offices. On the day of checkout (10am) we were able to walk our luggage to their offices and leave them there until we left. This essential can give you another day in Paris to explore. Metro and bus stops are all a short walk away. Looking at the Eiffel Tower light up every night from your balcony does not suck. If you are on the fence of booking this unit, just do it! You won't be sorry
February 17, 2023 - Airbnb
Best view of the Eiffel Tower.
by Ksenia S
Спасибо! Усе было потрясающе! Лучший вид на Эйфелеву башню.
Translation:
Thank you! Everything was amazing! The best view of the Eiffel Tower.
January 31, 2023 - Airbnb
Keyifliydi ama bekledigimizden kucuktu.
Translation:
It was fun but smaller than we expected.
December 18, 2022 - Website
Winter Bliss
by Jamie and Steve Potlock
Staying in Merlot at the beginning of December was magical. It's a beautiful cozy glamorous apt with a view of the Eiffel Tower! Close to shops, bakeries, and restaurants as well as fantastic Rue Cler, Merlot makes it easy to stop being a tourist and to become a real Parisian for a week. It was an unforgettable trip for us. We felt very safe and completely cared for by the wonderful Paris Perfect Team. Thank you! We will be back soon!
April 1, 2022 - Manual Entry
Super Location
by Karen H.
We loved the location of the Merlot apartment. Easily accessible to/from Metro and could walk to so many Paris sites from here. We walked 141 kilometers in 8 days, so you can see it was easy to reach places. The kitchen is very well equipped. Groceries stores are all around as are shops and restaurants. Next time I would get an apartment with a full on view of the Eiffel Tower, but we could still see it very well. Just a personal preference. Paris Perfect was very easy to work with/key exchange/instructions. We had a fabulous trip and we will certainly use Paris Perfect again.
November 29, 2021 - Manual Entry
My stay was wonderful
by Rebecca F.
November 3, 2019 - Website
Merlot Review
by Leslie K
The neighborhood and views were wonderful. The apartment was smaller that we expected but very well appointed.
The Merlot apartment was a perfect location for our stay in Paris. The two bedroom, two bath apartment provided everything we could possibly need. It was comfortable, spacious, secure, beautifully decorated and what could be better than the Eiffel Tower right outside your door? The Pars Perfect team was accommodating and available to respond to our needs. If I return to Paris, I will certainly be use Paris Perfect for my accommodations.
The Merlot apartment was fantastic. It had everything we could have wanted and more. The location was perfect, there were restaurants, grocers, boulangeries and many other services within walking distance. The Paris Perfect staff were very helpful. I plan to book another apartment with Paris Perfect next time I visit.
January 19, 2019 - Website
Loved Merlot, well appointed, good kitchen, amazing view. Never tired of looking Champs de Mars and the tower. Would love to come back.
August 23, 2018 - Website
We loved our stay in Paris Perfect's Merlot apartment. The apartment itself is incredibly charming - full of french details and truly had everything that we could have needed. The bathrooms were updated, clean and stocked just like a high end hotel. The location right near the Eiffel Tower could not have been better - an easy walk to many areas in the 7th, 1st and 6th and close to the Metro. The view alone was incredible. It was the perfect place for our family of four to stay while in Paris! Also, the staff were so helpful with dinner recommendations, reservations and tickets - like having your own private concierge. Thank you Paris Perfect!
We had a wonderful time exploring Paris as a family. The apartment was very nicely appointed and it is in a fantastic location. We can't wait to get back and explore more of this wonderful city!
Merlot is a delightful flat near the Eiffel Tower. It's in a good safe neighborhood, with everything you would ever need close by. There are great restaurants, markets, tourist attractions, and the metro. The flat itself was perfect, clean, well appointed, and quite spacious for up to four people - I would definitely return.
January 3, 2018 - Website
Merlot Review
by Sara Robling
Apartment was wonderful-- recently redone, beautifully decorated and a fabulous view of Eiffel Tower. It was as pictured and described. The neighborhood was very safe and convenient. The people at Paris Perfect were very helpful-- when things went wrong, they were there quickly. Only negatives-- the building itself was dark and dreary and a little dirty, and the UPS office as listed in the guide didn't exist; luckily I had an Uber driver who was nice enough to search out the FEDEX office with me. I would use Paris Perfect again-- great to have the help and guidance and apartment screening.
September 26, 2017 - Website
Merlot Review
by Ainsley Malone
This is our third visit to Paris staying in Paris Perfect apartments and our experience continues to be nothing short of fabulous. The Merlot apartment was beautifully appointed; the updated kitchen and bathrooms are gorgeous. We loved the apartment's main sitting room, very spacious with wonderful views of Tour Eiffel. From the explicit instructions to the Paris and 7th arrondissement guides, our every need was addressed. We can't wait for our Paris return and the opportunity to stay in another PP apartment.
September 2, 2017 - Website
Awesome! Thank you for being so kind and helpful during and prior to our stay. Enjoyable experience!
September 1, 2017 - Website
Merlot Review
by Brigid Victorson
We absolutely loved Merlot! This is a beautifully set up, new apartment. We felt so fancy seeing how it was set up! We were greeted so nicely and felt right at home. It was wonderful having a "home" to come back to each day. The view from Merlot is just fantastic, the Eiffel Tower! The neighborhood is quiet and we loved being able to walk to the grocery store for supplies. You thought of everything that we would need during our stay. The apartment was well set up and we were all set to just enjoy Paris, thank you so very much for getting our vacation off to a great start! We would love to come back again.
Merlot Review
by Matthew Harris
My first thoughts upon entering the apartment was they have the best photographer in the world. I was expecting it to be much larger based on the pictures. But after staying there I love the place. The apartment was very nicely done. The decor was nice and there were plenty of electrical outlets. The kitchen was stocked with all needed appliances and it is very clean. The master bedroom is nice size and the bed is comfortable. The master bathroom is small but the use of space in the entire apartment was very well thought out. The second bedroom was small and had 2 twin beds end to end. The second bath is small too but how much time are you going to spend in it? I would recommend this apartment for just one couple or a couple with kids and not 2 couples. It is in a great location with a great view and lots of restaurants. It is also very secure and in a great part of town. I highly recommend this apartment.
Merlot Review
by Wendy Mauro
The Merlot apartment was perfect for our family of 4! There was plenty of space for us. Our favorite part of the apartment was the small balcony where we can sit and admire the Eiffel Tower - which we did nightly. The beds were very comfortable! We went out and got croissants, fresh juice and fruit daily to enjoy in the kitchen. The bathrooms were clean and well positioned for all your necessities. I would highly recommend this apartment for your stay! The building elevator, washer/dryer and kitchen made our stay easy and comfortable.
Merlot Review
by Scott Allison
Paris Perfect services and staff are very helpful and professional. The Merlot Apt is in a great location. It is maintained well with great amenities for our family and 4 children like washer/dryer, dishwasher, comfortable beds, pillows, linens, WiFi. The open layout and the balcony view of Eiffel Tower also made our stay enjoyable. Would definitely use Paris Perfect for our next trip.
Merlot Review
by Judy Hwang
Beautiful apartment and very nicely appointed. It was clean and very bright. Great location and fantastic view for Bastille Day fireworks. Our greeter was very nice and prompt and all the directions for functioning in the apartment were well documented. Thank you for a beautiful stay with our family.
January 2, 2016 - Website
Merlot Review
by Lisa Cella
We thoroughly enjoyed our stay in Paris. The staff at Paris Perfect was extremely helpful and friendly. We stayed at the Merlot apartment and what a perfect location. We walked around the corner to Rue Saint Dominique and found wonderful restaurants, patisseries, wine shop and many other markets. We walked all over Paris from our apartment and had a wonderful view of the Eiffel Tower. They provided everything we needed and were available to answer any questions we had even on Christmas Eve! We will definitely use Paris Perfect again!
Excellent location, quiet, convenient to buses, metro and RER. Excellent restaurants nearby. Apartment is tiny but comfortable. The team was helpful and informative.
October 4, 2014 - Website
Merlot Review
by Carole N
This was our 4th trip to Paris staying at a Paris Perfect property. The management is terrific and very helpful and the properties are very nice. We would stay again if back in Paris.
September 25, 2014 - Website
Merlot Review
by Charles Staple
Our stay in Paris was truly a memorable one - a long overdue family get together from South Africa and London. The apartment contributed to this in no small way. The service and support that we received from the Paris Perfect team was simply outstanding - we all vouch for that. The apartment was just what we were seeking - size, facilities, appliances, location ....... the lot!! We found the area tranquil and peaceful, especially after a busy day in a very busy city. Also, a lovely place to start each day. Definitely at the top of our list when we next return to Paris.
August 26, 2014 - Website
We loved it! Friendly and accommodating office staff. perfect location - nice view of eiffel tower, short walk to subway and lots of great restaurants and a boulangerie around the corner. Nice space, great showers, perfect air conditioning, working kitchen and plenty of supplies. Only downsides are the stairs--elevator only fits 2 people at a time and we had spotty internet - mostly good. We would 100% use them again.
Merlot Review
by Lynnette Schroeder
Our stay in the Merlot apartment was everything we hoped for and more! It was a perfect apartment for my daughter, my niece, my stepmother and myself to live a true Parisian experience. The Paris Perfect office was wonderful and the information provided to us helped us find the best restaurants, markets and boutiques in the area. The neighborhood was quiet, conveniently located and full of French charm. Our encounters with the local merchants were wonderful. We will never forget our beautiful view of the Eiffel Tower from our balcony. I was happy to share my love of the French culture with my family in such a beautiful setting and hope to return soon!
Merlot Review
by Carrie Cotter
We had a fantastic stay! We were a family of five, with kids aged 12, 9 and 4. And the Merlot worked perfectly for us. The kids immediately fell in love with the fun sinks and the charming bedrooms. My girls even named the bird paintings in their room. My son took the pull out bed in the living room. I was worried that we would feel congested due to the pull out bed at first, but it easily tucked away each day and was no problem at all. There was plenty of room for us in the apartment and it was close by to everything we needed. Easy access to the Metro, restaurants and the Rue Cler, and of course, the Eiffel Tower. We anxiously awaited the twinkling lights each night and then simply stepped out on our balcony. Paris Perfect staff was also very helpful with information and tour assistance. Would use Paris Perfect again without hesitation.
Merlot Review
by Emma Maillard
Excellent apartment. We booked as a group of 5 girls for a special occasion and it was so much nicer than being in separate hotel rooms. The view of the Eiffel Tower from the lounge is stunning, makes you feel really at the heart of Paris. Kitchen is small but well equipped (we didn't go to Paris to spend all our time cooking anyway!). Only negative comment I would make is that a couple of areas need paint touch-ups but these are probably just luggage marks. Overall we were delighted with the apartment, also plenty of amenities nearby and very convenient for Metro and RER. It was absolutely ideal for our get-together.
What a wonderful apartment. I traveled with two close friends to visit my daughter who was studying in Paris. Although I had never been to Paris, my friends were both frequent guests. We had all found the apartment to be wonderful. The location is perfect and the neighborhood was quiet and charming. The staff was very professional, and helpful. I would definitely rent again from ParisPerfect.
January 12, 2013 - Website
Merlot Review
by Vanessa S
Our family of 4 stayed at the Merlot for a week in late December where we planned to welcome the New Year 2013 whilst enjoying the view of the Eiffel Tower from our apartment. The 2 bedroom apartment seemed small initially but it was compact, with lots of clever storage. We had everything we need at the apartment including a shopping trolley to purchase our groceries. We chose Paris Perfect because of the good reviews from the Tripadvisor & we were not disappointed. There were supermarkets, fruit & veggie & patisserie shops which were all very close to the apartment. The nearest Metro is about 10 minutes walk away. What we valued most out of this experience was being able to feel at home almost immediately because of the very detailed firsthand account of the area (eg where to shop for what, where to eat) & how to live like a Parisian from Paris Perfect even before we flew into Paris. The staff at Paris Perfect were very helpful & Victor the cabdriver was worth his weight in gold. He took us everywhere & introduced us to good Chinese food in Paris !
January 12, 2013 - Website
Merlot Review
by Pierre D
We have been to Paris at least twice a year for more than 15 years. Over that period of time, we experienced many hotels and apartments (some good and some...bad). Since we found Paris Perfect a few years ago, I can honestly say that they have the best apartment rentals in Paris. Last month, we stayed in Merlot which was again just...perfect!Very quiet and confortable, great location in a wonderful neighborhood. The appartment was a bit small (a least for 5 people) but sufficient. You never get tired drinking a glass of wine with the Eiffel Tower view from your apartment. The staff of Paris Perfect are professionnal and very helpful. Don't waste your time searching elsewhere if you are looking for truly perfect stay in Paris. We are going back to Paris next month and as usual, we already booked with Paris Perfect...
December 30, 2012 - Website
We found your website while searching for a five star hotel to stay in for our first trip to Paris with our teenage children. The stay at the Merlot apartment surpassed the stay at a five star hotel. The amenities, decor, style, and architecture of the apartment was exceptional. All three of our teenage kids said having a "home" in Paris is what made their trip so enjoyable and comfortable. The staff at Paris Perfect was more than accommodating and we appreciate so much the expertise and professionalism of your company. We are planning our next trip to London and Italy and will rent apartments thru London Perfect and Italy Perfect for both trips. Once you experience a "Perfect" apartment you simply cannot go back to hotel living!
November 27, 2012 - Website
Merlot Review
by Barbara J. M
Paris was more beautiful than I had anticipated. We used almost every moment of the day to see the sights. Coming back to the apartment was great - much nicer than a hotel room. We loved the Eiffel Tower was so exciting to see from the balcony, especially with the extra lights at night. We lived like Paris folk, visiting the markets and cooking for ourselves. To be able to do laundry was great. I truly recommend this method of seeing a city.
September 25, 2012 - Website
Merlot Review
by Lorrie Hutton
What a perfect apartment. The view is incredible, the space was perfect for us and we thoroughly enjoyed our time in Paris. We loved the location (three blocks to the metro, but the bus was right outside the door). We used all the information Paris Perfect provided and found it very useful. The apartment was adorable and was perfect for our needs. I would definitely stay there again and would recommend to anyone. The staff was very friendly and helpful and the neighborhood the best. Overall it was a "Paris Perfect" stay.
September 15, 2012 - Website
The Merlot was an ideal location -- quaint, very French, and had everything we needed and more. We thoroughly enjoyed our morning ritual of chocolate croissants from one of the many local patisseries with the superb coffee (espresso) Paris Perfect supplied! From every convenience (electronic and otherwise) to the amazing view of the Eiffel Tower, Paris Perfect lives up to its name!
Merlot Review
by Karina J
The information provided was very helpful. Great location and apartment was very comfortable. We'd love to come back. Everyone we contacted including travel consultants, tour guides, etc were more than helpful and helped make our stay more enjoyable.
Merlot Review
by Barb Patrick
The experience of renting Merlot changed the way I think about travel -- never will a hotel have the same appeal as renting such a fabulous apartment. The Merlot apartment was literally perfect -- charming, clean, comfortable, convenient, etc. In addition, Paris Perfect's service enhanced the apartment living experience to an exceptional level: luggage storage, welcome appointment, stocking of shampoo, lotion, hairdryer, adaptor, trash bags, paper towels, coffee, milk, linens, etc. The fact that there was a washer dryer means that I should've brought 1/3 of the clothes that I did. I literally dream of the day I can go back to Paris and stay in another of these wonderful apartments! Thank you thank you!
Merlot Review
by Letitia Wallace
My family and I were very pleased with our apartment, it was perfect for us. Not only was it very attractive and well furnished but close to so many shops and transportation that we enjoyed. I have told many of my friends and family about our fun trip and where we stayed.
January 3, 2012 - Website
Merlot Review
by Dennis Bunder
Merlot is a pleasing,comfortable,well located apartment with an excellent view of the Eiffel Tower. The afternoon sun lights up the apartment and there is a balcony where one can sit and enjoy the sun and the activities in the park. The local Paris Perfect staff are terrific in providing guidance when needed and available to meet one's needs.The restaurants in the area as outlined in the informational material are uniformly excellent. I specifically recommend Au Bon Accueil,La Fontaine du Mars,Cafe Constant,Thoumieux and Le Florimund. The restaurant(L'Ombre) at the Branly Museem has beautiful views but is overpriced and the food is just average. We look forward to our next stay with Paris Perfect which will be our fourth. Au revoir!
Merlot Review
by Frederick Goetz
Fabulous apartment in a great location. Very well appointed and maintained. Wonderful views of the Bastille day fireworks from the balcony. We will definitely stay here again!
Merlot Review
by Darlene Fortune
The Merlot apartment is beautiful. Luxurious, balcony overlooking the Tour Eiffel. Every amenity provided. The Paris Perfect staff are excellent -- friendly, accommodating, professional. We used Victor, the taxi service, to get in from CDG airport and he was wonderful: pleasant, on-time, courteous. We have absolutely no complaints and will return soon.
Merlot Review
by Mark Platt
The weather was perfect and the location was awesome! Great view of the Eiffel Tower from the patio. We really enjoyed waking in the quaint Parisian neighborhood, buying our baguettes and wine from the local store, and then sitting out on the small patio eating our bread and drinking our wine - of course all with a great view of the Tower a few blocks away. The yellow bakery around the corrner (on Rue Saint-dominique) was awesome! The shopping (again on Rue Saint-dominique) kept my wife and teenage daughter busy for hours. And, the daily market vibe of Rue Cler was a highlight. It was a perfect week! Thanks!
Merlot Review
by Eric E. Ulve
A trip of a Lifetime....This was a vacation where simply everything fell into place for the four of us. Smooth traveling, absolutely wonderful warm spring weather in Paris (all the flowers were blooming!), the amazing and beautiful sites of the City of Lights and a terrific comfortable place to call home for the week. The Merlot apartment was just right for us. Overall we Americans are used to dwelling in an abundance of space. What my wife, friends and I learned was that we probably have more space than we really need to use back home as our place had more than enough room. We really liked the features such as the amenities in the kitchen and the bathroom. Loved having the free phone service to the States. Best of all was coming out onto the terrace at least twice a day to look out onto the city and, of course, the Eiffel Tower. It never got old. I loved my first trip to Paris. I can't wait to come back. I think my favorite neighborhood was where the Merlot was located in the 7th Arr. I wouldn't hesitate to find a Paris Perfect apartment for my return visit. I would bring my wife and four children back to Merlot if only they had a second commode in the second bathroom. Any chance of that??????? So happy my wife discovered Paris Perfect. Thanks for all the great memories....Eric Ulve
December 22, 2010 - Website
Merlot Review
by Sally Fermaint
Our stay in Paris was absolutely wonderful. The city, of course, is beautiful, the people warm and friendly and the food, regardless of how simple, was fantastic. The apartment, however, made the trip. I travelled with 2 twenty year olds and we had so much fun with our down time in the apartment. Instead of running around all the time, we saw what we wanted and took advantage of some of the normal things Parisians do and we had our own place (not a small hotel room) to go back to. We had our own Christmas away from home; made our holiday dinner and opened our presents. The view was exciting and we never tired of it. We went to Madrid after Paris and rented an apartment also. Although beautiful and modern, it doesn't hold a candle to ParisPerfect. I am not counting the view because that would be unfair. The way ParisPerfect does business is outstanding. The apartment was inviting, the welcome was warm, everything (everything) was explained in the book and I could go on and on. Just wonderful. Lisa was so helpful and Chris was great. I want to come back to Paris someday and when I do I will stay in a ParisPerfect apartment or the trip will not be as wonderful as our first.
September 13, 2010 - Website
We really appreciated the use of the telephone as we had two emergencies at home. We were able to resolve both and continue enjoying our vacation. Thank you so much and we look forward to returning!
Lovely sunny apartment and great location. Had a wonderful time and will recommend Paris Perfect!
Merlot Review
by Margaret S
We loved the Merlot apartment and its location. Your staff was friendly and we appreciated their help very much. The Merlot was so nicely decorated and perfectly well-equipped to meet our every need. We would love to stay for months! Loved the Paris Perfect guide and appreciated the great selection of travel books.
Merlot Review
by Margaret S
We loved the Merlot apartment and its location. Your staff was friendly and we appreciated their help very much. The Merlot was so nicely decorated and perfectly well-equipped to meet our every need. We would love to stay for months! Loved the Paris Perfect guide and appreciated the great selection of travel books.
This was a fabulous experience -- will highly recommend. Staff was exceptionally receptive to our needs!
Merlot Review
by Bronwyn S
We loved every minute of our stay and will return and tell all our friends. The information you give is fantastic; well done! Can't fault a thing.
November 27, 2009 - Website
Merlot Review
by Barbara, Buz & Sarah Brannen - Lincoln
We so enjoyed staying in your apartment in Paris. It made for a marvelous trip and I have already mentioned it to friends as the way to visit Paris and Parisperfect as the rental people to go with. The quality of the apartments and the attention when we needed it were indeed perfect. We are planning our next visit. Thank you.
October 31, 2009 - Website
Merlot Review
by Alice & Michael - St Paul, Minnesota
We stayed at the Merlot in mid-October ('09) and LOVED it. I can hardly wait to return to Paris. The entire vacation exceeded my expectations! The apartment is in a lovely quiet neighborhood with an incredible view of the Eiffel Tower. It is a west facing apartment so we also had wonderful sunsets. It was close to the Seine and to a metro stop (Ecole Militaire). The apartment was totally charming and decorated with such classic taste...from the art on the walls to the linens. It was so pleasant to return to our quiet, beautiful apartment (with the sun shining in the tall windows) after a busy, active and sometimes noisy day in other parts of town. A glass of wine on our balcony, watching the city, the Eiffel tower etc was a great way to transition from a busy day to an evening outing for dinner. The French people we met in restaurants and shops were very friendly. We loved Cafe Constant (ate there twice) and the Affriole. Taking the metro was so easy. We also did a Paris Walks tour in the Latin Quarter and I would recommend this highly. We walked and walked and walked through lovely neighborhoods. So even though we ate a LOT of great food, we didn't gain any weight. I think the French have it right, small portions, high quality fresh ingredients and then WALK !! We are already plotting our return. Thank you so much. We will definitely rebook with ParisPerfect and most likely try to stay in the 7th again @ the Merlot ! Date: 2009-10-31 10:29:50 (Pacific Time) Remote Host: 98.240.219.119
October 11, 2009 - Website
Merlot Review
by Sandy & Bill - Bellingham, WA
Renting a Paris Perfect apartment gave us the best vacation ever. Within minutes of our arrival we felt like we were in a cozy nest. The on-ground staff took excellent care of us and we can't wait to return. Since we'd been to Paris three times before we had already seen all the main sights 2-3 times so this time we decided to leave ourselves open to whatever came along and boy, some great things came along. My favorite surprise was the parade of six deux cheveaux, each one a different color, that passed by on the street below. They got caught in traffic so I watched them for several minutes. My other favorite event began with a doorbell ring at 11:00 o'clock one night. My husband Bill, who was just about to jump into bed, answered the door. It was the woman across the hall, whose electricity had gone out and could we help her? Bill explained where she could find the fuse box and how to throw the circuit breaker. She was perplexed and asked if he wouldn't mind coming over to show her. So he traipsed across the hall in his bare feet and very droopy pajamas behind this stranger and saved the day for her and her two roommates, who were also watching anxiously. We had many more treats, such as interacting with kind and friendly merchants, accidentally finding a fantastic photo exhibit near the Seine, and coming upon a building covered with mosses and leafy plants from bottom to top. Madelyn's recommendations for shopping and eating are spot-on. From ice cream to croissants, we had the best. I can't believe we didn't gain weight. We will absolutely recommend Paris Perfect to others and we will come back ourselves as often as possible. For us, the experience really was perfect.
October 6, 2009 - Website
Merlot Review
by Eric & Kelly Stoneman - Libertyville IL
This was by far our best trip to Paris. The Merlot apartment was more than we could have asked for. First of all, the staff in Paris was fantastic. Sarah from the Paris Perfect team met us at the apartment and did a very thorough job in a very polite way. It felt like staying at a friends apartment. A much more relaxed trip than staying at any hotel. We have stayed at many wonderful hotels in Paris, but for a relaxed, local feel, this apartment is perfect. My only suggestion is to make it clearer on the number of bathrooms. One bathroom has a shower and toilet with a small sink. The other bathroom has a tub, sink but no toilet. Staying at this apartment will make any stay a special occasion. Thanks for making it all so easy! The service could not have been better.
August 23, 2009 - Website
Merlot Review
by Debbie Tremblay & Family - North Vancouver
Bonjour Madelyn,Philippe and everyone at www.ParisPerfect.com! We had a fantastic stay at your Merlot apartment in Paris. It was nice to have your greeter show us around the apartment and then have Carolyn check on us a couple days later. We appreciated the support we received from Paris Perfect. Our boys (12 and 15) really enjoyed staying in the apartment after travelling around France. They found it very relaxing. The Merlot is a gorgeous apartment with everything we could want in it. The view of the Eiffel Tower from the balcony was amazing! The neighbourhood was great with so many markets and restaurants close by. The Metro station and buses are nearby and it is an easy walk to the river for a cruise down the Seine. We would definitely chose Paris Perfect again. I think we would bring dvd's to watch next time. There were dvd's in the apartment but it would be no problem to bring along some extra ones, too. After having such a good experience with Paris Perfect we would not be hesitant to rent an apartment in London or Italy, either. Thank you so much for your warm hospitality!
Merlot Review
by Susan Calton
Thank you very much. We had a great time staying in Merlot – everything was wonderful. We loved having the view of the Eiffel Tower! Thank you for being so helpful. Your welcome package with all the information was very useful and helpful. We all loved the Fat Tire Bike Tour of the city – especially our two boys ages 7 and 10. We look forward to our next trip!
Merlot Review
by Betsy & Chris Bredrup
Our stay in the Merlot apartment in March 2009 was a great experience. The apartment was tastefully furnished, and the location was perfect.Our view of the Eiffel Tower was memorable, and we enjoyed watching it scintillate every night. Even the weather cooperated; it was warmer and less rainy than usual for March. The restaurants on rue St. Dominique, the patisserie, boulangerie,super marche, all were in close proximity. And of course the rue Cler. Paris is a movable feast, and we enjoyed every morsel.
Merlot Review
by Kristin Gazlay
I would recommend Paris Perfect to anyone! I stayed in the Merlot apartment for a week -- the views were to die for and the apartment itself was elegant yet still extremely comfortable. All a guest's needs seem to have been anticipated, and the amenities such as wireless access, a CD player and the like really went the extra mile to make the apartment an oasis. Merci beaucoup!
October 30, 2008 - Website
Merlot Review
by Scott and Laurie
If you want to experience Paris as a "local" not a tourist, but want all the comforts of home and a fabulous support staff just a phone call away, then rent a Paris Perfect apartment! We rented "Merlot" --just across from the Champs de Mar and Eiffel Tower--for a week in October. The apartment oozes charm and character. Dining (or just sipping wine) on the terrace, with the twinkling Eiffel Tour in grand view is one of those surreal experiences. Everything is first class, from the furnishings, bedding, towels, and even deluxe expresso maker. Just stroll down the street to buy your croissants, frommage, vin, or absolutely anything else you want. The location is perfect, with each street more charming than the next. As everyone else mentioned, the staff and their services put the experience over the top, from the moment you make contact to discuss which apartment might suit you the best. The booking process was easy, all logistical details are provided, you are met upon arrival for a thorough briefing of the apartment, a phone call follows the next day to be sure all is well, and they are available by phone for the inevitable question or two. On top of all that, Madelyn has assembled an amazing "guide book" of information which comes upon booking. It's hard to imagine a question that isn't addressed in it, whether it's where to shop and dine, how to use the Metro, taxi suggestions, tour guide suggestions, and on and on. Stay there once, and you WILL return!!
October 15, 2007 - Website
Merlot Review
by Maxine Duarte
I would like to thank the Paris Perfect Team for a totally enjoyable stay at your Merlot Apartment recently. My husband and I are still dreaming of Paris and will be recommending your services to our friends and will definitely be using you again on our return to your beautiful city in the near future. A special thanks to Alister who greeted us and made us feel completely comfortable. Nothing was a trouble. All the best, Maxine Duarte Sydney, Australia
Merlot Review
by Robin Rea-Scarborough
"Do you know that feeling when you get off a long flight, and you're excited, but tired, and a strange, but beautiful city is so bewitching, but for the moment all you want is a cup of tea and a chair and a moment to relax and take it all in? Well, that's how we all felt when we arrived in Paris ( some for the first time) this past March, and when the taxi pulled up in front of the address, I wondered if our ""home"" for the next 8 days could be as sweet and welcoming as I needed it to be at that moment...well, it was, and then some...Merlot was a charming, peaceful haven...we watched the children on their way to school in the morning, and at evening, the Eiffel Tower transformed into a light show. So much better than a hotel room, Paris Perfect creates a ""home"" for you, and that, my friends, is the cream in the eclair. Au revoir. See you in Paris! "
September 4, 2005 - Website
Merlot Review
by Jennifer and Brian
We rented Merlot with our three young children for a week in August. It was a lovely apartment with everything you need when you are traveling with children- laundry, dishwasher,and equipt kitchen. We will surely go back - the views of the eiffel tower are stunning- merlot does not have a head on view, but if you sit on the small balocony you have a spectacular view. It is a very nice location to walk the city of Paris and we loved being close to rue cler, the great markets for fresh food... In my opinion, it is much nicer to stay in a lovely apartment if you are there for a week or more- you can really settle into the culture.
Merlot Review
by Elizabeth Helou
It was a pleasure staying at Merlot apartment, we felt at home. It is a very beautiful and well located neighborhood. Philippe, Madelaine thank you again for being so nice and friendly with us, we realy enjoyed aou stay in Paris.
December 13, 2004 - Website
Merlot Review
by H. Lynn and Patty Caldwell
What a wonderful week, truly Paris Perfect! Perfect accommodations. Perfect view of the Eiffel Tower and it's light show each evening. Perfect neighborhood. Merlot proved to be centrally located enabling us to use the Metro or walk to all our "must see" destinations. Loved the state of the art kitchen, the Nespresso coffee machine, our own laundry facilities and the elevator. Fabulous dining around the corner at Cafe Constance, yummy bakeries and a surprise Creole-Condon Blue delight at Percy's - a short taxi ride away. Would we return? Mais oui!!!! H. Lynn and Patty Caldwell Bellevue, Washignton USA
August 20, 2004 - Website
Merlot Review
by Linda and Len Simon
"Our family of five (we have three sons ages 11, 17 and 20) just returned from a one-week stay in the wonderful Merlot apartment. It was a first trip to Paris, and your apartment made it even more special. We loved the furnishings, the special touches like the gift basket and DVDs to use, that made it so memorable. Even though the week started out warm (sticky, mid-80s), your fans and open windows made it quite comfortable. Your perfect location can't be beat....we enjoyed the neighborhood cafes, the great bakeries, and a few nights we put together our own take-in dinner from the Rue Cler vendors. We'd rent another place from you in a minute the next time we're lucky enough to vacation in Paris. Len and Linda Simon Bethesda, Maryland August 20, 2004"
Merlot Review
by Richard and Carol Stoff
My wife and I stayed in your lovely Merlot apartment in mid-May, 2004 -- celebrating our 25th. Our special treat was having our daughter join us -- who, at the time, was studying in Europe. So -- the accomodations were just perfect; Jenni had her own room and privacy while my wife and I shared the master. Your apartment, Philippe and Madelyn, was beautifully appointed -- as evidenced by the stunning but quite comfortable furniture, special and highly functional built-ins, especially in the kitchen and baths and inviting terrace overlooking the Eiffel Tower. Every morning, I'd wander through the neighborhhod to bring back the freshest croissants, cheeses, eggs and herbs -- whip together one of my favorite breakfast concoctions and serve them to my girls as they'd sit out on the terrace enjoying the view of Parisian life. Just a wonderful time. Thank you for the welcome basket upon our arrival too -- a very pleasant personal touch.
Merlot Review
by Faith and Sandor
We stayed at the Merlot apartment in late March and completely fell in love. We couldn't tell what we loved more - Paris or the apartment! It was a true fairy tale experience. The view from the apartment (from living room and bedroom) is indescribable. When friends look at my pictures from the apartment they comment on the view more than any other pics we took. Every detail is taken care of - a beautiful welcome basket with some goodies, a thorough orientation manual with important numbers, tips, etc., and even some starter items in the kitchen to make you feel right at home. When we ran into any problems, you were immediately responsive. This unit and parisperfect as a whole is more than worth what we paid. You can't put a price tag on the memories paris perfect helped us create. Thank you, thank you!! We will be back!
"ParisPerfect" is a most fitting name for the week we spent last December in your Merlot apartment. From our communication prior to the trip to Madelyn's helping me find a large street map of Paris after we returned home, everything was exactly as you promised. The apartment seemed palatial after the hotel room in le Marais where we stayed on a ten-day trip in May. We also loved feeling a part of a neighborhood and had a lovely time each morning choosing where to buy our breakfast! For me, though, the definitive difference in a ParisPerfect apartment was the detailed information to help us enjoy the apartment, the neighborhood, and Paris. I felt more like a houseguest (and by the end of the week not so very foreign!) than a temporary renter; it was almost like being sent out everyday with a myriad of possibilities to explore & and a personal guide to tell us exactly how to access what was most interesting to us. I have already alerted several friends to the website, and we will definitely be back for a ParisPerfect trip. Dawn M.
February 28, 2004 - Website
Merlot Review
by Sarah Coddington
Philippe and Madelyn: Staying in the Merlot and then the Chardonnay made our trip one to remember! All the amenities of home, but in Paris, what more could one ask? Thank you for providing easy to follow instructions for getting to and from the apartments and surrounding area - made finding our jeg-lagged way simple! Our hats off to you for creating such a positive, relaxing experience for those wishing to enjoy all Paris has to offer. We'll be back! Maybe we'll even let our husbands come next time... Sarah Coddington-Courchesne and Sandra Berrios-Torres Feb., 2004
Base Nightly Rates – May Not Include Fees such as Greeting, Cleaning, Damage Waiver, Credit Card Processing and Tourist Taxes. For full price, please put in dates.
Available
Unavailable
Check-In Only
Check-Out Only
May 2023
S
M
T
W
T
F
S
01
02
03
04
05
06
07
08
09
10
11
12
13
14
15
16
17
18
19
20
21
22
23
24
25
26
27
28
29
30

$965

31

$965
June 2023
S
M
T
W
T
F
S
01

$965

02
03
04
05
06
07
08
09
10
11
12
13
14
15
16
17
18
19
20
21
22
23
24
25
26
27
28
29
30
July 2023
S
M
T
W
T
F
S
01
02
03
04
05
06
07
08
09
10
11
12
13
14
15
16
17
18
19
20
21
22
23
24
25
26
27
28
29
30
31

$1239
August 2023
S
M
T
W
T
F
S
01

$1250

02

$1243

03

$1231

04

$1242

05

$1229

06

$1202

07

$1253

08

$1261

09
10
11
12
13

$1154

14

$1197

15

$1241

16

$1227

17

$1192

18

$1069

19

$1227

20
21
22
23
24

$1232

25

$1251

26

$1250

27

$1207

28

$1219

29

$1228

30

$1214

31

$1219
September 2023
S
M
T
W
T
F
S
01

$1249

02

$1257

03

$1198

04
05
06
07
08

$1988

09

$1795

10

$1485

11
12
13
14
15
16

$1179

17

$1483

18
19
20
21
22

$1817

23

$1825

24

$1733

25

$1335

26

$1519

27
28
29
30
October 2023
S
M
T
W
T
F
S
01

$1023

02

$1496

03
04
05
06
07
08
09
10
11
12
13

$2343

14

$2381

15

$2308

16

$1514

17
18
19
20
21
22
23
24
25
26
27
28
29

$2282

30

$1166

31

$1196
November 2023
S
M
T
W
T
F
S
01

$1202

02

$1196

03

$1181

04

$1242

05

$1140

06

$1120

07

$1159

08

$1172

09

$1191

10

$1176

11

$1238

12

$1136

13

$1120

14

$1160

15

$1167

16

$1185

17

$1179

18

$1212

19

$1108

20

$1112

21

$1160

22

$1147

23

$1171

24

$1201

25

$1209

26

$1119

27

$1127

28

$1164

29

$1127

30

$1153
December 2023
S
M
T
W
T
F
S
01

$1192

02

$1183

03

$1095

04

$1108

05

$1144

06

$1102

07

$1143

08

$1194

09

$1181

10

$1098

11

$1121

12

$1139

13

$1095

14

$1156

15

$1213

16

$1214

17

$1110

18

$1163

19

$1544

20

$1521

21

$1571

22

$1583

23

$1594

24

$1515

25

$1558

26

$1580

27

$1587

28

$1626

29

$1646

30

$1881

31

$1959
January 2024
S
M
T
W
T
F
S
01

$1633

02

$1170

03

$1150

04

$1145

05

$1122

06

$1063

07

$1026

08

$1041

09

$1018

10

$1003

11

$994

12

$980

13

$965

14

$965

15

$965

16

$965

17

$965

18

$965

19

$965

20

$965

21

$965

22

$965

23

$965

24

$965

25

$965

26

$965

27

$965

28

$965

29

$965

30

$965

31

$965
February 2024
S
M
T
W
T
F
S
01

$965

02

$965

03

$965

04

$965

05

$965

06

$965

07

$965

08

$965

09

$965

10

$965

11

$965

12

$965

13

$965

14

$965

15

$965

16

$976

17

$981

18

$965

19

$965

20

$965

21

$965

22

$1079

23

$1113

24

$1112

25

$1062

26

$1062

27

$1062

28

$1076

29

$1119
March 2024
S
M
T
W
T
F
S
01

$1158

02

$1162

03

$1062

04

$1062

05

$1084

06

$1132

07

$1175

08

$1235

09

$1252

10

$1121

11

$1133

12

$1174

13

$1210

14

$1227

15

$1275

16

$1309

17

$1176

18

$1192

19

$1230

20

$1236

21

$1239

22

$1271

23

$1317

24

$1191

25

$1217

26

$1245

27

$1247

28

$1250

29

$1674

30

$1720

31

$1609
April 2024
S
M
T
W
T
F
S
01

$1227

02

$1250

03

$1247

04

$1241

05

$1244

06

$1297

07

$1194

08

$1218

09

$1244

10

$1250

11

$1242

12

$1241

13

$1298

14

$1197

15

$1202

16

$1236

17

$1243

18

$1240

19

$1243

20

$1296

21

$1201

22

$1188

23

$1224

24

$1239

25

$1253

26

$1243

27

$1294

28

$1196

29

$1175

30

$1198
May 2024
S
M
T
W
T
F
S
01

$1209

02

$1249

03

$1232

04

$1291

05

$1195

06

$1175

07

$1179

08

$1188

09

$1238

10

$1250

11

$1308

12

$1207

13

$1188

14

$1167

15

$1181

16

$1239

17

$1283

18

$1349

19

$1250

20

$1249

21

$1218

22

$1238

23

$1315

24

$1382

25

$1433

26

$1317

27

$1352

28

$1368

29

$1367

30

$1433

31
Things to See & Do
Champ de Mars (1 mins Walking)
Expansive park surrounding the Eiffel Tower. Stroll, jog, bicycle or play in one of the playgrounds, go to the puppet theater or carousel, or just sit and enjoy Parisian life and the beautiful gardens.
Bateaux Mouches Boat Tours (6 mins Walking)
We recommend boarding a boat tour on your first day, where you can relax and enjoy sailing down the Seine viewing many Paris monuments, museums and cathedrals
École Militaire (6 mins Walking)
Napoleon attended military school here and the buildings still show gunfire signs from the French Revolution in 1789
Eiffel Tower (6 mins Walking)
Paris' most iconic site and one of the world's most visited attractions. Take the elevator or stairs to the top of this magnificent structure for beautiful views over Paris.
Musée des égouts de Paris (8 mins Walking)
Fascinating tour of limestone arches and caverns down in the sewers that traverse all of Paris. The Phantom of the Opera was inspired by these underground streets.
Musée du quai Branly (8 mins Walking)
Showcases indigenous art and cultures from Africa, Asia, Oceania and the Americas
Les Invalides (10 mins Walking)
A masterpiece of French Classical architecture built by Louis XIV; Napoleon's tomb rests under the golden dome.
Musée de l'Armée (10 mins Walking)
One of the world's finest collections of arms, armor, and uniforms. It is renowned for its enormous collection of medieval armor.
Rodin Museum (15 mins Walking)
View some of Rodin's most famous sculptures including The Kiss and The Thinker
Trocadéro (15 mins Walking)
The Palais de Chaillot sits on top of the hill and houses the Museum of Architecture, Maritime Museum and the Museum of Mankind. Stunning pictures of the Eiffel Tower can be taken from the surrounding gardens with their majestic fountains

Shopping & Eating
Pont de l'Alma Food Market (10 mins Walking)
Largest open market in Paris; open Wednesday and Saturday mornings
Luxury Stores on Avenue Montaigne (12 mins Walking)
Home to many of the leading fashion houses including Louis Vuitton, Dior, Chanel, Fendi, Valentino and Ralph Lauren, as well as jewelers like Bulgari.
Rue Cler (15 mins Walking)
Among the best streets for food in Paris! Cafés and brasseries where you can enjoy dining or shopping at specialty food purveyors with wines, fresh produce, fish, cheese, pâtissières, bakeries and gourmet prepared foods -- a wonderful part of the Parisian experience.
Rue du Commerce (18 mins Walking)
A true Parisian shopping street with trendy boutiques, food stores, bistros

Public Transport
Métro (9 mins Walking)
École Militaire (Line 8)
RER (9 mins Walking)
Pont de l'Alma (Line C)
Métro (12 mins Walking)
Alma - Marceau (Line 9)