The magic of Paris dances across the city's rooftops, where the warm evening light sets the scene for the Eiffel Tower's golden showcase after dark. At the Margaux, our designer three-bedroom, 2.5-bathroom vacation rental, you'll be surrounded by the beauty and charms of the 7th arrondissement. The setting on the Left Bank is ideal, and nowhere will you appreciate that more than when you step out on the expansive terrace. There before you is a glorious view of the Eiffel Tower, which you can enjoy while dining al fresco on the terrace, lingering over breakfast at the cute bistro table or lounging on the comfortable sofa and chairs as the sun sets over the rooftops of Paris. At night, you'll have front row seats, as thousands of twinkling lights dance across the Eiffel Tower during the magical light show.
One of our most exquisite vacation rentals in Paris, the Margaux is elegantly decorated, with high-quality furnishings and stylish touches. It is a spacious apartment, measuring 1,500 square feet, located on the 8th floor of a historic and traditionally Parisian building. The living room, separate dining area and a comfortable sitting room offer plenty of space to relax during your moments at home in Paris. Bedroom 1, with a luxurious bathroom, features direct views of the Eiffel Tower. The lovely bedrooms 2 and 3 and additional full bathroom plus a convenient half bath have been decorated with the attention to detail and beautiful furnishings.
Step outside to find the best of the Left Bank just moments away. Stroll through the Champ de Mars gardens and see the Eiffel Tower every day, shop at the famous Rue Cler market street only two blocks away or enjoy a walk along the Seine River. This is the Paris of your dreams - and the Paris you will dream about forever more!
Please note: This apartment is not suitable for children under 8 years.
Things To Note
Neighborhood: 7th arrondissement
Size: 1,250 sq ft/116 sq m
Age Restrictions: No children under the age of 8
Accessibility/Security: 1 step from front door to living room and kitchen
Registration Number: 7510700701163
Paris 2024 Olympics: Special Terms 
Room Details
| Room | Beds | Details |
| --- | --- | --- |
| Bedroom 1 | Extra-Wide Queen (1) | Extra-wide queen bed (63in x 79in x 160cm x 200cm) |
| Bedroom 2 | Dual King (1) | Two single beds (35in x 79in; 90cm x 200cm) that can be zipped together to form a dual king bed |
| Bedroom 3 | Dual King (1) | Two single beds (35in x 79in; 90cm x 200cm) that can be zipped together to form a dual king bed |
| Sitting room | Foldaway Bed: Double (1) | High-quality sofa that converts into a comfortable double bed (55in x 75in; 140cm x 190cm) |
| Bathroom 1 (en suite to Bedroom 1) | | Bathtub, shower (fixed and flexible showerheads), toilet and sink |
| Bathroom 2 | | Shower (fixed and flexible showerheads), toilet and sink |
| Half Bath | | Toilet and sink |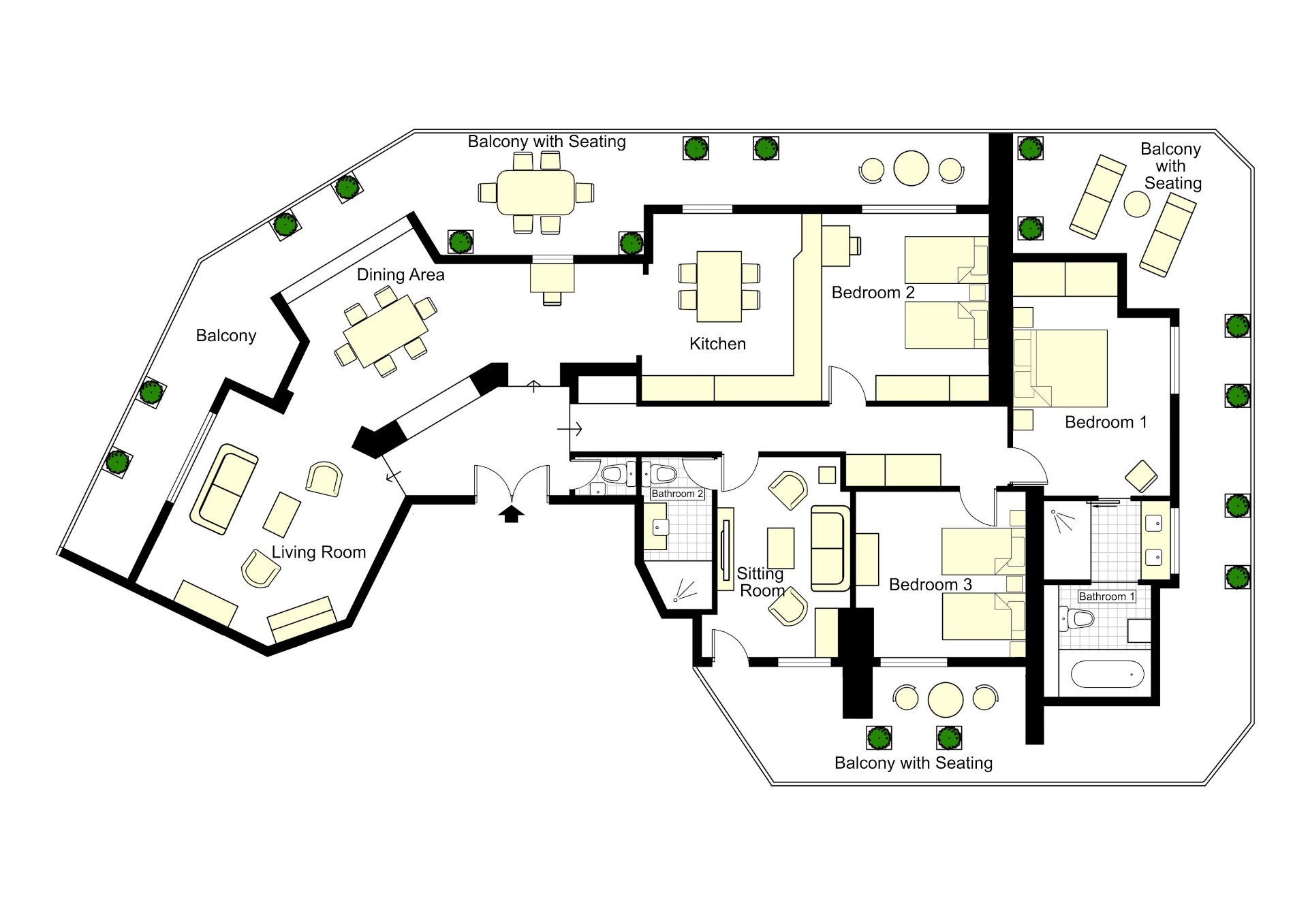 General Amenities

Toiletries
Hotel Safe
Smoke Detector
Carbon Monoxide Detector

Kitchen

Fully Equipped
Starter Supplies
Kitchen
Coffee Maker
Dishwasher
Kettle
Microwave
Nespresso Style Coffee Machine
Oven
Stovetop
Toaster
Refrigerator

Accessibility

Private Entrance
8th Floor North American
Elevator

Connectivity/Entertainment

WiFi
TV
TV - Limited English Programs

Heating/Cooling

Heating
Portable Fan(s)
Blackout Curtains
Sound Dampening Windows
A/C-Central
Non-Working Fireplace

Laundry

Dryer
Iron & Board
Washer

Outdoor

Balcony with Seating
Terrace
Outdoor Furniture

Special Features

Eiffel Tower View
Balcony/Terrace
Instant Booking

Amenities

Elevator
Air Conditioning
Thank you for submitting your review. It will be processed shortly!
Perfect setting for my family
by Alfred S
The property represented a perfect setting for my family. The top floor with its balcony view of the Eiffel Tower delighted the children especially as the back drop at breakfast. A very secure property with all of the amenities we desired. Beautifully located in one of Paris's most exclusive neighborhoods. We felt very safe inside and outside. Ease of access to transit, attractions, shops and restaurants. We would rent this beautiful home again.
Property is as advertised. Great views of E.T. We mainly used the terrace off the bedroom to view the E.T @ night. Close to great restaurants/cafe's. Seemed fairly quiet neighborhood at night. Would come back and stay here.
Spectacular apartment
by Matthew D
Spectacular apartment in hearth of the 7th with amazing views of the Eiffel Tower. Paris Perfect did a great job meeting us at the apartment and showing us around. Absolute 5 star experience!
June 7, 2023 - Manual Entry
Amazing tower view.
by Jocelyn B
Amazing tower view. It's just amazing to be able to rent a room with such a good location when there's a shortage of hotels in Paris. Thank you for your attentiveness. The surrounding area is also very convenient to eat ~ Super suitable for many people to stay in Paris for 3-4 days!
Great apartment
by K Adelwoman
Gorgeous views, comfortable bed, great location near the metro and Rue Cler. We have stayed here twice and loved it. The balconies are truly spectacular and set this apartment apart from all others.
View (and service) that can't be beat
by Steve P
We rented Margaux with another family for a week. Vacation Perfect made the rental experience easy and efficient. The connections to private tours and the private chef made the experience a memory we and our kids will have forever. Having an amazing apartment gave us an immersive experience to taste life as Parisians. Two quick blocks to Rue Cler for fresh provisions and restaurants, a short stroll to the Tour Eiffel and the Seine, and terrace views of the tower sparkle show every evening were all highlights. This kind of travel has changed our view of vacations for the future. Stay and live like a local to truly appreciate where you are.
February 26, 2023 - Website
Very responsive and prompt with replies - this is incredibly important in distinguished yourself vs. other apartment rental outfits So so helpful!! Maybe leave 3 sets of keys for large parties & make sure codes given are correct before arrival as guests are tired from travel Wish you had offices in Spain.
January 4, 2023 - Manual Entry
We look forward to returning
by Lawrence P
We look forward to returning in the very near future. If the apartment comes available to be purchased, we would like to be the first in line.
December 10, 2022 - Airbnb
We had a lovely stay in this apartment. December is cold but this apartment was not. We had a few small issues that our hosts fixed quickly and all was well. Great spot. Beautiful views. Was exactly as described. We would stay again.
August 19, 2022 - Website
Best Apartment Ever
by Hayley
My favorite part of my family's trip to Paris was the fabulous apartment. It was beautiful and in such a great location. We had breakfasts on the balcony and wine at night overlooking the Eiffel Tower. Around the corner was a beautiful pedestrian market to purchase chocolates, pastries, meats and cheeses, and flowers. It was such a joy to explore Paris during the day and return to such luxurious accommodations. Thank you for making everything perfect!
May 26, 2022 - Manual Entry
Trip of a Lifetime
by Jane S.
Over a year in the planning due to the pandemic, it felt surreal to actually arrive at the luxurious Margaux. We finally made it to celebrate our blended family reunion. The Margaux felt spacious even though there were seven adults when you count us and our five grown daughters. Everyone room was so beautifully appointed right down to the monogrammed sheets on all of the beds, and the view from the wrap around balcony was like something out of a movie. My favorite room was hands down the spacious, warm and inviting kitchen, and my most treasured memory was the night Chef Brian came and served us a gourmet prepared dinner on the balcony while the sun was setting of the magnificent Eiffel tower. I could go on and on about the Margaux and all of its attributes and how wonderful out trip was…but you just need to go! You will not be disappointed.
April 21, 2022 - Manual Entry
Great location.
by Matt G
Our family of 6 had a wonderful time in Paris and staying at the Margaux made the stay perfect. Plenty of space and located near grocery stores, Rue Cler market and the metro. The apartment has everything we needed to get going in the morning and relax in the evening.
March 24, 2022 - Manual Entry
Paris Perfection!
by Vicki P
The apartment was comfortable, stunning, and in a great location! We will definitely use Paris Perfect again, and if available, stay in this apartment.
March 11, 2022 - Manual Entry
Excelente lugar, e tudo conforme anúncio, voltaremos !
Translation:
Excellent place, and everything as advertised, we will be back!
March 11, 2022 - Manual Entry
Margaux is an excellent and well managed apartment in an ideal location with amenities that exceed our expectations. Paris Perfect ensure that every visitor's stay will imitate a local Parisian's experience as much as possible from all of the market guides to restaurant suggestions. The walkability to all the conveniences (metro, Rue Cler, restaurants, supermarkets) as well as attractions (Eiffel Tower and even Place Vendome if you're feeling ambitious on a particularly nice day) made the stay go so smoothly. The apartment was very well kept and stocked. We did not feel the need that anything had fallen short. Linens, cooking and dining supplies. All we needed to do was stock our fridge. The view can't be beat either! The entire apartment has a wrap around fully functioning terrace (not a window Juliet balcony).
December 10, 2021 - Manual Entry
Wonderful Apartment
by Lee Ellen Fields
We had the best time in Paris and loved the Margaux apartment. The view was fabulous and the location was so close to many area restaurants. Already planning our next trip and will definitely be staying with Paris Perfect!
September 16, 2021 - Website
Margaux Review
by Charles Longley
Excellent apartment, top rate service from ParisParfect. We intend to repeat.
Great and roomy apartment. Very clean. Service was also great. The Eiffel tower view is breathtaking. We really enjoyed our stay at your apartment. The location was great and walking distance to great shops and restaurants. The balcony was amazing. I wish the weather was more agreeable but we still enjoyed it.
Margaux Review
by Sonja A
Great apartment, as advertised. We loved the location with so many great restaurants and lovely walks nearby. The apartment had a great view, comfortable beds, and was quiet. Would recommend.
Margaux Review
by Claire F
Nous avons passé une semaine enchantée dans ce superbe appartement. Les photos sont parfaitement conformes. Le logement est particulièrement bien équipé (cuisine et salle de bain notamment) , la literie est d'excellente qualité et tout est parfaitement propre. La décoration est soignée et luxueuse tout en demeurant confortable et très conviviale. Le logement est à proximité à la fois de rues commerçantes, de monuments emblématiques et des bords de Seine. La vue sur la Tour Eiffel est époustouflante. Vous ne regretterez rien !! Translation: We spent an enchanted week in this superb apartment. The photos are perfectly consistent. The accommodation is particularly well equipped (kitchen and bathroom in particular), the bedding is of excellent quality and everything is perfectly clean. The decoration is neat and luxurious while remaining comfortable and very friendly. The accommodation is close to both shopping streets, emblematic monuments and the banks of the Seine. The view of the Eiffel Tower is breathtaking. You will not regret anything !!
February 1, 2021 - Website
Margaux Review
by Meena H
Wonderful location and gorgeous views!
February 1, 2021 - Website
Great view, clean, well managed.
January 31, 2021 - Website
This was our best stay so far in Paris. Even during pandemic times, the host made everything possible for our stay to be comfortable, private and at the best. The apartment has perfect location in the center walking distance to many good restaurants, cafes, museums, park and especially Eiffel Tower. The view from apartment is fantastic! I would highly recommend this place. Thank you for hosting us. Until next time!
January 31, 2021 - Website
The apartment is amazing! The view is breathtaking and the location is perfect. It's clean, stylish and very cozy.
January 21, 2021 - Website
Margaux Review
by Deidre L
This apartment is spacious and beautifully decorated. The balcony overlooking the Eiffel Tower made my birthday celebration even more spectacular. The fresh milk in the fridge was an especially nice touch for this tea drinker ❤️ We will definitely book with Paris Perfect again. Thank you very much for our amazing stay at The Margaux.
January 21, 2021 - Website
Margaux Review
by Marie-Christine B
Un appartement idéalement situé avec une vue à couper le souffle, qui contribue à la réussite d'un séjour à Paris. Translation: An ideally located apartment with a breathtaking view, which contributes to the success of a stay in Paris.
January 11, 2021 - Website
Margaux Review
by Jeremy T
Superbe appartement et emplacement. Je recommande sans hésitation. Translation: Superb apartment and location. I recommend without hesitation.
January 11, 2021 - Website
Margaux Review
by Hashem B
Have been coming to Paris for the past 15 years of my life, and I cannot see myself staying anywhere else in the future. Thank you!
January 11, 2021 - Website
Margaux Review
by Charlie S
A++++ We can't wait to stay again!
January 10, 2021 - Website
Margaux Review
by Josiane A
The apartment Margaux is simply fabulous in style, location, and comfort. It was perfect for us, my 85 year old mother and me to keep our distance from each other in time of Covid and still be together, while working remotely in the privacy of an additional office room away from home. The breathtaking view from the terraces wrapped around the apartment was a fabulous bonus, even in cold weather. Lots of natural light in addition to the exceptional lighting inside the Margaux. Great location with 3 bakeries right around the corner, a Franprix 1 minute away and a Carrefour supermarket 3 minutes walking distance from the Margaux. Paris Perfect team is really perfect! Thanks a lot for having us! We will come back! Much Gratitude, Josiane
January 10, 2021 - Website
Margaux Review
by Saad El Zein
Very Well organized. Pictures as good as reality. Thank u!
August 20, 2020 - Website
Margaux Review
by Coco B.
Lovely apartment, really homely feel and beautiful touches. Paris perfect (Lisa) was quick to respond and helpful! Location was just out of this world! Waking up to a view of the Eiffel Tour or having breakfast in the spacious balcony was the cherry on top. Thank you for making us feel at home.
February 2, 2020 - Website
Margaux Review
by Linda B
We had a wonderful stay in this gorgeous apartment. This is our third stay with Paris Perfect over the last 10 years and we enjoyed it thoroughly. Paris Perfect always equip their apartments thoughtfully and every little detail is considered. The staff are on hand and very helpful if required. We will definitely return again.
Margaux Review
by Virginia T
The Margaux exceeded our expectations. It was beautiful and functional and very comfortable. The balconies were amazing. Every detail in the flat was outstanding. The location was perfect. Our family highly recommends the Margaux and Paris Perfect.
October 20, 2018 - Website
Margaux Review
by Carol H
We had a wonderful time in Paris. The apartment was everything promised and more. Our friends and family were so impressed. Wonderful location. We loved everything about it and will certainly book with you again for any future trips. We loved Paris so we will be back.
October 10, 2018 - Website
Paris Perfect's Margaux apartment was beyond perfect! The location is exceptional but the views are truly out of this world. Lying in bed to watch the Eiffel Tower sparkle and shine was surreal. The apartment is appointed exceptionally well and the Paris Perfect staff was helpful in every way imaginable. We look forward to returning to Paris and we will certainly use Paris Perfect to help us make our next stay as perfect as this was. Thank you for sharing this wonderful space with us.
September 4, 2018 - Website
Terrific property. When you imagine a Parisian pied a terre, The Margaux is what you would conjure up.
Margaux Review
by John Jenkins
We are so glad we chose this apartment for our recent vacation in Paris. The apartment was very well located, furnished, and equipped. The views of the Eiffel Tower from the balcony and from the bed in the master bedroom were stunning. Having an elevator was also great. The Paris Perfect staff were excellent. They met us at the apartment to give us a tour and demonstrated how to use everything. We also used them to arrange transport to CDG.The apartment was large enough that we hosted a group of friends for appetizers before dinner one night (a total of 8 people) and we were very pleased with the personal chef experience with Chef Brian. He cooked an amazing meal for our group of 9 (we brought the kitchen table and chairs into the dining room). The food was excellent as were the wine pairings and appetizers. We would most definitely stay here, or in another Paris Perfect apartment on our next trip.
Margaux Review
by Robert McDonnell
We have been renting from Paris Perfect since 2007. We have just completed our fifth trip to Paris and once again the service and quality of the apartment were simply outstanding. Arranging tickets to various venues was a seamless process. Renting an apartment allows you to interact locally, to purchase your wine and food in the neighbourhood and get a real flavor for Paris.
December 2, 2017 - Website
Margaux Review
by Kelly Kurteson
I've never stayed at such an exquisite apartment before. The view was breathtaking. I couldn't keep myself from sneaking a peak out the window every few minutes. The decor is beautiful, the neighborhood was perfect, lots of different restaurants to choose from, easy to get around and wander and get lost if wanted. I would absolutely come back to Margaux in a heartbeat.
September 8, 2017 - Website
Margaux Review
by Al Roker
This apartment is what you imagine the quintessential pied a terre to be. From the beautiful lobby, to the cozy elevator, your front door opens to a bright, airy living room. The kitchen gives you the perfect place to enjoy your croissants and French Press coffee. The wrap around terrace saw us enjoy the cheese, wine and baguettes we picked up from the nearby Rue Cler. The the master bedroom has an almost movie set view of the Eiffel Tower and the other two bedroom are really sweet. All in all, we loved the Margaux and are already planning to book it in May
Margaux Review
by Greg Finck
We've been amazed by the Margaux apartment, its view, space, location, and the amazing services that came with it. Such a lovely stay and we can't wait to work again with Paris Perfect!
Margaux Review
by Heather Woodland
We loved the Margaux apartment! It was located in the perfect area, close to the metro, wonderful restaurants and a stunning view of the Eiffel Tower. We loved drinking champagne and watching the tower light up at night. The Margaux apartment was huge and plenty of room for our group of 6. It was beautifully decorated and had everything we needed for a fantastic stay. We loved having the washer and dryer! The guide left in the apartment with info on restaurants, shopping, the metro, etc. was fantastic. Thank you Paris Perfect for making our trip to Paris a once in a lifetime experience.
January 27, 2017 - Website
Margaux Review
by Felicia and Matthew Nowels
Please share this with your wonderful team. Thank you so much for the beautiful accommodations of Margaux, and for the exceptional services your staff provided. Having lived in Paris for some time, Paris holds a very special place in my heart, and visiting with Paris Perfect did not disappoint…au contraire, it reinforced my love for the city. We were very excited to try Saint Emilion, and are so grateful that you informed us of the work. But more so, grateful for the generous upgrade. We loved everything about Margaux; the only thing we did not like was leaving. We will be sure to recommend Paris Perfect to all our friends who travel to Paris. Needless to say, we will be booking with you on our next trip.
December 14, 2016 - Website
Margaux Review
by Gregory Stewart
This apartment for our stay was incredible. The apartment was in such a cute area of Paris and the apartment itself was amazing and large for a group of people that we had for a birthday celebration. Your help in organizing a chef for the night was great, and the view of the Eiffel Tower and the large balcony took our breath away. We would recommend this apartment and website for all stays in Paris. Thanks again.
November 26, 2016 - Website
Margaux Review
by Judith V
Thank you for another amazing experience in Paris. Everything was lovely. e look forward to returning! The team were absolutely fantastic!
August 22, 2016 - Website
Margaux Review
by Nicole Pearl
This apartment could not have been more wonderful. The views of the Eiffel Tower from almost every room are stunning. You could sit there and take in the view for hours (if only there were not so many amazing things to do and see in Paris). The neighborhood was quiet and charming. We really felt like we got to live in Paris for a week. Each morning, we walked to the amazing Boulangerie around the corner and the fromagerie up the block and collected bread, cheese and fresh orange juice for breakfast. Eating such fresh food on the terrace was a highlight of the trip. The apartment was spacious. We had 6 people (3 adults and 3 children) and had plenty of space for everyone. The beds were comfortable. There was plenty of space to unpack our clothes. The kitchen was well stocked for the small amount of cooking that we did (picking up food at the Bon Marche Epicerie and bringing it back to make for dinner was another highlight of the stay). The Paris Perfect team was very helpful and friendly. The guide that they leave in the apartment was a great resource in finding restaurants, shopping areas and other points of interest. At some point during our visit, the clothes dryer broke and we could no longer dry our laundry. Because they were unable to fix it before we left due to a local holiday, they had someone come to pick up our wet clothes while we were out, and then brought them back dry by the end of the day.
Margaux Review
by M Cotham
Exceeded expectations ! We were there with our daughters family, spouse and twin 14 year old grandsons. The location was wonderful and the apartment beautiful spacious and comfortable. Clear instructions for functionality great neighborhood tips. A little thing but so important ( salt , pepper and sugar were available for first day )!!The person who met my daughter on check in was wonderful. We would recommend Paris Perfect for anyone planning a week in Paris and would certainly use again. Thank you for a wonderful stay
Margaux Review
by Steven & Nancy Brisson
We have visited Paris many times, staying in lovely hotels and apartments in many different areas of the city. When it came time to celebrate a big birthday for my husband, we decided to introduce our son and his family to this city that we love above all others. After much research, I found Paris Perfect's Margaux apartment, a gorgeous rooftop oasis with magnificent views of the Eiffel Tower in the heart of the 7th arrondissement. From the moment Sam met us at the door, we were enthralled with every detail. It was perfect for all six of us, including our ten and thirteen year old granddaughters. The many different seating areas allowed us all to spread out and enjoy that famous light streaming in through the French doors and windows during the day and the magical twinkling lights at night. Our week in this spectacular apartment passed much too quickly and we all hope to return again soon.
Margaux Review
by Raffaele Esposito
We couldn't have asked for a more perfect Paris experience than we had at the Margaux. The view is utterly breathtaking, and the fact that you can enjoy it from nearly every room and the balcony that wraps around the apartment are just added bonuses. Even though the weather was chilly we wrapped up to sit outside on the balcony at night to enjoy a glass of wine and watch the Eiffel Tower sparkle. Our family had plenty of space to spread out and spend time together and also apart thanks to the TV room and the large living room. My wife loved the kitchen and the stock the fridge service, so we had supplies when we arrived! We will be back again soon and wouldn't consider any other location except the Margaux! Thank you for the exceptional experience from start to finish.
December 31, 2015 - Website
Margaux Review
by Katie O
The apartment is perfectly appointed. As usual, our visit to Paris was outstanding. The Margaux apartment was AMAZING!! The team are friendly, prompt, helpful, excellent!
December 16, 2015 - Website
Margaux Review
by Traci J
Amazing! Couldn't have asked for a better location, view and info! Thank you! The team were wonderful, there for us whenever we needed a taxi, or when the building shut the water off! Thank you!
December 6, 2015 - Website
Margaux Review
by Colette H
Lovely, we will be back! The team were fantastic and helpful. Your brochure was really informative.
December 3, 2015 - Website
Margaux Review
by R Jones
Perfection. If it is within your budget to stay here, I would recommend it without hesitation. We had a diverse group: a 3 year old, someone elderly, another in a wheel chair and a teenager. Everyone was so happy.
October 22, 2015 - Website
Margaux Review
by Ms. Jean Wessel Templeton
The Margaux apartment is just stunning. It has three bedrooms plus a study. It is very modern in that all the amenities are up-dated but the furnishings are classically French and very comfortable. There is a view of the Eiffel Tower from every window plus outdoor terrace seating. The piece-de-resistance however is the terrace at the back of the apartment off the master bedroom. It is furnished nicely and has plenty of seating and space for an evening meal or drink outdoors. When the beautiful Eiffel Tower blinks on the hour in the evening, it is just magical. My friends and I have stayed in this apartment twice and would heartily recommend it. The location is just perfect!!!
September 25, 2015 - Website
Margaux Review
by Margaret C
The apartment was Wonderful. Your team was delightful to work with - very helpful. Appreciated all the instructions. Thank you very much!
Margaux Review
by Antonio Guglielmetti
I have stayed in Margaux Apartment with my family from July 1 to 8. The apartment is really wonderful, large comfortable and beautifully decorated with an excellent location and views. Really "a gem" in Paris. Congratulations.
Margaux Review
by Brian S
We anticipated spending ten days seeing all of Paris. We spent, instead, time in and around Paris, but an excessive amount of time 'planted' on the terrace. We experienced Paris in assortments of weather floating on an avenue of trees feeling the sounds of the 7th around us. It was an unexpected pleasure! We used your information book for nearby restaurants and had very, very good results. The team were pleasant and helpful.
Margaux Review
by Peter & Trudy H
Absolutely fabulous apartment! Photos do not do it justice. We brought our 10 year old granddaughter here for her birthday. Beautifully decorated and appointed apartment in a very quiet residential building. Wrap around balcony great for sunsets overlooking the Eiffel Tower. Location is the best. Great shopping just around the corner. The entire team at Paris Perfect was outstanding. We will return with our other granddaughter when she turns 10 to the same apartment.
Margaux Review
by Sandy Deters
Great location, beautiful apartment. Enjoyed Paris and looking to return again in spring of 2016. We will want to stay again at your Marqaux apartment. It worked great for the 4 of us!
Margaux Review
by Matthew B
We had a wonderful stay. The apartment was perfect! The team were fantastic!
November 1, 2014 - Website
Margaux Review
by Janet Lewis
Our Paris Perfect Vacation was just that - PERFECT! Myself and 6 co-workers stayed at the Margaux. It was everything and more than what we were expecting. Through our year of planning the staff at the office was great to deal with and on our arrival we met Kevin who was the perfect host for our weeks stay. The Margaux is the perfect location. The Eiffel Tower is right off the wrap around balcony! The apartment was beautiful, market close by, metro around the corner and lots of cafes to pick from. Paris Perfect recommended Victor's transportation service to and from the airport and they were awesome as well. We will be saving to come back to Paris again and will definitely use Paris Perfect.
October 26, 2014 - Website
Margaux Review
by Janet L
The place was "Paris Perfect"! We loved it. All of your information was exact! Kevin was fantastic, he handled everything for us perfectly and quickly. The phone contacts and emails to the team were always pleasant and helpful. Thank you! We loved the apartment!
We had a great time the apartment is lovely. We hope to be able to come back and stay in Margaux again. The team was very polite and professional. Everything was as described. A great company to work with.
we stayed at the Margaux apartment for 9 days in July. The wraparound balcony has to be seen to be believed. This is a phenomenal place and entirely lived up to our expectations. The views of the Eiffel Tower are amazing, including the incomparable 35 minute fireworks show on Bastille day. The apartment is very comfortable, bathrooms are great, and it accommodated 6 adults very easily. It's hard to imagine a nicer apartment. The weather during our stay was not warm so we did not have reason to test the air conditioning. The Paris Perfect team does a great job ensuring their guests have what they need. This was our second stay with them.
Margaux Review
by Lisa Holden
This apartment is amazing. The bedrooms are great and so are the bathrooms. Kitchen is well - equipped. It is quiet. Absolutely no noise from other apartments. The view from the balcony is breathtaking. You can watch the sunset behind the Eiffel Tower while having dinner outside. We will absolutely stay here again.
Margaux Review
by Judy Paul
The apartment is spectacular and the location is perfect. We could not have asked for anything better, and we hope to be back. The team was incredibly helpful, totally professional and courteous. We dealt mostly with Sam, and he was fabulous.
Margaux Review
by Diane Sakakini-Rao
Our family of 5 had the pleasure of staying in the Margaux apartment for 8 nights in February. Everything has been thought out in the apartment - it lacks for nothing. All of the beds were super comfortable, the bathrooms are modern work well, the linens were of high quality. We enjoyed standing on our balcony to watch the lights of the Eiffel Tower come up before heading out to dinner. Sam, our greeter, was friendly and patient with our questions. I would highly recommend Paris Perfect, and look forward to staying again soon in the future!
September 10, 2013 - Website
Margaux Review
by Bill & Ann H
Just a quick bonjour to tell you how much our groups LOVED Margaux and how gorgeous the apartment looks. Everything about it is just perfect. I wish you could be a fly on the wall to hear the oooh's and aah's when people walk in the front door. It is beyond magnifique. I had one woman seriously interested in buying it. Your team here is so fabulous. Thanks again for a great week in a great apartment.
January 11, 2013 - Website
Margaux Review
by Wendy R
We stayed in Margaux for 12 nights, enjoying Christmas Day there before departing on 26 December. Our only complaint is that we can never again happily rent an apartment or deal with a rental agency because none of them can ever live up to the stunning beauty of Margaux nor the professionalism and attention to detail of Paris Perfect. A spotlessly clean, well furnished apartment where everything works perfectly is a rare treat. Attention to detail included such niceties as a Nespresso machine with a variety of Nespresso pods supplied, a sensible starter pack of milk and juice, washing and dishwashing tablets, and in a cold winter much needed moisturiser in every bathroom! If you are looking for perfection in a Parisian holiday then you have found it.
December 20, 2012 - Website
Margaux Review
by Barbara R
The Margaux was just perfect for our party - family members visiting from West Virginia & Florida in the cool Paris fall. The radiators provided just the right amount of heat and the towel warmers in the bathrooms were a delight (they were a treat for us Americans, who have not embraced this luxurious concept!). Although a bit too cold to dine on the terrace, we stepped out many times for: views of the Eiffel Tower - wonderful of course on the hour in the evenings, but also very moving in the morning fog - the shining dome of Les Invalides, the beautiful Ave. de la Bourdonnais and its great Haussmann buildings, and the well-kempt courtyard. By lowering the red awnings, we were able to identify and photograph the apartment from down below - wonderful photos through the autumn trees. The morning light in apartment was very special and the view of sunrise from the terrace over Les Invalides was breathtaking. The attention to detail in the Margaux was appreciated - from the running lights on the pristine wooden floors to the beautiful tile work in the bathrooms to the spacious closets. Free wi-fi was much appreciated by all of our iPad users, and the free telephone was much appreciated by our 92-year-old mother who enjoyed our daily calls! Coming back to the Margaux each evening after seeing the sights all day was like coming home. We would stop at Carrefour right beside the Ecole Militaire metro, buy our wine and cheese and be all set! The ParisPerfect staff was Paris Perfect! Beginning with the storage of luggage once we arrived early and advice on things to do until we could check into the Margaux (e.g., visit Rue Cler as the shops open for the day, a cafe down the street with a TV so we could savor the American presidential election results, and Café Constant [a must for anyone] for lunch). Sam was extremely helpful and cheery as our Margaux greeter/orienter. And he personally delivered some extra pillows to us. And Lisa was wonderful as a go-between when we lost one of our party for an entire afternoon! And thanks to the housekeeper(s) - we tried to be neat, but that's a big apartment to take care of... A word of advice: Do take the time to acquaint yourself with the 7th arrondissement, to stroll and window-shop and enjoy all that it has to offer. I'm afraid we were so busy seeing the "sites" that we missed much of what was right under our noses!
November 24, 2012 - Website
We had a great vacation. Staying in the seventh arrondisement was fantastic with a great mix of restaraunts, shopping, and transportation options. We have stayed in some great apartments around the world, Margeaux, in the seventh, was everything we had hoped for, beautiful with all appropriate amenities, and the outdoor terrace was to die for. Staff were friendly, available, and helpful but at no time Intrusive. We recommend Paris Perfect and the Margaux apartment without reservation.
November 4, 2012 - Website
Margaux Review
by Kathleen F
We loved our Margaux apartment. It is located in a lovely neighborhood with easy access to the rest of Paris. We took taxis often, and never had a problem getting one right outside our apartment. ParisPerfect was helpful in recommending Victor's Cabs for to and from the airport--reasonable flat fee and a very nice driver. Sam met us at the apartment and was very helpful (he went above and beyond, calling us after hours to help us with our questions with the heat). Our apartment was even more beautiful than the photos, and was complete with all the comforts of home. It exceeded our expectations in every way!!
October 26, 2012 - Website
Margaux Review
by Kathryn S
We had a glorious time at Margaux in Paris! The apartment is stunning and equipped with anything and everything one could possibly need! Everything about it was just perfect! I stayed there with my sister, parents, and my two children, ages 8 and 10. Margaux accommodated all of us beautifully! It was in a perfect location... wonderful food shops, restaurants, climbing the Eiffel Tower, strolling through the Champ de Mars, the Metro, and of course, the view of the tower was INCREDIBLE!! The pictures simply do not do it justice! It is just magical when it twinkles at night! Thank you for such an unforgettable trip!
September 18, 2012 - Website
Margaux Review
by Dave & Missy, David & Laura, Paul & Sandy
Paris Perfect at the Margaux! For us this was the perfect Paris experience of all. The apartment was beautiful. It was a super location to everything that was important to us. Mainly good food, good restaurants and good drink. You helped make our Paris experience one we will never forget. We could not wait to come back to our apartment after a long day of sightseeing to eat a relaxing meal on our balcony with the stunning view of the Eiffel Tower. Let's see...Perfect...that is the word we would use!
September 5, 2012 - Website
Margaux Review
by Susan & Joe
The Margaux has been a wonderful place to sit and watch the sun set every evening before going out to dinner. The lights twinkling on the hour was delightful. It has been spacious and quite elegant as well. There is a wonderful Italian restaurant 'La Taverna' less than 100 meters from the front door where we had the most wonderful mean – with a waiter who was friendly and kind with our "very poor French"! Unfortunate we did not really explore lots of the local restaurants because we left most days early to see the attractions and would eat in the area we were exploring. There is a wonderful street two blocks down (Rue St Dominique) that has lots of small shops and a wonderful bakery. There is a bank on the street as weel. The apartment has been convenient to the E'cole Militaire metro stop and the No 69 Bus. You can take a tour of some of the sights if you take the bus at night towards Bastille for the price of a bus ticket. We did not really use the apartment as much as a large family would have but it seems fully equipped! It has been quite a pleasant place to vacation – and Paris, absolutely wonderful!
Margaux Review
by The Towle Family
We loved our whole experience - loved Paris Perfect, loved the apartment, loved the location and all the suggestions you provided. Great!
Base Nightly Rates – May Not Include Fees such as Greeting, Cleaning, Damage Waiver, Credit Card Processing and Tourist Taxes. For full price, please put in dates.
Available
Unavailable
Check-In Only
Check-Out Only
October 2023

| S | M | T | W | T | F | S |
| --- | --- | --- | --- | --- | --- | --- |
| 01 | 02 | 03 | 04 | 05 | 06 | 07 |
| 08 | 09 | 10 | 11 | 12 | 13 | 14 |
| 15 | 16 | 17 | 18 | 19 | 20 | 21 |
| 22 | 23 | 24 | 25 | 26 | 27 | 28 |
| 29 | 30 | 31 | | | | |
November 2023
S
M
T
W
T
F
S
01

$1782

02

$1786

03

$1849

04

$1878

05

$1788

06

$1985

07

$2021

08

$2050

09

$2077

10

$2102

11

$2117

12

$1938

13

$1789

14

$1929

15
16
17
18
19
20
21

$2377

22

$2421

23

$2549

24

$2550

25

$2527

26

$2370

27

$2535

28

$2465

29

$2385

30

$2603
December 2023
S
M
T
W
T
F
S
01
02
03
04
05
06
07
08
09
10

$2182

11

$2214

12

$2304

13

$2401

14

$2375

15

$2384

16

$2419

17

$2156

18

$2345

19

$3181

20

$3227

21

$3230

22

$3199

23

$3146

24

$2701

25

$3186

26
27
28
29
30
31
January 2024
S
M
T
W
T
F
S
01
02
03
04
05

$2295

06

$2174

07

$2180

08

$2197

09

$2222

10

$2141

11

$1951

12

$2137

13
14
15
16
17
18
19

$1961

20

$1955

21

$1940

22

$1935

23

$1968

24

$2007

25

$2063

26

$1989

27

$1991

28

$1937

29

$1903

30

$1919

31

$1920
February 2024
S
M
T
W
T
F
S
01

$1952

02

$1939

03

$1954

04

$1962

05

$1901

06

$1943

07

$1972

08

$2005

09

$2044

10

$2090

11

$2057

12

$2045

13

$2062

14

$2068

15

$2084

16

$2089

17

$2110

18

$2009

19

$2011

20

$2008

21

$2038

22

$2093

23

$2091

24

$2133

25

$2044

26

$2080

27

$2091

28

$2136

29

$2229
March 2024
S
M
T
W
T
F
S
01

$2207

02

$2246

03

$2172

04

$2207

05

$2248

06

$2283

07

$2317

08

$2322

09

$2339

10

$2246

11

$2267

12

$2299

13

$2320

14

$2351

15

$2384

16

$2419

17

$2322

18

$2389

19

$2439

20

$2460

21

$2484

22

$2486

23

$2501

24

$2352

25

$2453

26

$2523

27

$2550

28

$2534

29

$3295

30

$3305

31

$3115
April 2024
S
M
T
W
T
F
S
01

$2444

02

$2492

03

$2475

04

$2423

05

$2394

06

$2412

07

$2238

08

$2374

09

$2429

10

$2418

11

$2161

12

$2382

13
14
15
16
17
18
19
20
21

$2194

22

$2281

23

$2350

24

$2403

25

$2418

26

$2358

27

$2372

28

$2249

29

$2304

30

$2320
May 2024
S
M
T
W
T
F
S
01

$2332

02

$2374

03

$2338

04

$2356

05

$2257

06

$2291

07

$2311

08

$2322

09

$2384

10

$2366

11

$2386

12

$2304

13

$2337

14

$2368

15

$2397

16

$2474

17

$2481

18

$2519

19

$2455

20

$2481

21

$2518

22

$2534

23

$2613

24

$2617

25

$2660

26

$2588

27

$2628

28

$2671

29

$2697

30

$2774

31

$2766
June 2024
S
M
T
W
T
F
S
01

$2793

02

$2653

03

$2535

04

$2785

05
06
07
08
09
10
11
12
13
14
15
16
17
18
19
20
21
22

$2748

23

$2677

24

$3855

25

$3837

26

$3847

27

$3845

28

$3080

29

$3055

30

$2974
July 2024
S
M
T
W
T
F
S
01

$3066

02

$3087

03

$3103

04

$3102

05

$3097

06

$3092

07

$2991

08

$3034

09

$3050

10

$3083

11

$3056

12

$3046

13

$3016

14

$2895

15

$2949

16

$2970

17

$2963

18

$2924

19

$3698

20

$3648

21

$3513

22

$3594

23

$3609

24

$3609

25

$4444

26

$4465

27

$4436

28

$4364

29

$4407

30

$4407

31

$4380
August 2024
S
M
T
W
T
F
S
01

$4369

02

$5124

03
04
05
06
07
08
09
10
11
12
13

$3412

14

$3356

15

$3397

16

$2650

17

$2665

18

$2615

19

$2640

20

$2697

21

$2644

22

$2637

23

$5202

24

$5233

25

$5177

26

$5210

27

$5289

28

$5247

29

$5239

30

$5266

31

$5292
September 2024
S
M
T
W
T
F
S
01

$5251

02

$5298

03

$5382

04

$5349

05

$5347

06

$5348

07

$5360

08

$5268

09

$2757

10

$2818

11

$2791

12

$2787

13

$2753

14

$2760

15

$2638

16

$2681

17

$2759

18

$2774

19

$2808

20

$2784

21

$2811

22

$2607

23

$2624

24

$2725

25

$2759

26

$2796

27

$2734

28

$2817

29

$2565

30

$2583
October 2024
S
M
T
W
T
F
S
01

$2721

02

$2791

03

$2779

04

$2760

05

$2816

06

$2658

07

$2712

08

$2789

09

$2823

10

$2812

11

$2822

12

$2873

13

$2739

14

$2782

15

$2846

16

$2864

17

$2851

18

$2853

19

$2889

20

$2746

21

$2759

22

$2780

23

$2770

24

$2737

25

$2737

26

$3263

27

$3084

28

$3128

29

$3154

30

$3158

31

$3158
Things to See & Do
Champ de Mars (2 mins Walking)
Expansive park surrounding the Eiffel Tower. Stroll, jog, bicycle or play in one of the playgrounds, go to the puppet theater or carousel, or just sit and enjoy Parisian life and the beautiful gardens.
École Militaire (5 mins Walking)
Napoleon attended military school here and the buildings still show gunfire signs from the French Revolution in 1789
Eiffel Tower (7 mins Walking)
Paris' most iconic site and one of the world's most visited attractions. Take the elevator or stairs to the top of this magnificent structure for beautiful views over Paris.
Musée des égouts de Paris (8 mins Walking)
Fascinating tour of limestone arches and caverns down in the sewers that traverse all of Paris. The Phantom of the Opera was inspired by these underground streets.
Musée du quai Branly (8 mins Walking)
Showcases indigenous art and cultures from Africa, Asia, Oceania and the Americas
Les Invalides (10 mins Walking)
A masterpiece of French Classical architecture built by Louis XIV; Napoleon's tomb rests under the golden dome.
Rodin Museum (15 mins Walking)
View some of Rodin's most famous sculptures including The Kiss and The Thinker
Trocadéro (17 mins Walking)
The Palais de Chaillot sits on top of the hill and houses the Museum of Architecture, Maritime Museum and the Museum of Mankind. Stunning pictures of the Eiffel Tower can be taken from the surrounding gardens with their majestic fountains
Grand Palais (18 mins Walking)
Venue for major national and international events and exhibitions
Petit Palais (18 mins Walking)
Dating back to the 1900s, it's now the site of the Museum of Fine Arts in Paris

Shopping & Eating
Rue Cler (3 mins Walking)
Among the best streets for food in Paris! Cafés and brasseries where you can enjoy dining or shopping at specialty food purveyors with wines, fresh produce, fish, cheese, pâtissières, bakeries and gourmet prepared foods -- a wonderful part of the Parisian experience.
Luxury Stores on Avenue Montaigne (10 mins Walking)
Home to many of the leading fashion houses including Louis Vuitton, Dior, Chanel, Fendi, Valentino and Ralph Lauren, as well as jewelers like Bulgari.
Pont de l'Alma Food Market (10 mins Walking)
Largest open market in Paris; open Wednesday and Saturday mornings
Saxe-Breteuil Market (12 mins Walking)
Open on Thursday and Saturdays and features some of the most beautiful organic and deluxe food stands in Paris
Rue du Commerce (18 mins Walking)
A true Parisian shopping street with trendy boutiques, food stores, bistros

Public Transport
Métro (5 mins Walking)
École Militaire (Line 8)
RER (13 mins Walking)
Pont de l'Alma (Line C)
Métro (16 mins Walking)
Alma - Marceau (Line 9)