Enjoy a splendid stay right in the heart of Paris at the Marcillac, a beautiful one-bedroom, one-bathroom vacation rental set in the romantic 7th arrondissement. The setting is simply enchanting and surrounded by everything that will make you fall in love with Paris all over again! Stroll to local markets, museums and iconic sights before returning home to this stylish apartment, decorated with a Parisian flair. The Marcillac features classic design blended with comfort and the perfect touch of elegance.
Spend time relaxing in the inviting and cozy living room, where you'll find a wooden beamed ceiling and large windows with a narrow balcony overlooking a quiet courtyard. An open-plan dining area and kitchen in the living room are perfect for enjoying all the French specialties at the open-air markets and tempting pastries from the local patisseries. This is the Parisian experience you've come to discover! Savor all the flavors while saving big, compared to eating out all the time during your holiday. At night, retire to the gorgeous bedroom with a large and comfortable bed or make up the sofa bed in the living room to create an additional sleeping space. The Marcillac features a modern bathroom with all the comforts of home.
Find fascinating history throughout the neighborhood: from Les Invalides, where you can visit Napoleon's tomb and the impressive National Army Museum. Or spend an afternoon in the stunning Rodin Museum, one of the most romantic museums in Paris. Spend time shopping and discovering all the quaint corner cafés in the 7th arrondissement, especially on the famous Rue Cler market street. Walk to the Champ de Mars gardens to see the Eiffel Tower sparkling at night and return along the Seine to see the gorgeous Pont Alexandre III bridge. When you're ready to explore more, simply hop on a bus or the metro right by the apartment and you'll be off to see all the sights in Paris!
Things To Note
Neighborhood: 7th arrondissement
Size: 595 sq ft/55 sq m
Sleeps: This property is suitable for two adults and up to two children or three adults. It is a tight fit for four adults due to limited space.
Cooling: Air conditioning in the living room and bedroom
Paris 2024 Olympics: Special Terms 
Room Details
Room
Beds
Details
Bedroom
Extra-Wide Queen (1)

Extra-wide queen bed (63in x 75in; 160cm x 190cm)
Living room
Single (1)
Trundle (1)

High-quality sofa with trundle converts into two comfortable single beds (31in x 75in; 80cm x 190cm)
Bathroom
Combination bathtub/shower (fixed and flexible showerheads) toilet and sink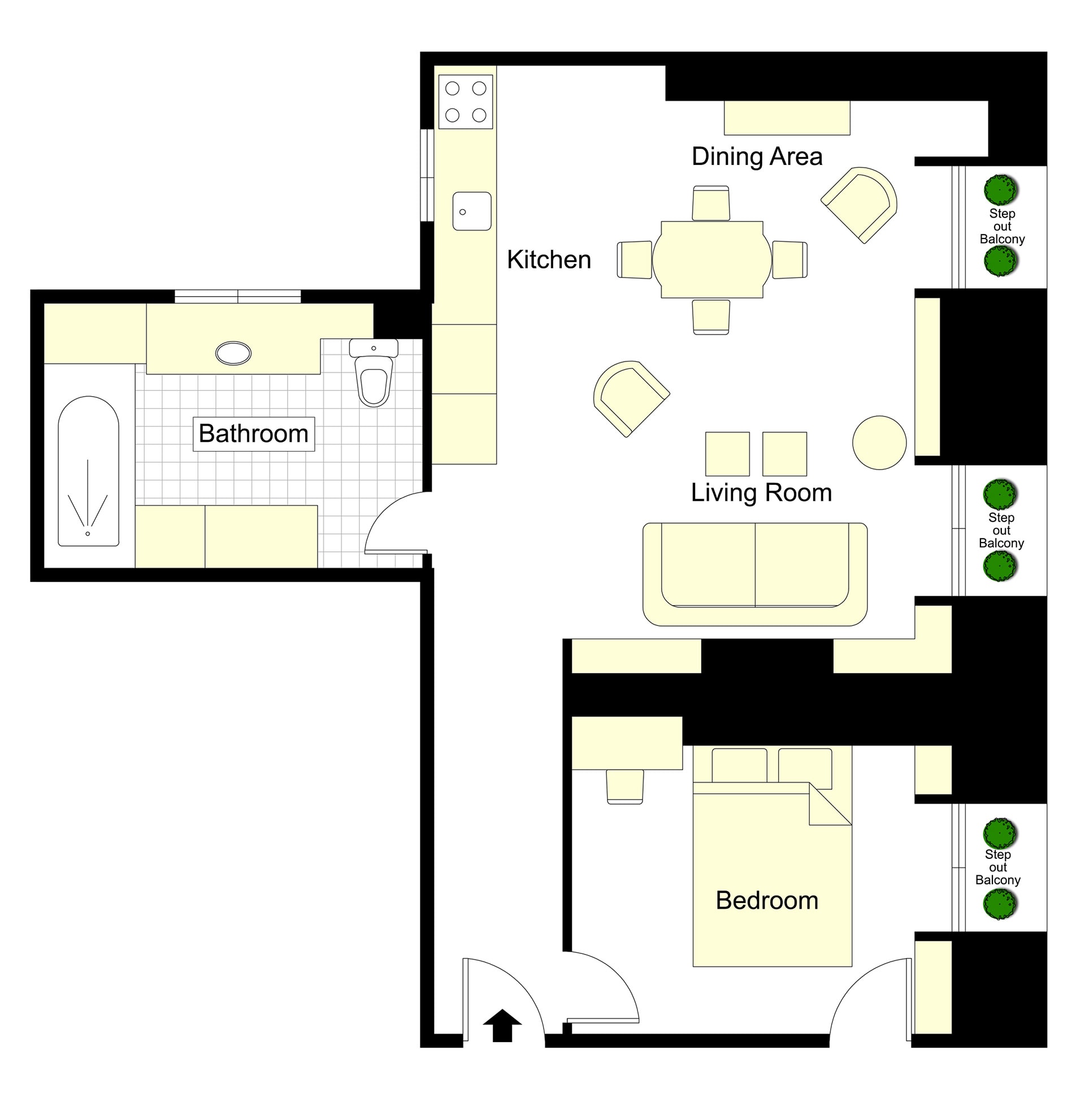 General Amenities

Toiletries
Hotel Safe
Smoke Detector

Kitchen

Fully Equipped
Starter Supplies
Kitchen
Coffee Maker
Dishwasher
Microwave Oven Combo
Nespresso Style Coffee Machine
Stovetop
Toaster
Refrigerator

Accessibility

Private Entrance
7th Floor North American
Elevator

Connectivity/Entertainment

WiFi
TV
TV - Limited English Programs

Heating/Cooling

Heating
Portable Fan(s)
Sound Dampening Windows
A/C-Partial
Non-Working Fireplace

Laundry

Dryer
Iron & Board
Washer

Special Features

Balcony/Terrace
Instant Booking

Amenities

Elevator
Air Conditioning
Thank you for submitting your review. It will be processed shortly!
Perfect gem of a place
by Stefanie Gray
My daughter and I booked this amazing apartment upon the advice of a friend who had already stayed there twice! It did not disappoint. It is a wonderful location. While we were in the apartment, it was very quiet. Since it was July, we definitely needed the air conditioning, and it worked really well. It was a great alternative to staying at a hotel, and we felt more like locals. Very clean and had everything we needed. We loved the fact that we could do laundry in the apartment. That is a game changer. The staff was amazing. I accidentally left an expensive belt at the apartment, and they found it and mailed it back to me! I will most definitely stay here again. Thanks to all the Paris Perfect staff!
Beautiful Paris apartment....
by Jane & Alan
Located in the 7th. Apartment was a spacious 1 bedroom equipped with all the proper accessories! Bathroom spacious with toiletries; kitchen, again, all the right equipment to make the stay comfortable. Quiet apartment, much appreciated. Great location, cafes, brasseries, restaurants, pharmacies, bakeries, retailers, & the metro & taxis right across the street! Staff available & helpful. All in all a wonderful stay!
October 12, 2022 - Website
As usual...great stay
by Steve S.
We usually stay with PP when in Paris. Their properties are up-to-date with no surprises. An employee greets you at your apartment and goes through a full orientation. The office staff is responsive and reliable in answering questions. Marcillac is a spacious one bedroom apartment in a very quiet building and is on the top floor. The building and area is so quiet that we were surprised we were in a thriving and busy city. The apartment is on the interior or the building and faces a courtyard with a typical Parisian atmosphere and architecture. In the past we have stayed in street side apartments and enjoyed those but the quiet and atmosphere of this apartment is wonderful also. The neighborhood has abundant outdoor dining and markets everywhere with just steps to a Metro. Well worth the visit at Marcillac.
October 3, 2022 - Website
Beautiful apartment in a beautiful neighborhood
by Nancy W
This apartment was a perfect place to come home to for a week in Paris. The location is superb - we walked to dinner every night, patisseries and boulangeries were nearby on every street, and the famous Rue Cler is just a couple blocks away for anything else your tastebuds desire. Having the Eiffel Tower as a neighborhood landmark made getting around really easy. The 7th is lovely, and the apartment itself is representative of the area - beautiful, high quality, comfortable. Paris Perfect made this trip really easy - thank you!
August 24, 2022 - Website
Marcillac review by C.J.
by C.J. Feinberg
My husband and I were returning to Paris after 23 years with our 14 year old grandson, and in my search for where to stay, I stumbled upon Paris Perfect. We'd never stayed in an apt before, but the Marcillac seemed perfect for us. Communication with their U.S. contact was excellent- quickly responsive and very helpful. The apt's location was very convenient to metro, taxi, shops and restaurants as described in the previous review. The apt. was very nicely appointed, modern compact kitchen, and the lines for the sofa bed and bedroom really luxurious and inviting. We had a lovely stay there and highly recommend Paris Perfect and our apt. We were sent 2 e-mails describing walks and were provided with detailed suggestions for neighborhood dining and shopping as well as for similar city suggestions and sightseeing for the city. When I asked if they had someone who could help plan our 5 day stay, they provided the name of Karina Clarke Travel Light. She was excellent, and the success of our trip was largely due to her planning!! She was really lovely to work with.
August 20, 2022 - Website
I had a lovely stay at this little one bedroom. The location was perfect - directly across the street from the park entrance of the Tour Marbourg metro stop, near a taxi rank and close to shops, boulangeries and cafes. Getting around Paris was a breeze from this spot. The apartment was well equipped and the full-time bath tub was a nice treat every evening after walking around all day long. I needed to work while I was visiting and the small desk area was the right size for me and my work schedule. There really is no view from the apartment so not a lot of daylight enters the room - but it was fine for me as I was mostly there during the evening. The "view" of the Eiffel Tower is really only if you stick your head out the window and peer around the corner. I wouldn't hesitate to stay here again as the appointments in the apartment, the location and comfort was just right for me.
April 23, 2022 - Manual Entry
Never disappoints
by Pam H
Paris never disappoints. Neither does Paris Perfect. Apartment Marcillac suited the two of us perfectly - location and size wise. It is beautifully furnished and very comfortable. The decorative touches and antiques add to its charm. The efficient and creative use of space for closets, the spacious bathroom, well-designed kitchen and full size appliances were outstanding. The view of the top of the Eiffel Tower was a bonus.
September 30, 2021 - Website
Marcillac Review
by Felicity Jane Styles
Beautifully modernized, clean, very well equipped & charmingly decorated 1BR apartment in a quirky Paris building (5th floor, 2 person elevator) in an excellent left bank location near des Invalides. Just the experience we were looking for. #8 Metro stop across the street & access to many useful bus routes close by. Lovely neighbourhood streets of rue de Grenelle, rue Saint Dominique, rue Cler all on your doorstep. Many restaurants, boulangerie, excellent food shops close by. The apartment is well laid out, beautifully decorated, quiet, very comfortable & perfect for two people. We chose Marcillac as it met my personal list of �comfort requirements� in an apartment. Living room reading lights, bedside tables+lights, counter space in the bathroom (who designs those hotel bathrooms with nowhere to put ones travel toiletries?) not a problem in Marcillac - oodles of bathroom storage, large double sink vanity with plenty of counter & cupboard space. Central A/C as our two week stay was in August. French press coffee & a Nespresso machine made it feel like home. Full size washer & separate dryer & a very well equipped kitchen. We have been to Paris a number of times but Paris Perfect was our best experience yet. Everyone we dealt with was friendly, helpful & very professional - and all spoke excellent English. If spending time in Paris is in your future I highly recommend renting an apartment through Paris Perfect. They have something to suit everyone in some of the best locations in Paris. They provide a huge amount of useful information ahead of time, & although I wouldn�t say they are cheap, they do provide excellent value & top notch service. We also used their recommended Victor Taxi Service from & to CDG Airport. Good decision�for not much more than a regular cab (& no line up) you get met by name, transported in an extremely clean vehicle to your apartment. The driver calls ahead en route to notify Paris Perfect of your arrival time at the apartment so your �Greeter� is there to welcome you. We have already booked a 2BR apartment for next year when we visit Paris again with friends. Can�t wait
December 2, 2019 - Website
Marcillac Review
by Patricia L
Wonderful, modern, clean, well equipped and spacious apartment blocks from Les Invalides, Rue Cler & Pont Alexander. 15 minutes walk to Tour Eiffel & Trocadero. There is a metro stop right across the street which was quite delightfully convenient. The apartment is on the 6th floor and there is small elevator that services the building - a welcome sight at the end of a long day. We had a couple of questions and communication with the Paris Perfect office was quick, efficient and friendly. It was extremely nice to have a generously proportioned apartment to base our activities from. The bed was comfortable, the bathroom was huge and had plenty of hot water and toiletries. We lacked for nothing and the location was perfect for exploring. We would gladly book with Paris Perfect again.
November 9, 2019 - Website
Marcillac Review
by Kay R
The Marcillac is a lovely apartment. Beautifully decorated, well located, with lots of storage. And it was really nice to have a full size dining table, too, rather than more of a cafe table. If we were to add something it would only be additional lamps in the main living area. Other than that, this was a perfect place for our week long stay in Paris !
Marcillac Review
by Nicole M
We were so pleased when we checked into Marcillac! It's a beautiful top floor apartment with all the comforts of home. We loved having coffee in the mornings with the windows open to the courtyard. The location is perfect, right across from the subway station and within walking distance to so many great cafes, bakeries and the Eiffel Tower. Two of the days we were in Paris, the temps were in the high 80s and the central AC was a very nice perk! Paris Perfect took great care of us and we will highly recommend them and their apartments to anyone traveling to Paris!
Marcillac Review
by Sharon and Mark B
This was our second stay at this lovely one bedroom apartment in the 7th. If you want to experience Paris like a resident then stay in the 7th. Everything is within walking distance and the metro is accessible to travel elsewhere. Though walking is the preferred mode of travel. The apartment has all modern amenities sprinkled with lovely Parisian decor. When appliances don't work properly or something needs a minor repair, the local team is quite responsive. We will stay with them again when we return for another visit.
Marcillac Review
by Linda M
I have spent a lot of time in Paris over the years and always book my apartment rentals with Paris Perfect. I can always expect clean well appointed apartment that meet the highest standards with added extras fine bed linens, free long distance calling to north America, wifi, international tv, coffee pods and personal customer service make the world of difference. This spring I celebrated my grandsons birthday his first time in Paris the Marcillac 1 BR was central to all the things I love to do while visiting Paris, we could walk to the market street of Rue Cler as well as the parks and attractions a 9 year old would find interesting. As always Paris Perfect we leave Paris always planning our next trip. Thank you again for all the little extras in the fridge...
November 10, 2018 - Website
Marcillac Review
by Lisa M
This is a lovely, beautifully decorated and quiet one bedroom apartment in a great location in the seventh arrondissement. Our Paris Perfect representative met us at the apartment and showed us how to work appliances and where things were located. She also left 2 excellent manuals which explained the appliances and restaurants and shopping in the neighborhood. We greatly appreciated the few essentails left in the refrigerator for us and they provided us with a lovely bottle of wine. The small kitchen is well stocked, and contained everything we needed to cook the several meals we made. There is a lovely street market and nice restaurants within a block. The bathroom is modern with lots of storage space, a lovely towel heater, washer and dryer and one of the largest tub/shower combinations I have seen. The bedroom has good storage, a window, desk, chair and TV. There is slight noise and vibration from the underground subway at night but not enough to create an issue. The apartment is well located across the street from two subways and a taxi stand which made getting around very convenient. The apartment has 3 windows overlooking a courtyard. There is no street noise. We appreciated the elevator which is small but serviceable, since the apartment is on the top floor. We hope to return to Paris soon and would love to stay in this lovely apartment again! Thank you Paris Perfect for wonderful accommodations in Paris!
October 26, 2018 - Website
Marcillac Review
by Lisa M
Lovely apartment. We had everything we needed. There is some subway noise at night but not significant we got used to it. Location is excellent. Apartment is very comfortable.
October 22, 2018 - Website
Marcillac Review
by Lina B
This was our second stay with Paris Perfect and again, it was pretty much perfect! I was initially heartbroken that our previous rental was unavailable for our dates but thanks to the recommendations of the staff, the Marcillac was a perfect fit. The apartment was nicely proportioned and laid out and blissfully quiet. The bathroom was roomy and we enjoyed the great shower. The kitchen was well equipped and though we didn't do much cooking this time, we enjoyed breakfasts with croissants from our favorite bakery, Moulin de la Vierge. The location was excellent. We took advantage of the glorious weather and started several of our days with walks across the Alexander III bridge to exhibits at the Grand and Petit Palais. We know Paris well after having owned an apartment in the 7th. The Paris Perfect staff has made it possible for us to recapture that wonderful time in our lives with their recommendations for just the perfect apartment. Can't wait for our next visit!
September 27, 2018 - Website
Marcillac Review
by Charles B
Marcillac is a great apartment and if you look out your bedroom window at night, you can see The Eiffel Tower. The apartment is really close the Seine river, Rue Cler. You are on the 7th floor. This was my wife and I's 30th wedding anniversary and first time in Paris. When we do go back to Paris we will stay again with Paris Perfect apartments. They are very helpful and friendly people. Thank you again for all of your help.
August 27, 2018 - Website
Marcillac Review
by Suzanne R
Our stay in the Marcillac apartment could not have been better. The apartment is spacious, quiet, perfectly located and well equipped with everything you need. The check in process and walk through was seamless and informative. We have been to Paris several times and could not get over the convenience of this location..... Tucked away across the street from a quaint green space but close to everything! The interior of the apartment is just as nice, if not nicer than the photos. The queen bed is very comfortable, the shower pressure is spot on, the towels are fluffy and the AC works just fine. This apartment checks all the boxes! I would highly recommend Paris Perfect for all your apartment needs in Paris.
Marcillac Review
by Alice
Marcillac is such a beautiful apartment! It is actually bigger and nicer than pictured. The living room sofa was converted into two very comfortable beds for my 12 and 9-year-old. All the appliances are very new and modern. The bathroom was very spacious with plenty of storage space. The location of the apartment is AWESOME. Close to everything (restaurants, metro, etc), but it is also very quiet. It is a perfect retreat after a whole day of sightseeing. Last, but not least, I need say special thanks to the Paris Perfect team. This was my first time booking with Paris Perfect. Everyone was so professional and responsive from the first day I contacted them. The tour and restaurant reservation teams were great. I will definitely book with Paris Perfect again for my next France trip.
Marcillac Review
by Laurel
My husband and I loved the apartment. It was in a great location, across the street from the metro and close to restaurants and food shopping. It had all the comforts of home including essential air conditioning (we had a heat wave while we were there). We spent 12 days in Paris, the Paris Perfect team was great. We will definitely rent with Paris Perfect for our next trip to Paris. I hope that will be sooner rather than later!
January 3, 2018 - Website
Marcillac Review
by Adrienne Thacker
Paris Perfect provides unsurpassed high-quality service from the moment you begin to research and consult with agents to answer your initial questions, to having a representative from the Paris Perfect team meet you at your apartment upon your arrival in Paris. I stayed at the Marcillac apartment for 11 days and truly experienced the Parisian life in that short time. Our greeter from Paris Perfect was wonderful! The ambiance and spectacular location (7th district) of the apartment could not be any more Parisian. The decor was most charming. Additionally, I might say that this was a quiet and peaceful apartment allowing you to relax and sleep well. I would stay at this apartment again or book another apartment with Paris Perfect based on the incredible accommodations and service provided.
December 22, 2017 - Website
Marcillac Review
by Donna Jones
The apartment is beautiful and well appointed. There is a comfortable sofa bed and a lovely separate comfortable bedroom. It's a home from home but in sweet Paris. Was an ideal apartment for my daughter and me. The location is fantastic, with metro across the road. It's walking to the River Seine, Tour Eiffel, and markets it's such a great district, quiet and peaceful. The staff was friendly and kind. Would happily return!
December 6, 2017 - Website
Marcillac Review
by Laurie P
We had a wonderful week-long stay in Marcillac. The location was perfect, directly on a square with the Tour-Maubourg metro stop and a taxi stand and Les Invalides across the street. We were close to Rue Cler, Rue Saint-Dominique and great restaurants every night. We enjoyed wandering around the neighborhood and staying in close proximity to the Eiffel Tower. The apartment was very comfortable, and we rarely saw other residents. The apartment is beautifully decorated and spacious with plenty of storage for clothes and luggage. We will stay again with Paris Perfect in February and recommend them to anyone wanting to enjoy Paris as a resident.
November 27, 2017 - Website
Marcillac Review
by Nina Sasson
The most magical experience ever. Gorgeous apartment and the perfect spot to call my home base. I relaxed, slept well, and was surrounded by pure beauty. Couldn't recommend more!
November 11, 2017 - Website
Marcillac Review
by Sharon and Mark Blumberg
We have visited Paris many times and this was our visit stay with Paris Perfect. We spent almost 10 days in this lovely apartment, and we would recommend Paris Perfect for your stay in Paris. We found staying the 7th arrondissement to be the most convenient and comfortable. This apartment was equipped with everything one needs to make a stay in Paris feel like home. The metro was literally right across the street and the markets for fresh fish, produce, meat, bakeries and flowers were all nearby. As we always do, we walked everywhere and this apartment was within walking distance of The Rodin Museum, Grand-Palais and Petit-Palais plus many other Paris gems.
Marcillac Review
by Dave Shepherd
A beautiful place in a quaint neighborhood. The metro line is across the street. Rue Cler was a very short walk. There are plenty of excellent restaurants, patisseries and markets nearby. The location was wonderful and so was the Paris Perfect staff. We really enjoyed the whole experience and made some great memories. Thanks!
Marcillac Review
by Carole S. Bloch
We loved our stay at the Marcillac apartment. Everything was provided and the place was spotless. It was so welcoming and even nicer than the photos. We appreciated all the small touches like the gifts of wine, water, juice, and complimentary amenities. It made our experience in Paris extraordinary and better than any we had in all our many years of renting in Paris. Best of all - it made us promise ourselves to come back to a Paris Perfect apartment!
February 7, 2017 - Website
Marcillac Review
by Carlos Castro
I had an excellent experience renting the Marcillac apartment for one week. The apartment was perfect. There was nice furniture, a very comfortable full kitchen in the apartment. The bathroom was great. The location was superb! I definitely recommend renting this apartment!
December 30, 2016 - Website
Marcillac Review
by Tessa M
Marcillac is exactly what we needed. Attractive clean and tidy - just as shown online! We loved the quietness of the apartment and access to everything we love - museums and walking distance to Rue Cler! The team was great! We stopped by the office and our greeter was very helpful with our questions of the area.
November 6, 2016 - Website
Marcillac Review
by Lisa and Russell Jones
This is our third rental through the Paris Perfect group - having rented previously in Florence and Rome through Italy Perfect. The location of the Marcillac is perfect -- in the 7th easy walking distance to rue Cler (the permanent market) and the metro. As we like to cook when we're in Paris, Paris Perfect's suggestion to rent the Marcillac was spot on. A true cook's kitchen. The apartment is beautiful, it looks just like its photos. As usual the wrap around support provided by Paris Perfect makes it so easy to rent an apartment and feel like a local. We enjoyed their suggestions as well for restaurants, other daily markets and food shops. Even in the world of Uber, the recommended Victor's Taxi is most definitely the way to go to and from the airport. Victor coordinates seamlessly with The Paris Perfect Team. Thanks again for another great vacation. We'll be booking through you for our London trip in next autumn!
Marcillac Review
by Angela Timberlake
This was my third time using Paris Perfect and second time staying in Marcillac. I was with my daughter and the apartment was very roomy for 2. The bathroom is very large for a Paris apartment with a large counter and we could both easily get ready at the same time. The apartment provided everything we needed from a hairdryer to a charger. It is in a great location where it is very quiet but a metro station is right across the street as well as a taxi stand so it is very convenient getting somewhere. A very nice cafe is nearby that looks onto Les Invalids as well as many other cafes on the street and a little further closer to the Eiffel Tower, all within walking distance. I appreciated the convenience of ordering my metro and museum passes all from Paris Perfect. All their services from making dinner reservations to cooking classes make traveling to Paris so easy. Their booklet with all the important information is so helpful. The staff at Paris Perfect is so friendly and helpful as well. I will rent from them again and love this apartment!
Marcillac Review
by Ruben and Anna Zamora
Our stay in Paris was indeed perfect. Marcillac turned out to be exactly what we wanted to experience living like a Parisian. The apartment looked exactly how it did in the photos on the website. The apartment was tastefully decorated, well equipped and immaculately clean. We loved the location with it being 5 mins to Rue Cler, where we bought our fresh baguettes, cheese and fruits daily. And the metro was a minute walk. We highly recommend Paris Perfect. The team was so helpful in every inquiry we had. We will definitely go back!
Marcillac Review
by Cynthia
If you want perfection this apartment is for you. Exquisitely decorated, based in a fantastic location, with views of the tower. Quiet, sunny and modern with French charm. Perfect.
October 7, 2015 - Website
Marcillac Review
by Mary & Mike Suarez
The Marcillac apartment was delightful and very comfortable. We loved the neighborhood, it was not too crowded with a bakery, markets and cafes all close by. The metro was right across the street and the bus stop and taxi stand on the corner. It was a perfect location for us. Paris Perfect staff was very helpful to us and made our stay very easy. We loved being the only tourists in our building. We felt like for two weeks we really lived in Paris. It was also so nice to have the housekeeper come after a week to clean for us. It couldn't have been a better experience. Thank you.
August 16, 2015 - Website
Marcillac Review
by Trecia P
It was wonderful! We are sad to be leaving. The team was excellent.
Marcillac Review
by Elizabeth & Josef
Exquisitely designed and furnished, perfect for a couple. Just a few blocks from Rue Cler market, the location is a wonderful starting point for a day of walking and exploring, particularly for those on a repeat visit to Paris. Metro and taxi stand literally steps from front door. Several interesting restaurants have opened in this part of the 7th. Excellent women's clothing boutique at 2, rue Cler owned by the delightful Marie-Laure.
Marcillac Review
by Paul Pecci
Thank you once again for providing the perfect apartment (Marcillac) for us for our return to Paris. So conveniently located in the 7th arrondissement the newly renovated apartment was exquisitely decorated, meticulously maintained, and exuded all of the French charm that one dreams about while planning a Paris stay. My wife and I enjoy the total immersion experience when we travel and the Marcillac allowed us to experience Parisian life in style and with ease. It was all that we had hoped for and more. The photos and description on your site were most accurate and helpful in our planning. Although it rained most of the time we were there this year (who cares - we're in Paris), it was so comforting and exciting to come home for a lunch or dinner to such a bright and elegant haven. We truly loved it and have recommended it to all of our friends. We loved the other apartment we rented last year in the Latin Quarter but this one was exceptional. A special thanks to your wonderful staff who were most helpful and cordial prior to and on the day of our arrival. An experience we will always remember.
Marcillac Review
by Mary V
The apartment was perfect! It was in a great location, very clean and up to date. The guidebook was excellent. Everyone has been wonderful! The bed was very comfortable and the shower was great. It was such a beautifully decorated apartment.
Marcillac Review
by Sandra P
We loved this apartment, it was so spacious. I love your attention to details, your staff are so friendly and your apartments are the best - we will probably be back in the fall!
Base Nightly Rates – May Not Include Fees such as Greeting, Cleaning, Damage Waiver, Credit Card Processing and Tourist Taxes. For full price, please put in dates.
Available
Unavailable
Check-In Only
Check-Out Only
October 2023
S
M
T
W
T
F
S
01
02
03
04
05
06

$385

07

$385

08

$385

09

$385

10
11
12
13
14

$385

15

$385

16

$385

17
18
19
20
21
22
23
24
25
26
27
28
29
30
31
November 2023
S
M
T
W
T
F
S
01
02
03
04
05
06
07
08
09
10

$403

11

$405

12

$386

13

$386

14

$393

15

$404

16

$412

17

$510

18

$441

19

$475

20
21
22
23
24
25
26

$468

27

$462

28

$482

29

$482

30

$455
December 2023
S
M
T
W
T
F
S
01

$515

02
03
04
05
06
07
08
09
10
11

$451

12

$455

13

$497

14

$494

15

$502

16

$510

17

$450

18

$462

19

$575

20

$661

21
22
23
24
25
26
27

$673

28

$686

29

$716

30

$765

31

$720
January 2024
S
M
T
W
T
F
S
01

$705

02

$507

03

$546

04

$540

05

$488

06

$460

07

$434

08

$429

09

$443

10

$436

11

$457

12

$409

13

$392

14

$388

15
16
17
18
19
20
21
22
23

$385

24

$385

25

$408

26

$397

27

$396

28

$385

29

$385

30

$385

31

$385
February 2024
S
M
T
W
T
F
S
01

$385

02

$386

03

$388

04

$385

05

$385

06

$385

07

$385

08

$389

09

$406

10

$421

11

$402

12

$389

13

$398

14

$405

15

$406

16

$398

17

$447

18
19
20
21
22
23
24

$446

25

$407

26

$414

27

$425

28

$437

29

$452
March 2024
S
M
T
W
T
F
S
01

$460

02

$473

03

$429

04

$432

05

$446

06

$459

07

$470

08

$480

09

$469

10

$385

11

$448

12
13
14
15
16

$485

17

$448

18

$469

19

$489

20

$495

21

$499

22

$506

23

$511

24

$474

25

$483

26

$500

27

$502

28

$504

29

$663

30

$672

31

$639
April 2024
S
M
T
W
T
F
S
01

$486

02

$499

03

$495

04

$494

05

$490

06

$503

07

$476

08

$485

09

$498

10

$499

11

$498

12

$494

13

$507

14

$478

15

$487

16

$498

17

$502

18

$501

19

$494

20

$505

21

$472

22

$484

23

$494

24

$492

25

$489

26

$496

27
28
29
30
May 2024
S
M
T
W
T
F
S
01

$465

02

$485

03

$488

04

$496

05

$460

06

$465

07

$475

08

$477

09

$493

10

$493

11

$500

12

$468

13

$467

14

$477

15

$484

16

$503

17

$513

18

$521

19

$494

20

$493

21

$506

22

$513

23

$528

24

$537

25

$545

26

$519

27

$515

28

$529

29

$538

30

$551

31

$560
June 2024
S
M
T
W
T
F
S
01

$563

02

$535

03

$537

04

$551

05

$560

06

$570

07

$569

08

$571

09

$543

10

$553

11

$567

12

$569

13

$569

14

$568

15

$569

16

$546

17

$560

18

$564

19

$565

20

$569

21

$567

22

$566

23

$549

24

$782

25

$782

26

$781

27

$783

28

$563

29

$617

30

$597
July 2024
S
M
T
W
T
F
S
01

$615

02

$619

03

$623

04

$624

05

$623

06

$624

07

$600

08

$617

09

$625

10

$630

11

$626

12

$620

13

$620

14

$593

15

$613

16

$624

17

$620

18

$612

19

$766

20

$762

21

$736

22

$737

23

$727

24

$761

25
26
27
28
29
30
31
August 2024
S
M
T
W
T
F
S
01
02
03
04
05

$1373

06

$1381

07

$1370

08

$1367

09

$1373

10

$1366

11

$1219

12

$727

13

$733

14

$723

15

$723

16

$567

17

$571

18

$554

19

$564

20

$574

21

$567

22

$567

23

$1093

24

$1100

25

$1079

26

$1093

27

$1106

28

$1097

29

$1092

30

$1093

31

$1096
September 2024
S
M
T
W
T
F
S
01

$1074

02

$1089

03

$1101

04

$1096

05

$1095

06

$1097

07

$1101

08

$1071

09

$565

10

$583

11

$583

12

$581

13

$578

14

$579

15

$543

16

$558

17

$583

18

$591

19

$591

20

$590

21

$584

22

$539

23

$547

24

$573

25

$591

26

$586

27

$578

28

$578

29

$529

30

$535
October 2024
S
M
T
W
T
F
S
01

$569

02

$583

03

$581

04

$581

05

$596

06

$551

07

$567

08

$584

09

$591

10

$587

11

$594

12

$611

13

$570

14

$576

15

$594

16

$593

17

$578

18

$602

19
20
21
22
23
24
25
26
27
28
29
30
31
Things to See & Do
Les Invalides (3 mins Walking)
A masterpiece of French Classical architecture built by Louis XIV; Napoleon's tomb rests under the golden dome.
Rodin Museum (8 mins Walking)
View some of Rodin's most famous sculptures including The Kiss and The Thinker
Champ de Mars (10 mins Walking)
Expansive park surrounding the Eiffel Tower. Stroll, jog, bicycle or play in one of the playgrounds, go to the puppet theater or carousel, or just sit and enjoy Parisian life and the beautiful gardens.
École Militaire (13 mins Walking)
Napoleon attended military school here and the buildings still show gunfire signs from the French Revolution in 1789
Champs Elysees (15 mins Walking)
One of the world's most famous shopping boulevards. Make sure to visit the Louis Vuitton flagship store!
Eiffel Tower (17 mins Walking)
Paris' most iconic site and one of the world's most visited attractions. Take the elevator or stairs to the top of this magnificent structure for beautiful views over Paris.
Musée d'Orsay (17 mins Walking)
Located in an old train station, this museum is home to the largest collection of impressionist and post-impressionist masterpieces in the world.
Place de la Concorde (19 mins Walking)
Admire the beautiful fountains and the ancient Egyptian Luxor Obelisk

Shopping & Eating
Le Bon Marche & La Grand Épicerie (19 mins Walking)
The oldest department store in Paris selling a range of luxury goods. Be sure you visit La Grande Epicerie de Paris, the magnificent food hall.
Grand Department Stores (40 mins Walking)
Hop on public transport or walk to two of the largest department stores in Paris - Printemps and Galeries Lafayette - conveniently located next to each other on Boulevard Haussmann in the 9th arrondissement

Public Transport
Métro (1 mins Walking)
La Tour-Maubourg (Line 8)