Welcome to the Lalande! This gorgeous three-bedroom, two-floor apartment on Paris' Left Bank is bound to make you feel at home. Step through the door into a stunning open-plan living and dining room, designed to emit style and elegance. A sitting room to the rear of the property provides a great spot for putting your feet up. The fully equipped kitchen has all you will need for preparing meals. Next to the living room, you'll find bedroom 1, complete with a cute writing desk and large French windows. There are two more bedrooms upstairs. The pièce-de-résistance of the Lalande is the lovely wrap-around balcony, wide enough for a small bistro table. Open a bottle of wine and marvel at the stunning direct views of the Eiffel Tower from the comfort of your home!
Located so near to the Eiffel Tower in the 7th arrondissement, the Lalande is ideal for exploring the city's heart. Make sure to visit the nearby iconic Rue Cler market for the best French food shops. Discover the surrounding cathedrals for a taste of Paris' Gothic past and make sure you catch the displays at the Rodin museum, a celebration of one of France's most eminent sculptors. On a warm day, stroll across the river to the Champs-Élysées for a shopper's paradise! Catch a theater show and wind your way down to the Arc de Triomphe for an unparalleled view of the city. With the Lalande as your home, the whole city awaits you!
Please note: This apartment is not suitable for children under 8 years.
Things To Note
Neighborhood: 7th arrondissement
Size: 1250 sq ft/115 sq m
Age Restrictions: No children under the age of 8
Cooling: Mobile A/C units in bedroom 1, bedroom 2 and the sitting room that vent through a special hole in the window
Heating: Building regulated heating
Accessibility/Security: Internal stairs with 15 steps and 3 steps from the elevator to the property
Paris 2024 Olympics: Special Terms 
Room Details
Room
Beds
Details
Bedroom 1
Extra-Wide Queen (1)

Extra-wide queen bed (63in x 79in; 160cm x 200cm)
Bedroom 2
Double (1)

Double bed (55in x 75in; 140cm x 190cm)
Bedroom 3
Single (1)
Trundle (1)

High-quality sofa with trundle converts into two comfortable single beds (31in x 75in; 80cm x 190cm)
Sitting room
Double (1)

High-quality sofa converts into a comfortable double bed (55in x 75in; 140cm x 190cm)
Bathroom 1 (en suite to Bedroom 1)
Combination bathtub/shower (fixed and handheld showerheads) and double sink. Toilet in separate room, please see floorplan.
Bathroom 2
Shower (fixed and flexible showerheads), toilet and sink
Bathtroom 3
Shower (fixed and flexible showerheads), toilet and sink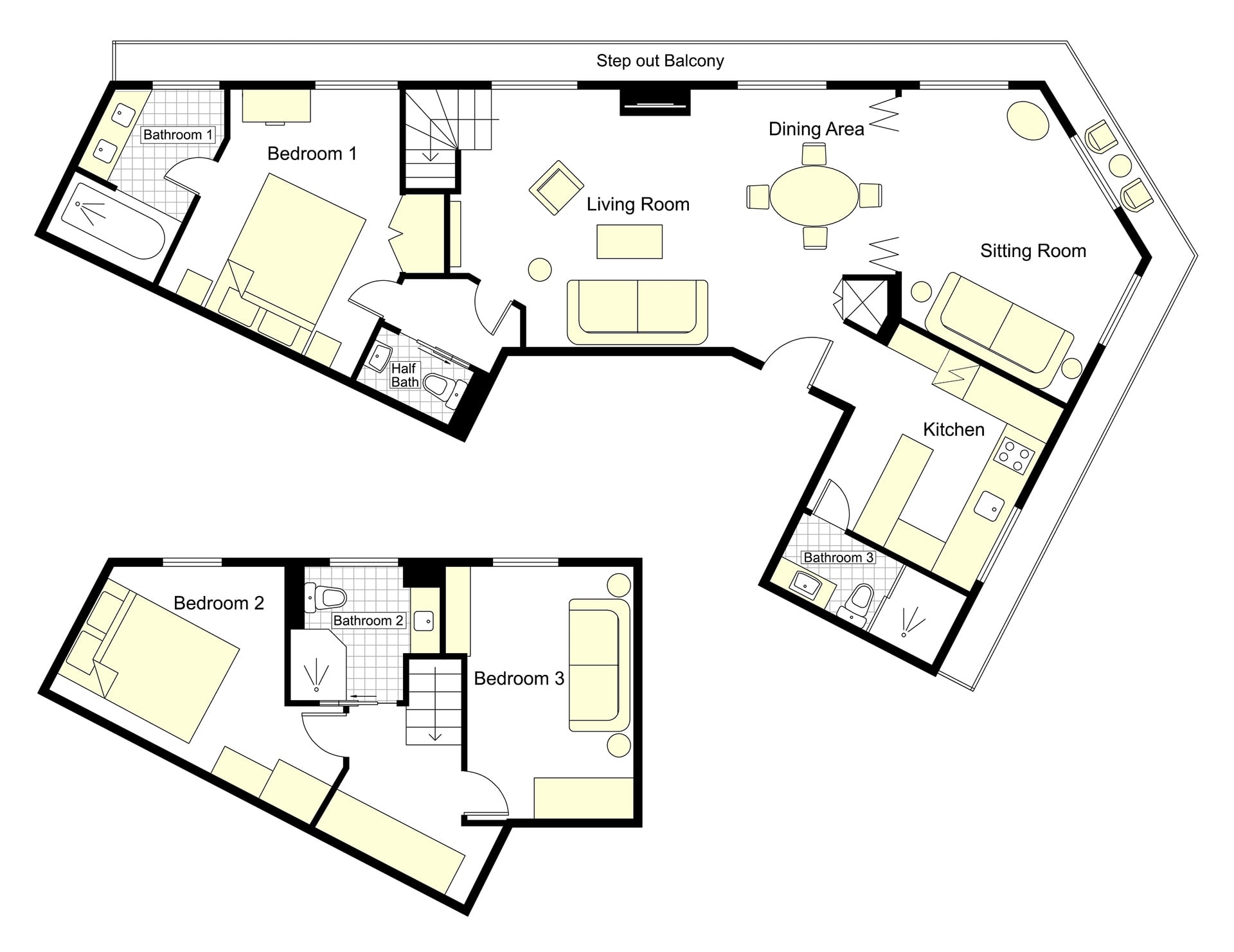 General Amenities

Toiletries
Hotel Safe
Smoke Detector

Kitchen

Fully Equipped
Starter Supplies
Kitchen
Coffee Maker
Dishwasher
Microwave
Nespresso Style Coffee Machine
Oven
Stovetop
Toaster
Refrigerator

Accessibility

Private Entrance
6th Floor North American
Elevator

Connectivity/Entertainment

WiFi
TV
TV - Limited English Programs

Heating/Cooling

Heating
Portable Fan(s)
Sound Dampening Windows
A/C-Mobile
Non-Working Fireplace

Laundry

Dryer
Iron & Board
Washer

Special Features

Eiffel Tower View
Balcony/Terrace
Instant Booking

Amenities

Elevator
Air Conditioning
Thank you for submitting your review. It will be processed shortly!
September 18, 2023 - Website
The view is magnificent
by Charles Leach
We loved the apartment. The view is magnificent and the apartment interior was as pictured. We were met by a courteous staff member who explained everything. The apartment was clean and decorated well. The neighborhood felt safe and there were many restaurants and shops nearby. The Rue Cler area is very nice for eating and is only two blocks away. Our only objection was the mattresses were very firm, but we would definitely stay here again.
August 11, 2023 - Website
Extraordinary Paris
by Christina Mora-Mangano
We enjoyed an extraordinary stay in the ParisPerfect apartment. The on-line description posts for this property describe perfectly the pros and rare cons of the unit. Of note, our arrival time was out of the usual expected arrival window. The ParisPerfect office maintained constant communication with us as we travelled from Brussels arriving at the apartment after midnight (an understandable late arrival charge was applied). The unit is A+ clean, well stocked and with a layout that allowed perfect balance for together time and private time for my spouse and me and our 4 children (21,21,15,15). The view of the Eiffel Tower is unparalleled! We will never forget it. Dishwasher and the washer and separate dryer are clean and work very well. (Six people have an abundance of laundry. We have stayed in another rental where the washer and dryer were combined in one appliance, greatly slowing down the process of completing the daily laundry. The four portable air conditioners are high quality and keep the apartment cool. The surrounding neighborhood is very welcoming— full grocery store a half of a block away, multiple small restaurants with moderately priced but very good food (cheaper than San Fran prices!). Cons— barely worth mentioning. The online post explains the presence of an extremely small elevator to the fifth floor. We often climbed the stairs to facilitate the ascensions of 6 people. The beds easily support 6 full size individuals, but are of moderate quality: disclaimer — I require a high-end sleeping mattress. But given the overall upper-end quality of the apartment, I recommend that the owners upgrade the mattresses. We will try and rebook this remarkable apartment the next time we venture to Paris.
Beautiful apartment in a perfect neighborhood
by Deb D
This was our second stay with Paris Perfect in the 7th. Easy 2 block walk to Rue Cler market street to buy our morning pastries, cheese, fruit and wine. The apartment was perfect for our family of 4, beautifully appointed and we loved watching the twinkling lights of the Eiffel Tower each night from our living room. The staff at Paris Perfect was very responsive and helped with every request. We found a wonderful restaurant 1 block away, Via Del Campo, husband and wife team, one of our best meals ! We used Victor cabs for our airport transport and recommend this service, they are prompt, courteous and reasonable. Thank you Paris Perfect team for another wonderful week in Paris. We look forward to staying with Vacation Perfect again soon!
Paris perfect understated
by Mary Alice Spinella
Amazing 6 nights in an immaculately clean, serviceable apartment for 6 adults. Location and view of Eiffel Tower was perfect. Can't wait to return with my family. Thank you for outstanding customer service and the perfect trip.
LaLande
by Faye Christian Phillips
This was my second experience with Paris Perfect. The LaLande apartment truly IS "perfect" with a magical view of the Eiffel Tour, lovely decor and absolutely everything we needed for a comfortable stay. Location in the 7th is very convenient to shops and groceries and only a couple of blocks from Rue Cler's enchanting markets and restaurants. We never took the Metro during our stay because strolling through the charming neighborhoods on our way to restaurants and museums was half the fun! I so appreciate that the Paris Perfect team answered every question, kindly stored our luggage when we arrived early, graciously welcomed us with an informative tour during check-in, and surprised us with treats in our refrigerator. I especially love their suggestion for using Victor's Cabs to and from CDG, as Victor's team truly are The Best, always punctual, professional, kind and caring! My only "complaint" about our stay is that our week flew by much too fast, but I look forward to planning future trips with PP!
January 28, 2023 - Website
Beautiful apartment, great location!
by Mary Blissard
What a wonderful way to enjoy a stay in Paris! The apartment was gorgeous, spacious and all amenities considered and supplied. Being so close to Rue Cler was terrific for our supplies of food and drink, plus many options for eating out. Transportation was convenient but we walked everywhere, being so close to museums and sites in the 7th. Thanks to the wonderful and gracious welcome, and all info from the staff at Paris Perfect! Merci!!
December 13, 2022 - Manual Entry
AMAZING!!!!!!!!
by Giuliana C
AMAZING!!!!!!!! Our stay with Paris Perfect was truly perfect! The apartment was gorgeous, clean, and a dream come true for those like myself who have always fantasized about having a quintessential Eiffel Tower view. Being able to open up the balcony doors and see her sparkle was a one of a kind experience. The staff at Paris Perfect was kind and accommodating. Paris will always be special to me because we got engaged on this trip. The Paris Perfect apartment was the perfect addition to our romantic getaway! Thank you!!!
November 16, 2022 - Website
Another wonderful vacation
by Lynn D
Lovely accommodations and location. Paris Perfect, again, exceeds expectations. I continue to use Paris Perfect for my Paris get aways and have not been disappointed. One consideration - the three steps from elevator to entrance are not straight on and there is no hand railing. Also, the stairs to the upstairs are steep. A person with mobility/balance concerns should ask for photos before booking.
March 31, 2022 - Manual Entry
Great location, great apartment! Would definitely stay there again!
February 1, 2021 - Website
Lalande Review
by Myra El Zein
Your stay will be better than your expectations! Paris Perfect stay was just perfect! Thank you for taking care of every detail to make our vacation unforgettable!
February 1, 2021 - Website
Lalande Review
by Louis C
Paris Perfect professionalizes the Paris experience and is a great host. I will definitely use them again.
January 21, 2021 - Website
Lalande Review
by Edward Gane
A beautiful and open apartment in a great location with the perfect view of the Eiffel Tower! The apartment is fully stocked for all your needs, whether you require extra towels, toiletries, linen, electrical adapters, etc... there is ample provided for your stay. The apartment can be noisy due to the traffic below, but when the windows are closed this is not an issue, and air-con machines are supplied for three rooms to help through those hot Parisian nights. A huge thank you to the Paris Perfect team who were excellent throughout our stay responding instantly to our queries/questions. We very much enjoyed our stay and would recommend the apartment and the Paris Perfect team.
October 29, 2020 - Website
Lalande Review
by Elsa C.
Wonderful apartment, beautiful view, great location. We would definitely stay there again, highly recommend it.
December 13, 2019 - Website
Loved everything about our stay!! Can't wait to stay with you all again in the future!
September 24, 2018 - Website
Lalande Review
by Carrie MLG
Thank you so much to Paris Perfect for making our stay in Paris such a relaxing and memorable one. The apartment and it's location were absolutely perfect for our family of 4, and the spectacular view of the Eiffel Tower was the icing on the cake. We will absolutely be booking with Paris Perfect for our next visit.
August 27, 2018 - Website
Fantastic apartment that was as good as the pictures led us to believe. Our family of four stayed for 9 nights. The location is quiet and has wonderful restaurants in the vicinity and convenient to everything, especially a 11 PM visit to the Eiffel tower with no lines. You should be aware the elevator can only hold one person and a piece of luggage at a time. We did not find it inconvenient to walk up the stairs or wait for the elevator to come back down to shuttle a few people up. Only issue was this August was very hot and the second bedroom on the upper floor did not have an AC unit and was quite hot. Our son could have slept in the sitting room on the first floor that had AC and a sleeper sofa, but choose not to. We even had family over who where also visiting Paris for drinks and a view of the Eiffel tower from our Living Room and they bemoaned having stayed in a hotel on the noisy right bank. I would highly recommend both Paris Perfect and this great apartment.
An incredible stay just blocks from the Eiffel Tower. My family of five stayed in this apartment which was walking distance to restaurants, shopping, and many other sites. The staff was professional and very helpful. We would stay with you again!
Everything was Paris perfect...From the accommodations to the location!
February 24, 2018 - Website
Lalande Review
by Julie Pittard
This is my second booking with Paris Perfect and if you want to avoid hotels & feel a little like you live in Paris, I would highly recommend them. Lalande was perfect for us as we had a group of two couples and 2 singles and the apartment allowed everyone to have their own space, with no one needing to sleep in the main lounge area. The apartment was gorgeous, very French in its decor. One word of warning - 2 of the bedrooms are up a fairly steep flight of stairs. Gorgeous views of the Eiffel tower though the second living room (though it did disappear behind fog a few times). The neighbourhood has everything you need, with small specialty food stores, supermarkets, bars and some amazing restaurants all within easy walking distance. Booking with Paris Perfect is so easy and they can arrange tours, transfers (which worked seamlessly I might add). You are greeted at the apartment and given a run through and then left to just enjoy Paris. Absolutely perfect!
September 26, 2017 - Website
Lalande Review
by Laurie Bertoncini
We just returned from our amazing trip to Paris and our stay at Lalande. The location is wonderful as we could walk to all the sights and dining options are abundant in the neighborhood. The apartment itself is lovely with plenty of space for two couples as well as room to spread out. And you couldn't ask for better views of the Eiffel Tower. Paris Perfect was a dream to work with -- absolutely no hiccups. We will definitely use Paris Perfect for our next Paris trip.
Lalande Review
by Sondra W
This was probably my fifth visit with Paris Perfect and although not perfect initially, you made it that Way. With a broken elevator at Rully we were given Lalande. My 10 year old immediately latched onto the pull out in front of the Eiffel Tower and her birthday trip to Paris became amazing and one she'll never forget. The apartment was gorgeous in every way and a perfect fit for us. Nicola with your event office pulled off the miracle of a birthday cake for grace with perfect candles and perfect happy Birthday singing in french by the waiters at fountaine de mers. Yes Paris was perfect from your entire staff making things right to Victor and his guys picking us up to the apartment itself. We rented an apartment in Bordeaux with vrbo and bemoaned the fact that it wasn't you and wasn't perfect. Of course we will use you again always. And consider Bordeaux. I'd rent tomorrow!
Lalande Review
by Georgia Papagiannis
We stayed at the Lalande apartment in November/December for our friends 50th birthday celebration. There were five women, we all had plenty of room and the apartment was beautifully decorated and immaculate. The apartment was very accommodating, cozy and the view of Eiffel tower every day made our trip so special. Several of us have been to Paris several times and the location was perfect, near public transportation, plenty of shops and cafes and of course the Christmas market on the Champ Elysees was within walking distance. Paris Perfect was excellent to work with, answered all of questions and they even provided us with a neighborhood guide for transportation, dining and shopping recommendations and other services. They even recommended a car (Victor Cabs 4U) service to and from the (CDG) airport and which was able to accommodate five of us plus all of our luggage. We highly recommend the car service (Victor Cabs 4U) and it was reasonable and better than a cab. On our departure date our flight was delayed by two hours, Paris Perfect and Victor worked with us and we were able to stay later and get the airport on time. Paris Perfect was recommended by our dear friend Rick Steves, we loved their service and cannot wait to use them again!
Lalande Review
by Holly Hazlett
Our family of six thoroughly enjoyed staying at the Lalande apartment! It was beautiful, conveniently located near the metro, with a gorgeous view of the Eiffel tower! We would definitely stay with Paris Perfect again. I also stayed a week at La Musique in the 3rd. It was so quiet and beautiful and perfect for our girls shopping week! Absolutely loved it! Thank you!
Lalande Review
by Linda Waters
The apartment is as lovely in person as the pictures on the website. Beautifully furnished with a great sitting room/den to enjoy the view of the Eiffel tower or access the balcony and enjoy the sites and sounds of Paris. The information in terms of recommendations on restaurants shopping etc. the Paris Perfect team provides is wonderful and very helpful
December 16, 2015 - Website
Lalande Review
by Kathryn M
Wonderful stay - apartment is beautiful and thoroughly enjoyed the neighborhood. Had fantastic meals at Cafe Central - would recommend. The team were great. Sad to leave Paris and definitely wish to return as soon as possible. Thanks to everyone at Paris Perfect.
October 18, 2015 - Website
Lalande Review
by Yvonne Morris
Outstanding. Best location for daily shopping on Rue Cler, excellent restaurants with friendly staff around the corner. Convenient to Metro, walking distance to sight seeing. The apartment was enormous -- perfect for 6 adults to enjoy being together for meals and private enough for quiet time. Would love to return to this apartment again. Thank you!
October 6, 2015 - Website
Lalande Review
by Marilynn Buckham
The Apartment was very well appointed and had all the necessary equipment needed for a wonderful stay. The location was very close to all stores to walk to. We truly enjoyed our stay at this apartment.
September 29, 2015 - Website
Lalande Review
by Mickey H
Everything was as expected - Perfect! This apartment in particular was in a wonderful location with easy walks to Rue Cler, metro, restaurants and many sights. The team were great.
August 25, 2015 - Website
Lalande Review
by Barbara H
We had the most wonderful stay at the Lalande apartment. The location of the apartment was ideal.. so close to many cafes, to the Rue Cler for market shopping and to the Champ de Mars for relaxing in the park. You couldn't ask for a more cozy and comfortable space... the decor of the apartment was very lovely. The view of the Eiffel Tower was glorious. Watching the lights turn on and blink every evening was spectacular. The wrap around balcony was also a nice addition to the apartment... a great spot for sipping your morning coffee or a glass of wine in the evening or just watching the hustle and bustle of the people below. We loved our stay at the Lalande and would return there in a minute!
Lalande Review
by Joe Fairbanks
This was a special trip for us to celebrate our daughters and our godchild graduation from high school. There were six of us in our family and the kids ranged in age from 15 to 20. Finding an apartment to accommodate six or more comfortably is not easy. The Lalande apartment was perfect. There was plenty of room for everyone to spread out and sleep comfortably. The view of the Eiffel Tower was everything it was advertised to be and the neighborhood was spectacular. Just two blocks from Rue Cler with fabulous markets, wine shops, boulangerie, fromagerie, cafes and restaurants, etc. Whether you want to have a nice lunch or diner at a cafe or buy prepared foods for a nice dinner at the apartment there are many choices. Access to the metro was easy however you are within walking distance of many of the things oyu will want to see and do in Paris. The staff at Paris Perfect was also fantastic. The booking process, our greeter (Sam) who did an outstanding job and the condition of the apartment when we arrived were all outstanding. A truly memorable trip and we look forward to our next trip to Paris.
Lalande Review
by Fred Goldberg
Very nice apartment. Good location. Clean and neat. Fully stocked with just about everything one would need. Nice view of the Eiffel Tower. We were five in our party and the apartment nicely accommodated all of us with four sleeping areas. Staff at Paris Perfect was quite responsive except on one occasion. A bit noisy from significant auto traffic at night if you leave the windows open.
Lalande Review
by Leslea McCabe
Our apartment was perfect for our group of five. Our daughter slept on the foldout couch downstairs, preferring to view the Eiffel Tower at night. Our son and daughter in law were very comfortable in their bed upstairs and my husband and I slept like babies. The bathrooms were comfortable and modern and the kitchen was perfect for our needs. It would be possible to sleep more people, but I think it would be cramped. The location was the best. We felt like real locals! Great cafes, wine shops and cheese shops are nearby. We would stay here again.
December 6, 2014 - Website
Amazing view! Immaculate and well equipped apartment!!!
August 17, 2014 - Website
Lalande Review
by Gregory G
Our stay was wonderful and would use Paris Perfect on our next trip. The team was very good. Paris greeting was most helpful and seamless...Thank you.
Lalande Review
by Joe and Barbara O'Donnell
A wonderful apartment with two en suite bathrooms making it ideal for two couples. It is very well comported with the balcony overlooking the Eifel Tower. We have now used Paris Perfect over the last four years and are completely satisfied with the three properties we have rented and will be returning to one of their properties in November for ten days.
Lalande Review
by Joe & O'Donnell
A wonderful apartment with two en suite bathrooms making it ideal for two couples. It is very well comported with the balcony overlooking the Eifel Tower. We have now used Parism Perfect over the last four years and are completely satisfied with the three properties we have rented and will be returning to one of their properties in November for ten days.
Lalande Review
by Laura Baylis
Paris Perfect was just as it implies- perfect! Our apartment was well located, immaculately clean, and stocked with everything we could have wished for. Paris Perfect surprised us with milk, orange juice, and snacks to get us started. The kitchen had every tool imaginable. The staff was responsive to our emails and phone calls during our planning stages and our stay. We had trouble figuring out how to work a faucet and a representative was at the apartment within 5 minutes to help us. We enjoyed staying in the 7th for the excellent restaurants and grocery shopping excursions, as well as 2 close Metro stations. All of the dining suggestions you sent were wonderful. Lalande provided the perfect space (bedrooms and bathrooms) for our family of 6 with 4 teenaged daughters. We all enjoyed the clear view of the Eiffel Tower each night from our window. Thank you Paris perfect for a most memorable family vacation!
January 6, 2014 - Website
Lalande Review
by Marda Robillard
I wanted to bring my entire family to Paris to celebrate my birthday, a big one, and the apartment was perfect. In addition to my husband and myself there was my older daughter, son-in-law and 9-year-old grandson and my younger daughter. The Lalande was the perfect size and accommodated all of us with enough room,privacy and bathrooms for all. Having a kitchen and laundry was such a huge plus. The location was amazing. Looking out the window and seeing the Eiffel Tower was a dream come true. The short walk the the Ecole Militaire Metro Station was so convenient. Do buy a five day Metro pass and take the Metro -- it is so easy to get around. The Rue Cler Market, a cobbled pedestrian street lined with shops, selling everything you will need to prepare an amazing meal or just breakfast before you head out for a day of sightseeing. There are any number of excellent restaurants within a very short walk -- we had a fine meal at Le Bosquet on the corner of Rue du Champ de Mars and Rue Bosquet but there is also a Sushi restaurant and a Japanese restaurant on the block. There are at least three grocery stores nearby and several bakeries that open early so you can get croissants for breakfast. Be advised that the elevator is teeny, tiny but works well. Also the Nespresso coffee maker in the kitchen is great but when you run out of pods you cannot buy more in the grocery store and there are only a few Nespresso Boutiques in Paris and non very convenient to the apartment. I plan to return to Paris again and again and each time I will most certainly first check with Paris Perfect about an apartment rental. They handle everything with efficiency and professional aplomb. We were very impressed with Kevin who met us at the apartment and gave us a quick tour and explained most everything to us. There are some differences when it comes to appliances and also shower water & temperature controls in Paris. We could have also used a third set of keys to the apartment but we worked through that without too much difficulty. All in all it was a wonderful experience and Paris Perfect makes, well, Paris perfect.
September 19, 2013 - Website
Lalande Review
by Diane Ryan
Lalande was fully equipped and clean. It is a little smaller than the pictures show. Four adults should be the limit. The beds are short on length, so not good for tall adults. The view of the Eiffel Tower is beautiful at night. We enjoyed our stay and liked the location to the market and restaurants.
September 9, 2013 - Website
Lalande Review
by Amy Khoudari
There are no words to describe how perfect this apartment was. I was travelling with my daughter, son-in-law and granddaughter. We all enjoyed this apartment thoroughly. The location was quiet which is a plus for us, but it was also convenient to all of central Paris by Metro and taxi. The view of course was magnificent - I felt like it was a movie set. The apartment amenities filled our every need and more. Paris Perfect was also the best host providing linens and a welcome basket and many other necessities. The staff always returned our few phone calls with question with in minutes. This vacation was wonderful. I hope to use Paris Perfect again and again in the future.
Lalande Review
by Kristine Hungate
This was our second experience with Paris Perfect. Our apartment was wonderful and ready (early) upon our arrival. Loved the accommodations and everything about the Lalande apartment. It has all the high end conveniences of home and for Paris, was remarkably roomy. Four of us had plenty of room over 10 days so everyone had space to themselves. Not a huge fan of the the washer/dryer but it was sufficient for a short vacation :-). The location is terrific and we will be back to stay!
September 22, 2012 - Website
Lalande Review
by The Lamanna Family
The apartment was incredible! Our 3rd visit to Paris, but this was like no other....The view was breath-taking. Nothing like sitting in your living room watching the light show. I would highly recommend using Paris Perfect again.
September 22, 2012 - Website
Everything was absolutely wonderful and we had the best holiday! Thank you to the team - they were fantastic! We will be using Paris Perfect again!
August 22, 2012 - Website
Apartment and info provided was excellent. Team was excellent and could not have been more helpful.
Apartment was wonderful and staff were very nice and helpful.
The apartment was lovely and staff wonderfully helpful. The area the apartment is located is excellent and central to most sites you want to see.
Lalande Review
by Eileen Lowerre
I just found your site. I am bookmarking it for my future trips to Europe. They look wonderful!
February 14, 2012 - Website
Lalande Review
by Joey & Stephanie C
Magnifique! This is an amazing apartment - we felt like we were in a movie. This is how Paris should be experienced. Love how this apartment has so many windows, so much light.
February 5, 2012 - Website
Lalande Review
by Odette OBrien
Our apartment was "Paris Perfect"! The apartment was exactly as expected, great location and very clean and welcoming. We plan on returning to Paris in the fall and would use Paris Perfect again, the staff was always available and very helpful....just like they said they would be. I would highly recommend them.
January 10, 2012 - Website
Lalande Review
by Bronwyn, Mike, Kate, Maddie & Baz
The view of Eiffel Tower and its wonderful light show was even better than we had anticipated. Position in the seventh could not have been better.
January 2, 2012 - Website
Lalande Review
by The Kunkle Family
The Lalande apartment was ideal. Very well located. The view of the Eiffel Tower is stunning. Our two plus weeks flew by, we cannot wait to come back to Paris and will definitely stay at Lalande again.
October 10, 2011 - Website
We stayed in a Paris Perfect apartment since we had a family of five to accommodate. Not the most inexpensive way to go, but it was wonderful. They cater to Americans and the apartments are very well-equipped. We spent more on the apartment, but saved money on meals.
September 20, 2011 - Website
Lalande Review
by Bill & Christine Apted
Bravo! Lalande - what a lovely apartment! Especially liked the little room closest to the Eiffel Tower. We dined in many nights and even had a dinner party for eight with the table extensions and the extra placemats (thank you!). Our stay was wonderfully perfect! Thank you!
Lalande Review
by John Flynn
The apartment was located perfectly in the 7th, well maintained and furnished nicely. The Paris Perfect greeter was intelligent and communicated all information perfectly. I have stayed with other firms in Paris and can say that Paris Perfect did make Paris perfect.
Lalande Review
by Sidney Brinckerhoff
Our apartment stay in Paris was the highlight of our trip. We were beautifully taken care of and the apartment handled five people with ease. A great neighborhood as well.
Base Nightly Rates – May Not Include Fees such as Greeting, Cleaning, Damage Waiver, Credit Card Processing and Tourist Taxes. For full price, please put in dates.
Available
Unavailable
Check-In Only
Check-Out Only
November 2023

| S | M | T | W | T | F | S |
| --- | --- | --- | --- | --- | --- | --- |
| | | | 01 | 02 | 03 | 04 |
| 05 | 06 | 07 | 08 | 09 | 10 | 11 |
| 12 | 13 | 14 | 15 | 16 | 17 | 18 |
| 19 | 20 | 21 | 22 | 23 | 24 | 25 |
| 26 | 27 | 28 | 29 | 30 | | |
December 2023
S
M
T
W
T
F
S
01
02
03
04
05
06
07
08
09
10
11
12
13

$695

14

$695

15

$695

16

$695

17

$749

18
19
20
21
22
23
24

$949

25

$949

26

$949

27

$749

28
29
30
31
January 2024
S
M
T
W
T
F
S
01
02
03
04
05
06
07
08
09
10
11
12
13
14
15
16
17
18
19
20
21
22
23

$764

24

$795

25

$828

26

$798

27

$798

28

$774

29

$769

30

$816

31

$824
February 2024
S
M
T
W
T
F
S
01

$800

02

$787

03

$788

04

$785

05

$749

06

$783

07

$785

08

$794

09

$803

10

$781

11

$749

12

$749

13

$749

14

$749

15

$749

16

$749

17

$749

18

$749

19

$749

20

$749

21

$749

22

$749

23

$749

24

$757

25

$749

26

$755

27

$772

28

$807

29

$858
March 2024
S
M
T
W
T
F
S
01

$1153

02

$1194

03

$1159

04

$1187

05

$1223

06

$1260

07

$1300

08

$1312

09

$1324

10

$1263

11

$1276

12

$1296

13

$1310

14

$1336

15

$1335

16

$1345

17

$1269

18

$1309

19

$1331

20

$1345

21

$1358

22

$1347

23

$1356

24

$1260

25

$1322

26

$1363

27

$1381

28

$1382

29

$1381

30

$1402

31

$1297
April 2024
S
M
T
W
T
F
S
01

$1381

02

$1426

03

$1432

04

$1413

05

$1404

06

$1426

07

$1319

08

$1397

09

$1446

10

$1478

11

$1447

12

$1421

13

$1431

14

$1271

15

$1080

16

$1392

17
18
19
20
21
22
23
24
25
26
27
28
29

$1280

30

$1290
May 2024
S
M
T
W
T
F
S
01

$1332

02

$1370

03

$1353

04

$1368

05

$1306

06

$1300

07

$1039

08

$1347

09
10
11
12
13
14
15
16
17
18
19
20
21
22

$1443

23

$1499

24

$1533

25

$1561

26

$1513

27

$1535

28

$1558

29

$1571

30

$1617

31

$1604
June 2024
S
M
T
W
T
F
S
01

$1618

02

$1549

03

$1580

04

$1595

05

$1610

06

$1641

07

$1606

08

$1614

09

$1537

10

$1585

11

$1611

12

$1578

13

$1353

14

$1593

15
16
17
18
19
20
21
22
23

$1485

24

$1816

25

$1838

26

$1840

27

$1835

28

$1568

29

$1550

30

$1491
July 2024
S
M
T
W
T
F
S
01

$1566

02

$1573

03

$1573

04

$1567

05

$1556

06

$1541

07

$1455

08

$1493

09

$1492

10

$1483

11

$1466

12

$1450

13

$1424

14

$1336

15

$1373

16

$1383

17

$1374

18

$1345

19

$1755

20

$1731

21

$1660

22

$1709

23

$1695

24

$1667

25

$2464

26

$2468

27

$2434

28

$2374

29

$2396

30

$2393

31

$2370
August 2024
S
M
T
W
T
F
S
01

$2362

02

$2377

03

$2362

04

$2327

05

$2198

06
07
08
09
10
11
12
13
14

$992

15

$993

16

$1051

17

$1057

18

$1025

19

$1047

20

$1090

21

$1051

22

$1047

23

$1062

24

$1077

25

$1158

26

$1200

27

$1264

28

$1245

29

$1258

30

$1296

31

$1334
September 2024
S
M
T
W
T
F
S
01

$1320

02

$1389

03

$1484

04

$1478

05

$1503

06

$1517

07

$1539

08

$1485

09

$1537

10

$1593

11

$1585

12

$1587

13

$1570

14

$1582

15

$1505

16

$1549

17

$1593

18

$1610

19

$1632

20

$1610

21

$1648

22

$1528

23

$1572

24

$1608

25

$1624

26

$1646

27

$1621

28

$1672

29

$1536

30

$1576
October 2024
S
M
T
W
T
F
S
01

$1597

02

$1608

03

$1624

04

$1597

05

$1639

06

$1508

07

$1542

08

$1568

09

$1577

10

$1579

11

$1580

12

$1617

13

$1518

14

$1547

15

$1577

16

$1574

17

$1560

18

$1553

19

$1571

20

$1476

21

$1472

22

$1499

23

$1507

24

$1495

25

$1498

26

$1531

27

$1436

28

$1449

29

$1464

30

$1473

31

$1466
November 2024
S
M
T
W
T
F
S
01

$1455

02

$1482

03

$1392

04

$1400

05

$1423

06

$1452

07

$1465

08

$1461

09

$1496

10

$1400

11

$1411

12

$1428

13

$1449

14

$1466

15

$1431

16

$1441

17

$1284

18

$1357

19

$1392

20

$1429

21

$1495

22

$1487

23

$1431

24

$1279

25

$1330

26

$1342

27

$1421

28

$1462

29

$1440

30

$1418
December 2024
S
M
T
W
T
F
S
01

$1313

02

$1355

03

$1355

04

$1470

05

$1476

06

$1460

07

$1458

08

$1330

09

$1374

10

$1384

11

$1496

12

$1441

13

$1431

14

$1441

15

$1279

16

$1370

17

$1401

18

$1447

19

$1447

20

$1927

21

$1926

22

$1746

23

$2224

24

$2270

25

$2250

26

$2248

27

$2214

28

$2220

29

$2041

30

$2254

31

$2249
January 2025
S
M
T
W
T
F
S
01

$2422

02

$2200

03

$1407

04

$1372

05

$1356

06

$1424

07

$1446

08

$1448

09

$1567

10

$1435

11

$1426

12

$1336

13

$1357

14

$1386

15

$1446

16

$1447

17

$1422

18

$1426

19

$1375

20

$1346

21

$1399

22

$1448

23

$1457

24

$1413

25

$1429

26

$1387

27

$1322

28

$1392

29

$1400

30

$1448

31

$1422
Things to See & Do
Champ de Mars (2 mins Walking)
Expansive park surrounding the Eiffel Tower. Stroll, jog, bicycle or play in one of the playgrounds, go to the puppet theater or carousel, or just sit and enjoy Parisian life and the beautiful gardens.
École Militaire (5 mins Walking)
Napoleon attended military school here and the buildings still show gunfire signs from the French Revolution in 1789
Eiffel Tower (7 mins Walking)
Paris' most iconic site and one of the world's most visited attractions. Take the elevator or stairs to the top of this magnificent structure for beautiful views over Paris.
Musée des égouts de Paris (8 mins Walking)
Fascinating tour of limestone arches and caverns down in the sewers that traverse all of Paris. The Phantom of the Opera was inspired by these underground streets.
Musée du quai Branly (8 mins Walking)
Showcases indigenous art and cultures from Africa, Asia, Oceania and the Americas
Les Invalides (10 mins Walking)
A masterpiece of French Classical architecture built by Louis XIV; Napoleon's tomb rests under the golden dome.
Rodin Museum (15 mins Walking)
View some of Rodin's most famous sculptures including The Kiss and The Thinker
Trocadéro (17 mins Walking)
The Palais de Chaillot sits on top of the hill and houses the Museum of Architecture, Maritime Museum and the Museum of Mankind. Stunning pictures of the Eiffel Tower can be taken from the surrounding gardens with their majestic fountains
Grand Palais (23 mins Walking)
Venue for major national and international events and exhibitions
Petit Palais (24 mins Walking)
Dating back to the 1900s, it's now the site of the Museum of Fine Arts in Paris

Shopping & Eating
Rue Cler (3 mins Walking)
Among the best streets for food in Paris! Cafés and brasseries where you can enjoy dining or shopping at specialty food purveyors with wines, fresh produce, fish, cheese, pâtissières, bakeries and gourmet prepared foods -- a wonderful part of the Parisian experience.
Luxury Stores on Avenue Montaigne (10 mins Walking)
Home to many of the leading fashion houses including Louis Vuitton, Dior, Chanel, Fendi, Valentino and Ralph Lauren, as well as jewelers like Bulgari.
Pont de l'Alma Food Market (10 mins Walking)
Largest open market in Paris; open Wednesday and Saturday mornings
Saxe-Breteuil Market (12 mins Walking)
Open on Thursday and Saturdays and features some of the most beautiful organic and deluxe food stands in Paris
Rue du Commerce (19 mins Walking)
A true Parisian shopping street with trendy boutiques, food stores, bistros

Public Transport
Métro (6 mins Walking)
École Militaire (Line 8)
RER (11 mins Walking)
Pont de l'Alma (Line C)
Métro (14 mins Walking)
Alma - Marceau (Line 9)