Right in the geographic heart of Paris' 1st arrondissement, the Clos Jolie apartment is a beautiful three-bedroom apartment located in a superb neighborhood. Visit the Louvre Museum and enjoy world-class shopping along the Rue de Rivoli, the elegant Rue du Faubourg Saint-Honoré and contemporary shopping at the multi-level Les Halles. This spacious Paris Perfect apartment rental features a modern kitchen, elegant and comfortable living room and a gorgeous dining room. Bedroom 1 is located on the first level, features a luxury bed and overlooks the quiet courtyard of this historic building. The Clos Jolie cleverly features a mezzanine level, with two bedrooms and a bathroom. Book this apartment for an elegant stay right in the heart of Paris!
Bedrooms 2, bedroom 3 and bathroom 2 are located on the second level. The ceiling height there is approximately 5 feet 11 inches high, making it comfortable for average-height people. The first level rooms (living room, dining area, den and bedroom 1) are normal height and/or double height, as you can see in the pictures.
Please note: This apartment is not suitable for children under the age of 13 years.
Things To Note
Neighborhood: 1st arrondissement
Size: 1,750 sq ft/165 sq m
Age Restrictions: No children under the age of 13.
Bedroom: Bedroom 2 is on the mezzanine overlooking the TV room.
Cooling: No air conditioning, fans are available upon request.
Accessibility/Security: 2 steps to the elevator and internal stairs.
Arrivals: Pre-approval required for check-ins on Sundays and bank holidays. Please contact the reservations team to submit this special request.
Other: The ceiling height on the mezzanine is approximately 5 feet 11 inches (1.6 meters) high.
Paris 2024 Olympics: Special Terms
Room Details
| Room | Beds | Details |
| --- | --- | --- |
| Bedroom 1 | Extra-Wide Queen (1) | Extra-wide queen bed (63in x 79in; 160cm x 190cm) |
| Bedroom 2 | Single (2) | Two single beds (35in x 75in; 90cm x 190cm) |
| Bedroom 3 | Extra-Wide Queen (1) | Extra-wide queen bed (62in x 79in; 160cm x 200cm) |
| Den | King (1) | High-quality sofa converts into a comfortable king bed (71in x 75in; 180cm x 190cm) |
| Bathroom 1 | | Shower (fixed and flexible showerheads), toilet and sink |
| Bathroom 2 | | Shower (fixed and flexible showerheads), toilet and sink |
| Half Bath | | Toilet and sink |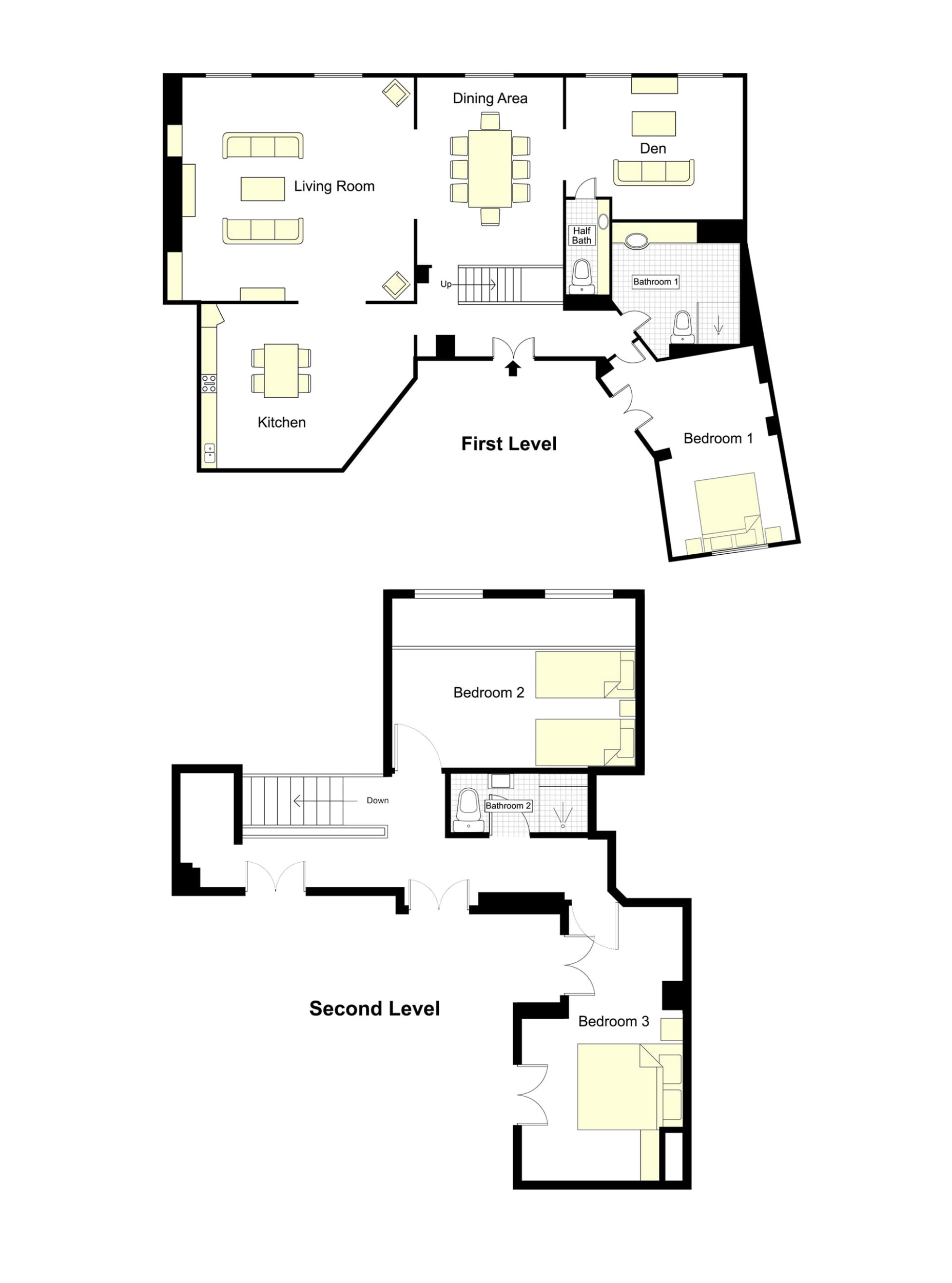 Kitchen

Fully Equipped
Starter Supplies
Kitchen
Coffee Maker
Dishwasher
Microwave
Nespresso Style Coffee Machine
Oven
Stovetop
Toaster
Refrigerator

Accessibility

Private Entrance
3rd Floor North American
Elevator

Connectivity/Entertainment

WiFi
TV
TV - Limited English Programs

Heating/Cooling

Heating
No Air Conditioning
Portable Fan(s) Available Upon Request
Sound Dampening Windows
Non-Working Fireplace

Laundry

Dryer
Iron & Board
Washer
Thank you for submitting your review. It will be processed shortly!
January 10, 2023 - Website
Perfect Spot
by AJ Thorpe
Our favorite street in all of Paris is Rue Montorgueil, so Clos Jolie was the perfect spot...just minutes away from the action, but far enough not to be bothered by noise of it. Checking in/out was easy...the beds, pillows and bedding were all very comfortable...everything in the kitchen worked...it was great to be so close to food options, cultural options, shopping options and transportation options. We did notice that the hot water in the shower on the second level wasn't as hot or strong as on the main, but not to the point that we felt the need to alert PP (everyone has different definitions for what is 'hot' to them). And yes, if you are 6ft or taller (as 2 of the 3 of us are), you will need to be aware of the ceiling height in the bedrooms and bathrooms...but it's easily dealt with, so not a deal-breaker. We enjoyed our stay at Clos Jolie and would book it again.
April 19, 2022 - Manual Entry
Location is everything
by Nancy O
Clos Jolie is perfectly situated on a small street close to the Louvre, Les Halles, Le Marais, and so much more. Tons of shops and cafes nearby. You enter into a private courtyard. The area is very safe. Would recommend this place highly. Note that the ceilings in the bedroom and baths are low, which was only a problem for blowing out hair and pulling shirts over one's head.
January 30, 2022 - Manual Entry
We loved our stay!
by Susan L
The location is perfect and we have absolutely loved being here. The greeter was on time and always prompt with any answers to questions. I had to call him once since we couldn't find a hairdryer and he was back in touch within minutes and had a hairdryer delivered the following day. He has been wonderful and a true asset to your company. The linens are superb, the best of anywhere we've stayed. The beds are so comfortable that we all slept soundly each night -- a wonderful thing to have on a trip. The transportation company was fabulous -- always prompt and texted me whenever I had a question -- so I never felt "out of the loop". The snacks that were waiting for us upon arrival was such a nice treat -- more than enough and we've had to leave the unopened ones for somebody else -- thank you so much! All in all, this has been a perfectly wonderful place to stay and I just cannot thank you enough for the professional job that your company does. It's rare to find everything just perfect but your company and this apartment has certain done that for us. Thank you again for being so wonderful to work with. I've been to Paris many times and always before have stayed in a hotel but now I'm sure we'll be back here again!
October 29, 2021 - Manual Entry
Great apartment
by Tricia Young
This apartment exceeded our expectations! It was very comfortable and bright, and very well located. The street nearby has tons of cafés, markets, shops and it was very accessible to a metro stop as well as many things within Paris that we wanted to see. The beds were comfortable and everything was clean and tidy. One of the bathrooms is quite small, which is important to note if you have a group staying and need the second bathroom.
January 15, 2020 - Website
Clos Jolie Review
by Denise E
Our family of four (two being teens) thoroughly enjoyed the Clos Jolie apartment. The kitchen, living and dining spaces had lovely tall ceilings, floors and furnishings. The three bedrooms were each tucked away to give us some individual space. All three of the bedrooms and bathrooms do have low ceilings, however, even my 6'4" husband found it to be manageable. He did need to watch his head in a few places. I've been to Paris many times over the last twenty years and have always appreciated the charm and quirks of the hotels, so I was glad that the Clos Jolie (which means "pretty enclosure") offered lots of personality. The location was central and wonderful, just steps from restaurants, shopping/metro at Les Halles and near Le Louvre. The building was very secure. The tiny elevator was functional for getting one person with one suitcase on at a time. (It wouldn't accommodate a wheel chair, should you need one.) Everything we needed for a week's stay was included - bath soap, shampoo, laundry soap, dish soap, even tea/coffee and several snacks . The washer and drier are full sized and separate units which work very well. A dishwasher, large fridge, Nespresso, electric kettle, toaster, oven, cook top. A hair drier was also provided as well as adequate linens. Paris Perfect arranged for a driver to pick us up at CDG airport and Victor arrived in a large 7 passenger van that had plenty of space for ourselves and luggage. After arriving, Franck greeted us and gave us a tour of the apartment and showed us how to use the appliances. We never had any issues that we needed help with after that, as everything worked very well. I would definitely stay again at Clos Jolie. Very tall people should be advised of the low ceilings in the bed and baths, however, we find these sorts of quirks and charm are part of European buildings and it's fun to enjoy them. The gorgeous living spaces with soaring ceilings and giant windows are where we wanted to spend our time. The parquet floors in the living area were absolutely perfect with just the right about of squeak. The kitchen is fully modern and well stocked, just right for making a coffee to sip in the living room while looking out window and perusing a Dior book from the book shelf. Merci, Clos Jolie et Paris Perfect! A bientot!
January 8, 2020 - Website
Clos Jolie Review
by Jeanne C
Clos Jolie was perfect in every way. It's a beautifully decorated, bright and elegant Parisian apartment right around the corner from Les Halles. It's quiet and spacious - though you should note that the ceilings, while soaring in the kitchen, living room and dining room, are much lower in the bedrooms and bathrooms. My husband is 6'2" and had to stoop a bit, but we didn't mind - well worth it for the fantastic location. There's shopping, restaurants and nightlife in every direction, never mind that all the key spots you'll want to visit are right there, from the Louvre to the Marais, Ike-de-la-Cite .... Even though there was a transportation strike, we could easily get around the city from our cozy home base. You'd be lucky to stay here, hope you have the chance to enjoy it as much as our family did!
October 16, 2019 - Website
Clos Jolie Review
by Geeta L
We very much enjoyed staying at Clos Jolie. It is so centrally located, and there is so much available at walking distance, from nice restaurants, to grocery store, and bakeries. The apartment itself was very well furnished and equipped. It was nice to have the coffee capsules, tea bags, and a few snacks provided for us when we arrived. The previous reviews I read did mention the low ceilings, and I was a bit concerned since I am the shortest in my family at 5 feet 9 inches. They definitely were low except for in the living room, dining room, and kitchen, but not something we could not work around. Paul and Franck were both very gracious in answering our questions and showing us around the apartment. If you do go in the colder months, the portable heaters they have do not warm up the rooms. So if you like it warm, ask them to increase the temperature when they give you a tour of the apartment. All in all a great apartment and smooth process with Paris Perfect. Highly recommend them!
October 9, 2019 - Website
Clos Jolie Review
by Shannon L
The experience at Clos Jolie was wonderful. Perfect location with the comforts of home and all the amenities. We could not have asked for a better place to experience Paris. Thank you.
Clos Jolie Review
by Rachel
Great location! Everything went smoothly and we enjoyed the apartment. We would consider booking again.
Clos Jolie Review
by Ellen OConnor
Clos Jolie was a perfect apartment for friends and relatives, with different sleeping hours and activities. The first arrondissement is urban and excellent. It was easy for a headquarters and as a home - excellent kitchen!
Clos Jolie Review
by Chester Alwyn Barr
We were delighted with the apartment, the layout, and the furnishings. There was ample room for our family of 6 to get together or have privacy. We were pleased with its convenient location to charming streets (Rue Montorgueil), Les Halles, restaurants, and metro stations. We were pleased also with the travel wifi from Paris Perfect; this was very helpful with navigating the Paris streets. The cab service recommended by Paris Perfect to and from the airport was also very efficient. We highly recommend Paris Perfect for travelers to Paris.
February 24, 2017 - Website
Clos Jolie Review
by Ross Mitchell
The apartment is large. Lots of room for two couples. Headroom is a bit of an issue on the upper floor for tall people. Beds are super comfortable. Kitchen has all essentials, including basic pantry items. On a side street, quiet except for street noise from garbage trucks. Building reno across street but no noise off peak hours. Location is excellent, with close access to Metro. Groceries, patisseries etc close by as well as very good dining options. Highly recommend.
November 21, 2016 - Website
Clos Jolie Review
by Ezelious Adams
It was More than Perfect. The apartment was Very comfortable with tons of space for 6 large people. Everything we love about a Paris apartment with bonus after bonus. Close to everything. Staff was very helpful and went the extra mile and assisted with delivery of medical supplies. It was an Amazing experience from booking to checkout. Paul was also very friendly and helpful. I am very Grateful.
Clos Jolie Review
by Barbara Swanston
This was a wonderful apartment. It was beautiful, in a fantastic location, well appointed, comfortable - just incredible! We had a problem with the hot water which was fixed in no time at all. The recommendations by the concierge for restaurants, places to go and things to see were also wonderful. This is a 10.
Clos Jolie Review
by Ingrid Reyneke
What a fantastic location - so vibey with a great atmostphere and nightlife. There are so many interesting shops and restaurants within walking distance to the apartment. The metro station is literally 5 minutes away and great main attractions like the Notre Dame and Place Dauphine is close by. The apartment itself is spacious, with a fully rigged kitchen where it was so easy to fix breakfast before heading out to explore the 1st arrondissement and surrounds. We had a wonderful stay and will certainly plan on returning soon!
Clos Jolie Review
by Carmen Bergstrohm
We could not have asked for a better location! This spacious apartment exceeded our expectations. It is within short walking distance from the metro and many attractions. It has some great market streets close by and more than enough restaurants to choose from. This is definitely my choice again for my next stay!
Clos Jolie Review
by Jen S
We had a wonderful stay at this apartment. It's a beautiful place in a wonderful location.
Clos Jolie Review
by Joanne Hwang
Paul met us at the apartment. Location couldn't be more perfect. Short walk to 2 Metro stops and the RER rail station. Louvre, Eiffel Tower, museums all walking distance! Lot's of food options close by which made for fun exploration. The apartment was immaculate and had all the modern amenities but also had historic feel with the original parquet floors. Owners left lots of books and great suggestions on sight seeing and restaurants. Highly recommended place to stay.
February 26, 2016 - Website
Clos Jolie Review
by Anjanette Blewer
From the moment Paul met us at the apartment, our stay was magnificent. The accommodations were spacious, clean and beautiful. Our central location made navigating Paris by foot and metro very simple. Clos Jolie was the perfect size for 5 women celebrating a special birthday! We were also impressed with all of the travel suggestions given by Paris Perfect. It was truly a Perfect trip to Paris!!!
February 17, 2016 - Website
Clos Jolie Review
by Yvette Stolth
Absolutely charming accommodation. The condo was quite roomy and well stocked with the basics. As advertised, the ceilings are a bit low in bedrooms but quite doable. It is within walking distance to many attractions and the metro. Would rent it again.
January 12, 2016 - Website
Clos Jolie Review
by Connie Kinsella
This is a lovely apartment in a perfect location. It is equidistant from The Louvre and Pompidou with all other usual destinations an easy walk. The neighborhood is a foodie's paradise, with the best cooking supply stores, cafes and markets moments away. The apartment is quiet, comfortable and elegant. Paris Perfect staff are experienced professionals and handle the business side of things very well. A shout out in particular to Paul, their on site representative, for his kindness, courtesy and competence. Have stayed here before and will likely do so again.
Clos Jolie Review
by Susan Barris
Our apartment was amazing!! It was large and able to accommodate all of us, my family was celebrating my husband's 60th birthday. The kitchen is modern and gorgeous, we were gifted with coffee, tea, and various snacks. There are three bedrooms, two with queen beds and one with twin beds. There also was a television room with a couch that folded out into a bed. There were two full baths and one half bath, lots of towels available. The street is lined with lovely cafes and wine bars. The folks at Paris Perfect were very customer friendly, I called prior to my trip with a couple of questions and they were very nice. Paul, our greeter, was great fun. He met us when we arrived and gave us an overview of how everything worked and what was expected of us. If you need transportation, I highly recommend using their service with Victor, he was awesome.
December 22, 2014 - Website
Clos Jolie Review
by Connie Kinsella
This is the second time we have rented through Paris Perfect. In both cases, both the apartments and service were exceptional. I would and have highly recommend them to anyone looking for professional service and outstanding apartments. Clos Jolie is precisely as described and pictured on the web site. Our welcome by Paul was warm and helpful. What the web site cannot adequately convey is the extent to which the location of this apartment is a food lover's dream. In addition to easy walking distance to all major attractions, this neighborhood is home to outstanding markets, shops, restaurants and cooking supply stores. We have visited Paris countless times, and this visit was by far the best.
August 30, 2014 - Website
Clos Jolie Review
by Charles & Deborah G
We had a wonderful visit to Paris in August 2014 with the help of Paris Perfect. Our greeter, Paul, met us at the apartment with the keys and showed us everything we needed to know. The apartment was exactly as advertised (including the low ceilings in the loft and master bath). Other than that, the place was perfect. It was spotless with lovely furnishings and kitchen appliances. The kitchen and master bath are quite modern. The upstairs bath is quite small but adequate (our teenage girls used that one, we used the larger master bath). The apartment is ideally located on a lovely, quiet side street. Metro and Louvre are a short walk. It was not hot during our stay so A/C was not needed. Therefore, we can't comment on whether A/C is adequate. We loved working with Paris Perfect. They were great to work with and helpful whenever we needed them. We will definitely use them again.
Clos Jolie Review
by Joaquin Del Real
The apartment is very well located, just a couple of blocks from the Louvre Museum. Is closer to everything, so just walking we can visit the main attractions of this beautiful city. The apartment is nice, very well decorated in a classic style. It has 2 bedrooms and 2 clean and spacious bathrooms. The kitchen is fully equipped. The living room is elegant and luminous, and the dining room very comfortable. Nevertheless we spent the whole day visiting Paris, it was a pleasure to come back in the evening to rest, hear music or just share the experiences of a busy day, feeling at home. We were very happy renting this apartment, and we recommend it in a 100%.
November 25, 2013 - Website
Clos Jolie Review
by Pat S
Fantastic location. So many attractions within walking distance. Wonderful street market around the corner. Bakery,grocery store, ATM , restaurants, Metro,and shopping all nearby. Your "home away from home". The apartment was wonderful. Everything we needed included to make this a fabulous vacation.
November 14, 2013 - Website
Clos Jolie Review
by Josephine
There were six in our party and we stayed in the Clos Jolie Apartment. We could not have asked for a better place to stay. It was exceptionally clean, beautifully decorated and perfectly located in Paris so that we could easily get to and from all of the major attractions (we could walk to the Louvre). Paul was our greeter and proved to be very helpful and accessible. We were impressed with the amount of detail put into the apartment. There was a book which included suggestions for great restaurants, markets and anything else you would need. The apartment description told of the low ceiling on the second floor, however, once you got used to it, it was no problem. The majority of our time was spent on the first floor anyway. This was our first time using this form of housing and it will not be our last. Thanks Paul and everyone who helped make our stay such a wonderful experience.
November 9, 2013 - Website
Clos Jolie Review
by Josephine
Six family members stayed in the Clos Jolie. It was just as the pictures depicted. It was clean, beautifully decorated and located in a very safe area. We could walk to the Louvre. It was so nice to come back to a lovely apartment after a day of sightseeing. Thanks to our greeter, Paul, for spending time with my sister(the rest of us were delayed)to provide all information we needed. The attention paid to detail was impressive. Thank you Paul, and Paris Perfect for helping to make our stay a wonderful experience. We would not hesitate to stay in another Paris Perfect apartment. Thanks also for the recommendation to use Victor's taxi service from and to the airport. He was a life saver and I highly recommend him.
November 3, 2013 - Website
Clos Jolie Review
by Barbara Hamel
Clos Jolie was an amazing apartment. More beautiful that the pictures on the website! We had six quests and we had plenty of room. It is a great location for sightseeing in Paris. The apartment is lovely and we loved everything about it. Can't wait to come back!!
September 16, 2013 - Website
Clos Jolie Review
by Randy S
Clos Jolie was a very nice apartment with plenty of room for 7 people.Location in the 1st was ideal for touring. I would definitely recommend this apartment for 5-7 people.
September 10, 2013 - Website
Clos Jolie Review
by Dulac
Great 3 bedroom, 2.5 bath apartment with kitchen, family room, and large dinning room. The bed rooms are 1 queen, 1 queen, and 2 singles, and there is also a sleeper sofa so you could sleep up to 7 or 8 comfortably. The apartment also has a washer and dryer. You are about 2 blocks from the Louvre and 1 block from street with shops, markets, and restaurants. We were very pleased with the location. Ceilings are a little low in bedrooms and bathrooms, but it is Europe!
Clos Jolie Review
by Amanda Sachs
The apartment was great, position perfect for us and we just loved being there. One problem is that the height restriction was mentioned for the mezzaine level but not the bathroom 1 which my 6'6" husband found very difficult - he had to kneel in the bath to have a shower!!! The bath is raised and was only just high enough for me (5'3"). We didn't use the lift, too small and had advice that sometimes these lifts get stuck, the stairs are fine to use. Lots of great places to eat and have a drink or two. Look for the black door, my boys said a great place!!
November 2, 2012 - Website
Clos Jolie Review
by Kerri H
Our apartment couldn't have been more perfect! The greeter was right on time and gave us all the information we needed about our apartment. The Paris Perfect staff always emailed back within 24 hours to answer questions I had before our trip. The apartment was clean and well cared for. Our stay truly was Paris Perfect!
Clos Jolie Review
by Antoinette Fanizza
The best area of Paris!!! apartment was perfect !!! all amenities were available. The Greeting was well organized and you must use their recommended driver. it was a very easy check in and and check out. Will definately be back!!! thank you for a wonderful stay
January 29, 2012 - Website
Clos Jolie Review
by Catherine Tiernan
My husband, two of our adult children and I had a most enjoyable stay in Clos Jolie, a beautiful apartment that in many ways felt a little like a French dolls' house. The apartment was very well appointed and tastefully furnished, with comfortable beds, a choice of pillows, and many thoughtful inclusions, such as power point adaptors, plentiful supplies of dishwashing detergent, coffee capsules for the Nespresso machine, soaps, body lotions etc. and lovely fluffy towels. Paris Perfect seemed to have thought of everything we could possibly need. Their representative Wendy was on hand for our arrival, and gave us a very thorough hand-over for the apartment, which was spotless and very well located. The nearby Metro proved handy, and we were able to walk to many sites and various restaurants etc. (We also enjoyed discovering the good little restaurant called 'Fred and Ginger' right next door.) As other reviewers have commented, several rooms in the apartment do have low ceilings, however my husband who is 185cm tall did not have a problem, so this unusual feature did not in any way compromise our stay. Our week long visit was all too short. We will be back in Paris as soon as possible - and will happily stay at Clos Jolie again, or maybe try another Paris Perfect apartment!
Clos Jolie Review
by Kath Hart
We were met by Vincent, who was recommended by Paris Perfect to pick us up from the station, he rang and spoke to Wendy who was waiting for us. Wendy showed us around and went through everything there was too. She was delightful. We loved our apartment. It was roomy as there was only 7 of us and had everything we needed. The area is so much fun with lots of restaurants, food shops, bread etc.etc. we did not want to leave - unfortunately we would have loved to stay another week it was that good. I have been impressed with all the arrangements Paris Perfect have done for us, everything has been smooth and professional. Thank you for a lovely time in Paris. I will have no problems recommending you to all my contacts, as I am involved in the travel industry in South Australia.
Clos Jolie Review
by Joseph Howell
The Clos Jolie apartment was everything the Paris Perfect website made it out to be, a dream come true in the heart of the 1st arrondissement. Great restaurants and markets are all over the area, and the Les Halles metro is just around the corner. We did a lot of walking to Paris Landmarks using the apartment as a base. The Louvre is only a few blocks away. Chatelet and the Marais were practically in our laps. If you don't mind a few more steps, you can walk to Ile de Cite and the Quartier Latin very easily. There are patisseries and boulangers nearby. We would return to this apartment in a heartbeat; in fact, we could live there. Quirks about this apartment, none of which would stop me from renting it again: - The owner put an extra level in a portion of the apartment, which added two bedrooms and a bathroom. - The upstairs bathroom doesn't vent very well, so it is necessary to keep the door open between showers. - The ceilings in the two-level area are maybe around two meters high. It is tall enough for most people to walk around. However, when you stand in the downstairs bathtub to shower, you have to crook your head a little to keep from hitting it on the ceiling. - Even though the washer and dryer are new and advanced, the cycles are very slow, making it difficult to do more than one or two loads of laundry. The European style dryer (has a water collector instead of being vented) has to be emptied of water frequently. - There can be quite a lot of noise from the courtyard, especially when the downstairs consulting firm is open (daytime) or the restaurant is open (nighttime). If you close the windows, though, you really can't hear anything. Things that make this apartment awesome: - While the kitchen equipment is not as good as what we have at home, the knives and pans are adequate for cooking most things you would want to. We bought a nice bamboo cutting board and left it there, because the one in the kitchen was too small. There are a market and a greengrocer around the corner. You can save a bundle by eating in. - There are lots of power outlets. - Everything is quite comfortable -- the sofas, the chairs, the beds. - There are two and a half bathrooms. They are sparking new. - The front windows open onto a typical Paris street, but not a busy one. We are looking forward to our next visit!
January 23, 2011 - Website
Clos Jolie Review
by Margaret Bates
From the moment we were met at the airport by Victor and driven into Paris we felt comfortable. We stayed in the elegant Clos Jolie apartment which was quite perfect indeed for our family. It was immaculate upon our arrival and Kevin the greeter explained all about how everything worked. The beds were comfortable and the kitchen well appointed. It was quite quiet inside, but in a great area for walking and window-shopping and enjoying the Parisian life. We expected the low ceiling height in the bedrooms and even the tallest among us (6'4") did manage to keep his head safe because we were prepared. In short, we had hoped for the best and found even better than we could have wished for.
January 10, 2011 - Website
Clos Jolie Review
by Emer Kilfeather
We were a family group of 5 and stayed in the Clos Jolie apartment.The apartment was beautiful - very tastefully decorated and of very high quality. It was compact with some low ceilings, but apart form this was very satisfactory. The location was excellent, central yet quiet, close to excellent museums and other tourist attractions, restaurants and the busy Chatelet les Halles metro stop (on the direct line from the CDG airport). Parisperfect were very professional and helpful. Contact with them was easy both before the trip and during our stay - they could not have been more helpful and pleasant. I would highly recommend this apartment and Parisperfect and would happily stay with them again.
January 8, 2011 - Website
Clos Jolie Review
by Denise McCarthy
The apartment is beautiful and in a wonderful location beside Les Halles. We had a wonderful holiday. All the major sites are walkable from the front door. The apartment is surrounded by very good restaurants and lots of bars. The apartment itself is very well equipped. We did not need anything additional at all. I would stay here again. The staff at Paris Perfect were a pleasure to deal with and I strongly recommend their service.
November 23, 2010 - Website
Clos Jolie Review
by David
Great time. Excellent place in a perfect location. Much more fun than a hotel.
October 11, 2010 - Website
Clos Jolie Review
by Chimane Rhodes
Paris Perfect was a terrific agency to work with and we really enjoyed our stay at the apartment. There were 4 of us travelling together, and we stayed in a couple of hotels for the first few days and then moved to our apartment and what a difference! Our vacation truly started when we got to our apartment, we really enjoyed having a kitchen and living room. Both of which were great and we even had a dinner party for our friends who live in Paris. Paris Perfect's attention to detail and all of the extra travel and neighborhood information was much appreciated.
Base Nightly Rates – May Not Include Fees such as Greeting, Cleaning, Damage Waiver, Credit Card Processing and Tourist Taxes. For full price, please put in dates.
Available
Unavailable
Check-In Only
Check-Out Only
May 2023

| S | M | T | W | T | F | S |
| --- | --- | --- | --- | --- | --- | --- |
| | 01 | 02 | 03 | 04 | 05 | 06 |
| 07 | 08 | 09 | 10 | 11 | 12 | 13 |
| 14 | 15 | 16 | 17 | 18 | 19 | 20 |
| 21 | 22 | 23 | 24 | 25 | 26 | 27 |
| 28 | 29 | 30 | 31 | | | |
June 2023

| S | M | T | W | T | F | S |
| --- | --- | --- | --- | --- | --- | --- |
| | | | | 01 | 02 | 03 |
| 04 | 05 | 06 | 07 | 08 | 09 | 10 |
| 11 | 12 | 13 | 14 | 15 | 16 | 17 |
| 18 | 19 | 20 | 21 | 22 | 23 | 24 |
| 25 | 26 | 27 | 28 | 29 | 30 | |
July 2023
S
M
T
W
T
F
S
01
02
03
04
05
06
07
08
09
10
11
12

$784

13

$790

14

$814

15

$817

16

$776

17

$776

18

$795

19

$789

20

$760

21

$673

22

$785

23
24
25
26
27
28
29
30
31
August 2023
S
M
T
W
T
F
S
01
02
03

$663

04

$687

05

$717

06

$643

07

$716

08

$711

09

$605

10

$725

11
12
13
14
15
16
17
18
19
20
21

$676

22

$694

23

$698

24

$718

25

$734

26

$746

27

$695

28

$716

29

$717

30

$604

31

$761
September 2023
S
M
T
W
T
F
S
01
02
03
04
05
06
07
08
09

$1315

10

$1066

11

$1021

12

$933

13

$1030

14
15
16
17
18
19
20
21
22
23
24
25
26
27
28
29
30
October 2023
S
M
T
W
T
F
S
01
02
03
04
05
06
07
08
09
10
11
12

$1083

13

$1841

14

$1891

15

$1799

16
17
18
19
20
21
22
23
24

$976

25

$991

26

$1765

27

$1784

28

$1844

29

$1719

30

$863

31

$834
November 2023
S
M
T
W
T
F
S
01

$858

02

$893

03

$897

04

$948

05

$727

06

$849

07
08
09
10
11
12
13
14
15
16
17
18
19

$781

20

$826

21

$827

22

$854

23

$905

24

$936

25

$987

26

$814

27

$839

28

$839

29

$845

30

$896
December 2023
S
M
T
W
T
F
S
01

$934

02

$1005

03

$832

04

$857

05

$888

06

$869

07

$907

08

$921

09

$998

10

$808

11

$828

12

$869

13

$838

14

$858

15

$868

16

$952

17

$756

18

$808

19

$1829

20

$1807

21

$1846

22

$1822

23

$1838

24

$1688

25

$1793

26

$1862

27

$1864

28

$1857

29

$1949

30

$1950

31

$1781
January 2024
S
M
T
W
T
F
S
01

$1900

02
03
04
05
06
07
08
09
10
11

$744

12

$743

13

$757

14

$613

15

$814

16

$777

17

$828

18

$812

19

$800

20

$809

21

$678

22

$888

23

$805

24

$846

25

$793

26

$810

27

$819

28

$696

29

$825

30

$773

31

$774
February 2024
S
M
T
W
T
F
S
01

$755

02

$782

03

$801

04

$699

05

$777

06

$771

07

$783

08

$789

09

$823

10

$853

11

$769

12

$812

13

$801

14

$818

15

$825

16

$853

17

$865

18

$757

19

$763

20

$764

21

$790

22

$928

23

$921

24

$942

25

$818

26

$842

27

$868

28

$882

29

$945
March 2024
S
M
T
W
T
F
S
01

$953

02

$990

03

$859

04

$884

05

$925

06

$915

07

$970

08

$990

09

$1015

10

$886

11

$913

12

$944

13

$931

14

$964

15

$1009

16

$1030

17

$914

18

$950

19

$982

20

$975

21

$988

22

$1034

23

$1036

24

$916

25

$957

26

$994

27

$1003

28

$1018

29

$1241

30

$1238

31

$1253
April 2024
S
M
T
W
T
F
S
01

$969

02

$1007

03

$1016

04

$1029

05

$1045

06

$1053

07

$949

08

$994

09

$1046

10

$1074

11

$1085

12

$1057

13

$1063

14

$957

15

$975

16

$1003

17

$1044

18

$1034

19

$992

20

$1005

21

$919

22

$942

23

$966

24

$1010

25

$1004

26

$979

27

$989

28

$910

29

$924

30

$925
May 2024
S
M
T
W
T
F
S
01

$942

02

$931

03

$916

04

$922

05

$846

06

$856

07

$871

08

$897

09

$912

10

$937

11

$942

12

$879

13

$891

14

$910

15

$939

16

$965

17

$1008

18

$1010

19

$932

20

$925

21

$942

22

$965

23

$999

24

$1046

25

$1057

26

$949

27

$949

28

$985

29

$997

30

$1021

31

$1034
Things to See & Do
The Louvre (8 mins Walking)
A trip to Paris isn't complete without a visit to the world-famous Louvre museum. See the Mona Lisa, Venus de Milo and other famous artworks
Centre Pompidou (10 mins Walking)
The National Museum of Modern Art with a striking tubular exterior
Ile de la Cité (12 mins Walking)
Island in the middle of the Seine where you'll find Notre Dame, Sainte-Chapelle, the charming Place Dauphine and the Palais de Justice
Tuileries (12 mins Walking)
Beautiful public garden located between the Louvre Museum and the Place de la Concorde in the 1st arrondissement of Paris
Picasso Museum (18 mins Walking)
Features more than 5000 works by Spanish artist Pablo Picasso
Notre Dame Cathedral (20 mins Walking)
One of the world's most famous churches and a must-see if you're visiting Paris. Marvel at the incredible French gothic architecture and climb to the top to get a close-up view of the cathedrals famous gargoyles.
Place de la Concorde (20 mins Walking)
Admire the beautiful fountains and the ancient Egyptian Luxor Obelisk
Musée d'Orsay (22 mins Walking)
Located in an old train station, this museum is home to the largest collection of impressionist and post-impressionist masterpieces in the world.

Shopping & Eating
Rue Montorgueil (3 mins Walking)
A long pedestrian street filled with fantastic food shops
Rue de Rivoli (5 mins Walking)
Affordable fashion shopping street
Galerie Vivienne (8 mins Walking)
Charming array of clothing shops and a few restaurants including a great tea café & bistro
Les Halles (9 mins Walking)
Large underground mall with a wide range of stores for all budgets. The métro station is connected to the mall so it's very easy to get to if you're not within walking distance

Public Transport
Métro (5 mins Walking)
Les Halles (Line 4)
RER (6 mins Walking)
Châtelet-Les Halles (A, B, D)
Métro (13 mins Walking)
Châtelet (Lines 1, 4, 7, 11, 14)