The Clairette is our charming one-bedroom Paris apartment near the Eiffel Tower that easily accommodates up to four people in air-conditioned comfort. It features gorgeous Paris views out the long French windows in the living room and dining area, including the Eiffel Tower rising above the rooftops. We love the double living room: one half reminiscent of a library with large armchairs facing the fireplace and the second half with a long sofa and armchair, so there is enough room for everyone to relax. The Clairette is located in the heart of the chic 7th arrondissement, so you'll come home at night to find stunning Eiffel Tower views from the living room and dining area. Whether you are enjoying a romantic meal under the light of the tower or relaxing after a long day of sightseeing, this Paris Perfect apartment offers a feast for the eyes, while ensuring luxurious comfort for its guests.
Things To Note
Neighborhood: 7th arrondissement
Size: 575 sq ft/53 sq m
Sleeps: This property is suitable for two adults and up to two children or three adults. It is a tight fit for four adults due to limited space
Cooling: Mobile A/C units in the bedrooms and living room that vent through a special hole in the window
Registration Number: 7510700317717
Paris 2024 Olympics: Special Terms 
Room Details
Room
Beds
Details
Bedroom
Extra-Wide Queen (1)

Extra-wide queen bed (63in x 79in; 160cm x 200cm)
Living room
Single (1)
Trundle (1)

High-quality sofa with trundle converts into two comfortable single beds (31in x 75in; 80cm x 190cm)
Bathroom
Shower (fixed and flexible showerheads), toilet, sink and heated towel rack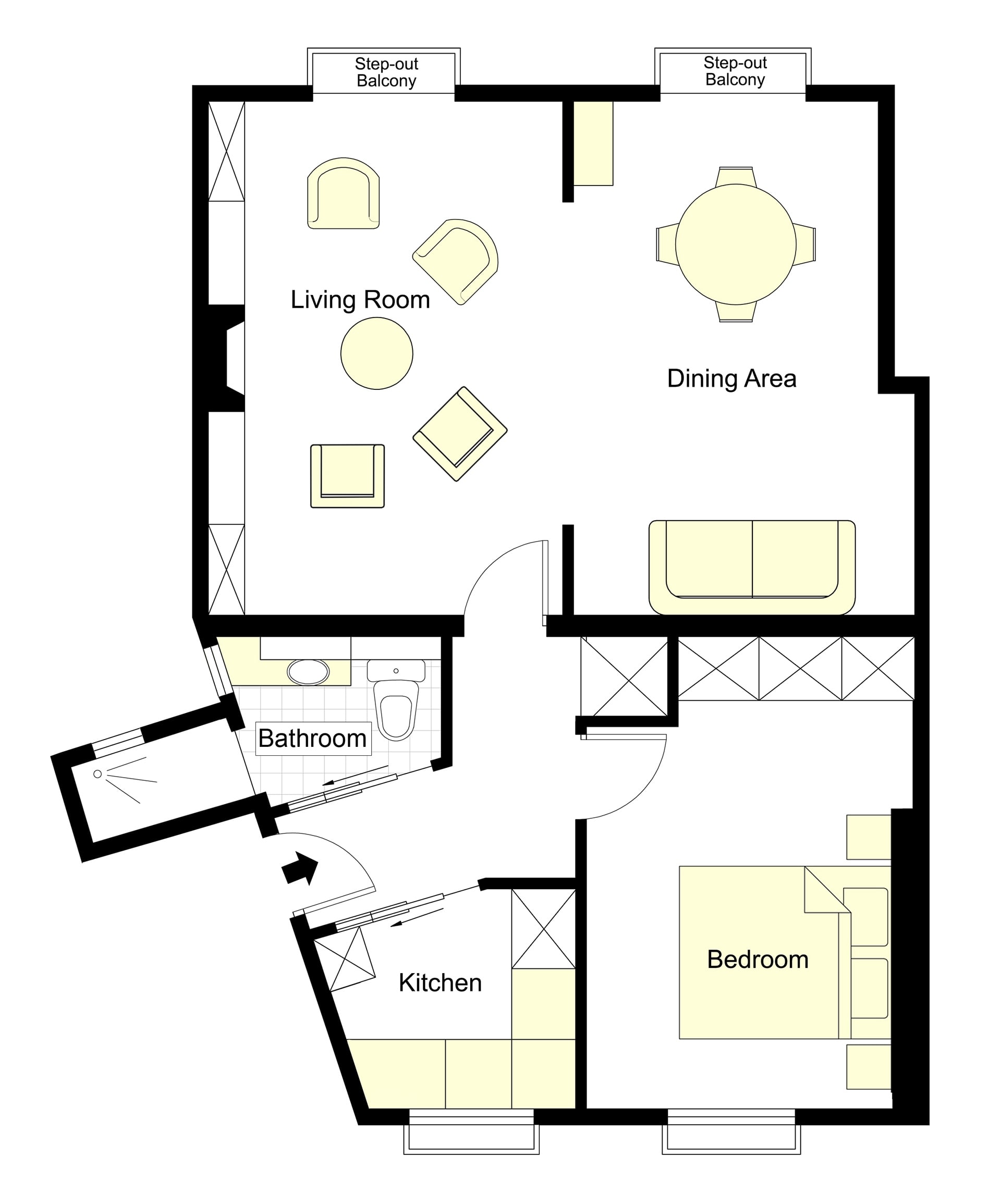 General Amenities

Toiletries
Hotel Safe
Smoke Detector
Carbon Monoxide Detector

Kitchen

Fully Equipped
Starter Supplies
Kitchen
Coffee Maker
Dishwasher
Microwave
Nespresso Style Coffee Machine
Oven
Stovetop
Toaster
Refrigerator

Accessibility

Private Entrance
5th Floor North American
Elevator

Connectivity/Entertainment

WiFi
TV
TV - Limited English Programs

Heating/Cooling

Heating
Portable Fan(s)
Sound Dampening Windows
A/C-Mobile
Non-Working Fireplace

Laundry

Dryer
Iron & Board
Washer

Special Features

Eiffel Tower View
Balcony/Terrace
Instant Booking

Amenities

Elevator
Air Conditioning
Thank you for submitting your review. It will be processed shortly!
Perfect stay
by Jeanette Floyd
This was my 5th stay in a Paris Perfect apartment and it was Perfect as usual. I always enjoy staying in the 7th so it feels familiar and like home away from home for me. The apartment was in a great location with an Iconic Eiffel Tower view. Plenty of space and was thankful for the AC and washer & dryer. When I return again to Paris I will definitely choose another stay in a Paris Perfect Apartment. Prior to arriving in Paris we were in Italy for 2 weeks where we spent 6 nights in Florence in an Italy Perfect Apartment. Check out their sister company and beautiful apartments throughout Italy!
Wonderful Location
by Seth Whicker
We really enjoyed our stay at Clairette. Great location, extremely clean and beautifully decorated.
Fantastic apartment!
by Elizabeth Lee England
This apartment was very French for American visitors but still had the amenities Americans want (for example, a real shower). It was clean and comfortable, and all the space was very efficiently used. I really got the impression that Paris Perfect had thought of everything in equipping the apartment. Highly recommended!
A Perfect Place in Paris
by Melinda Larson-Horne
We thoroughly enjoyed our stay in the Clairette apartment. The apartment is beautifully appointed with all of the amenities to make your stay comfortable and enjoyable. The neighborhood is charming and convenient with shops and restaurants. The view from the apartment is incomparable. After spending all day exploring Paris, we spent several evenings "at home" enjoying the Eiffel Tower sparkles. I have traveled to Paris numerous times and have stayed with friends as well as in hotels and Airbnbs. Paris Perfect has been my favorite experience to date. I wouldn't hesitate to stay in Clairette or another of the lovely Paris Perfect apartments the next time I visit Paris.
Parisian dream
by Mireille Taufik
This was our first time staying with Paris Perfect but it won't be our last. We loved our stay in the Clairette apartment. It was very clean, well equipped and well decorated. The location is excellent. It was spacious enough for 3 adults and the beds were very comfortable. Apartment was quiet. We thoroughly enjoyed our stay and can't wait to come back to Paris!
November 24, 2022 - Manual Entry
Perfect location!
by Cheryl S
We loved our stay at the Clairette apartment! There is a large grocery store just down the street and plenty of boutiques, cafes and wine shops very close by. Perfect location! The apartment itself was well-appointed and fairly quiet. Would definitely return!
October 3, 2022 - Website
Perfect in Paris
by Jackie Madincea
The Clairette apartment was ideal for our stay. My husband was running the Paris to Versailles race and he was minutes from the start line. We have been to Paris many times but we had never stayed in the area and we fell in love with the neighbourhood. It had everything you needed and we explored the whole area and still can't decide on our favourite boulangerie! The apartment was tidy and had a perfect layout for us. We greatly appreciated all of the recommendations and we loved our macaron cooking class that was recommended by Paris Perfect. I have been following Paris Perfect on Instagram since lockdown and we were finally able to stay at one of their apartments and it certainly did not disappoint and we look forward to staying with them again in the near future.
September 29, 2022 - Website
Another Fantastic Paris Apartment
by Jerald and Mary Ricketts
The Clairette was our fourth Paris Perfect Apartment. While all have been wonderful this was our favorite. We love the location. The corner is very busy and we love to people watch from the beautiful windows in the living room and gaze up at the Eiffel Tower. It is so bright and cheerful and the decor is very comfy. Kitchen is small but very efficient. Best shower we have had in all the apartments. The location is perfect. Rue Saint Dominique and Rue de Grenelle have wonderful cafes and lots of shops and a 10 minute walk to Rue Cler. The Clairette will not disappoint.
This was my first time staying at an Airbnb and was somewhat hesitant. The Paris Perfect team made the entire process seamless from beginning to end. Their suggestions, tips and recommendations made it that much easier for us to navigate the area. The apartment was as pretty as the pictures, the location was perfect and we had an amazing vacation. I will absolutely be using their service again in the future. Thank you Paris Perfect for making our trip just that.....Perfect!
August 10, 2022 - Website
Absolutely Amazing!!
by Matthew Zeller
The Clairette apartment could not have been more "perfect" for our family and our trip to Paris. Literally a short walk to the Eiffel tower and central to many sites and activities, it was such a great location. The cute apartment was perfect for my wife and I and our two teen daughters---providing enough space for all of us, yet keeping the charm of a small Paris apartment. Steps to cafe's, patesserie's, wine shops, produce markets....it was so convenient. The best part was seeing my wife pull up a chair to the open living room window, pouring a glass of wine, sinking into that chair and watching the Eiffel Tower light up and sparkle. Truly magical!
March 6, 2022 - Manual Entry
Paris Perfect Indeed!
by Carrie Lee, Dave & Poppy Dee Kendall
Our stay at the Clairette apartment on Rue Saint Dominique was a slice of heaven. This quaint little abode nestled just a short walk from the Eiffel Tower proved to be a wonderful jumping off point to all that Paris has to offer. One of our favorite things to do while there was to open up the windows to take in the view. We could see the hustle of the staff at the restaurant across the street, vendors preparing their shops and had an almost surreal view of the Eiffel Tower shuttling the many visitors up and down. The apartment itself was an appropriate blend of old and new. With modern amenities and classic style, our family of three always felt like we were coming back to our own authentic Parisian home.
December 22, 2021 - Manual Entry
George ours and perfect!
by Pat Gallagher
Loved everything. Reception when we arrived, great location, they had everything we needed plus. Great selection of books and DVDs
Clairette Review
by Carol D
As always, staying at Paris Perfect flats is an unforgettable experience. The location is prime, decoration well curated, clean, well equipped and easy and fast communication with the team. Can't wait to be back.
February 1, 2021 - Website
Clairette Review
by Felicia H
This apartment is perfect. Stylish and spacious, well-appointed, perfect location. I enjoyed a monthlong stay and instantly felt at home. Would definitely stay again.
February 1, 2021 - Website
Clairette Review
by Lucia L
Simply perfect! Amazing location, excellent amenities and great host.
January 21, 2021 - Website
Clairette Review
by Pierre B
Geweldig appartement met prima faciliteiten en vlakbij de Eifeltoren. Hartelijk bedankt voor een geweldige ervaring! Translation: Great apartment with excellent facilities and close to the Eiffel Tower. Thank you very much for a great experience!
January 11, 2021 - Website
Clairette Review
by Shweta T
Loved staying at the Clairette apt, was a very cute and stylish place, very Parisian. Area is great with nearby markets, and I stayed during covid so the apt was spotless and well cleaned so I felt very safe. I have since moved to another apt run by the same company as the service and quality is impeccable. I recommend!
January 9, 2020 - Website
Clairette Review
by Ellen W
We had a wonderful stay in Clairette. I did not know this neighborhood before, but it was a wonderful location. Within one block 5 great restaurants, close to food shopping and cafes on the Rue Cler. Although the apartment was near a busy intersection, it was very quiet. It was beautifully appointed and charming with plenty of storage and amenities so we could stay in, go out, eat in or out. It was meticulously clean and Paris Perfect provided many information packages to help us enjoy our stay. We would definitely rent from Paris Perfect again!
December 28, 2019 - Website
Clairette Review
by Peggy R
We love Paris Perfect! This is the 5th apartment we have rented from them and we haven't stayed in the same one twice! As we expected the taxi pickup by Victor Taxi went beautifully, despite the National strike! We were met at the the apartment and showed around and the book was there to let us know how to use everything in case we forgot (or were too jet lagged to remember it all!) The location is great! A boulangerie is just 3 doors down, there are 3 wine stores on the street, a fromagerie, G7- a grocery store, a Vietnamese take out place with terrific spring rolls and numerous restaurants. We loved Gloria for Italian food, Le Fountaine de Mars for a classic french bistro, Il Sorrentino for some more great Italian food and our favorite that we discovered while staying in our first Paris Perfect apartment, Au Bon Accueil. There is a view of the Eiffel Tower which we enjoyed each evening peering out the window to see the light show (it is difficult to see while sitting on the couch or at the table). The layout of the apartment is great with a lovely sitting area and a couch for naps after lots of sightseeing. It's an easy walk to the Eiffel Tower or the Seine or to the Yves St. Laurent museum (15 minutes) which we discovered on this visit. A must for fashionistas! With the metro on strike and UberX costing twice as much and not showing up as scheduled or finally cancelling it was great to be within walking distance of so many terrific restaurants and things to see. Victor Taxi was there as scheduled (so dependable) on our day of departure. At the airport we heard horror stories from other travelers about Taxis that had been reserved not showing up at all! Paris Perfect provides a lovely home away from home with great accommodations, sheets, towels and all you'd want or need to have a delightful stay.
December 15, 2019 - Website
Clairette Review
by Kenneth T
It says it all in this name-Perfect! Our apartment could not have been more lovely and perfect in every way. This was our second time renting from them and won't be the last!
November 22, 2019 - Website
Clairette Review
by Martha S
We love the beautiful apartment, Clairette. We've stayed in it several times and it's like coming home. It has everything you need to be comfortable and feel at home. Great location and friendly neighborhood. Kevin and Lisa in the office are awesome! See you guys next time,
October 9, 2019 - Website
Clairette Review
by Sarah S
Great area, lovely apartment and really smooth booking process. We will be back.
September 7, 2019 - Website
Clairette Review
by Lisa W
Our apartment was perfect for our stay. The location in the 7th arrondissement was incredible. Everything was within a few steps including sidewalk cafes, a boulangerie, wine shop, and fromagerie. The staff was great. One day I needed help with some tickets and they were all willing and gracious. I would highly recommend Paris Perfect Rentals!
Clairette Review
by Lynne S
Our apartment Clairette truly was wonderful! We stayed there in early July and it was hot! Thankfully, my husband had insisted on finding an apartment with air-conditioning and an elevator and I am so glad he did! The apartment was beautifully decorated. We liked that there were two twin beds in the living room for our 12 and 13-year daughters. We also loved that they could close the door off and sleep in if we decided to sit in the living room with our coffee in the morning. The kitchen was small but manageable since we weren't cooking big meals. I thought the small bathroom would be a problem for me and my two teenage daughters but it worked well. There was plenty of storage and enough room to set everything down. The location was simply superb. We looked down at the busy Le Champs de Mars Cafe across the intersection. We could hardly hear any of the outside noise once the windows were closed. We loved the bakery and supermarket a few doors down. My teens loved being so close to the Eiffel Tower and we picnicked two nights out of four there. Everyone was great to work with at Paris Perfect. I absolutely 100% recommend this company and these apartments and will hopefully be able to come back and rent again!!
Clairette Review
by Susan J
The Clairette apartment was perfect for my 13-year-old grandson and me. It was cozy but gave each of us some space, and it was equipped with everything we needed. And the location really was perfect: a grocery and vegetable stand just steps down our street, and the Metro just a couple,of blocks away. And, of course, a view of the Eiffel Tower from our living room window. The apartment was spotlessly clean, a feature I've come to expect from Paris Perfect properties. The beds were comfortable, even the trundle in the living room. The Paris Perfect staff continues to amaze me. Over the phone, a staff member walked me through the intricacies of the DVD player with enormous patience and good humor (in my defense, it was complicated - there is no way it could have been done with written instructions; even my tech-savvy grandson couldn't get it to work). Did I hear a baby wail in the background at the end of our phone call? Guilt and apologies! This is the fourth apartment I've stayed in with Paris Perfect over the last 14 years, and each one was charming and comfortable. I've recommended Paris Perfect to many friends, and I look forward to exploring more of Paris Perfect's offerings.
October 9, 2018 - Website
Clairette Review
by Nadia L
Perfect vacation with Paris Perfect! We really felt pampered by this company. Every little detail was thought of including arriving to find fresh milk, coffee, sugar and orange juice in the kitchen. That was a life saver for us...one of many thoughtful little touches..... Our unit, The Clairette, was in a perfect location in the 7th arrond. beside bus stops, restaurants and shops within walking distance. It had a view of the Eiffel tower (a hop skip away) with that old french feel of tall balconied windows overlooking the street. The bathroom and kitchen were modernized and equipped with anything you may need from bathroom slippers to espresso machine. Though the unit was identical to the photographs, the size was about half of what we expected. We only travel with carry on bags but if you had lots of luggage or more than 2 adults it could be crammed. We booked it knowing it was on the 4th floor. There was a nice small elevator that I didn't take...We climbed the 4 floors daily...wasn't too bad for a couple of 60 somethings. The suggestion of a Travel Wifi (pick up nearby) and downloading the Citymapper app were the two best tips we received among lots of information of restaurants, tours, stores, etc. provided for us in the unit and prior to arriving. Thank you Paris Perfect, you are a class act!
January 24, 2018 - Website
Clairette Review
by Janna Ford
Once again, Paris Perfect provided the perfect home for my stay in Paris. The Clairette is the second apartment I've rented and it did not disappoint! What's nice about the Clairette is if you have guests staying or are staying as a family, the room where the pull-out sofa is located completely closes off with pocket doors to provide privacy while still allowing a sitting room for others to use. The view of La tour Eiffel is not direct but a slight glance to the left out the windows offers a stunning view! The Clairette is centrally located in the 7th arrondissement, close to restaurants, shops, rue cler and metro. The Paris Perfect team is easy to work with and is always so welcoming upon arrival. Paris Perfect is my go to team for my home away from home. I can't imagine staying anywhere else (and don't plan on it)! Looking forward to my next stay!
January 16, 2018 - Website
Clairette Review
by Harry Simson
My wife Helen and I enjoyed 3 weeks in Paris over Christmas and New Year 2017 staying in Clairette. The apartment was perfect for us - great location and enabled us to enjoy the wonderful local produce available from Rue Clair and Rue Saint-Domenique. It is also located close to Champ de Mars buses which was great. The facilities in the apartment were perfect including washing machine and dryer. Paris Perfect did a great job providing information about basically everything! From local restaurants, transport (we loved the buses), sights to see etc. Unfortunately PP weren't able to prevent some fairly dreary Paris winter weather but regardless we had a fabulous time. We would definitely recommend PP and Clairette. Regards Harry Simson
November 3, 2017 - Website
Clairette Review
by Carol H
The apartment was great. We found it convenient to the metro and the neighborhood was full of great restaurants. We loved coming home to the apartment rather than a hotel room. It was just the right size for the 2 of us. The team were very professional and pleasant and welcoming.
September 4, 2017 - Website
Clairette Review
by Ingrid Badillo
We had a wonderful time. Great location; The apartment was lovely with an amazing view of the Eiffel Tower. Josiah was very pleasant and helpful.
August 17, 2017 - Website
Clairette Review
by Angele Sumpter
We absolutely loved the Clairette apartment. The beds were comfortable, the view was amazing, and the location couldn't have been more perfect. We are excited to also try your other apartments next time we return to Paris. Thank you for a wonderful stay!
Clairette Review
by Heidi Lindsay
We stayed in the Clairette apartment for our first trip to Paris. The location was perfect - close the the Eiffel Tower (incredible views!), the Metro, great restaurants and shops! The apartment itself, with all its amenities felt like home after a long day of sightseeing! We did feel a little like Parisians and had a wonderful stay! We highly recommend Paris Perfect and will use them again! Not only does Paris Perfect have great apartments, but they also provide guest services to make the most of your stay. Take advantage of their restaurant recommendations, cooking classes, and guided tours!
Clairette Review
by Gregory Lung
Excellent & charming apt that is literally steps away from the Tour Eiffel, shops, eateries, boulangeries, patisseries, fromaggerie, open markets, etc. I found it very central and close to the metro as well. The staff was so accommodating prior to & during our stay in arranging tours, dining reservations, and great suggestions on various issues to make our stay perfect! I will definitely return to Paris & use Paris Perfect again!!!
Clairette Review
by Diana Mead
The entire experience working with the Paris Perfect team was positive and enjoyable. From the time of the booking through our last day, each team member was courteous, helpful and responsive. The apartment was lovely: excellent location, remodeled and modern, and a thoughtful attention to details for every amenity in the apartment. Having a team to assist with reservations, tickets, and transportation took a tremendous amount of stress off of staying in an apartment versus a hotel yet having the additional space of an apartment allowed our family to relax and spread out. Thank you to the Paris Perfect team! We hope to see you again soon.
December 5, 2016 - Website
Clairette Review
by Margaret Chan
We had another fabulous rental and experience with Paris Perfect. It was our third rental in 12 months. We absolutely loved the Clairette. And we have stayed at the Grenache and Pouilly both of which were great too. We met with the paris perfect representative again who was as nice, knowledgeable and prompt as usual. The day before our check in, we had to change our appointment time. I spoke to Paris Perfect to change our appointment who seamlessly relayed the message to our greeter and when we called again on the day of check in, our greeter confirmed quickly. The greeter showed us how to use all the appliances. Paris Perfect's usual thoughtful touches, such as having a box of milk, juice and coffee pods available were very helpful. We have recommended Paris Perfect to our friends and we will definitely rent from Paris Perfect again. Thanks again for doing such a wonderful job to make our vacation so perfect.
November 17, 2016 - Website
Clairette Review
by Martha Ann Sloan
We stayed in Clairette and Fleurie mid Nov,2016. Both apartments are very nice and we enjoyed them both. PP has the best clothes dryers in all of Paris! We especially love the friendly staff. Thanks so much!!! Thanks for a beautiful stay in Paris.
November 10, 2016 - Website
Clairette Review
by ROBERTA WEIDEL
The apartment is absolutely beautiful , and we thoroughly enjoyed it. It had all the comforts of home. And we appreciated the extra touches to make it so lovely. We were also amazed at the design of the apartment, and the efficient use of the space. Your team is excellent, and we enjoyed meeting Verity, who was very helpful and friendly, as was everyone else with whom we dealt. The information you provided on the neighborhood was indeed thorough. Although we had been to Paris before, it was helpful. Rue St. Dominique is an excellent location for us. Our only problem was that the courtyard was noisy every night until midnight. It appeared that a restaurant across the way had employees talking for hours outside, and intermittently emptying trash and recyclables. Their conversation was very loud and animated. As a result we did not get to sleep until 12, and therefore had to sleep later and get a later start on our day. Merci beaucoup for your excellent service, stunning apartment and great staff.
September 17, 2016 - Website
Clairette Review
by Renato Faria
Very comfortable apt. Everything needed for a very pleasureable stay in Paris is there .. comfort, quality and specially location is a must ... As usual , Paris Perfect team has provided a superior service ...
Clairette Review
by Margaret Xavier
We stayed in Clairette over Bastille Day and got to watch the most amazing fireworks show at the Eiffel Tower from the balcony. What a thrill. It absolutely made our vacation. Having a beautiful apartment to come home to every evening after sightseeing in Paris was a special treat. The restaurant recommendations from your team were all wonderful and I would recommend Paris Perfect to anyone traveling to Paris. We also loved the photographer, Samuel, that you recommended and the pictures he took will help us remember our Paris trip for years to come. Thank you!
Clairette Review
by Joan Hager
The Clairette was a very comfortable apartment with a lovely view of the Eiffel tower and a fabulous location in the Seventh. We could have eaten at a different wonderful restaurant every night on Rue Saint Dominique the street the apt. was located on. The staff at Paris Perfect are excellent too.
February 16, 2016 - Website
Clairette Review
by Lynn Dillavou
I cannot say enough about the services provided by Paris Perfect. From reservations to storing our luggage on departure day, the staff was available, friendly and prompt. Clairette was perfect for my husband and I. My first time in the 7th Arr. The location to great food, walking, touring, taxis (across the street) was perfect. If you haven't shopped Rue Cler - do! Apartment was clean, refrigerator stocked as we requested, quiet neighborhood. Thanks again Paris Perfect for the wonderful birthday memories.
January 9, 2016 - Website
Clairette Review
by David Huff
The apartment is in a perfect location. As with all of the apartments we have rented with Paris Perfect, it is very clean and well appointed. The bathroom has a walk-in shower which is nice. The kitchen is small but workable. The only negative is that the view of the Eiffel Tower is not direct as it is with other Paris Perfect apartments we have stayed in - you actually need to open a window and look out to the left. (Also, the upstairs neighbors are not exactly quiet.) But overall this is a fine apartment for a week long stay.
December 2, 2015 - Website
Clairette Review
by deirdre R
Excellent stay. Well stocked and great location! Sam was great.
November 18, 2015 - Website
Clairette Review
by Brad Myers
Our stay at Clairette was so much better than we anticipated. Not only was the apartment spacious, clean and in excellent condition, it is in the PERFECT location. We really felt like Parisians-going to the local markets to purchase fresh food to cook in the evening. The only "downside" was we were not able to stay longer. We are already planning our next trip to Paris and we will definitely stay in Clairette again.
November 1, 2015 - Website
Clairette Review
by Bradley M
The apartment and the location were perfect! When we return to Paris, we will stay at a Paris Made Perfect apartment. Everyone we spoke with was very helpful.
Clairette Review
by Michelle F
We enjoyed our stay. The apartment is lovely and a wonderful place to unwind after busy days and nights. Paris perfect staff has been friendly and helpful throughout the entire process.
Clairette Review
by Raj Mathai
Amazing. Never again will I stay in a hotel in Paris. We lived like locals. Great mix of restaurants, markets and shopping right outside of your door. The apartment was ideal and even better than the photographs. Kitchen was small, but very useful. Bathroom was modern and spacious (for Paris standards). Taxi stand right outside...and of course, that view of the Eiffel Tower is mesmerizing. Sam was very helpful checking us in.
January 12, 2015 - Website
Clairette Review
by Gabriel
My wife and I came to stay at Clairette for my very first trip to Paris and what a perfect location! The layout of the apartment is practical, the views are spectacular and the atmosphere excellent. After a busy day sightseeing, we particularly enjoyed relaxing on the comfortable chairs and couch in the living room, with the Eiffel Tower sparkling outside. The Expresso machine sure is a great start to the day and the well equipped kitchen is all u need to enjoy a home cooked and romantic dinner. Loved the spacious shower, the heated towel railings and the bed was most comfortable. We'll find it difficult to choose any other apartment for our next visit. It truly felt like we celebrated a second honeymoon Parisien style.
November 9, 2014 - Website
Clairette Review
by Melissa Warner
The apartment had everything we needed, and was a most comfortable and charming place to stay. And it was easy to get to the métro from our flat, and from there we got everywhere we needed without a single taxi. I wish we had spent more time investigating the nearby shops and restaurants; we were so busy with museums we didn't do as much local investigation as we might have. Next time!
October 27, 2014 - Website
Clairette Review
by Alex E
Everything was great! You really seemed to think of everything and provided lots of info. The team was very friendly and helpful.
October 18, 2014 - Website
Clairette Review
by Alex Eames-Christensen
My husband and I stayed in the Clairette for our first visit to Paris. It was just what I dreamed a Paris apartment would be, complete with a view of the Eiffel Tower. Friends were staying in the 6th arrondissement but we chose this location as we are not big shoppers and wanted a quieter sleep, plus it is near Rue Cler and several excellent restaurants. Also, I should mention, as we only had 6 nights in Paris, our choices were limited to 6 apartments, as most of the apartments require a 7-night minimum stay. I feel we were very lucky the Clairette was available. The first morning we joined a walking tour that our friends had arranged, Paris By Martin, which was excellent. The guide picked us up at the apartment and we used the RER at Pont de l'Alma to join the others via the Saint Michel stop. I mention this because we ended up using the RER even more than the Metro at Ecole Militaire. We also used Victor's Taxi service, as recommended by Paris Perfect, both from the train station to the apartment and from the Clairette to CDG. They were excellent also - on time, friendly, and despite a meter which read much more than our quote on booking, due to it being unusually busy on Heritage Day, they stuck with the quoted price. The apartment itself was lovely and had absolutely everything we required, and more! We used the stairs, except when arriving and departing with luggage, as the elevator was small (as expected!) and slow. The information package which Paris Perfect sends upon booking was most useful. We bought tickets for the Bateaux Mouche which were ready at the greeting. So handy. We would probably use the concierge service more next time but although we didn't make much use of it, I loved knowing help and advice was simply a phone call away. To summarize, we had a fantastic visit, would definitely book again with Paris Perfect and would most likely try to stay at the Clairette again. It did feel like we were returning home each evening; home with a view of the sparkling Eiffel Tower!
Clairette Review
by Robert Clemente
The apartment is small but well appointed. The best part of the two small reception rooms which are gracious and usable - nice sitting and dining rooms, very well furnished. The double glazing works to keep the noise out, but you will need to open the windows to ventilate the apartment - if the temperature rises into the 20s it gets very hot. There are air conditioners but they are noisy and not that effective, plus you have to drain them of water from time to time. The double bedroom is again small and the air con unit gets in the way but again very comfortable with lots of wardrobe space. The bathroom is good - but shower only. The kitchen is tiny, but has absolutely everything - brilliantly appointed. It only fits one person and has zero bench space so don't plan to do serious cooking there. You can do all the basics however. This apartment is very well situated, on the edge of the Eiffel Tower tourist area, in a street that boasts a wide selection of restaurants and excellent food shops. The boulangerie nearest the apartment has excellent baguettes, croissants etc and good lunch snacks. There are two good greengrocers (the furthest away does fresh squeezed orange juice), a good butcher and wine shop just across the road and there is a foie gras shop around the corner in Rue Augereau. The Rue Cler markets are 8 mins walk - very good poissonniere and charcuterie there. Patissier - Le Notre - go to the end of Rue Cler and turn right. 5 mins walk to the Metro (Ecole Militaire - Line 8) - change at Concorde for most other lines including line 1. 10 mins Les Invalides on foot, 15 mins Musee d'Orsay. You are within walking distance of many right bank attractions, including the Troc, Grand Palais/Petit Palais and the Avenue Montaigne (5-15 mins). Louvre, Notre Dame etc - metro. If you need a taxi, do to the rank diagonally opposite the apartment - they come within a few minutes - we were never let down. Restaurants: Cafe Constant (trad Fr bistro no bookings line up), Les Coccottes (it's bar dining but very nicely done again no bookings) or the Violon d'Ingres (bookings, pricey and good - has a star I think). Lots of others - didn't get the chance to try them. Bit further away: Atelier de Joel Robuchon (Rue Montalembert) - officially no bookings but you can get them - about a 1 star std although has more. 2-3 star dining - special night out - Arpege in the 7th on the other side of Les Invalides. Wonderful food respecting ingredients/terroir etc - modern style 3 star dining.
Clairette Review
by Margaret H
The apartment is lovely, all of the information you provided was very helpful. We ate at many of the restaurants you suggested, and all were excellent. We even stayed in one evening and had a roast chicken etc. - we knew where to shop for everything thanks to you! Thank you Paris perfect and especially Kevin!
Clairette Review
by Kathleen Guillermety
Great week! It was living like a Parisienne! Bakery just next door, Christian Constant restaurants on the corner and walk to Rue Cler for the best cheese and fruit stores you can dream about! Will return very soon, I hope. The apartment has everything you need for a very comfortable stay.
October 19, 2013 - Website
What we loved especially was the location, location, location. Within just a few steps, is boulangerie, a boucherie, a super marche, a gourmet coffee/tea/chocolate shop, the bus hub, and countless restaurants with great variety. This is our fifth stay with Paris Perfect in this neighborhood and have always been pleased. The local staff of PP and greeter are very helpful. The apartment was clean and well equipped. The washer and dryer were easy to use and efficient. The apartment is lovely and a wonderful retreat after a day out in the City.
October 14, 2013 - Website
Clairette Review
by Tiffany & Richard Woollacott
We enjoyed our second stay with Paris Perfect at the Clairette. The location is great, and we love that our favorite restaurants and shops are all a stroll away. We found the apartment very well equipped and clean and ready for our arrival. We will be back again!
Clairette Review
by Mary Zau
Clairette is as beautiful as the name indicates. We enjoyed the easy walk to champ de mar, fine restaurants, markets and metro stations. This year,Paris in July was unusually hot, we were very grateful to have the A/C units. The management team had done a fantastic job in setting up the apartment to welcome the guests. We felt like going home away from home. The only things that I regretted was not being able to see the tour Eiffel from the window; and the noise from the busy streets can be annoy. Other then that, it was a perfect vacation.
Clairette Review
by Michael Case
Paris Perfect lives up to its name and our week long visit to the Clairette was wonderful. The apartment was exactly as described and Paris Perfect even had a bottle of wine waiting for us upon our arrival. The neighborhood is great and it was only a five minute walk to the Eiffel Tower or to the metro. My wife and I are already planning our next trip and will use Paris Perfect and London Perfect for that trip too. Thanks Paris Perfect for making everything great.
Clairette Review
by Glenda & Kent W
This was our second time to stay in one of your rental apartments. Both times we have been very happy with every aspect of the apartment. This year we spent almost three weeks in Clairette. The apartment was furnished in a comfortable French style with the perfect areas to lounge, read a book or just nap after a morning of sightseeing.It was always bright and we enjoyed the street scenes from the two large windows. The kitchen was tiny but had everything you could possibly need. There was a large window over the sink for fresh air. The bathroom had a fantastic walk-in shower and good lighting. The location could not have been better. There was a great little boulangerie just downstairs for breakfast croissants, a great wine shop across the street for champagne, a very nice butcher where we bought roasted chickens, and a grocery where we bought the basics. The cab stand and bus stops were just steps away. We could walk to a large selection of very good restaurants and the wonderful Marche President Wilson was not far at all. One weekend we took the train to Geneva. When we returned it was like "coming home". The staff was very helpful and the information in the apartment was very detailed. We enjoyed our time staying in Clarette and plan to return in the next year or two.
Clairette Review
by Linda and Kenneth S
We were very pleased with the apartment which was meticulous, nicely appointed, well situated, and very comfortable. The Paris Perfect Team was attentive, courteous and informative. We enjoyed coming back in the afternoon, buying a pastry from one of the many local patisserie and relaxing. We are walkers and walk we did throughout Paris. We would definitely recommend Paris Perfect.
February 28, 2013 - Website
Clairette Review
by Bonnie C W
When you use the word "perfect" in your company name, you automatically set the bar high for customer expectations. ParisPerfect delivers on all it's promises. From the moment you click on the reserve tab to the last time you shut the door on your apartment, the ParisPerfect team strives to provide each and every guest a top-notch experience in Paris. Three things you can count on with ParisPerfect: 1. What you see on their website is what greets you upon arrival. It's that ellisive thing called "trust." 2. No matter the price point, you can be sure that your apartment will be in a fabulous location. 3. No matter the price point, you can be sure that your apartment will be sparkling clean when you arrive. Clairette was lovingly furnished with everything I needed for my stay. The kitchen even had Henckels knives and All Cad pots and pans! Clairette is located just doors from cafes, groceries, coffee shop, patisserie, boulangier, hair salon, pharmacies, and of course, the all important staples-macarons and chocolate!!! I have stayed with ParisPerfect several times now and have come to trust them implicitly. They always provide me with a sense of security. I travelled to Paris alone this trip and had no worries for my safety. Oh! and I must add that the free phone calls and wi-fi are an added bonus!!! Do not hesitate to use Victor's taxi service from Charles de Gaulle. He is always on time.
December 16, 2012 - Website
Clairette Review
by Alicia K
Our stay at the Clairette apartment was amazing. Absolutely perfect location, with many nice bakeries and restaurants within close walking distance! The apartment was nice and clean and extremely cosy. Only thing we had problems with was fitting Into the lift with our luggage on the first day so we ended up having to take the stairs. Also on days where we did alot of shopping, we could barely fit into the lift! Other than that, the apartment is incredible with a gorgeous view of the Eiffel Tower, perfect for a couple on a romantic trip to the most romantic city in the world. Go Paris Perfect!
November 28, 2012 - Website
Clairette Review
by Mary Lou F and Nicholas Z
Paris is indeed perfect with PARIS PERFECT. The luxury of staying in a great apartment in a great location makes one feel very much at home...plus the apartment is so well appointed with all conviences, making it again a perfect experience. This is our second time with Paris Perfect and also the second time staying at Clairette...we love it! Additionally the team is always there to be helpful with whatever comes up and is very accommodating. HIGHLY RECOMMENDED to anyone who wants to experience Parisien life!
October 4, 2012 - Website
Clairette Review
by Polly & Al Durham
Our stay at Clairette was wonderful. The apartment and the service provided by Paris Perfect was excellent. Clairette was all that it was represented to be and more. Pictures and descriptions are needed for comfort in booking but experiencing the life on the streets and in Clairette's neighborhood in Paris go beyond all possible written detail. We would recommend Paris Perfect and Clairette to all without any reservation. We hope to return as guests with Paris Perfect in the future. Thanks for all of your assistance with our stay.
August 20, 2012 - Website
Clairette Review
by Rhonda
Our stay was lovely. From the minute we arrived to the minute we left. Our greeter did an excellent job explaining everything and over the course of our 7 days here it became more and more clear that someone has put a lot of effort into making this apartment absolutely perfect. To be honest, I am a "clean freak" and I can say that whoever does your cleaning is someone just like me. I really truly appreciate that someone obviously takes the time to make sure everything is perfect.
August 10, 2012 - Website
Clairette Review
by Christine Dotts
We stayed at Clairette in July with my family of four -- myself and my husband, and my daughter (age 12) and son (age 9). Everything was wonderful -- the apartment was bright, comfy, a spectactuly view and well-appointed. I honestly cannot think of anything else I might have wished for in the apartment - it was even equipped with things I didn't imagine I would need (like a great collection of DVDs - which proved great for the kids when they needed some downtime. Having 'Family Movie Night' watching A King's Speech was a great memory). The location was superb - everything we needed was a short walk away. And the Paris Perfect staff was helpful with small requests during the week. One pays a premium for a Paris Perfect rental but I was thrilled to find that it was worth every penny. I would love to be a repeat client some day.
February 22, 2012 - Website
Clairette Review
by Lloyd & Dianne H
Lloyd and I had a WONDERFUL time on our recent FIRST - but not last - trip to Paris. The Clairette is so charming and such a welcome place to arrive each evening. I do want to recognize two of your outstanding staff...Kevin and Lisa were SO very helpful and wonderful to visit with. They both made us feel right as home. Thank you again for all you did to make our first visit so special. Diane H The Clairette was wonderful. Felt like being in our own home. Everything was perfect and very nice. All the amenities were great. The location was great for what we wanted to see while in Paris. For future trips by staying in an apartment is the only way to go. Lloyd H
February 13, 2012 - Website
Clairette Review
by Mary Anne
Stayed in the Clairette for nearly 2 weeks. Loved the 7th! We could go to Christian Constant restaurants every night. Le Violon, Café Constant and Les Cocottes were all terrific. Also love Toumieux and Au Petit Sud Ouest. The "Skip the Line" Eiffel Tower tour is great, as was the walking tour with Michael Ossman. So glad we found Paris Perfect
January 9, 2012 - Website
Clairette Review
by Michael K
We had a fantastic stay during our time in Paris! The apartment proved to be truly the best accommodation we could have asked for. The location was excellent as we were just a short walk from the Eiffel Tower and the metro. To anyone else thinking of traveling to Paris, we would certainly recommend the Clairette apartment, and to those who may be reading this now – get ready to have an incredible experience!
December 19, 2011 - Website
Clairette Review
by Bennet Steinberg
First time staying with Paris Perfect-- I have stayed with their Italian affiliate several times. Smoothly run operation. Property was fine for one person and would be fine for two. Yes, as someone pointed out, the pictures make the rooms seem larger, but hotels do that, too. You really have everything you need and the washer and dryer are easy to use. Bed was comfortable and bedroom quiet (save for a couple having it out, twice, which made for an impromptu French lesson-- it was not late at night though). PP provides very helpful information on stores and restaurants in the area-- a great deal of thought has gone into the material and it will be especially helpful if this is your first trip. The windows keep the traffic noise to a minimum -- one hears the neighbors, but nothing intrusive. Kitchen is not quite near the dining room table-- but I was alone, so breakfast standing up was not a problem. The two nearest Metro stops are quite close, and there are buses right outside. A week is not really enough time to eat and drink your way through the 7th! There are endless opportunities to immerse yourself in wine, cheese, bread, pastry, and more-- all steps away. Chocolate and coffee, too. And cognac. And calvados. And Armagnac. And-- come and see for yourself!
September 25, 2011 - Website
Clairette Review
by Pam & Elmer Grossman
The apartment is in a wonderful part of Paris; it is light, charmingly furnished, comfortable and has everything we needed for our stay. The kitchen is truly tiny but quite adequate, and we prepared several meals there.The staff was very responsive, pleasant and helpful; in general, a delight to deal with.
Clairette Review
by Mary Louise and David Hopson
This was our second time to rent an apartment in Paris with Paris Perfect. The company is doing an even better job of accommodating the needs of its guests than it did five years ago, and it was doing an excellent job back then! The Clairette apartment was perfect for our needs - well designed, stylish, spotlessly clean, comfortable, and with every convenience. The lovely location adjacent to the Eiffel Tower park and the wonderful restaurants in the neighborhood are great perks of living in the 7th arr. The free calls to the U S and the free WiFi for our laptops were welcome benefits that we truly appreciated. We enjoyed shopping the local markets and shops on Rue Cler and Rue St. Dominique, and had a great time preparing meals in the kitchen while enjoying a bottle of French wine. We also tried some of Madelyn's favorite restaurants - particularly Petit Sud Ouest, Cafe Constant, Fontaine de Mars, and Bon Acceuil - all fabulous. Madelyn's notebook in the apartment is a wonderfully comprehensive compilation of valuable information. It was a wonderful visit, and we look forward to the next time. Thank you, Paris Perfect!
December 5, 2010 - Website
Clairette Review
by Mary Lou Falcone and Nicholas Zann
Your company is so aptly named - as Paris truly was perfect thanks to your wonderful accomodations! We have been renting apartments in Paris for 15 years, and this was truly the best. This superb apartment is in an excellent location, and as avid walkers, we could walk to almost everything we wanted and needed. Add to that a superb staff who were always at the ready to be helpful and go the extra mile, and you have a winning combination for an excellent stay. The apartment itself was a dream - everything that you could want was provided, plus it was so clean and well cared for and was easy for us to care for. Thank you for such a great experience and we will definitely be back!!!
October 12, 2010 - Website
Clairette Review
by Barry J. Eckhold
Well equipped, perfectly located! Would stay in the same place again if a return to Paris happens. Paris Perfect staff was great and available.
August 18, 2010 - Website
Clairette Review
by David Sydney & Pam Fierro
The Clairette Apartment was perfect, in location, in ammenities, in furnishings, in comfort and in charm. Very well located for the day to day shopping needs, proximity to a taxi stand and dining. Relatively convienent for Metro, and very close for Eiffel Tower visiting. The rooms are 'smaller' than what it appears on the web site, but still roomy. As a two person visit, there was more than enough room...and although the sleeper couch will accommodate two more, that would feel cramped. The kitchen is a one person chef size, but has all of the modern appliances. The convenience of having a built in washer/dryer combo should not be overlooked. And, it's a real special perk to be able to make USA phone calls from the room without charge. Without hesitation, we would recommend Paris Perfect and the Clairette in particular.
August 16, 2010 - Website
Clairette Review
by Wendy & Scott Ulman
Perfect!
Clairette Review
by Karin & Jason G
Clairette was absolutely wonderful. Just as we expected and perhaps even more gorgeous! We wished for absolutely nothing. The neighbourhood is excellent. Lovely restaurants, markets and shops. So close to public transport and perfect for leisurely walks. Clairette is a very special place and we will remember our visit long into the future. Thank you Paris Perfect.
Clairette Review
by Pamela & Biagio M
We have stayed at a London Perfect Apartment and now a Paris Perfect Apartment. Both were a wonderful part of our trip and we would never again stay in a hotel. Madelyn and Phillipe seems to have thought of every little detail, from, if interested, having a driver pick you up at the airport to Lisa Buros helping to plan the most wonderful tours of Paris. I would highly recommend Lisa's service to make the most of your stay in this fascinating City. Can't wait to go back.
Clairette Review
by Graham & Greta F
Your people were gracious and helpful. Help to see a doctor was greatly appreciated. The cooking class you organised was wonderful - so enjoyed meeting other guests. That flat is very nice and the appliances are first rate. I used the Nespresso machine and really marveled at the ease with which it provided a delicious cup of coffee. Thanks for everything!
Clairette Review
by Margaret M
It is a beautifully decorated and equipped apartment and kitchen. Your people were really helpful. You're the best apartment group in all of Paris.
Clairette Review
by Lindsay Lanaux
My husband and I stayed in Clairette directly across the street from Sancerre where our 16 yr. old daughter was staying with another family. Clairette exceeded our every expectation. The apartment was bright and airy and spacious. We had more room than we knew what to do with. We particularly enjoyed being able to make coffee every morning from fresh ground beans picked up next door from Richard's to go along with the croissants that we picked up from the bakery next door. The staff could not have been more helpful or more friendly. My husband forgot to open the safe the day before our departure and, naturally, it would not open at 5 in the morning! My husband called from the airport at 9, his item was retrieved from the safe and fedexed to our home. Thanks for everything. Can't wait to come back.
Clairette Review
by Shirley Temple
My husband was given the treat of a week in Clairette for his 80th birthday. At first we were a little apprehensive about how we would cope but from the moment we arrived in Paris we were looked after so well. We were met at the appartment and everything was explained though we did take time to understand the tv!!. The appartment was charming, we thoroughly enjoyed the chocolate cake and champagne and were grateful for all the recommendations for neighbourhood shops and local restaurants. Cafe Constant was our favourite and we returned on a second occasion as the food was so delicious. We had intended to take taxis to get around but found the bus service was so efficient and nearby. Thank you Paris Perfect for a great time and we shall "remember the last time we saw Paris" for a long time.
Clairette Review
by Jennifer N
Great apartment; safe location. Thanks for the guide to the neighborhood! We used it often, especially for dinner.
February 21, 2010 - Website
Clairette Review
by Shirley T
Your staff were extremely helpful. We had a most comfortable stay in Clairette. We think the location is great and the surrounding shops and restaurants very good. Thank you!
February 14, 2010 - Website
Clairette Review
by Maureen G
Merci! I am a very detail-oriented individual. Your expertise was excellent; thank you! You thought of everything!!
December 30, 2009 - Website
Clairette Review
by The King Family - Chevy Chase, MD
We stayed at the Clairette apartment with our two teenage daughters in August of 2009. We were very happy with the decor and layout of the apartment. We LOVED the neighborhood. All the cooking utensils were brand new and the furniture and bedding were beautiful. We only had one problem-getting the air conditioning to work in the living room/bedroom and our contact, a young man from New Zealand, was fantastic! He could not have been nicer and worked hard to get the problem fixed. Even the transfer that PP recommended to and from the airport was great! We are thinking of trying Italy Perfect next year and have recommended Paris Perfect to many friends.
November 21, 2009 - Website
Clairette Review
by Christine M - Medina, WA
For our first trip to Europe with our two small children, Paris Perfect made the stay as easy as possible. The apartment was charming and the staff went above the call of duty over and over again. The pictures do not capture the beauty of the apartment nor of the location. And honestly, the area around Clairette encapsulated all that I love about Paris: the tiny and unique shops, pleasant locals, beautiful architecture, fine restaurants, and easy access to the sight-seeing. I've been to Paris six times before and stayed in the 16th, 8th, 5th and 6th; the 7th Arrondisement is where I want to live. I love the Parisian life and beautiful park in the shadow of the Eiffel Tower. On a side note, I've never had a better shower in Paris. The pressure was good and the water stayed hot. It seems like a trivial point until you take three months of cold showers. Everything in the apartment was first rate. We look forward to returning to Paris in June and a long relationship with Paris Perfect.
November 4, 2009 - Website
Clairette Review
by Jane & Alan Meagher - Bristow, Virginia
Hello ParisPerfect Team: Our sincerest thanks to all of you for a fantastic stay in Paris . Clairette is a beautiful apartment in an ideal location. The views are spectacular-there's nothing like seeing the Eiffel Tower sparkle every night - we never got tired of it! The apartment is wonderfully decorated and appointed - making excellent use of the space. Everything is luxurious and looks brand new - the linens, the beds (the sofa bed and trundle are very comfortable too), the matching dishes, stemware, kitchen appliances - the Nespresso machine is amazing, and I still have dreams about it! The hardwood floors are beautiful, the carpets and furniture lovely. The decorating maximizes the space and is so pleasing and relaxing to the eye. The shower is large and fabulous - there's a hand shower too and the heated towel bar is great. The Wi-Fi is superb with constantly excellent signal. When we arrived, our greeter, let me set up my laptop and make sure everything was functioning perfectly. All the ParisPerfect team is so friendly and responsive. I went to the office one day to buy more Nespresso capsules (they are available at the office at a reasonable price), I mentioned that I was having difficulty using the corkscrew in the apartment. Within 30 minutes another one was delivered to us. The team has anticipated every need - when I was looking at a map and thought that I could use a magnifying glass, I remembered that there was one sitting on the desk! The lighting and lamps are amazing and abundant - this is the first time in my many trips to Europe that I have ever felt that I had adequate lighting. The storage space is also wonderful - with a full wall of closets and shelves in the bedroom, it's easy to store all suitcases and clothing even for several people. And there's a shopping "caddie" to take to the markets - be sure to use it!! You will feel like a native and save your arms too. I have stayed in several other apartments in different parts of Paris , but after staying in a ParisPerfect apartment, I can say that they are incomparable. We loved coming home each afternoon and spending the evening there. My sister-in-law and I took the cooking class at Violon d'Ingres which was arranged by ParisPerfect and it was a wonderful (and delicious) experience. It was one of many highlights of our trip. Thanks to all our new friends at ParisPerfect for all that you did to make our trip so memorable. We eagerly anticipate our next visit!
September 11, 2009 - Website
Clairette Review
by Kempa & Bob Rider - Spring, Texas
We stayed in the Clairette in August, 2009. The staff with Paris Perfect was so gracious, helpful and friendly. The apartment was more than we had anticipated! It had everything plus two people could even get in the shower! This is VERY unusual in Paris! When you close the French doors the apartment is silent but we loved leaving the doors open while we were in the apartment. The location absolutely perfect and within walking distance of everything. In fact we walked from the Eiffel Tower to the Louvre but you could catch the Bateaubus right by the Eiffel Tower instead of walking. Every type of cheese shop, grocery store, butcher shop, wine shop and more is right on the same street and only a few short blocks to Rue Cler. The downside was the cable and/or DVD would only work for about an hour but they are working on it. We really got along okay without it. My husband and I will never stay in a hotel again. We hope to return because we did not get to do everything we wanted to! We highly recommend the Clairette!
September 3, 2009 - Website
Clairette Review
by Ted W
Dear Paris Perfect, Now that we have settled back home, I wanted to take a moment to thank you for a wonderful stay at the Clairette apartment last week. Everyone we dealt with at Paris Perfect was friendly and professional, and the apartment was just right for our family. We have great memories of our week in Paris and look forward to a chance to visit you again. Please pass on our thanks to your team!
Clairette Review
by Abby Raphael
I wanted to let you know directly how much we enjoyed our stay in Clairette. It is a beautiful apartment with everything that we could need. Your company is a pleasure to work with. I just told a group of neighbors that if they go to Paris, they have to stay in one of your apartments. We defintely will return some day! Many thanks,
Base Nightly Rates – May Not Include Fees such as Greeting, Cleaning, Damage Waiver, Credit Card Processing and Tourist Taxes. For full price, please put in dates.
Available
Unavailable
Check-In Only
Check-Out Only
November 2023

| S | M | T | W | T | F | S |
| --- | --- | --- | --- | --- | --- | --- |
| | | | 01 | 02 | 03 | 04 |
| 05 | 06 | 07 | 08 | 09 | 10 | 11 |
| 12 | 13 | 14 | 15 | 16 | 17 | 18 |
| 19 | 20 | 21 | 22 | 23 | 24 | 25 |
| 26 | 27 | 28 | 29 | 30 | | |
December 2023
S
M
T
W
T
F
S
01
02

$489

03

$489

04

$489

05

$489

06

$489

07

$489

08

$489

09

$489

10

$489

11

$489

12

$489

13

$489

14
15
16
17
18

$489

19

$489

20

$565

21

$565

22

$565

23

$565

24

$565

25

$565

26

$565

27

$489

28
29
30
31
January 2024
S
M
T
W
T
F
S
01

$557

02

$435

03

$472

04

$435

05

$470

06

$455

07

$435

08

$437

09

$467

10

$462

11

$497

12

$454

13

$447

14

$435

15

$435

16

$435

17

$444

18

$452

19

$447

20

$444

21

$435

22

$435

23

$440

24

$451

25

$463

26

$450

27

$449

28

$435

29

$435

30

$453

31

$456
February 2024
S
M
T
W
T
F
S
01

$473

02

$467

03

$471

04

$471

05

$435

06

$454

07

$458

08

$470

09

$480

10

$492

11

$462

12

$435

13

$445

14

$450

15

$463

16

$479

17

$499

18

$446

19

$453

20

$471

21

$484

22

$502

23

$515

24

$539

25

$472

26

$478

27

$501

28

$525

29

$553
March 2024
S
M
T
W
T
F
S
01

$571

02

$597

03

$565

04

$565

05

$567

06

$592

07

$612

08

$628

09

$638

10

$569

11

$577

12

$602

13

$622

14

$637

15

$655

16

$662

17

$596

18

$590

19

$565

20

$641

21
22
23
24
25
26
27

$632

28

$638

29

$641

30

$565

31

$628
April 2024
S
M
T
W
T
F
S
01
02
03
04
05
06
07

$650

08

$664

09

$686

10

$692

11
12
13
14
15
16
17
18
19
20
21

$626

22

$636

23

$668

24

$676

25

$668

26

$565

27

$680

28
29
30
May 2024
S
M
T
W
T
F
S
01
02
03

$652

04

$663

05

$620

06

$628

07

$624

08

$565

09

$680

10
11
12
13
14

$645

15

$660

16

$706

17

$721

18

$731

19

$686

20

$683

21

$692

22

$701

23

$727

24

$740

25

$755

26

$709

27

$705

28

$723

29

$736

30

$754

31

$762
June 2024
S
M
T
W
T
F
S
01

$769

02

$720

03

$722

04

$741

05

$752

06

$761

07

$757

08

$759

09

$699

10

$583

11

$750

12
13
14
15
16

$715

17

$741

18

$748

19

$750

20
21
22
23
24
25
26
27
28
29

$722

30

$697
July 2024
S
M
T
W
T
F
S
01

$737

02

$744

03

$742

04

$740

05

$733

06

$730

07

$694

08

$710

09

$716

10

$709

11

$703

12

$693

13

$687

14

$650

15

$667

16

$682

17

$674

18

$660

19

$845

20

$825

21

$689

22

$822

23
24
25
26
27
28
29
30
31
August 2024
S
M
T
W
T
F
S
01
02
03

$1260

04

$1246

05

$1276

06

$1280

07

$1254

08

$1071

09

$1360

10
11
12
13
14
15
16

$622

17

$622

18

$622

19

$622

20

$622

21

$622

22

$622

23

$622

24

$622

25

$622

26

$622

27

$629

28

$622

29

$624

30

$628

31

$622
September 2024
S
M
T
W
T
F
S
01

$627

02
03
04
05
06
07
08
09
10
11
12
13
14
15
16
17
18
19
20
21
22
23
24
25
26
27
28
29
30
October 2024
S
M
T
W
T
F
S
01
02
03
04
05
06
07
08
09
10
11
12
13
14
15
16
17
18
19
20
21
22
23
24

$739

25

$745

26

$783

27

$705

28

$622

29

$705

30
31
November 2024
S
M
T
W
T
F
S
01
02
03
04
05
06
07
08
09
10
11
12
13
14
15
16
17
18
19

$650

20

$682

21

$717

22

$734

23

$701

24

$618

25

$627

26

$645

27

$679

28

$699

29

$714

30

$699
December 2024
S
M
T
W
T
F
S
01

$619

02

$626

03

$644

04

$700

05

$704

06

$717

07

$721

08

$633

09

$645

10

$653

11

$705

12

$685

13

$693

14

$702

15

$604

16

$636

17

$650

18

$672

19

$675

20

$912

21

$909

22

$820

23

$1031

24

$1060

25

$1054

26

$1058

27

$1049

28

$1054

29

$974

30

$1057

31

$1053
January 2025
S
M
T
W
T
F
S
01

$1149

02

$1041

03

$686

04

$662

05

$646

06

$646

07

$660

08

$658

09

$709

10

$649

11

$646

12

$646

13

$646

14

$646

15

$646

16

$646

17

$646

18

$646

19

$646

20

$646

21

$646

22

$646

23

$654

24

$646

25

$646

26

$646

27

$646

28

$646

29

$646

30

$646

31

$646
Things to See & Do
Champ de Mars (1 mins Walking)
Expansive park surrounding the Eiffel Tower. Stroll, jog, bicycle or play in one of the playgrounds, go to the puppet theater or carousel, or just sit and enjoy Parisian life and the beautiful gardens.
Eiffel Tower (4 mins Walking)
Paris' most iconic site and one of the world's most visited attractions. Take the elevator or stairs to the top of this magnificent structure for beautiful views over Paris.
École Militaire (5 mins Walking)
Napoleon attended military school here and the buildings still show gunfire signs from the French Revolution in 1789
Bateaux Mouches Boat Tours (6 mins Walking)
We recommend boarding a boat tour on your first day, where you can relax and enjoy sailing down the Seine viewing many Paris monuments, museums and cathedrals
Les Invalides (10 mins Walking)
A masterpiece of French Classical architecture built by Louis XIV; Napoleon's tomb rests under the golden dome.
Trocadéro (15 mins Walking)
The Palais de Chaillot sits on top of the hill and houses the Museum of Architecture, Maritime Museum and the Museum of Mankind. Stunning pictures of the Eiffel Tower can be taken from the surrounding gardens with their majestic fountains
Champs Elysees (20 mins Walking)
One of the world's most famous shopping boulevards. Make sure to visit the Louis Vuitton flagship store!
Rodin Museum (20 mins Walking)
View some of Rodin's most famous sculptures including The Kiss and The Thinker

Shopping & Eating
Rue Cler (4 mins Walking)
Among the best streets for food in Paris! Cafés and brasseries where you can enjoy dining or shopping at specialty food purveyors with wines, fresh produce, fish, cheese, pâtissières, bakeries and gourmet prepared foods -- a wonderful part of the Parisian experience.
Luxury Stores on Avenue Montaigne (15 mins Walking)
Home to many of the leading fashion houses including Louis Vuitton, Dior, Chanel, Fendi, Valentino and Ralph Lauren, as well as jewelers like Bulgari.
Pont de l'Alma Food Market (15 mins Walking)
Largest open market in Paris; open Wednesday and Saturday mornings
Rue de Grenelle Market (18 mins Walking)
Open on Wednesdays and Sundays, this market is located in the 15th arrondissement and has excellent prices
Saxe-Breteuil Market (18 mins Walking)
Open on Thursday and Saturdays and features some of the most beautiful organic and deluxe food stands in Paris
Rue du Commerce (20 mins Walking)
A true Parisian shopping street with trendy boutiques, food stores, bistros

Public Transport
Métro (9 mins Walking)
École Militaire (Line 8)
RER (9 mins Walking)
Pont de l'Alma (Line C)
Métro (12 mins Walking)
Alma - Marceau (Line 9)