Let your Parisian dreams come true with a stay at the Chambertin, a lovely one-bedroom, one-bathroom vacation rental, set in a picture-perfect spot near the Eiffel Tower, Champ de Mars gardens and the Seine River. Three sets of large French doors open to a private balcony, where you'll simply have to pinch yourself to believe it's true. The tower soars above the classic Parisian buildings and rooftops of the tree-lined street in one of the most charming neighborhoods in Paris. If the outstanding location and beautiful décor weren't enough, in winter you can also enjoy a view of the Eiffel Tower from the living room, bedroom and even while enjoying a romantic bath in the luxurious claw-footed bathtub (the view is obscured when the tree in front is in bloom). Pure Parisian magic!
Spend time relaxing at home in this beautiful air conditioned Paris vacation rental. The open-plan living room, kitchen and dining area are perfect for leisurely evenings. Shop at the open-air markets or famous Rue Cler market street and have fun sampling all the delightful flavors of France during your stay. This rental features a beautiful bedroom with a large bed and en suite bathroom. A very special feature is the bathtub, perfectly situated to watch the lights twinkle on the Eiffel Tower at night. There is also a separate half bath and convertible sofa in the living room. Step outside and you'll be moments away from the lovely Champ de Mars gardens and the Seine River - two of the best spots in Paris for a romantic stroll, impromptu picnic or after-dinner walk. The neighborhood is full of excellent restaurants, cute corner cafés, specialty food shops and oh-so-tempting bakeries and chocolate shops. You'll be spoiled with all the choices and the very best of the Parisian lifestyle during your stay at the Chambertin!
Things To Note
Neighborhood: 7th arrondissement
Size: 495 sq ft/45 sq m
Heating: Building regulated heating
Accessibility/Security: 6 steps to the elevator with a railing
Registration Number: 7510700701658
Paris 2024 Olympics: Special Terms 
Room Details
| Room | Beds | Details |
| --- | --- | --- |
| Bedroom | Extra-Wide Queen (1) | Extra-wide queen bed (63 in x 79in; 160cm x 200cm) |
| Living Room | Double (1) | High-quality sofa converts into a comfortable double bed (55in x 75in; 140cm x 190cm) |
| Bathroom | | Bathtub, shower (fixed and flexible showerheads) and sink. Toilet in a separate room, please see floorplan. |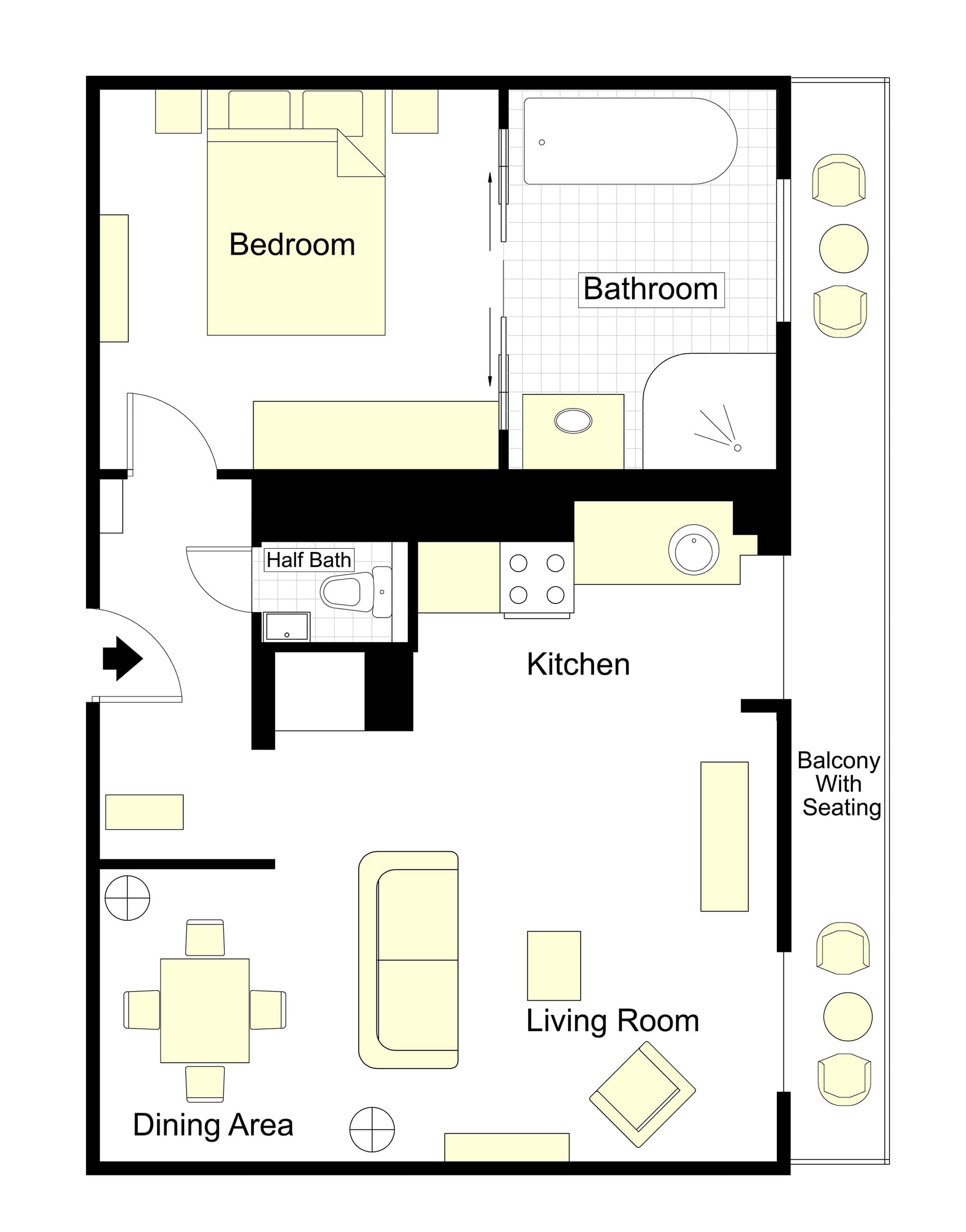 General Amenities

Toiletries
Hotel Safe
Smoke Detector
Carbon Monoxide Detector

Kitchen

Fully Equipped
Starter Supplies
Kitchen
Coffee Maker
Dishwasher
Microwave
Nespresso Style Coffee Machine
Oven
Stovetop
Toaster
Refrigerator

Accessibility

Private Entrance
6th Floor North American
Elevator

Connectivity/Entertainment

WiFi
TV
TV - Limited English Programs

Heating/Cooling

Heating
Portable Fan(s)
Sound Dampening Windows
A/C-Central
Non-Working Fireplace

Laundry

Iron & Board
Washer/Dryer Combo

Special Features

Eiffel Tower View
Balcony/Terrace
Instant Booking

Amenities

Elevator
Air Conditioning
Thank you for submitting your review. It will be processed shortly!
Highly recommend!
by Amrit S
Amazing location centrally located to many places of interest and at the base of the Eiffel Tower. This is a perfect spot for a couple or a young family with a child. The apartment is clean, well-appointed and very well stocked - has everything you need for a stay. The host was responsive and easy to communicate. Highly recommend!
Highly recommend!
by Giovanni K
This place is incredible. Awesome view and atmosphere. Close to the metro and tons of restaurants!! Highly recommend!
Great location!
by Jonathan K
Nice stay by the Eiffel
by Darcy
Chambertin is a lovely apartment near the Eiffel, but more importantly near Rue de Cler and Rue Saint Dominique. We loved exploring the shops and eateries in that area. The apartment was well appointed and pull out bed comfortable. We were there in the summer so the view of the Eiffel was obscured by the trees. The top of the tower was viewable by looking up from the terrace. The neighborhood guide binder was on point and provided several good recommendations.
Great location
by Simon C
Friendly & very helpful greeter, great location, small but nicely laid out apartment, good amenities.
Beyond our wildest dreams
by Diane Wohlfiel
We had the most fantastic stay in our Chambertin apartment. It is so beautifully decorated and the view is absolutely incredible!! It has all the amenities necessary and the fact that they supplied us with some starter items was wonderful. It could not have been more perfect. We absolutely enjoyed waking up in this beautiful apartment every morning and being able to just make our own coffee, run out for a couple of croissants to go with the other items that we bought. The neighborhood is wonderful and filled with great restaurants and bakeries…whatever you need. Every night the view was beyond words. When the twinkling lights came on the Eiffel Tower on the hour, we were extremely emotional. Honestly, this was a dream come true vacation in our beautiful Parisian apartment!
Perfectly Perfect
by Kristin Capshaw
My husband and I just got back from our Paris trip where we stayed in the fabulous apartment. The two factors that made me book this apartment were the neighborhood and the view of the Eiffel Tower. The neighborhood is the best with so many great restaurants nearby, Rue Cler, the Eiffel Tower, the Seine, etc. All three balconies offer a view of the Eiffel Tower which was just magical. Everything was clean, the bed was very comfortable and the apartment was very well stocked with all the things we needed plus some extras. This was our first time renting through PP and it won't be the last. Thanks for an amazing stay!
Astonishing view
by Malita D
The apartment has an astonishing view. Everything was very clean. You can find almost everything you need in the apartment.
Incredible stay
by Victoria F
My husband and I stayed here with our young daughter. Pure magic watching the tower sparkle every evening from the couch, balcony, and bath tub!! Shops and restaurants right on the same street. Everything you need within walking distance, grocery at the end of the block. Incredible stay. Highly recommend.
C'est Magnifique
by Mark G
C'est Magnifique. Felt like home when we walked thru the door. Simply amazing and comfortable. Great location; close to everything. My best stay in Paris to date.
My favorite place to stay
by Carole M
Like always my favorite place to stay wonderful people easy friendly can't wait for my next trip.
View is incredible!!
by Amanda D
What a wonderful place to stay while in Paris! Walkable to amazing restaurants, view is incredible!! Definitely will be visiting again this place made the stay in Paris that much better!! Just stunning and very helpful host!
December 16, 2022 - Website
Quintessential location
by Grace and Bill Gregor
Going to bed with the Eiffel Tower twinkling outside the bedroom balcony is the Parisian experience of one's Leslie Caron dreams. We loved the romance and the intimacy. Chambertin is a well appointed apartment with a delightful main living space. Our only complaints centered on the narrow passage in the bedroom and the raised, small shower unit from which my husband tumbled the day after he arrived. Some reconfiguration of those spaces could make the unit a five-star headliner. As for customer service from Paris Perfect, we can only sing high praise. When we return to Paris in a year or so, we will definitely look into Paris Perfect for our perfect apartment.
November 3, 2022 - Website
Nice way to see Paris
by Kristen E Johanson
We very much enjoyed the apartment experience for our first time in Paris. Paris Perfect was great to work with and Chambertin was a nice enough apartment. After traveling for 2 1/2 weeks through Spain, it was a welcome break from hotels. As for the location, I would point out for future travelers that because of it being so close to the Eiffel Tower, it is on a very busy street and in a very touristed and congested area. I would describe the atmosphere as something like staying off Time Square in NYC. If that's your thing, you will be happy with this location. If you prefer a more neighborhood / charming feel to your location you may want to consider other areas of the 7th, closer to Rue Cler. However, i would certainly work with Paris Perfect again and perhaps consult them on the areas and recommendations based our preferences.
October 28, 2022 - Website
Best Honeymoon Experience!
by Rhys Newman
We chose Paris Perfect for our honeymoon and we're so happy we did! Our apartment was steps away from the Eiffel Tower and the decor was so charming and romantic. We felt so welcomed as soon as we walked in and this immediately set the tone for the rest of our trip. We highly recommend Paris Perfect to everyone! They took care of everything from picking us up; and dropping us off at the airport; were always available if we needed assistance (or an extra adaptor!) and welcomed us with a charming basket of local treats!
September 9, 2022 - Website
Absolutely Amazing!
by Jon Millar
We went to Paris for our 25th Anniversary and all we can say is that if you are planning on going to Paris and need a place to stay, Paris Perfect is where you should book! The place was perfect! Great location, great building, great place to stay. We can't more highly recommend Paris Perfect and the Chambertain!
August 11, 2022 - Website
Charming Chambertin
by Alexis Elsea
I have been to Paris a number of times but this was our first time staying with Paris Perfect. My daughter and I stayed in the Chambertin Apartment across from the Eiffel Tower. Overall, we were very happy with the unit and it was perfect for us in many ways. The apartment was very clean and nicely appointed. I was impressed there was an elevator in the building which was very helpful. There was also a portable AC unit that was stationed in the living room, which is small luxury. The windows are very tight fitting and closed out all of the exterior noise. We were very happy with the unit and how comfortable it was for our stay. The location couldn't have been more perfect as well. Just a few blocks walk to the École Militare Metro Station and Rue Cler for fun shopping! And the evening sparkling lights from the Eiffel Tower visible from the balcony never got old. We definitely would stay here again!
Wonderful Apartment
by Oliver
We loved staying in the Chambertin in Paris and will definitely come again! Everyone from the Paris Perfect Team was very friendly and helpful and it was all in all just a great time being there!
July 25, 2022 - Manual Entry
Will book another Vacation 100%
by Oliver F
Was a pleasant time, very nice view, nice staff, really friendly and helpful. I will book another Vacation 100%
Book this. You won't be disappointed!
by Cristina D
WOW. This could not have been more perfect all around. Paris Perfect was fantastic and easy to reach when we had any questions. The view of the Eiffel Tower is insane. It felt unreal at times! A/C in the living room was great and they had everything you need in the kitchen. They have a Nespresso machine with the pods, and they provide you orange juice, milk, water, sugar, etc. All in one washer and dryer and they give you 3 laundry detergent pods which was the perfect amount. What the best part of our whole trip in Paris was seeing the fireworks at the Eiffel Tower on Bastille Day…FROM OUR BALCONY! Usually, the Champs de Mares is open to the public for the fireworks, but for some reason they were closed this year. So lucky for us, we got to watch them from our balcony! It was the highlight of our vacation. I can't recommend this home enough! The price is absolutely worth it, and is much cheaper than staying at a hotel with an Eiffel Tower view which can run you thousands of dollars a night. Book this. You won't be disappointed!
April 14, 2022 - Manual Entry
Live like a Parisian in the heart of Paris
by Vicki Rapaport
Just as advertised, the bathtub is amazing, the balcony adorable to eat a snack, the location is perfect, the check-in and check-out process was super smooth, the kitchen was perfect, the wash:dryer excellent, the elevator was fast and efficient, the bed and bedding seemed new and were very comfortable, and of course the Eiffel Tower view is REAL! We walked to the Musée D'Orsay easily from the apartment as was the Trocadero for the obligatory photo but otherwise took cabs and Ubers when it was farther or when it rained. But you could easily walk EVERYWHERE from here if you're up for it. Be aware right across the street on Ave de la Bourdonnais is one of the the best photo ops of the Eiffel Tower, sandwiched in between beautiful buildings and flowers and trees, loved by instagramers and you-tubers which is kind of cute! Lots of oohs and ahs can be heard from the balcony when the Tower starts to sparkle at the top of the hour from 9pm-1am for the first 5 minutes….that truly never got old. Great price for the location and experience! Would def book again
March 15, 2022 - Manual Entry
Perfect mother/daughter birthday trip!
by Virginia Kelley
I've been wanting to stay at a Paris Perfect apartment for several years and had the perfect occasion in February! My daughter and I spent a week at Chambertin and the constant view of the Eiffel Tower is one of our favorite memories. The apartment is exactly as described and looks just like the pictures. Check in was a breeze and the recommended taxi service was awesome. There were so many things to do right around the apartment and we enjoyed walking around the neighborhood. I highly recommend Au Bon Acceuil for dinner - It's right around the corner. The apartment is very convenient to the bus lines also. We will definitely be back and I would highly recommend Paris Perfect and Chambertin!
March 12, 2022 - Manual Entry
Beautiful apartment!
by Lourdes cook
I love Paris Perfect. I have been staying in your apartments for more than ten years. All the apartments have been beautiful, and we have always had a perfect stay, Chambertin had amazing views.
November 20, 2021 - Manual Entry
We love Paris and Paris Perfect!
by Martha Ann
We've stayed with Paris Perfect since the very beginning, 30 or more years ago. Their apartments are always lovely and the best locations. Beautiful furnishings, linens and the VIEWS are to die for! Thank you to their team, we had a wonderful stay.
October 31, 2021 - Manual Entry
Wonderful Apartment
by Jerry R
Paris Perfect is perfect. We recently rented the Chambertin apartment for 12 nights in mid-September 2021. The apartment was very well located in the 7th arrondissement (district) and was very convenient to restaurants, grocery stores, the metro and the train. It was also within walking distance of a number of points of interest. We have previously stayed in two other Paris Perfect apartments, the Cognac and the Vonay. All the apartment were very comfortable and very well equipped. The pictures and descriptions on their website were very accurate and we were quite pleased to find everything as pictured and as stated. The apartment booklets were very helpful describing the area, restaurants and points of interest. Since we have enjoyed staying at their apartments, we have now booked their Clairette apartment for mid-September 2022. Paris Perfect is Perfect.
August 13, 2021 - Website
Chambertin Review
by David S
Beautiful apartment! Great value and location. Coming to Paris for the first visit, we struggled with choosing where to stay, I wanted something comfortable with a view but not very expensive, since most of our time was spent touring. This apartment fit the bill perfectly. My daughter found the fold out comfortable. Air conditioning was nice and they supply a fan to help cover the whole apartment. Washer Dryer combo a must as we had a week touring the north of France. The only downside was it is a distance to sites like the Louvre but transportation is easy with Metro, taxi, Uber, or scooter. Thank you for a Magical stay in Paris
Chambertin Review
by Linda Clement
The Chambertin apartment was lovely, just as pictured, and very well equipped with wonderful linens and toiletries. Hairdryer, shampoo and soap were supplied, as well as kitchen basics such as salt and pepper, which was very helpful. The AC unit worked well although our stay was not during very hot weather. The area is quiet and has many restaurants, and of course the view of the Eiffel Tower was spectacular. It was fine for one adult and two teenagers. The nearest Metro was several blocks away, so if you plan to spend much time in the center of Paris, this location might not be the most convenient. The toilet room and shower are small, if you are a big person, take note.
Chambertin Review
by Martin A
If I could give this place a 6/5 I would! Everything was perfect! The flat is located right next to the Eiffel Tower and the view is absolutely stunning. The apartment is very well equipped. The rooms are very stylish. Communication is incredible. Whenever we had any questions/queries, the Paris Perfect team was extremely quick to respond and very helpful. I am definitely coming here again! Thank you so much for everything! I will remember my stay in this lovely apartment forever!
February 19, 2021 - Website
Chambertin Review
by Carole M
I can't help myself to keep booking this amazing apartment. Is just perfect. Can't wait to come back!
February 3, 2021 - Website
Chambertin Review
by Carole M
Perfect place to stay, great check in, great view, great apartment, everything just perfect 😍 We will definitely come back.
February 1, 2021 - Website
Chambertin Review
by Riho O
ç´ æ™´ã'‰ã—ã"滞在でした!お部屋かã'‰ã'¨ãƒƒãƒ•ã'§ãƒ«å¡"がすã"ã"迫力で綺麗に見えましたã€'ã'¨ãƒƒãƒ•ã'§ãƒ«å¡"だã'でなく夕暮ã'Œæ™'になã'‹ã¨ç›®ã®å‰ã®è¡—路樹ã'"ãƒ'リã'‰ã—ã"ç´ æ•µãªã'¢ãƒ'ートが絵にã'‡ã†ã«ç´ æ™´ã'‰ã—く美しかったですã€'æ—¥å½"たã'ŠãŒè‰¯ãã€é¢¨é€šã—ã''最高で気持ちの良ã"ã'¢ãƒ'ートでしたã€' 数軒隣がスーパーなのも有り難かったです。またエッフェル塔の前に大きな公園があり、毎日のように散歩ができました。 お風呂が大きくて、バスタブに浸かりながら窓を見上げるとエッフェル塔が大迫力で見れます。 設備も申し分なく、お部屋はデザインや照明がパリらしくて華やかです。 大満足でした。とても勧めです! Translation: It was a great stay! The Eiffel Tower looked so powerful and beautiful from the room. Not only the Eiffel Tower, but also the roadside trees in front of me and the wonderful apartments like Paris at dusk were wonderfully beautiful. It was a nice and sunny apartment with the best ventilation. I'm grateful that there are several supermarkets next door. There was also a large park in front of the Eiffel Tower, and I could take a walk almost every day. The bath is big, and when you look up at the window while soaking in the bathtub, you can see the Eiffel Tower with great power. The facilities are perfect, and the rooms are gorgeous with Parisian design and lighting. It was a great satisfaction. Highly recommended!
January 31, 2021 - Website
Chambertin Review
by Simon A
Was the perfect apartment! Highly recommend!!
January 11, 2021 - Website
Chambertin Review
by Maybelline W
Loved everything, looking forward to coming back ASAP. The perfect location for the super perfect flat. Thank you soo much.
Chambertin Review
by Patricia H
We loved the apartment! Great location from the Eiffel tower. Super easy instructions. Can't wait to go back.
October 28, 2019 - Website
Chambertin Review
by Barbara P
The Chambertin apartment is lovely - clean, comfortable, well furnished, great location and views. Working with Paris Perfect is a breeze, the team is very pleasant and all the pre-trip information was much appreciated. We would definitely stay again!
Chambertin Review
by Francesca C
I loved and was very impressed with the service of Paris Perfect! Our apartment was so central, and it was so nice coming home to it after a long day. The only downside was the soft mattress. My husband, who is used to harder mattresses, found it hard to sleep. Otherwise, having your own small pad complete with everything we needed was just great. Thank you Paris Perfect!
Chambertin Review
by Kristina K
This apartment was exquisite and very comfortable! Located in the 7th with a view of the Eiffel Tower, it was the perfect location for exploring all that Paris has to offer. A quick walk to the La Tour Eiffel, the Seine, Rue Cler, world-renowned restaurants and shopping...who could ask for anything more? The service from Paris Perfect was top-notch!
Chambertin Review
by Stacey A T
The Chambertin apartment is an absolute dream! The location, the size, the views! It was wonderful for my husband and I to have a peaceful home to return to every evening. It has so much to offer. We fully recommend it, and can't wait to come back. The kitchen is wonderful and we were able to enjoy making meals or sitting in the dining room/living area and planning our day in the comfort of this clean and beautiful space. We can't tell Paris Perfect staff enough how much we loved it and how thankful we are for our experience. We also used their pickup/dropoff service which brought us straight from the airport right to our apartment and we just had an all around amazing experience. Merci beaucoup et a bientot!
Chambertin Review
by M. Alexandra N
Well appointed, all amenities provided; and wonderful attention to detail. Gorgeous apartment with stunning views of the Eiffel Tower. Magical. I really don't want to tell people about how great this apartment is because I love hidden treasure and selfishly want to keep to myself. The 7th arrondissement is a great area within walking distance to everything. See for yourself, you'll love it.
November 3, 2018 - Website
Chambertin Review
by Elaine E
We had the most amazing stay in Paris. Everything from start to finish ran smoothly - from the taxi with Victor's cabs to the wonderful greeting with Kevin, the juice and milk in the fridge, to our return trip to the airport. Hats off to the team for their coordination and organization. Our apartment was a dream -gorgeous location, beautiful decor and so peaceful and quiet. We loved the balcony with its view of the tower and spent several evenings enjoying a glass of wine there. Appreciated the comfortable bed and relaxing claw foot tub with a view. We had the best time and look forward to our return visit!
November 1, 2018 - Website
Chambertin Review
by Erik F
Wonderful apartment - very cozy and comfortable. Restaurant booking was very helpful, as was the Paris Perfect and guide in the apartment. We loved the neighborhood. Merci beaucoup!
October 28, 2018 - Website
Chambertin Review
by Tom S
Barbara and I had another wonderful time enjoying a stay at a Paris Perfect apartment. Our first time at the Chambertin. We love Paris, and we love Paris Perfect because their apartments are well appointed, clean and you can expect everything to be top notch. And if you ever need help, the staff and Paris Perfect are always very very helpful to respond to any questions or needs. We return to Paris Perfect because we know their goal is to assure their guests have a great experience in Paris.
October 23, 2018 - Website
Chambertin Review
by Anonymous
The apartment is gorgeous and very comfortable. The neighborhood is wonderful and the view is mesmerizing. I've already told several friends and family about Paris Perfect as I think it's a great way to enjoy the city. I would give the highest rating possible for the apartment, location and meeting to show me the place and give me the key.
October 12, 2018 - Website
Chambertin Review
by Charles K
We enjoyed our stay @ Chambertin very much. The views of The Eiffel Tower are spectacular especially at night when lights come on, the red is especially grand. The location is perfect with restaurants and shops within easy walking distance. The Metro is about a 15 minute walk. The apt is cozy and comfortable and well equipped. It was a great place to stay in Paris.
Chambertin Review
by Scottie
The apartment was lovely, small but well done. There was a great neighborhood with restaurants and shops. Thank you!
October 28, 2017 - Website
Chambertin Review
by Elizabeth S
We loved the apartment and view - the restaurant and shopping info was helpful and well utilized. The team were very friendly and responsive.
October 28, 2017 - Website
Chambertin Review
by Forrest Dein
We had a beautiful stay at the Chambertin apartment. We chose the place for the bathroom and were not disappointed. Spending the evenings soaking in the clawfoot tub with a view of the eiffel tower was something we could have never imagined. I will say that the view is much clearer in the winter and if the leaves are still on the tree outside the apartment you really only see the top part of the tower so keep that in mind. I am guessing February would give you the best view. The apartment was very spacious and cozy and comfortable and had everything you could need for an awesome stay.
Chambertin Review
by Kimlar & Diane Satterthwaite
Very nice accommodations, very European. Nothing out of place, nice small balcony and very clean. More electrical adapters would have been nice. I would return and would recommend (I have) to other people coming to Paris.
Chambertin Review
by Chi Chun Suen
The apartment was lovely, Parisian, right at corner of Eiffel Tower. It has an amazing view, the apt was clean, neat with all the essentials and lot of info was included in the apt. The only thing I would like to note is the street where the apt is located is really a very busy street, there are many locals, tourist on the street from morning to late at night till like 1 or 2. It could be pretty noisy especially with the tricycles go by which have super loud music on. The is a non issue if the windows are closed. I suppose it will be much better in the winter when the heat is on and windows shut.
Chambertin Review
by Vincent Stella
Three words: LOCATION LOCATION LOCATION! It couldn't have been more perfect. Paris Perfect that is. You know how some things are enhanced on some websites. Not here. What you see is what you get. A gorgeous apartment with an awesome view of the Eiffle Tower. And what a fabulous neighborhood. Walking distance to almost everything we wanted to see in our short time there. The neighborhood itself was fantastic! Great shops and restaurants. First day we went to Rue Cler and stocked up on some coffee, cheeses, meats, baguettes and wine to bring back to the apt. Paris Perfect will do that for you but we wanted to feel part of the neighborhood. After that it was walk, bike, boat, tour, eat, drink and enjoy our way through Paris. Thank you Paris Perfect! We'll be back.
Chambertin Review
by Amanda M
We loved the apartment and the magical view! Everything was idyllic for our vacation. the team were very good!
December 18, 2016 - Website
Chambertin Review
by Susan Schulz
Perfect! There were 3 of us and we enjoyed the neighborhood so much. The location was perfect & we made ourselves around Paris with no problems. I would recommend this apartment & would stay again. Thank you!!!
December 11, 2016 - Website
Chambertin Review
by Sean F
The apartment was beautiful! The furniture, kitchen, bathtub and of course - the view was just STUNNING! Kevin was incredibly nice and very welcoming! He made us feel welcome and comfortable in our temporary home.
November 17, 2016 - Website
Chambertin Review
by Joseph and Barbara O'Donnell
Chambertin is the sixth Paris Perfect apartment we have stayed in over the last seven years on what has been an annual 10 - 12 night, late fall trip to Paris for the last fifteen years. As always, the apartment itself is top notch, very well appointed, and conveniently located in the heart of Paris with a wonderful balcony looking onto the Eiffel Tower. Additionally, as always, the staff support at Paris Perfect is very helpful on any individual requests one might have during one's stay - from restaurant advice, to printing out boarding passes for the return trip. In advising friends on possible stays, we simply say that; "no one you or we know, would not like to own any of the Paris Perfect apartments". God willing, same time next year.
November 6, 2016 - Website
Chambertin Review
by Spencer Beckstead
My wife and I spent 10 days in the Chambertin apartment. First time for both of us in Paris, first time (ever) renting an apartment instead of a hotel, and absolutely loved the whole experience! Very pleased with the entire Paris Perfect team. Everything was handled with complete professionalism. From the initial apartment reservation, transportation reservations, explanation of the apartment amenities when we first arrived, and departure. Very easy and would recommend using this company if you are planning a visit to Paris. The apartment location is perfect. The views of the Eiffel Tower are amazing. Very close to all public transportation. The neighborhood is very nice. Great mix of families, caf�s, restaurants, grocery stores, and shopping. Apartment says it can sleep four with the pull out couch. While that is true, the apartment would be cramped for four people (it is small by American Standards), perfect for a couple. Highly recommend this apartment, company, and city for anyone contemplating a visit. Will definitely use them again when we return to Paris.
October 10, 2016 - Website
Chambertin Review
by Kathleen M
Wonderful - Paris Perfect! Great 35th Wedding Anniversary, the apartment had everything. The team and greeters were excellent.
September 26, 2016 - Website
Chambertin Review
by Dan & Dawn Henderson
When my husband and I decided only Paris would do, for our 30th Anniversary, our research brought us to Paris Perfect. It was our first visit and we wanted an Eiffel Tower view. Some hotels offered views but they could not GUARANTEE that. Well, just look at pictures of Chambertin. The claw foot tub, and balcony with view of the sparkling Eiffel Tower. We can not say enough good things about our entire experience with Paris Perfect. Easy to deal with. Always answered my questions quickly, so much wonderful information to assist us with our trip. The location of this apartment could not have been more convenient for all we wanted to see, including walking to the Eiffel Tower for our anniversary dinner. We wanted this to be a very special trip. Paris Perfect and this beautiful little apartment, made it so. Thank you.
September 23, 2016 - Website
Chambertin Review
by Amanda P
It was everything we hoped for and more. Spacious and beautiful, perfect location and beautiful view. Perfect ending to our two week vacation. Everyone in the team was great! Thank you for helping us plan our dream vacation, sad that we had to leave.
Chambertin Review
by Gina Dietrich
My daughter and I had a splendid stay at Chambertin! The location in Rue Cler was awesome with the Eiffel tower view, adjacent restaurants, and nearby markets. The apartment was supplied with everything that we needed and the instruction manual for all the household appliances was very handy! The bed and pull out sofa were very comfortable. The noise level on the street was "energetic" with the lighting of the tower late at night. This may have been more pronounced due to the soccer tournament and fan zone. Metro stops were just a short walk away. The Paris Perfect team was very helpful in planning our trip. I would return in a heartbeat!
Chambertin Review
by Cheri Weller
The perfect apartment for two! The Chambertin apartment has it all; GREAT location and view, pieceful tree lined street, except during the euro cup, excellent restaurants within walking distance and it is in the oh so lovely 7th arrondesmont. Part of our stay overlapped with the opening week of the Euro cup turnament so we had more entertainment and commotion than we planned on. The RER C line was down for the week because of the recent flood, transportation strikes, and the "fan zone" lead to closed roads all around the apartment. But even with all of this, Paris holds more charm than most citys could only dream of and our stay was wonderful! Paris Perfect is the best company we have had the pleasure of working with. Victor's taxi service that was recommended proved to be an excellent choice. It felt as though we had a private driver just a text away! We also highly recommend the small group tour of Normandy and the 2CV tour at night! The Chambertin apartment itself has a nice staircase that is very manageable to climb if small elevators are not your thing. All the residents that we met gave a kind bonjour in passing. The bathroom is amazing but the WC may make you nervous if you have any issues with tight spaces! We used the kitchen daily. It was well stocked and the welcome basket was very thoughtful and appreciated. I do want to note that the washer and dryer is a combo unit that is popular throughout Europe but to an American it could be viewed as "challenging". Just plan on using the drying rack that is conveniently provided!
Chambertin Review
by C Archer
Once again I had a most fabulous stay with Paris Perfect! The Chambertin was an absolute joy to stay in! The views were amazing and I really enjoyed bubble baths in that gorgeous French clawfoot tub while enjoying the twinkling light show the Eiffel puts on!! I now see why this is one of the most romantic apartments in the 7th! This is my third time renting with Paris Perfect and I will be coming back soon! Thank you for another unforgettable stay!
Chambertin Review
by Bonnie C. W
I have reviewed Chambertin, but I want to add a thank you to the Paris Perfect Tours. Thank you for all the tickets, flowers, and treats that made the trip memorable for my Granddaughter. A special "toast" for securing what appears to have been the only bottle in all of Paris of a special champagne---and for sharing the moment with me when I popped the cork. I am forever grateful to have met you in person.
Chambertin Review
by C. Whitehead
As always, ParisPerfect far exceeded my expectations with Chambertin. Having stayed in several ParisPerfect apartments, I have come to rely on the fact that all the apartments are in the very BEST locations, are spotlessly clean, carefully decorated and well equipped with everything a person could need-from pots and pans to wonderful fluffy white towels in the bathrooms. The free internet and phone calls back home became an extra value this last trip due to the tragedy in Brussels. The Nespresso coffee pods are my favorite touch. As always, from the moment I click on the RESERVE tab on the website to the last time I shut the door on "my" apartment, I feel reassured and confident that there is nobody else out there with the "Team" they have, the fabulous apartments they have and the caring they show me every time I stay with them. I love you ParisPerfect.
Chambertin Review
by Bonnie C
Both your ParisPerfect Team and your apartments always exceed my expectations. The Chambertin has sky rocketed to my-all-time favorite apartment. As always, it was spotless clean, lovingly remodeled and decorated, in a superb neighborhood, secure, light filled, & fully equipped to meet all our needs. From the moment we walked in the door for the first time, until we closed the door upon exiting, Chambertin filled us with joy.
Chambertin Review
by Bonnie Whitehead
As a returning guest, I have had the joy of staying in several of your apartments. All of them were in excellent neighborhoods that featured patisseries, groceries, pharmacies and close to transportation. The free WiFi and phones calls were particularly important to me this trip due to events in Brussels. It was a blessing to be able to keep in touch with concerned loved ones back home. All your apartments are lovingly decorated and fully supplied,but I have to say that Chambertin has moved to the top of my all a time of all-time-favorites list!
February 28, 2016 - Website
Chambertin Review
by Kasia D
Perfect stay! Very comfortable. The team were lovely and hospitable! Very welcoming and helpful.
February 20, 2016 - Website
Chambertin Review
by Gina S
Our trip was amazing. The apartment is beautiful, in a great location, and very comfortable. All the information provided made our trip very easy. The team was very helpful.
November 4, 2015 - Website
Chambertin Review
by M White
We had a fabulous time in Paris and truly enjoyed our apartment…the Chambertin was everything we wanted. The Paris Made Perfect team was fantastic.
Chambertin Review
by Debbie Forde
If you want a picturesque and romantic scene or atmosphere, this apartment has it all. Cannot fault this beautiful gem of a Parisian building. Presented so lovely and spotlessly clean on arrival. The bathroom is what sells it. The view is magnificent being so close to the Eiffel Tower. We came to Paris to get married and wasn't disappointed one bit!
Chambertin Review
by Sandra Beeman
We certainly enjoyed staying at the Chambertin with its views of the Eiffel tower. It was a great location. The apartment was well equipped and very thing was in top notch condition. The staff was very helpful, from greeting us, to answering our questions. We would certainly book one of your apartments again., and many thanks for making our stay in Paris so memorable.
Chambertin Review
by Jo W
The apartment was great. All the information was very helpful. The team were wonderful - Thanks very much!
Chambertin Review
by Michial Arnold
We took our daughter to Paris for her 20th birthday. It's the 4th time we have stayed at different apartments with Paris Perfect. We had a wonderful time. Sam met us at the apartment and was very kind. our daughter took a bubble bath every night and could see the Eiffel Tower sparkle on the hour. Paris is beautiful and the dollar is doing well against the Euro which is very nice. Highly recommended
September 20, 2014 - Website
Chambertin Review
by Barbara Portanova
This is literally a dream apartment...so much so I wish I could buy it and have it waiting for me whenever my travels bring me to Paris. The kitchen has everything you need. The view amazing. This property is one block from the Eiffel Tower. The neighborhood is both extremely safe and charming. Lots of local Parisians and pleasant cafe's just waiting for the tourist to try and blend in. We had a fantastic trip and loved spending each night beneath the Eiffel Tower as it sparkled and leisurely walking home and still enjoying the sparkling Tower from our apartment.
Chambertin Review
by Paulo Alves
Our experience in the Chambertain was as pleasant and magic as I was expecting. The apartment was so welcoming and clean and we felt at home since the very beginning. The bedroom with its own bathroom provided the magic, due to the nice look and the stunning view of the Eiffel tower. The location is another must, as you have the tower and the Seine extremely close. It`s an upscale neighborhood and I recommend a stroll on some streets like Rue de Grenelle and Rue Saint-Dominique as well as researching on very good restaurants nearby. All this at walking distance. I could definitely stay in this apartment again in my next Paris holidays.
Base Nightly Rates – May Not Include Fees such as Greeting, Cleaning, Damage Waiver, Credit Card Processing and Tourist Taxes. For full price, please put in dates.
Available
Unavailable
Check-In Only
Check-Out Only
October 2023
S
M
T
W
T
F
S
01
02
03
04
05
06
07
08
09
10
11
12
13
14
15
16
17
18
19
20
21
22
23
24
25

$520

26

$519

27

$538

28

$539

29

$486

30

$518

31
November 2023
S
M
T
W
T
F
S
01
02
03
04
05

$660

06

$702

07

$741

08

$759

09

$774

10

$767

11

$757

12

$737

13
14
15
16
17
18

$914

19

$838

20

$852

21

$866

22
23
24
25
26

$811

27

$857

28

$897

29

$924

30

$942
December 2023
S
M
T
W
T
F
S
01

$958

02

$942

03

$857

04

$829

05

$841

06

$881

07

$893

08

$904

09

$908

10

$817

11

$815

12

$825

13

$872

14

$867

15

$881

16

$897

17

$789

18

$841

19

$1148

20

$1166

21

$1167

22

$1159

23

$1168

24

$1073

25

$1140

26

$1176

27

$1233

28

$1211

29

$1228

30

$1312

31

$1235
January 2024
S
M
T
W
T
F
S
01

$1279

02

$920

03

$987

04

$980

05

$885

06

$834

07

$786

08

$761

09

$785

10

$774

11

$811

12

$754

13

$742

14

$689

15

$673

16

$701

17

$720

18

$727

19

$717

20

$713

21

$676

22

$648

23

$683

24

$695

25

$725

26

$704

27

$703

28

$674

29

$637

30

$662

31

$661
February 2024
S
M
T
W
T
F
S
01

$678

02

$684

03

$689

04

$677

05

$630

06

$655

07

$667

08

$691

09

$721

10

$746

11

$715

12

$690

13

$690

14

$619

15

$741

16
17
18
19
20
21
22

$753

23

$771

24

$820

25

$741

26

$736

27

$755

28

$776

29

$803
March 2024
S
M
T
W
T
F
S
01

$816

02

$839

03

$761

04

$767

05

$791

06

$816

07

$835

08

$853

09

$862

10

$785

11

$795

12

$825

13

$847

14

$862

15

$879

16

$886

17

$814

18

$833

19

$867

20

$859

21

$820

22

$899

23
24
25
26
27

$872

28

$876

29

$1178

30

$1193

31

$1134
April 2024
S
M
T
W
T
F
S
01

$863

02

$886

03

$879

04

$876

05

$870

06

$893

07

$845

08

$860

09

$884

10

$887

11

$883

12

$877

13

$899

14

$847

15

$865

16

$885

17

$891

18

$891

19

$876

20

$897

21

$839

22

$859

23

$878

24

$891

25

$899

26

$881

27

$896

28

$826

29

$839

30

$856
May 2024
S
M
T
W
T
F
S
01

$858

02

$878

03

$867

04

$881

05

$817

06

$825

07

$842

08

$846

09

$874

10

$876

11

$887

12

$831

13

$829

14

$847

15

$859

16

$876

17

$853

18

$925

19
20
21
22
23
24
25

$951

26

$904

27

$914

28

$939

29

$955

30

$978

31

$994
June 2024
S
M
T
W
T
F
S
01

$1001

02

$949

03

$953

04

$979

05

$994

06

$1010

07

$1010

08

$1013

09

$965

10

$983

11

$1007

12

$1010

13

$1011

14

$1008

15

$1009

16

$968

17

$994

18

$1002

19

$1005

20

$1010

21

$1008

22

$1005

23

$975

24

$1390

25

$1388

26

$1387

27

$1389

28

$1100

29

$1096

30

$1062
July 2024
S
M
T
W
T
F
S
01

$1093

02

$1101

03

$1107

04

$1107

05

$1106

06

$1109

07

$1065

08

$1095

09

$1110

10

$1118

11

$1111

12

$1102

13

$1101

14

$1054

15

$1086

16

$1106

17

$1101

18

$1086

19

$1360

20

$1355

21

$1290

22

$1252

23

$1084

24
25
26
27
28
29
30

$1642

31

$2177
August 2024
S
M
T
W
T
F
S
01
02
03
04
05
06
07

$1725

08

$1733

09

$1761

10

$1752

11

$1623

12

$1289

13

$1302

14

$1284

15

$1283

16

$1005

17

$1013

18

$986

19

$1002

20

$1021

21

$1007

22

$1005

23

$1940

24

$1951

25

$1916

26

$1942

27

$1962

28

$1947

29

$1940

30

$1943

31

$1944
September 2024
S
M
T
W
T
F
S
01

$1905

02

$1932

03

$1957

04

$1945

05

$1944

06

$1946

07

$1953

08

$1902

09

$1003

10

$1035

11

$1034

12

$1032

13

$1025

14

$1027

15

$965

16

$989

17

$1034

18

$1049

19

$1048

20

$1046

21

$1036

22

$958

23

$971

24

$1019

25

$1049

26

$1042

27

$1025

28

$1025

29

$939

30

$950
October 2024
S
M
T
W
T
F
S
01

$1010

02

$1035

03

$1031

04

$1033

05

$1058

06

$980

07

$1007

08

$1037

09

$1048

10

$1044

11

$1054

12

$1084

13

$1012

14

$1025

15

$1054

16

$1062

17

$1058

18

$1068

19

$1102

20

$1035

21

$1030

22

$1059

23

$1063

24

$1056

25

$1063

26

$1299

27

$1218

28

$1193

29

$1221

30

$1230

31

$1227
Things to See & Do
Champ de Mars (1 mins Walking)
Expansive park surrounding the Eiffel Tower. Stroll, jog, bicycle or play in one of the playgrounds, go to the puppet theater or carousel, or just sit and enjoy Parisian life and the beautiful gardens.
Eiffel Tower (1 mins Walking)
Paris' most iconic site and one of the world's most visited attractions. Take the elevator or stairs to the top of this magnificent structure for beautiful views over Paris.
Bateaux Mouches Boat Tours (4 mins Walking)
We recommend boarding a boat tour on your first day, where you can relax and enjoy sailing down the Seine viewing many Paris monuments, museums and cathedrals
École Militaire (5 mins Walking)
Napoleon attended military school here and the buildings still show gunfire signs from the French Revolution in 1789
Les Invalides (15 mins Walking)
A masterpiece of French Classical architecture built by Louis XIV; Napoleon's tomb rests under the golden dome.
Champs Elysees (20 mins Walking)
One of the world's most famous shopping boulevards. Make sure to visit the Louis Vuitton flagship store!
Grand Palais (25 mins Walking)
Venue for major national and international events and exhibitions
Musée de l'Armée (25 mins Walking)
One of the world's finest collections of arms, armor, and uniforms. It is renowned for its enormous collection of medieval armor.
Petit Palais (25 mins Walking)
Dating back to the 1900s, it's now the site of the Museum of Fine Arts in Paris
Rodin Museum (25 mins Walking)
View some of Rodin's most famous sculptures including The Kiss and The Thinker
Musée d'Orsay (30 mins Walking)
Located in an old train station, this museum is home to the largest collection of impressionist and post-impressionist masterpieces in the world.
Shopping & Eating
Luxury Stores on Avenue Montaigne (12 mins Walking)
Home to many of the leading fashion houses including Louis Vuitton, Dior, Chanel, Fendi, Valentino and Ralph Lauren, as well as jewelers like Bulgari.
Rue du Commerce (20 mins Walking)
A true Parisian shopping street with trendy boutiques, food stores, bistros
Le Bon Marche & La Grand Épicerie (30 mins Walking)
The oldest department store in Paris selling a range of luxury goods. Be sure you visit La Grande Epicerie de Paris, the magnificent food hall.
Public Transport
RER (7 mins Walking)
Pont de l'Alma (Line C)
Métro (10 mins Walking)
Alma - Marceau (Line 9)
Métro (12 mins Walking)
École Militaire (Line 8)