Located in the coveted 7th arrondissement just around the corner from the Eiffel Tower, the beautiful Calvados is a lovely one-bedroom, two-bathroom apartment that sleeps up to four people. The pièce de résistance is the charming balcony with spectacular, direct views of the Eiffel Tower. Relax with a glass of wine on the balcony at night when the Eiffel Tower bursts to life with twinkling lights. Or enjoy the sparkling light show from the comfort of the living room. In this home away from home in Paris, you'll discover a beautiful alternative to an Eiffel Tower hotel. Our Calvados apartment offers the same high-quality finishes and fine furnishings as all our Paris Perfect apartments, plus it includes air conditioning for your comfort during those warm summer days. It's the perfect choice for a chic Parisian stay.
Step outside and discover why this is a neighborhood Parisians love to call home. Stroll or picnic in the Champ de Mars or enjoy a sunset walk along the Seine nearby. Explore the intriguing Musée du quai Branly - Jacques Chirac next door or meander through the charming streets of the 7th arrondissement. Here you'll find excellent local restaurants and cafés as well as tempting pastry and gourmet food shops. Make your way to the famous Rue Cler open-air market street where you can pick out the best ingredients. With a full kitchen, comfortable dining table and a picture-perfect balcony, dining at home at the Calvados as the Eiffel Tower sparkles might just become your favorite spot in Paris!
Please note: There are fewer toilets in this property than there are bathrooms.
Things To Note
Neighborhood: 7th arrondissement
Size: 520 sq ft/50 sq m
Bathroom: There are fewer toilets in this property than there are bathrooms
Heating: Building regulated heating
Accessibility/Security: 6 steps with railings to elevator
Registration Number: 7510700701559
Paris 2024 Olympics: Special Terms 
Room Details
Room
Beds
Details
Bedroom
Extra-Wide Queen (1)

Extra-wide queen bed (63in x 79in; 160cm x 200cm)
Living room
Single (1)
Trundle (1)

High-quality sofa with trundle converts into two comfortable single beds (31in x 75in; 80cm x 190cm)
Bathroom 1 (en suite)
Shower (fixed and flexible showerheads) and sink. Toilet in separate room, please see floorplan.
Bathroom 2
Combination bathtub/shower (fixed and flexible showerheads) and sink.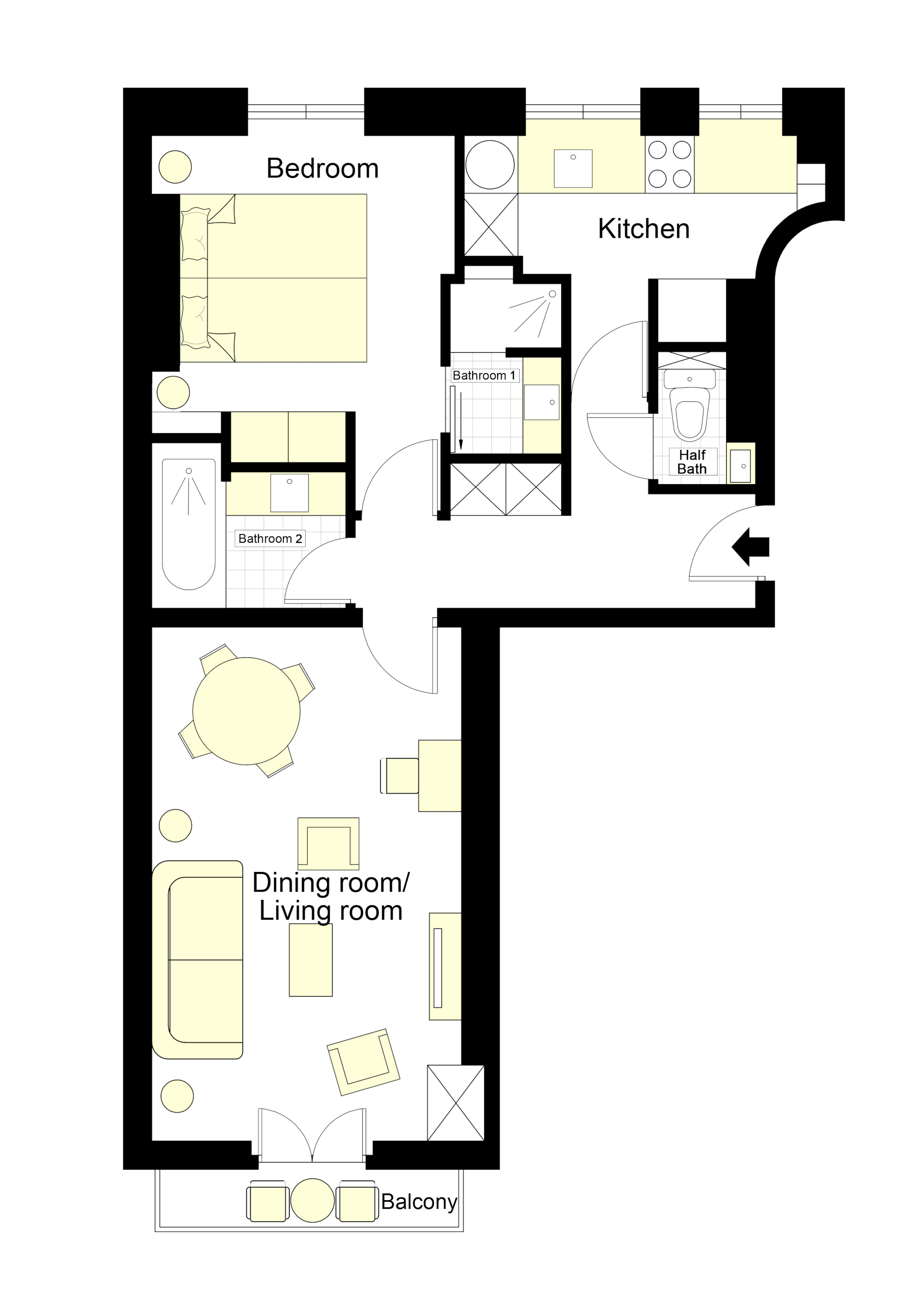 General Amenities

Toiletries
Hotel Safe
Smoke Detector
Carbon Monoxide Detector

Kitchen

Fully Equipped
Starter Supplies
Kitchen
Coffee Maker
Dishwasher
Kettle
Microwave
Nespresso Style Coffee Machine
Oven
Stovetop
Toaster
Refrigerator

Accessibility

Private Entrance
6th Floor North American
Elevator

Connectivity/Entertainment

WiFi
TV
TV - Limited English Programs

Heating/Cooling

Heating
Portable Fan(s)
Sound Dampening Windows
A/C-Central
Non-Working Fireplace

Laundry

Dryer
Iron & Board
Washer

Special Features

Eiffel Tower View
Balcony/Terrace
Instant Booking

Amenities

Elevator
Air Conditioning
Thank you for submitting your review. It will be processed shortly!
September 7, 2023 - Airbnb
Highly recommend
by Ratna G
The apartment with Paris Perfect was exactly as described. The host provided all the necessary amenities to make our stay amazing. Just a few blocks from the Eiffel tower and super safe neighborhood. The host even provided some milk, juice and wine to start our stay with a smile. The property manager was super responsive to all our needs and provided recommendations for restaurants and method of transport to all the various tourists points in Paris. I would highly recommend using Paris Perfect as a host. Will be using them again for future visit in Europe. BEST apartment me and my girlfriends have stayed at.
Great experience
by Christopher M
I really enjoyed my stay at Paris Perfect along with the greeter, it was a great experience.
Best experience
by Aron S
Probably the most accommodating apartment we've ever been to!! There was coffee, tea, cold orange juice, milk and white wine in the fridge, a bag of French madeleines, detergent, dishwasher pods even cozy hotel slippers!! The host was super helpful, they allowed us to drop off our luggage after checkout for a few hours, and we were running late, and one of the guys helped us run with the luggage and get it into the car! Best experience I've ever had with a stay!
Everything about this place was perfect!
by Kristina Jones
Perfect location- close to wonderful dining options, boulangeries/patisseries, markets, transportation, sights, museums. Perfect view of the Eiffel Tower. Perfect accommodations- just right for 2 adults 2 children. Calvados was appointed with nice furnishings and amenities. Paris perfect makes the whole rental and check-in process seamless, gives fantastic neighborhood and touring recommendations and connected us with Travel Light Paris (Karina) who booked all our dinner reservations and had a lunch/full fridge waiting for us in the apartment upon arrival. They also recommended Victor Cabs for transportation to/from airport and they were wonderful- one less thing to worry about navigating in a foreign country. I would definitely return to Paris Perfect and will not hesitate to book with London and Italy, as well.
December 13, 2022 - Website
Perfect Place
by Julie Aguilar
Me and my husband stayed at Calvados Perfect location with Eiffel Tower view. We enjoyed watching every night the breathtaking Eiffel lights . Never get tired coming back to Paris. The apartment is walking distance to Eiffel, grocery, restaurants, souvenir shops. The apartment is clean, nice furnishing, I love the 2 bathrooms. I was with my daughter in Dec 2017 and we stayed at one of their apartment at Chateau Latour in rue de Grenelle, I will always use Paris Perfect when I go to Paris. Staff was very helpful. Thank you Lisa and Omi. We feel safe in the area. I highly recommend Paris Perfect. I will definitely use Paris Perfect when we come back. Merci !!
October 17, 2022 - Website
Perfect size for two people
by Taylor Groneck
Calvados was the perfect size apartment for two people. The apartment was nicely furnished and we loved the addition of the complimentary wine and milk. Everything we needed was there and the host was very helpful. Excellent location!
Beautiful view
by Yuserly R
Well located place just steps from the tower, nice cafes, is a small apartment that will be ideal for 2-3 people max. Beautiful view. All what you need for your stay. Really good communication with the host, did go an extra mile when we forgot a jacket, they quickly made arrangement for us to make it back and get our stuff, super responsive service. Thanks
May 11, 2022 - Manual Entry
Awesome View
by Eugenia (Jeannie) Jacobs
My son's eyes beamed when he opened the curtain and saw the Eiffel Tower. The squealing was epic. The apartment was so cute and just had the perfect Parisian charm. It was clean, beautifully decorated, and worked well for my family of four. We loved the neighborhood, which was perfectly located with access to parks, cafes, stores, and transportation. We will be back!
March 30, 2022 - Manual Entry
We could not have been happier!
by Shauna C
Amazing apartment and location. Directly across from the Eiffel Tower and close to many delicious restaurants in unique neighborhoods along with grocery stores and pharmacies. It was a very safe neighborhood and it could not have been more perfect for my family.
February 21, 2022 - Manual Entry
Superbe Appartement
by Dominik G
un superbe Appartement parisien avec tout son charme de l'ancien
Translation:
a superb Parisian apartment with all its charm of the old
December 23, 2021 - Manual Entry
Wonderful as always
by T. whitford
We have stayed many times at Calvados. As always it is a wonderful place to stay while in Paris. Close to many great locations and so welcoming.
December 9, 2021 - Manual Entry
Thanksgiving in Paris
by Carolyn B.
We always love our time in Paris and this visit did not disappoint. This was our first time using Paris Perfect for our accommodations and we were very happy. Traveling with our teen daughter, the Calvados apartment provided a 2nd bathroom to allow her to have her own space. Wonderful proximity to fabulous restaurants, all the sites we planned to visit and of course the views of the Eiffel Tower could not be beat. The fully outfitted kitchen with a Nespresso machine and welcoming provisions upon arrival was fantastic. Thank you for a fabulous trip and we are already looking forward to the next.
September 21, 2021 - Website
Calvados Review
by Michelle M
Beautiful Parisian home right next to the Eiffel Tower. Elevator, comfortable bed, amazing location with perfect view, great restaurants, and public transportation closely. Magical experience.
August 21, 2021 - Website
The apartment was amazing, very clean and well equipped with beautiful view of Eiffel Tower and excellent location. There was a lot of cafes, supermarkets and restaurants nearby. The host was very friendly, the greeter explained everything to us, the check in/out was very easy.
Calvados Review
by Viky C
Van a tener un lugar cómodo, bn educado y con todo lo necesario Translation: They have a comfortable place, well educated and with everything you need
Calvados Review
by Chad H
What an amazing property in the heart of the 7th arr!! Everything was as described in the listing and reviews. The next time we stay in Paris we will definitely look to book this property.
Calvados Review
by Bingbing F
Impeccable apartment, exceeds expectation in every aspect, will definitely come back, highly recommend!
Calvados Review
by Christine A
Lovely lovely appartment in perfect location. Nicely decorated, equipped with everything you need. excelent comm throughout and good easy welcome on arrival.. all great! Highly recommend!
Calvados Review
by Mark Guberek
Everything was amazing ... from the apartment and its view, to service by ParisPerfect. Calvados place is really memorable and hope to stay again in the future when I come back to Paris.
February 1, 2021 - Website
Calvados Review
by Daniela B
Very clean, very well equipped, top location. Everything is wonderful!
January 31, 2021 - Website
Calvados Review
by Salvador A
De los mejores en los que hemos conocido! Nos alojamos en 2 apartamentos del anfitrión Paris perfect en Paris. Ambos estadías fueron perfectas. La atención del anfitrión es impecable al igual que la limpieza, las comodidades y la ubicación de los apartamentos. Asimismo la calidad de las sábanas, los camas, los productos y todo lo que tienen los apartamentos. Ambos se encuentran en uno de los mejores barrios de Paris y las vistas a la tour Eiffel son impresionantes. El anfitrión te recibe y te explica todo lo respectivo a los apartamentos. Y siempre puedes contactalos por cualquier duda Si queréis tener una hermosa experiencia en Paris, no dudéis en hacerlo en los apartamentos de Paris Perfect! Translation: One of the best we have ever met! We stayed in 2 apartments of the Paris perfect host in Paris. Both stays were perfect. The attention of the host is impeccable as well as the cleanliness, the comforts and the location of the apartments. Also the quality of the sheets, beds, products and everything that the apartments have. Both are in one of the best neighborhoods in Paris and the views of the Eiffel tour are impressive. The host welcomes you and explains everything about the apartments. And you can always contact them for any questions. If you want to have a beautiful experience in Paris, do not hesitate to do it at the Paris Perfect apartments!
January 31, 2021 - Website
Calvados Review
by Nina-Tamara L
The apartment was perfectly clean and well located. The hosts were very kind and helped us out with insider tips. The apartment made our city trip perfect and we would definitely book it again. Clean, equipment provided, lovely hosts, central, beautiful decorated and uncomplicated - to sum it up in a few words!
January 31, 2021 - Website
This is a perfect place to stay if you want to be near the Eiffel Tower. The apartment is great for a couple wanting to explore Paris.
January 31, 2021 - Website
Calvados Review
by Jonathan C
Superbe emplacement à 2mn à pieds de la tour Eiffel. Appartement exceptionnellement propre et équipé de la clim. Séjour parfait,nous avons même prolongé notre séjour. Translation: Superb location 2 minutes walk from the Eiffel Tower. Exceptionally clean apartment with air conditioning. Perfect stay, we even extended our stay.
January 22, 2021 - Website
Calvados Review
by Hamilton Handy
This apartment is as good as the photos with breathtaking Eiffel tower views. The sheets and bedding are of an upscale quality, and many high end touches throughout. Hannelie, one of their staff members was extraordinarily kind, helpful and professional. Will certainly recommend this location to anyone!
January 21, 2021 - Website
Calvados Review
by Enrique C
Great apartment at an ideal location.
January 10, 2021 - Website
Calvados Review
by Hamilton H
I see why there are so many great reviews! This apartment is perfectly located with amazing views, and some of the best food shopping in Paris. The unit itself is immaculate and extreme attention to detail. I found the entire team, including Lisa, and Hannelie to be very responsive. Hannelie has gone out of her way to show fantastic hospitality. We were here a month, but that wasn't enough!
December 9, 2019 - Website
Calvados Review
by Lair B
We loved staying at your Calvados apartment. The location was perfect for sight seeing. Being so close to the Eiffel Tower made it even better. Kevin (host that met us) was very accommodating and pleasant. We will definitely use Paris Perfect again for our next visit to Paris. Thank you!
November 5, 2019 - Website
Calvados Review
by Amanda P
My husband and I stayed a week in the Calvados apartment in late October 2019. The apartment has a lovely view of the Eiffel Tower from the living room window. The small balcony is just big enough to sit and enjoy a glass of wine or an espresso. The amenities are very modern and we lacked for nothing. The size of the apartment is perfect for two adults but would be tight on space if you were traveling with more than one child. The location in the 7th arrondissement is great for walking to local cafes, restaurants and boutiques. The staff at Paris Perfect were easy to work with and did a great job in getting us into the apartment earlier than originally scheduled. We look forward to a return trip soon.
October 10, 2019 - Website
Calvados Review
by Elizabeth P
Calvados apartment had lovely furnishings and was very clean and comfortable. Its location was great for exploring Paris by foot, bus or metro. I enjoyed being close to small grocery stores, Rue Saint-Dominque of so many shops and the charming street markets of Rue Cler. The office staff was very welcoming when I was dropped off after arriving on early morning flight. I was able to leave luggage at office until apartment was ready. So nice to have a well-stocked kitchen for simple meals and luxury of deep soaking tub on days I walked perhaps too long! Good support staff when needed so my stay was a special treat and Calvados a great apartment choice.
September 1, 2019 - Website
Calvados Review
by Laura K
Our apartment was exactly as it appeared in photos - clean, charming and in the best location imaginable. Paris Perfect produced an exhaustive manual for both the apartment, along with a helpful guide to services and attractions in our neighborhood and in The greater Paris area. I cannot say enough good things about Paris Perfect!
Calvados Review
by Anonymous
Location, location, location! You cannot do better being within a stones throw of the Eiffel's tower, and the fact that you could enjoy the views while actually sitting on you own terrace. Incredible! Did I mention the cafe 30 feet from our front door. We became regulars and were treated as such. My wife, 10 year old daughter and myself, could not have done better. We left Paris feeling that we not only now have memories of a lifetime, but the price was right, too. 5 Stars!
Calvados Review
by Allison H
We just returned from a wonderful week in Paris staying in the Calvados apartment. We are a family of four, with two kids ages 9 and 12. The apartment was perfect for our needs. The kids slept on the pull out/trundle beds in the living room and my daughter lucked out with the view of the Eiffel from her bed. The kitchen was fully equipped and had everything we needed to make a couple of meals in the apartment during our stay. The adorable balcony came in handy when the weather warmed and my kids often ate breakfast there and my husband and I finished the nights with a glass of wine while watching the Eiffel sparkle. Paris Perfect was easy to work with, they provided a wealth of information about the neighborhood which came in very handy, they provided a place to hold our luggage until our apartment was ready and they provided a trustworthy car service to get us to and from the airport with ease. We found ourselves needing an additional fan in the apartment during the week and we simply swung by the office and they provided without issue, and they printed out a few online tickets for us when I realized I had failed to pack them in our luggage. I would happily recommend the apartment and Paris Perfect without reservation and hope to use them again for some future visit to this amazing city!
Wonderful apartment. Beautifully appointed. Everything was perfect! We already plan on staying at Calvados again!
Calvados Review
by Janna F
Since discovering Paris Perfect four years ago, I have not booked Paris accommodations with anyone else and have highly recommended them to friends and family. As a frequent traveler to Paris who enjoys having the comforts of home after a long day of exploring, Paris Perfect truly meets my home away from home needs. Kevin - who checked me in this trip was lovely and such a pleasure to meet. The Paris Perfect staff is helpful and always quick to respond. The Calvados apartment is located in a quiet & secure building in the wonderful 7th Arrondissement. It boasts a beautiful view of the top half of the Eiffel Tower from the living room and I loved being able to sit out on the small balcony with a glass of wine in the evenings and watch the Eiffel Tower sparkle. The apartment is just a half block walk to Champs de Mars park and the base of the Eiffel Tower if you want to enjoy it in full glory. The Calvados is close to many great restaurants and shops. It is a short 10 minute walk from the apartment to the metro and the phenomenal rue Cler which is hands down one of the best market streets in Paris. I'm looking forward to my stay in June in yet another fabulous Paris Perfect apartment! Merci beaucoup, Paris Perfect et à bientôt!
February 4, 2019 - Website
Calvados Review
by Scott B
The place was exactly as advertised, perfectly fitting my wife and I on our trip - we couldn't have been happier. A block from the Eiffel Tower, walking distance to shops, food and everything we needed. The neighborhood is amazingly quiet for being so close to a major tourist attraction. The staff was great, letting us drop our luggage at their office since we had an early morning arrival before the apartment would be ready. They walked us over, and went through the entire apartment in detail to make sure our week in Paris would be "perfect" and it was. We will rent from Paris Perfect again!
February 2, 2019 - Website
Calvados Review
by Carol V
Great apt and location. It had plenty of space for 2 with the separate bathrooms. Quiet building, front door key is tricky, make sure the greeter goes over all the locks with you. Kitchen is adequate, just needs a tiny step stool to get into the microwave a little easier. Would definitely rent again.
December 18, 2018 - Website
Calvados Review
by Adeline C
Calvados is a lovely little apartment that fit our family of 4 (2 adults and 2 teen girls) and that view of the Eiffel Tower from the living room can't be beat. Location was excellent with supermarkets, restaurants, bistros and Tour Eiffel all at your doorstep. Exploring central Paris was so easy in our 6 days there and despite the unfortunate protests going on on that one Saturday, the apartment building and the neighbourhood was serene and secure. Couldn't have picked a better choice. And thanks for all the thoughtful little touches like juice and milk in the fridge and body lotion in winter! We can't wait to return to one of Paris Perfect's other properties as it encompasses that Parisian experience so well.
December 13, 2018 - Website
Calvados Review
by Tara M
Everything was perfect at Calvados! Beautifully decorated, grocery on the corner, restaurants downstairs, and the Eiffel Tower gleaming day and night! Made the mistake of booking a lower priced accommodation after 4 days at Calvados. Huge mistake. Pay a little extra and stay here as long as you possibly can!
November 8, 2018 - Website
Calvados Review
by Reed and Megin M
Great location, well appointed, quiet and comfortable. Only used the kitchen for breakfast. We would definitely stay there again and hope to in the future.
August 28, 2018 - Website
Calvados Review
by Stephanie L
We very much enjoyed our week in the Calvados apartment. It is a delightfully decorated little apartment in a beautiful building on the Avenue de la Bourdonnais, with a stupendous view of the Eiffel Tower from the tiny but charming balcony. We had several mouthwatering breakfasts of cheeses, croissants and quiches while admiring the iconic view. We would come back later in the evening to admire the view again when the tower was alight and twinkling. The location was a great launching spot for long walks and visits to sights around the city. It was a magical week!
Calvados Review
by Rachelle
The Calvados apartment and Paris Perfect are aptly named - it was absolute perfection! We stayed with our two girls (ages 6 and 9) and they loved having the Eiffel Tower as their night light in the evenings while they slept on the pull out couch (with two twin beds). We spent every evening on the balcony drinking wine and gazing at the Eiffel Tower while our children slept. It was magnificent and we felt as if we could have stayed forever. We recommend the Paris Perfect Starter Pack. Our greeter, came with metro/bus passes, a set of boat tour passes, and a 6-day museum pass so we could immediately start exploring Paris. We loved the museum passes because we could go to museums as long as the kids wanted and we did not have to worry about paying for entry fees (or standing in the long ticket lines!). We also loved that the Paris Perfect team gave us guides to the neighborhood, nearby restaurants, and even the names of doctors had we needed them. Traveling with children, this allowed us to just relax and enjoy the magic that is Paris. We will use this company again for trips to Paris and to other cities. We absolutely loved it!!
We enjoyed Calvados so much. The view of the Eiffel Tower was superb. We enjoyed the tower every evening. The furnishings were lovely. The kitchen was well equipped and everything worked. Even though it was early in the season it was 80 degrees in Paris. Paris Perfect was able to locate and install the air conditioners the first morning. Thanks!
February 5, 2018 - Website
Calvados Review
by delney n hilen
We loved our stay. Calvados was perfect for our needs . The only minor problem was the construction going on during our stay it was somewhat noisy. we will be back.
January 5, 2018 - Website
Calvados Review
by Charles Pousson
Nice apartment, excellent amenities and good view of the Eiffel Tower. Staff was very responsive and helpful. Being relatively close to Rue St. Dominique, with it's variety of interesting restaurants, was definitely a plus. The only negative for us was the rather long walk to the Metro which we use often, especially in the cold, inclement weather.
December 14, 2017 - Website
Calvados Review
by John North
We found the apartment ideal, good location, and welll kept. The taxi service for the airport worked well and the office of Paris Perfect was helpful. We would definitely use the company again.
November 24, 2017 - Website
Calvados Review
by Terrie Kreis
We really enjoyed our stay at this well located apartment. We were able to check in at noon after a long flight which was wonderful. It has a view of the Eiffel Tower and short walk to Seine and RER/Metro stops. We used the sofa which converts to 2 beds and the master bedroom both which worked well with 2 bathrooms to shower. The one toilet room has a sink and accommodated the 4 of us without a problem. Easy grocery shopping nearby and kitchen had everything we needed and they supplied us with initial supplies of coffee pods, laundry detergent etc. The staff was helpful in their recommendations and we took advantage of the "starter pack." We referred to their booklet in the apartment and made our own reservations at different restaurants for each night or took advantage of those nearby. In a safe area and extra security with the code to outside door and key to apt. door made us feel very safe. Very specific in how apartment is to be on checkout but that is what keeps things nice.
October 20, 2017 - Website
Calvados Review
by Benjamin L
Our stay was incredible! The team were wonderful, Kevin was awesome!
October 17, 2017 - Website
Calvados Review
by Kristen Flynn
The apartment was very quaint and very Parisian. The location was PERFECT. The view of the Eiffel Tower was amazing...especially every hour at night when the lights would twinkle! The apartment had everything you needed and it was a nice surprise to find a sweet gift of wine and slippers from the owners. We walked to everything from the apartment, even home from Marais. It made all the meals easier to eat. The cafe's and restaurants in the area were fantastic! We ate and loved two Christian Constant restaurants, Cafe Constant and Les Cocottes. We loved Le Campanella also. Wine and people watching is fun at Champs De Mars Cafe at the end of the street. The croissants were the best we had right outside our door at the cafe. THE BEST meal and dinner we had was at Quinsou. We did have to Uber there - it wasn't walkable. The Seine River lunch cruise was a highlight of the trip. That was set up by Paris Perfect. A little pricey but so worth it for the view and the food! We took a train to Versailles and fully enjoyed that. The hop on hop off bus is a great thing too. One negative, and only slightly negative, was it was very warm in the apartment and we had no way to cool it off other than the windows. You also have to be very quiet even when inside the apartment. We could hear the people above us like they were horses. Luckily they were only there for three days of our nine day trip. I would highly recommend Paris Perfect for booking your trip - they make everything so easy! They get your museum passes, set up airport transfers, etc. It was a great concierge service to have!
October 3, 2017 - Website
Calvados Review
by Denise & John Schilling
This was our third trip to Paris and our third time staying at a Paris Perfect apartment. The view is wonderful from this apartment and all the conveniences of home really make your vacation perfect.
Calvados Review
by Anita and John Circenis
Our week long stay at the Calvados was absolutely "superb". Everything from the beautifully decorated and furnished decor, the very comfortable master bed and sofa, to the beautiful kitchen had met our expectations above and beyond what we had imagined. All the small details, such as chargers, Nespresso pods and more that we did not have to worry about, were taken care by your wonderful team. Last, but not least, the location of Calvados is fantastic! We truly felt like we were living in Paris, not just visiting. We are already planning our next visit to Paris and staying at Calvados.
February 27, 2017 - Website
Calvados Review
by William Marks
We stayed here last July, including Bastille Day. It was amazing to see the fireworks from our balcony - with champagne, of course. We arrived in the morning before the apartment was ready, dropped our bags off at the PP office and set out to explore. The apartment is in a wonderful location in the 7th very near the Eiffel Tower and the Seine. There are numerous restaurants nearby. I would highly recommend all three Christian Constant Restaurant: Cafe Constant, Les Cocottes and his flagship, Le Violin d'Ingres. I have been to Paris many times but this is the first time I have stayed in a Paris Perfect apartment. I was very impressed - not only by the apartment itself, but also by the staff. From having groceries and champagne waiting for us and a Nespresso machine in the kitchen to helping with restaurant reservations, the staff could not have been more helpful. I enjoyed it so much that I am staying in another Paris Perfect apartment this April. Five Stars!
January 3, 2017 - Website
Calvados Review
by Kimmy Ho
We have had a very pleasant stay at Paris Perfect! We'll definitely return in our next Paris vacation.
October 29, 2016 - Website
Calvados Review
by Gary Shipman
Calvados! It should be the French word for perfect, because this Paris apartment is indeed that – perfect! We are yearly/bi-yearly Paris visitors, and for the past several years, we have always rented an apartment instead of staying in a hotel, and we've decided that this is the apartment that we will rent on each of our returns! The pictures do not do it justice- it's actually "cuter" in person. After Victor picked us up at the airport about 7:00 a.m. on a Sunday morning, he took us to a small café less than a block from the apartment to wait for those at Paris Perfect (who are also "perfect") to let us in at 9 a.m., and they were right on time. Great building less than a block from the Eiffel Tower, and a small elevator takes you to the floor where this unit is located. EVERYTHING you need is inside (washer/dryer, hairdryer(s), iron, umbrella(s), full equipped kitchen, TV with cable in LR, TV with DVD/Blue Ray in BR), especially that small balcony with the breathtaking view of the Eiffel Tower. Every night we sat out there with a glass of wine, watching the Tower twinkle on the hour every hour. The neighborhood is incredible, with an incredible array of great restaurants, café's, bakeries, and wine stores within blocks. Make use of the "manual" located inside the apartment provided by Paris Perfect; it had some great recommendations that were spot on! Couldn't be more pleased and we will be back! Thanks Paris Perfect!
October 20, 2016 - Website
Calvados Review
by Tanya Holowatuk
Do not hesitate booking with Paris Perfect, as they provided us with a beautiful apartment and looked after all of our needs and concerns throughout our stay. I will book again on my next trip and highly recommend booking your stay in Paris with their company! I also recommend the taxi service to and from the airport.
October 2, 2016 - Website
Calvados Review
by Cindy Hennessey
As always, Paris Perfect was perfect...This was about our 8th or 9th stay with you, and we are never disappointed. Kevin checked us in, he was great, polite, punctual, informative-exactly what I would want if I owned PP. The apartment was great, as always-no complaints whatsoever. The guide to the 7th and restaurant picks is spot on-although we did 2 Fat Tire tours and think they might be slipping in terms of service, something to watch to see if its an anomaly or a pattern..Just a great trip all around-already booked my next year trip to stay in Champagne apartment. Thanks so much
September 27, 2016 - Website
Calvados Review
by Katherine Holt
We had a wonderful stay at the Calvados apartment. The amenities were fresh and new and we loved the convenience of being able to have coffee and French yogurt at the apartment in the morning. The view is really special and every evening we rejoiced to watch the Eiffel Tower all lit up. We are close enough that you can actually hear some people on the street gasp with delight!
Calvados Review
by William Marks
We have just returned from a weeklong stay in the Calvados apartment. It was just as advertised! The check in was extremely quick, thorough and informative. The apartment itself was very comfortable. The television had numerous English language news channels which was very helpful in keeping us informed with all that was going on in the world. The bed was very comfortable and the air conditioning kept the apartment cool even on the hottest days. The kitchen was completely stocked, especially with the food, champagne and wine option we had chosen. The showers were hot and strong and the WC was cosy! We usually used the stairs, but to bring our bags up and down, the elevator was very welcome. And our balcony was wonderful. We were there for Bastille Day and watched the fireworks from the balcony. We couldn't have been much closer, even if we had been packed into the Champs de Mars. The Metro and RER were a short distance away, either at Bir Hakim or Pont d'Alma. There were many great restaurants in the neighborhood. My favorite was Les Violin d'Ingres. The prestige dinner on Les Bateaux Parisiennes was also a highlight. In the mornings I would venture out in the neighborhood to pick up croissants, a baguette and sometimes a dessert to go with our evening coffee on the balcony. Our last night we had a craving for pizza (I know, I know) and I found a wonderful Italian restaurant with a fabulous four cheese pizza just a few blocks away. I have been to Paris many times but had never taken a bus until encouraged by your staff. It was a great experience to be able to enjoy the sights while traveling - as opposed to the Metro. We also used Uber extensively and it was quick and inexpensive. All in all, everything was wonderful. Our next trip to Paris will include a stay at Paris Perfect!
Just a quick note to say that all of us loved staying in Calvados. It was indeed "perfect" for our visit. And the location was just excellent. We will consider staying there the next time we are in Paris.
Calvados Review
by Phil & Kathy M
Calvados offered everything we needed for a 9-day stay in our favorite neighborhood in the 7th. The furnishings were tasteful, comfortable and practical. The two bathrooms were a wonderful feature. The kitchen was well-stocked for food preparation, serving and storage. Closet space was perfect for our needs. The Paris Perfect staff person was very welcoming and informative and all of the information provided by Paris Perfect was very helpful. We really recommend the rental of the WiFi hot spot through Paris Perfect. It came in very handy all over the City. And best of all - the view! About as close to the Tour Eiffel as you can get! We have to include a special endorsement for a wine shop that we discovered this time on Rue St. Dominique very close to the Paris Perfect office - Chateaux & Co. Specializes in red and white Bordeaux and Champagne. Very convivial staff and a great selection of wines at very reasonable prices. We would definitely stay at Calvados again!
Calvados Review
by Malcolm & Katie Smith
The Calvados apartment was just perfect for us. Quite spacious for a one bedroom, and a lovely location practically underneath the Eiffel Tower. Very nice restaurants all within walking distance, good patisserie one street over. And like all of Paris Perfect's apartments, the kitchen and baths were very nicely done. It was such a treat to stay there.
February 2, 2016 - Website
Calvados Review
by Ed Marin
As always, the Paris Perfect crew was just, well...Perfect! Calvados is a cozy and perfectly situated flat within very close proximity to the Champs de Mars and the gorgeous 7th district. I've lost count of my stays with Paris Perfect and will recommend to anyone wanting an authentic Paris experience.
August 13, 2015 - Website
Calvados Review
by Milan de Reede
The information provided was very useful and it is a great apartment. The team were very friendly and helpful!
February 24, 2015 - Website
Calvados Review
by Linda Dupuis-Pepin
The calvados apartment is very well situated with a spectacular view. We enjoyed the well equipped kitchen as well as the beautiful, charming and cozy decor. Steps away from the Eiffel Tower, restaurants, grocery stores and transportation ; you could not ask for a better location.
November 18, 2014 - Website
Calvados Review
by Bob & Cookie Graschel
We spent months researching hotels and apartments in Paris and after reading hundreds of reviews we decided that Paris Perfect and the Calvados apartment was the perfect choice for celebrating our 50th Anniversary. We new we made the right choice with our first contact with Paris Perfect. Our plans changed several times but they never hesitated to help us with rescheduling and always kept in contact. Their concern and support didn't stop with just the apartment. They helped with transportation to and from the airport as well as restaurants and sights we wanted to visit. The person who met us at the apartment helped with our luggage and stayed until we were comfortable and had no other questions. The apartment was PERFECT !!! Exactly what we envisioned a quaint Parisian apartment would be. It was quiet, comfortable, and what an INCREDIBLE view of the Eiffel Tower. With all the things to see and do in Paris, coming back to this apartment and unwinding with a glass of wine while watching the Eiffel Tower twinkle in your "backyard" was the perfect ending to each day. THANK YOU PARIS PERFECT FOR AN INCREDIBLE AND MEMORABLE TEN DAYS IN PARIS FOR OUR 50TH ANNIVERSARY CELEBRATION !!!
November 10, 2014 - Website
Calvados Review
by Hisako Hiratsuka
My whole family loved staying at Calvados. We could do laundry, heat up the food bought outside and staying there made this trip more comfortable and special because of the location and the view. I was concerned that it's a bit away from subway station before the trip, but we found a perfect bus route 42, and it was perfect. Our coordinator, Kevin was really nice. It was good for my family to see him on the day of departure when they dropped off and pick-upped the suitcases. Our departure date was on Sunday, but we could use this service. I know some similar companies don't do that on weekends, so it was very convenient.
September 24, 2014 - Website
Calvados Review
by Janet Shannon
Our 10 day stay was magnificent. I was a little thrown by the 2 bathrooms with no toilet and the one toilet down the hall but maybe not unusual for Paris. Balcony very small but big enough for two to have croissants every morning and wine at night while looking at the Eiffel Tower. Short walk to many bistros and the Seine. Longer walk to Metro but had no trouble getting cabs at a taxi station nearby. Truly a gem.
Calvados Review
by Claudia W
Info very useful! Verity was very helpful and helped us settle into our apartment.
The apartment and the location were perfect for us. Plenty of space, great light, and air from windows. Kitchen and Laundry were wonderful conveniences. Sam and Verity were helpful and welcoming. Sam told us to buy our museum passes at Les Invalides, and that was our best move of the trip!
Calvados Review
by Carol H
Loved the apartment. Loved the stacked washer/dryer! I will crave Nespresso coffee when I leave and I will miss Paris and this sunny Oasis named Calvados. So much roominess!
Calvados Review
by M. Gordon
We had a fabulous stay at Calvados. We were greeted promptly by Victor's taxi service at the airport and then Sam from Paris Perfect at the apartment. Sam gave a wonderful orientation then left us to explore the lovely neighborhood. During the week we enjoyed its cafes and restaurants, and embarked on many walks through the city. Calvados was clean and well appointed, perfectly situated. We enjoyed breakfast on our balcony with its treetop Eiffel Tower view. Paris Perfect left us many useful local recommendations. We fortunately did not require their assistance during our stay, but felt it would have been very easy to enlist help. I would definitely use Paris Perfect and Calvados again on return to Paris.
Calvados Review
by Daniel & Suzanne C
This was our second visit to Paris where we stayed in a PP apartment and once again we were thrilled. Calvados was just what we expected and needed for a space to relax. Beautifully decorated, comfortable and cozy; and we loved our balcony view of the Eiffel Tower. The 7th has become "our neighborhood" and many of the shop keepers and restaurant staff remembered us from our last visit. We really appreciated all the personal help the Paris Perfect team provided, as they did last time. Verity was great, as was Sam. We loved being in Paris again--the only problem is that we can't wait to go back again! And of course, we're so spoiled by our Paris Perfect experience that we'll want to stay with you again! Now all we need to do is put together a book of photos. Thanks so much, Paris Perfect! It was indeed perfect!!
Calvados Review
by Barbara
Fabuleux! Our family of four spent a week in the Calvados apartment. It was perfect for us.....typically Parisienne with a beautiful view of the sparkling Eiffel Tower from the balcony each night. The apartment is located conveniently with a market and several bistros within a block. I walked to a wonderful bakery 2-3 blocks away every morning for fresh croissants...Yummmm! We were truly impressed with our "hosts" at ParisPerfect, who were most accommodating and readily available with friendly assistance and accurate recommendations. We recommend them without hesitation and wish for you an experience as special as ours!
Calvados Review
by Elizabeth McCurdy
The Calvados was a wonderful place for our family to stay over spring break. The apartment was casual yet elegant and the views of the Eiffel Tower were stunning. It seemed like we could reach out and touch it from our balcony. We opened the balcony doors every morning at breakfast and it felt like we were already out sightseeing. Having two baths, one with sink and large tub, and one with sink and shower, made it convenient for our family of four to get ready at the same time. The location was superb being one street over from the Champs de Mars Park and Eiffel Tower. We were a quick stroll to the Seine. The street is relatively quiet, with the exception of morning traffic, since it's residential. There are several small groceries nearby to choose from when needing to stock the kitchen. The building is quiet and exudes the classical charm travelers are looking for to have that Parisian experience.
Calvados Review
by Regina Shaw
My family of 4 (myself, my husband and 2 daughters, ages 16 and 20) stayed at the Calvados apartment in early March, and all I can say is WOW! Talk about location! You are right in the heart of the 7th arrondissement, under the shadow of the Eiffel Tower and just a short walk from the Seine! We didn't use public transportation that much, simply because we found Paris to be such a walkable city, but I can say that the #69 bus and RER C are close by. The apartment is close to rue Cler, an incredible and not-to-be-missed market street. And you MUST go to one (or all!) of the incredibly fantastic restaurants on rue St-Dominque! Definitely take the recommendations on the Paris Perfect website when it comes to restaurants and cafes! When we return to Paris (and we will!!) we will most assuredly rent with Paris Perfect again!
February 7, 2013 - Website
Calvados Review
by L. Carrabino
We stayed in the Calvados apt. Which was a perfect location! We were able to view the Eiffel Tower from our balcony, walk across the bridge to Montaigne street, shop Champ-Ellysee, and stroll down Rue Cler Market easily in a day. The apartment was beautiful and we felt like we were Parisians when we walked through our lovely gate to the street below to have a cafe and croissant, or walk to the market! We were able to enjoy many museums on this trip, enjoy great fine French dining, and still feel the peaceful pace of the City of Light! Thank you for all your helpful guides. We will be back to see more of Paris and London too!
January 28, 2013 - Website
Calvados Review
by William C
If, when arranging a trip to Paris, you want to LIVE in Paris rather than just visit like a tourist then a stay in this apartment is a must. Beautifully decorated and spotless are just the beginning. You are in a true Parisian neighborhood and you will be rubbing shoulders with the residents of the 7th arrondisement at the grocers, the pharmacies, the bistros and, of course, the patisseries all of which are just steps away in this beautiful area. The rental agents are endlessly patient and really go out of their way to be helpful with any and all questions. This is our second stay in this agency's apartments and we plan on another.
January 11, 2013 - Website
Calvados Review
by The Franzels
The apartment was everything we had hoped for. Very nicely and comfortably furnished and very well equipped. As there were only two of us we were spoiled with two bathrooms. Central for shopping, museums etc and we loved the evening view of the Eiffel Tour with the twinkling lights. We have been to Paris several times before but still found the information book with tips and recommendations extremely helpful.
December 5, 2012 - Website
Calvados Review
by Paul S
The Eiffel Tower is literally right in front of the window, and we enjoyed very much having two separate bathrooms.
November 11, 2012 - Website
Calvados Review
by Bill Cavanaugh
Great apartment with two bathrooms and a great washer and dryer. Location fantastic with any number of wonderful restaurants within a very short walk. The information provided by Paris Perfect in the apartment was so helpful and the associates are endlessly patient and good natured. The ac units are the portable variety and need to be vented to the outside so a couple of nights we were bothered by mosquitos buzzing in our ears. Only one true negative though and that was a very boisterous party on Saturday night in the interior courtyard that went on until about 4 a.m.
September 23, 2012 - Website
Calvados Review
by Alfrieda B
The apartment was perfect and lived up to expectations. We will definitely recommend Paris Perfect to others. Your team was great!
September 16, 2012 - Website
Calvados Review
by Karen F
We spent a very content week in the lovely apartment. It was perfect in every way. Note that the balcony is extremely narrow. The location is extremely convenient to grocery stores, restaurants, markets, the Metro, shopping, the Eiffel Tower. We would stay there again!
Calvados Review
by Lori Gammell
Calvados was the perfect location for our family vacation and the service by Paris Perfect was impeccable! A "perfect" base for our Paris adventure.
Calvados Review
by Ellen MacLean
We had a wonderful stay! The apartment had all the comforts of home and was in a sensational location...and the direct view of the eiffel Tower didn't hurt either. I loved going downstairs each morning to the cafe next door to buy fresh croissants and cafe creme. All transportation options were close and we were able to use the Batobus because of the exceptional weather. Paris Perfect made our visit extra special. We are looking forward to our next visit.
Calvados Review
by Diana Mulroy
The Calvados apartment was wonderful. It was stocked with all of the essentials for a perfect trip. We have stayed in rental apartments before and none have been stocked with things like spices, coffee filters dish liquid etc. This really made it nice. The location and view of the Eiffel tower could not be beat. The area was perfect for walking around and experiencing Paris. The Paris perfect team did such a wonderful job of welcoming us. We will be back!
February 9, 2012 - Website
Calvados Review
by Joel & Lilian Angel
We had the most Memorable experience with Paris Perfect. This Apartment provides us with everything we could have needed. We had a comfy bed, a nice soaking tub, and a separate toilet which is always nice. We had plenty of hot water. The kitchen was just the right size with every amenity you could want, including an expresso machine, and washer and dryer. It was cold and we were pleasantly surprised that we didn't need any heating, it must've been well insulated. We appreciated all the little extras such as umbrellas, and tote bags for the market, and the free calls back Home to the USA. The decor was very Parisian and romantic. Oh and the view was spectacular. The sight of the Eiffel Tower was always magical. We would like to thank you for your Hospitality, and all of your suggestions. We enjoyed every moment in Paris. We found this location to be centrally located. We hope to go back and visit, and we will certainly be staying with you in the future. Thanks for being a part of our perfect Vacation.
February 6, 2012 - Website
Calvados Review
by Cheryl Slutzky
We loved our stay at the Calvados in the 7th arrondissement. Although it was not our first trip to Paris, it was our first time renting an apartment instead ofnstaying in a hotel. Paris Perfect provides everything in the apartment you would need: a well supplied kitchen containing dishes, glassware, cutlery, pots and pans, lovely appliances, etc. There is no guesswork here because amenities are abundant! The apartment itself was charmingly furnished and comfortable. The view of the Eiffel Tower from the living room is surreal, especially in the evening when the lit tower is breathtakingly beautiful. The neighborhood is residential, very upscale and lovely with easy access to the #42 bus which is a sightseer's delight. The neighborhood is abundant with markets, boutiques, patisseries, and some wonderful restaurants. In fact there is no need to have dinner elsewhere-- we cancelled reservations at restaurants in other locations once we realized that there were local treasures. If you want the experience of living for just a little while in Paris, you cannot go wrong here. What a marvelous way to enjoy a vacation in the most beautiful city in the world!
January 26, 2012 - Website
Calvados Review
by James Voelzke
Apartment was perfect! location a 10, decor a 10, view a 10, comfort a 10. Couldn't have asked for anything more. Paris Perfect office and check in were great, staff were friendly and informative. This was a last minute trip with a last minute booking, what a pleasant surprise to open up the door to Calvados and a week of awesome fun.
January 20, 2012 - Website
Calvados Review
by Dotty & Brian Anderson
We were pleased in every way. Thank you Paris Perfect!
January 14, 2012 - Website
We loved this apartment! This was cozy, comfortable, and very chic! I love cooking in that kitchen! We would stay here again.
December 22, 2011 - Website
Calvados Review
by Anne Price
I just want to thank everyone at Paris Perfect for living up to the glowing reputation and reviews on Trip Advisor and VRBO as well as Paris Perfect's website. I had somewhat lofty expectations since it was my first trip to Paris. The apartment exceeded any expectations by a mile! It was a girls trip (with my daughter turning 21) and we had a ball. The 7th Arrondisement felt like our own special neighborhood - quite frankly I could have spent a month exploring our own little streets. There are only half a million wonderful restaurants right outside the door (not to mention patisseries, boulangeries, flower shops, small boutiques, etc.) - we loved the new little restaurant called FL run by a young couple only a few blocks from the apartment (on the same street as Paris Perfect's office). And we spent our first day exploring the local open air market which is only open on Thursdays and Saturdays. We got into the swing of things immediately! Loved having the market cart in our apartment closet. The apartment has EVERYTHING you could possibly need. But the most spectacular thing of all is the view of the Eiffel Tower from the french doors and small balcony! Truly magical and I never tired of watching the light show every night. By the way, Paris at Christmas is also wonderful ... the shop displays, the lights, the lack of crowds - it was truly the trip of a lifetime. Merci beaucoup to all the Paris Perfect team. We'll be back soon! Anne Price
September 21, 2011 - Website
Calvados Review
by Mary Morris
We had a wonderful week in Calvados. It is in a perfect location with a fabulous view of the Eiffel Tower. It is also the perfect amount of space for us. A favorite feature for us was the balcony that allowed us to sit out and enjoy the view and the fresh air. We really appreciate the amenities that are hallmarks of Paris Perfect apartments: plush towels, good beds and bedding,modern kitchen facilities (especially love the Nespresso machine and coffee),great neighborhood for shopping and dining. Having a courteous English-speaking greeter is very helpful. Sam was great. Overall the apartment experience gave us a chance to feel like Paris residents for a while. Thank you Paris Perfect team!
September 1, 2011 - Website
Calvados Review
by Neil & Tracey Hayward
Absolutely the BEST Location.... A 1 minute walk across the road to the Eiffel Tower, I was amazed at how close we were, yet still so quiet and relaxing. Our 10 year old son( with us closely behind.... )could scooter under the Eiffel Tower and around the streets easily, without annoying anyone. Happy son, happy mum! Just Loved the apartment. Our greeter was very welcoming and helpful. We had breakfast each morning on the quaint balcony with breathtaking views of the Eiffel Tower. A dream come true for us! So convenient and stress free. Also being able to phone for free from the apartment was another bonus, as we had left Two 18+ children at home and were able to keep in daily contact with them, which gave me peace of mind. Thanks Paris Perfect for making our Holiday PERFECT!
August 25, 2011 - Website
Calvados Review
by Don & Patti Liedtke
When you rent an apartment sight unseen over the internet, there are a whole range of possible outcomes. When we rented from Paris Perfect, the outcome was off the scale as being more than we expected and could possibly hope for. The apartment was exactly as represented and everyone we dealt with was totally professional, friendly, and ingratiating. Our trip to Paris was one that we have been dreaming of for quite some time, so for you to live up to those dreams was spectacular! Having an apartment instead of a hotel room was the key for our trip to be relaxing. We didn't have to worry about someone coming into the flat every day or being concerned about security, we just lived as Parisians! Every detail was attended to right down to the Paris tour books on the shelves for our use. Thank you SOOOOO much for making our dream trip to Paris come true!!!!
Calvados Review
by Carolyn Samuel
Very sweet house (we stayed in the guest house) and gorgeous private gardens. Very nice and helpful caretaker who speaks no English, but my French is ok to converse in.... lovely little village. Great location for DDay and Bayeux. Very nice vacation - took train in to Paris one day (2 hours each way), perfect.
Calvados Review
by Jennifer Lee
We had a wonderful trip to Paris, thanks to the dedicated team at Paris Perfect. It was our daughters' first time to the City of Light, so we absolutely wanted to make it perfect for them. The location of Calvado was ideal, with the stunning view of the Eiffel Tower. Each night, our daughters would gaze upon it, waiting for it to light up. Pure magic every time, it really never gets old. Madelyn and the team really ensured that everything we needed was there. No details were spared. We found the folder full of information and suggestions most helpful, from the restaurant suggestions to the Rue Cler shopping tips, it made our trip so much more 'local'. We cannot wait to return and try the other apartments. Jennifer Lee
Calvados Review
by Erin and Steve Coldham
The apartment was perfect in every way. The location was great and we never tired of seeing the Eiffel Tower from our lovely balcony. All the little touches were especially nice like the hand soap and body lotion. We had a very comfortable stay here in a fantastic neighbourhood. We especially loved buying our croissants and pain au chocolat every morning from one of the many boulangeries at our doorstep. Thank you Paris Perfect for a great stay.
Calvados Review
by Rob & Curt
The Calvados apartment not only met, but far exceeded our expectations! It's gorgeous, well outfitted, spacious and the location was ideal. I was really struck by how quiet it was and how comfortable the bed was - I slept like a baby as if in my own home! This was our first trip to Paris and we were blessed with incredible weather (70s) all week. It was a gift to be able to either sit on the balcony at the end of the day with a glass of wine, or walk across the street to the Eiffel Tower park to relax. Every staff member we worked/talked with was wonderful especially our welcomer, Chris...charming and helpful. Paris Perfect, you made our Paris vacation perfect! Merci et Au Revoir.
February 5, 2011 - Website
Calvados Review
by Judy O'Brien
Great apartment in an ideal spot. Everything worked as it should. Staff were on the ball with meet and greet; gave us good tips and friendly in their approach to us. We would certainly stay with Parisperfect again.
December 27, 2010 - Website
Calvados Review
by Karen Petel
Paris Perfect excels at attention to detail. Everything we needed was right there in our apartment or a phone call away. They've thought of everything, from the quality linens down to the shopping cart needed to carry your groceries to prepare your own meal in your Parisian apartment. The apartment was spotless, beautifully decorated and well cared for - and magnificent can't begin to describe the view from our balcony. The neighborhood is filled with friendly shop owners who truly made us feel like part of the neighborhood - and the welcome package made us feel like we had the "inside information" on the neighborhood. The Paris Perfect staff is friendly and efficient. We couldn't have asked for a better experience. Thank you!
October 14, 2010 - Website
Calvados Review
by Christina Binkley
As always (this was my ninth or tenth stay with Paris Perfect), the apartment was fully stocked, clean as a pin, and perfectly renovated. The location is quiet, despite being close to the Eiffel Tower. If you use the Paris metro, it's easy to use Ecole Militaire or to cross over to the right bank to pick up the lines there, depending on where you're headed. The restaurant on the corner sells nice breads and pastries as well, for take-away.
October 5, 2010 - Website
Calvados Review
by Whitney Haller
Thanks - we really enjoyed the apartment and visiting Paris for the first time. We hope you got the little cake we left in the apartment. Everyone was so helpful throughout the entire process; online and in person and we just wanted to say thanks.
September 28, 2010 - Website
Calvados Review
by Robin Howard
The Calvados apartment was beautiful, quiet and comfortable, and just a few minutes walk from three Metro lines and the RER. It exceeded our expectations - they'd thought of everything...hair dryers, an iron, shopping tote, laundry soap,coffee, tupperware and all the kitchen gadgets you'll need for a picnic or a full meal. Just a few steps away is a nice take-out bakery for morning croissants. The 40 pages of neighborhood tips the staff sent was incredibly helpful. There's nothing like hanging out on the balcony with a bottle of wine, watching the tower sparkle. We can't say enough good things about our experience and we'll never forget it.
Calvados Review
by Debra Platt
Fabulous stay, thanks. Amazing how well the apartment is outfitted, everything is very well thought out. Thanks, I look forward to my next stay with Paris Perfect.
Base Nightly Rates – May Not Include Fees such as Greeting, Cleaning, Damage Waiver, Credit Card Processing and Tourist Taxes. For full price, please put in dates.
Available
Unavailable
Check-In Only
Check-Out Only
October 2023
S
M
T
W
T
F
S
01
02
03
04
05
06
07
08
09
10
11
12
13

$399

14

$399

15
16
17
18
19
20
21
22
23
24
25
26
27
28

$439

29

$418

30

$429

31

$438
November 2023
S
M
T
W
T
F
S
01

$589

02

$589

03

$594

04

$607

05

$548

06

$535

07

$614

08
09
10
11
12

$592

13

$547

14

$574

15

$590

16

$752

17

$745

18

$679

19

$693

20
21
22
23
24
25

$825

26

$755

27

$813

28

$824

29

$850

30

$867
December 2023
S
M
T
W
T
F
S
01

$881

02

$867

03

$787

04

$762

05

$773

06

$810

07

$821

08

$831

09

$834

10

$751

11

$750

12

$759

13

$802

14

$798

15

$810

16

$825

17

$725

18

$773

19

$1055

20

$1072

21

$1074

22

$1066

23

$1075

24

$987

25

$1017

26

$913

27

$1133

28
29
30
31
January 2024
S
M
T
W
T
F
S
01

$1134

02

$822

03

$909

04

$901

05

$814

06

$767

07

$722

08

$700

09

$722

10

$712

11

$746

12

$694

13

$683

14

$635

15

$619

16

$645

17

$662

18

$668

19

$659

20

$656

21

$621

22

$595

23

$628

24

$639

25

$666

26

$647

27

$647

28

$619

29

$586

30

$608

31

$607
February 2024
S
M
T
W
T
F
S
01

$624

02

$629

03

$633

04

$623

05

$580

06

$603

07

$613

08

$635

09

$663

10

$686

11

$658

12

$635

13

$649

14

$661

15

$681

16

$705

17

$731

18

$672

19

$659

20

$673

21

$687

22

$711

23

$726

24

$753

25

$682

26

$677

27

$694

28

$714

29

$739
March 2024
S
M
T
W
T
F
S
01

$751

02

$771

03

$700

04

$705

05

$728

06

$750

07

$769

08

$784

09

$792

10

$721

11

$732

12

$759

13

$779

14

$793

15

$809

16

$815

17

$749

18

$765

19

$798

20

$807

21

$798

22

$733

23

$835

24
25
26
27
28
29

$1053

30

$1074

31

$1043
April 2024
S
M
T
W
T
F
S
01

$794

02

$814

03

$807

04

$805

05

$800

06

$821

07

$777

08

$791

09

$813

10

$816

11

$813

12

$806

13

$827

14

$778

15

$795

16

$813

17

$820

18

$819

19

$806

20

$825

21

$771

22

$790

23

$808

24

$820

25

$827

26

$809

27

$824

28

$760

29

$772

30

$787
May 2024
S
M
T
W
T
F
S
01

$789

02

$807

03

$797

04

$795

05

$701

06

$759

07
08
09
10
11
12
13
14

$763

15

$777

16

$806

17

$784

18

$850

19
20
21
22
23

$842

24

$862

25

$891

26

$846

27

$841

28

$863

29

$878

30

$899

31

$914
June 2024
S
M
T
W
T
F
S
01

$920

02

$874

03

$876

04

$900

05

$914

06

$930

07

$929

08

$931

09

$887

10

$904

11

$926

12

$929

13

$929

14

$926

15

$928

16

$890

17

$915

18

$920

19

$923

20

$928

21

$927

22

$924

23

$896

24

$1278

25

$1276

26

$1275

27

$1277

28

$1012

29

$1008

30

$976
July 2024
S
M
T
W
T
F
S
01

$1005

02

$1012

03

$1018

04

$1018

05

$1016

06

$1020

07

$979

08

$1007

09

$1021

10

$1027

11

$1021

12

$1013

13

$1013

14

$969

15

$999

16

$1018

17

$1013

18

$999

19

$1249

20

$1245

21

$1200

22

$1231

23

$1244

24

$1242

25

$1788

26

$1791

27

$1790

28

$1769

29

$1783

30

$1786

31

$1777
August 2024
S
M
T
W
T
F
S
01

$2497

02
03
04
05
06
07
08

$1706

09

$1724

10

$1736

11

$1691

12

$1185

13

$1197

14

$1180

15

$1178

16

$925

17

$932

18

$906

19

$921

20

$939

21

$925

22

$925

23

$1784

24

$1795

25

$1762

26

$1784

27

$1805

28

$1790

29

$1784

30

$1785

31

$1789
September 2024
S
M
T
W
T
F
S
01

$1751

02

$1778

03

$1799

04

$1789

05

$1788

06

$1789

07

$1796

08

$1749

09

$922

10

$950

11

$952

12

$948

13

$944

14

$946

15

$888

16

$909

17

$950

18

$965

19

$965

20

$961

21

$953

22

$881

23

$893

24

$937

25

$965

26

$958

27

$943

28

$943

29

$864

30

$873
October 2024
S
M
T
W
T
F
S
01

$928

02

$952

03

$948

04

$949

05

$974

06

$901

07

$925

08

$954

09

$964

10

$960

11

$969

12

$997

13

$930

14

$943

15

$969

16

$976

17

$972

18

$981

19

$1013

20

$952

21

$947

22

$974

23

$976

24

$971

25

$978

26

$1195

27

$1121

28

$1097

29

$1123

30

$1131

31

$1130
Things to See & Do
Champ de Mars (1 mins Walking)
Expansive park surrounding the Eiffel Tower. Stroll, jog, bicycle or play in one of the playgrounds, go to the puppet theater or carousel, or just sit and enjoy Parisian life and the beautiful gardens.
Eiffel Tower (1 mins Walking)
Paris' most iconic site and one of the world's most visited attractions. Take the elevator or stairs to the top of this magnificent structure for beautiful views over Paris.
Bateaux Mouches Boat Tours (4 mins Walking)
We recommend boarding a boat tour on your first day, where you can relax and enjoy sailing down the Seine viewing many Paris monuments, museums and cathedrals
Musée du quai Branly (4 mins Walking)
Showcases indigenous art and cultures from Africa, Asia, Oceania and the Americas
École Militaire (5 mins Walking)
Napoleon attended military school here and the buildings still show gunfire signs from the French Revolution in 1789
Trocadéro (5 mins Walking)
The Palais de Chaillot sits on top of the hill and houses the Museum of Architecture, Maritime Museum and the Museum of Mankind. Stunning pictures of the Eiffel Tower can be taken from the surrounding gardens with their majestic fountains
Musée des égouts de Paris (8 mins Walking)
Fascinating tour of limestone arches and caverns down in the sewers that traverse all of Paris. The Phantom of the Opera was inspired by these underground streets.
Les Invalides (15 mins Walking)
A masterpiece of French Classical architecture built by Louis XIV; Napoleon's tomb rests under the golden dome.
Champs Elysees (20 mins Walking)
One of the world's most famous shopping boulevards. Make sure to visit the Louis Vuitton flagship store!
Grand Palais (25 mins Walking)
Venue for major national and international events and exhibitions
Musée de l'Armée (25 mins Walking)
One of the world's finest collections of arms, armor, and uniforms. It is renowned for its enormous collection of medieval armor.
Petit Palais (25 mins Walking)
Dating back to the 1900s, it's now the site of the Museum of Fine Arts in Paris

Shopping & Eating
Pont de l'Alma Food Market (10 mins Walking)
Largest open market in Paris; open Wednesday and Saturday mornings
Luxury Stores on Avenue Montaigne (12 mins Walking)
Home to many of the leading fashion houses including Louis Vuitton, Dior, Chanel, Fendi, Valentino and Ralph Lauren, as well as jewelers like Bulgari.
Rue du Commerce (20 mins Walking)
A true Parisian shopping street with trendy boutiques, food stores, bistros

Public Transport
RER (7 mins Walking)
Pont de l'Alma (Line C)
Métro (10 mins Walking)
Alma - Marceau (Line 9)
Métro (12 mins Walking)
École Militaire (Line 8)