The Aquila Villa and its adjacent cottage are perfect for nature lovers, surrounded by trees and a beautiful garden. Guests can enjoy a private, tranquil retreat in the heart of Tuscany, with access to the all of the amenities offered on Vecchietto Estate.
Location
Villa Aquila sits in a stunning location, surrounded by nature: a lovely garden, big lawns, and tall trees line the property. The main villa can host up to 6 guests, and there is also a cottage available that can host another 5 guests. For privacy the cottage is rented only with the villa.
The villa is an easy drive from Florence about 40 minutes. The nearest train station in Figline Valdarno is a 10 minute drive and we found it makes the trip into Florence easy.
This villa is on the luxurious Vecchietto Estate, a sprawling property that offers tennis courts and pools, guided bike tours and excursions, yoga lessons, and traditional cooking courses. On the property is a bistro and shop with local wine and other fine local products. We enjoyed a fine lunch here when inspecting. A shuttle is available for local trips.
The estate is located in the coveted Arno Valley, between the towns of Reggello and Figline Valdarno. It is an excellent home base to explore all the Tuscany has to offer. Figline Valdarno has shops, supermarket, restaurants and a handy train station.
The picturesque town of Reggello is known for its abundance of agricultural products, which culminates each December with an international olive oil exhibition. Also nearby Greve and Gaiole, famous for their Chianti wines.
Some of the interesting local sites to visit are the towns of Pontassieve, the Castle of Sammezzano, and the Vallombrosa Abbey.
For fashion enthusiasts you the famous The Mall is very convenient, where tourists and Italians alike find top designer fashion at a discount from the major fashion brands Gucci, Salvatore Ferragamo, Dior, La Perla, Prada, Todd, Loro Piana, and more.
Exterior
Villa Aquila is a classic Italian countryside villa. With a sleek white exterior and traditional green shutters, this villa combines regional charm with luxury and comfort.
Interior
Ascend the steps and enter through the wrought iron door into a bright, spacious entrance hall that is flooded with light.
The large living room is a perfect gathering place for cozy evenings by the fireplace, or warm afternoons lounging on the sofas. On the ground floor also find an elegant dining room with period furniture; a fully-equipped kitchen with original ceramic tile decoration, and a powder room.
On the second floor, there are three spacious bedrooms, each with stunning views of the villa grounds. An additional living room on this level offers a nice place for other gatherings. Each bedroom is air conditioned and has an ensuite bathroom.
Included daily housekeeping and change of pool towels. Linen change every 3 days. Breakfast can be delivered, paid.
Activities
Adventures: Guided Tours of Tuscan Towns, Chianti Wine Tour, Luxury Shopping Trip, Visit Mideaval Village, Wine Tasting in Village Cellars /li>
Relish food & wine: Adult & kids Cooking Classes, Wine Tasting
Excercise: Tennis, Bike Tours, Trekking, Horse Riding & LessonsShopping Trip
Things To Note
Neighborhood: Reggello
Size: Main Villa: 2885 sq ft/268 m2
Accessibility/Security: There are no alarms for the pool, guests are fully responsible for safety of all.
Payment: Upon reserving, 30% of the total is non refundable.
€1000 damage deposit, refundable less damages, paid paid in cash on arrival or preauthorized to credit card.
Utilities/Taxes: Heating dates on/off and daily cycles are set by government.
Hospitality tax is paid in cash on arrival. Go to www.italyperfect.com/tax for current rate.
Check In/Out: check in 4:00-7:30pm by appointment, check out 10am.
Chef services can only be provided through property. Please request well in advance.
Room Details
| Room | Beds | Details |
| --- | --- | --- |
| Bedroom 1 | Extra-Wide Queen (1) | Extra-wide queen bed (63in x 79in; 160cm x 200cm) |
| Bedroom 2 | Single (2) | Two single beds (31in x 75in; 80cm x 190cm) that can be made up together to form an dual extra-wide queen bed. |
| Bedroom 3 | Single (2) | Two single beds (31in x 75in; 80cm x 190cm) that can be made up together to form an dual extra-wide queen bed. |
| Bedroom 4 | Single (2) | Two single beds (31in x 75in; 80cm x 190cm) that can be made up together to form an dual extra-wide queen bed. |
| Bathroom 1 (en suite to Bedroom 1) | | Shower, toilet and sink |
| Bathroom 2 | | Bathtub (handheld shower),shower, toilet and sink |
| Bathroom 3 (en suite to Bedroom 3) | | Shower, toilet and sink |
| Bathroom 4 (en suite to Bedroom 4) | | Shower, toilet and sink |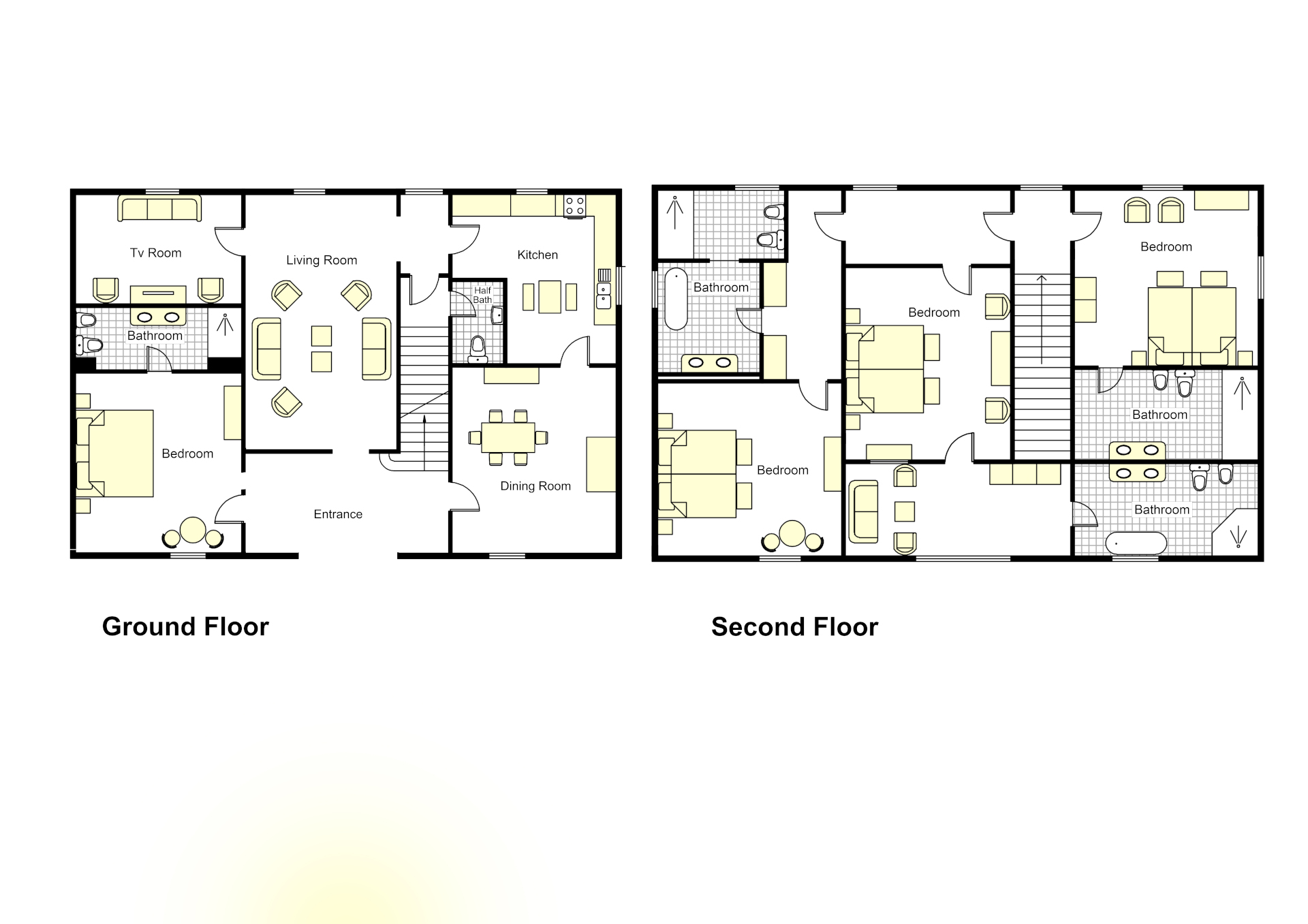 Kitchen

Kitchen
Fully Equipped
Coffee Maker
Dishwasher
Oven
Stovetop
Refrigerator

Connectivity/Entertainment

WiFi
TV
TV - Limited English Programs

Heating/Cooling

Heating
Window Screens
A/C-Bedrooms Only

Laundry

Dryer
Iron & Board
Washer

Outdoor

Terrace
BBQ
Pool
Tennis Court
Thank you for submitting your review. It will be processed shortly!
September 15, 2022 - Manual Entry
Worth the Wait
by The Gordons
Our 2020 vacation that was delayed until 2022 was worth the wait. Marvelous stay at this fine property, convenient location for exploring the region by car & even a day trip to Florence by train. Little train station in nearby town was handy for that. Service was impeccable as was housekeeping. Onsite restaurant excellent. This was our third time booking with Italy Perfect and they've never steered us wrong.
September 14, 2022 - Manual Entry
Excellent Family Gathering
by Jerry
Not only is the villa beautiful, the service was excellent. Our stay here is a milestone in our family history as we gathered to enjoy each other, good food and rambling around Tuscany. Some relaxed on the property. Young adults took the train into Florence. Super. Italy Perfect's service is, as it says, perfect.
August 20, 2022 - Manual Entry
We had a very nice time
by Randall F
We had a very nice time and appreciated your help.
Base Nightly Rates – May Not Include Fees such as Greeting, Cleaning, Damage Waiver, Credit Card Processing and Tourist Taxes. For full price, please put in dates.
Available
Unavailable
Check-In Only
Check-Out Only
December 2023
S
M
T
W
T
F
S
01
02
03
04
05
06

$1465

07

$1465

08

$1465

09

$1465

10

$1465

11

$1465

12

$1465

13

$1465

14

$1465

15

$1465

16

$1465

17

$2200

18

$2200

19

$2200

20

$2200

21

$2200

22

$2200

23

$2200

24

$2200

25

$2200

26

$2200

27

$2200

28

$2200

29

$2200

30

$2200

31

$2200
January 2024
S
M
T
W
T
F
S
01

$2200

02

$2200

03

$2200

04

$2200

05

$2200

06

$2200

07

$2200

08

$1465

09

$1465

10

$1465

11

$1465

12

$1465

13

$1465

14

$1465

15

$1465

16

$1465

17

$1465

18

$1465

19

$1465

20

$1465

21

$1465

22

$1465

23

$1465

24

$1465

25

$1465

26

$1465

27

$1465

28

$1465

29

$1465

30

$1465

31

$1465
February 2024
S
M
T
W
T
F
S
01

$1465

02

$1465

03

$1465

04

$1465

05

$1465

06

$1465

07

$1465

08

$1465

09

$1465

10

$1465

11

$1465

12

$1465

13

$1465

14

$1465

15

$1465

16

$1465

17

$1465

18

$1465

19

$1465

20

$1465

21

$1465

22

$1465

23

$1465

24

$1465

25

$1465

26

$1465

27

$1465

28

$1465

29

$1465
March 2024
S
M
T
W
T
F
S
01

$1465

02

$1465

03

$1465

04

$1465

05

$1465

06

$1465

07

$1465

08

$1465

09

$1465

10

$1465

11

$1465

12

$1465

13

$1465

14

$1465

15

$1465

16

$1465

17

$1465

18

$1465

19

$1465

20

$1465

21

$1465

22

$1465

23

$1465

24

$1465

25

$1465

26

$1465

27

$1710

28

$1710

29

$1710

30

$1710

31

$1710
April 2024
S
M
T
W
T
F
S
01

$1710

02

$1710

03

$1710

04

$1710

05

$1710

06

$1710

07

$1710

08

$1710

09

$1710

10

$1710

11
12

$1710

13

$1710

14

$1710

15

$1710

16

$1710

17

$1710

18

$1710

19
20
21
22

$1710

23

$1710

24

$1710

25

$1710

26

$1710

27

$1710

28

$1710

29

$1710

30

$1710
May 2024
S
M
T
W
T
F
S
01

$1710

02

$1710

03

$1710

04

$1710

05

$1710

06

$1710

07

$1710

08

$1710

09

$1710

10

$1710

11

$1710

12

$1710

13

$1710

14

$1710

15

$1710

16

$1710

17

$1710

18

$1710

19

$1710

20

$1710

21

$1710

22

$1710

23

$1710

24

$1710

25

$1710

26

$1710

27

$1710

28

$1710

29

$1710

30

$1710

31

$1710
June 2024
S
M
T
W
T
F
S
01

$1710

02

$1710

03

$1710

04

$1710

05

$1710

06

$1710

07
08
09
10

$2200

11

$2200

12

$2200

13

$2200

14

$2200

15

$2200

16

$2200

17

$2200

18

$2200

19

$2200

20

$2200

21

$2200

22

$2200

23

$2200

24

$2200

25

$2200

26

$2200

27

$2200

28

$2200

29

$2200

30

$2200
July 2024
S
M
T
W
T
F
S
01

$2200

02

$2200

03

$2200

04

$2200

05

$2200

06

$2200

07

$2200

08

$2200

09

$2200

10

$2200

11

$2200

12

$2200

13

$2200

14

$2200

15

$2200

16

$2200

17

$2200

18

$2200

19

$2200

20

$2200

21

$2200

22

$2200

23

$2200

24

$2200

25

$2200

26

$2200

27

$2200

28

$2200

29

$2200

30

$2200

31

$2200
August 2024
S
M
T
W
T
F
S
01

$2200

02

$2200

03

$2200

04

$2200

05

$2200

06

$2200

07

$2200

08

$2200

09

$2200

10

$2200

11

$2200

12

$2200

13

$2200

14

$2200

15

$2200

16

$2200

17

$2200

18

$2200

19

$2200

20

$2200

21

$2200

22

$2200

23

$2200

24

$2200

25

$2200

26

$2200

27

$2200

28

$2200

29

$2200

30

$2200

31

$2200
September 2024
S
M
T
W
T
F
S
01

$1710

02

$1710

03

$1710

04

$1710

05

$1710

06

$1710

07
08
09

$1710

10

$1710

11

$1710

12

$1710

13

$1710

14

$1710

15

$1710

16

$1710

17

$1710

18

$1710

19

$1710

20
21
22
23

$1710

24

$1710

25

$1710

26

$1710

27

$1710

28

$1710

29

$1710

30

$1710
October 2024
S
M
T
W
T
F
S
01

$1710

02

$1710

03

$1710

04

$1710

05

$1710

06

$1710

07

$1710

08

$1710

09

$1710

10

$1710

11

$1710

12

$1710

13

$1710

14

$1465

15

$1465

16

$1465

17

$1465

18

$1465

19

$1465

20

$1465

21

$1465

22

$1465

23

$1465

24

$1465

25

$1465

26

$1465

27

$1465

28

$1465

29

$1465

30

$1465

31

$1465
November 2024
S
M
T
W
T
F
S
01

$1465

02

$1465

03

$1465

04

$1465

05

$1465

06

$1465

07

$1465

08

$1465

09

$1465

10

$1465

11

$1465

12

$1465

13

$1465

14

$1465

15

$1465

16

$1465

17

$1465

18

$1465

19

$1465

20

$1465

21

$1465

22

$1465

23

$1465

24

$1465

25

$1465

26

$1465

27

$1465

28

$1465

29

$1465

30

$1465
December 2024
S
M
T
W
T
F
S
01

$1465

02

$1465

03

$1465

04

$1465

05

$1465

06

$1465

07

$1465

08

$1465

09

$1465

10

$1465

11

$1465

12

$1465

13

$1465

14

$1465

15

$2200

16

$2200

17

$2200

18

$2200

19

$2200

20

$2200

21

$2200

22

$2200

23

$2200

24

$2200

25

$2200

26

$2200

27

$2200

28

$2200

29

$2200

30

$2200

31

$2200
January 2025
S
M
T
W
T
F
S
01

$2200

02

$2200

03

$2200

04

$2200

05

$2200

06

$2200

07

$2200

08

$2200

09

$2200

10

$2200

11
12
13
14
15
16
17
18
19
20
21
22
23
24
25
26
27
28
29
30
31
February 2025

| S | M | T | W | T | F | S |
| --- | --- | --- | --- | --- | --- | --- |
| | | | | | | 01 |
| 02 | 03 | 04 | 05 | 06 | 07 | 08 |
| 09 | 10 | 11 | 12 | 13 | 14 | 15 |
| 16 | 17 | 18 | 19 | 20 | 21 | 22 |
| 23 | 24 | 25 | 26 | 27 | 28 | |
Things to See & Do
Figline Valdarno (3.7 km Distance)
Many beautiful Gothic and Renaissance buildings, great art, majestic piazza. Train station.
Reggello (8 km Distance)
Woodsy community where you can wander to visit a castles, abbeys and churches. Osterie, ristoranti and rosticcerie.
Leccio Shopping (11 km Distance)
Great shopping on Lake Como in the town of Leccio. Designers are all there.
Montevarchi (15.5 km Distance)
Classic Tuscan city with deep history and fine architectural sites. Art and wine and restaurants.
Greve in Chianti (22 km Distance)
One of the great wine towns of Italy, famous for Chianti wine, fine shops and restaurants. The triangular main piazza with collonnades hosts wine-focused events and an organic farmer's market, check schedule. Art and history abound in this easy to visit town.
Gaiole in Chianti (28 km Distance)
Idyllic city within the Chianti Classico region that features its wines and olive oils. Gaiole has the largest winery in the region. Beautiful castles, and churches.
Center of Florence (36 km Distance)
The capital of Tuscany with the greatest collection of great art and architecture in the world. Home of the Renaissance. Great shopping and dining and vino.
Florence Airport (36 km Distance)
Amerigo Vespucci Airport/Peretola airport, small international airport quite close to the city centery. Code: FLR
Arezzo (46 km Distance)
Classic fortified Tuscan hill-top city with famous cathedral, significant frescoes, beautiful piazzas and streets. Monthly antique's fair. One of the most important Etruscan cities and located on the important Via Cassia Roman north-south highway.
Cortona (46 km Distance)
Beautiful hilltop Tuscan town. In addition to restaurants and shops, an Etruscan museum, an archeological park with ancient fortifications and stretches of Roman roads. Paintings by Fra Angelico.
Siena (65 km Distance)
Called Italy's loveliest medieval city with cuisine, art, museums, churches and famous art. Unique medieval culture that is reflected in the twice annual Palio horse race that some call insane. Look for videos.
Lucca (100 km Distance)
Famous for its medieval wall that encircles the city, a wonderful walk or bike ride. Wander the streets to see the piazza that was a roman amphitheater where emperors met. Good dining and shopping.
Pisa (108 km Distance)
Of course, you must visit this great town and climb the leaning tower! The cathedral is excellent. Take a tour. Home of Galileo. Ancient enemy of Florence and source of its salt with the consequence that Florentine bread has not salt, to this day, resulting in many Florentine dishes containing stale bread.
Rome Airport (260 km Distance)
Rome's main international airport is named Leonardo da Vinci. Figure about an hour to/from the city center. Code: FCO