The Victoria is an impeccable four-bedroom, 3.5 bathroom home with a storybook setting in London's exclusive Kensington neighborhood. Imagine the very best of London living and it's yours at the Victoria. Walk along a beautiful and quiet residential street lined with pretty front gardens to reach the Victoria, with its classic London wrought iron railing bedecked with wisteria vines.
Set in picturesque Kensington, the neighborhood is said to have been originally built for Queen Victoria's ladies in waiting. Victoria was born and grew up in the nearby Kensington Palace, which was once the home of Lady Diana. We named the Victoria vacation rental after this illustrious heritage. This was home to a famous English painter, Albert Chevallier Tayler, whose cricket painting broke a record selling for over $1m. His portraits of players were the first of their kind and many hang in the National Portrait Gallery.
You're just a short stroll from the gorgeous and expansive Hyde Park in one direction and some of the best museums in London on Museum Row, in the other direction. For those wanting a more guided experience, try one of our expert museum tours. Walk to fabulous shopping along High Street Kensington or stroll to Notting Hill or Harrods in Knightsbridge; read our blog on department store dining for where to eat. The Victoria is very near the Tube and tons of bus lines crisscrossing London.
Step through the front door to find a soaring entry leading to a large and sunny living room, a gorgeous open-plan dining room and gourmet kitchen. The gorgeous outdoor terrace is the perfect setting for a summer evening. On the second floor, you'll find the sumptuous bedroom 1 with large en-suite bathroom. Next door is the quaint bedroom 2, complete with an en suite. One more level up on the third floor you'll find two additional welcoming bedrooms and a separate bathroom. With every comfort of home, your stay at the Victoria will be a highlight of your trip to London. Click here to see why we love Kensington.
Things To Note
Neighborhood: Kensington
Size: 1,900 sq ft/175 sq m
Cooling: Mobile A/C unit in each bedroom and living room
Accessibility/Security: 5 steps to entrance, 2 internal stair cases
Room Details
| Room | Beds | Details |
| --- | --- | --- |
| Bedroom 1 | King (1) | King bed (71in x 79in; 170cm x 200cm) |
| Bedroom 2 | Single (2) | Two single beds (30in x 75in; 75cm x 190cm) that can be zipped together to form a dual queen bed |
| Bedroom 3 | Single (2) | Two single beds (33in x 79in; 85cm x 200cm) that can be zipped together to form a dual extra-wide queen bed |
| Bedroom 4 | Queen (1) | Queen bed (60in x 79in; 150cm x 200cm) |
| Bathroom 1 (en suite to Bedroom 1) | | Shower (fixed rainfall and flexible showerheads), toilet and double sink |
| Bathroom 2 (en suite to Bedroom 2) | | Combination bathtub/shower (fixed rainfall and flexible showerheads), toilet and sink |
| Bathroom 3 | | Shower (fixed and flexible showerheads), toilet and sink |
| Half Bath | | Toilet and sink |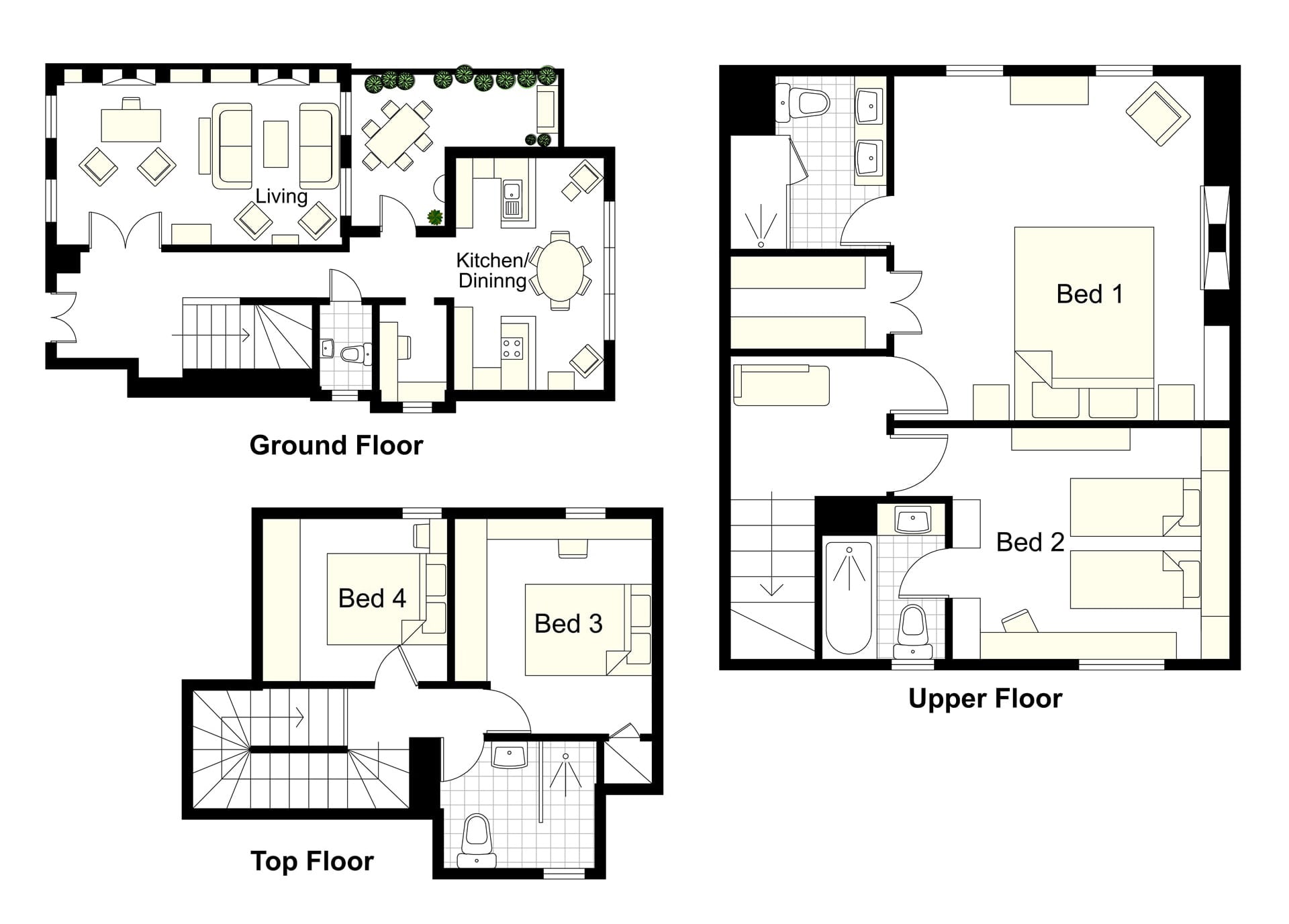 Kitchen

Starter Supplies
Fully Equipped
Coffee Maker
Dishwasher
Kettle
Microwave
Nespresso Style Coffee Machine
Oven
Stovetop
Toaster
Refrigerator

Connectivity/Entertainment

Laundry

Dryer
Iron & Board
Washer

Special Features

Balcony/Terrace
Instant Booking
Thank you for submitting your review. It will be processed shortly!
January 6, 2022 - Manual Entry
Perfect location - gorgeous home!
by Katie Wakefield
We had the distinct pleasure of staying at the Victoria in December 2021. The recommended car service picked us up at the airport and the London Perfect staff met us at the house. The process could not have been more smooth! The location is perfect! We were blocks away from a tube station, multiple stores, restaurants, Kensington Park and Palace and so much more! Set in a gorgeous quiet residential neighborhood, surrounded by other lovely homes, after a long day of walking and touring, the Victoria was such a welcome and cozy reprieve to come home to. The accommodations were perfect for our group of 7. We had quiet, relaxing times spent playing cards and watching movies at night in the living room and also enjoyed cooking meals and hanging out in the kitchen/dining area. The bedrooms were equipped with super comfy beds and linens. The bathrooms were super well-appointed. The closet space was perfectly ample. We could not ask for better accommodations for our stay in London. There is no other place we will stay when we come back!
January 1, 2022 - Manual Entry
Great stay
by Tyler McMullen
Our second time staying a week in this flat. Great flat on a great street in a great neighborhood. Nothing negative at all. Perfect for family of five. Plenty of room and full kitchen. Will plan to stay again.
December 13, 2021 - Manual Entry
Victoria Home on Launceston Place is "London Perfect"
by Andrew
London Perfect was perfect from the rental application process to the confirmation and all important information furnished in a timely manner to the greetings and to staying in touch to be sure all expectations of our US Thanksgiving Holiday were met. The property is perfect for our grandparents, parents and adult grandchildren in our group. The location cannot be beat and the three stories provided spacious comfortable areas for all. We always have high expectations because we are used to Paris Perfect properties, and London Perfect matches or exceeds everything we hope for. Even nearby covid testing on nearby Kensington High Street. Thank you London Perfect -- the greeters, caretakers, housekeepers, and concierge staff were perfect also. We will return
Victoria Review
by Adam P
Amazing location and beautiful home. Very spacious and comfortable for the prime location! Check-in process was very easy and London Perfect were always available to answer any questions. I would definitely stay here again!
Victoria Review
by Rachel Ann R
We had the best week! The house was gorgeous, clean, all round brilliant experience!
Victoria Review
by Jessica G.
This was the most lovely rental we've ever had. The Victoria is a beautiful home in an absolutely perfect location. Each room is magnificently decorated and the house is so very clean. We are a family of 2 adults and 3 kids and the house fit us perfectly. There are two pubs very close by, two tube stops and so many places to walk to. I can't recommend this rental enough. London Perfect was a great rental agency to work with. They were responsive and helpful when needed.
November 18, 2019 - Website
Victoria Review
by Ellen O
The Victoria is superb, handles lots of guests quietly. Best part: it is gorgeous and has every tool or household implement one could need. Excellent location. My sister is currently kitting her house out with some of the decorating ideas from the Victoria!
Victoria Review
by Louie S
"PERFECT". We had an amazing stay in London and the Victoria was a huge part of it. It was perfect for our family of 6 adults: beautiful home with plenty of bedrooms and bathrooms but also great gathering spaces for all of us to enjoy some quality time together at the end of every day, and a huge kitchen with all the conveniences. Wonderful location in a beautiful, quiet residential area but a quick walk to the tube station, shopping (including Boots and Waitrose!), restaurants, everything. We actually rescheduled our travel dates to stay at the Victoria and would do it again! Tip: Definitely schedule your airport pickup and return with Lushi... wouldn't do it any other way.
Victoria Review
by Rachel M
We were a group of four families (Moms and kids) and chose this lovely property for its ability to provide enough beds and baths and gathering area. Even though there was a gorgeous front room/formal area, we were happy to spend our time after long days of exploring London in the kitchen area. We gathered around the large table, played games, and enjoyed the convenience of stocking our own snacks and drinks right there. Need a corkscrew? It's there. Need a can opener? It's there. This house is so well-stocked, it was like being home. Speaking of feeling at home, London Perfect asked if they could add anything to make our stay more comfortable and honestly, I couldn't think of anything we didn't have. It was truly like being at home and what a wonderful feeling when you're actually thousands of miles away. The neighborhood street is quiet in the evening and just a block away from conveniences like Starbucks, sandwich shops, delicious restaurants and Gloucester tube station. The home is well-appointed, the mattresses were very comfortable, generous storage and very clean. Any requests we had regarding any maintenance issues (top bedroom very warm one night in unusually warm weather for March) were met and we were able to adjust the room's temperature for the following nights. With all of us staying at a larger capacity home, we all had hot showers, which was great. Working with London Perfect was easy; they were very polite, helpful, and friendly. Lushi chauffeurs, their recommended transport service was reliable and fantastic to work with as well. Thank you London Perfect for a wonderful stay!
Victoria Review
by Kevin W
Great location and great overall stay for our family. Team at London Perfect were very good to work with (professional, courteous, etc.). The Victoria is an amazing house with plenty of bedrooms, bathrooms, kitchen, living room, etc.. Great location close to restaurants, shops, bars, coffee shops, etc. and 5 minute walk to the subway. Highly recommend.
January 28, 2019 - Website
Victoria Review
by Adamson Family
Our family had a wonderful stay in Victoria during January. The house is very large and exactly as described. The bed linen, towels and toiletries were all top quality. The house was also sparkling clean. Beautifully decorated throughout it was a pleasure to stay in this lovely home. It was perfect!
October 12, 2018 - Website
Victoria Review
by Dina DM
Let me start by saying that I am an extremely picky traveler and do my homework before booking any accommodations. I did good on this one! I was in Sicily, Florence, Montepulciano and ended my trip in London. I slept in 8 different places and the Victoria was hands down the best experience. Not only is the house and the neighborhood beautiful but the beds were sooo comfortable that I even reached out to London Perfect to find out where they got their bedding. Just around the corner is plenty of shopping, restaurants and the Gloucester underground station is about 3 or 4 blocks away. Most important to me is that it was really quiet at night. Best night sleep in 3 weeks!
August 29, 2018 - Website
Victoria Review
by Fabian & Maria S
What a fantastic home, outstanding location, extremely comfortable beds (the best sleep we had in a month in Europe), we were all absolutely overwhelmed with the entire experience here at Victoria in Kensington, London! Thank you to the entire team at London Perfect... the name says it all!!!
Victoria Review
by Shelbi
Our stay at the Victoria apartment in Kensington was perfect. The location was ideal (close to shops, restaurants, Hyde Park, and the Tube), and the apartment itself was beautiful and spacious. We love staying in apartments instead of hotels. We were able to eat breakfasts "at home" and comfortably spend time together in the evenings after our busy days of sightseeing without being on top of each other in a cramped hotel room.
Victoria Review
by Linda Greyser
The Victoria could not have been more perfect or more comfortable for our family. Every detail to make a family vacation a pleasure was easily at hand and the Victoria is gracious, lovely, and livable home. It was a real pleasure for all of us!
Victoria Review
by Judy Paul
We've stayed in many London Perfect flats, and they've all been wonderful. The Victoria was no exception. The flat is beautiful and comfortable, and the Kensington location is perfect. Thanks for a great stay!
October 8, 2017 - Website
Victoria Review
by Sabrina DiMichele
The Victoria is an amazing property. It is spacious and luxuriously appointed, and the location is superior for major London sightseeing (major museums are nearby, and Kensington Garden is just up the road). I was there with three girlfriends, and the apartment was perfect for us. It would also be fabulous for multiple couples or for a family. The kitchen is very large and opens into the breakfast room with a large table and several plush armchairs. We congregated there for breakfasts and for the evening nightcap over which we de-briefed our day. There is also a very nice living room and a small but lovely courtyard patio, perfect for enjoying a pre-dinner glass of wine or morning coffee. The four bedrooms are lovely, with varying degrees of storage. The master is simply gorgeous, with a huge bathroom and walk-in closet with a safe for valuables. The other room on the second floor (that's American; in England it's the first floor because the ground floor is, well, the ground floor not the first floor) has bunk beds. I slept in the bottom bunk and it was very comfortable. It would not be good for an elderly person, though, because it is high and there is a protruding wooden slab that made mounting and dismounting a bit awkward. The bathroom is fabulous, though, with the only tub in the house. On the third floor, there are 2 bedrooms each with a queen bed, and each is beautiful. The built-in closets, shelving, and drawers throughout the house are very well done. I have stayed in LondonPerfect's sister company ParisPerfect's flats in Paris. In both locales, the attention to detail and customer service are outstanding. We also used Lushi Chauffeurs, recommended by LondonPerfect, and appreciate that company's responsiveness and service. The Victoria is an exquisite accommodation that I highly recommend.
September 24, 2017 - Website
Victoria Review
by Cindy Snell
The Victoria is a beautiful three story house on a lovely street in Kensington. It may be even prettier than the pictures. Four of us had a wonderful and comfortable stay there. We especially enjoyed the neighborhood with the nice assortment of restaurants, grocery stores, etc. The house truly made our London stay amazing!
August 13, 2017 - Website
Victoria Review
by Jeffrey & Sandra S
Victoria – aptly named for this amply and very well furnished house on a quiet residential street in Kensington. We recently spent a week in Victoria as part of exposing our grandson to the wonders of London. This house is spacious, fully equipped with modern appliances, and has a beautiful garden for relaxing after a long day before and/or after dinner. Though in a residential neighborhood it only is a 3 minute walk to Gloucester Street which has several very good small restaurants and cafes, as well as a supermarket. There are additional restaurants within a five minute walk in other directions, and only a ten minute walk to the Kensington Gardens and Palace or to the Victoria & Albert Museum. Also, the Gloucester Tube only is a 5 – 8 minute walk from the house, and the two principal lines that run through the Gloucester Tube (Circle and District) very quickly bring you to all the major London Sites. Victoria was just perfect for us in all respects, and provided our grandson (and ourselves) with a more enjoyable and far richer experience than if we had stayed in a hotel (which we had done on previous visits to London). Though we have had a six year experience with Paris Perfect (with which London Perfect is a part of), this was our first experience with London Perfect and we found the London Perfect Office to be exceptional with respect to providing information and assistance (including identifying for us medical resources if needed as our grandson is diabetic). London Perfect and Victoria made this a Royal trip for us.
Victoria Review
by Robert Dozier
Perfect. Perfect. Perfect. Trip was fabulous; because of Victoria and London Perfect. We had a total 5 people for 6 nights. The location could not be better and the house -- from layout, to location to condition could not have been better. Thank you for helping make our vacation so wonderful.
Victoria Review
by Robert Dozier
Perfect. Perfect. Perfect. Trip was fabulous; because of Victoria and London Perfect. We had a total 5 people for 6 nights. The location could not be better and the house -- from layout, to location to condition could not have been better. Thank you for helping make our vacation so wonderful.
Victoria Review
by David Sundelson
We had a wonderful stay in Victoria. The apartment is spacious and extremely comfortable, with every possible convenience, and the location could not be better: a lovely street and an easy walk to the V & A and to Hyde Park, as well as to scores of shops and restaurants. We can't imagine a better place for two or three couples or a family.
January 17, 2017 - Website
Victoria Review
by Anna Foster
The Victoria is a fabulous place to spend your London holiday! We found the apartment/home to meet our needs and more. It is beautiful, well appointed and the service by the London team fantastic. Can't wait to return!
September 17, 2016 - Website
Victoria Review
by Marsha & Larry Rabkin
We have stayed in many 5 star hotels during our frequent London visits, but the experience at the Victoria surpassed them all! The home is spectacular, the amenities and location Breton do all expectations. We truly felt like we were "home". I was hesitant to stay in a home versus a high end hotel, but I felt infinitely more comfortable. This property is simply spectacular, cannot think of sufficient accolades.
Victoria Review
by Megan C
"Perfect" truly is the right word for this apartment and the company. I am so happy we chose London Perfect for our family's first international vacation. We felt we were in terrific hands during the planning of our trip, and their recommended driver Lushi was fantastic. While we didn't need any assistance from London Perfect during our stay, it was such a comfort to know they were readily available. The Victoria apartment is beautiful, spacious, and fantastically located -- just one block from shops and restaurants, but on such a peaceful street that we woke to the birds' lovely singing! The gardens and patio were much appreciated, as well as the spacious and modern bathrooms. Thank you to the homeowners for generously opening their home as a rental, and thank you London Perfect! We have already recommended the company to several friends.
Victoria Review
by Cindy W
Our family of five had the pleasure of staying in the Victoria apartment for 10 days in April 2016. Victoria is located in Kensington and is very close to shops, restaurants and the tube. But, more importantly, it is a fabulous flat that manages to combine luxury with comfort. It has too many conveniences to list, but which are documented exactingly on the London Perfect website. And, best of all, it is an inviting, warm and light filled flat well suited to just relaxing or heading out for a jaunt around London. Oh, and did I mention the well tended patio and gardens? We have also used Paris Perfect, a sister company, for a week long stay in Paris and can highly recommend this company for anyone wishing to have a "Perfect" stay. You won't be disappointed.
Victoria Review
by Chuck Z
Over years of renting vacation properties, we've come to learn that the website pictures are flattering to the point of distortion, invariably making the place look larger, prettier, fresher, etc. than it really is. Not so with Victoria. It is every bit as beautiful and spacious as portrayed. We loved everything about it, as well the beautiful street it's on and the surrounding neighborhood.
Victoria Review
by W Doran-Paley
The stay was wonderful. Beautiful house, great location, everything was as stated, smooth, and helped make our stay truly easy and memorable. Your staff was very responsive while we were there as well. We spent our last night in London at a hotel – because the Victoria was not available our final night – and although the hotel was great and you all helped us arrange it – it really brought home to us how wonderful it is to stay in a home. Having a kitchen, a place to spread out, etc. are such a luxury and so wonderful. We did wish the Victoria had a TV in the down stairs living room rather than in some of the bedrooms – we are more communal TV watchers and it would have been fun to watch some local TV together – but that is so minor compared to all the many wonderful aspect of our stay. Thank you for existing!
Victoria Review
by Jane T
I can not say enough wonderful things about our stay at Victoria in London. It is in a fabulous location in a beautiful residential neighborhood. There was plenty of room to be together as a family and also space to have our individual privacy. We were minutes from shops of all sorts, the tube stop and the V&A. Kensington Gardens, also minutes away, was a perfect place to walk and bike. Lots of really good local restaurants. The London Perfect staff was there to greet us and on call all during our stay. This is our second experience with the "Perfect" people and I would book our next vacation with them in a heartbeat!
January 25, 2016 - Website
Victoria Review
by Dr Saud Almogbel
Great house great location great rental and inhouse service
October 28, 2015 - Website
Victoria Review
by Paul Dorgan
I would recommend London Perfect without reservation ... as the name implies our accommodations and their service could not be faulted. Looking forward to using their services again!
October 23, 2015 - Website
Victoria Review
by Marie B
We stayed in the Victoria in Kensington in October 2015. We couldn't recommend it highly enough. It is a most beautiful home beautifully decorated and immaculately maintained. It would be impossible to improve on the decor and comfort of this property. Even the beds were the most comfortable we have ever slept in. Add to this the wonderful location close to Kensington Gardens, Hyde Park, Knightsbridge with Gloucester Road station only 3 minutes away and lots of restaurants,shops and supermarkets close by. We have previously stayed in Rome using Italy Perfect and couldn't recommend the 'Perfect' experience highly enough. They really think of everything that could help to make your stay perfect! I would like to take this opportunity to thank all the staff who were so good to us and so patient (!) prior to and during our stay.
October 7, 2015 - Website
Victoria Review
by David Salem
The home met our needs very well. It was a joy to stay there, and we look forward to our next visit. The staff was terrific, and very accommodating.
August 27, 2015 - Website
Victoria Review
by Catherine C
It's been a month since we left London and my family of five still talks about our wonderful trip. The memorable vacation started off seamlessly with the Heathrow pick-up by Lushi himself. We then had an initial "hiccup" in the original house we were renting, but the London Perfect team led by Jo fixed the problem within a few hours. We then had the best possible stay at the property called Victoria. Let me explain why Victoria was my personal favorite part of the journey. 1. Beautifully-decorated home lovingly cared for by Tessie that can be showcased in Architectural Digest / Conde Nast Traveler, etc… 2. Perfect bedroom layout for my family with warm, functional common spaces --- living room, outdoor terrace, kitchen and dining area 3. Convenient location in Kensington – walking distance to Kensington Palace, the park, Royal Albert Hall, and the museums 4. Great access to public transportation – Gloucester or Kensington High Street which covers many lines 5. Chic, safe, "cute" neighborhood with mews, little restaurants, and boutiques nearby I personally hope that my family and I can stay at Victoria again on our next visit to the great city of London!
Things to See & Do
Kensington Gardens (10 mins Walking)
This beautiful Royal Park is home to Kensington Palace, the Italian Gardens, Albert Memorial, Peter Pan Statue, the Serpentine Galleries and the Princess Diana Memorial playground and fountain
Kensington Palace (10 mins Walking)
Official residence of Prince William and Duchess Kate. The State Rooms are open to the public and feature antiques, memorabilia and fashions from Queen Elizabeth through to Princess Diana.
Royal Albert Hall (10 mins Walking)
World-famous concert hall built in 1871
Royal College of Music (10 mins Walking)
Distinguished music conservatory dating back to 1882. Check the program for operas and recitals at very reasonable prices.
Museum Row (12 mins Walking)
Victoria & Albert Museum, Natural History Museum, and the Science Museum
Hyde Park (15 mins Walking)
One of the greatest city parks in the world and home to many famous landmarks including Serpentine Lake and Speakers' Corner
Princess Diana Memorial Playground (15 mins Walking)
Located in the north-west corner of Kensington Gardens, this playground has a charming Peter Pan theme complete with a 50-foot tall wooden pirate ship, teepees, and lots of fun things to discover
Princess Diana Memorial Fountain (20 mins Walking)
Memorial fountain in Hyde Park designed to express Princess Diana's spirit and love of children

Shopping & Eating
Kensington High Street (10 mins Walking)
Fabulous shopping strip with many big brands including Marks & Spencer, Topshop, Next, and the largest Whole Foods Market store in London
Harrods (25 mins Walking)
One of the world's most famous luxury department stores

Public Transport
Bus (3 mins Walking)
Take the 49 Bus to High Street Kensington, South Kensington (for the Museums), Kensington Palace, Hyde Park, and Battersea Park.
London Underground (6 mins Walking)
Gloucester Road station: One of the most convenient in London as it's served by three key lines: Piccadilly, District and Circle lines. Go direct to Heathrow airport, the West End Theatre District, the Tower of London, Covent Garden, Piccadilly, St. Paul's, Green Park, Buckingham Palace and other famous landmarks.