Luxury apartment where you can enjoy a privileged life style appropriate to the finest neighborhood in Rome. The Renata apartment is in the heart of all that is elegant in the Eternal City.
Location
On the corner of Via Condotti in Rome, the Renata apartment is in the heart of all that is elegant in the Eternal City. A two minute walk puts you in front of the Spanish Steps, a location that is so popular because it is so central. We enjoy staying in this area for its great designer shopping, people watching, array of restaurants, proximity to popular sites and convenient transportation.
Exterior
The building mirrors the neighborhood, a proper "palazzo" built about 250 years ago when the Princes Torlonia were amassing their fortunes by managing the fortunes of the Vatican and built the palace across the street.
The apartment adjoins the Valentina apartment that, if available, can be rented at the same time for larger groups. There is also the Zegno apartment two floors up.
Interior
Spacious and quiet elegance typify this fine apartment. Two large windows light the living room overlook Via Bocca di Leone.
Two sofas are grouped by the working fireplace that features stonework from the ancestral home in southern Italy. The hand-hewn ceiling beams have been exposed to display the room as it was originally designed. Also in the living room are some fine antique pieces, a sideboard, and a dining table that will seat six. 
The flow is from the entry to living room or to down the hall to one bedroom. Off of the living room, one enters a small hall that leads to either the second bedroom or kitchen. There is a day-bed in the second bedroom that can be prepared for an extra fee, please inquire.
The kitchen also has its own sunny balcony that is glassed in to form the breakfast area. This pleasant area is great for casual meals. The laundry nook is accessed from this area.
Things To Note
Neighborhood: Spanish Steps
Size: 1300 sq ft/120m2
Accessibility/Security: One step up from the street.
Sound: Nearby Via Condotti is a pedestrian-only street, except for taxis, local deliveries and motor scooters. In the warm months the murmur of the pedestrians can carry up to open living room windows.
Payment: Upon reserving, 30% of the total is non refundable. Cash damage deposit paid on arrival.
Terms: €150 cleaning fee paid in cash on arrival.
Check in: 4:00 to 9:00pm, by appointment. Check out by 11:00am.
Room Details
| Room | Beds | Details |
| --- | --- | --- |
| Bedroom 1 | Dual Extra-Wide Queen (1) | Dual extra-wide queen (63in x 79in; 160cm x 200cm) which can be separated to form two single beds |
| Bedroom 2 | Extra-Wide Queen (1) | Extra-wide queen bed (63in x 79in; 160cm x 200cm) |
| Bathroom 1 (en suite to Bedroom 1) | | Combination jacuzzi bathtub/shower (fixed and flexible showerhead), sink and toilet |
| Bathroom 2 (en suite to Bedroom 2) | | Combination jacuzzi bathtub/shower (fixed and flexible showerhead), sink and toilet |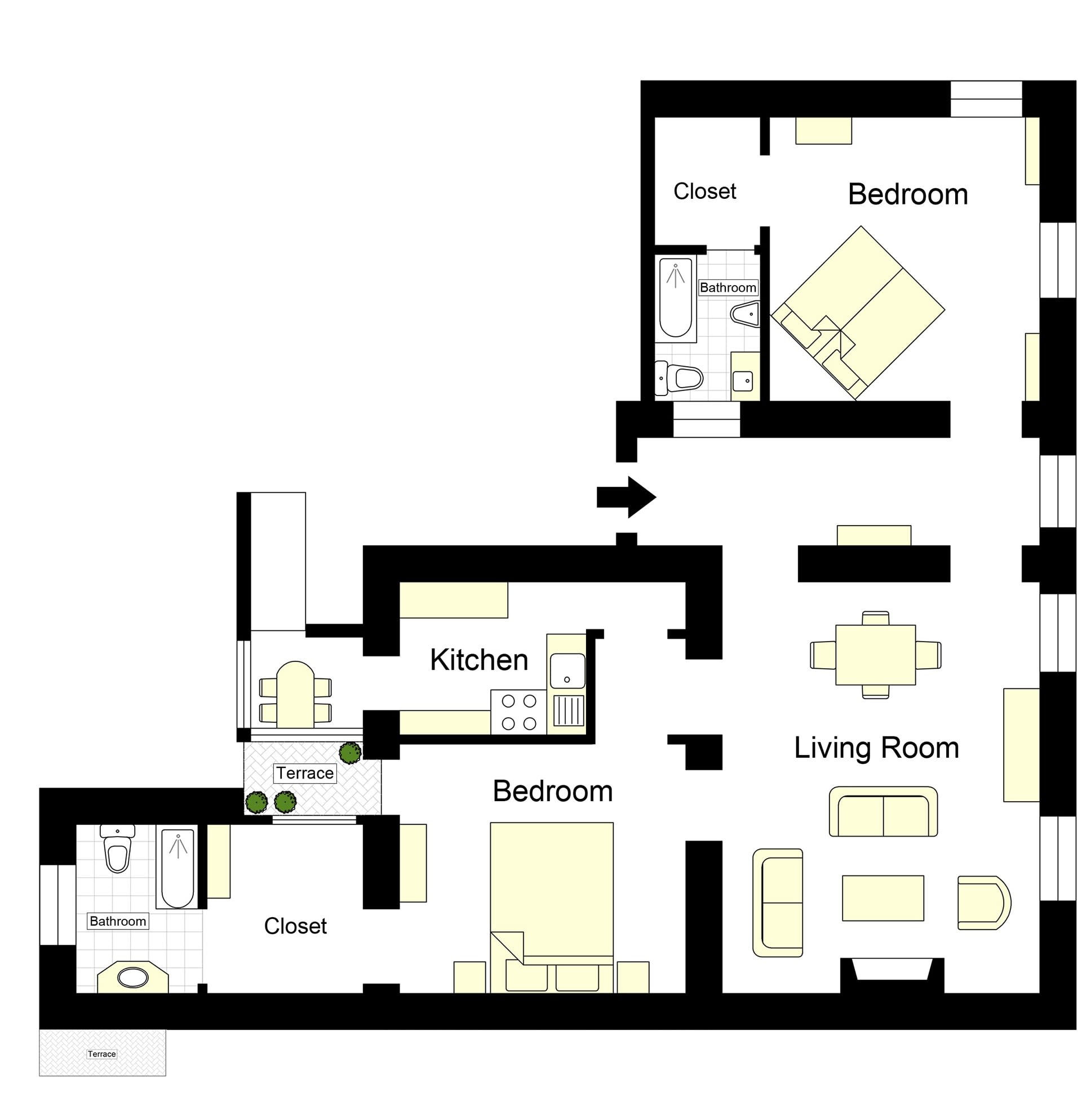 Kitchen

Kitchen
Fully Equipped
Dishwasher
Microwave
Nespresso Style Coffee Machine
Oven
Stovetop
Refrigerator

Accessibility

Private Entrance
3rd Floor North American
Elevator

Connectivity/Entertainment

WiFi
TV - Limited English Programs

General Amenities

Hotel Safe
Smoke Detector
Carbon Monoxide Detector

Amenities

Elevator
Air Conditioning
Thank you for submitting your review. It will be processed shortly!
October 18, 2022 - Website
Believe Valentina's Fabulous Reviews!
by David Emsley
This review is for the neighboring apartment with the same management: "The Valentina apartment for our 2 couples exceeded all our expectations, in all aspects…from our original booking process, our greeting upon check-in with our hosts, it's incredible location, and the size, layout, and tasteful furnishings of this magnificent well-maintained apartment. Considering Valentina's location we were pleased with how quiet the bedrooms were. Grocery shopping, bakeries, wine stores, cafe's were all within steps of Valentina, including of course the Spanish Steps and Via dei Condotti a block away. Most of Rome's major attractions were within walking distance, with a gelato in hand. Now we have enjoyed great experiences with Paris Perfect in August and Italy Perfect in October. Looking forward already to another Vacation Perfect experience next year."
March 2, 2022 - Manual Entry
Wonderful stay
by Barbara
This is our second time renting with the Vacation Perfect team (first was Paris) and there will for sure be many more. It is the perfect opportunity to really experience the culture of a country and live like a local. The Renata apartment was just what we needed for our week long stay in Italy. The rooms are comfortable and well equipped. The neighborhood is fabulous and elegant. There is a great little restaurant just on the corner for your first meal in Italy and a place to get a coffee and baked goods for the morning also down the street. You really can't go wrong staying at Renata.
Thank you for your 5 star review! We are delighted you enjoyed your stay Barbara. We look forward to welcoming you back in the near future! The Italy Perfect Team.
February 24, 2020 - Website
Renata Review
by Ron Pellegrini
Renata was everything it was advertised to be! A fantastic location for exploring all of the great historical locales of ancient, Renaissance and modern Rome. Shopping! Dining! Safe! Comfortable! The apartment itself makes you feel a part of all you came to see. Tastefully decorated with a mix of today and yesteryear...while having modern bath and kitchen facilities. A huge library of research and reference books that help you understand all you have taken in on any given day. We'll do it again...and again! [We are thrilled you had such wonderful time! We hope to welcome you back soon! The Italy Perfect Team]
January 21, 2020 - Website
Renata Review
by Harish Dadoo
After a long transatlantic flight, as the taxi drove us, a family of 5 having 3 grown up children, to the apartment and stopped, we could not believe the incredible location and wonderful street where Renata was located. The apartment was ample, very well decorated and having a great living room with chimney and high ceilings in each room. The bedrooms were very comfortable, as well as the 2 bathrooms. Kitchen was quite ample. Upon breakfast we were greeted every day by the nice music of a violinist playing in the corner. Always walking down the steps 3 floors (not wishing to use the period elevator up or down for exercise) and immediately when opening the building door we were in one of the most fashionable streets in Rome, and just 20 mts from Via Frattina. Marcella was very educated, kind and interested in us enjoying our time there. Thank you Pat and Madelyne! [Thank you, kind guest. We look forward to welcoming you again!]
August 11, 2019 - Website
My husband and I loved the Renata apartment. The location near the Spanish Step was perfect and although we were in Rome during a heat wave the apartment's air conditioning held up just fine...which is not always the case in Rome. The preplanning Italy Perfect did was right on target. We also rented the Valentina and Zegno apartments as we had twelve in our group. All the apartments were as advertised, although it's a bit difficult to hear the bell or buzzer in the Zegno apartment as you have to enter past the manager's office and the door was always closed. I had groceries delivered to each apartment in advance, although the grocery store is just a very short 5 min walk and it's easy to go and get exactly what you want. Because we were a large group I made some dinner reservations and these restaurants stood out in the area and treated us well. Al 34 and Il Gabriella. If the adults want to get away AD Hoc is a great place, small and reservations a must. We used Family Twist to arrange our group tours and I can't say enough about them, they were wonderful. I have used Italy Perfect and Paris Perfect and highly recommend them to anyone. [We are glad to hear that you enjoyed your stay! The Italy Perfect Team]
January 4, 2019 - Website
My family and I spent a lovely 8 days in the Valentina and Renata apartments that form a huge living space for the 8 of us to enjoy. The apartments are comfortable, well appointed and HUGE for this area of Rome. We loved the cozy fireplaces in the living rooms as well as the 5 bedrooms and 5 bathrooms. What an ideal setting for a family get together. Our host Marcella was delightful as was the greeter Edgard. We felt extremely welcome and cared for. The apartments are quiet even though we are just a block off the Via Condotti. You couldn't ask for a better location to explore Rome from. There are numerous great restaurants in the area and most major sights are walkable. Italy Perfect has once again made our Rome stay memorable! [Thank you so much Steve. You are always welcome to come again.]
November 12, 2018 - Website
Two single women rented your apartment named "Renata" and so enjoyed our time there. The two bedrooms were spacious and the bathrooms as well. There were numerous one step up or down between the rooms as in many Italian apartments- just an FYI, but once we got used to them, they were no problem.Nice light from the windows and lovely furnishings. We did not cook but used the fridge for storing breakfast items and Prosecco. However, the kitchen was fully equipped and even had salt, pepper,sugar and a bottle of olive oil and balsamic vinegar for her guests to use. The owner also had a vase flowers and a bottle of wine as a welcome gift! The booklet provided by the owner was so well put together and thought out. It answered many questions as to locations of a pharmacy, restaurants and info about each of them, museums and historical places to see, etc. This was fun for us to see what was recommended as we know Rome and have visited many times, but for the novice traveler, it was invaluable!!The location of the apartment is super for shopping and restaurants and close to taxi stands for ventures further afield. We would be happy to rent this apartment again and recommend it to others traveling in Rome. [Thank you Jeanne, we are delighted you enjoyed your stay and look forward to welcoming you again! The Italy Perfect Team]
Amazing location! Spacious apartment very clean. We loved loved the proximity to everything. The host was so nice and took the time to explain things. So happy to have stayed there and would recommend to everyone! [Thank you so much Carla! The Italy Perfect Team]
Renata Review
by Gilberto Vieira
Renata is a wonderful apartment. Very well located. You can go to the main Rome attractions on foot. But if you like you can stay in the neighborhood, which is plenty of restaurants and stores and it is also a nice place to walk. The apartment itself is very comfortable and pleasant with two bedrooms and two bathrooms which made our stay of a couple and a 12 yr boy very comfortable. The owner and the greeter made a very good job. No complains about that. So, Renata apartment is a place to come back for sure.[Thank you so much Gilberto, we are pleased you enjoyed your stay! The Italy Perfect Team]
We were greeted by Edgard who was helpful, efficient and friendly. The apartment was clean and nicely furnished. The space was larger than we expected and we all had plenty room to move around. The neighborhood is top notch and central to everything. The grocery store and organic market down the street were A+.
October 14, 2017 - Website
What a fantastic location in Rome! Very spacious apartment near the metro and shops. Besides the dog barkin in the apartment above ( what else do you expect in an apartment) we loved it! The violin player below was incredible.. and when we wanted quiet, the double pane windows worked like a charm. Very responsive owner.. highly recommend!
August 16, 2017 - Website
We loved our stay in the spacious and clean Renata apartment. It is perfectly located and easy to walk everywhere. There are numerous wonderful restaurants and shops steps away.[Thank you Donna! The Italy Perfect Team]
We thoroughly enjoyed our stay at Renata which was located near the Spanish Steps, shops and wonderful restaurants.The apartment had every amenity to make our stay in Rome perfect.I have recommended Italy Perfect, Paris Perfect and London Perfect to all of my friends and family. [Thank you Alla, we are pleased you enjoyed your stay and look forward to welcoming you again! The Italy Perfect Team]
February 13, 2017 - Website
The Renata apartment was perfect for our recent visit to Rome. The location is fantastic, right in the center of the best shopping, plenty of restaurants and wonderful sites like the Spanish Steps. This is our second time staying in this apartment and we loved it. I would definitely recommend Italy Perfect for those looking for apartments in Italy. [Thank you Lisa, we look forward to welcoming you back again! The Italy Perfect Team]
January 29, 2017 - Website
This is the best area to stay in Rome. So much life. Stores and restaurants everywhere. Close to most of the sites but we just took taxis everywhere. I couldn't imagine staying anywhere else in Rome. Check in was a little stressful. The driver couldn't get ahold of Marcella and he couldn't speak English so he just dropped us off at the front door without explaining anything. Here we are in the middle of the street with a locked door and no one to let us in. I decided to call the houseman and he answered immediately and let us in. Turns out Marcella was away on holiday and we were early. It worked out but I should have called myself immediately upon landing. So call the houseman, he seems to be there all the time. The violinist is a little annoying because he plays the same thing all the time and he clearly is playing for money instead of getting money for playing. There was an opera singer there one day so that was nice. The city does start a little early so sleeping in is hard but you shouldn't be sleeping anyway. As for the apartment, you should be aware that it is cold in part of the house. We were there in the winter and it does get cold but we are from FL so everything is cold to us. There is no vent in the kitchen or the back bathroom so be prepared. The rest of the house gets warm. The restaurant list was great to have. We just went down the list and tried them all. The best was Babette. The service presentation and food were outstanding. The worst was Ginger. They are trying to be some new age Italian restaurant but the service was slow and the food wasn't that good. [We are delighted you found this the best place to stay in Rome. Very pleased the restaurant list served you well. It sounds like you found the house comfortable once you got used to the Italian idea of heat as we explained in your information that the government controls the hours that heat may be on. We are sorry the driver didn't know to call the houseman when he couldn't reach Marcella, fortunately you had the houseman's number on your arrival information and the initiative to call it! We contacted the service and it seems there was a language problem, the driver thought you said you were good because you had the houseman's number.]
We absolutely loved this apartment. This is my first stay with Italy Perfect, so I can't compare it to their other apartments, but we really enjoyed this apartment. The location is so central, we walked everywhere. We enjoyed coffee shops and restaurants right down the street. We were traveling with another couple and the bedroom room layout provided lots of privacy. We felt like we got to experience more how local people live versus a hotel room. [So happy you enjoyed your stay. The Italy Perfect Team] Enjoy your stay!
October 28, 2015 - Website
The Renata is charming and comfortable. Communication was a little lacking (no booklet for the first two days) but overall it was a great and well equipped apartment in the best location you could ask for. [So glad you enjoyed the apartment and location. We are so sorry the greeter forgot the booklet with instructions for a few days. Had you called... The Italy Perfect Team]
October 20, 2015 - Website
Renata Review
by Noni & Seph Glew
We recently stayed in the Renata Apartment near the Spanish Steps in Rome. The apartment is in a perfect location as all the major sites were easy to walk to, from the Borghese Museum to the Vatican. The apartment was perfect for us & we would use it again. [Thank you! The Italy Perfect Team]
September 14, 2015 - Website
Renata Review
by Jennifer
My family of 4 LOVED the Renata apartment. It was in a very upscale, beautiful and convenient location. Although we are not shoppers, you certainly are in the perfect spot to do so if you choose. We enjoyed the restaurant recommendations near the apartment and our time in Italy was amazing, partly because of our accommodations. When traveling with 2 teenaged sons, hotels are simply inconvenient - they need their own room and bathroom so this setup is perfect! The apartment was exactly as it was presented online.
September 13, 2015 - Website
Renata Review
by Michelle Lovalvo
The apartment in Rome was wonderful. Our family enjoyed the location very much. We did have a few plumbing problems. The toilet in the Master bedroom leaked and the water heater didn't always work. [Thank you for your review. Delighted the apartment was wonderful. The plumbing issues were fixed! The Italy Perfect Team]
September 10, 2015 - Website
Our apartment was perfect. Warm, comfortable, providing everything we needed. The location, for us, couldn't have been better. It was on a small quiet street in Old Rome surrounded by restaurants and boutiques with the Spanish Steps just around the corner. Some nights we sat in the living room reading and listening to the sound of a violin at the end of the street and someone singing opera. We would also hang out the huge shuttered window and watch people walk by. We will definitely be returning. [We look forward to your return! The Italy Perfect Team]
January 25, 2015 - Website
Great location, few blocks from Spanish Steps, surrounding by upscale shopping. Convenient to walk everywhere in Rome. Apartment was spacious, clean and comfortable. We look forward to returning someday!
January 20, 2015 - Website
I thought the whole process was excellent. The accommodation was perfect, the service beforehand was really good and the area etc was spot on. Thanks for all your help. [Thank you so much for your kind review. The Italy Perfect Team]
November 4, 2014 - Website
We had a great stay in Rome. The owner was very gracious and the apartment was indeed lovely with an elegant mix of modern and antique . However we could really relax there too! The Italians were all delightful ! I recommended the property to a group of Americans at the Hassler Tgiving celebration. And will continue to recommend it in the future to others ! Thanks again, Pat , for all of your help. Mimi Dinsmore
August 19, 2014 - Website
Renata Review
by Kurt Latta
For our group of ten we rented these two contiguous apartments and turned them into a single unit by unlocking the door between the to units. It worked perfectly well for our group's size and we could all fit around the dining table in Valentina. Everything was in good shape and the kitchens were sufficiently outfitted with the exception that they need to buy a few frying pans. Super location perfect for extended family groups.
Renata Review
by The O'Neill family
It all started with our driver, Stefano, who sent Marco to greet us at the airport... There he was waiting for us with a big smile, broken English & a sign to greet us after a long flight.... I was worried about arriving so early, but after emailing Pat, the owner, & making the necessary arrangements prior to our arrival, we had no problems checking in to our apartment & getting settled in. We were greeted by an amazing woman, señora Marcella, who couldn't have been more pleasant & informative. She gave us directions to the grocery store, a tour of the apartment & a print out of restaurants & shops in the area. The apartment was comfortable, clean, perfectly located & I can still hear the opera singer in the street below our window during the day. 🙂 It was easy to feel at home pretty quick.. Every morning we went out for our 6am coffee & walked thru the plaza around the Spanish Steps... It was easy to make our way around town with the metro entrance which is located in the square. With all the shops, fresh fruit vendors, & restaurants at our door step, we couldn't have asked for anything more... Thank you for making your home available to us for our stay, it was the most memorable trip to Rome I've had, due in part to your home away from home... I will be back. Until them Molte Grazie...
The Renata was a terrific choice for walking Rome. In five days we never took a taxi, but walked to all the sites from this beautiful, traditional apartment with it's high ceilings, lovely furnishings, great bathrooms and modern conveniences. Perfect? Almost. There was a bit of noise issue at times from the adjacent apartment and from one set of windows that let the street noise in. The greeter, Chiara was delightful, but could have done a little more orientation on things like the door buzzer/phone/TV as the info book in the apartment is need of a little updating. Edgard, our on-site helper was very friendly and did a great job with the light housekeeping. We actually did not need to call him until it was time to head downstairs with our bags. (the lift was a treat at the end of a few long walks!) The neighborhood is wonderful - so close to everything one needs (mini-supermarket/bakery/etc. GREAT shopping. Loved the Italy Perfect connection and the Renata - both made our Rome visit so special! Thanks so much, Peter, so glad you found the location so good. Sorry about sounds from the street and the neighbors. I think guests can always expect some street noise in the center there, but this is not a particularly busy street so less here than in most places. As for the neighbors, please, if they are disturbing you, call the greeter. We will suggest that Chiara update her introduction and the apartment information. Thanks, again! Italy Perfect.
Our family had a wonderful stay in the Renata apartment which is located in a elegant roman street only a couple of minutes walk to Spanish Steps and surrounded by elegant boutiques and shops. We walked to all the major tourist attractions with two young children in tow without any problems. There is plenty of restaurants surrounding the apartment, coffee shops and a great organic bread shop round the corner. I would pop out each day to buy the bread still hot from the oven! There is also a small supermarket at the end of the street about a 7 minute walk away which was handy to do daily grocery shopping. All the rooms were big and comfortable with the exception of the kitchen which was small but had everything you needed. The oven is a portable oven located on a high shelf which I found to be a problem and the refrigerator is only bar size so you could not do a big grocery shop. As with all our holiday rentals throughout Italy there is no clothes dryer so washing had to be done each day and dried on a portable clothes line which would take two days to dry. The apartment is decorated with some beautiful antique pieces. Our host was really lovely and very helpful with recommendations for tourist guides, restaurants etc. We had a great stay and would recommend the apartment.
January 15, 2014 - Website
Renata Review
by Andrew & Betsy
Terific location just short walk away from Spanish Steps and high end shopping. Loved Empressa for Men's clothing. We walked to everything including the Forum, Colliseum, Piazza Navonna, Piazzo Popolo, Villa Borgehese, etc. The apartment was a perfect setup for our family of 4 with a master bedroom and bath a terrific living room and kitchen and second bedroom and bath with two twin beds. Great furniture, top notch finishes, and large rooms with terrific high ceilings of classic wood. There was a bit of early AM shoes on floor noise from the apartment above but otherwise peaceful. Everyone associated with ITALY PERFECT was terrific and we would definitely book with them again.
August 26, 2013 - Website
Renata Review
by la petite fleur
The apartment is spacious and comfy for four of us, 2 adults and 2 kids. It gave us a home feeling. Location was great, walking distance to Spanish Steps and luxury shops. Minor negative point: In master bedroom toilet, design of bath tub/lack of appropriate glass partition causes water coming out of bath and made the bathroom floor flooded with water every time we took a shower. Nice seafood restaurant after walking up the Spanish Steps, on the right hand side, next to a taxi stand. Can sit on the roadside and they have the largest Burrata I've ever seen.
Renata Review
by Karen and Allan Saghi
Overall, our accommodations were just wonderful. We enjoyed the apartment very much. Our hostess was very helpful, left us great recommendations and information. One thing that would have been helpful were operating instructions for the washer. The location and surrounding area are a wonderful place to stay; we found it convenient for the places we wanted to visit. There also are a number of great restaurants and eateries in the area. Definitely liked having a grocery store nearby. The only slightly annoying issue was the fact that a violinist played outside our window for a number of hours each day. The first day, we enjoyed it. However, because the same music was played over and over again (very limited repertoire), it became very annoying. I noticed the violinist on one occasion asked another violinist to leave. But, it would have been a nice switch for the monotonous repertoire! We would definitely recommend Italy Perfect to a friend and are pleased to know that the company operates in London and Paris, as well.
As a family of four, we found the Renata apartment very comfortable and close to many of the great attractions in Rome. Virtually everything we wanted to see was within walking distance. The apartment was well maintained and clean, and we felt well taken care of. We wouldn't say it was the quietest apartment we've ever stayed in, but I think that is the price you pay to be so close to everything. Both Italy Perfect and the apartment owner were very responsive and great to work with.
Our family (2 adults and 2 children) stayed here for 5 nights and had a great stay. The location was fantastic. It is in a lovely neighborhood - pretty, quiet, etc but you can walk out the door and be in the middle of great shopping in minutes. You are also able to easily walk to other areas of Rome for sightseeing, shopping or eating. The apartment itself is quite charming. It is attractively decorated and well cared for. It worked well for our family - there was enough space for everyone. The landlord was very gracious and she or her porter were always available if needed.
November 15, 2012 - Website
Renata Review
by chip & Michelle
our accommodations were exactly what we were looking for, quaint and very comfortable, very easy access to the street. step out the door and all the shopping and cafe's you could imagine, two minutes to the spanish steps and walking distance to most everything in old Rome. My tip tip future guest would be to get a good guide like we did, we used Miss Bonasera who was recommended by Italy perfect , she was the best. For small shops, step out your door and go right than a left at the end . there is an old woman in a shop on the right that has been there 60 years and she's a peach. We would highly recommend italy perfect for first timers like we were to rome because everything went just as planned. Thanks a bunch , Chip
October 26, 2012 - Website
Renata Review
by R D Nelson
The Renata apartment was very nice, roomy,and very attractive. In particular, the bathrooms were among the nicest I've experienced in Europe. Despite the very busy area a few blocks from the Spanish Steps, it was a quiet peaceful refuge after a busy day. We found the local area restaurant recommendations were good. Anna's recommendation of a restaurant called "Propaganda" in the Colosseo area was very nice for lunch. We have recommended Paris Perfect in the past and will now recommend Italy Perfect in the future
October 20, 2012 - Website
Our stay at the Renata apt was our second visit to Rome. The apt was very well equipped and well suited to a comfortable stay for two couples. The location was very convenient for both walking, transit and finding a taxi. As outlined in the Italy Perfect handbooks, there were many nice restaurants nearby both modest in price and more upscale. The apt also had many travel guides available regarding Rome and Italy. . The materials provided were very comprehensive and helpful, even for experienced travelers. We arrived on a Sunday and the greeter was leaving on a vacation, so we got a less than complete orientation. Fortunately , the housekeeper Nelly was available to address some minor issues ( a temperamental water heater switch with no hot water for showers night 1, locating the internet modem for rebooting anda broken coffee maker). W e were disappointed that the apt didn't have a Nespresso machine like other apts we had rented, but there were several old espresso makers which were adequate. [Sorry you thought there would be a Nespresso machine. It's not a feature offered at this apartment. Only the Pasquino apartment has one, as listed in the website details. ItalyPerfect] The driver recommendation, Stefano, was terrific. He was very responsive to emails and texts. Overall, we were very pleased.
October 18, 2012 - Website
We really enjoyed our stay near the Spanish Steps in the beautiful Renata. It was very nice to have a "home" to come home to every night after a busy day in the bustling city. There was more than enough room for ourselves and our two children.We will definitely stay here again on our next visit.
September 24, 2012 - Website
Again everything was wonderful....I will certainly try and return when I next go to Rome.
August 24, 2012 - Website
Renata Review
by Stephanie
First time "apartment renter" I was a bit nervous about the entire experience, as we are typically hotel people. This changed immediately upon arrival, as the location was spectacular - who wouldn't want Gucci, Pucci, Prada and Versace as neighbors?? Everything within walking distance - we never needed a cab, except for airport transport. The apartment was perfect! Italy Perfect! Well appointed, secure, and a tremendous experience. The perfect solution for a family traveling together - or even 2 couples, as the living space is key. Every day a violinist on the corner would serenade us too! We were ever so pleased with this apartment and location - a MUST see!
Renata Review
by walsh family
Our family of five (3 boys --12,10 and 7) just had a wonderful stay at the Renata. As others have mentioned, the location is fabulous, the furnishings most comfortable and everything about the apartment was as advertised. Love Rome and love the Renata!
January 22, 2012 - Website
Renata Review
by The Ferreros
We spent 5 nights at the apartment and it was perfect! The location was amazing, seconds walk from the Spanish steps. The owner was lovely and made us feel very welcome and was always avaialble to answer any questions we might have. We could easily get around the city from here, everything was within walking distance. Wonderful restaurants and grocery shopping nearby (loved D'Angelo's down the street for pastries in the morning and dinner at night!) While the kitchen is small, it had everything we needed and the dining area in the main livingroom was beautiful and spacious. We would highly recommend a stay here!!!
January 10, 2012 - Website
If you want to have a perfect winter break in Rome, then I suggest that you stay at this home-away-from home apartment at the heart of the city. We rented the apartment for 8 nights starting the 17th December. The apartment was exactly as per description and we could not have chosen a better location. We literally walk to all the restaurants, shops, and sights as per suggested in the welcome folders. In fact on 2 occasions we had the pleasure of being shown around by Anne, our travel guide. Her depth of knowledge especially when visiting the Sistine Chapel was well worth the extras that we spent. This is my second time to Rome (the first one when I was a student in 1984) and the first for my wife and 2 boys. The advance arrangement that we made especially arriving at 6.30am after a 13 hours flight at was excellent. Nellie the housekeeper was waiting for us at the door when we arrived (the owner was away). Thank You to Lisa and I will be happy to recommend Italy Perfect to anyone who wish to have the perfect break. Sincerely Abu
November 26, 2011 - Website
This is a lovely apartment in the heart of the best shopping area in Rome (I kidded with my wife that when the Versace street is relegated to a minor side street you know you're in a ritzy area). It's a short walk to the Spanish steps where you can easily find a cab. The apartment is spacious with two large bedrooms and baths. The decor is beautiful and artistic and the place is very clean. My only gripe is minor one, that the maid uses heavily scented soap on the wonderful linens and I'm allergic to fragrances (99.99% of the people would have found the fragrance delightful). When I brought this up to the owner, the maid rewashed my bed linens without the fragrance. I would highly recommend this apartment!
The apartment was spacious, well laid out and decorated. Fully air Conditioned was a nice touch so was the wonderful bottle of red wine when we arrived. Marcella our hostess greeted us upon arrival and was able to speak English. She made sure we were all setup before leaving and made us really feel at home. Located near the Spanish Steps in Rome, it was a shopping haven that my teenage daughters really appreciated. Highly recommended for a wonderful stay in Rome.
Renata Review
by M. O'Donnell
Our stay at the Renata was fantastic! The accommodations are first rate. We were greeted upon our arrival and enjoyed a great bottle of wine. The location is perfect for walking to the Vatican, the Villa Borghese, the Forum, etc. We loved being able to walk to enjoy these sites and then find amazing restaurants, shops and markets along the way. We made great use of the references provided by our host, and enjoyed guided tours. We shopped the local markets and made our own food and were able to sample lots of local fare and wine. We were quite reluctant to leave. Being in this apartment, in this location, made our stay in Rome a real dream come true. Highly recommended!  We really loved the apartment, as you can see. It was truly all you advertised and so much more that you cannot even get into an ad - the sounds of the city through the open windows, the atmosphere of the neighborhood. We had amazing weather, which helped a lot, I know, but I would stay there any time of year. Thanks for all your help along the way. I hope we can work together again - I was enchanted by Italy.
Renata Review
by Kara Altice-Montes
My family and I recently stayed in Rome for a week and chose to stay at Italy Perfect based on the comments we had reviewed regarding the location and quality of this apartment. It could not have been better, and exceeded my expectations in every way, and I must say that as a career hotel professional, my standards are very high. The apartment is beautiful and elegant. The location, near the Spanish Steps is ideal. We walked to all of the ancient city attractions daily, loved exploring the city on foot, and lingered over fabulous food and wine at many wonderful locations within steps of the apartment. We enjoyed visiting the local food market located at the end of the street and even created our own delicious Italian dishes using the fresh ingredients purchased there. The kitchen in the apartment was very well maintained and had everything we needed to prepare quality food. My family and I created wonderful memories that will stay with us for a lifetime. The only downside was leaving Italy Perfect to come back home. I would highly recommend Italy Perfect and will definitely book again when I have the opportunity to return.
Renata Review
by Judy from Georgia
The apartment was wonderfully located near the Spanish Steps and close to a metro station. The apartment was very comfortable, roomy, and had everything we needed.  The owner was very friendly and helpful.  There were good restaurants in the area and a grocery store nearby.  You must visit the McDonalds near the Spanish Steps. Not ours here in the USA, and a real treat to see. Italy Perfect and Paris Perfect are as their names suggest- Perfect. Highly recommended. We will definitely use them again, and would choose the same properties.
January 26, 2011 - Website
The Renata was magnificent. The owner clearly wanted her guests to feel at home with unsurpassed attention to detail, books, internet, linens, impeccable cleanliness, access to knowledgeable private guides and transporation to and from the airport, etc. We wanted to move in permanently. We walked out our door with proximity to a vibrant neighborhood, with small markets, restaurants, ancient ruins and high end fashion at our beck and call! Our only problem now is we will never want to stay anywhere else when in Rome. Thank you so much.
October 26, 2010 - Website
Renata Review
by Debbie Baldwin
We loved everything about our stay at the Renata apartment. The apartment was clean and as beautiful as the pictures. The check in procedure was easy. The location was great. We felt as if we were in the middle of everything. It was so fun to literally walk around the corner to the Spanish Steps. The welcome bottle of wine was a very nice way to welcome us to Rome. I can't think of anything that you could have done to make it better. We would definitely stay there again. Italy Perfect was a great company to work with.
Renata Review
by Hope and David Kracht-Maulbetsch
We had a magical time in the Renata. Our host was both warm and extremely thoughtful. We enjoyed her company immensely. All the pictures of the home were accurate and the home was stunning! The help given through the Italy Perfect made for a wonderful time and was extremely thoughtful. Loved our driver Stefano, our host and the breathtaking beauty of Rome. We will go back and stay at the Renata in a heart beat. The location and the wonderful people make a trip. Try Nano's for great food; in walking distance and fabulous. Thank you so very much for making this happen for our family, Pat and Lisa. In gratitude, David and Hope
Renata Review
by Clara Fe Rodriguez
Perfect location. Beautiful and well kept apartment. A friendly and helpful owner available at all times. Italy Perfect delivered what it offered in a very professional way. I will certainly be a repeat customer.
Renata Review
by Daniel Szor
The apartment was charming - great location and wonderfully decorated. The owner, who lives upstairs was also charming, very helpful and extremely nice. The one drawback to the apartment is the heating, which is probably not an issue 90% of the time - however we happened to be there during one of the coldest periods of the year. The system broke down the 1st day so there was no heat or hot water, and it took a while after being fixed before there was sufficient heat. All in all, however, a very pleasant stay.
October 29, 2009 - Website
Renata Review
by Merkel family
Fabulous, large apartment in the middle of a great neighborhood! The apartment was breath-takingly beautiful!  And the attention to detail was so gratiously appreciated. We hosted a family wedding and this apartment served all of our needs. Lots of thoughtful details. Very comfortable. Beautiful layout for ourselves and any guests. We'd like to think that it is our Roma home away from home!!
October 17, 2009 - Website
We were apprehensive renting an apartment: unsure of the the quality of the accomodations! Imagine our surprise at arriving at the Renata apt. in Rome. The location is spectacular: walking distance to wonderful shopping, sights, restaurants, and grocery stores! The apartment exceeded our expectations: 2-bedroom, 2 washrooms for a family of four. Perfect kitchen and washer facilities(no dryer). The owner was hospitable and helpful; her housekeeper, provides daily cleaning services which is important when staying for a week in an apt. Ranked 8/10.
October 16, 2009 - Website
We stayed at Renata near the Spanish Steps for 5 days at the end of Sept. 2009. We loved the apartment. It was modern, good size, and extremely well located. We enjoyed walking the very safe, well lighted, neighborhood and found good restaurants and a market within two blocks. Marcella, the owner and greeter, was extremely cordial and helpful with our questions. We walked to the Vatican and took the Metro to farther away attractions. My only suggestion is to let guests know that private cars cannot enter this area, as we found out when we tried to return to pick up luggage on our departure date. Not a problem as cabs are readily available. I have recommended you extremely friendly website and services to numerous people already and will certainly use Italy Perfect for future services. Thanks again.
October 8, 2009 - Website
Renata Review
by Rosemary Holliday
This is a beautiful and comfortable apartment with private bedrooms and large living spaces. The separate bathrooms are large and furnished with bathtubs that have upright showering capability (which is sometimes an issue with apartments in Italy). The location is very quiet, and central to one of my favorite areas of Rome. Easy access up the hill to the park allows a great get-away from the very busy weekend crowds in this area. Request that your taxi/driver drop you at the front of the building if you have luggage. We had several taxis that wanted to let us out at the corner when they saw the one-way sign rather then circle the block and access from the other direction. Recommended improvements would include a moka pot for espresso and a stove that had all four burners working. The small 'dorm size' refrigerator would be a challenge with several days of groceries. Two significant problems that occurred were resolved equitably.
August 10, 2009 - Website
Renata Review
by Anji Mandavia
We are now back from Rome and I just wanted to tell you how pleased we were with the Renata apartment.  What a great location, and it was so charming; really everything we could have hoped for.  We appreciated being able to check in early, and Paul [the greeter] was very helpful in answering our questions.  We also used Stephano [recommended driver] for the ride back to the airport and he was punctual and gracious.  Many thanks; this was great end to our vacation, and you can be sure we will recommend you heartily.
Renata Review
by P Scholz
Dear Pat, just a quick not to let you know we had a wonderful time at your appartements Valentina and Renata. The location , right in the fashion district , couldn´t have been more perfect for 9 girls. The appartements where lovely, the host very friendly. Great that the maid came to make beds and clean up a little, it was all in all wonderful.
We spent two months traveling in France and Italy and Renata was the accommodation highlight by a long way. This apartment is one of the few that we booked over the Internet that exceeded our expectations - that said all the apartments we have used through Italy Perfect have been great. It is large, beautifully appointed and in an excellent location. It is even better than the pictures on the web site. The owner has gone out of the way in decorating these apartments and providing all the information you need for a great stay. We stayed here with our two daughters aged 5 and 7 - they loved it. BOOK IT NOW.
Renata Review
by Bob & Donna Sweda
Our experience with Italy Perfect was just that "perfect". The details that were provided prior to our travel were very helpful and made our trip so much more enjoyable. Thank you. We loved the apt - the size was great for the four of us and the location could not have been better. We loved the man that played the violin at the end of the street - the music came thru our open windows. The owner was a wonderful host and also left a book of recommendations. Our private tour guide of the Vatican, Anne Hogan, was wonderful and her price was less than others. This was our first experience with an apartment rental and we all decided we would do this again. I have given Italy Perfect to many of my friends. Thank you for all your help.
The Renata apartment we both loved everything about it. It exceeded our expectations and was so very comfortable and beautiful. Location was great because we used the Spanish Steps Metro [subway] to go everywhere. There was some noise, but the back bedroom was very quiet. Kitchen was great, as well as the bathrooms and the beds were extremely comfortable. It's probably the best vacation apartment rental that we've ever had. The ownerwas wonderful, although I didn't get to meet her, my husband did. The housekeeper who came by each day to do some light housekeeping was delightful. She didn't speak too much English, but my husband spoke a tiny bit of Italian, so that worked well. All in all, I would recommend this apartment highly. I could live there..... in my dreams 🙂
Renata Review
by amehigan
This is a fabulous apartment in an even more fabulous location. Lots of room for family. For adults with small children, the master bedroom is located a bit far from other two bedrooms. The Renata apartment would be better suited for older children. Our two girls loved having their own wing (ages 13 & 10). We did not have a bad meal in any of the local restaurants. The location was very central to all attractions. This was one of our favorite vacations. I have told everyone how pleased we were with Italy Perfect. We only had housekeeping one day, was expecting it during the week days, but it really didn't make any difference to us. Just might want to confirm this if it is important to you.
December 30, 2008 - Website
Renata Review
by Elizabeth
As we approached our apartment, we were surprised at how upscale and beautiful the neighborhood was. While it is in one of the nicest areas of Rome, we never felt out of place with our 3 children. In fact, it felt very safe, and there were many inexpensive restaurants from which to chose close by. The location turned out to be ideal. We found that we could walk everywhere.The apartment is beautifully furnished, updated and very large. There was more than enough room for our family of 5 to spread out. The kitchen is small, but is well stocked and can be used to cook anything. We never prepared a dinner in the apartment, but it could be done.The woman we rented from was lovely. She lives one flight up which made it convenient for any questions. She addressed any issues we had with promptness.We highly recommend visiting Pompeii. However, we went during December and were told it is almost prohibitively hot during the summer months. We took a train from Rome which included a transfer in Naples. If you are planning to do a day trip to Pompeii, I would recommend hiring a driver and settling on a price ahead of time. The train was a hassle and we felt we got ripped off on the way down. We also took tours of the Forum and the Vatican which we highly recommend. Even if you've visited the Pantheon during the day, it's worth a night time visit. There are many, many restaurants in the area, and the Pantheon is particularly impressive at night as are the fountains.Don't forget to try the gelato. We became addicted. It is very fun to try out the different gelato places.
December 1, 2008 - Website
Renata Review
by B. Getze
We absolutely loved te Renata apartment. The owner met us and allowed us early morning check in. The location is perfect with wonderful restaurants and shopping. Centrally located. A very safe neighborhood. After many years of staying at the 5* hotel next door, the Renata was a wonderful alternative. Plenty of room. I highly recommend the Renata. Live like a Roman.
December 1, 2008 - Website
We're back from Rome and I wanted to let you know we had an absolutely great time. The city seems very different than when I visited during my Junior year in college. We were very pleased with our apartment and absolutely loved the location. I didn't realize the neighborhood would be so beautiful. Thanks for all your help. We rented from your sister in Paris and now from you in Rome. We plan to stick with you!
October 1, 2008 - Website
Renata Review
by Nancy & Brewster Ely
Just wanted to let you know we had a lovely time in Rome, and the Renata apartment was great...so comfortable and beautiful and well located....Who knew all those fabulous stores were right outside our door? We LOVED the apartment & our stay in Rome. We can't wait to return.
The accommodations were perfect. The apartment was very spacious and comfortable. I'm particular and this apartment worked out beautifully - from the location to the linens and towels. The layout worked out great as well. My son, Tommy (12) loved the small room with the loft and my daughter, Sarah (10) loved having the larger bedroom in the back to her self with the large closet. It's hard to say what we liked the most - for me it was the bed in the master bedroom. The comforter and linens were great and it's the best nights' sleep I had in Italy. The only problems we encountered were the water pressure in the back bathroom shower. The kids used our shower which was fine. The location was perfect for us. We walked everywhere, even to the Vatican and the Colosseum. Each night we walked to dinner and back which was great and we loved all of the shopping. Our favorite restaurants were Nino's; Ristorante Mario; and Recafe. I was a big fan of the fresh produce market at the end of the street every morning. The vendors were so cheerful and helpful and the cafe on the way was great. I got pastries for the kids every morning on my way back from the open market. I would recommend anyone use Ann Hogan, private tour guide. She made our visit to the Vatican an amazing experience. We could not have done it justice on our own and 3 hours flew by. I will definitely look to using your service again when we go back to Italy - and your sister's if it's London or Paris. Pat, thanks for your help with the apartment in Rome. It was truly the highlight of our trip. I can't wait to go back
October 31, 2007 - Website
Renata Review
by Mary Ford
We loved the apartment and would recommend it.
The accommodations were spectacular. I highly recommend "Renata" to anyone visiting Rome. We were centrally located, able to walk everywhere we wanted to go, yet on a quiet street. The apartment has every convenience a guest might desire including a/c, television, washing machine. My son takes Latin in school and has studied quite a bit of Roman history so the high point of the visit for my family was definitely the ancient ruins. We used the Roma Pass to avoid lines at the Colosseum and the other sites and I definitely recommend it. We had practically no wait at all. We did not take tours but used the Rick Steves guidebook tours to navigate the sites. I highly recommend his Rome book. We also enjoyed the Vatican. Although crowded, we avoided waiting in line by going after lunch around 2:00. The museum of Rome was very good and not crowded. It provides some history of the ancient Roman period. The owner of the apartment suggested several neighborhood restaurants and we ate at a few of them. All of our meals were good. As for shops, Renata is definitely in the upscale designer district. There is a nice department store nearby that is a bit more reasonable...La Rinascente, I think. We bought groceries at the store at the end of the road as suggested by the apartment owner. She is delightful and very helpful.
Base Nightly Rates – May Not Include Fees such as Greeting, Cleaning, Damage Waiver, Credit Card Processing and Tourist Taxes. For full price, please put in dates.
Available
Unavailable
Check-In Only
Check-Out Only
May 2023

| S | M | T | W | T | F | S |
| --- | --- | --- | --- | --- | --- | --- |
| | 01 | 02 | 03 | 04 | 05 | 06 |
| 07 | 08 | 09 | 10 | 11 | 12 | 13 |
| 14 | 15 | 16 | 17 | 18 | 19 | 20 |
| 21 | 22 | 23 | 24 | 25 | 26 | 27 |
| 28 | 29 | 30 | 31 | | | |
June 2023
S
M
T
W
T
F
S
01
02
03
04
05
06
07
08
09
10
11
12
13
14
15
16
17
18
19

$1070

20

$1070

21

$1070

22
23
24
25
26
27
28
29

$1070

30

$1070
July 2023
S
M
T
W
T
F
S
01
02
03
04

$1070

05

$1070

06
07
08
09
10
11
12

$1070

13

$1070

14

$1070

15

$1070

16
17
18

$1070

19

$1070

20
21
22
23

$1070

24

$1070

25

$1070

26

$1070

27

$1070

28

$1070

29

$1070

30
31
August 2023

| S | M | T | W | T | F | S |
| --- | --- | --- | --- | --- | --- | --- |
| | | 01 | 02 | 03 | 04 | 05 |
| 06 | 07 | 08 | 09 | 10 | 11 | 12 |
| 13 | 14 | 15 | 16 | 17 | 18 | 19 |
| 20 | 21 | 22 | 23 | 24 | 25 | 26 |
| 27 | 28 | 29 | 30 | 31 | | |
September 2023

| S | M | T | W | T | F | S |
| --- | --- | --- | --- | --- | --- | --- |
| | | | | | 01 | 02 |
| 03 | 04 | 05 | 06 | 07 | 08 | 09 |
| 10 | 11 | 12 | 13 | 14 | 15 | 16 |
| 17 | 18 | 19 | 20 | 21 | 22 | 23 |
| 24 | 25 | 26 | 27 | 28 | 29 | 30 |
October 2023

| S | M | T | W | T | F | S |
| --- | --- | --- | --- | --- | --- | --- |
| 01 | 02 | 03 | 04 | 05 | 06 | 07 |
| 08 | 09 | 10 | 11 | 12 | 13 | 14 |
| 15 | 16 | 17 | 18 | 19 | 20 | 21 |
| 22 | 23 | 24 | 25 | 26 | 27 | 28 |
| 29 | 30 | 31 | | | | |
November 2023

| S | M | T | W | T | F | S |
| --- | --- | --- | --- | --- | --- | --- |
| | | | 01 | 02 | 03 | 04 |
| 05 | 06 | 07 | 08 | 09 | 10 | 11 |
| 12 | 13 | 14 | 15 | 16 | 17 | 18 |
| 19 | 20 | 21 | 22 | 23 | 24 | 25 |
| 26 | 27 | 28 | 29 | 30 | | |
December 2023

| S | M | T | W | T | F | S |
| --- | --- | --- | --- | --- | --- | --- |
| | | | | | 01 | 02 |
| 03 | 04 | 05 | 06 | 07 | 08 | 09 |
| 10 | 11 | 12 | 13 | 14 | 15 | 16 |
| 17 | 18 | 19 | 20 | 21 | 22 | 23 |
| 24 | 25 | 26 | 27 | 28 | 29 | 30 |
| 31 | | | | | | |
January 2024

| S | M | T | W | T | F | S |
| --- | --- | --- | --- | --- | --- | --- |
| | 01 | 02 | 03 | 04 | 05 | 06 |
| 07 | 08 | 09 | 10 | 11 | 12 | 13 |
| 14 | 15 | 16 | 17 | 18 | 19 | 20 |
| 21 | 22 | 23 | 24 | 25 | 26 | 27 |
| 28 | 29 | 30 | 31 | | | |
February 2024

| S | M | T | W | T | F | S |
| --- | --- | --- | --- | --- | --- | --- |
| | | | | 01 | 02 | 03 |
| 04 | 05 | 06 | 07 | 08 | 09 | 10 |
| 11 | 12 | 13 | 14 | 15 | 16 | 17 |
| 18 | 19 | 20 | 21 | 22 | 23 | 24 |
| 25 | 26 | 27 | 28 | 29 | | |
March 2024

| S | M | T | W | T | F | S |
| --- | --- | --- | --- | --- | --- | --- |
| | | | | | 01 | 02 |
| 03 | 04 | 05 | 06 | 07 | 08 | 09 |
| 10 | 11 | 12 | 13 | 14 | 15 | 16 |
| 17 | 18 | 19 | 20 | 21 | 22 | 23 |
| 24 | 25 | 26 | 27 | 28 | 29 | 30 |
| 31 | | | | | | |
April 2024

| S | M | T | W | T | F | S |
| --- | --- | --- | --- | --- | --- | --- |
| | 01 | 02 | 03 | 04 | 05 | 06 |
| 07 | 08 | 09 | 10 | 11 | 12 | 13 |
| 14 | 15 | 16 | 17 | 18 | 19 | 20 |
| 21 | 22 | 23 | 24 | 25 | 26 | 27 |
| 28 | 29 | 30 | | | | |
May 2024
S
M
T
W
T
F
S
01
02
03
04
05
06
07
08
09
10
11
12
13
14
15
16
17
18
19
20
21
22
23
24
25

$

26
27
28
29
30
31
Things to See & Do
Spanish Steps (2 mins Walking)
One of the most famous piazzas in the world with the beautiful steps rising from the Barcaccia ("bad boat") fountain to the Trinita dei Monti church. Neighborhood for designer shopping and people-watching.
Trevi Fountain (10 mins Walking)
Beautiful Baroque fountain, the largest in Rome, a city of fountains. Here is where you throw 3 coins over your shoulder to ensure you will return to Rome.
Pantheon (15 mins Walking)
Must-visit. This temple to all the gods (pan-theon in Greek) breathes history starting with its architecture from 2000 years ago. It is the only complete monument from Roman times. Built of concrete, the hemispherical roof is of one piece with its hole in the center.
Campo de' Fiori (20 mins Walking)
Large, central piazza with famous and picturesque daily open-air farmer's market, surrounded by restaurants. Famous statue of philosopher Giordano Bruno burned here for heresy. Young folks gather here in the evenings. Thick with history and in the heart of the city.
Piazza Navona (20 mins Walking)
Iconic piazza of Rome where Romans once raced their chariots. Three beautiful fountains the chief being the Fountain of the Four rivers. Enjoy street musicians and small vendors. Great place to hang out, dine and have a gelato.
St. Peter's Basilica (30 mins Walking)
One of the holiest catholic churches, the church of the Pope. It is very large and filled with inspiring and beautiful art and areas. A tour is recommended.
Vatican Museums (30 mins Walking)
The incomparable art collections of the Popes over the centuries. Unique and historically significant places such as the Sistine Chapel. Tour guide and early arrival are recommended.