Enjoy
A spacious apartment crowned with a glorious private terrace in the heart of Rome.
Location
Rome lovers who return year after year always look for apartments in this prized Campo de' Fiori area where they are transported to an old world city with its winding streets lined with buildings that date from the 1400s - 1800s. The Campo de' Fiori piazza itself hosts the oldest open-air market in Rome where you can shop daily for field-fresh vegetables, fruits and flowers. Piazza Navona, another justly famous Roman gathering place lies a five minute walk beyond Campo de' Fiori. This palazzo borders the area that was once the Jewish ghetto of Rome. The former ghetto remains a lively neighborhood with kosher shops, bakeries, schools and synagogues as well as some wonderful restaurants that feature the signature artichokes Jewish-style together with other delicious Roman specialties. Ancient Roman landmarks surround you, too, with the ruined temples in Largo Argentina, the Theater of Marcellus (with its summer music program), and the Capitoline Hill all within a five minute walk. See our photo tour for pictures and more descriptions of the neighborhood.
Exterior
Built in the mid-1500s, this noble palace is still home to a family that traces its history through military leadership for the Bourbon kings of Naples and Sicily and whose history is interwoven with Italy's. The Palazzo opens onto a small piazza with the graceful Turtle Fountain. Look up to see fragments of frescoes from the Renaissance period on the interior walls. The small elevator is fine for getting your luggage up to your apartment, but you may find yourself enjoying trips up and down the formal staircase to soak in the regal feel of the building and maybe get a glimpse into the palatial apartments on the second floor, the "piano nobile." Walk by the apartment on the third floor that was used in the film The Talented Mr. Ripley.
Interior
A large and bright living room that is furnished with seating for all guests. 
The dining room seats six. The kitchen is compact but has adequate counter space that is augmented with a rolling butcher block cart.
A circular staircase in the living room reaches the expansive rooftop terrace. As large as the entire apartment, 1400 square feet, it offers rooftop views of the Eternal City.
Things To Note
Neighborhood: Navona-Campo Fiori
Size: 1400 sq ft + terrace, 130 m2
Accessibility/Security: Elevator fits two people. The door opens inward, so could cause problems for ample travelers. There are four steps up to the master bedroom. Narrow, spiral staircase to reach the rooftop terrace.
Other: Check in 3:00 to 9:00pm, by appointment.
Room Details
| Room | Beds | Details |
| --- | --- | --- |
| Bedroom 1 | Extra-Wide Queen (1) | Extra-wide queen bed (63in x 79in; 160cm x 200cm) |
| Bedroom 2 | Single (2) | Two single beds (35in x 79in; 90cm x 200cm) that can be made up together to form a king bed |
| Bedroom 3 | Single (2) | Two single beds (35in x 79in; 90cm x 200cm) that can be made up together to form a king bed |
| Bathroom 1 (en suite to Bedroom 1) | | Combination bathtub/shower, sink and toilet |
| Bathroom 2 | | Shower (rainfall showerhead), sink and toilet |
| Bathroom 3 | | Shower (rainfall showerhead), sink and toilet |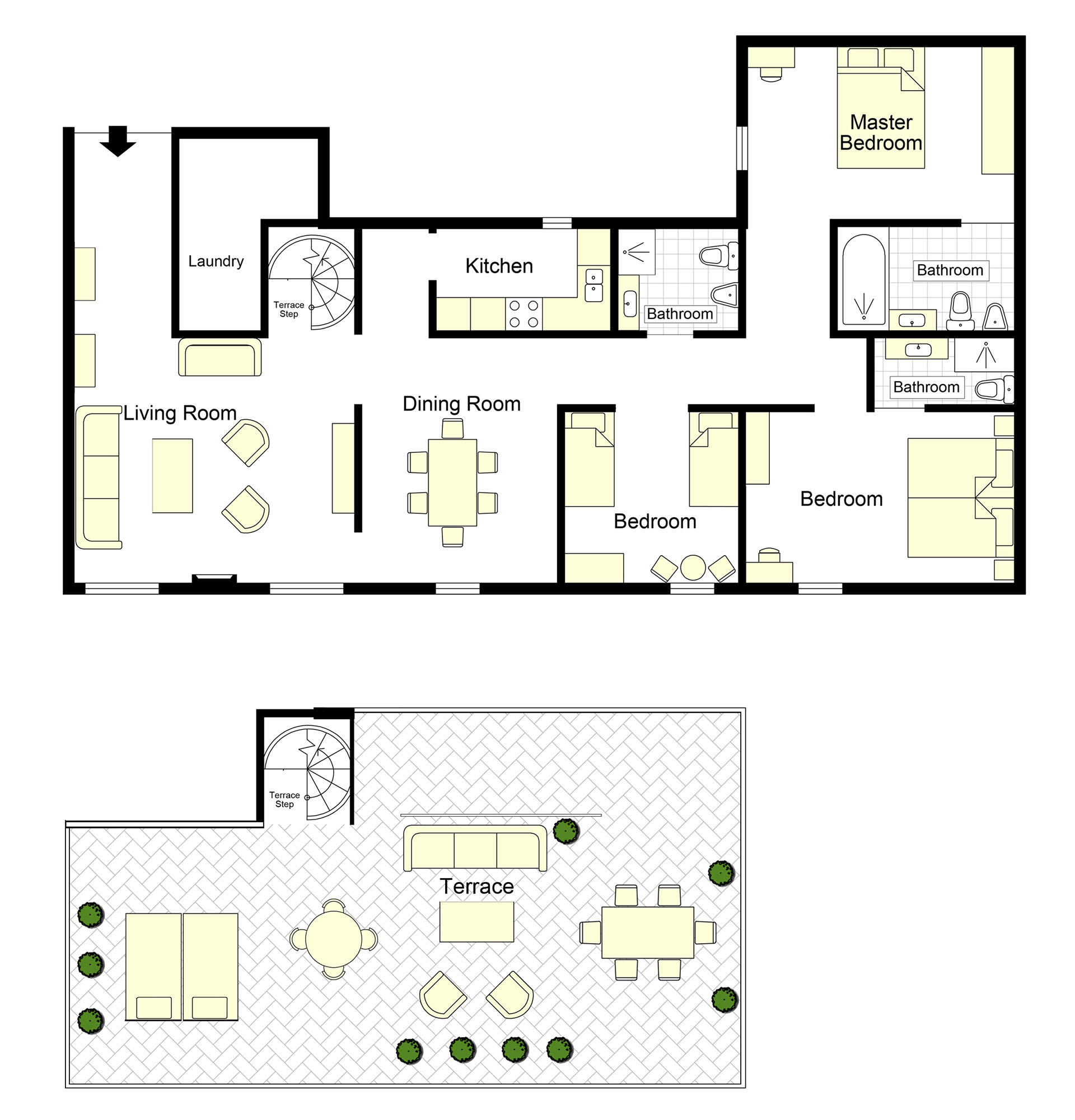 Connectivity/Entertainment

WiFi
TV
TV - Limited English Programs

Kitchen

Fully Equipped
Coffee Maker
Dishwasher
Microwave
Oven
Stovetop
Toaster
Refrigerator
Kitchen

Accessibility

5th Floor North American
Elevator

Amenities

Elevator
Air Conditioning

General Amenities

Smoke Detector
Carbon Monoxide Detector
Thank you for submitting your review. It will be processed shortly!
January 11, 2021 - Website
Landini Review
by Claudette
It was perfect, love the place. Would go back 100 times to that beautiful, pleasant place. No complaints. I would recommend to anyone. The owner was nice. Love the place. [We agree! The Italy Perfect Team]
January 30, 2020 - Website
Landini Review
by Margaret and Joseph P.
The Landini apartment was perfect for our stay in Rome. Very spacious and clean. Weather was mild enough in January to even have cocktails on the terrace one evening (nice surprise!) while we watched the sun go down. Many excellent restaurants in the neighborhood. We would happily stay again. We were pleased with all our interactions with Italy Perfect. They are total pros.
December 22, 2019 - Website
Our stay in Rome at Landini was everything we dreamed of and more. To say we loved our stay, would be an understatement! Our host was gracious and accommodating in every way, and we immediately felt at home. The apartment and it's furnishings were comfortable, stylish, and in fantastic taste. We were centrally located and were immersed in Roman daily life and culture. We did not want a "touristy" feel, yet we felt at home in every respect. We felt privileged to stay in such a gorgeous spot! As a history buff, the knowledge that we were so comfortable in a family home that has endured 5 centuries, is truly exceptional. Fantastic appointments and service, insured that we will return again and again! We're already discussing our next trip back to Rome and looking forward to staying again!
December 2, 2019 - Website
Landini Review
by Mark P.
Wonderful apartment that lives up to its description and photos, including the wonderful rooftop terrace. The location in the Jewish Ghetto is perfect for site seeing Rome's main attractions, as well as exploring the wonderful Trastevere neighborhood. The ItalyPerfect team exceeded our expectations with trip preparation, communications, local recommendations and follow up. They are total pros and I look forward to working with them again for our next travels to Italy.
November 10, 2019 - Website
The Landini apartment was wonderful - perfect location, well laid out for the 4 of us (but would be good for 6 as well). Kitchen was small and only minimally equipped. Washer and Dryer worked well. Signore [owner] was lovely; he showed us the apartment and the surrounding neighborhood. We were all familiar with Rome and had chosen the apartment because of layout and location - near Campo dei Fiori, Farnese Palace, Ghetto, Campidoglio - close to everything. Walked everywhere. This is the second apartment I have rented through Italy Perfect and I highly recommend them. [Thank you for your kind review! So happy to hear that you enjoyed the apartment and location. The Italy Perfect Team]
November 5, 2019 - Website
I can't say enough awesome things about Landini place. It's comfortable, convenient, cozy and well attended to. Our host was delightful and took great care in showing us the place and it's surroundings. He made us feel very welcome. The neighborhood is so quaint with everything being accessible for any type of meal. I can't say enough about the Terrace, it was a wonderful backdrop for lounging after a long day of site seeing. Small appetizers and wine, wine, wine!!!!! Pat is such a helpful rep. She is so sweet. Thanks for making our Rome trip so very delightful. [We are delighted to hear that you had such a wonderful time in Rome! Hope we can welcome you back in the near future. The Italy Perfect Team]
October 31, 2019 - Website
Landini Review
by Travel Maiden
We enjoyed our stay at the Landini apartment. It was well situated in the middle of everything so that you could easily walk to all the important landmarks. It is located in the square with the turtle fountain. It is situated in an old palace that was once owned by an emperor. The furnishings in the unit are good quality and comfortable. The street is more busy than it looks. The bedrooms on the street side definitely have some noise during the night. This is hard to get away from in Rome. There is an elevator which is very handy when carrying baggage. The host was very helpful, he walked us to the market so that we knew where it was located (2 short blocks away) and gave us a few restaurant recommendations which we used and were delicious and close by. We loved the terrace (up a narrow spiral staircase) where we had tea and wine. I would recommend this unit to anyone who is looking for a great location and a nice amount of space.[Thank you so much! Well described. That is a city street below so you can get some nighttime sounds mostly from diners walking by after dinner. If you aren't accustomed to city sounds or are jet lagged, we suggest you turn on the fan aspect of the air conditioner in the room, or play a white noise app on your cell phone. That works for us! The Italy Perfect Team]
September 27, 2019 - Website
The apartment made our trip. Centrally located in the city. We were able to walk to everything and great restaurants and Gelato just down stairs. [Thank you for your review! The Italy Perfect Team]
August 28, 2019 - Website
What an amazing place with an outstanding host! Spending time on the veranda, taking in all the sounds and wonderful breeze in Rome. Thank you again for the suggestion!
August 24, 2019 - Website
Landini Review
by Deborah
Our family of five, including two college students, stayed at Landini for five nights. The apartment had everything we needed, as well as a fun sense of history. It was clean, spacious, and well-equipped with functional modern appliances like an American-style coffeemaker, toaster, microwave, dishwasher, nice laundry room, etc. -- unlike several other places we have stayed in Italy, Spain, and Portugal. Our gracious host Parfan gave us an excellent introductory tour, both inside the apartment and in the nearby neighborhood, and we found ourselves centrally located within walking distance to everything we wanted to see in Centro Storico, yet comfortably away from the most touristy areas. As we were there in mid-August, the apartment's air conditioning was a luxury to return to every afternoon or early evening. And the enormous terrace was a highlight for us. We spent some time up there every day -- taking our coffee up there in the cool of the mornings before getting started for the day, having a late afternoon or early evening glass of wine after a day exploring the city, eating a home-cooked dinner on the balcony one evening, and even playing cards under the stars after returning from dinners out. We enjoyed exploring historical Rome on foot and had lunch in different neighborhoods each day, but we ended up returning to the Ghetto for dinner every evening, trying out different nearby restaurants. There were still tourists passing through the neighborhood -- it was August, after all -- but many fewer than in other areas like Piazza Navona or Trevi Fountain. We all loved learning the history of the Ghetto (e.g., reading the plaques commemorating Jewish individuals sent to concentration camps in Germany during WWII) and the feel of the neighborhood, where there were plenty of locals out and about with their families in the evenings. The Landini's location made the perfect base for our family, allowing us to explore Rome on foot every day and then return in the afternoon to relax on the balcony, listening to the sounds of the street life below before going down again to find dinner among the local eateries. Given our relatively short stay, our family wasn't particularly interested in long days at museums or organized tours; although we hit most of the major historic properties, our objective was to strategically time visits to such "must see" sights as St. Peter's Basilica at Vatican City, the Coliseum, and the Roman Forum, and then spend the rest of the time wandering the neighborhoods, a bit off the beaten path, where we encountered some hidden gems and took in the local culture. For those in the same situation, a couple of tips: (1) Skip the Rome Pass unless you intend to visit lots of ticketed spaces or want to hop on/off public transit; instead, just buy the combined Coliseum/Rome Forum/Palentine Hill pass and hit the tourist sites early to stay cool and minimize crowds. (2) For those who are a bit adventurous and want to venture a little further afield but don't like organized tours, I suggest renting e-bikes at one of the shops near the Coliseum -- which is a short walk from Landini. We did so on our second-to-last day in Rome, just for a change of pace, and it allowed us to explore the historic, uncrowded, ruin-studded Appian Way and catacombs to the south in the morning and then ride north along the Tiber River bike path in the afternoon, beyond Villa Borghese. It was a great way to see a few other parts of the city close-up without a car. (And my husband and older son, who are enormous European soccer fans, were even able to secure a couple of tickets at the last minute for a pre-season football game between Roma and Real Madrid at Stadio Olimpico, a few miles further north.) (3) For gelato fans, my sons sampled from many places along our journey, pronouncing Fatamorgano Gelato (4-minute walk from Piazza Mattei/Landini) and Gelateria Baja Beach (near the catacombs along Via Appia Antica) as the first and second place winners! Thanks, Italy Perfect, for providing a great capstone to our Italian vacation.[We are thrilled to hear about your amazing stay! We look forward to working with you again soon! The Italy Perfect Team]
August 21, 2019 - Website
Landini Review
by Dirk Lueth
We (family of 4) enjoyed very much our stay at the apartment. Everything was organized perfectly, we received a very nice and informative welcome. Might return one day....
Landini Review
by Dallas S
We had a great stay in Landini apartment. Perfectly located with all the amenities you could need and plenty of space for us and our 4 children.
Beautiful apartment. Large and spacious - much more so than the pictures show. Very kind host, great amenities. Highly recommended
The location was amazing. The private patio was great.
Landini Review
by Aaron B.
Our stay in Rome was perfect for our family of 6. The apartment was clean and well appointed. Check in and out with the owner was accommodating and quick. The location is perfect if you like walking, as almost everything you'd want to see is within walking distance. We were there during a heat wave in June, but the AC worked great. The terrace is a great place to read or enjoy an afternoon glass of wine. Many great restaurants close by. The closest Market is a 7-minute walk away. The elevator is a typical European old building, but it was great to have. There is a great cafe right next to the building entrance that is great for morning coffee and late evening nightcaps. The place is excellent, and I would be happy staying here again when we return to Rome.
We stayed for 5 days in the Landini apartment with 3 kids (ages 8 to 10) and it felt just like home... except for the amazing scenery over the roofs, the charming Piazza below us with a nice coffee shop right at the corner, plenty of wonderful restaurants and being within walking distance from every one of our destinations was a huge plus. The kids never complained about the walking because we never had to walk too long and in every direction there was something to see or to do. The apartment itself was very clean and comfortable, the kitchen well equipped (plenty of beautiful wine glasses too, good looking dishes and cutlery... which was important since we did eat in on two occasions, taking advantage of the large and stunning rooftop terrace and it was a feast) The beds were perfect for the 5 of us, every bed had nice white linen and fluffy duvet covers. It can get a little noisy from the street but we slept very well nevertheless with the blinds and curtains shut. Our stay was unforgettable. This was not my first time in Rome and I know my way around fairly well by now so I can say: this apartment has the best location one can imagine and all the comfort we could have wished for. We will be back! [We are delighted that you enjoyed your stay! We look forward to welcoming you again! The Italy Perfect Team]
What an amazing property! You just can't have better location than this flat. You can truly walk to most of the historical sites with in 9 to 17 mins. Please is nicely appointed and super clean with an amazing outdoor space. But I was most impressed with the owner! He was very thoughtful and kind throughout our stay. I hope I will be lucky enough to revisit again.
First let me say that the Landini was the Perfect Apartment in the Perfect Location in the Perfect City was 70 year old grandparents, their son and daughter-in-law and six year old twin grandsons. Italy perfect lived up its name. The apartment was spotless provided lots of room and the host was truly amazing, making sure that all of our needs were taking care of, including making sure that the apartment was ready for our early arrival and late checkout. He also provided an English speaking guided tour of the area around the apartment, pointing out the attractions near by the grocery store. Piazza Mattei, where the apartment is located, is only a few minute walk to Campo Di Fiore, the Jewish Getto and Piazza Venezia, so that we could walk to all of the major and historic attractions and for the bus which enable us to go to the zoo near Villa di Berghese, which by the way was a great surprise and I highly recommend for everyone, just remember to bring toilet paper. Even though we did not have an itinerary, which was good because the boys could sleep late, our days included: The Jewish Getto and Pantheon on day 1, Campo di Fiore and Piazza Navona on day 2 and a pre-arranged tour of the Vatican Museum and Sistine Chapel, the Vatican on day 3, the zoo and Spanish Steps on day 4, the Colosseum and Forum and dinner with our cousins who live in Rome on day 5 and Campo di Fiore, dinner In the apartment, and Piazza Navona on day 6.We hope that we will be able to return there next year with one of our other children and their kids. Our drivers to and from the airport were on time and very accommodating. Italy Perfect gave us a Perfect vacation.[We are delighted to hear about your amazing stay! We look forward to working with you again in the future! The Italy Perfect Team]
The apartment was perfectly located to explore the city. It was large enough to spread out and relax. The rooftop terrace was a wonderful bonus. We enjoyed it throughout our stay.I would highly reccomend this rental and the company, I look forward to a time to return.[Thank you for your great review! We are looking forward to working with you again! The Italy Perfect Team]
February 24, 2019 - Website
Landini Review
by Christian H
Landini was perfecto. Perfan did a wonderful job explaining everything to us. Very comfortable apartment. Three bedrooms, three baths - to of them en suite. Perfan was able to organize additional housekeeping for us which we appreciated for light cleaning up, making beds and helping with laundry. She did a great job and was there when we were not. We wish the weather was better so we could enjoy the amazing roof terrace. Grazie! [Thank you for your kind review. We are glad that you enjoyed your stay in Rome, and look forward to working with you again. The Italy Perfect Team]
January 14, 2019 - Website
This is the second time we rented an apartment from Italy Perfect and will definitely do so again.We loved the apartment. It was perfect for our family, with enough space to spread out a little. The terrace is a lovely place to relax and unwind a little away from the bustle below.The location was so convenient for our sightseeing. Just around the corner from the apartment we found a great new restaurant called Botega Tredici. We had so many good meals in Rome, but this restaurant stood out with the creative, delicious and beautiful dishes they presented. We enjoyed it so much we went back multiple times during our stay.[Thank you for your repeat business. We are happy to hear that your trip was a great success, and we look forward to welcoming you again. The Italy Perfect Team]
October 30, 2018 - Website
My family of 5 stayed here. It is a lovely apartment & we would all stay here again. It was great to have our own bedrooms & bathrooms with showers. We all slept well. The water pressure is really bad. If more than 1 shower is going at a time, there will be a trickle of water. Even with 1 shower, it is not very good but at least you can rinse shampoo from your hair. This slowed us down because we needed to shower 1-by-1. Rome is old so this is not completely unexpected. The kitchen was fine for basic cooking. My mom made breakfast every day – it's her favorite meal. The USA style drip coffee maker was useless; it took more than 30 minutes to brew half a pot of awful coffee. We just used the Bialetti Moka even though it was time consuming for 5 people. It makes good coffee.The washer & drier worked well & are in a separate laundry room. Don't use the drier & dishwasher at the same time; the breaker will trip. This is not unusual in Italy; just adapt. The breaker is convenient & obvious in the kitchen so an easy fix. The rooms are large (except for the kitchen). We enjoyed all the space & the furniture was comfortable. The terrace was our favorite spot. The weather was wonderful while we were there so we spent everyone afternoon until dinner with a glass of wine up there. The furniture is comfortable & there is an awning to protect from sun or light rain. The location is wonderful. The building is historic & the neighborhood is convenient for restaurants, sightseeing, shopping, groceries, etc. (Watch the movie "The Talented Mr. Ripley" & you will recognize this building). There are wonderful restaurants in the Jewish Quarter just a few minutes' walk from the apartment. We ate very well. There are steps inside the apartment. My 89-year-young mother managed it all fine although she was a little nervous with the narrow spiral staircase to the terrace. There is a small elevator in the building. I loved walking up and down the magnificent staircase. We were greeted, given a thorough walk-thru and even shown around the neighborhood. That was very kind and appreciated.[Thank you so much for your review and for enjoying the apartment, its history and the personal welcome. It seems like you might not have seen some of our advance information advising that one shower at a time and one appliance at a time is standard in Italy where the residential electricity allowance is tiny. Water pressure in Rome is a big scandal right now. Of course the core system is ancient and politics may also play a role. The Italy Perfect Team]
October 10, 2018 - Website
Landini Review
by MH, JC, CS
Three of us women stayed in this charming apartment outfitted very comfortably with every convenience. It's location on a small "off the beaten track piazza" could not be more perfect since there are several small cafes within steps and within easy walking distance there are supermarkets, taxis, banks as well as, sites, such as Coliseum, Pantheon, Campo d'Fiori, Trastevere. Our greeter could not have been more accommodating and helpful - he took time to show us all the details about the apartment and even took us on a walking tour of the neighborhood so we would know exactly where and how to navigate. [Thank you so much, we are delighted you enjoyed your stay! The Italy Perfect Team] He suggested restaurants and things to do...We had a wonderful dinner at Ar Gallitti on Farenesi Piazza. We also ate at Camponeschi on the other side of that piazza. Perhaps it was the night, but we found the service to be very poor at Camponeschi especially given how expensive it is.. Overall, we loved our stay and would definitely recommend Italy Perfect to anyone planning a trip to Italy or to London/Paris. They clearly screen their properties very carefully and take great pains with their printed materials to prepare everyone for the rental.
October 7, 2018 - Website
Landini Review
by Jerry A
My immediate family and I stayed here following my wedding in Puglia.I don't know if it's possible to find a better location to stay in Rome for a group of 6. We all fell in love with our Piazza and made this place our home for 7 days.It's easy to do. The location for me was perfect. Taxis nearby if you can't make the short walks to all major locations. Wonderful restaurants within seconds from the front door. The owner of the property was more than accommodating as he gave us a tour of nearby need to knows and how to do's. I could write a novel on how much I loved this place.If you are reading this do not hesitate and remember the terrace truly is a cherry on top. I will be back again and again.[Thank you Jerry, we are delighted you enjoyed staying at the Landini and look forward to welcoming you again! The Italy Perfect Team]
August 24, 2018 - Website
Landini Review
by Linda P.
We stayed at Landini Apartment in Rome in August 2018. The apartment was very comfortable and furnished nicely. The bedrooms were fine for a family of 6. 3 bathrooms and a washer and dryer were a great plus. The air conditioning was wonderful as the week we were there temperatures were in the upper 90's and extremely hot. It is located in the Jewish Ghetto and very close to major attractions and many very good restaurants. Coffee shops and bakeries close by. The kitchen is very small and not well equipped. We had to purchase a frying pan. The kitchen sink clogged while we were there and we tried to communicate with the "super/maintenance" person in an office in the lobby area, but he could not understand English. The rooftop terrace is lovely, however, due to the heat we did not use it very much. It is accessed by a small spiral staircase which is not conducive to persons with walking/climbing issues or handicaps. A small elevator was nice to have especially with a lot of luggage.I would definitely consider staying in this apartment again. [Thank you so much for your review! We are delighted you enjoyed your stay in the apartment and that fascinating part of Rome. We apologize that it wasn't clear that the manager who met you on arrival would have quickly handled the missing skillet and the sink. The Italy Perfect Team]
Landini Review
by John V-J
Super beliggenhed i forhold til alle de store seværdigheder i Rom. Lejligheden er i god stand, og med en hel fantastisk privat tagterasse, hvor der både er mulighed for skygge og sol. Rigtig god modtagelse af værten med god information - både om lejligheden og den historiske bygning den ligger i. Der var frisk vand og mælk til os i køleskabet samt vin og snack til os.
My family and I spent the first week of March in the Landini apartment in Rome. It was a great experience. The location could not have been better. On a small square with the lovely Renaissance turtle fountain, our building was somewhat secluded and had a feeling of privacy, and yet was only a short walk from the Largo di Torre Argentina, with its bus connections; the Pantheon; the Campo de' Fiori; and the Theater of Marcellus. We walked to Trastevere, the Piazza Navona, the Trevi Fountain, the Capitoline Museum and the Forum. Although we didn't do it because it was raining, we could have walked to the Vatican. It is really a perfect location. The apartment itself is very spacious, with a large living room and dining room and three good-sized bedrooms. Two of the bedrooms have en suite full bathrooms, while there is a third full bathroom across the hallway from the third bedroom. The furnishings are both elegant and comfortable, and the small galley kitchen is well-equipped. A spiral metal staircase in a corner of the living room leads to the roof terrace, which is huge and beautifully furnished. It is a lovely place to have a glass of wine at the end of a day of sightseeing. Near the entrance to the apartment is a large storage room that has a washer and dryer. The apartment is in a magnificent building with a wonderful, imposing staircase. (There is also an elevator). The master bedroom is on the interior courtyard and is therefore very quiet. The other two bedrooms open onto a street and could be a bit noisy if the windows were open.We were greeted on our arrival by the very gracious owner of the apartment, who not only showed us all of the features of the apartment (such as how to use the washer and the television), but also gave us useful information about where to buy food and bus tickets.We ate dinner at the apartment on most nights. One great discovery was Antico Forno Roscioli, which was about a five minute walk from our apartment, in the direction of the Camp de' Fiori. Besides having great breads, pizzas and pastries, it has an entire section with prepared foods -- actually, entire prepared meals -- with a different selection each day. The place itself is beautiful and the people are great and very good-natured. Roscioli also has a deli/small restaurant and a coffee bar, both of which we frequented. In all, we had a very lovely and memorable vacation. This is the second time we have stayed at Italy Perfect apartments -- we spent a week in an apartment in Florence in 2016. Each time, we have been delighted by the location, charm and amenities, as well as by the gracious attention we received both from Pat at Italy Perfect and from the owner of the apartment. I am eager to stay in one of their apartments again. [Thank you so much Con, we are pleased to hear that you had a great experience! The Italy Perfect Team]
Landini Review
by Frequent Traveler
Spent a week in the Landini apartment on "Turtle Square" between Campo di Fiori and the ghetto---wonderful location for cafes, restaurants, shopping, fresh market, salumeria...you name it. Close to taxi stand at Largo Argentino. Apartment was spacious, fairly quiet for Rome, well furnished, and had a very nice roof deck. Owner did a good job with orientation, pointing out grocery shopping, places to eat, etc. Only drawback was the satellite tv (Sky) could only maintain a signal on one channel---BBC. Internet worked well, though. Can't go wrong with this place, really. [Thank you so much for your kind review. Please, in the future, if you have such a problem like that with the television, call the greeter to have it fixed. It does normally work well. The Italy Perfect Team]
We absolutely loved the old world elegance of the Landini apartment. Large, spacious, and with a lovely rooftop terrace in a very central location. We enjoyed living like locals by grabbing pastries for breakfast from one of the 3 cafes just downstairs on the square and then again lounging around at apertivo hour after the sun went down.Our two boys each had their own bedroom at the front of the apartment and they did hear quite a bit of street noise, our room at the back was mostly quiet. I can see how this might be a problem during the warmer months (when there are more people out & about) so maybe pack some ear plugs. The 3 bathrooms were good sized (rare in Europe) and we didn't use the kitchen but it was well stocked (other than we couldn't find a wine opener so we bought one and left it). It was also very handy to have a washer & dryer in the apartment and we needed the dryer after getting caught out in the rain. Our greeter was the epitome of stylish Italian gentleman, he was very charming and understanding after our flight delays had us arriving exhausted and 6 hours later than we had planned. He gave a very thorough tour of the apartment and how everything worked and made sure we were logged in to the wi-fi before he left.We would highly recommend this apartment and would definitely stay here again. We loved that it was a residential area but still close to all the amazing sights of Rome.[Thank you so much Laura, we are delighted you enjoyed your stay! The Italy Perfect Team]
November 17, 2017 - Website
Landini Review
by Ladnero
Loved the Landini apartment, very clean and a great Location 4 blocks south of Panthenon. Nicely decorated and a large terrace on the roof. You feel like a local. Easy to walk to all sights and great Restarants in the area. Highly recommend. [Thank you Ladnero! The Italy Perfect Team]
November 11, 2017 - Website
What an incredible time we had at the Landini Apartment in Roma! Upon arrival we were greeted by Pervan who graciously showed us around the beautiful apartment and terrace. The apartment was beautiful and spacious and the history of the building was incredible. Pervan even walked us around the neighborhood showing us the grocery store, coffee shops and restaurants and even recommended an excellent museum nearby that allows you to go down into the ruins of the ancient city of Rome. We loved having 3 bathrooms for us 4 women and spent a lot of time on the terrace enjoying wine reminiscing about our days in Rome as students many years ago. The Piazza Mattei was perfect with coffee shops for early morning cappucinos before setting out to explore the city. The location was ideal and we walked to everything ! The proximity to The Campo di Fiori and the Pantheon was exactly what we were looking for. We were so close to all the action but being tucked into Piazza Mattei was a quiet sanctuary from the exciting hustle and bustle that is Rome. All of us ladies LOVED this apartment and hope to stay there again when we return with our families. We would all recommend this to friends who are looking for a perfect place to stay in Rome. Thank you to Italy Perfect for recommending this apartment. It is a gem !! [Thank you Monica, we are delighted you enjoyed your stay as well as the location and look forward to welcoming you again! The Italy Perfect Team]
September 27, 2017 - Website
Our party of 4 adults thoroughly enjoyed our stay in Rome at the Landini. Our husbands especially liked the Turtle Bar next door. It gave them a place to hang out while we were away. The apartment is so centrally located to most of the sites in Rome. The Capitoline Hill is very close and worth the walk up the steps to visit the Church. There are so many restaurants and shopping boutiques within just a few yards. You will find a hair salon right outside the door. The bedrooms and bathrooms are spacious with plenty of closet storage. We did not use the third small bedroom but it is ideally suited for two independent individuals, either two small children or teenagers. The kitchen, although very small, does a great job of supplying the basics. The main reason we chose the Landini was because of the terrace. Unfortunately, I was disappointed the most in this area. I neglected to consider the use of the spiral staircase in accessing the terrace. To enjoy the terrace the way we wanted involved several trips up and down to carry everything. The cushions and furniture were not as "fresh" as I had expected and the whole area could use a bit of sprucing up to maintain a level of luxury. We were there for 10 nights and only spent 3 or 4 times on the terrace. Although this was our second time to Rome, the information Italy Perfect provided was very helpful. We used their recommendation, Rome Value, for transport to and from the airport, which I do recommend. Booking with Italy Perfect was easy and they gave me options for a mishap in the final payment. I was told I needed to use the same credit card for my final payment as I used for my first payment. I used Bank of America but did not want to use them again. Bank of America charges foreign transaction fees and their conversion rates are not the best. I am happy to say we were able to work things out but it still resulted in my having to pay a little more than my second credit card would have charged. Overall, I would recommend Italy Perfect and Landini. [Thank you! The Italy Perfect Team]
September 14, 2017 - Website
We stayed for 4 nights in hot July. The apartment is located in a wonderful historic building & benefits from being on a high floor with its outdoor terrace. We very much enjoyed sitting out on the terrace - particularly during the cooler nights. As noted, some of the furnishings could do with updating & don't quite match the website pictures. The apartment is well equipped, is of a good size & certainly benefits from good air conditioning. The wi-fi worked well or at least no complaints from our two teenagers! Like several accommodations in Italy, the bedding could be better (eg more pillows/better quality) & the bathroom fittings are sparse. However, these points did not detract from our overall stay. The location is great & we enjoyed escaping the many crowded areas of Rome. There are several good restaurants in the area (& some to avoid!) + local supermarkets.Our greeter/owner was very friendly, helpful & courteous. We didn't need full detailed instructions to work some of the apartment's appliances but I can understand why such instructions are provided if guests are predominantly from North America & not used to European appliances. We used UBER alot as the drivers were willing to pick us up from the square outside of the apartment; although a local taxi rank is only a 5 minute walk away. [Thank you Rob, we are pleased you enjoyed your stay! The Italy Perfect Team]
September 5, 2017 - Website
Landini Review
by Tammy B
We stayed at the Landini Apt and LOVED it. We loved the location (right around the corner from the Jewish Ghetto with all its great restaurants!). We were within walking distance of everything we needed. Our greeter was fantastic! He helped whenever we had a problem/ question re appliances or electricity etc. The driving service recommended is great, though you might be able to line up a cheaper ride via UBER. We used UBER a couple times while there, tho we were told later that UBER is illegal there.[Thank you Tammy, we are pleased you had a wonderful time! The Italy Perfect Team]
I would like to thank you on behalf of our gang of six for making our trip to Italy a fabulous experience. Your professionalism and expertise in finding us the right accommodations in great neighbourhoods made for a wonderful stay in all three cities. It is always a pleasure dealing with Italy Perfect – no surprises. When we were booking the trip I received some pushback on the prices. I assure everyone that though you may be spending a little more you know when you get there that the apartment will be available, you will be met by a professional person and the apartment will be just as described. People travelling with us did not book with Italy Perfect in Rome. They booked online and as you know upon arrival in Rome they did not have accommodations – what a nightmare that was for them and for us. They are still trying to get their deposit back. The panic of trying to find a place and the upset to us trying to settle in to our apartment ate up most of our first day in Rome. I know that when I deal with Italy Perfect I am getting what I see in the pictures and what is described by your review. The apartments are always clean, centrally located and comfortable. You are succinct in describing them – warts and all. Thanks so much Pat. We will be in touch for our next trip to Italy.
Landini Review
by Terry, Laurie, Claudia and Greg
An exceptional apartment teeming with history! The attention to detail is reflected in the handsome furnishings and décor. The living area, bedrooms and baths were spacious and cooled by very efficient AC. The massive upper terrace is a wonderful place to enjoy sunrises and sunsets. The owner, who greeted us, was a gracious host, familiarizing us with his centrally located apartment and introducing us to the charming neighbourhood filled with unique shops. Terry, Laurie, Claudia and Greg [Thank you so much, we are delighted you enjoyed your stay! The Italy Perfect Team]
My family of 3 thoroughly enjoyed our stay in the Landini apartment! It was spacious and the a/c worked incredibly well! My favorite part of the apartment was the soaking tub...after each day of lengthy walking...it was so nice to soak in a nice size bubble bath! The location was fantastic as we were centrally located to all the sights and great restaurants! Our favorite restaurant was Taverna del Seminario...yum! We would highly recommend this property! [Thank you Ann, we are delighted you enjoyed your stay! The Italy Perfect Team]
Landini Review
by Michael M
Spent two weeks in this apartment and it was near perfect. Nicely furnished, comfortable, with plenty of room. Amazing terrace [although the furniture there is showing its age]. Adequate kitchen. Fabulous location, right on Piazza Mattei with the lovely Fontana delle Tartarughe, and an easy walk to Campo di Fiore, Piazza Navona, Trastevere, the Pantheon and Jewish Ghetto. Truly the heart of Rome. The building in which it is housed is interesting -- a 16th century palazzo with a stately grand staircase. If we had one complaint it would be that wi-fi reception was limited to one end of the apartment and not available in two of the bedrooms. An easy fix if the owner were willing. That owner, a member of the family that has held the palazzo for centuries, is a gracious host who went out of his way to make us feel welcome and show us the neighborhood. Would definitely choose this apartment again. [Thank you Michael! The Italy Perfect Team]
Landini was a wonderful apartment located in a 500 year old building. In spite of its age, everything worked. Include was a washing machine and drier was allowed us to have clean clothes without too much effort. The furnishings were beautiful and comfortable. The location was perfect, within 20 minutes walking of nearly everything you'd want to see. The entry to the building was in a courtyard that included a famous fountain, restaurants, yogurt store and 2 minimarkets around the corner. Within a half mile were nearly all the shops you would want, a large supermarket, a taxi stand, dozens of good restaurants, and the river. Our time was spent pretending we were Italians that lived in Rome. Language was not a problem and the weather was outstanding. We would consider doing it again. [Thank you Bob, we are delighted you enjoyed your stay! The Italy Perfect Team]
We had a wonderful time in Rome the apartment was fantastic and Lisa was always easy to contact thank you[Thank you Maria! The Italy Perfect Team]
Landini Review
by Dana W.
From entry to exit our two week stay at Landini was above average. We were greeted by the apartment's owner who gave us a full tour of the place including appliance instruction. He also led us on a brief neighborhood tour pointing out restaurants, stores and the taxi stand. The apartment is very comfortably furnished and the location can't be beat. You really can walk to everything. There are good restaurants, markets and several neighborhood bars within steps. We loved the neighborhood and of course the fountain! The kitchen is nicely stocked with all the basic cooking utensils, kettle and both American and Italian coffee pots as well as salt, sugar, oil and a few other staples. It's a very small kitchen (no dining and one cook-maybe two- at the time) but beautifully done and it certainly met our needs. The rooftop deck was lovely and spacious. With quality mattresses, linens and furniture plus such an amenable host, Landini truly feels like a home. Our host even saw us off and helped with a taxi to collect us and our luggage. As with all major cities there is street noise in Rome, but things quieted down at around 11 p.m. Earplugs would solve this problem if you are noise sensitive. The master bedroom is on the courtyard so is very quiet. Finally, I must say that Pat, at Italy Perfect, provided great service when she learned just two days before our arrival that there was an appliance problem with our original apartment. She went above and beyond to place us in Landini so that we wouldn't be inconvenienced. The reassignment went off without a hitch when Italy perfect lived up to its name! [Thank you Dana, we are delighted that you had a wonderful time! The Italy Perfect Team]
November 23, 2016 - Website
Landini Review
by Carolyn B.
For my second visit to Rome, I enjoyed this less touristy neighborhood (stayed closer to the Colosseum on prior visit), and the comfortable elegance of the Landini flat. It is such a regal old building offering a spacious flat with an incredible furnished rooftop patio deck! We enjoyed our sunsets with Prosecco, salumi and cheese on the deck. Our group was very comfortable here, in the heart of the old Jewish "Ghetto" neighborhood. The beds were comfortable, kitchen AND bathrooms well appointed. Loved seeing the family crest on the everyday china. Very comfortable and pleasant living room with chance to catch up on world news on the large screen TV. Good Wifi. Nice proximity to restaurants, and walking distance to some of Rome's finest attractions. Thank you Italy Perfect for a wonderful local feel for our return visit to Rome this Fall.
November 16, 2016 - Website
Landini Review
by Kelly Marine
This is a truly elegant and extremely comfortable, quiet apartment in a tremendously convenient & charming location. A few minutes easy walking and you're in Campo de Fiori buying fresh produce at the farmer's market, picking out interesting jewelry from a local stall vendor, enjoying gelato in the Piazza Navona, crossing the bridge for dinner in Trastevere, or eating Carciofi alla Giudia at Piperno in the beautiful Jewish quarter directly behind the apartment….the list goes on and on. You can see from the photos how beautiful the apartment is and the sofas and chairs in the large living room are VERY comfortable after a long day out seeing the sites. I slept in one of the twin bedrooms and can honestly say the beds are extremely comfortable (and I'm a larger person), with very nice linens and good pillows (which I've found isn't always the case in Europe). And to literally top it all off is the unbelievably huge rooftop terrace with lots of cozy seating! It's such a wonderful place to entertain, or simply sit with a book and glass of wine, watching the city change color as the sun sets, looking out over the rooftops and cathedral domes, with Swifts and Seagulls flying by calling as the bell towers ring. It's like being in a movie-set…but it's REAL!! Oh how I long to be back in Roma at the Landini apartment!
November 5, 2016 - Website
This apartment had that rare and wonderful combination of being close to everything but still in a quiet Location. It was clean, comfortable, well appointed and very elegant. With the added bonus of fresh oranges for breakfast growing on the large and sunny terrace. The host was gracious and readily available when we had a small issue with the wifi. We really enjoyed our stay. [Thank you Chuck, we are happy you enjoyed your stay. Thanks for letting us know about the issue with the WiFi. It has now been fixed. The Italy Perfect Team]
October 28, 2016 - Website
Landini Review
by Minneapolis Travelers
My husband and I, along with two young teens, spent a wonderful week in early October at the Landini. First off, the apartment cannot be better located. We were in walking distance to everything. The longest walk, to Piazza del Popolo, was under 30 minutes but most places we walked to much quicker. There are nearby conveniences such as grocery stores, banks and 3 good restaurants right on the same piazza. We had great meal at each. Further, the apartment itself is large and well-appointed. We had everything we needed and plenty of room for everyone. Spaces to be together and spaces to be alone. The beds were comfortable and if we weren't in Rome, we would have wanted to sleep-in. The master is quiet. The roof top terrace is lovely and huge and, although the evening weather didn't quite cooperate, we were able to have hot chocolate on the terrace a couple of times. It is an amazing space! Overall, it is so much more comfortable and cozy than a hotel. The apartment gives you a strong sense of place and history and is perfect for restoring after a long day of sight seeing. Finally, our greeter was a very gracious host. Upon arrival, he explained all the equipment and shared a few bits of history on the palazzo. We were pleasantly surprised that a few essentials were stocked in the kitchen and bathrooms. We are so grateful for our stay we would gladly return!! [Thank you so much Theresa, we are pleased you enjoyed your stay! The Italy Perfect Team]
September 22, 2016 - Website
Landini Review
by The Erlbaum's
Really enjoyed the Rome apartment. Accommodations were very nice, loved the location near the ghetto to be close to the kosher restaurants. The host was also very nice.
December 11, 2015 - Website
Landini Review
The Landini was on a longterm lease from 2009 to 2015, explaining the lack of recent reviews. Regards, the Italy Perfect Team
November 7, 2009 - Website
Landini Review
by Cheryl Covelli
The apartment is perfectly located. We were able to walk everywhere. Since we spent a great deal of time across the river, as well, Landini felt like "the heart of Rome" in terms of location. Mr Parafen is a gem. He took us on a brief walking tour of the neighborhood when we arrived, pointing out good restaurants, banks, the local grocery store, etc. This was extremely helpful. One minor inconvenience is that there are only two keys to the apartment. There are three bedrooms, it'd be nice to have at least one set per couple. We had to plan around the key situation. Some nice fluffy towels, instead of the worn, scratchy ones would nice. Also, there were no blankets on the beds or anywhere to be found. Overall, we enjoyed our stay and loved the luxurious feel of the Landini building. It's a romantic, charming place to stay. Cheryl
October 18, 2009 - Website
Landini Review
by Sheppard Family
September 27 - October 3, 2009 The Landini Apartment was very spacious and clean and perfectly located. We enjoyed the terrace of the apartment, the weather was perfect and it was a great place to read a book and drink a glass of wine or two after a day of sight seeing. Our favourite eating and drinking hole was the Campo d'Fiori which is only a five minute walk away. There is market there during the day which has all the fresh fruit and vegetables and other Italian delights you would need. Only one minor comment I would make is there were no cakes of soap so you may need to bring some for your first day. Other wise the apartment was great and I would recommend it to anyone.
August 19, 2009 - Website
Landini Review
by J.Foster
The apartment is perfectly located in the centro storico of rome. It's close to everything, but is on a small, quiet piazza. The apartment is well-appointed and maintained with three relatively equal bedrooms and baths that can each accommodate two adults. The dining and living areas are spacious and comfortable. The kitchen, while small, is ample enough to prepare dinner for a group, and the roof terrace is glorious -- looks just like the picture on the web. The AC system was quiet and worked well. Pat (Italy Perfect) was very helpful with logistics and details about the rental. For our group, a five-star experience and a much better value than hotel accommodations for six. We'd have liked a bit of shade (table umbrella or trellis) on the roof and a larger table and chair group. For those who really like to cook, some additional equipment in the kitchen would've been nice, but the things needed most ar there. We would certainly rent the apartment, and work with Italy Perfect again.
Landini Review
by J. P. Kassirer M.D.
Lovely, roomy apartment; AIR CONDITIONED!! Great location. Walking distance to major attractions and restaurants. Accessible to taxi stand. We were 4 adults and two teenagers; plenty of space for all. Internet access. Quiet area. Great pastries in the kosher bakery around the corner.
Landini Review
by Diane L
Feedback for Landini apartment week of June 20-26th 2009 The accommodations were spacious, clean and bright. The kitchen, while small, was very practical and had the required kitchen utensils for use. However, some of the furnishings and the decorations in the apartment did not meet our expectations – they were basic and older. The drapes were not complementary to color scheme in the living room and provided for a bland atmosphere. The TV could be updated for use by future guests with children. Also a stereo to play CDs would of added some warmth to the apartment. It was useful and beneficial to us to have Internet access. Thanks. The apartment was central and within easy walking distance of all areas of interest. We did not use the patio, although it was one of the reasons we chose the apartment. The patio could be more inviting, with cleaner furniture/umbrella and some plants.  Many seagulls fly overhead so you can imagine what is all over the patio furniture. The three bathrooms was a plus.Although the apartment was clean, the hallways were less so. Immediately in front of the door there were dusty, broken chairs and a table. A privacy pull down blind for the small bathroom window could be considered. Excellent location and great, interesting surrounding area. Close to a taxi stand. The hop on hop-off bus is a good way to visit and stops nearby the apartment. Villa Borghese is a must-see museum, reservations are needed. Italy Perfect service was great. The information you provided was great we will consider Paris Perfect for our next trip. Thanks and Ciao!   However, some of the furnishings and the decorations in the apartment did not meet our expectations – they were basic and older. The drapes were not complementary to color scheme in the living room and provided for a bland atmosphere. In addition, while we did not consider this a necessity, the TV could be updated for use by future guests with children.
Landini Review
by Hawaii visitor
The Landini is a wonderfully sized apartment for family and friends. It has a roof top terrace which can be enjoyed when the weather is fine. The building in which it is situated was built in the 1500s. There are grander palazzi in Rome but the neighborhood (Ghetto) and the fountain outside are stunning. The kitchen is set up with just the right equipment. The nearby deli, Antico Forno, is just wonderful, and the nameless bakery with the ricotta torts was delightful. I like to market at Campo dei Fiori and have a capucino at the Bar Farnese. This year we discovered Ar Galleto at Piazza Farnese as well as the Bar Campoleschi. The Isola Tibertina has a wonderful restaurant, Sora Lella. Mostly we were happy to take lunch out in the neighborhood and stay in during the evenings after a passegiata. My two wishes: that the satellite TV were accessible and that the maid would come while we were out of the apartment during the day. Otherwise, I plan to rent either Landini or its neighbor Fontana in future visits.
Landini Review
by Jay Allen
The Landini Apartment was perfectly located and we walked most places. The owner was wonderful, the maid was a little stern and not very friendly.  We would stay there again. We enjoyed the terrace of the apartment and the quaint location which was very neighborly.  We loved the Vatican, Spanish Steps, Campo d'Fiori, Piazza Navona, etc. and the food.  I think I ate 3 paninis each day and lots of spaghetti alla vongole.  We recommend Sabatini's in Trastevere, Piazza Navona for watching people and eating great meals, morning espresso at market/deli to right from exiting Landini. We brought Ipod with small docking station and drank wine and listened to Italian music nightly. You were terrific.
Landini Review
by Kathi R
Just got back last night. Rome is magnificent!! We spent the week walking the city and exploring the beautiful sights. We just loved it. The apartment was wonderful, beautifully decorated and updated, perfectly located (right next to the kosher restaurants) and in impeccable condition. It could not have been better. I wanted to thank you for providing us with such wonderful service and loads of valuable tips and advice for our first time in Italy. We were truly thrilled with our accommodations. We hope (and dream) to be able to contact you again for another fabulous vacation. We know we will be in "excellent" hands!
Landini Review
by Stephen Foster
Thanks, Lisa. Just back from Rome. The apartment was, as advertised, very nice, and the greeter was right on time.
Landini Review
by Joellin C.
The apartment was all that I expected. Beautifully designed, comfortable and extremely well cared for. The location cannot be better. Walking in any direction takes you to wonderful places.
January 31, 2008 - Website
Landini Review
by Maria T
Just a short note to tell you that we loved the apartment. It couldn't have been more perfect and better located. The only problem we encountered was with the elevator which was out of condition during our stay. Our host was, indeed, a perfect gentleman, with perfect English, and he could not have been more helpful. I would heartily recommend the apartment to anyone having the same requirements we had. Thanks so much. If you are ever in NYC, give me a ring and I'll treat you to lunch. My best, Maria PS. He also showed us the smaller apartment [Fontana]. Delightful and so beautifully decorated!
November 30, 2007 - Website
Landini Review
by Nanci L
Thank you so much for all your expert advice regarding our trip to Rome. The apartment's location was fantastic and resided in such a lovely piazza. It was perfect for our family (2 adults and 2 teens); comfortable and clean! The greeter's short tour was very helpful in providing a sense of where we were in relation to points of interest and necessities like the nearest Despar [grocery store]! Working with you was a joy - you were always quick in your responses and your recommendations on drivers, guides and restaurants were excellent. I am also very appreciative of the time and care you took in recommending our New Year's events, many thanks. I know I will return to Roma someday and will definitely contact you for accomodations and suggestions! I highly recommend "Excellent Europe."
October 31, 2007 - Website
Landini Review
by P. Jefferson
The weather was very kind to us and the central location of the apartment meant we were able to walk to most places, even with three over age 70 and one 80 year old. The apartment worked very well allowing us all the freedom to come and go as we wished and to have plenty of space to all do our own thing, including for my father-in-law to sit and paint from a picture of the fountain in the Piazza on the one day when we did have some rain. The greeter was most helpful in his short guided walk of the area.
September 30, 2007 - Website
Landini Review
by Rick P.
We had an enjoyable time at the apartment and in Rome. Thank you for all the information regarding the apartment and the neighborhood. I will certainly pass you name to friends when they decide to travel to Italy. Your web site is one of the most thorough I have seen.
The apartment was superb. A newly renovated and well equipped 16th Century family owned building in a great location, and with a very attentive and personable owner. Basically we enjoyed having such a pleasant home base to begin and end our many day trips. We walked to most all of the major sites in Rome. Minor issues with hot water and major construction on the adjacent apartment unit, but the owner was quick to remedy. The building was a block or two off major thoroughfares, which was perfect for us. Recommendations: The piazzo at Campe de Fiore - farmers market by day, great food at night, and shopping always. The real neighborhood feel, both here and in Trastevere (just a few blocks across the Tiber River from our apartment), was among our cultural highlights. We also enjoyed the Pantheon and surrounding area. Travel tips: Using true-to-scale maps, spend time each evening to plan the next days outing. We were able to cover alot of ground on foot, and get to all the sites we had hoped for, by breaking the day up into a few smaller destinations - each linked geographically to the next. By taking breaks at the many sidewalk cafes and gelatorias along the way, and filling our water bottles from the many potable fountains in Rome, we could refresh ourselves when needed.
Landini Review
by Chris F
The accommodations were just fine. Actually larger rooms than we expected. We enjoyed the history of the palace and the location. No problems at all. The location was perfect for us, centrally located, to just about everywhere we wanted to go. And, if we didn't want to walk, the bus stop and taxi stand was just a block away. We especially liked the square we were on, - with the bakery, cafe, gelatoria and restaurants. We were there so often that we were "locals" in just a few days time. We think an apartment is the way to go, especially if you are in one location for more than 4 or 5days. For our family of 4, it's a neccessity. Actually, we thought your service really was "excellent" The docs you sent us were exactly timely and "right-on" target, like the "Italian telephone" document. With no conceriege on site, your written info and advice were very useful. Thanks a lot!!"
Things to See & Do
Campo de' Fiori (5 mins Walking)
Large, central piazza with famous and picturesque daily open-air farmer's market, surrounded by restaurants. Famous statue of philosopher Giordano Bruno burned here for heresy. Young folks gather here in the evenings. Thick with history and in the heart of the city.
Piazza Navona (5 mins Walking)
Iconic piazza of Rome where Romans once raced their chariots. Three beautiful fountains the chief being the Fountain of the Four rivers. Enjoy street musicians and small vendors. Great place to hang out, dine and have a gelato.
Piazza Venezia (5 mins Walking)
Center of Roman power, monuments and traffic. Reigned over by the Victor Emmanuel monument to the first King of Italy, called the "wedding cake" it leads to the great shopping of the Corso, the ancient Piazza Campidoglio, and to the grand street along the Roman Forums to the Coliseum.
Pantheon (7 mins Walking)
Must-visit. This temple to all the gods (pan-theon in Greek) breathes history starting with its architecture from 2000 years ago. It is the only complete monument from Roman times. Built of concrete, the hemispherical roof is of one piece with its hole in the center.
Trevi Fountain (10 mins Walking)
Beautiful Baroque fountain, the largest in Rome, a city of fountains. Here is where you throw 3 coins over your shoulder to ensure you will return to Rome.
Coliseum (19 mins Walking)
Icon of Rome and Roman times, the arena of the gladiators.
Spanish Steps (20 mins Walking)
One of the most famous piazzas in the world with the beautiful steps rising from the Barcaccia ("bad boat") fountain to the Trinita dei Monti church. Neighborhood for designer shopping and people-watching.