Our beautiful Cornwall apartment is a one-bedroom, one-bathroom vacation rental set on a quiet street lined with lovely white Victorian homes. Located right in the heart of Kensington, the Cornwall is just a pleasant stroll from the expansive Kensington Gardens, excellent shopping and world-class museums on South Kensington's Museum Row. You'll fall in love with this charismatic neighborhood, one of the most sought-after in London, inhabited by well-known noble families, actors, and politicians and just a short walk from Kensington Palace, that was once home to Princess Diana.
Enjoy exploring the top shopping spots such as Kensington High Street and Knightsbridge nearby. Pop into Bill's for a breezy brunch before venturing into the shops or grab the freshest produce from Whole Foods for a leisurely breakfast at your London home. Book a table at Sticky Fingers for later - Bill Wyman's rock-themed restaurant. Guests love being just a short stroll from the Gloucester Road Tube station where you can quickly reach the theatre district for London's fabulous West End shows and shopping in Covent Garden.
Once inside Cornwall, there are sunny views of the front garden from the living room. The comfortable living room, well equipped kitchen and dining area are lovely spots to relax and enjoy every moment of your stay in London. Best of all, dine al fresco on the back patio garden directly outside the bedroom or in the quaint conservatory adjacent to the patio. Our Cornwall property was fortunate to be featured on The Fine Living Channel as their top pick in London. Discover the beauty of Kensington and the London lifestyle during your stay at the Cornwall. Click to see why Kensington is the perfect neighborhood.
Things To Note
Neighborhood: Kensington
Size: 550 sq ft/50 sq m
Cooling: Mobile A/C unit in the living room
Room Details
Room
Beds
Details
Bedroom
King (1)

King bed (71in x 75in; 180cm x 190cm)
Living Room
Single (1)
Trundle (1)

High-quality sofa with trundle converts into two comfortable single beds (31in x 75in; 80cm x 190cm)
Bathroom
Shower (fixed rainfall and flexible showerheads), toilet, sink and heated towel rack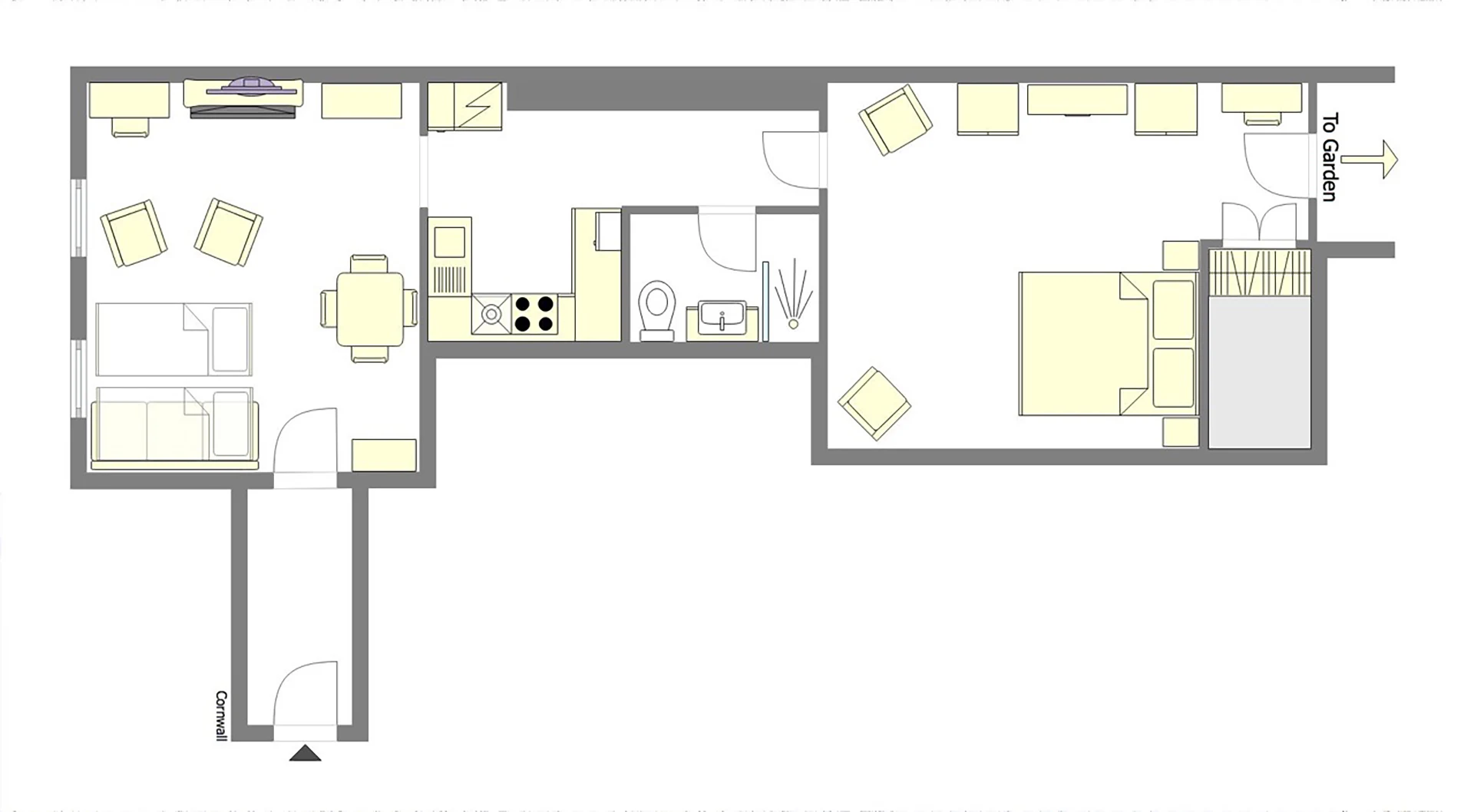 Kitchen

Starter Supplies
Fully Equipped
Coffee Maker
Dishwasher
Kettle
Microwave Oven Combo
Nespresso Style Coffee Machine
Stovetop
Toaster
Small Refrigerator

Connectivity/Entertainment

Heating/Cooling

Heating
Portable Fan(s) Available Upon Request
A/C-Mobile

Accessibility

1st Floor North American
No Elevator

Laundry

Dryer
Iron & Board
Washer

Special Features

Balcony/Terrace
Instant Booking
Thank you for submitting your review. It will be processed shortly!
December 18, 2021 - Manual Entry
We absolutely loved this flat.
by Michael D
We absolutely loved this flat. Perfect location, well appointed, and clean. The Perfect London team was attentive and helpful whenever we needed them. Highly recommend
November 10, 2021 - Manual Entry
Comfortable, private, convenient
by Denise
This was an extremely comfortable apartment for our stay. It is quiet, has everything one would need for a long or short stay, the dishwasher/washing/drying machines were all very handy! Even though it is technically an apartment in a basement or lower level, it does not have a closed in feeling. It's open, light, cool in the warmer temperatures, and having an access to the outdoor patio provides a nice environment for relaxing. It is also very private and secure. The area is a safe but accessible location as well - not on a main or busy road but super close to bus stops, restaurants, markets, etc..
Cornwall Review
by Denise St. Onge
It is a very well laid out apartment and the garden is beautiful. The cooling system works very well. There is lighting everywhere you need it. The bed is very comfortable. The location is ideal and the view from the living room windows lovely. The garden is a huge asset; we sat out there often and loved it.
Cornwall Review
by Vivian Z
Had a lovely stay, the house keeper was lovely. The apartment was fully furnished and had a great location. I would come back for sure 🙂
October 27, 2019 - Website
Cornwall Review
by Denice S
Very clean, updated, super convenient to shops and transportation, fully equipped, beautiful garden, good neighborhood, had a lovely time, can't wait to come back.
October 19, 2019 - Website
Cornwall Review
by Leslie M
We had a lovely stay at the Cornwall Apartment in Kensington. The location on Launceston Place was ideal while we were visiting our son who is studying abroad in London. Super easy access to pubs, the Tube, shopping and beautiful walks to Kensington Palace. The flat was well equipped for 3-4 adults and had all the amenities we were looking for. Lushi's driver was on time and brought us right to Cornwall and where we met the London Perfect rep to show us around the flat. All worked out perfectly. We were also fortunate to have nice sunny days in London. We will definitely book London Perfect again! Thank you
Cornwall Review
by Laura C
This was our second time using London Perfect. The flat was clean and bright, even thought it is partly below ground in front. It has a lovely secluded garden area in back. The bed was comfortable, but the pull out sofa bed was not as good as the last flat we had. If you are sound sensitive, the area is very quiet, but you can here footsteps upstairs. (We may have just had heavy stompers!) There is enough room for a couple, but any more would be tight. The kitchenette and bathroom were fitted just right. Walkable to restaurants, pubs and some shopping. Also Hyde Park! We will be back, and will use London Perfect again!
Cornwall Review
by Greta M
Amazing visit. Fantastic apartment perfectly appointed with everything you need. Everything within walking distance and neighborhood very easy to navigate. The peace of the outdoor space after a long day of excursions was truly sublime! Just a lovely flat in the heart of it all. Everything from the transfer pick-up at the airport (Thank you Lushi! You're amazing!!) to the check-in service at the flat was flawless and after a long flight very welcoming. Have to mention as well the bed was so comfortable and allowed for deep sleeps and refreshing mornings. It was lovely to keep the cage locked and the French doors wide open for a fitful sleep and awaking to the morning songs of the birds in the courtyard. We will be back! A cozy little love nest for London travelers! Thank you London Perfect and your team and also a huge thanks to the owners of such a lovely well maintained property, we're so very happy to have chosen you!! 🙂
Cornwall Review
by Krista B
The apartment was perfect inside and out. We loved the location. The staff was helpful and friendly. The neighborhood information was very useful and accurate. It really is London Perfect. THANK YOU!
Cornwall Review
by Krista & Susannah
Wonderful apartment, wonderful location in a wonderful city! Lydia met us and was so kind showing us all the apartment details. Sax came to "repair" the fridge which I (inadvertently) had switched off. Every recommendation from the neighborhood guide was spot on. We made many memories and hope to return one day. We are definitely London Perfect customers for life!
Cornwall Review
by Lena A
My husband and I had an amazing time at the Cornwall apartment. The garden was a gem. The location was in walking distance to so many things to do in the area. Ellen from London Perfect was so helpful. Thank you for making our 1st visit to London a truly memorable one.
Cornwall Review
by Denise A
We loved the Cornwall apartment and especially the courtyard area. The apartment works for 4 people but really perfect for two. The street is beautiful and quiet, but close to several good pubs and cafes. Gloucester Road Tube Station is close be and convenient. We really enjoyed the apartment and would stay there again. The staff was very helpful in getting our bags stored on the first day while the apartment was being cleaned for our check in.
Absolutely glorious time spent in London and this flat certainly added to our wonderful experience. This was our maiden voyage abroad, and London Perfect provided impeccable service, beginning with our reservation, spot on communication when we sent inquiries, checking in on our arrival and throughout our stay, and ensuring our departure was smooth. We could have been more pleased, they far exceeded our expectations!
The Cornwall apartment was perfect for two people and was spotlessly clean and comfortable, especially the bed and pillows. The small courtyard allowed us to sit outside for however long we wished, in privacy and a lovely environment to read or sip wine as we discussed our day. The apartment is well situated near several bus routes and the Tube. And if anything was needed, the London Perfect staff were attentive and responsive. All in all, it was a terrific vacation in a great apartment and a great area - especially if you love London as we do.
Cornwall Review
by Jo Cowell
We stayed in the Cornwall apartment for a week in May. It is in Kensington so within walking distance to two train stations, supermarkets, and many restaurants, the Victoria and Albert Museum, etc. It is quiet and in a very pretty Street. Though small, it's cozy and I would suggest two adults would be the maximum for comfort. It is also situated at the base of another home, you look at about car level from the sitting room windows as well as to the pretty front garden. The kitchen is compact but it works well, the same for the bathroom. The bedroom is in the middle of the apartment and opens onto a lovely courtyard but does not have a window in its space. The front sitting room windows can be opened for airflow and the back French doors can be opened also. We had a wonderful stay in London and the Cornwall apartment was comfortable and well equipped. There was good quality bedding, towels, and furnishings.
October 4, 2017 - Website
Cornwall Review
by Dianne Carlbeck
My stay at the Cornwall was perfect. I had a few unexpected personal requests and the staff accommodated me quickly and with thoughtfulness. Lushi, the driver was excellent. Location ideal for dining, walking and the tube. Thank you!
October 2, 2016 - Website
Cornwall Review
by Jane Hamlin
Loved our little flat and the neighborhood. It was wonderful being in the big city but so relaxing when we got home. We were greeted, shown the details of how to use everything and had coffee, tea, milk, sugar, laundry soap and dishwasher soap all ready for us. Grocery, restaurants, pubs a block away. The flat was well decorated and very comfortable.
August 11, 2016 - Website
Cornwall Review
by Marty S.
Excellent location! You are 5 min. from the tube and fantastic restaurants. We loved our stay at the Cornwall apartment.
Cornwall Review
by Monica Andrews
Our third stay with London Perfect and, as usual, it was perfect! The Cornwall is a lovely apartment with a beautiful English garden. The bedroom is a sanctuary - away from the street and very quiet. If you are noise sensitive and/or want a peaceful place to rest after a day on the town, this is the apartment for you. We will return!
January 11, 2016 - Website
Cornwall Review
by Blaine Bolton
The Cornwall flat was fabulous. Cheerful, comfortable and all we could had asked for. The location is great and the street is very quiet. It was almost warm enough to sit outside and enjoy the little romantic garden area. Would be perfect outside in the summer. London Perfect does a super job of all the little details. Would stay there again in a heart beat. Thank you!!!
November 2, 2015 - Website
Cornwall Review
by CRISTINA CAVALLI
We really enjoyed the apartment. We did appreciate very much the bottle of prosecco in the fridge, the Nespresso machine and tea and biscuits. I think the only thing that was missing was the cleaning of the apartment; we would have liked that, at least once in 6 days. We'll certainly go back to London Perfect's apartment.
October 1, 2015 - Website
Cornwall Review
by Susan & Marty McManus
The apartment was beautiful, comfortable, ideally situated for what we wanted to visit. The staff of London Perfect are absolutely incredible. We sent numerous emails before our trip, and they were answered quickly and were very helpful for our planning. The packet that was provided was also extremely helpful when we arrived. We had a few issues arise (nothing serious) while we were in the apartment and again staff responded quickly and efficiently. We have told everyone who asks about our trip how great London Perfect was. Oh, and did I mention how friendly everyone on staff is? Thanks again so very much for everything.
September 23, 2015 - Website
Cornwall Review
by Silvina T
We had an absolutely glorious stay with our Cornwall apartment, we had the opportunity to really live London like when I used to live there many years ago, just a few blocks away from Hyde park, jogging every morning, buying our breakfast in that beautiful and friendly neighborhood, it was just perfect. So even the sun was out every day of our stay, so we had a blue-sky London. The apartment was small but just perfect, it had everything we could need and the staff behind it was very friendly and very eager to support us with whatever we needed. I would not doubt in staying with you again when I return !
Cornwall Review
by Judi Wagner
We had an amazing week at the Cornwall, in the Kensington neighborhood of London. Perfect location on a nice quiet street, with shops and restaurants just around the corner. Easy walk to Kensington Palace, and the park. Walked to Science Museum and Victoria & Albert Museum. We also attended a concert at Royal Albert Hall and this was also a short walk away. This apartment has a cute interior private courtyard, perfect for morning coffee, or a glass of wine later in the day. We saw a show in the theater district and the tube was easy to navigate from the Cornwall, better than sitting in traffic. The apartment had all the amenities we needed, great kitchen, we appreciated having a washer/ dryer, and although we did not take advantage of it, there are tons of dvd's for a night in watching movies. Our check in to the apartment was seamless, with everything explained to us and a bottle of wine cooling in the fridge. We also stayed with this company on our trip to Paris last year, and we found the same professional, courteous service. Thank you London Perfect, for truly making our time in London - PERFECT!
Cornwall Review
by Carla Griffiths
Our week was perfect!
Cornwall Review
by Jean M
Apartment fabulous and centrally located. Walking distance from everything. Easy to use and taxis could find at night. Very pretty inside.
Cornwall Review
by Michael Bosch
My wife and I fell in love with Cornwall the moment we walked in. A truly beautiful apartment, which I couldn't recommend more highly. We were very happy with the orientation visit by the congenial young man, Ian. The neighborhood itself is quiet, secluded, and beautiful. A perfect location for a London "basecamp". The major downtown London tourist sites are a distance away, but if you're enthusiastic walkers, it's not a problem. In any case, the Gloucester Road tube station is minutes away. And if your destination is Royal Albert Hall, or the Natural History and Victoria and Albert museums, they are all easy walks. Plenty of good food is within easy walking. If one wishes to cook, there is a Whole Foods store nearby. The kitchen's prep surfaces are quite small, but cooking can be done, and the space is well supplied. I would happily stay here again. For me, a couple of must-do's that may not occur to many visitors. Evensong at Westminster Abbey, and the Borough Market. Gold standards of heavenly and earthly sensual experiences.
January 5, 2015 - Website
Cornwall Review
by Karen Hasler
We just returned to Florida after a wonderful stay in London. The Cornwall was perfect for us...good location, close to Kings Road, Sloane Square and good restaurants and pubs, and After Christmas Sales and shopping! The Cromwell was cozy and well equipped..comfortable and accessible. We have stayed in several flats with London Perfect...always a pleasure...We are already planning our holiday for next year! Thank you!
December 2, 2014 - Website
Cornwall Review
by D & G Howard
The Cornwall was a wonderful "home away from home" for us. Its ideal location made getting out and about easy for both bus and tube and it's "walkability" was great for shopping and strolling in the neighborhood. We loved the quiet of the apartment upon returning each evening and the eat-in kitchen/dining option was not only economical, but made grocery shopping a fun experience. We'd do it all over again and can recommend it for others because the Cornwall made our London holiday a joy. We also heartily recommend the Lushi driving service - reliable and most efficient transport to and from the airport.
October 21, 2014 - Website
Cornwall Review
by Mike Brandenburg
Overall we really enjoyed the apartment. The only suggestions I can offer for improvement was the lamps/light for reading in the evening were quite dim. In fact some of the lights in the main room did work at all. The outside patio could use some trimming of the ferns. These are small items...we had a great time in the apartment.
October 6, 2014 - Website
Cornwall Review
by John Moore
The unit is in the basement. Being 6-4, some of the door heights were challenging. Having said that, the unit is spectacular. It is meticulously newly decorated. The owners have thought of everything, night lights, blinds, curtains, flat screens, internet and mood lighting everywhere. There is an incredible garden patio to escape to in the back of the unit. It is surrounded by potted plants, vines, mirrors and arches. The neighborhood is on a quiet street, one block away from a little French bakery/coffee shop, many restaurants and the District Line. The Cornwall is a great home away from home rental.
Cornwall Review
by Vince A
This is a very nice apartment in a very nice neighborhood in London. We found everything clean and comfortable. The children found the pull out beds comfortable. All the appliances are high end and work well. We had no problems with noise. It was nice to sit in the outdoor garden in the back. The underground station is a pretty five minute walk from the apartment, and there is a Waitrose food shop next to the station which is very a convenient stop when returning from a busy day. We found having most breakfasts in and packing a lunch each day a real time and money saver. The Gloucester Road station is on the circle line and is convenient to central London sights. Kensington Gardens is a short walk, we visited three times. I would highly recommend this apartment. Our stay greatly enhanced our London experience.
Cornwall Review
by Martin & Sheryl Parizeau
We have been to London on many occasions and have rented from London Perfect and Paris Perfect several times... We continue to be wowed by our experience! The Cornwall apartment was absolutely fabulous! While on the small size, it was more than enough for the two of us and the decor, warmth and amenities were fantastic. While this is technically a basement flat, it was bright, warm and exceptionally comfortable. I would love to stay in summer and get more use out of the amazing terrace - it is a little bit of paradise in the middle of the city. Prior to this trip we were partial to Chelsea, but the location of the Cornwall flat converted us to the virtues of South Kensington. The Gloucester Road tube station (with access to three underground lines - including easy and inexpensive access to Heathrow) is unbelievably convenient. The restaurants and shops in the neighbourhood are fabulous and you never have to go more than few blocks for dinner if you do not want to. Hyde Park is a few blocks away which is great for walking or running and Kensington High street is a short walk away. Whether you are a veteran London visitor or a first timer, you will love the Cornwall apartment and it's ideal location. Add to this the 5-start London Perfect service and you have a recipe for the perfect vacation.
Cornwall Review
by Regina Shaw
My family of 4 (myself, my husband, and 2 daughters, ages 20 and 16) stayed at the Cornwall in early March and couldn't have asked for a better experience! From booking to pre-departure information to check-in - all went smoothly! We were even able to check-in early, which was a nice surprise. The apartment looks exactly as it does in the photos on the website, but what the photos don't convey is how perfect the location of the apartment is! Being so close to the Gloucester Rd. tube stop, with its 3 lines, means that virtually all of London is accessible. Plus the neighborhood is very posh and felt quite safe even walking around at night. I absolutely loved the apartment!It is small, but it is laid out so nicely that it didn't feel at all cramped with the 4 of us. I would not hesitate to re-book with London Perfect, and would definitely stay at the Cornwall again.
January 10, 2014 - Website
Cornwall Review
by Karen Hasler
We visited London over the week between Christmas and New Year. We stayed in the Cornwall flat, a wonderful spot in a great location. A greeter was there to explain things and answer questions. The flat was small but very comfortable and clean. Everything was well thought out - the decor, the kitchen, the lovely shower, the comfortable king size bed - I could go on and on! We loved the garden and conservatory in back, it was a little cold and rainy so we did not use it, but loved looking out the door from the bedroom. We walked everywhere, to Kensington Palace, High Street, restaurants and took the Underground straight to the theatre a couple of nights. London Perfect are wonderful hosts, have a special way of making you feel so welcome. We have stayed with London Perfect many times and will do so again. Want to try Paris Perfect too! Thank you.
December 8, 2013 - Website
Though London was cold, Cornwall was very warm and felt like home! The apartment is tastefully presented and the welcome basket was perfect! The apartment was a short walk from public transport, but Lushi was available for our needs. Our stay was short but enjoyable and we will happily come back in the summer to experience the rest of the locale. Thank you London Perfect!
October 10, 2013 - Website
Cornwall Review
by Mary Louise & David Hopson
Tiny but efficient apartment in a great location. Walk to shops a block away or nearby on the Kensington High Street. Close to many sights and the Underground. Quiet residential area. A lovely stay!
September 30, 2013 - Website
Cornwall Review
by Doug & Michelle Rutherford
We found the Cornwall to be a great location, well appointed and very comfortable. Its location to the tube opened up all of London. A day pass from the ticket counter and the city was there to be explored. Looking forward to a return visit!
September 7, 2013 - Website
Cornwall Review
by Roger B
This apartment is absolutely beautiful. The area cannot be any better, shops, restaurants and the tube are all just a few steps away. We enjoyed our stay so much we just booked it for two weeks in 2014!
Cornwall Review
by Pam Harding
The apartment was lovely and compact but with back garden it expanded. We were able to host a cocktail party for seven people. Our guests raved about how clever our find of this location and top notch space. It really is so nice to have an option for more home like space vs a hotel. Highly recommend the services of London Perfect.
Cornwall Review
by Curt & Nea Lynn Ireland
This was our first visit to London and we absolutely loved this apartment, the neighborhood and London itself. The Kensington and London Guide which you provided was most helpful. We particularly enjoyed the restaurant recommendations. We have twice stayed at Paris Perfect rentals and have always found everything to be of the highest quality. We appreciate the professionalism and courtesy of your staff and that of Lushi and his drivers. We also enjoy the newsletters from Paris Perfect and London Perfect. We'll be back soon!
Cornwall Review
by Jackie C
This is the second time we have stayed with London Perfect and it is truly perfect. It was perfect for my stay, good access to two tube stops and lots of cafes, bakeries and groceries. Very quiet small cozy rooms charmingly decorated with views to back patio and very cute front garden keep perfect by the owners who were very nice to us, even baked us chocolate cookies Sunday afternoon. Does it get any better. We were very comfortable!
Cornwall Review
by Gregg D
We are returning guests having stayed previously in The Merlot in Paris. The Cornwall is wonderfully located in Kensington with easy access everywhere in London. Philippe and Madeline could not have been nicer! It was a wonderful family trip with memories that we will cherish. We look forward to our next trip!
Cornwall Review
by John G
My wife and I stayed at the Cornwall for a week and absolutely loved the unit. We were greeted by Phillipe upon our arrival and given a short tour and had all questions answered. The location is outstanding in that it is within easy walking distance to the subway system, Victoria and Albert Museaum, Natural History Museaum, Hyde park and multiple pubs and restaurants all within a block. The apartment is very comfortable and a perfect size for a couple. We would not hesitate to rent this unit again in the future and can recommend it w/o reservation.
Cornwall Review
by Henry C
We had a superb time in London. The Cornwall flat was the perfect base for our adventures. The proximity of the flat to Gloucester station (with its three tube lines) and supermarkets like Waitrose and Sainsbury's which, in my opinion, is more convenient compared to an apartment closer to South Kensington station. The flat was quiet, safe, clean and well equipped. Cozy but ideal for our family of with two adult and two teenagers. The kids enjoyed, of course, the free wi-fi but also the extensive collection of DVDs. We had a Harrison Ford movie festival during our stay! The transfers with Lushi were professional and stress-free. He is a super gentleman. Highly recommended.
February 9, 2013 - Website
Cornwall Review
by Fiona M
My husband and I stayed at the Cornwall apartment in January for a week and loved the location of the apartment. We have stayed in 2 of Madelyn and Philippe's apartments in Paris so knew that we would have a lovely place to stay in. The apartment was a bit smaller than I thought it would be, but still beautifully decorated. Being in South Kensington was pretty, completely safe and so close to so many places we wanted to visit. Gloucester road tube station was 2 minutes away, so it was incredibly simple to get to other attractions/shows. We had a lovely stay, Fiona and Scott.
January 12, 2013 - Website
Cornwall Review
by Tracy W
In the last 12 months, my husband and I have stayed at the Cornwall apartment twice. Our 2 daughters, 21 and 23, were able to come and go as they pleased as there are 2 comfortable folding beds. The location is perfect and very quiet, transport is easily accessible and I was able to cook when we didn't want to dine out. On our 2nd visit it felt like we were coming home! We hope to be back in London again this year and would happily return to the Cornwall.
December 13, 2012 - Website
Cornwall Review
by ANTHON
Very well maintained and located just 5 minutes walk to the Tube station. Ideal for a couple and very quiet at night. Much better than other apartments we have stayed in. Good range of shops and Restaurants nearby.
November 15, 2012 - Website
Cornwall Review
by Sasha P
The apartment is exactly as it is shown, it is small but has been divided and decorated very tastefully. The location is excellent just off Gloucester road where one can find everything they need.
November 6, 2012 - Website
Cornwall Review
by Nancy L
The Cornwall was the perfect location for our family of three. It was beautifully decorated, very comfortable, well equipped and just steps from the Gloucester Rd tube & Kensington Palace. The London Perfect team was attentive to every detail and made us feel very welcome. We'd return in a heartbeat!
Cornwall Review
by Deborah Carver
From the very beginning of planning our trip to London, London Perfect made it a simple process. Everything from the pick up at the airport ( we used Lushi ), to the beautifully appointed apartment. The only thing missing were bag clips! We also had Anne bring us dinner one night. Absolutely delicious! Thank you for everything. Can't wait to stay with you in Paris. Fondly, Deborah
October 15, 2011 - Website
The Cornwall flat was more than it was advertised to be. After touring all day (most of it on foot) it was so wonderful to come to the flat and sink into the luxurious bed. It was conveniently located and the area felt so safe we walked around until later in the evening/night without fear. Madelyn and Philippe were very gracious hostesses and we had privacy but they were also accessible when we had questions. We will definitely stay there again for our next trip to London.
August 21, 2011 - Website
Cornwall Review
by J Thomas
We had a wonderful stay. The Cornwall was so convenient to the pastry shops, markets and tube. It was a two minute walk through a lovely neighborhood to everything. The patio was perfect to come back and have an cup of tea. Thanks for a great time and we look forward, in a year or two, to staying in one of your Paris apartments. Tessie was so helpful and everyone should use your driver. It was so nice not to have to deal with luggage and directions after a flight.
Cornwall Review
by Jerry & Mary R
We absolutely loved the apartment. Fantastic location on a beautiful street in Kensington. So easy to get anywhere with the tube stop just a couple of blocks away and plenty of taxis in the neighborhood. The apartment was great for a couple, but it could sleep up to two more. Everything was updated, clean, functional and very comfortable. We enjoyed the garden. What a treat to have that kind of private space in the middle of London. Madelyn and Philippe were fantastic. Such wonderful hosts, offering suggestions, getting us in touch with people who could help with anything. I would highly recommend this for a short or extended stay in London. Loved it.
Cornwall Review
by Steve & Sharon C
Apartment was in great location, beautifully fitted out. Would recommend.
Cornwall Review
by Susan & Edward Y
Outstanding apartment. First, the location in central London could not be better. The apartment is two blocks from the intersection of Cromwell and Gloucester, which is where the Gloucester Tube Station is located. The Piccadilly line, which goes directly to Heathrow Airport goes through this station, and the Piccadilly line also goes directly to the Covent Garden theater district. The Cornwall apartment is less than a 5 minute walk from the tube station. The Waitrose grocery store is right at the Gloucester Tube Station, Sainbury's, which is a larger market, is about two blocks away, and the flagship Whole Foods in London is at the next major street on Kensington. The neighborhood is lovely and safe. Second, the apartment is beautifully decorated and has an excellent layout. It has a private entrance, then the living room, kitchen, bathroom and bedroom laid out in a linear pattern, with the bedroom opening onto a small garden patio with a gazebo. The apartment is even prettier than the pictures on the website, and the furnishings are really quite beautiful. The London Perfect staff are always available, as are the owners, one of whom is a retired cardiologist. I mention this because emergencies do happen, and the owners have helped guests through several of these. The apartment also has Lushi's car service available for trips to and from Heathrow. We used Lushi on our trip to Heathrow (50 GBP), and it was a wonderful way to leave London. One last note and a suggestion: my wife and I rent apartments when we travel. This was the best one ever, without question. It's very popular, and I would suggest trying to plan ahead in renting it. If you stay there, you'll see why. We call the Cornwall the "perfect" in London Perfect.
November 16, 2010 - Website
Cornwall Review
by Jennifer and Gary
The Cornwall apartment met all of our expectations and more. We were traveling with a baby under 1 years old and the layout of the apartment allowed us to enjoy our evenings in the kitchen/living room while our baby slept in the back bedroom. A baby cot was put in our apartment upon arrival without extra cost and we were fortunate enough to have Madelyn and Philippe's daughter babysit for us so that we could enjoy a night out in the city 🙂 As if that wasn't enough, on two occasions, we returned home from a tiring and busy day in London to find some homemade fruit crisp at the apartment entrance! We definitely recommend staying in this apartment - the neighbourhood, apartment and owners are all stunning.
November 3, 2010 - Website
Cornwall Review
by Mary Nowak
We stayed for a wonderful two weeks in October at the Cornwall Apartment. It was the perfect location for a fantastic holiday. The neighbourhood is beautiful and very quiet. The garden was a treat to come home to after walking all day. We would sit and sip wine surrounded by the lovely greenery. The apartment was cozy and inviting. It was very well stocked for all our needs. The European appliances are fabulous! Madelyn and Phillipe were the perfect hosts and were always available if we needed anything. On our next trip to London, we would love to stay at the Cornwall again!
October 15, 2010 - Website
Cornwall Review
by Bill and Carol Henderlight
We stayed in the Cornwall Apartment during the period of September 25 to October 3, 2010. Since this was the first time for us to rent an apartment instead of a hotel room, we were a little apprehensive but once we arrived we were very pleased with everything in the apartment. Philippe and Madelyn were very organized with instructions concerning the apartment, as well as suggested places to dine. With their help and the lovely apartment, we had our very best trip to London!
September 24, 2010 - Website
Cornwall Review
by Don & Joyce
This "Cornwall" apartment is amazing! The location couldn't be better - quiet,safe, friendly, convenient- it was spotlessly clean, a total and tasteful renovation with everything one could want. In addition we had our own beautiful private garden in which to enjoy tea or wine and dinner. We were welcomed with a basket of basic supplies (coffee, crackers, etc.) and a bottle of wine. This apartment has a very modern bathroom and kitchen and the most comfortable bed we've ever slept in. Kensington High Street and Hyde Park are a 5 to 7 minute walk away. We also had a fantastic stay in Madelyn and Philippe's "Champagne" apartment in Paris through Paris Perfect). For each city, Madelyn has prepared a multi-page document of helpful hints that we found both useful and infallible. Groceries, pastries, and several excellent restaurants are within a 5 minute walk. We loved this apartment so much that we plan to return in the near future. Only next time we plan to stay for a few weeks instead of just one.
September 21, 2010 - Website
Cornwall Review
by Stacie T
LOVED every minute of it! The apartment and neighborhood were an important part of my stay. Left well rested and with fond memories; will return again and again.
September 12, 2010 - Website
Cornwall Review
by Shirley E
What a beautiful apartment! We were delighted with the modern amenities, the private courtyard and the charming decor. The location was perfect for taking the underground, walking in the park and eating out. We were pleased with the little gift basket that made us feel so at home. I would stay there again in a heartbeat.
Cornwall Review
by F. Worthington
Your Cornwall apartment was the perfect place to stay in London. Thanks for creating such a delightful refuge!
Cornwall Review
by Alain & Adele
We thoroughly enjoyed our stay at this beautiful apartment. The location was ideal, in a very pleasant area of London, close to Kensington Gardens (great for joggers like us), and with wonderful restaurants a few minutes away. The apartment has absolutely all the conveniences of home. It is tastefully decorated, spotlessly clean and very quiet. We also enjoyed the use of the beautiful back garden. There is no question we would love to rent this property again. It's a jewel!
Cornwall Review
by Carol & Bryan F
We have often rented apartments when staying in London. This is the only one yet that we would love to come back to. It was very clean, very comfortable - especially the wonderful huge bed -and had everything we needed. The apartment had top of the line furnishings and everything was deluxe. We couldn't recommend it more! What a treat! Thanks so much Madelyn and Philippe.
Cornwall Review
by Patsie O
The apartment was really lovely. Luxurious and homely. Was very impressed with the modern and antique combo. And a helpful landlord too. Will definitely recommend.
Cornwall Review
by Sheli Nan
My name is Sheli Nan. I am a composer and pianist living in Berkeley, Ca. I recently stayed at the Cornwall apartment in Kensington, London with London Perfect. We were so happy with our accommodations. There was a lovely welcome basket, the apt was spacious, clean and totally user friendly. The decor was elegant. The street it is on is heavenly. The owners were gracious. I would stay there again in a heartbeat.
We had the most wonderful time at The Cornwall. The location was perfect and the flat was so charming! Everything was spotless and the attention to details says a lot about the owners who are so very welcoming and helpful. The Cornwall is a very special place and the conservatory in the garden is utterly romantic.
Cornwall Review
by Richard, Patricia & Alanah
Dear Philippe, I just wanted to send this brief message to say it was a pleasure to finally meet you and have a bit of a conversation. We had a wonderful time in London and can honestly say it exceeded our expectations. I will also take a view of your new Paris apartment. Best Wishes for a break in the HEAT.
Cornwall Review
by Norma V
We were delighted with the comfort, high quality, elegance and charm of The Cornwall. It was exactly as advertised and a treat to return to at the end of the day. We appreciated the thoughtful inclusion of unexpected arrival amenities, a bed that was supremely comfortable, and the ideal location in a quiet neighbourhood close to two underground stations and everything you might need. Madelyn and Philippe made the all things related to the renting of the Cornwall seem seamless and a pleasure.
Cornwall Review
by Sallie Bond
I wanted to write and thank you for having such a great place for our family of 5. We just could not have been more pleased. The apartment is lovely. So clean and full of all the amenities and then some. We thoroughly enjoyed it. The location was great. We could do so much walking, jogging and all those good things to help with the appetite! We cooked in and we ate out. A good mixture of both. We saw all the major sights to see in London, took the tube, the red double decker bus, too. I was able to get in some shopping, too. I think we are definitely apartment people.
Cornwall Review
by Robin, Larry & Taylor
Just a quick note of thanks after a very long trip home. The Cornwall flat was wonderful- perfect for the 3 of us! The neighborhood was so convenient to everything we did all week and had so many small local shops- it gave us a real feel for London! Staying at the flat was a great way to make our holiday just a little different. We can't wait to return!
Cornwall Review
by Ingrid Lamarre
Thank you Madelyn and Philippe for your hospitality! Our visit to London was so much fun. We've stayed in London before but this trip was exceptional due to the fact that he Cornwall apartment was such a wonderful place to call home. To our delight and amazement the photos reflected exactly the comfort and beauty of the apartment. The neighborhood is in the best of locations; a very quiet and old charm residential neighborhood between 2 tube stations and walking distance to Knightsbridge, Picadilly and Bank street. We walked everywhere in London! It was a real pleasure to come back to our apartment after a day out. In the immediate area the choice of restaurants is abundant, shopping on High street 2 minutes away and even a Whole Foods Market for quick pick up of "to-go" delicious meals. The location was so ideal that we could even pop back mid day and drop off parcels and back out for a different excursion in no time at all. We are usually frequent guests of the Ritz Hotels though I must say that our experience at the Cornwall apartment was one of our best holidays ever. The charm and comfort was unbelievable and the brief insight to life in London was wonderful. Thank you once again and we can't wait for our next visit to London!
December 29, 2007 - Website
Cornwall Review
by Jan & Harry Branch
We feel so fortunate to have found London Perfect and our wonderful Cornwall flat. Madelyn and Phillipe have done a super job with all the advance suggestions as well as the many guidebooks in the apartment. The location couldn't have been better! The restaurant recommendations were spot on. This was our sixth trip to London and didn't feel the need to cover everything at breakneck speed as we did in the past. Our favorite spot, among many, is still Windsor Castle. We used the underground like locals and felt very safe. I'm hoping to do a girl trip with our daughter and daughter-in-law in the fall and they both would be thrilled if the destination would be London. We'll just have to see what the exchange rate is later in 2008. And of course we hope to stay at a LondonPerfect property. Many, many thanks, Madelyn and Philippe.
Cornwall Review
by Elisabeth Hodges
It's been since November '06 and I'm still thinking of ways I can get to stay in the Cornwall apt. again. I've waited all this time to leave a message in the guest book to see how I'd feel six months later. I still love to tell people about the perfect apt. in London that made my last vacation. I felt like I lived in London in the loveliest neighborhood, in the coziest and nicest apt. Thanks again, it was perfect in every way and now I'm planning my next stay. I tell everyone about your website.
Cornwall Review
by Seattle Couple
The Cornwall apartment really is London Perfect. Nicely furnished; peaceful, private patio (we ate breakfast there daily with croissants from the nearby French bakery); internet connection; great location for eating, sites, walking around and close to the Tube; quiet, safe, upscale neighborhood; a cool hideaway in the center of London.
Cornwall Review
by Jerome Jones
My wife, twin 13-year old granddaughters and I spent a magical week at the Cornwall in June, 2006. Decor, location, ambiance, etc. were unbeatable. The Kensington location was perfect; easy walking access to the "tube," supermarket, restaurants, Kensington Park and museums (Victoria and Albert,Science, Natural History.) The apartment easily accommodated all four of us, with a measure of privacy for each. We all retreated to the beautiful garden at various times; Madelyn has created a masterpiece there. The kitchen, washer and dryer and other domestic niceties made the stay convenient as well as enjoyable. Lushi provided excellent transportation to and from airports and train stations at a reasonable cost. Most importantly, he was reliable! In summary, the Cornwall came as advertised and was a perfect choice for us.
September 25, 2005 - Website
Cornwall Review
by Jane Howard
My son and I vacationed in London for our first time this past September and stayed in the Cornwall Apartment. The trip was fabulous and our accomodations helped make it even more so. The apartment, itself, was very comfortable and offered a welcome respite at the end of our busy days. The Kensington location could not have been better. Madelyn and Philippe had great suggestions (we followed almost all of them) with respect to transport to and from the airport, where to dine, what to do, and how to make economical phonecalls back home (SKYPE!). We plan to return to "London Perfect" next year with the entire family!
August 18, 2005 - Website
Cornwall Review
by Ginger & Bob Good
A week at this London apartment was just perfect! Clean, well-located, charmingly decorated, lovely patio, all contributed to a wonderful London vacation. Close by are charming restaurants, a french bakery, a great deli, and, at home, a well-stocked kitchen made our food choices fun. The bus, tube, and taxis are all within walking distance. A great find for 2 people. Tell your friends; we are!
Cornwall Review
by Seda Kakmak
We just got back from a London vacation. Since we had a wonderful experience with Madelyn and Phillipe's Beaujolais apartment in Paris, this time we decided to stay in their Cornwall apartment in London. This beautiful house made our vacation unforgettable. Additionally, we had the chance to meet Madelyn and Philippe who are extremely hospitable. They have the best taste in the world, we were very delighted to stay at their beautifully decorated, comfortable houses which are also at the perfect locations of the cities. If there are any Paris Perfect houses anywhere I go in the world, without any doubt I'll prefer it. And when I stay at Paris Perfect houses I feel like I'm in a house which belongs to me. Thanks Madelyn and Philippe, I wish you extend your property range to other parts of the world.
Cornwall Review
by Keith & Karen
We stayed in "The Cornwall" apartment in London. The location was excellent--very nice neighbourhood, close to everything yet very quiet. The apartment was bright and sunny and had everything you could need. Having in-suite laundry was very convenient. We thoroughly enjoyed our stay.
January 17, 2005 - Website
Cornwall Review
by Kirk Larson
My wife and I stayed in the London Cornwall apartment earlier this month (Jan 2005) and absolutely loved it. We will definitely stay there again on future visits to that great city. Like your typical Americans, we are used to a lot of space, and this apartment was great in that respect and in how well it was appointed. Very quiet, a great neighborhood, quick & convenient Tube access to the entire city, and less than a two-minute run from the southwest corner of spacious and spectacular Hyde Park--that's hard to beat. The owners are very respectful of your privacy and yet very attentive to any questions or needs you may have. A first-rate place!
Things to See & Do
Kensington Gardens (10 mins Walking)
This beautiful Royal Park is home to Kensington Palace, the Italian Gardens, Albert Memorial, Peter Pan Statue, the Serpentine Galleries and the Princess Diana Memorial playground and fountain
Kensington Palace (10 mins Walking)
Official residence of Prince William and Duchess Kate. The State Rooms are open to the public and feature antiques, memorabilia and fashions from Queen Elizabeth through to Princess Diana.
Royal Albert Hall (10 mins Walking)
World-famous concert hall built in 1871
Royal College of Music (10 mins Walking)
Distinguished music conservatory dating back to 1882. Check the program for operas and recitals at very reasonable prices.
Museum Row (12 mins Walking)
Victoria & Albert Museum, Natural History Museum, and the Science Museum
Hyde Park (15 mins Walking)
One of the greatest city parks in the world and home to many famous landmarks including Serpentine Lake and Speakers' Corner
Princess Diana Memorial Playground (15 mins Walking)
Located in the north-west corner of Kensington Gardens, this playground has a charming Peter Pan theme complete with a 50-foot tall wooden pirate ship, teepees, and lots of fun things to discover
Princess Diana Memorial Fountain (20 mins Walking)
Memorial fountain in Hyde Park designed to express Princess Diana's spirit and love of children

Shopping & Eating
Kensington High Street (10 mins Walking)
Fabulous shopping strip with many big brands including Marks & Spencer, Topshop, Next, and the largest Whole Foods Market store in London
Harrods (25 mins Walking)
One of the world's most famous luxury department stores

Public Transport
Bus (3 mins Walking)
Take the 49 Bus to High Street Kensington, South Kensington (for the Museums), Kensington Palace, Hyde Park, and Battersea Park.
London Underground (6 mins Walking)
Gloucester Road station: One of the most convenient in London as it's served by three key lines: Piccadilly, District and Circle lines. Go direct to Heathrow airport, the West End Theatre District, the Tower of London, Covent Garden, Piccadilly, St. Paul's, Green Park, Buckingham Palace and other famous landmarks.