As light and lovely as the famous French wine it is named after, the Chablis is one of the rare apartments located just across the street from the famed Champs de Mars, with magnificent views of the Eiffel Tower. You'll feel like you can reach out and touch the tower as it sparkles during the magic night show! Enjoy shopping at the nearby Rue Cler market street and all the specialty stores surrounding the Chablis, for a romantic dinner at home. You'll have front row seats and marvelous views of the Eiffel Tower - absolutely unforgettable! Modern and filled with charming Parisian touches, this 425-square foot apartment is ideal for a romantic getaway or vacation with a small family. It's guaranteed to create special memories of your Parisian stay!
You will fall in love with the dreamy setting in the 7th arrondissement, very near the Seine and surrounded by a charming neighborhood with excellent cafés, restaurants and fun shopping. Enjoy picnics in the Champ de Mars gardens, go for romantic evening strolls along the river, or walk to museums, other Paris landmarks and so much more nearby!
Things To Note
Neighborhood: 7th arrondissement
Size: 425 sq ft/40 sq m
Bedroom: Bedroom walled off by a sliding partition
Cooling: Mobile A/C unit in the living room that vents through a special hole in the window
Heating: Building regulated heating
Accessibility/Security: 1 flight of stairs from the 6th to 7th floor
Registration Number: 7510700449755
Room Details
| Room | Beds | Details |
| --- | --- | --- |
| Bedroom | Dual Extra-Wide Queen (1) | Dual extra-wide queen bed (63in x 79in; 160cm x 200 cm) which can be unzipped to form two single beds |
| Living room | Double (1) | High-quality sofa converts into a comfortable double bed (55in x 77in; 140cm x 195cm) |
| Bathroom | | Bathtub, shower (fixed and flexible showerheads), sink and heated towel rack. Toilet in separate room, please see floorplan. |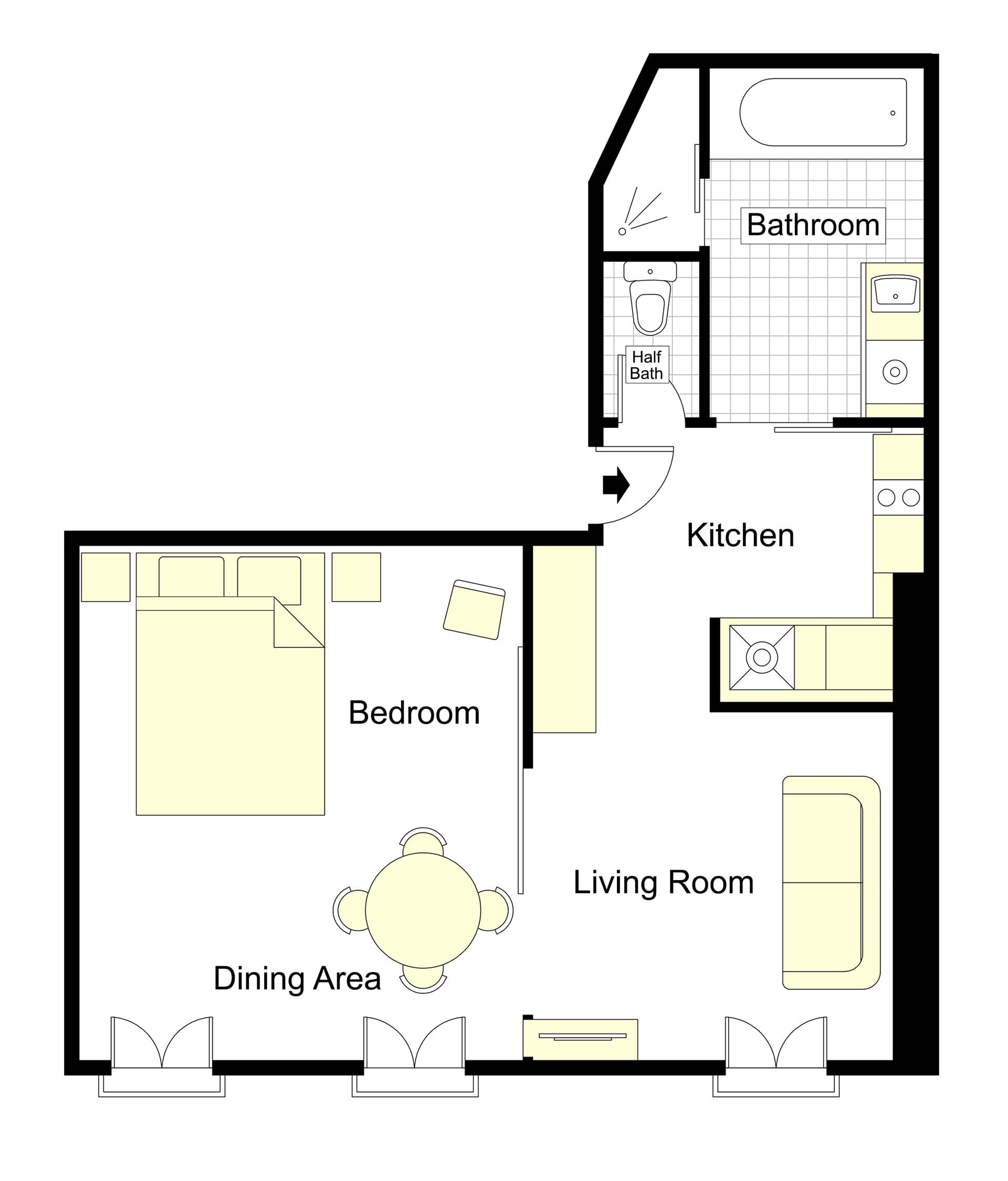 Kitchen

Fully Equipped
Starter Supplies
Kitchen
Coffee Maker
Dishwasher
Microwave Oven Combo
Nespresso Style Coffee Machine
Stovetop
Toaster
Refrigerator

Accessibility

Private Entrance
7th Floor North American
Elevator

Connectivity/Entertainment

WiFi
TV
TV - Limited English Programs

Heating/Cooling

Heating
Portable Fan(s)
Sound Dampening Windows
A/C-Mobile

Laundry

Iron & Board
Washer/Dryer Combo

Special Features

Eiffel Tower View
Instant Booking

Amenities

Elevator
Air Conditioning
Thank you for submitting your review. It will be processed shortly!
May 22, 2022 - Manual Entry
Loved our stay!!!
by Nancee Pangares
The Chablis apartment was just perfect for our 36th anniversary twice postponed due to Covid Paris in Spring trip. We wandered and had picnics on the Seine and slept late and watched the Eiffel Tower sparkle at night. Thank you!
Base Nightly Rates – May Not Include Fees such as Greeting, Cleaning, Damage Waiver, Credit Card Processing and Tourist Taxes. For full price, please put in dates.
Available
Unavailable
Check-In Only
Check-Out Only
October 2023

| S | M | T | W | T | F | S |
| --- | --- | --- | --- | --- | --- | --- |
| 01 | 02 | 03 | 04 | 05 | 06 | 07 |
| 08 | 09 | 10 | 11 | 12 | 13 | 14 |
| 15 | 16 | 17 | 18 | 19 | 20 | 21 |
| 22 | 23 | 24 | 25 | 26 | 27 | 28 |
| 29 | 30 | 31 | | | | |
November 2023

| S | M | T | W | T | F | S |
| --- | --- | --- | --- | --- | --- | --- |
| | | | 01 | 02 | 03 | 04 |
| 05 | 06 | 07 | 08 | 09 | 10 | 11 |
| 12 | 13 | 14 | 15 | 16 | 17 | 18 |
| 19 | 20 | 21 | 22 | 23 | 24 | 25 |
| 26 | 27 | 28 | 29 | 30 | | |
December 2023

| S | M | T | W | T | F | S |
| --- | --- | --- | --- | --- | --- | --- |
| | | | | | 01 | 02 |
| 03 | 04 | 05 | 06 | 07 | 08 | 09 |
| 10 | 11 | 12 | 13 | 14 | 15 | 16 |
| 17 | 18 | 19 | 20 | 21 | 22 | 23 |
| 24 | 25 | 26 | 27 | 28 | 29 | 30 |
| 31 | | | | | | |
January 2024

| S | M | T | W | T | F | S |
| --- | --- | --- | --- | --- | --- | --- |
| | 01 | 02 | 03 | 04 | 05 | 06 |
| 07 | 08 | 09 | 10 | 11 | 12 | 13 |
| 14 | 15 | 16 | 17 | 18 | 19 | 20 |
| 21 | 22 | 23 | 24 | 25 | 26 | 27 |
| 28 | 29 | 30 | 31 | | | |
February 2024

| S | M | T | W | T | F | S |
| --- | --- | --- | --- | --- | --- | --- |
| | | | | 01 | 02 | 03 |
| 04 | 05 | 06 | 07 | 08 | 09 | 10 |
| 11 | 12 | 13 | 14 | 15 | 16 | 17 |
| 18 | 19 | 20 | 21 | 22 | 23 | 24 |
| 25 | 26 | 27 | 28 | 29 | | |
March 2024

| S | M | T | W | T | F | S |
| --- | --- | --- | --- | --- | --- | --- |
| | | | | | 01 | 02 |
| 03 | 04 | 05 | 06 | 07 | 08 | 09 |
| 10 | 11 | 12 | 13 | 14 | 15 | 16 |
| 17 | 18 | 19 | 20 | 21 | 22 | 23 |
| 24 | 25 | 26 | 27 | 28 | 29 | 30 |
| 31 | | | | | | |
April 2024

| S | M | T | W | T | F | S |
| --- | --- | --- | --- | --- | --- | --- |
| | 01 | 02 | 03 | 04 | 05 | 06 |
| 07 | 08 | 09 | 10 | 11 | 12 | 13 |
| 14 | 15 | 16 | 17 | 18 | 19 | 20 |
| 21 | 22 | 23 | 24 | 25 | 26 | 27 |
| 28 | 29 | 30 | | | | |
May 2024

| S | M | T | W | T | F | S |
| --- | --- | --- | --- | --- | --- | --- |
| | | | 01 | 02 | 03 | 04 |
| 05 | 06 | 07 | 08 | 09 | 10 | 11 |
| 12 | 13 | 14 | 15 | 16 | 17 | 18 |
| 19 | 20 | 21 | 22 | 23 | 24 | 25 |
| 26 | 27 | 28 | 29 | 30 | 31 | |
June 2024

| S | M | T | W | T | F | S |
| --- | --- | --- | --- | --- | --- | --- |
| | | | | | | 01 |
| 02 | 03 | 04 | 05 | 06 | 07 | 08 |
| 09 | 10 | 11 | 12 | 13 | 14 | 15 |
| 16 | 17 | 18 | 19 | 20 | 21 | 22 |
| 23 | 24 | 25 | 26 | 27 | 28 | 29 |
| 30 | | | | | | |
July 2024

| S | M | T | W | T | F | S |
| --- | --- | --- | --- | --- | --- | --- |
| | 01 | 02 | 03 | 04 | 05 | 06 |
| 07 | 08 | 09 | 10 | 11 | 12 | 13 |
| 14 | 15 | 16 | 17 | 18 | 19 | 20 |
| 21 | 22 | 23 | 24 | 25 | 26 | 27 |
| 28 | 29 | 30 | 31 | | | |
August 2024

| S | M | T | W | T | F | S |
| --- | --- | --- | --- | --- | --- | --- |
| | | | | 01 | 02 | 03 |
| 04 | 05 | 06 | 07 | 08 | 09 | 10 |
| 11 | 12 | 13 | 14 | 15 | 16 | 17 |
| 18 | 19 | 20 | 21 | 22 | 23 | 24 |
| 25 | 26 | 27 | 28 | 29 | 30 | 31 |
September 2024

| S | M | T | W | T | F | S |
| --- | --- | --- | --- | --- | --- | --- |
| 01 | 02 | 03 | 04 | 05 | 06 | 07 |
| 08 | 09 | 10 | 11 | 12 | 13 | 14 |
| 15 | 16 | 17 | 18 | 19 | 20 | 21 |
| 22 | 23 | 24 | 25 | 26 | 27 | 28 |
| 29 | 30 | | | | | |
October 2024
S
M
T
W
T
F
S
01

$

02
03
04
05
06
07
08
09
10
11
12
13
14
15
16
17
18
19
20
21
22
23
24
25
26
27
28
29
30
31
Things to See & Do
Champ de Mars (1 mins Walking)
Expansive park surrounding the Eiffel Tower. Stroll, jog, bicycle or play in one of the playgrounds, go to the puppet theater or carousel, or just sit and enjoy Parisian life and the beautiful gardens.
Eiffel Tower (1 mins Walking)
Paris' most iconic site and one of the world's most visited attractions. Take the elevator or stairs to the top of this magnificent structure for beautiful views over Paris.
Bateaux Mouches Boat Tours (4 mins Walking)
We recommend boarding a boat tour on your first day, where you can relax and enjoy sailing down the Seine viewing many Paris monuments, museums and cathedrals
Musée du quai Branly (4 mins Walking)
Showcases indigenous art and cultures from Africa, Asia, Oceania and the Americas
École Militaire (5 mins Walking)
Napoleon attended military school here and the buildings still show gunfire signs from the French Revolution in 1789
Trocadéro (5 mins Walking)
The Palais de Chaillot sits on top of the hill and houses the Museum of Architecture, Maritime Museum and the Museum of Mankind. Stunning pictures of the Eiffel Tower can be taken from the surrounding gardens with their majestic fountains
Musée des égouts de Paris (8 mins Walking)
Fascinating tour of limestone arches and caverns down in the sewers that traverse all of Paris. The Phantom of the Opera was inspired by these underground streets.
Les Invalides (15 mins Walking)
A masterpiece of French Classical architecture built by Louis XIV; Napoleon's tomb rests under the golden dome.
Champs Elysees (20 mins Walking)
One of the world's most famous shopping boulevards. Make sure to visit the Louis Vuitton flagship store!
Grand Palais (25 mins Walking)
Venue for major national and international events and exhibitions
Musée de l'Armée (25 mins Walking)
One of the world's finest collections of arms, armor, and uniforms. It is renowned for its enormous collection of medieval armor.
Petit Palais (25 mins Walking)
Dating back to the 1900s, it's now the site of the Museum of Fine Arts in Paris
Shopping & Eating
Pont de l'Alma Food Market (10 mins Walking)
Largest open market in Paris; open Wednesday and Saturday mornings
Luxury Stores on Avenue Montaigne (12 mins Walking)
Home to many of the leading fashion houses including Louis Vuitton, Dior, Chanel, Fendi, Valentino and Ralph Lauren, as well as jewelers like Bulgari.
Rue du Commerce (20 mins Walking)
A true Parisian shopping street with trendy boutiques, food stores, bistros
Public Transport
RER (7 mins Walking)
Pont de l'Alma (Line C)
Métro (10 mins Walking)
Alma - Marceau (Line 9)
Métro (12 mins Walking)
École Militaire (Line 8)