Sit on the large terrace and take in picture-perfect views of the rolling Chianti hillsides, vineyards, olive orchards. Enjoy an authentic, affordable Tuscany experience an easy drive from Florence.
Set atop gently rolling hills of vineyards and olive orchards, Casa Rossa typifies the beauty and charm of the famous Chianti region of Tuscany.
Location
Casa Rossa is only 25 minutes south of Florence and 45 minutes to Siena. The nearest towns are San Casciano in Val di Pesa and Tavarnelle Val di Pesa, just a short drive away where you will find restaurants, grocery stores.
Exterior
The vineyards on property produce a lovely Chianti wine from the robust San Giovese, Malvasia, Trebbiano and Canaiolo grapes grown there. Additionally, the estate grows olives that are pressed into an excellent extra virgin olive oil.
Interior
The house is entered up one short flight of stairs. All the rooms are on one level. The living room is comfortably furnished with a sofa bed and two upholstered chairs. The sofa opens up to become a double bed.
The country-style open plan kitchen flows from the living room. Kitchen has wood burning fireplace. 
Off the living room is a large terrace with views galore that sum up everything that is beautiful about "bella Tuscany". Enjoy meals al fresco throughout the warm months. Just below the terrace the vineyards stretch out and down the gently rolling hillside.
The bottom part of the house is the cantina that is used for winemaking during the grape harvest and is not accessible to guests. We can arrange to show you the large cantina below the house where antique aging barrels are still used today during the autumn vendemmia -- grape harvesting season. We hope you`ll oblige and try a bit of the very nice Chianti that is produced on the premises!
The villa does not have a swimming pool. Aross the yard is Casa San Vito another vacation rental villa. Because of its proximity it`s very convenient for two families or friends that want togetherness but want their privacy too. The two houses are 30 meters (32 yards) apart, separated by a grass lawn. 
Things To Note
Neighborhood: Chianti San Casciano
Size: 2500 sq ft/230 m2
Cooling: No air conditioning. Fans provided.
Accessibility/Security: House is up 15 stairs
Payments: Final cleaning €50 and €300 damage deposit paid in cash on arrival.
Utilities/taxes: Hospitality tax is paid in cash on arrival. Go to www.italyperfect.com/tax for current rate.
Other: Check in 5:00 to 8:00pm, by appointment.
Room Details
| Room | Beds | Details |
| --- | --- | --- |
| Bedroom 1 | Queen (1) | Queen bed (60in x 79in; 150cm x 200cm) |
| Bedroom 2 | Single (2) | Two single beds (35in x 79in; 89cm x 190cm) |
| Living room | Foldaway Bed: Double (1) | Foldaway bed-double |
| Bathroom 1 | | Bathtub, sink and toilet |
| Bathroom 2 (en suite to Bedroom 2) | | Shower, sink and toilet |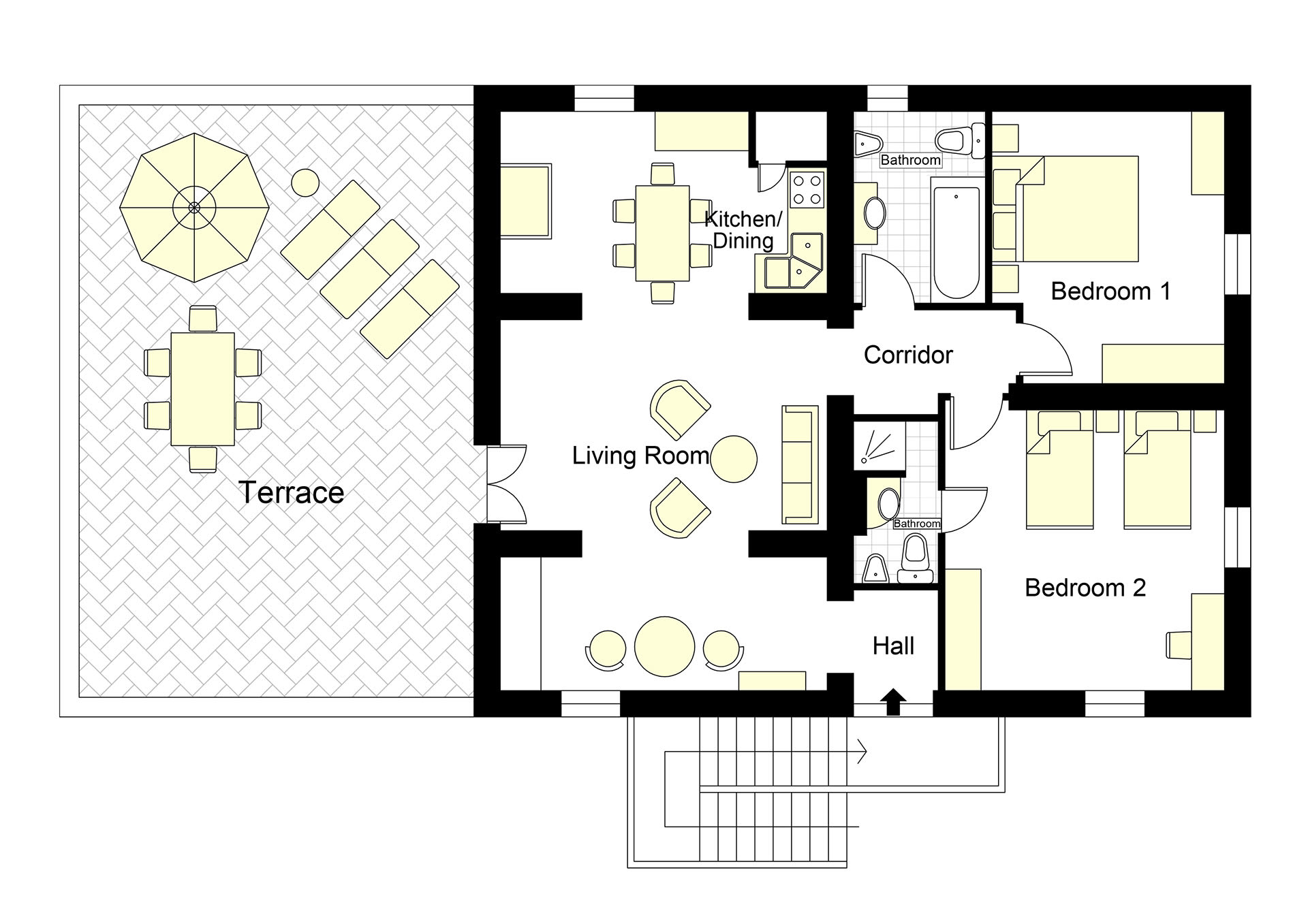 Kitchen

Kitchen
Fully Equipped
Coffee Maker
Dishwasher
Italian-Style Espresso Pot
Oven
Stovetop
Small Refrigerator

Accessibility

Private Entrance
2nd Floor North American

Connectivity/Entertainment

WiFi
TV
TV - Limited English Programs

Heating/Cooling

Heating
No Air Conditioning
Portable Fan(s)
Window Screens

Special Features

Balcony/Terrace
Instant Booking

General Amenities

Smoke Detector
Carbon Monoxide Detector
Thank you for submitting your review. It will be processed shortly!
October 4, 2022 - Website
Tuscany Off the Beaten Track
by Sharon Doyle
If you are looking for an ideal Tuscany location that ticks off all you envisioned, this is the place. Its terracotta red walls can be seen from miles away and the views from the terrace or its windows are breathtaking and unforgettable. It is rustic and does not have elegant furnishings, but it is cozy and immaculately clean. You will definitely need a car to get around and the roads are not for the faint at heart. If you are renting a car rent the smallest model as the roads are narrow. Unfortunately, we waited to the last minute to visit the Antinori Winery, a 5-minute drive from Casa Rossa. Reservations for tours and the restaurant are made months in advance but would be so worth it. It is an architectural marvel. Florence was just a short drive away and we were in Pisa in less than an hour. The owner was very accommodating and shared the history of the casa with us along with his olive oil and Chianti endeavours on the first floor. We look at our photos and smile but they do not do the scenery justice. It has to be experienced and if you want comfortable, clean accommodations that has character and history, Casa Rossa is the perfect location.
October 29, 2019 - Website
We spent 5 amazing days in Tuscany and couldn't have asked for a better place to stay than Casa Rossa! The accommodations were outstanding and along with the beautiful scenery of the Chianti region, everything was perfect!
August 18, 2019 - Website
Great time at Casa Rossa!
by Frederick Schwanke
We had a great time at Casa Rossa! The owner helped us with any questions and gave us valuable tips. The house is large and the terrace gives a great view of the Chianti region. We would come back anytime!
Breathtaking views
by Rich
Our host met us at the property. He was very accommodating. He even brought us a bottle of wine from his own wine cellar. The views from the terrace are breathtaking. There wasn't any air conditioning, but the nights in June got cool enough not to really need any air conditioning. I would recommend getting a fan for some white noise and air circulation. We didn't have one and still did fine. The location was perfect for us. A lot of privacy but close enough to Florence and wineries. I would highly recommend staying here. We would stay here anytime we return. [Thank you for your suggestion, we will mention it to the owner. We look forward to working with you again! The Italy Perfect Team]
Couldn't have asked for a better location for our Tuscany trip. Wonderful place, great sights and just terrific weather. Would definitely stay again. Close to everything as well.
Painters paradise
by JonBelindaJoeVicki
When we arrived, our host greeted us and showed us the house and how to operate everything. The view is to die for and a painters paradise. The home is centrally located, Florence less than 15 minutes to park and take bus to center of city, Seina about 45 minutes to old wall and park, San Giamono is so close you can ride your bike there, but is probably the most interesting place to visit. Go early for parking and shopping. Higher end shops there too. We love the quiet back country feel and restaurants, small vineyards, and markets nearby.Ciao, and drink Chanti.
Spectacular morning view
by David
We arrived late and our hosts mother met us. She showed us around. Our host came by later to answer any of our questions. He even introduced us to his newborn son. The house is beautifully decorated and the beds were all comfortable. The view seeing the sunset in the morning was spectacular. We did have one issue on the second day. The water was turnoff due to a pipe being replaced somewhere. Our host was on it. Only issue we had with the house was the second bathroom shower/tub. Water did not come out hardly at all and the other couple staying with us had to use our shower. [Thank you for your review, we are pleased you enjoyed your recent stay and that you got to meet your host's newborn son! It was an exciting time for the family and glad that his mother was able to pitch in and help him by coming for your late arrival to welcome you, despite the lack of English, sounds like all went well! Happy that you alerted them to the water issue and it was solved promptly. Please come back again! The Italy Perfect Team]
October 24, 2018 - Website
Definitely impressed!
by Alex & Brittany
We absolutely loved staying at this vacation rental . The location of the rental is perfect for exploring Tuscany and the surrounding areas. Anything needed to make the stay comfortable was provided and communication was great. The view from the balcony is beautiful , also from the bedrooms . Wonderful and helpful host , we were definitely impressed!
Wonderful place, great location.
Great location for exploring Tuscany
by Tom B.
We spent 5 fantastic days in Tuscany at Casa Rossa. Our host, greeted us and gave us some wonderful suggestions for nearby shopping, restaurants, and destinations. He was extremely accommodating and very interested in making our stay memorable. He grows grapes and olives on the property. Casa Rossa was a great location for exploring Tuscany. It is remotely located, but central to Tuscany and all of our destinations were easy drives. The villa is very charming, comfortable and well kept. It is surrounded by vineyards and olive trees. The terrace is a wonderful place to start the morning or finish the day with a good local wine and some cheese. Casa Rossa is a great location to experience the Tuscany countryside and an ideal base for exploring Tuscany. The process of booking through Italy Perfect was smooth, and the instructions for our arrival were great. I would suggest a car with GPS navigation to get around, but there are groceries, restaurants, wineries close by and easy to get to.
January 5, 2018 - Website
Magnificent terrace with a view
by Jacopo M.
Casa molto accogliente, c'è tutto il necessario, magnifica terrazza panoramica. Posizione isolata. Magnifica accoglienza e persone molto disponibili . Casa veramente stupenda per trascorrere del tempo rilassandosi in mezzo alle colline. Nessun tipo di problema.
Translation: The house is very welcoming and has everything you need, a magnificent terrace with a view. Private location. Wonderful welcome from the greeter who was very kind. The house is really great way to spend time relaxing in the hills. There were no problems.
November 22, 2017 - Website
Quiet secluded amongst grape vines and olive trees
by Jodi W
Our host was very warm and welcoming, he provided us with lots of information and was very helpful. He made us feel like home, the house is beautiful full of Tuscan history. Where the house is located is quiet secluded amongst grape vines and olive trees but not too far out of town, though you will need a car. There are lots of options for dinner a restaurants and supermarkets which a 15-30 min drive. If you need to get out in nature but still be close to towns this is a perfect place. One of the best views I've come across, nothing like coffee and a croissant for breakfast with this amazing view!
November 1, 2017 - Website
Perfect villa
by Sharon and Tom
When we arrived at Casa Rossa we knew that we had found the perfect villa that we had envisioned. We were warmly greeted by our host's Mother and soon thereafter our host. The views on the deck and from every room in the villa were amazing. It was very clean, nicely decorated and very cozy. We enjoyed cooking and eating by the fireplace as well as exploring the area, and of course, sitting on the deck relaxing and enjoying our hosts complimentary wine and delicious olive oil. He gave suggestions to visit in the area and our five course lunch for two with wine pairings at the nearby Osteria di Passignano was spectacular. Thanks to our host and his family for sharing their beautiful Casa Rossa.
October 22, 2017 - Website
Charming, in a wonderful location
by Maureen S
After missing our flight connections and a piece of luggage we finally arrived at Casa Rossa about 11pm exhausted. Our host was waiting for us with a welcome bottle of wine, pasta and olive oil. He went through the house explaining how everything worked and gave us maps and information about driving daytrips. He was also extremely helpful in making sure someone was at the villa when the lost luggage arrived three days later. The villa itself is charming, in a wonderful location, has fantastic views, and is comfortable and clean. Perfect for two couples but there is a pullout sofa for more than 4 people. There is a large grocery store nearby where we shopped for our six day stay. After long days of sightseeing we were so happy to return to Casa Rossa, relax on the lovely patio, have a glass or two of Tuscan wine and make dinner on the bar b q. Sienna, Volterra, Radda, Greve, Brolio and Florence are all easy day trips each with it's own personality and charm. Driving can be a bit confusing and challenging but once you figure it out it is pretty straightforward. The countryside is gorgeous with spectacular views at each new turn and climb. If you are in a hurry there is always the motorway. Thank you to our hosts for sharing your part of Italy with us. We would love to come back and stay again. JB and group from Toronto Canada
Relaxing and welcoming
by Gloria
Casa Rossa perfectly accommodated our family of 5. The view from the terrace was amazing and the cross-breeze you get when all the windows are opened feels great (especially after a hot day!). The craftsmanship of the interior, along with the décor is relaxing and welcoming. These were the best accommodations during our 3-week vacation in Italy. The friendly host provided suggestions for sites and local activities. We truly felt at home. We hope to return one day...
The house was nice.
by Sandra
The house was nice. The hosts were nice. It's too hot in summer. Go in spring. [So pleased you enjoyed the nice house and hosts. Sorry you were hot; Italy is known for its warm summer weather. The Italy Perfect Team]
November 28, 2016 - Website
Ideal location
by fred meunier
Three of us spent 4 weeks at this location. We fell in love with the villa and the surrounding grape and olive orchards. The view from the terrace is breath taking. Our host and his mother were of immense help and overly kind. We ate at many of the surrounding restaurants and found them good to excellent. The location is ideal for day trips to Florence, Siena, Venice, Rome and other locations. San Gimignano is a must see medieval town with excellent shopping. The little market in Romita served me cappuccinos every morning. Advice: Request the english satellite for the TV before arriving. Would go back in a heartbeat.
October 17, 2016 - Website
So enjoyed staying at Casa Rossa
by Lynn and Marcel
We so enjoyed staying at Casa Rossa for the following reasons: We loved getting the fresh foods and vegetables in a nearby market, cooking in the kitchen, sitting out on the villa's large terrace in the evening to drink wine and eat dinner, the long (1.5 hours) walks up and down the road that led to our villa (morning exercise), the beautiful wine vines that were very pregnant with grapes, taking day trips to nearby towns like Siena, lunches and trips to nearby wineries, making friends with, and joining up with, the "wild and crazy" Canadians in the villa next to us for drinks and dinner, discovering the tomatoes and apples in the garden area, the rain showers that helped to reduce the temperature (which was unexpectedly warm during our visit), the ease of parking in the lot directly across the street from our villa, the fresh air upon opening our windows and shutters, the great food and wine at nearby restaurants, the beauty of the terrain and sky (we even saw a double rainbow!!) from our terrace, the complimentary bottle of wine and bottle of olive oil, and the tremendous hospitality of all the Italians we met, and especially the hospitality of our villa host.
September 2, 2016 - Website
Casa Rossa Review
by C. Lisk
Casa Rosa is a charming Tuscan Country house which the 4 of us enjoyed very much. It has a large Veranda that is perfect for long evening hours with a glass of local wine. Francesco and his parents are welcoming, caring host and willing to help with all possible questions. Our Kids loved the opportunity to just run freely between the two houses and the fields/orchard. All of us would love to return for another vacation ! Uns hat der Urlaub in der Casa Rosa sehr viel Freude bereitet und wir möchten gerne wiederkommen!
Our villa in the rolling hills of Tuscany was absolutely perfect with marvelous views of the countryside from our spacious deck. We enjoyed two large bedrooms and two full bathrooms with showers, an eat-in kitchen and comfortable seating areas, all situated on beautiful grounds. Florence and the charming, surrounding villages were all within easy access. Our host provided a list of area restaurant recommendations that were spot on. I would highly recommend Italy Perfect!
October 13, 2015 - Website
What a view. From the patio we could see formiles Chianti country. This is a central location to Siena, Florence, San Gimingnano and Chianti country.The home was well furnished and cozy. Grocries can be picked up in Tavernalle, that is no more than a 15 minute drive. You can go to Florence in less than 30 minutes parking south of Florence.The owner, Francesco was very informative providing several places to eat. We had the best pizza in Tavarnelle. A friend of Francesco owns the pizzeria. Real friendly workers who know english. This is not a tourist place. Lots of local families, but quiet. Try the kiwi pizza. Real different, has a sweet and salty thing that does work. No hawaiian style pizza there. The owners also have another place on the property with an enclosed sitting area too. We were provided a charcoal barb and bought steaks and had our wine we picked up at one of our wine tours for a closing, and on to Venice.We miss it already, but we will be back. We are thinking about a family reunion and rent both places. Ciao ciao.
September 21, 2015 - Website
Casa Rossa Review
by David Taylor
Casa Rossa is simply picture postcard Tuscany in real life. A lovely renovated old 1st floor farmhouse [2nd floor North American designation] with two large bedrooms (the twin room having an en-suite), a large bathroom and a very nice rustic kitchen/dining/livingroom area. Top that all off with a fantastic huge terraced balcony off the livingroom and the fact the house is surrounded by olive groves and vineyards with just a small single track farm road outside - and it is truly idylic and you really are deep in the heart of the Tuscan countryside - sheer bliss. I would highly recommend this place to anyone who is looking for a quiet and peacefully and gorgeous place to stay in Tuscany - I will most certainly return to it.
Casa Rossa was everything as advertised and more. We are two semi-retired couples and we shared the house in comfort with two nice bedrooms and two baths, a spacious living area and will equipped kitchen. We relaxed on the terrace and took in the green Tuscany fields of grapes and olive trees. If you get up early, you can watch the lights of San Casiano and Tavernalle become absorbed in the red glow of the sunrise. Off to the west you can just see the tower of 1000 year old Castello Di Santa Maria Novella.Casa Rossa is a family owned farm house fully restored by quality craftsman and keeping with the atmosphere of rural Tuscany. It reflects the influence of Francesco Pestelli, an architect with the Commune of Florence, and manager of the family rentals. We had the thrill and honor of meeting Francesco's parents, Franca and Julio, who somehow communicated with us even though we do not speak Italian and they do not speak English. Julio talked about his wine and Franca gave us hints on places to go.Francesco is very fluent in English. The house is located on a gravel farm road about a half mile off a two lane country road with ample room for parking. Having your own car is necessary if you wish to take frequent side trips or buy groceries in nearby towns about 6 km distant. We all had a wonderful time and look forward to returning. Thank you to Francesco & family and thank you ItalyPerfect for a well managed service.
Casa Rossa Review
by Argia
We spent a wonderful week at the Casa Rossa. The Casa is charming, spacious and in a splendid location. We enjoyed very much having our meals on the enormous terrace: whether in the early morning sun, or in the cool evening breeze, the view of rows and rows of vineyards and little villages in the distance is gorgeous and peaceful. The Casa is isolated, yet restaurants and shops are easy to reach. And so are many great places to visit: from Florence to Siena and its surrounding hill towns down to the lovely Pienza. Francesco and his mother were perfect hosts: welcoming us with their wine and olive oil, and helping us with suggestions to enjoy the area to the fullest. A highly recommended destination! We will definitely go back.
Casa Rossa Review
by Nancy
We absolutely loved our stay at Casa Rossa. The accomodations were wonderful and matched all that we saw on the internet.We really enjoyed being in the country and away from all the crowds. Our host, Francesco and his mother, could not have been nicer. He made several recommendations for restaurants and local activities.We were very happy with all of them.The villa was spotless and we were greeted with fresh flowers. Our host checked in with us every few days and made sure everything was okay. We enjoyed visiting the local towns and getting to know the people. We were fortunate enough to go to Casciano for a food festival and were able to sample many Italian specialties, thanks to our host letting us know about it.There was also the market in Tavernelle. We found everyone in the nearby towns very friendly and pleasant to deal with. We hope to return in a year or so.
Casa Rossa Review
by PapaDoc
This villa is terrific! The pictures don't do it justice. The location is great, close to Florence, yet very private, set in the middle of vineyards and olive groves. There are many hilltop towns near by that are wonderful day trips. Best food on our trip was found in San Casciano at Cinque de Vino.
Casa Rossa Review
by Campbell
We loved Casa Rossa.Two couples stayed there quite comfortably. We didn't get the best weather Tuscany has to offer, but we did get to enjoy the marvelous deck with it's spectacular views of the Tuscan countryside. It was a great base of operations for exploring Sienna Florence and the many splendid hill top towns of the Tuscan region. This reasonably priced hillside villa is perfect for those willing to rent a car and drive the winding roads of Tuscany. Highly recommend the cooking lessons (and accompanying wine) at Villa Bordoni ( a difficult drive away) and the food at nearby Il Fattoria.
December 29, 2014 - Website
Casa Rossa Review
by Cathy & Tom
My husand and I stayed with my mother at Casa Rossa for 6 nights in November 2014. The accommodations were perfect for us and both Francesco and his mother were gracious and helpful hosts. The house is exactly as pictured - charming, clean, and comfortable. The views of the Chianti hills from the terrace are splendid indeed! The location is perfect for exploring this region of Tuscany. We made easy drives to Florence, Siena and Pisa, and Francesco recommended off-the-beaten path destinations in Chianti that we thoroughly enjoyed. The local hill town of San Casciano is charming and has excellent restaurants. Our favorite was La Cantinetta del Nonno, recommended by our host. We enjoyed it so much we returned for another meal the next day. One nearby site that we found fascinating is the Amercian World War II cemetery near Florence (only 20 minutes or so from the house). We have already recommended Casa Rossa and Italy Perfect to friends. We were very please with the information we received in advance from Italy Perfect and every detail was attended to. Overall we would give this property an outstanding rating.
October 27, 2014 - Website
Casa Rossa Review
by Gerry
Our host, Francesco, was great. From recommendations for dinners to assistance at the property, we were well provided for. This accommodation was a well kept, well stocked and centrally located base for our daily trips through the Tuscany area. Settled within a vineyard and given access to fruit from the apple and fig trees, our mornings were nothing less than amazing. Perched atop a hilltop, we enjoyed a surrounding view that never ceased to amaze both in the early morning and late at night. If you are fortunate enough to book this accommodation, I trust that you will be pleased as our group of 4 were.
October 20, 2014 - Website
Casa Rossa Review
by Jayne
Casa Rossa is a very nice house in the heart of Tuscany. The home is very well kept and Francesco the owner was very helpful. We thoroughly enjoyed our stay and would recommend it to anyone who wants to see the beautiful hillsides of Tuscany and just relax.
October 16, 2014 - Website
Casa Rossa Review
by Francine klimavicius
This villa is situated in a perfect spot atop a hill with a magnificent Tuscan view. The house is well maintained and there is ample space for four persons. The family is sweet and accommodating. The only caution about this rental is that there is no air conditioning so if you are renting in the hot summer months this could be an issue. That aside relaxing on the great terrace cannot be beat! Internet access is intermittent.
Casa Rossa Review
by Mother knows best
We had the pleasure of staying at Casa Rossa . My husband and our. 22 year old daughter where in Italy celebrating her college graduation. The unit is lovely the owner are great very welcoming . Well furnished, quiet lovely veranda spacious for three adults .Great location to travel into Florence or Siena the villages near by offer lots to see and the resturants that the owners recommended were all great . We had a wonderful experience and would recommend this site and this rental.
Casa Rossa Review
by Anne Watters
Casa Rossa was a true gem. The views were stunning! The house was very spacious. The drive to the house was great fun but not for timid drivers. The patio was--well, we LIVED on the patio till the wee hours of the night (especially during the full moon). It was clean and very comfortable. The clothes washer was a bonus. Our host gave us very good recommendations for places to go, bus routes, wineries, etc. There were only two negatives. The listing said there was internet available. The host tried to get us hooked up with a USB thumb-drive that talked to the mobile network. It simply didn't work. Also, the refrigerator was unreliable (it turned on and off). Aside from that, I would HIGHLY recommend Casa Rossa. We are pleased you enjoyed your stay. The website information states that internet is avaiable by USB key. Using a USB key requires your device to have a USB port. We are sorry you didn't realize that. Italy Perfect
Casa Rossa Review
by Jim and Peg
Casa Rosa was a idyllic piece of Tuscan property - vineyards and olive groves with mountain background, all viewed from a lovely and large terrace! Morning wake up call from a rooster (nearby farm) and the occasional cuckoo bird. We arrived "home" most evenings before dark, since property in remote area, but what we liked about it too! Loved Fattoria Ristorante in nearby Romita, excellent service and food, and short drive back to casa. Our greeter was most helpful with ideas for day trips and restaurants, and shopping. Market in Romita, though small, was  delightful. Also when asked greeter gave us info on casa which was very interesting. Casa Rosa has a warm old world farm house feeling with very modern and clean bathrooms. Cooked in most nights to take in the spectacular view from the terrace. Enjoyed Greve in Chianti and area and Volterra which are not as crowded as more well known, though lovely towns, such as Siena and San Gimignano. Good tip from greeter was to drive to Bagno, which has a large free car park, and bus into Firenze. The blue of the Tuscan sky - The evening stars, plus fireflies in the vineyards, are the best of memories. We hope to visit Italy soon and will definitely use this wonderful site, in the meantime have recommended to friends and will continue to do so. Only negative to mention was refrigerator hard to keep cold, but we managed fine. Thank you for all the literature prior to our departure, it made for a very pleasant transition.
Casa Rossa Review
by Ross
We had a week in Casa Rosa which we had picked from the internet. We were after a villa in the country away from the main cities but within easy driving distance of them - Casa Rosa worked out beautifully. During our week we visited Pisa, San Gimignano and Siena. All within easy driving distance. Also went to the market (which is a must) on Monday morning in San Casciano (15 minutes away by car)and several other small towns nearby. We found that we cooked at the villa more than we had thought as this way we were able to indulge in some of the local wines without the worry about driving. The food from the local shops was simply magnificent. The small bar/shop in Romita 3 kms away was excellent with very friendly owners and a great place to get bread, milk etc and meet the locals over an early morning coffee. We did go to one restaurant which was recommended by the Casa Rosa owners (Ristorante Casalta in San Pancrazio) which was a very big disappointment. We were a party of 5 and not one meal was enjoyed so would not recommend this restaurant. Another "must" place to visit is the Antinori Winery at nearby (10 minutes) Bargino. Make sure you visit their cinema and see the family history. I would certainly recommend Casa Rosa as a place to stay. The 'downsides' were minor - very small refrigerator which when full does not cope and it would be very helpful if wifi could be made available (although this was a good excuse to find a cafe for coffee and free wifi!). Frnacesco was very friendly and helpful and with one small problem he was around very quickly to help us out. I would give Casa Rosa a 9 out of 10.
Casa Rossa Review
by Bruce and Susan
This house was the second we rented through Italy Perfect, our first being a house in Florence. We planned our own trip, with the aid of several guidebooks and with the broad intention that we wanted to spend three weeks in Tuscany. We wanted a place in the Chianti countryside,away from towns and cities. Casa Rossa is roughly half-way between San Casciano in Val di Pesa, on the north, and Tavarnelle Val di Pesa to the south, on a narrow road that winds through the vineyards and olive orchards. The house -- actually the second floor of the farmhouse -- is beautifully appointed and spacious, with two large bedrooms, two baths, a large living room, and a kitchen. The terrace was enchanting. It offers a spectacular view of the valley -- it must be the Val di Pesa -- and vineyards, forests, and olive trees. Every morning we would wake to the sounds of cuckoos and of a rooster in a nearby farm. And quiet, the deep quiet of the countryside. Without really knowing it, we chose an ideal location. The house is not more than 10 minutes from the major north-south freeway between Florence and Siena, and probably not more than about 30 minutes from the freeway from Florence to Livorno and Pisa. It is in the center of a property of about 15 hectares, 35-plus acres, of vineyards and olive orchards that the proprietors own and work. When we were planning our trip, we considered staying in one of the towns on SR222, the wine road through the center of Chianti Classico. We are sure that would have been delightful but we are glad we stayed where we did because it is so easy to get from the house to larger roads, while in the center of the region, the drives are much longer. Tavarnelle and San Casciano are both close, we had lunch in both places, and we went several times to the Co-op grocery store in Tavarnelle. We took a day trip to Volterra and San Gimignano, another to the Maremma, and another to Pisa and Livorno, and found it very easy to drive from the house. As with most things, everything depends on what you want to do. For us, this house, Casa Rossa, was perfect. We enjoyed talking with the owner, who speaks very good English, and his mother, who speaks none at all. They gave us a bottle of the wine they produce there for their family and a bottle of the olive oil from their trees. The oil was delicious; we have not opened the wine yet. Our only criticism is that the house was short on some supplies -- detergent for the clothes washer and for the dishwasher. We bought those on one of our shopping trips. This was fun for us because we discussed detergents with an Italian lady who was shopping also, and who seemed as perplexed as we were about the various selections on the shelf. She was probably wondering why two Americans were in a grocery store in an obscure Italian town trying to choose detergents. But perhaps some other travelers might not have the same view. The proprietor gave us several recommendations for restaurants; we went to two or three of them and were not disappointed. One in particular, La Fattoria, in Romita, was superb. Yes, we would recommend Italy Perfect without hesitation. And we have done so already.
Casa Rossa Review
by Mike and Jean
A dream come true ! Tuscany is everything we hoped it would be, and especially because of Casa Rosa. The location is perfect to cover all of the small towns that make up Tuscany and very close to Florence. I wished we had found Italy Perfect sooner , we would have booked all of our stays with them, there name says it all Italy PERFECT.
November 17, 2013 - Website
Casa Rossa Review
by Linda and Gary
The house was lovely just as it appears in the pictures. The views spectacular. The only complaint was the working area in the kitchen was small, with a very small refrigerator.we were there in mid october so we were not able to take advantage of the lovely deck as it was too cool. The house is really in the country and it is about 15 minutes from a sizable town. Gps is a must . The greeter was helpful and drove 20 minutes to bring us keys when we locked ourselves out one night. Our favorite restaurant was la Ristorante Fattoria 10 minutes away. For those looking for a relaxing vacation ,this is a great spot
October 5, 2013 - Website
Casa Rossa Review
by Bill Schirmacher
We spent 5 days at Casa Rossa in early September. The apartment, perched on a ridge and surrounded by a vineyard and olive orchard, was very clean and the host was very helpful. The apartment, with 2 bedrooms and 2 bathrooms, is perfect for a family or two couples. It is on the second floor of a farm building and has a really nice tiled terrace. The view is magnificent. The location is convenient to a couple of small towns for restaurants and grocery shopping. We would definitely recommend La Fattoria in Romita. It's only about 5 minutes away by car. You will get a true flavor of being a "local" and the food is excellent. The location of this apartment is very centralized and make day tripping very easy. Stay on the local road and off the AutoStrada and you will see a lot more. We brought our GPS with a European map. It took all of the stress out of exploring the Tuscan countryside. I have rented 3 apartments from Italy/Paris Perfect. They really have their act together. I would recommend them wholeheartedly and will use them again.
September 23, 2013 - Website
Casa Rossa Review
by Macleods
We had a very enjoyable stay. Details accurately described, and welcome and support whilst we were there was exemplary. Highly recommended.
Casa Rossa Review
by Kristina
We have come home from our wonderful holiday in Italy. Everything was just perfect! I take this opportunity to thank Francesco and the whole family for their friendliness and helpfulness during our stay. The house and the surroundings of it were lovely. We can very well recommend Italy Perfect to our friends and family.
Casa Rossa Review
by Chris, Harry and Marlene
The house is lovely and very comfortable located in a beautiful olive grove and vineyard. We loved the location. Especially loved the little towns of Tavarnelle in Val di Pesa and San Casciano. Close to Florence. A marvelous experience. Francesco and his mother were absolutely wonderful and so helpful. We hope to return in the future.
Casa Rossa Review
by Robyn
Our 7 days at Casa Rosa was to be a highlight of our time in Italy and we were not disappointed. The villa was conveniently located with easy access to the surrounding towns and villages. Our host was very welcoming and spent time informing us of the highlights of the area and where the various services were located. He gave us his cell phone number and advised we could ring at any time if we had a problem. The view from the terrace was stunning, overlooking vineyards and olive groves. We thoroughly enjoyed our stay and would recommend this property. You do need a car as there is nothing within walking distance which adds to the charm.
Casa Rossa Review
by Mary
Very nice stay except for the cold weather and the very very cold house, We had to wear coats in the house Very nice and helpful hosts In good weather this is great Note from Italy Perfect: Pleased that you found the house and host very nice. We are very sorry for the unseasonably cold weather in late May throughout Italy this year. The Italian government regulates energy usage and unfortunately heat is not available from April through October unless by special government decree. Homeowners have no control over this. More information about this in the Frequently Asked Questions. We wish you had experienced more typical Mediterranean weather.
November 3, 2012 - Website
Casa Rossa Review
by Danielle and Robert Daignault
Casa Rossa is the ideal house for those who want to live and feel Tuscany only 15 to 20 minutes from a free parking in Botai, where a bus can be taken to get to the center of Florence in 20 to 30 minutes. From Casa Rossa, you can easily travel to Sienna and many other small towns of great interest like San Gimiano. Casa Rossa is very comfortable for two couples or a family. Is is quiet and offers a magnificient view of surrounding mountains, vineyards and olive trees. The terrace is enchanting with dining table, chairs and BBQ. On the grounds you have access to fresh herbs of different kinds for immediate gastronomic pleasure. Casa Rossa is located on a vineyard and you are in immediate contact with the owners. Francesco and his mother are simply perfect and for your pleasure, you can buy for a small price locally produced wine and olive oil to bring back home. Don't miss this spot. We would come back any time.
October 22, 2012 - Website
Casa Rossa Review
by Steve and Janine
Wow!!! Casa Rossa was everything and more. We arrived early and after speaking with Franchesco, we were greeted at the villa by his Mom and Dad. Delightful people. Scenery was surreal. Just like the pictures. So beautiful. Villa is wonderful. Imaculate and well apportioned. We completely fell in love with the villa and the area. We day tripped to so many outstanding towns including the "biggies". Luckily we hit the wine harvest the day we arrived so we got to see the entire process from picking the grapes to final cleanup right from our balcony. What a Bonus! Once we got used to the roads,(short learining curve)everything exceeded our high expectations. Italy Perfect was spot on and very helpful in the process and Franchesco was friendly and available if needed by phone. I have already recommended Italy Perfect AND Casa Rossa to a number of friends. Best vacation EVER!!!
Casa Rossa Review
by Jeff
We had a terrific stay at Casa Rossa and will remember it for a lifetime. Francesco was so helpful and went above and beyond to ensure our stay was fantastic. The veranda overlooking the vineyard was breathtaking. We will let anyone know that is ever going to Tuscany that they can't go wrong staying at Casa Rossa!
Casa Rossa Review
by Chris Ferrier
We spend 8 nights at Casa Rossa and it wasn't nearly long enough. It proved to be a perfect location for easy trips into Florence and still have amazing Tuscan countryside all around us. Driving into Florence was a bit daunting at first but we quickly found a few reliable parking garages and even got used to the scooters surging all around us in traffic. Our hosts were wonderful, warm and inviting. They make some of the best chianti we drank, right there. San Casciano was also very accessible and we had a picture perfect first night dinner at Osteria Cafe'del Popolano. The villa was perfect for us, casual and comfortable and plenty of room for 4. We intend to return as soon as we can. Italy Perfect is definitely worth recommending. Everything was clear and the preparation information was very helpful. Our only mistake was trying to do too much in too short an amount of time. We wish we had visited more of the surrounding towns but we feel that we really got to experience Florence and that was wonderful. Next trip we will stay longer, slow down a little more and soak in more of Tuscany.
Casa Rossa Review
by Joan & Wade Webster
We recently rented Casa Rossa thru Italy Perfect and were satisfied with the property and service. This property [one of side by side properties] is owned by a family whose son [professional, mid thirties] really runs the property management. He was polite, efficient, available, and resolved the few issues [no water and no hot water] very quickly. THE EVENINGS WERE SPECTACULAR FROM THE VERY SPACIOUS TILED OUTDOOR DECK OVERLOOKING TUSCAN VINEYARDS AND HILLSIDES. IT WAS PERFECT, NOT WANTING TO DRIVE UNFAMILIAR ROADS AFTER DARK AND AFTER GRAPE JUICE. The location was very convenient to neighboring towns/villages and Florence was less than 30 minutes away, transportation close by the rental house]. Although nicely remote, access to roads/highways [to Florence/Sienna] were within 5 minutes. Wineries abound and [maybe] the best cheese farm in Italy was less than 2 miles away from the house! Pre-trip communications [from Italy Perfect] were timely and complete. All-in-all, a very nice experience.
The house was so quaint and the views were unbelievable. Our favorite was the expansive terrace and we enjoyed the wine left for us by Francisco. I would recommend Italy Perfect to friends! Lisa was so helpful and the packets of information and the quick email responses to our questions made us know that we made the right choice in going with Italy Perfect. We really enjoyed Il Cantinella di Nonno (?) in San Casciano and the family who runs the nearby deli were wonderfully friendly and very helpful to us. The quiet and views really made our whole trip to Italy!!
Casa Rossa Review
by JChristy
Casa Rossa was amazing! The views off the terrace were breathtaking. It was really nice having a home base in the most beautiful part of Tuscany to go home to every night. I highly recommend a GPS, program the address prior to arriving for places like supermarket, gas, tourism spots, etc. Also, make sure you stop by the restaurants in San Casciano. By far the best food we ate was there.
October 14, 2009 - Website
Casa Rossa Review
by Ros and Chris Jones
Casa Rossa was everything we dreamed it would be. This was our first trip to Italy and I cannot imagine that it could be bettered. The villa was perfect for four, two bedrooms, two bathrooms. Nicely appointed kitchen, fantastic fireplace with olive wood to burn. The sitting areas are nicer than they appear in the photos. The ceilings are typical Tuscan beamed - bonus. The terrace. Wow. Over 180 degree views of the countryside, olive groves, vineyards, just stunning. The location half way between Florence and Siena was perfect, loads of smaller towns to go and see too. Certainly would recommend going to any of the markets in the smaller towns - San Casciano, Poggibonsi, Tavernalle. Favourite restaurant close by is Cantinetta del Nonno in San Casciano - I think on Via Machiavelli - outstanding house wine there too! Francesco and his family looked after us very well without interfering. It was the grape harvest when we were there and they showed us the operations willingly. Complimentary wine and olive oil on our arrival was a lovely welcome. I would rent through Italy Perfect again - good prompt service, thorough instructions and advice.
Casa Rossa Review
by Williams Family
We absolutely LOVED our stay. The accommodations were amazing and beautiful. I would always suggest going to the large cities first because after you visit the smaller towns you don't want to go back to the large cities! I can't add to any of the restaurants, [the list of recommendations] was amazing. The location was fabulous and could not have asked for a better location. It was absolutely breathtaking. I would suggest letting people know that they can buy more wine and olive oil from Francesco and his family. We were too late the day we left and I would have loved to have bought more olive oil. It was the best I have ever had. I would suggest they keep some on hand at the house to sell. That is my only suggestion though. Everything was lovely and he and his mother were so kind and thoughtful. They were amazing with my children and very friendly. Thank you for an amazing experience! The Williams Family,Aaron, Kati, Kayley, Erika, and Tianna
November 13, 2008 - Website
Casa Rossa Review
by T. Handel
We enjoyed our stay immensely. The information on the website was absolutely accurate, we were delighted with our stay. Amazing views, wonderful location! We had a great stay.
Casa Rossa Review
by Su Sripathy
Wanted to say thank you for our wonderful stay at the Casa Rossa. All seven of us had a comfortable stay and Francesco and his mother Franca were such lovely people. Please thank them again for their hospitality and all those lovely wines that we were given!! We will definitely be returning in the near future. Until the next trip. Thank you.
Casa Rossa Review
by P. Donnelley
We were delighted with our stay. Thank you for all your help and recommendations. Casa Rossa was just what we wanted and we enjoyed our stay immensely.
August 31, 2007 - Website
Casa Rossa Review
by Cid & Jay Filter
We were a bit nervous on our drive to the house this being our first time driving in the Italian countryside, the narrow, winding roads, and rather inconspicuous signage had us a bit on edge. But as we neared the house, we spotted it in the distance. It was pretty as a picture! We made our way down the gravel road between vineyards and olive groves, and arrived at the house. Once inside, we were charmed by everything: The kitchen fireplace, the enormous patio overlooking the countryside, the modern conveniences tucked into the rustic, homey environment. After a quick run to the adorable "mini market" back up the road, we were ready to settle in. Our dear friends from Paris had rented the house across the courtyard. We all met outside for a glass of the "house wine" – literally, the wine made in the ground floor of Casa Rosa – and some wonderful Italian food. It was just like the movies! The owners were delightful – they had just completed their harvest, and were literally making their wine during our stay. They invited us into their winery to sample some "fresh" wine and watch them stomping grapes – explaining that they were using the "must" to make grappa. Throughout our stay we enjoyed Tuscany from our comfortable home base of Casa Rosa. We had fabulous meals, enjoyed fantastic sights, and took away amazing memories. Thank you for making our trip to Tuscany an experience of a lifetime.
Casa Rossa Review
by James Kylis
Just a short note to tell you we had a great time at Casa Rossa in Tuscany. Francesco and his parents were wonderful.
Casa Rossa Review
by Julie Tsen
Our stay in Casa Rossa more than exceeded our expectations! Francesco and his parents were very hospitable and helpful during our one week stay in Tuscany. The house was very well furnished, comfortable, and serene Location was great as well. Not too far from Siena and Florence. We loved the gorgeous view of the rolling hills in the early morning and evening from our large patio! We were very sad to leave...We hope to definitely to return again.
Casa Rossa Review
by Jeff Adams
We can't wait to return to Casa Rossa. Our stay was perfect. Enjoyed touring Tuscany from this excellent location.
Casa Rossa Review
by J. & T. Montgomery
We loved our stay at Casa Rossa. Views were wonderful, location magnificent. Thank you for all the tips and detailed information.
September 30, 2005 - Website
Casa Rossa Review
by D. Denault
Thank you so much for allowing us to share a piece of your paradise here at Casa Rossa. The Casa is beautiful and the view from the terrace will be etched on my mind for eternity. My fondest memories are of the warm and friendly people here. Special thanks for the wine and the lovely torta on our last day. They were both delicious! Blessings to you all! We had a wonderful time at Casa Rossa and the Chianti area. My favorite time was to sit on the patio with a glass of Chianti and enjoy the beautiful views. Thanks and salute!
Base Nightly Rates – May Not Include Fees such as Greeting, Cleaning, Damage Waiver, Credit Card Processing and Tourist Taxes. For full price, please put in dates.
Available
Unavailable
Check-In Only
Check-Out Only
November 2023

| S | M | T | W | T | F | S |
| --- | --- | --- | --- | --- | --- | --- |
| | | | 01 | 02 | 03 | 04 |
| 05 | 06 | 07 | 08 | 09 | 10 | 11 |
| 12 | 13 | 14 | 15 | 16 | 17 | 18 |
| 19 | 20 | 21 | 22 | 23 | 24 | 25 |
| 26 | 27 | 28 | 29 | 30 | | |
December 2023
S
M
T
W
T
F
S
01
02

$200

03

$200

04

$200

05

$200

06

$200

07

$200

08

$200

09

$200

10

$200

11

$200

12

$200

13

$200

14

$200

15

$200

16

$200

17

$200

18

$200

19

$200

20

$200

21

$200

22

$200

23

$200

24

$200

25

$200

26

$200

27

$200

28

$200

29

$215

30

$215

31

$215
January 2024
S
M
T
W
T
F
S
01

$215

02

$215

03

$215

04

$215

05

$215

06

$215

07

$200

08

$200

09

$200

10

$200

11

$200

12

$200

13

$200

14

$200

15

$200

16

$200

17

$200

18

$200

19

$200

20

$200

21

$200

22

$200

23

$200

24

$200

25

$200

26

$200

27

$200

28

$200

29

$200

30

$200

31

$200
February 2024
S
M
T
W
T
F
S
01

$200

02

$200

03

$200

04

$200

05

$200

06

$200

07

$200

08

$200

09

$200

10

$200

11

$200

12

$200

13

$200

14

$200

15

$200

16

$200

17

$200

18

$200

19

$200

20

$200

21

$200

22

$200

23

$200

24

$200

25

$200

26

$200

27

$200

28

$200

29

$200
March 2024
S
M
T
W
T
F
S
01

$200

02

$200

03

$200

04

$200

05

$200

06

$200

07

$200

08

$200

09

$200

10

$200

11

$200

12

$200

13

$200

14

$200

15

$200

16

$200

17

$200

18

$200

19

$200

20

$200

21

$200

22

$200

23

$215

24

$215

25

$215

26

$215

27

$215

28

$215

29

$215

30

$215

31

$215
April 2024
S
M
T
W
T
F
S
01

$215

02

$215

03

$215

04

$215

05

$215

06

$215

07

$215

08

$215

09

$215

10

$215

11

$215

12

$215

13

$215

14

$215

15

$215

16

$215

17

$215

18

$215

19

$215

20

$215

21

$215

22

$215

23

$215

24

$215

25

$215

26

$215

27

$215

28

$215

29

$215

30

$215
May 2024
S
M
T
W
T
F
S
01

$215

02

$215

03

$215

04

$215

05

$215

06

$215

07

$215

08

$215

09

$215

10

$215

11

$215

12

$215

13

$215

14

$215

15

$215

16

$215

17

$215

18

$215

19

$215

20

$215

21

$215

22

$215

23

$215

24

$215

25

$215

26

$215

27

$215

28

$215

29

$215

30

$215

31

$215
June 2024
S
M
T
W
T
F
S
01

$215

02

$215

03

$215

04

$215

05

$215

06

$215

07

$215

08

$215

09

$215

10

$215

11

$215

12

$215

13

$215

14

$215

15

$215

16

$215

17

$215

18

$215

19

$215

20

$215

21

$215

22

$215

23

$215

24

$215

25

$215

26

$215

27

$215

28

$215

29

$215

30

$215
July 2024
S
M
T
W
T
F
S
01

$215

02

$215

03

$215

04

$215

05

$215

06

$215

07

$215

08

$215

09

$215

10

$215

11

$215

12

$215

13

$215

14

$215

15

$215

16

$215

17

$215

18

$215

19

$215

20

$215

21

$215

22

$215

23

$215

24

$215

25

$215

26

$215

27

$215

28

$215

29

$215

30

$215

31

$215
August 2024
S
M
T
W
T
F
S
01

$215

02

$215

03

$215

04

$215

05

$215

06

$215

07

$215

08

$215

09

$215

10

$215

11

$215

12

$215

13

$215

14

$215

15

$215

16

$215

17

$215

18

$215

19

$215

20

$215

21

$215

22

$215

23

$215

24

$215

25

$215

26

$215

27

$215

28

$215

29

$215

30

$215

31

$215
September 2024
S
M
T
W
T
F
S
01

$215

02

$215

03

$215

04

$215

05

$215

06

$215

07

$215

08

$215

09

$215

10

$215

11

$215

12

$215

13

$215

14

$215

15

$215

16

$215

17

$215

18

$215

19

$215

20

$215

21

$215

22

$215

23

$215

24

$215

25

$215

26

$215

27

$215

28

$215

29

$215

30

$215
October 2024
S
M
T
W
T
F
S
01

$215

02

$215

03

$215

04

$215

05

$215

06

$215

07

$215

08

$215

09

$215

10

$215

11

$215

12

$215

13

$215

14

$215

15

$215

16

$215

17

$215

18

$215

19

$215

20

$215

21

$215

22

$215

23

$215

24

$215

25

$215

26

$215

27

$215

28

$215

29

$215

30

$215

31

$215
November 2024
S
M
T
W
T
F
S
01

$200

02

$200

03

$200

04

$200

05

$200

06

$200

07

$200

08

$200

09

$200

10

$200

11

$200

12

$200

13

$200

14

$200

15

$200

16

$200

17

$200

18

$200

19

$200

20

$200

21

$200

22

$200

23

$200

24

$200

25

$200

26

$200

27

$200

28

$200

29

$200

30

$200
December 2024
S
M
T
W
T
F
S
01

$200

02

$200

03

$200

04

$200

05

$200

06

$200

07

$200

08

$200

09

$200

10

$200

11

$200

12

$200

13

$200

14

$200

15

$200

16

$200

17

$200

18

$200

19

$200

20

$215

21

$215

22

$215

23

$215

24

$215

25

$215

26

$215

27

$215

28

$215

29

$215

30

$215

31

$215
January 2025

| S | M | T | W | T | F | S |
| --- | --- | --- | --- | --- | --- | --- |
| | | | 01 | 02 | 03 | 04 |
| 05 | 06 | 07 | 08 | 09 | 10 | 11 |
| 12 | 13 | 14 | 15 | 16 | 17 | 18 |
| 19 | 20 | 21 | 22 | 23 | 24 | 25 |
| 26 | 27 | 28 | 29 | 30 | 31 | |
Nearby Locations and Sites
Romita village (6 min drive)
Village with a small market.
Tavernelle in Val di Pesa (10 min drive)
A crossroads town that has provided hospitality since the Middle Ages; the name even says "tavern". Historic monastery, rare Gothic church. Shops and restaurants.
San Casciano in Val di Pesa (15 min drive)
Celebrated Tuscan town. Shops, restaurants, weekly farmer's market. Bus station.
Florence (40 min drive)
Capital of Tuscany, home of the Renaissance. Architecture and art. Food and shopping galore.
Greve in Chianti (35 min drive)
One of the great wine towns of Italy, famous for Chianti wine, fine shops and restaurants. The triangular main piazza with collonnades hosts wine-focused events and an organic farmer's market, check schedule. Art and history abound in this easy to visit town.
San Gimignano (40 min drive)
Stunning town that bristles with 14 medieval tower-homes that remain from the original 72. UNESCO World Heritage Site. Famous for its saffron and wine Vernaccia.
Florence airport (35 min drive)
Amerigo Vespucci Airport/Peretola airport, small international airport quite close to the city centery. Code: FLR
Siena (45 min drive)
Called Italy's loveliest medieval city with cuisine, art, museums, churches and famous art. Unique medieval culture that is reflected in the twice annual Palio horse race that some call insane. Look for videos.
Pisa airport (90 min drive)
Galileo Galilei International Airport, main airport for Tuscany. About an hour's trip to Florence. Code: PSA